A hose shut off valve is a super useful attachment for your hose and can make your life so much easier. It also allows you to use your hose in many different ways and situations.
One of the most convenient locations to connect the shut off valve is at the end of the hose away from the hose bib. This allows you to control the flow of water without having to go walk or reach the hose bib. For example, while fixing the plumbing in our house we needed a temporary water supply for our kitchen so we used a 100 foot hose connected to an old piping manifold and snaked it under the house and into my supply line.
The shut off valves made it easy for me to connect and test all the fittings inside my house because the shut off was located 100 feet closer than the hose bib shutoff. When testing for leaks, I was able to easily control the flow of water right where I was working.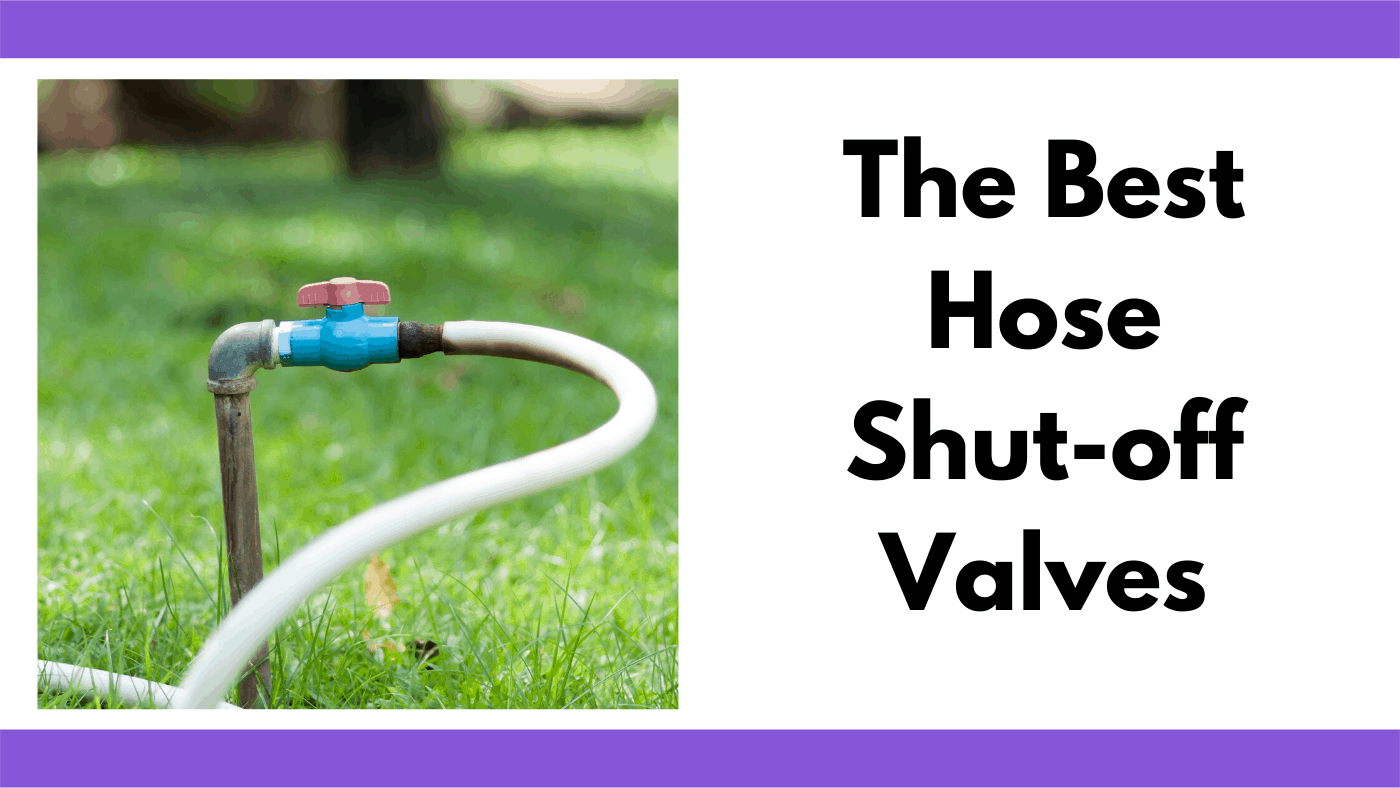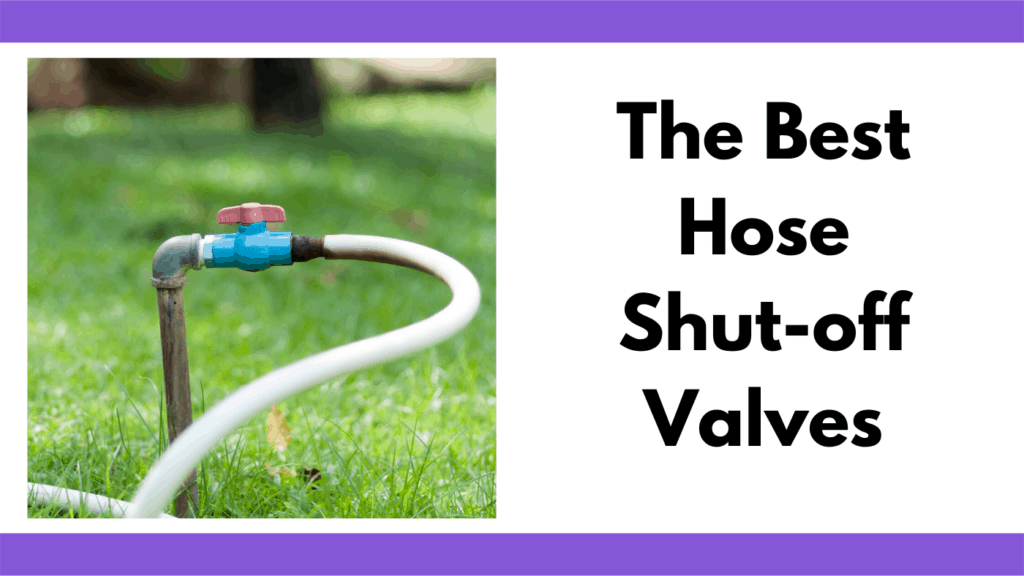 There are a few things to know about shut off valves, they are not all created equal. Keep reading to find out which are our favorites and what you should look for in a hose shut off valve.
This guide breaks down the various types of shut off valves so you can make an informed, confident decision and select the best cutout valve for your needs.
This post includes affiliate links, which means I may earn a commission on purchases made at no additional cost to you.
In a rush? Here are our top picks!
---
If you've ever tried browsing for garden supplies, you may have been struck by analysis paralysis.
Picking the best tools can be exhausting, so we're here to help. Here are the best shut off valves on the market today.
Hose Shut-off Valves
The Twinkle Star Water Hose Shut Off Valve is a simple yet effective shut off valve for your garden hose. This shut off valve is made of solid brass which will not rust and can withstand being left out in the elements.
This shut off valve is small enough to not be a nuisance. However, being small can also be a problem because it means you won't be able to easily move the valve handle to close or open the valve. If you simply need a shut off valve, this may be the one for you. Keep reading to find others which have quicker operation handles.
The one thing to be cautious of is mixing materials. This customer connected an aluminum fitting into this shut off valve and had a hard time separating them, "Have had problems with brass hose fittings when coupled long-term with aluminum. Galvanic corrosion between the Aluminum and brass can make them impossible to separate after a couple of months." Read the full review here.
The HQMPC Brass Shut Off Valve is another brass valve like the Twinkle Star Water Hose Shut Off Valve except this one has a significantly larger handle which can be easier to operate. Though, this can be a double edged sword because it can be easily operated if dragging it on the ground or by the praying hands of tiny toddlers.
One of the biggest problems with small products like these is customer service. Though this doesn't have very many moving parts, things can still go wrong and it's good to know a company stands behind it's product. This customer had an excellent experience with the customer service from HQMPC, "The price is right and the company's customer service is some of the best I have EVER experienced." Read the full review here.
The Melnor EZ-Flow Control Valve is a unique shut off valve. It also acts as a flow control valve with your thumb. This is especially important if you are watering delicate plants or don't want to wash away your seedlings. Perhaps you just want to control the amount of water your toddler is playing with so you don't get sprayed too hard.
The lack of a handle also makes this valve incredibly easy to operate. Because it is a lever, you can operate the valve with one hand which means you can quickly turn water on or off. This customer also claims it is easy on arthritic hands, "Then with a quick flip of the handle, the water comes on without wasting any. Super easy on my arthritic hands too. Love it!" Read the full review here.
There are a few customers who've experienced leaks where the plastic and metal meet making it difficult to repair. In this situation many customers have reached out to Amazon or the Melnor company for a replacement with great success.
The 2wayz Garden Hose Shut Off Valve is another great shut off valve which can be used on any hose. The large body and handle certainly have a place in your garden. Because of the oversized construction, little hands can easily operate the valve allowing them to work independently.
The one thing you'll need to be cautious of is freezing temperatures. Because the body of the cutoff valve is plastic, it is susceptible to cracking if frozen. Some customers have reported this issue.
For some people, the convenience is what matters. This customer simply uses his shoe to turn the valve handle, "with this guy, I just use my shoe to easily flip the lever on and off. This little convenience adds up quickly when doing about 8 sprinkler moves twice a day." Read the full review here.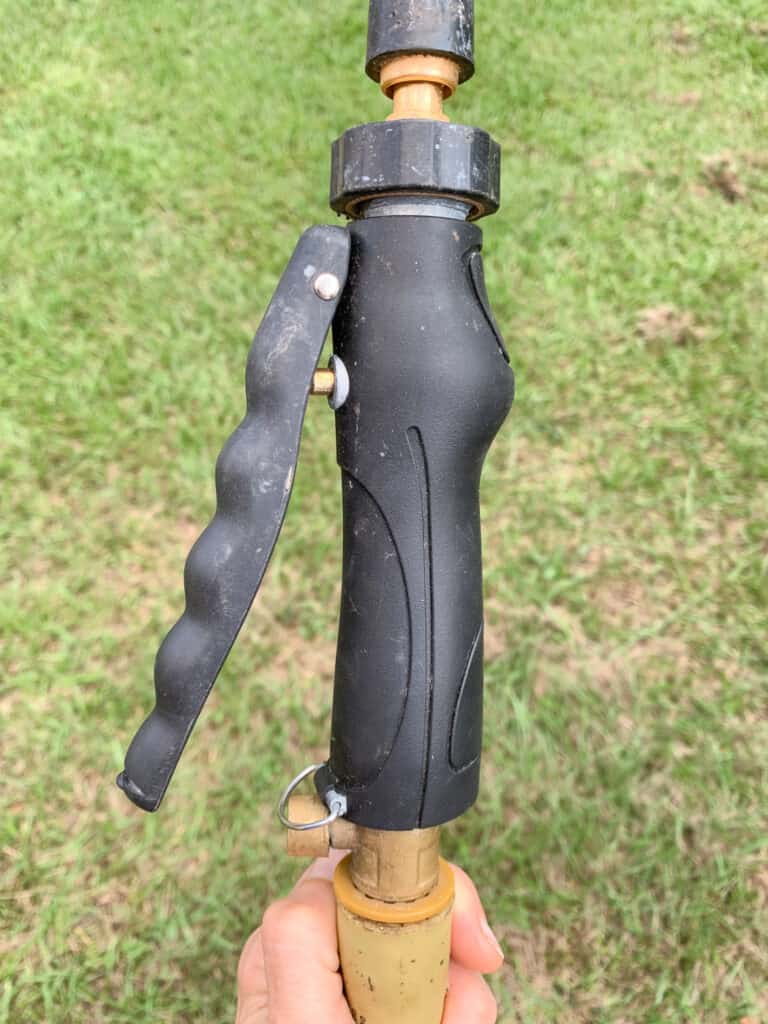 The Dramm Touch N Flow Pro Shut-Off Handle is a great shut off valve for your garden. This cutoff valve is specifically for hoses which are frequently turned on and off. If you are watering your garden you may want to avoid getting excess water on the ground to prevent it from being a muddy mess. You could also use this shut off handle to wash your car with since you will probably be moving a lot to get water to specific places.
One other thing to know is that this is a full flow valve, you will not be able to throttle the water flow by varying the pressure on the handle. This can make a big difference if you are watering sensitive plants like seedlings which can wash away from too much water.
Things to Consider When Buying a Shut Off Valve for a Garden Hose
What is the best material for a shut off valve?
Brass is the preferred metal for all your hose fittings because it is going to resist corrosion and is not going to breakdown from UV rays. However, there are some plastic and even aluminum constructed shut off valves.
Cut off valves made of plastic are prone to developing leaks at the unions over time. Aluminum parts are susceptible to their own form of oxidation which develops discoloration and may affect operation of the valve. If you do find an aluminum valve, make sure it is at least brushed with a protective layer to prevent oxidation.
What is the best size for a shut off valve?
This is totally dependent on what function you want the shut off valve to perform. They are usually used before any watering attachment so generally a larger operating handle would be best but it can also get in the way by being too large.
The Dramm Touch N Flow Pro Shut-Off Handle is larger than most other shut off valves but we find it to be a perfect handle for watering, cleaning, and toddlers.
Angel is a Cuban immigrant who grew up with backyard chickens and a yard-loving abuela. He is our "gear guy" who can never have too many pairs of gloves or weed whacker attachments.