Pepino melons are native to South America, but not particularly well-known outside of the area. Sweet and mild, the fruits are typically avocado size or larger and have a refreshing cucumber-like texture. They're difficult to find in stores, so if you want to taste one you'll probably need to grow it, yourself.
More gardeners are wondering how to grow these tasty and unique fruits at home. The good news is that it's not difficult, although you will have a few challenges if you live in an area where temperatures get below freezing.
Here's what you need to know about how to plant and grow pepino melon successfully in your region.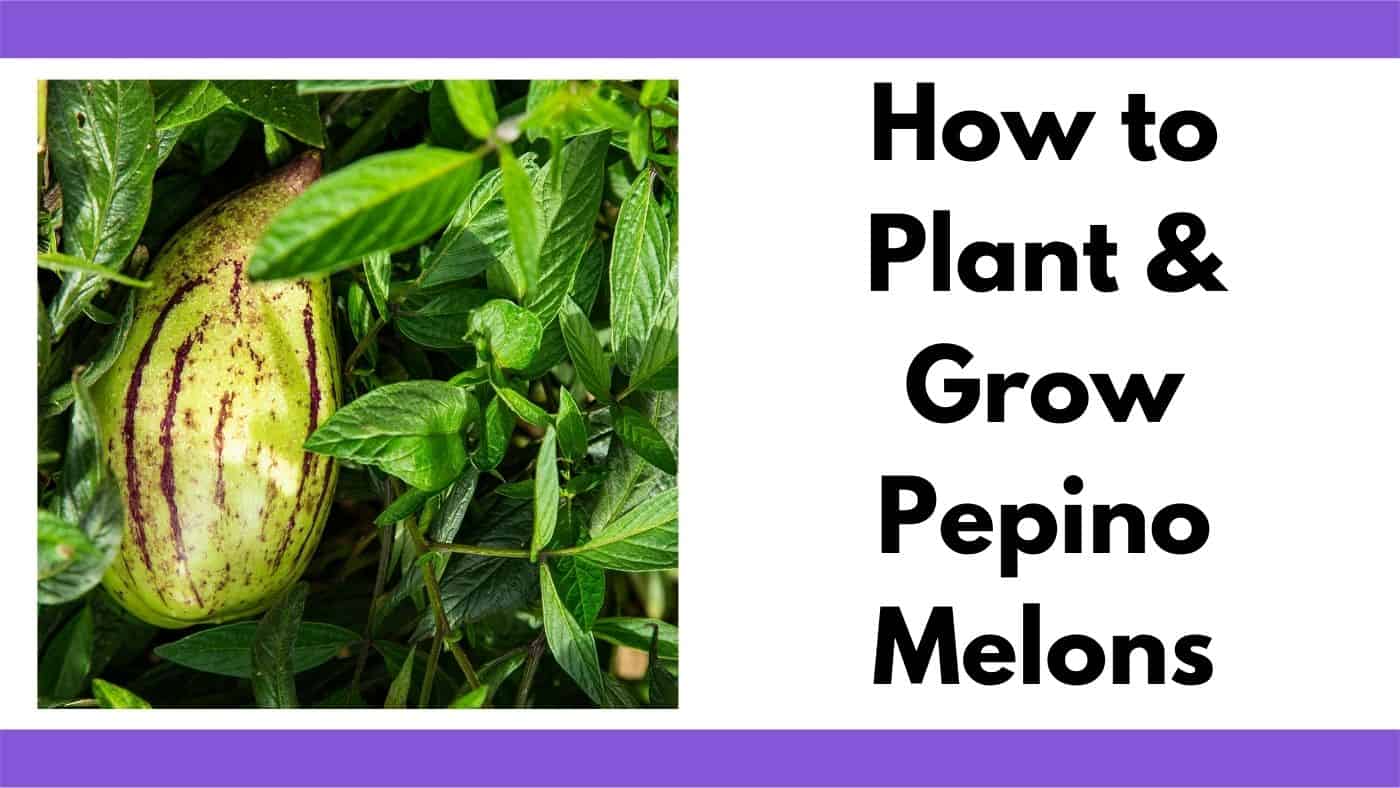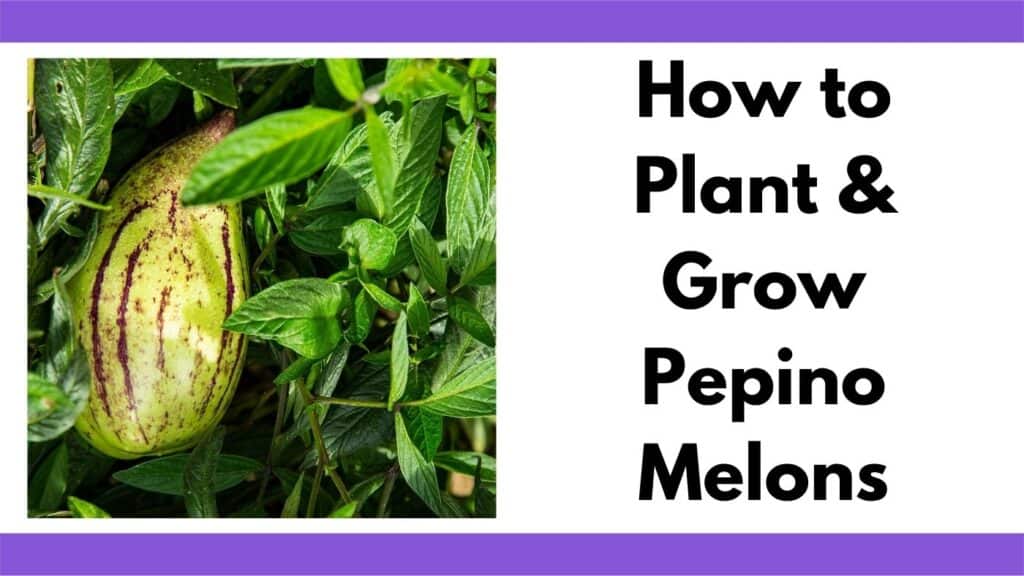 This post includes affiliate links. If you make a purchase using one of these links, Together Time Family will receive a commission at no additional cost to you.
What is a Pepino Melon?
The pepino melon (Solanum muricatum) isn't actually a melon at all, although it's named because of its melon-like flavor.
Pepino melons instead belong to the nightshade family, which makes them closely related to tomatoes, peppers, potatoes, and eggplant. They go by several other names, including melon pears, sweet cucumbers, and pepino dulce.
Native to the South American countries of Columbia, Peru, and Chile, pepino melons are also growing in popularity in other parts of the world.
If you've ever seen another nightshade growing, you'll immediately recognize the pepino melon as a member of the nightshade family. The plants have leaves that are similar to peppers and potatoes and grow in an upright manner similar to tomatoes and eggplant. Although they benefit from support, they are typically only about 4′ tall and do not become giant sprawlers like indeterminate tomatoes. The flowers are white and purple, but otherwise look very similar to a tomato, potato, or pepper flower: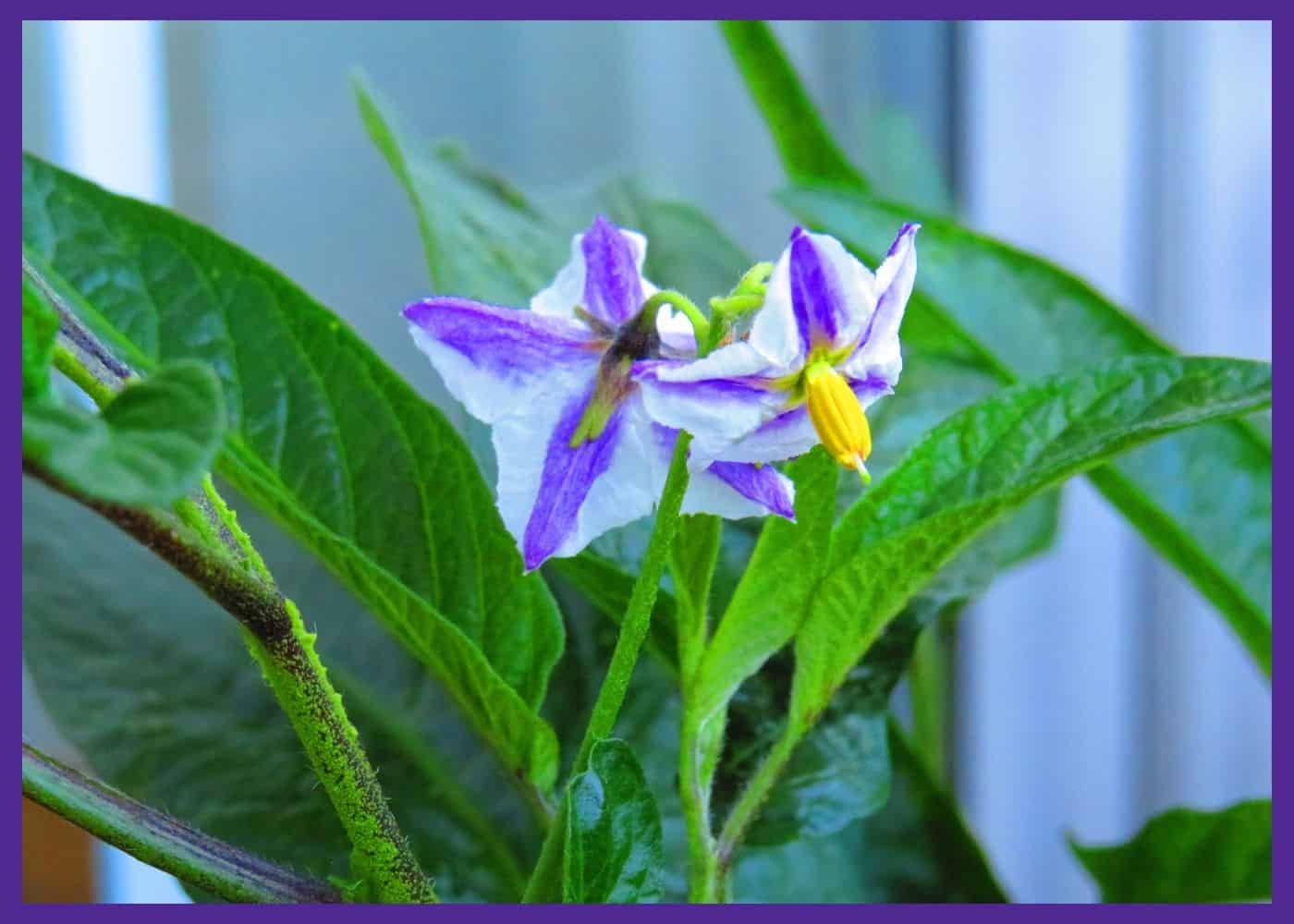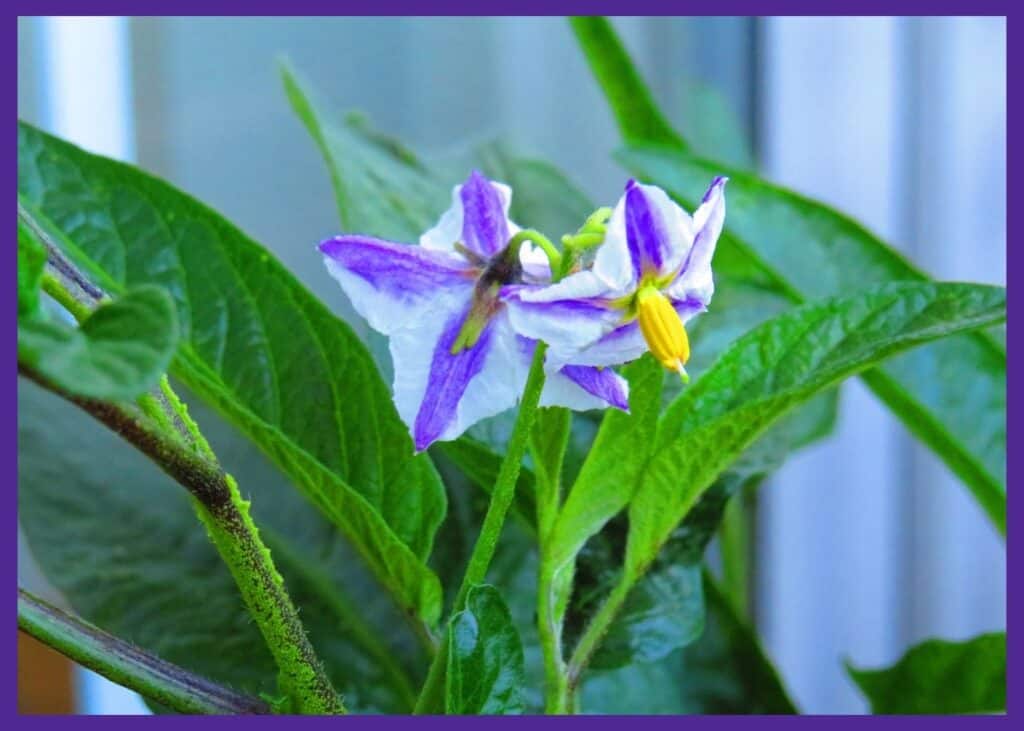 However, unlike the other nightshades which are grown as annuals, pepinos are naturally perennials, although they can be grown as annuals in regions with cold winters. (Tomatoes are actually short-lived annuals and are sometimes grown as annuals in warm climates and by home growers with greenhouses.)
Although they can grow up to 6′ over multiple years, growing pepino melons as an annual helps keep them smaller. They tend to grow about 2-3' tall and 3-4' wide and do well in both the garden and in containers. Plants can also be started or grown indoors, which is very helpful if you don't have the frost-free weather they require. According to the Trade Winds Fruit company, pepino melons can tolerate temps into the upper 20s, but do best without any freezing temperatures.
If you garden in USDA zones 9 or above, you can grow pepino melons as a perennial. Zone 8 is typically borderline, and in colder zones, they must be grown as annuals, grown in a greenhouse, or brought indoors during cold weather. I've lived a good portion of my life in zone 8a. Most winters it does get cold enough to kill a pepino at least a couple of times. If you decide to grow in the ground in zone 8, be prepared with frost blankets to protect your pepino melon plants.
Harvested when they have a yellow tint, the purple-striped fruits taste like a mix of honeydew or cantaloupe and cucumber – mild, sweet, and usually eaten raw. Unlike tomatoes, they're frequently eaten chilled. Although the peel is technically edible, it can be tough and unpleasant to eat (kind of like an overgrown zucchini), so many people peel them.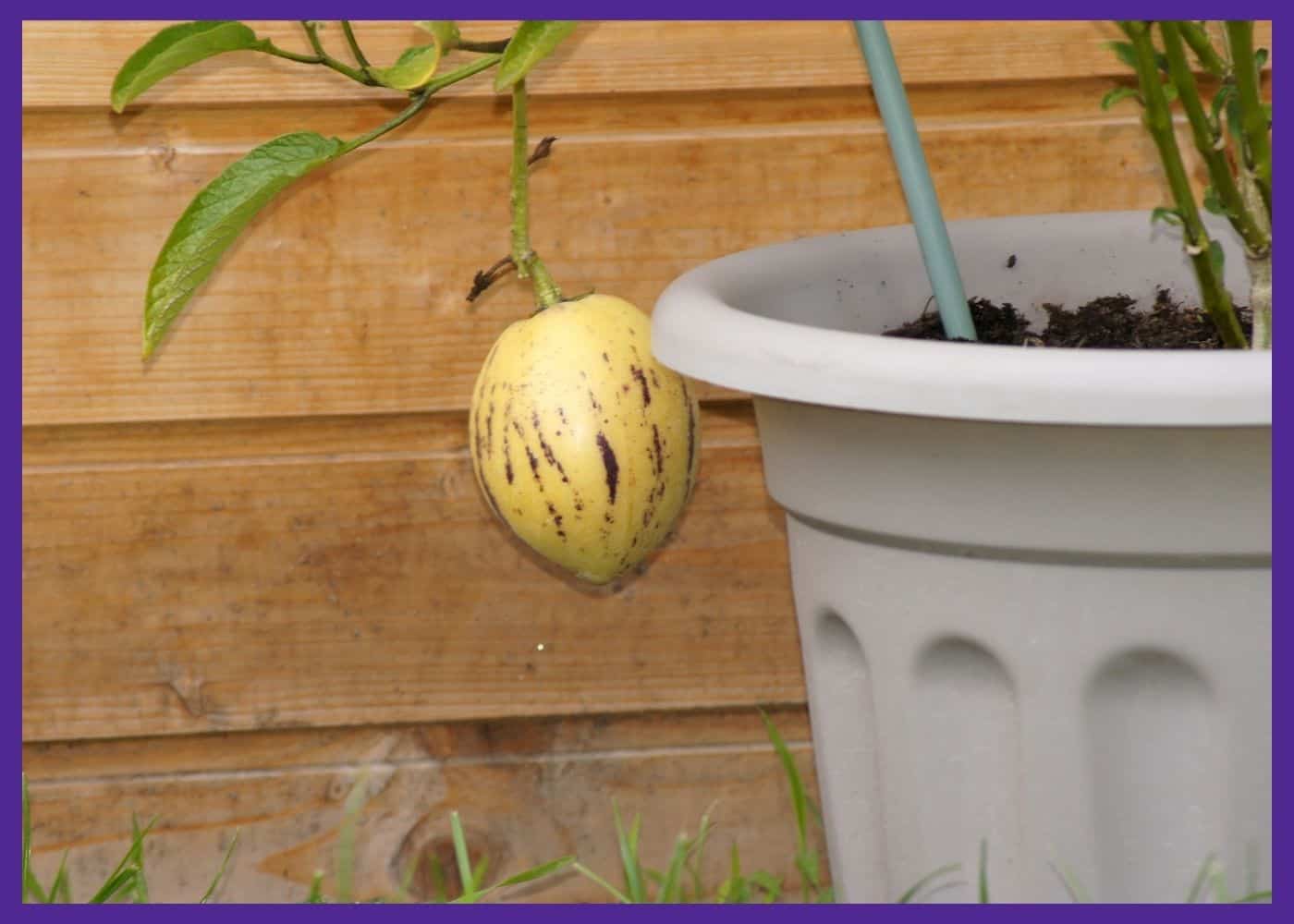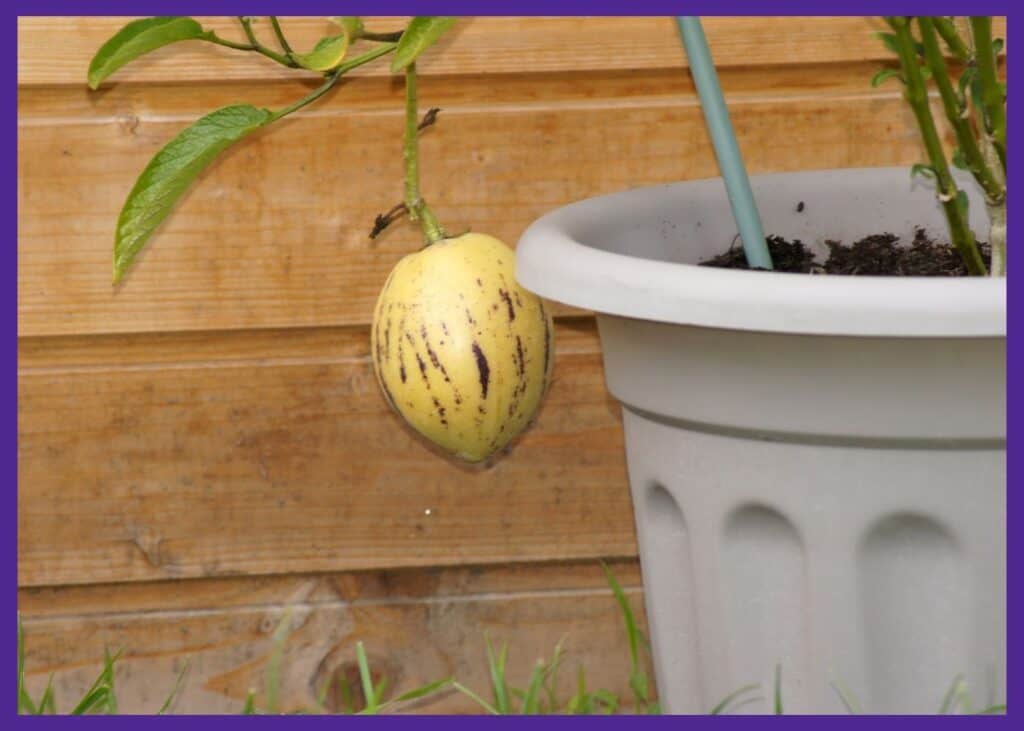 How to Start a Pepino Melon Plant
The hardest part of how to plant and grow pepino melon is most likely getting it started. The easiest way to grow one is from cuttings or a seedling, but both of these can be difficult to find in the U.S. and other less-than-tropical countries.
This means starting plants from seed is the go-to method for many gardeners by default.
Growing from Seed
The key to growing pepino melon from seed is getting plants started early. They can bear fruit about 4-6 months after being planted, but it can take up to a year for a plant to fruit, so most gardeners should start seeds indoors in fall or winter.
Pepino melon seeds can be difficult to find. I've had better luck search Etsy than looking in catalogues from seed companies. This listing from Eden Wilds ships from the US – a handful of the larger seed sellers on Etsy are in Europe, which means long shipping times for people in North America. Get pepino melon seeds here.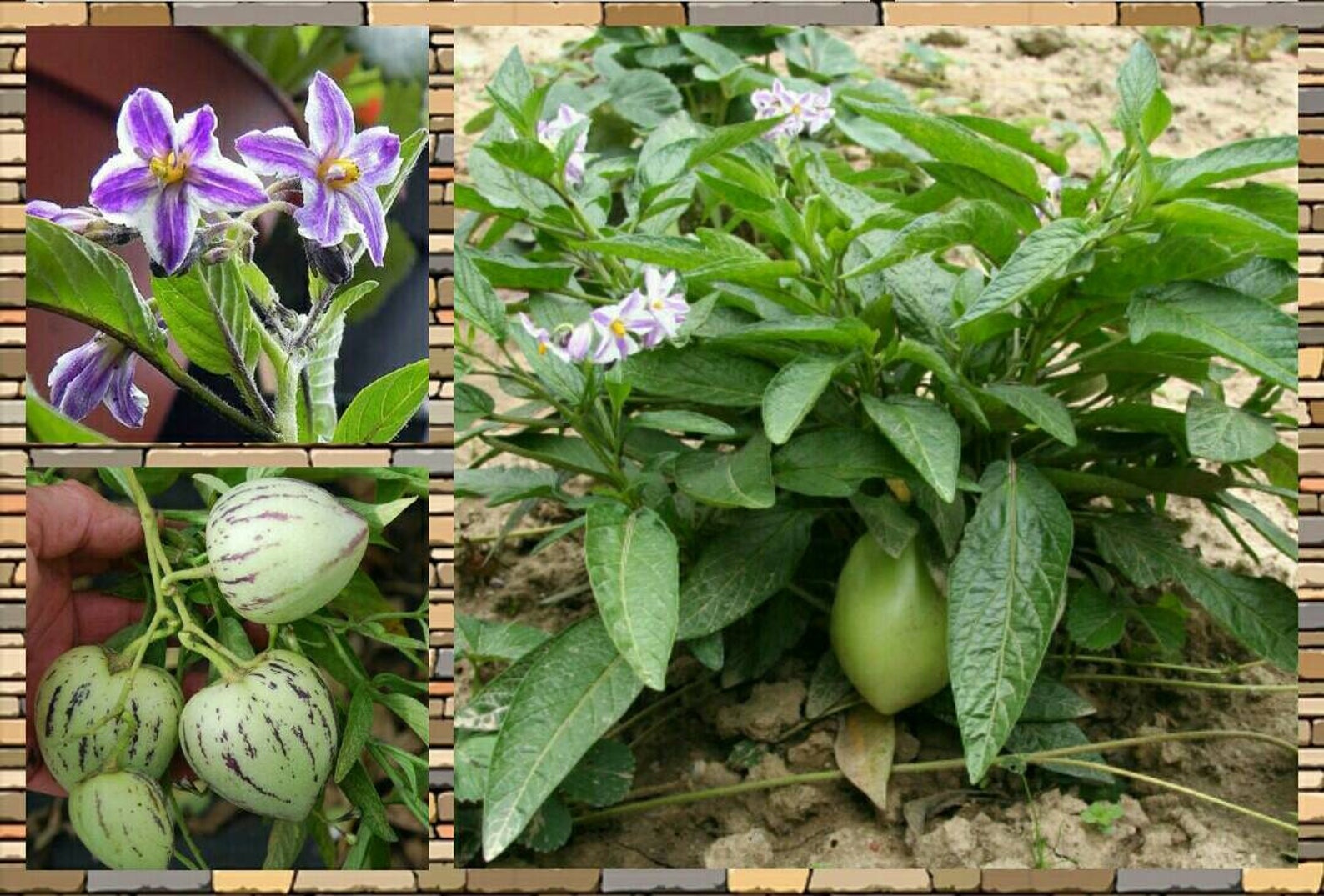 Plant availability changes frequently, but at the time of writing I was able to find one Etsy seller offering live pepino melon plants. Live plants cut down on your waiting time considerably. Check out the listing for live pepino melon plants here. The seller offers bareroot plants and potted plants.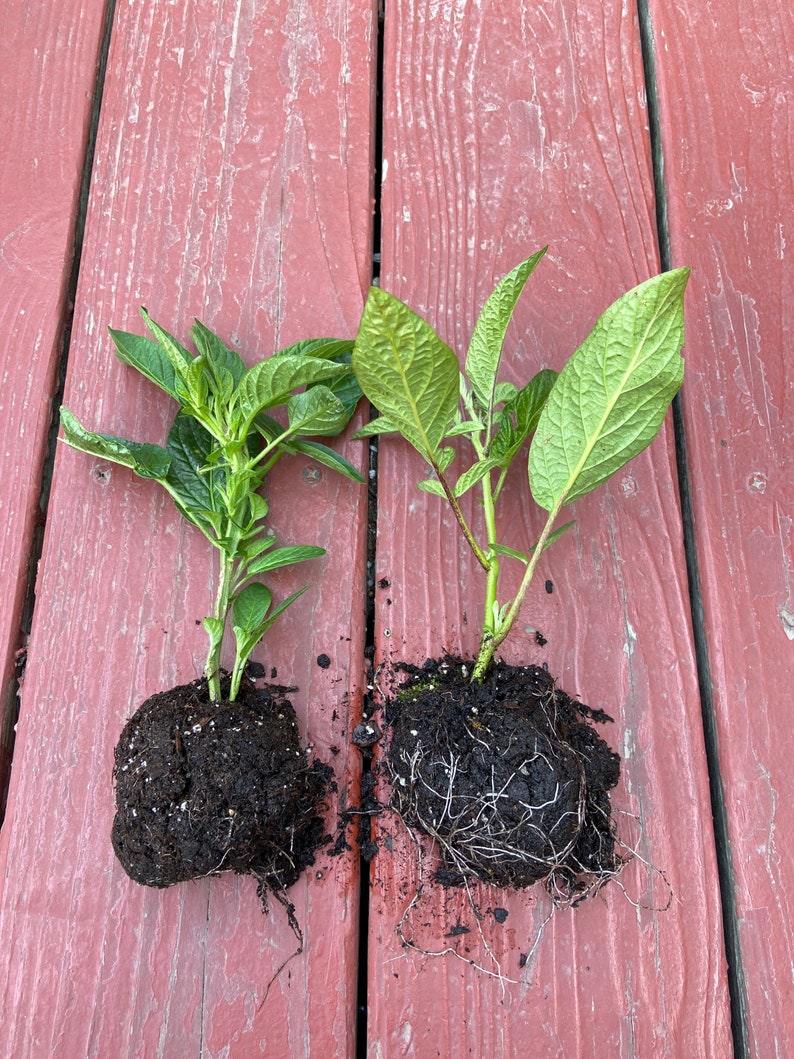 If you live in zones 9-11 and can grow the melons as a perennial, you can start seeds at any time. Even so, starting them inside in winter or early spring is usually a good plan. Although freezes are rare in these warmer zones, they do happen. I remember my grandparent's orange trees in centra Florida being damaged by frost when I was a child. They never bore well after that.
Use a good quality, well-drained seed starting mix and either a cell tray or biodegradable pots. The seeds should be planted on top of the soil, covered with a light layer of soil, and watered well.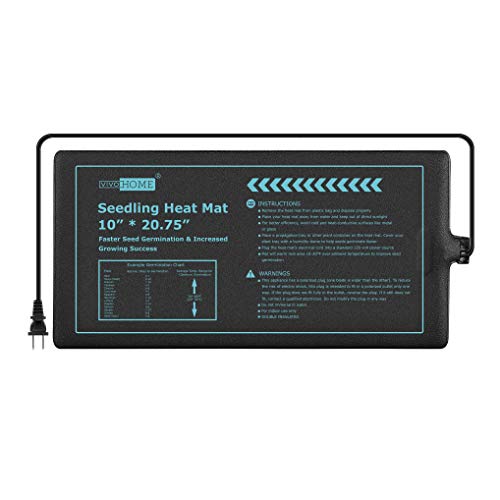 VIVOHOME 20W Waterproof Seedling Heat Mat for Seed Starting Propagation and...
PROFESSIONAL HEAT MAT - Provide your seedlings with a warmer environment to speed up germination, raise success rates, and increase growth rates; A...
DURABLE & RELIABLE - Made with heavy duty PVC material that is durable and resists wear and tear; Complies with MET standards; multi-layer structure...
STABLE HEATING SYSTEM - Automatically warms root area 10-20℉(5-11℃) over the ambient air temperature, which will increase the success of seedlings...
It typically takes about 7-10 days for the seeds to germinate. Bottom heat from an inexpensive seed heating mat can speed the process. Be sure to plant more seeds than you need to allow for ones that don't sprout.
Once your seedlings are up, place them under grow lights or by a window where they will get lots of sun. Run a fan each day for good airflow, and water just before the soil dries out. I use these inexpensive clip on grow lights for seedlings. The clamp is surprisingly strong and hold them in place well. I pair it with this rechargeable usb fan. It can run all day on low. My fan is 3+ years old and still working!
Sale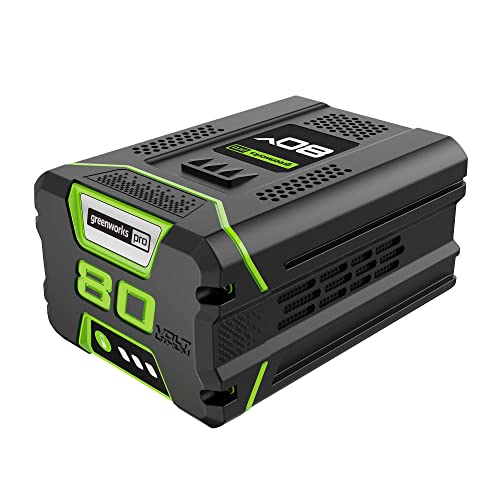 Because the seedlings will be indoors for a long period of time, you'll need to pot them up to 3-4" pots when they outgrow their current ones. You may also need to add more light as they grow. If your seedlings become "leggy" – long and stretched out – they need more light.
Growing from Cuttings
If you have access to an established pepino melon plant, the easiest way to grow a new one is by taking cuttings. Plants grown from cuttings will fruit earlier than ones grown from seed and will be identical to the parent plant. If you don't know anyone with a pepino melon plant, you can order live plants here.
Take leaf-only cuttings from a healthy plant that are about 4-6" in length. Bring the cuttings inside and trim off the bottom ⅓-½ of leaves. It's important to trim off leaves when you're propagating plants so they don't lose excess moisture through their leaves before having adequate roots.
You can root the cuttings either in water or in a sterile seed starting mix, but make sure that the remaining leaves don't touch either the water or the soil. You can use a rooting hormone, such as Clonex, to speed the process up. Nightshades usually root well without rooting hormone, but not always. I recently lost three out of three tomato plant cuttings that I failed to coat with Clonex. Place your cuttings in indirect sunlight and check them regularly.
If your cuttings are in soil, water them just enough to keep the soil moist but never soggy. If they are in water, change the water every 3-4 days.
It should take about 2 weeks for the cuttings to start rooting. At this time, you can plant water cuttings in soil and transfer soil cuttings to larger pots if necessary. Also, you can now place the rooted cuttings in direct sunlight or under grow lights as they continue to grow.
How to Plant and Grow Pepino Melon
When to Plant Pepino Melon
Pepino melons are best planted outdoors in late spring or early summer. If you live in a frost-free climate, you have more freedom about when to plant, but it's best to aim for a time when nature will provide water and kind weather to your plants once they go in the ground.
If you live in a region with cold winters, wait until all danger of frost has passed and both the soil and air temperatures have warmed considerably. Be sure to gradually harden off plants started indoors before bringing them permanently outside. Not sure how to harden off your plants? Read this guide to preparing your plants for transplanting.
Where to Plant Pepino Melon
In areas where pepino melons are perennial, they are best grown in the ground, although they can also be grown in pots. In regions with a short growing season, it's best to grow them in pots because the soil will warm more quickly, and they can be brought inside if necessary.
Either way, plant your pepinos where they will get full sun. In areas with hot sun, plants will also grow well in partial shade but otherwise prefer plenty of sunlight.
Your plants aren't very picky about soil type, but they do need soil that is well-drained and won't get soggy. For healthy fruits, add some compost to your soil (or potting soil in the case of containers) before planting. Worm castings are a great, slow-release fertilizer that won't burn your plants.
Sale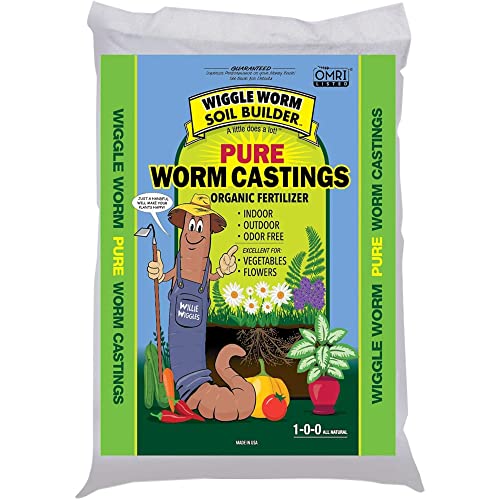 Wiggle Worm 100% Pure Organic Worm Castings - Organic Fertilizer for...
PURE EARTHWORM CASTINGS – Wiggle Worm Soil Builder is pure castings, not vermicompost, because of our special manufacturing and harvesting process....
IMPROVES SOIL STRUCTURE–Wiggle Worm Pure Worm Castings contain tiny, football-shaped particles that prevent packing to help improve plant soil...
INDOOR AND OUTDOOR USE – Wiggle Worm Pure Worm Castings are great for both outdoor and indoor gardens because it's odorless and non-toxic. Our...
If you are planting in pots, be sure they have holes drilled in the bottom for drainage and use medium to large pots to ensure plenty of room for the roots. If you don't feel like drilling, use a nonwoven fabric grow bag. They breathe well and help prevent soggy roots. Select a larger pot, 7 gallons or more, for a healthy plant.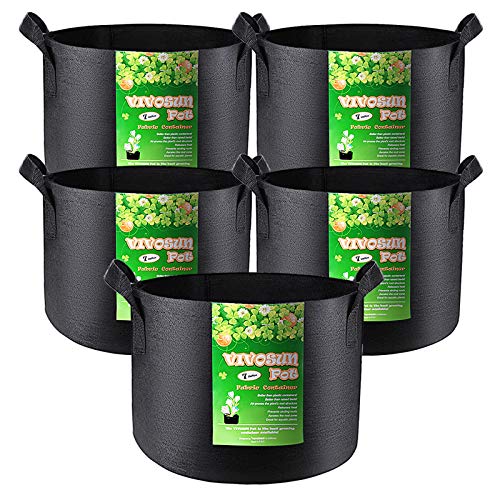 VIVOSUN 5-Pack 7 Gallon Plant Grow Bags, Heavy Duty Thickened Nonwoven...
Sturdy Fabric Material: Made of 300g of thickened nonwoven fabric, these pots are moderately permeable, and BPA-free
Great Drainage: Nonwoven fabric means the pots do not retain excess water, allowing your roots to breathe for healthier, more vigorous growth
Durable, Reinforced Handles: While the competition uses flimsy handles that are merely strips of the same fabric the pot is made from, we use serger...
Tip: If you are growing in a borderline zone, like 8a or 8b, gardeners have had success with planting pepino melon in a sheltered area (lots of sun, warmest spot, sheltered from wind, etc.) and growing it as a perennial. The south-facing side of a house, garage, or wall provides a warmer microclimate that can give the little extra boost needed to keep your plants alive.
Planting Tips
In the garden, plant pepino melons at least 2-3' apart to give them plenty of room to spread out and grow. Plant only one melon per container.
If your plants are growing indoors in their permanent containers, transition them to outdoor life slowly. Start by taking them out to a sheltered spot on a mild day for a few hours. Then, gradually work up to leaving them out all day and eventually all night.
Pepino melons won't grow well and won't start fruiting until temperatures reach at least 65°F, so don't rush the planting process.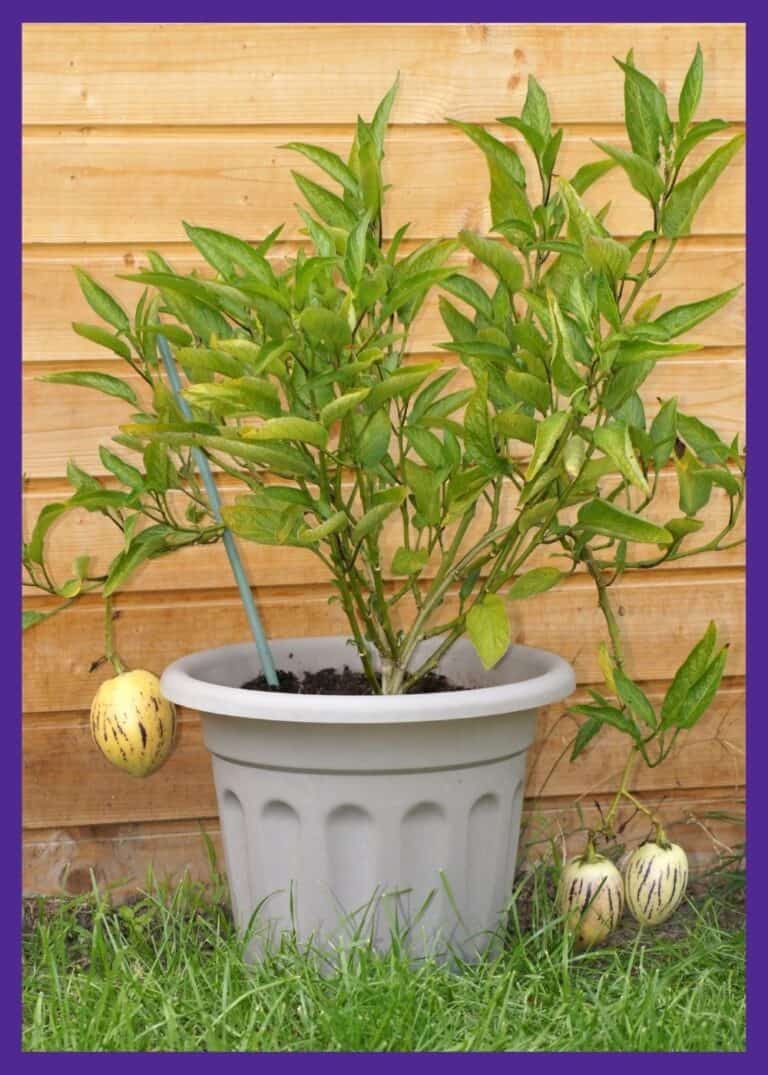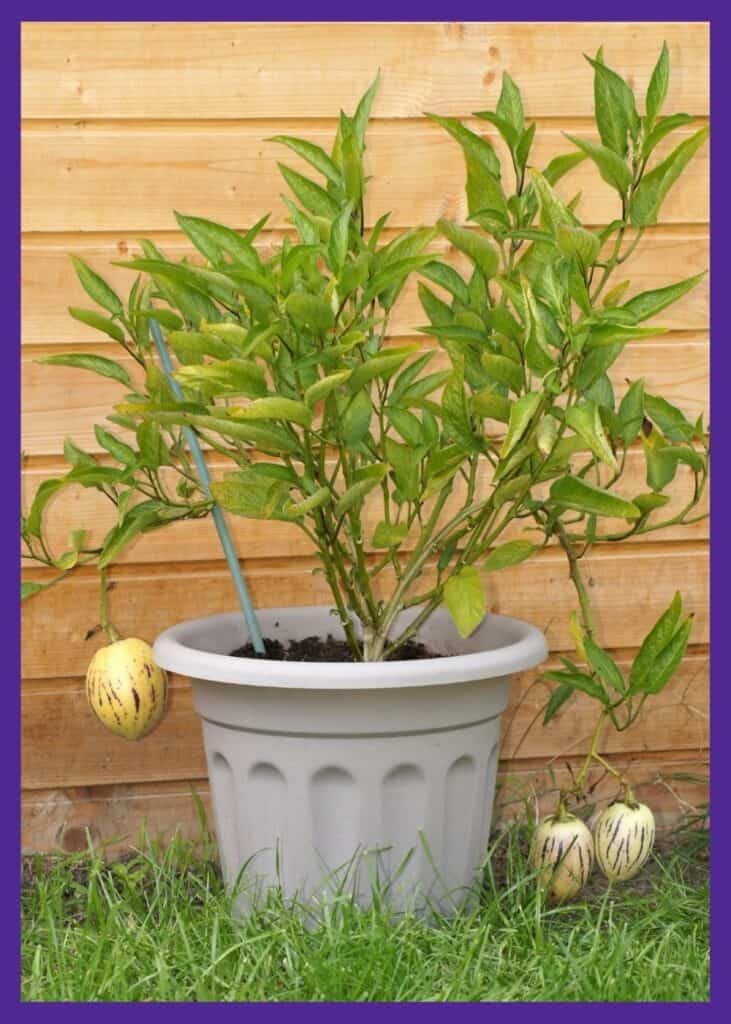 Pepino Melon Plant Care
Now that you know the foundation of how to plant and grow pepino melon, caring for your plants should be the easy part.
Care is very similar to peppers, tomatoes, and eggplant. Water consistently when the soil is almost dry but be careful not to overwater. Keep plants well-weeded, especially when they are still small.
Your plants will most likely need some kind of support system, and this is best put in when seedlings are a manageable size. Tomato cages work well or a staking system. My favorite way to support plants is with fiberglass coated roads and soft coated wire.
Monitor your plants often for pests, particularly when they are close to fruiting, to take care of any problem before it gets out of control.
Common Pests and Problems
Pepino melons can be attacked by pests that go after other plants in the nightshade family (flea beetles, hornworms, aphids, etc.), although they don't frequently suffer severe damage. Look out for spider mites on indoor plants.
Wet conditions and plants spaced too closely together can cause fungal diseases on the leaves. It's very important to give your plants lots of good airflow, especially if they are perennials in your garden. Also, when you need to water your plants, be sure to water the soil and not the leaves.
Harvesting Pepino Melons
Typically, pepino melons will be ripe and ready to harvest 40-80 days after flowering (not planting).
In mild climates, pepino plants typically flower in the spring with fruit appearing in summer and sometimes into fall, although they can fruit year-round in the right conditions. In colder regions, flowers will most likely appear in summer and fruit in late summer or fall. Flowers look similar to other nightshade family member flowers: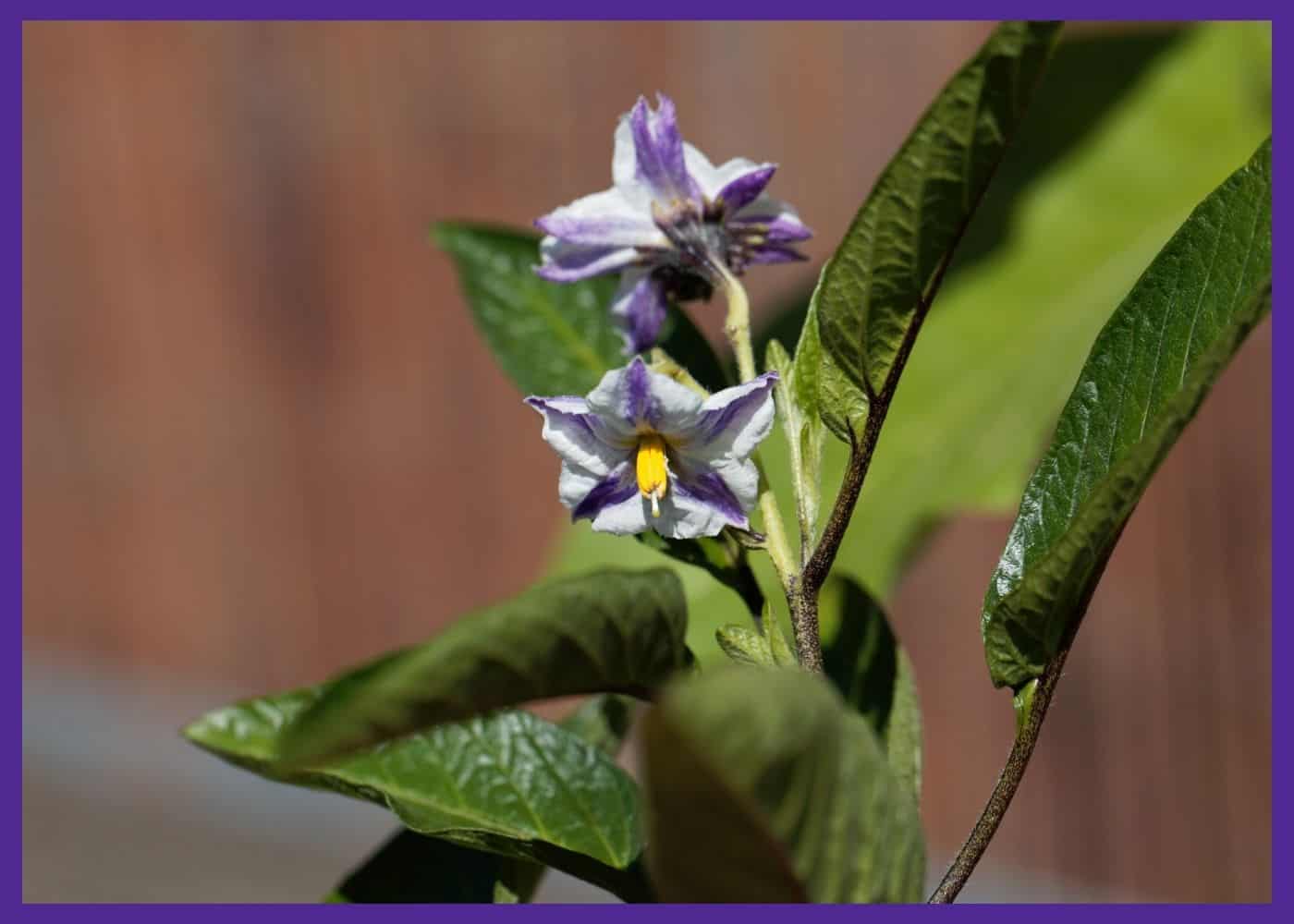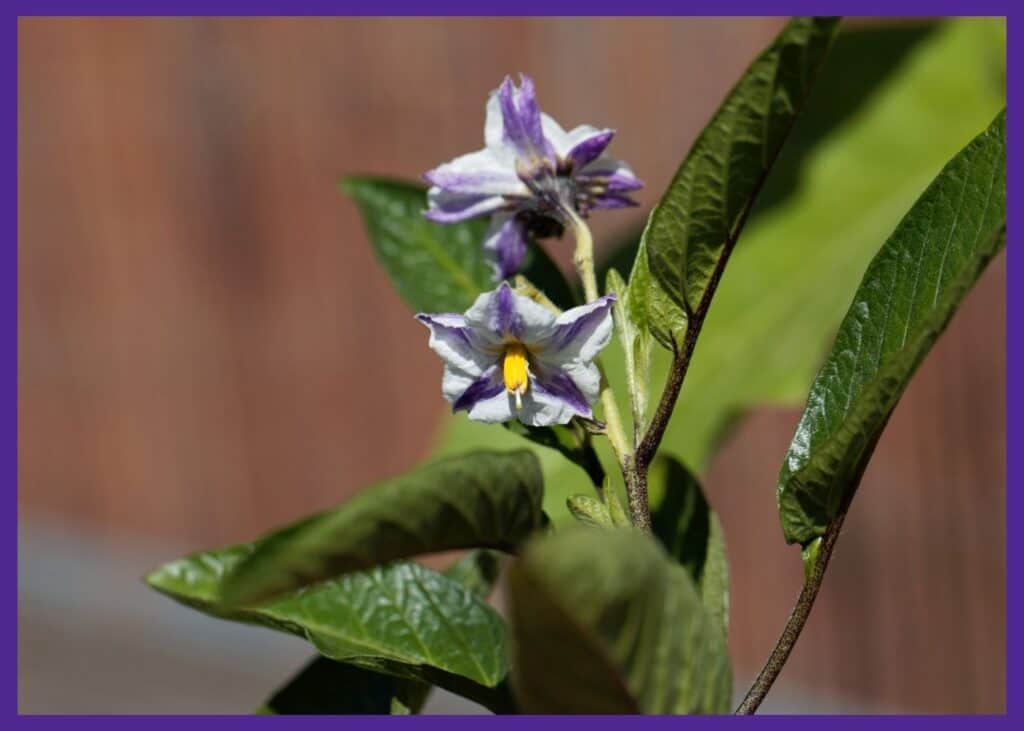 The best way to know your melons are ready for harvest is by their coloring. They will develop purple stripes running the length of the fruit and get a yellow-gold tint when ripe. Some fruits are purple instead of yellow. These will still develop purple stripes. The fruits will also be slightly soft when you squeeze them. The fruit in the picture below is not quite ready to pick. It has stripes, but is still slightly more green than yellow: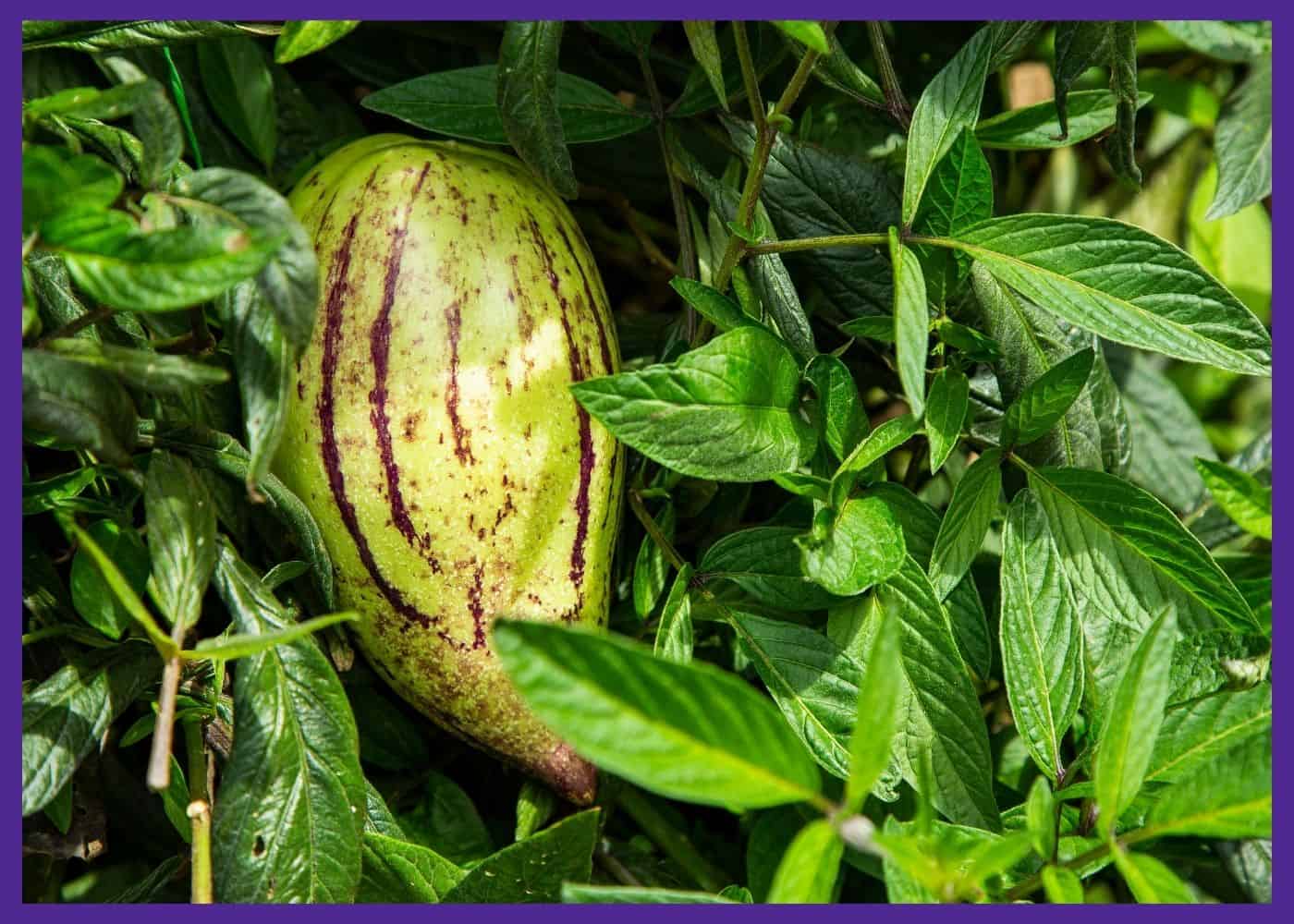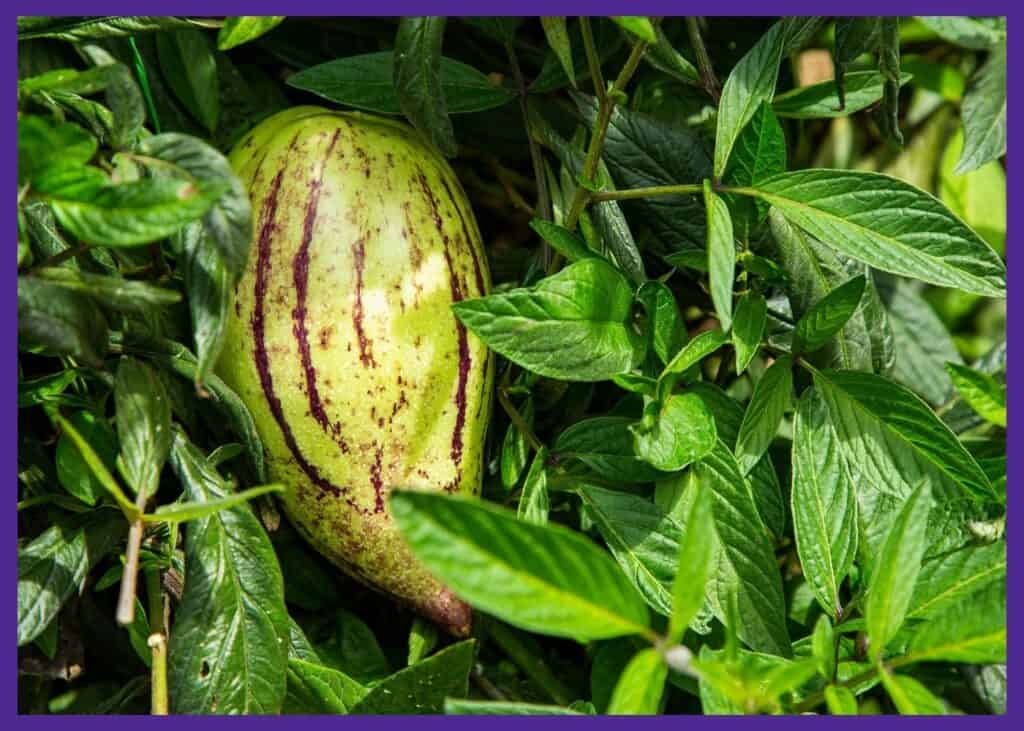 Ripe pepino melons usually come off the plant easily with a few gentle tugs, which is another sign of readiness. Of course, you can also clip them off to avoid any damage to your plants.
It's always a good idea to pick a test melon first so that you can taste it and see if it's perfectly ripe. But the good news is that if you pick pepinos just a little too early, they will continue to ripen off the plant and even last longer in storage.
Storing & Enjoying Your Harvest
The best part of learning how to plant and grow pepino melon is enjoying your harvest.
Ripe fruits are best eaten raw. All parts of the fruit are edible, although some people enjoy them better with the skin off because it can become a little thick. Underripe pepinos can be cooked and enjoyed in a similar way to squash.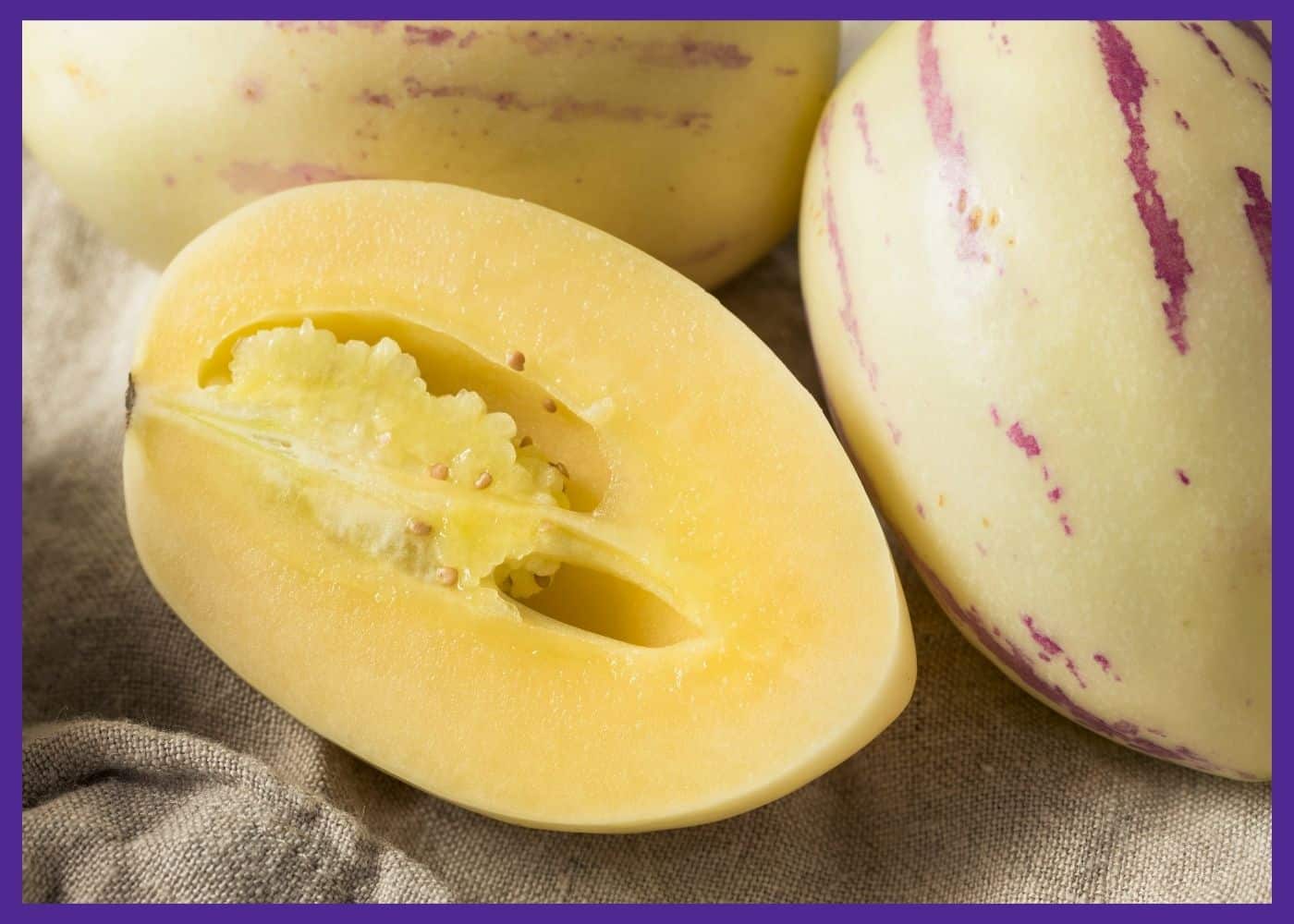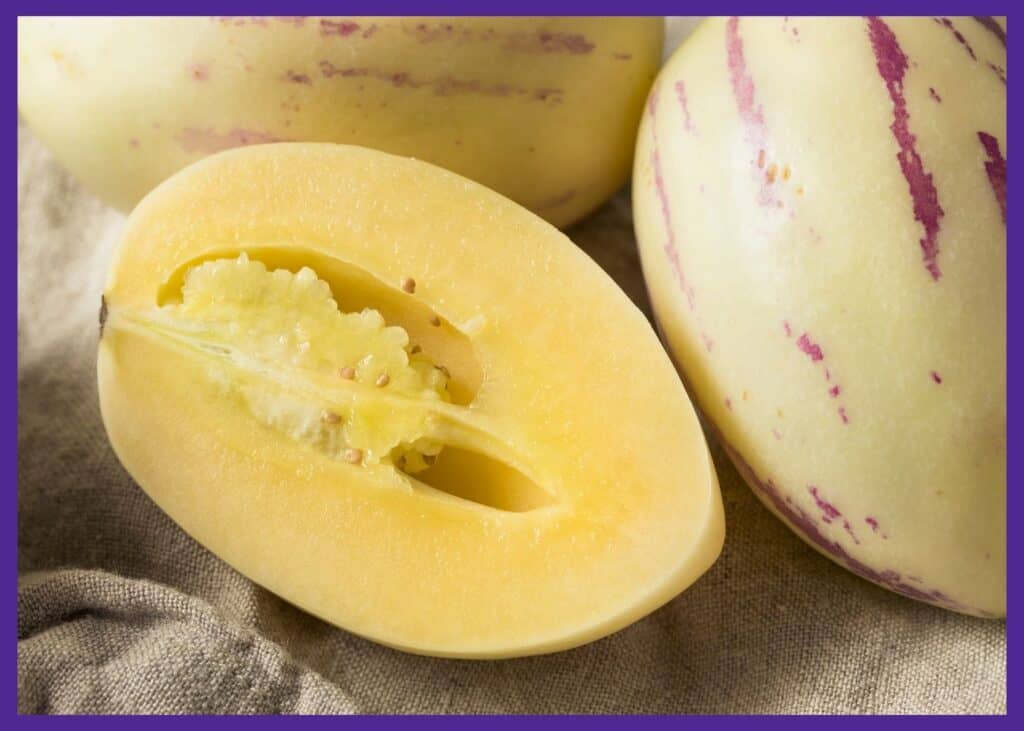 To ripen pepino melons, let them sit out at room temperature until they are softer and smell sweet. Ripe melons can be stored in the refrigerator and usually last 4 or more weeks.
Once you get the technique down, you might be growing pepino melons for a long time to come!
Popular summer vegetables and herbs
Discover how to grow popular vegetables and herbs in your backyard garden or container garden with these in-depth vegetable growing guides.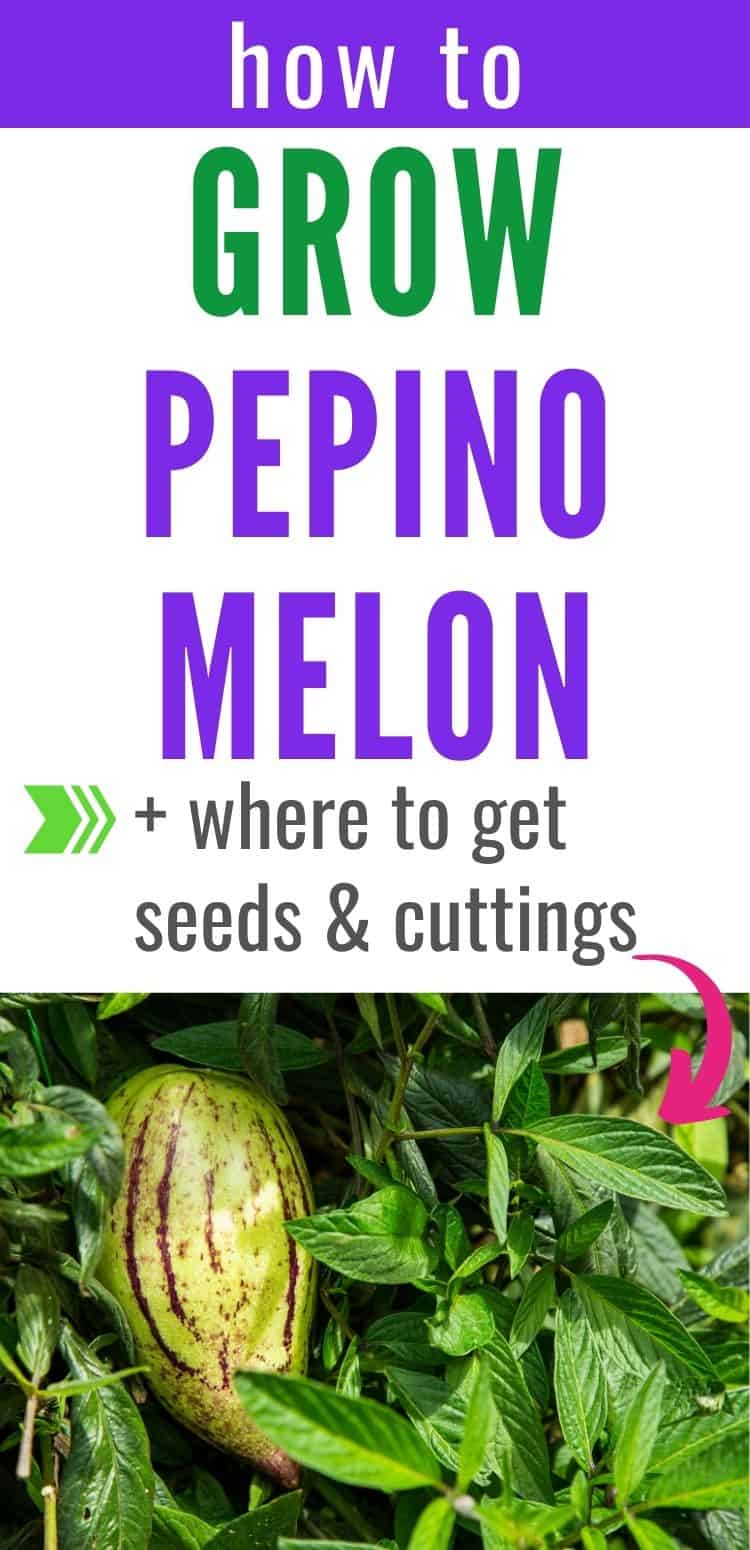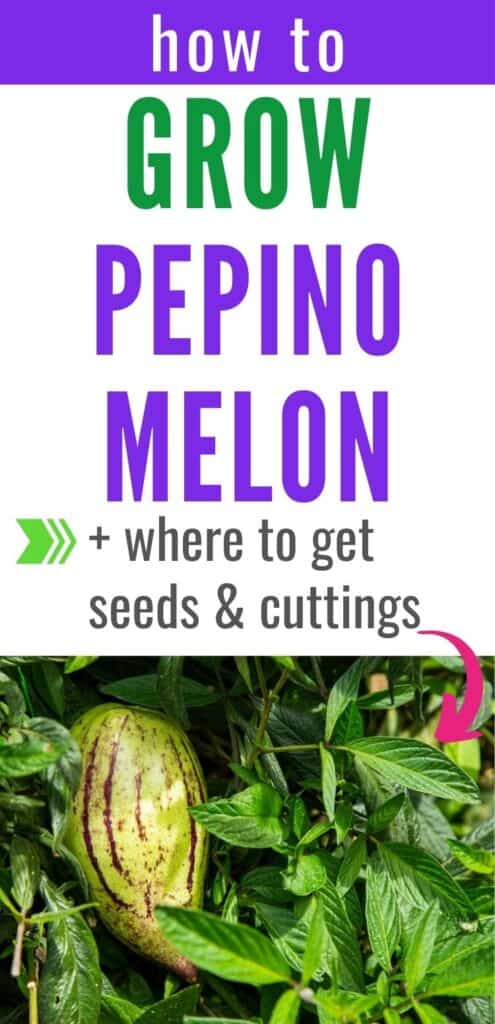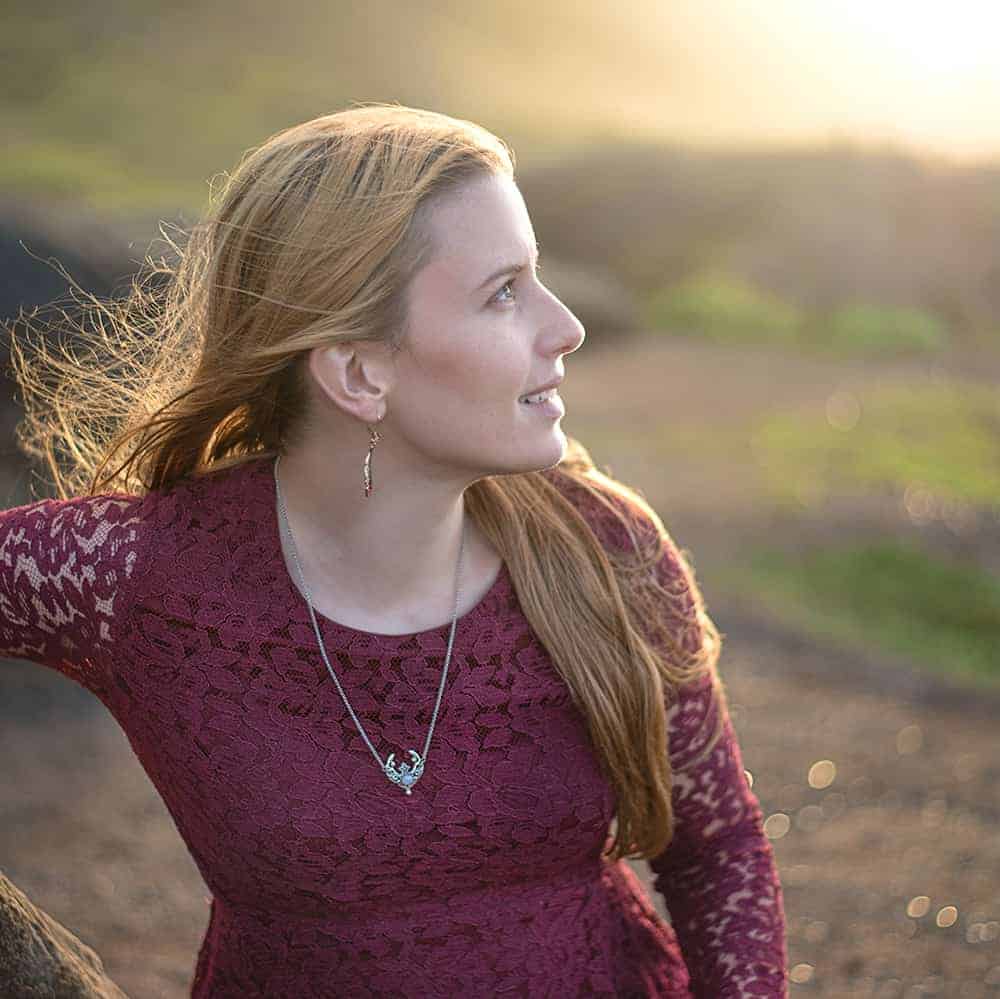 Natasha Garcia-Lopez is an avoid home-gardener and proud owner of 88 acres of land in rural West Virginia. She was a member of the Association for Living History Farms and Agricultural Museums for many years and is currently enrolled in the Oregon State University Master Gardner Short Course program so she can better assist you with your gardening questions.She holds a certificate in natural skincare from the School of Natural Skincare.