If you have backyard chickens and some old grapes in your fridge, you may be wondering: can chickens eat grapes?
The short answer is yes, chickens can safely eat grapes. However, there are a few things to keep in mind to ensure your flock stays happy and healthy.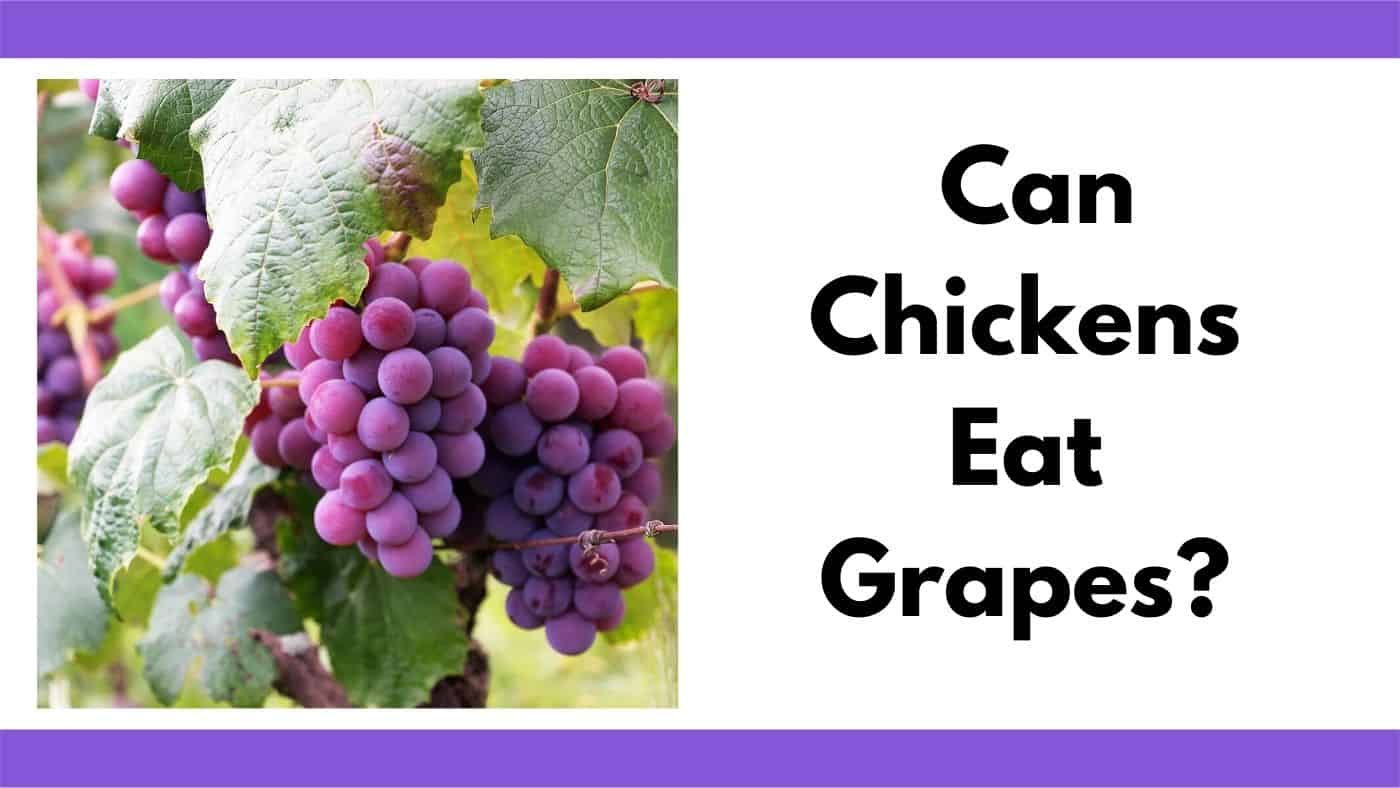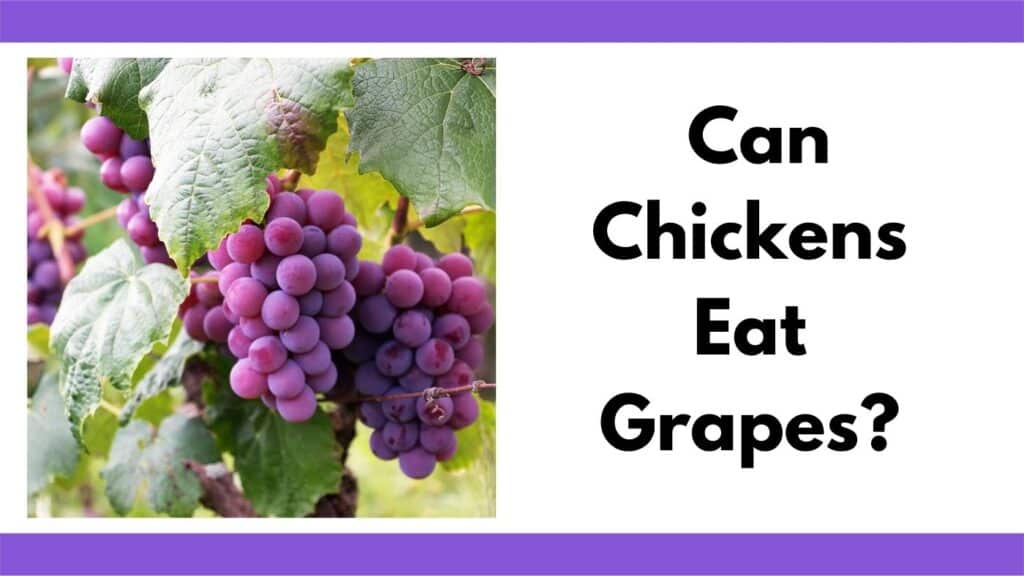 This post includes affiliate links. If you make a purchase using one of these links, Together Time Family will receive a commission at no additional cost to you.
Joel Salatin says if just 1 in 3 families had a few backyard chickens, we could produce enough eggs for everyone without commercial, industrial-scale hen houses. Wouldn't that be nice? If you want to know more about small-scale animal husbandry, be sure to check out his latest (at the time of writing this post) book: Polyface Micro. He speaks openly about the very few times they've had sick animals, how to keep your critters healthy, and has advice for how to minimize wasted time when you're taking care of animals.
Sale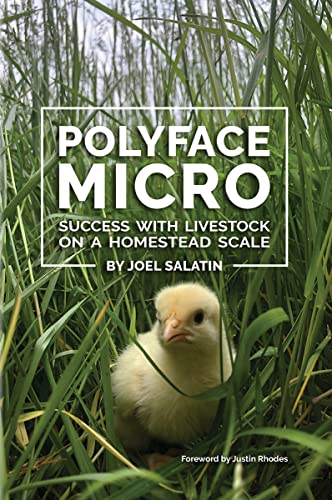 Are grapes nutritious for chickens?
These are all beneficial for your birds, but grapes are also high in something else: sugar. This is why it's important not to feed your chickens grapes too often. Once a week or so is fine, but more often could cause problems for your flock in the long term.
Grapes possess many health-giving benefits for humans, which may translate to greater chicken health (when fed in moderation). Grape health benefits for humans include:
A high antioxidant content that may help fight free radicals (and cancer).
Protection against heart disease.
Protection against diabetes.
Improved bone health.
You may be wondering if these things really matter. Do chickens actually get cancer? Yes! Chickens can get cancer. In fact, laying hens are susceptible to ovarian cancer. It is estimated that 30-35% of hens get ovarian cancer by 2.5 years of age (source). This is one of the reasons we always give our hens the winter off and do not shine lights on them to stimulate egg production during their natural rest and recover period.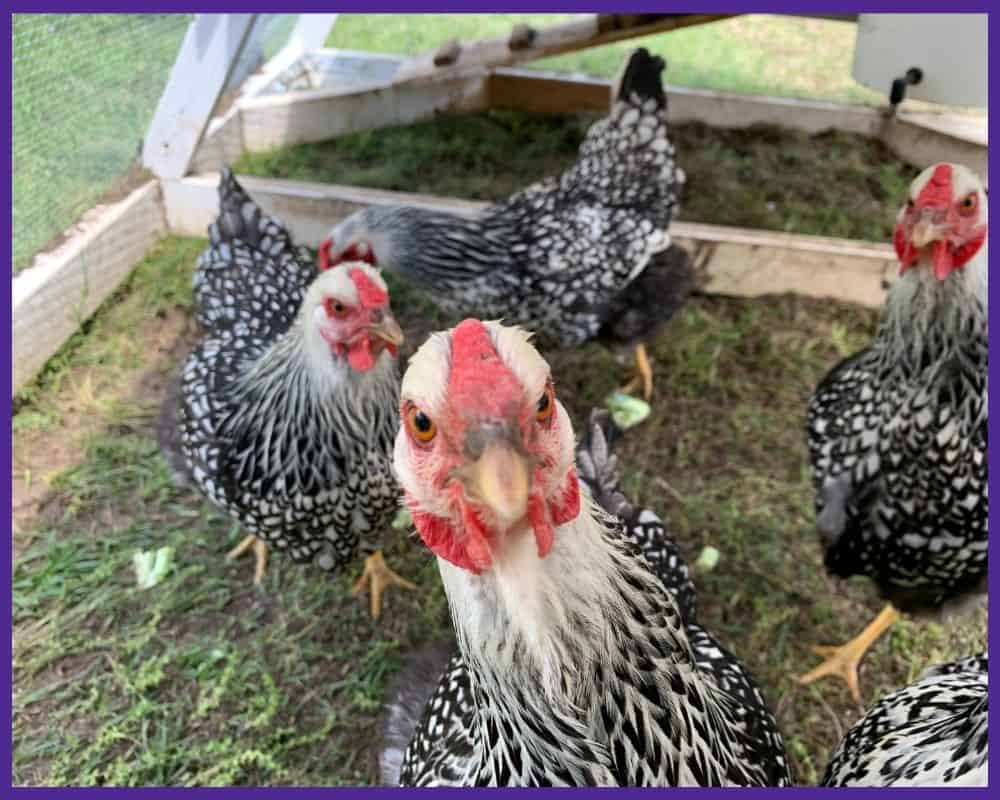 How to select grapes for chickens
Un-sprayed, homegrown grapes are the best grapes to feed your chickens. Grapes can be expensive at the store, so giving them your own grapes (or grapes from a friend/neighbor) is a fun way to give your chooks a treat without breaking the bank.
Grapes take a few years to produce, but it's relatively easy to grow grapes, even if you don't have space for a large garden. My mom grows grapes on her garage wall, for example. Since grapes are so expensive, harvesting just a few bunches will pay for your grape vine in a hurry. You'll also have a ready source of grape leaves for you and your chickens to snack on. Have you ever made dolmas? They're tasty.
Grape Plants
Etsy has become a surprisingly good place to purchase plants! A grape plant can pay for itself quickly, even if you only get a few bunches a year. You don't need a lot of space - they're perfect for growing on fences or even the side of your house.
Photo Credit: LoolyhollerFarm
Concord grapes make delicious jams and jellies. Everyone in your family will appreciate these grapes!
Photo Credit: SweetTreesNursery
Muscadines are generally more hardy and disease resistant than other grapes. They are popular for wine and juice. My chickens love muscadines, once I pop them out of their skins.
Photo Credit: GreenhousePCA
Thompson grapes are a classic, tasty seedless green variety that's great for fresh eating. You may be tempted to eat them all yourself and just give the leaves to your chooks!
If you purchase grapes from the store, try to get organic, if possible. Pesticide residues could be harmful to your chickens. Avoid super-sweet grapes with a higher sugar content like "Cotton Candy" grapes.
How do I feed grapes to chickens?
First and foremost – do not put the grapes in your normal chicken feeder. It will gunk it up and the juices could make your feed grow mold in the future. Tired of your old feeder that wastes food? Be sure sure to check out our guide to the best chicken feeders, including our top, hen-approved pick.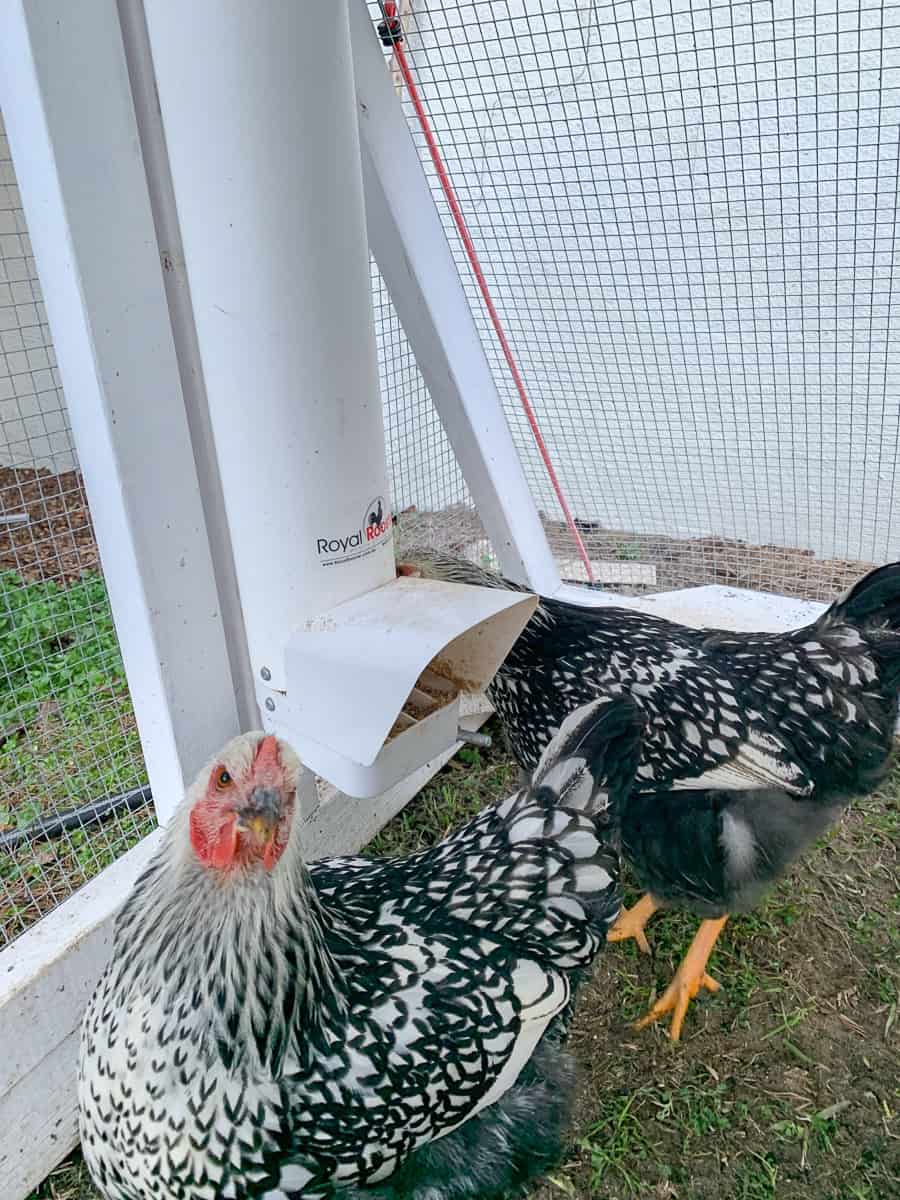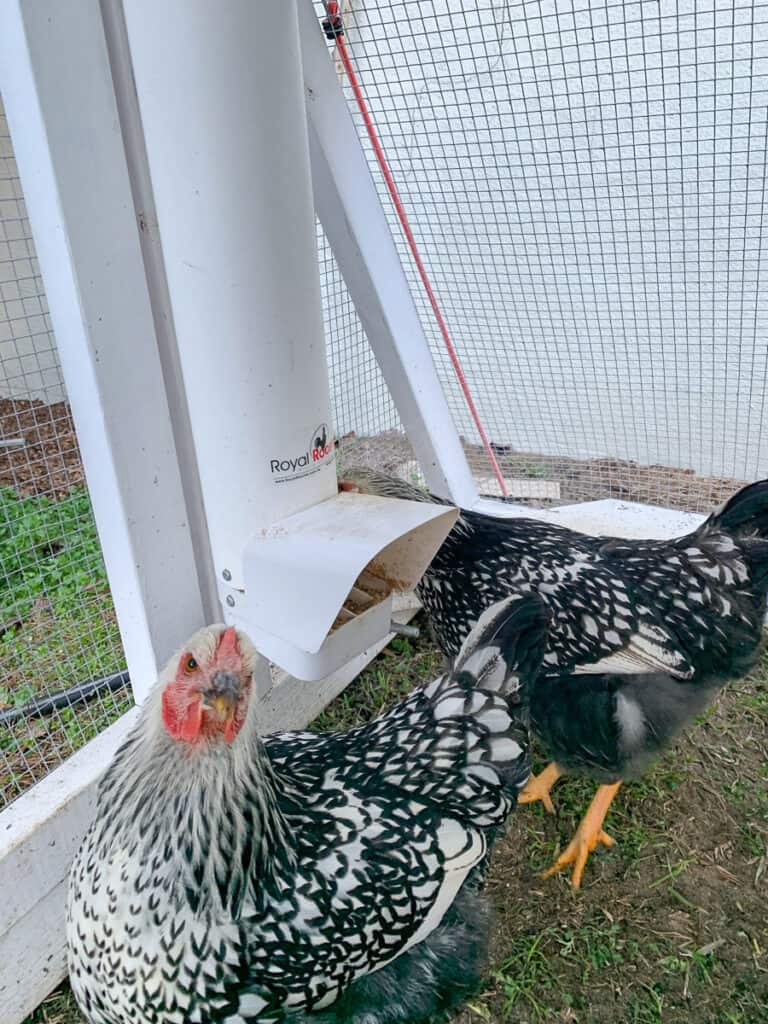 It may sound silly, but consider cutting your grapes before feeding them to chickens. Believe it or not, chickens can actually choke. (It happened to a friend's chicken recently!) Our chickens don't like pecking through the skin and frequently don't eat grapes that are uncut.
If you don't feel like cutting and have thin-skinned grapes, you can try tying a bunch of them up in your chicken run, yard, or tractor. They may be more interested in pecking at them than if you simply through them on the ground.
We have native muscadine grapes growing in our yard. Muscadines are disease and pest resistant, so I always have plenty for my animals! (I'm not personally a huge fan of them, even though many people enjoy eating muscadines.) Muscadines have thick skins that, in my experience, the chickens don't peck through. Luckily, it's easy to squish them out of their skins. After the grapes are peeled, the chickens happily peck away at them.
Can chickens eat moldy grapes?
Let's face it, if you're wondering about feeding grapes to your chickens, it's probably because you have some mushy ones in your fridge. So, are moldy grapes safe for chickens?
Moldy items may contain mycotoxins, which can be harmful to human and chicken health. If a couple of grapes are looking soft and unappetizing to you, go ahead and give them to your birds. If they're all clumped together in a horror movie-esque growth, toss them in the trash or compost. If your grapes look like this, go ahead and compost them: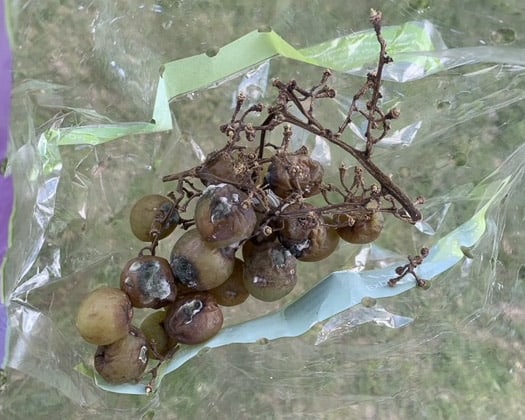 Can chickens have grape seeds?
I've seen some people recommend getting seedless grapes or removing the seeds from grapes before feeding them to chickens. Chickens naturally eat seeds. Grape seeds have health benefits and are not toxic. I see no reason to specifically purchase seedless grapes or remove seeds from grapes before giving them to your chickens. Chickens use grit in their crop to grind grains and seeds they eat.
Always make sure your chickens have access to appropriately-sized grit. I wired a little cage cup to the inside of our tractor so they can consume grit "free choice." It's weird to see the eagerly eating small rocks, but they know know much they need.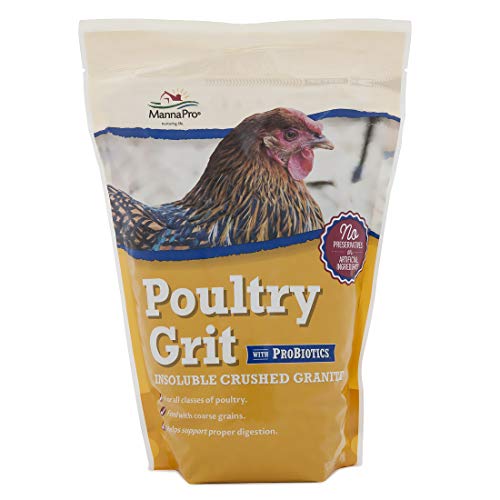 Can chickens eat grape leaves?
Yes! grape leaves are edible for chickens (and humans). They're not only edible, grape leaves are also highly nutritious. Grape leaves contain many of the same nutrients as grapes, including:
Calcium
Potassium
Omega-3 fatty acides
Omega-6 fatty acids
Beta-carotene
Beta-carotene is essential to chickens and helps give yolks their (hopefully) vibrant orange or yellow color. Who knew you could get richer looking, healthier eggs by feeding your chicken grape leaves?
Unlike grapes, you do not need to strictly limit your chickens' grape leaf consumption since they are not high in sugar.
Your chickens will probably also enjoy pecking at the vines, too, especially young vines. Grape vines contain beneficial tannins. Tannins are antioxidants and can improve chicken gut health. However, in very high doses they can cause problems (source). Luckily, chickens can figure out what to eat and what not to eat on their own. They are not going to overeat grape vines to the point where they have damage from the tannins. This is really only a concern if you're giving large amounts of tannin supplements.
Always make sure grape vines and leaves are un-sprayed before giving them to your chickens.
How much do chickens like grape leaves? Watch and find out!
Can chickens eat wild grapes?
Yes, chickens can eat wild grapes and wild grape leaves. However, make sure you correctly identify wild grapes so you don't accidentally feed your chickens something poisonous. Wild grapes are usually easy to id because of their unique leaves. Wild grapes usually have thicker skins, so consider popping them out of their peels or squishing them. Grape leaves all look fairly similar to this: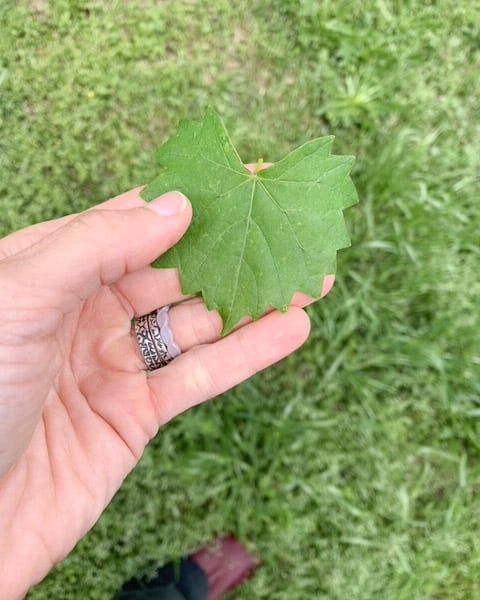 I hope you enjoyed this look at whether chickens can eat grapes and that your chooks enjoy their grape treats!
Backyard Chickens
Joel Salatin says that if 1 in 3 families had backyard chickens, we could end commercial, industrial-scale egg production. Keep your flock healthy and happy!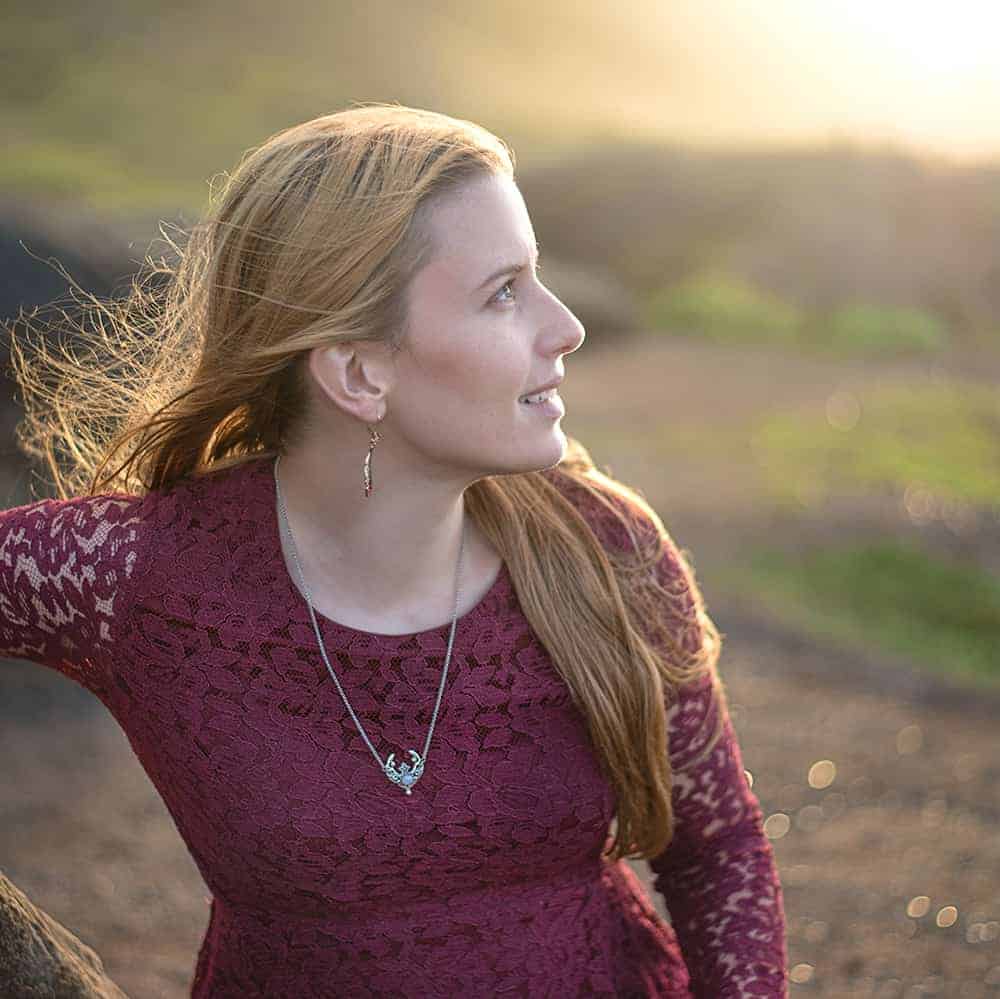 Natasha Garcia-Lopez is an avoid home-gardener and proud owner of 88 acres of land in rural West Virginia. She was a member of the Association for Living History Farms and Agricultural Museums for many years and is currently enrolled in the Oregon State University Master Gardner Short Course program so she can better assist you with your gardening questions.She holds a certificate in natural skincare from the School of Natural Skincare.