Chickens are naturally curious animals with the desire to peck and explore. Keep your flock busy, happy, and healthy with one (or more!) of the best chicken toys available.
Anyone who's spent time with chickens knows they are active, hilarious, and have personalities of their own. One researcher determined that chickens "are just as cognitively, emotionally and socially complex as most other birds and mammals in many areas" (source).
Do chickens need toys?
Chicken toys do a few things:
They provide the mental stimulation your chickens need to keep them from developing bad habits such as bullying, fighting, stealing and eating eggs, and overeating.
Enrichments can increase physical activity, which may help prevent leg problems (source).
They also provide great entertainment to people when they use the chicken toys. Watching a chicken peck at its reflection in a mirror is quite the entertainment for young kids too.
In this post we've selected the best chicken toys to keep your chickens happy and your toddlers laughing. Check them out.
This post includes affiliate links. If you make a purchase using one of these links, Together Time Family will receive a commission at no additional cost to you.
Chicken Swings
If you want to improve your chicken coop, then a chicken swing is your next purchase. When I built my first chicken coop I wondered if the chickens would use their perch. Go figure, that is their favorite place to be.
Chickens love swings, they love being up high and given the extra stimuli from the cool colors on this swing, your chickens will love it so much you'll need a second one for those left out.
---
If you're looking for something less flashy, this is the swing for your chickens. Your chickens have plenty to occupy them: there are bells, colored balls, and plenty of bark to peck at.
This perch swing may also be more comfortable for chickens to stand on because they can easily wrap their feet around it without awkward rungs or braces.
---
A swing may not work for you depending on your setup. Here is a ladder your chickens will love to test their ninja skills on. Don't let the photo fool you, it is harder than it seems, but your chickens will have no trouble mastering it.
If you want to entice your chickens to use the ladder, put a tasty treat at the end of the ladder so they are more likely to use it.
---
Treat Feeders
Here's a super neat feeder which your chickens will enjoy. It may take a bit of time but food is an easy way to reinforce behaviors with your chickens.
Not to worry, the lid is slow opening and closing so your chickens will not get hurt by the lid slamming shut. Also, the side panels keep onlooking chickens from feeding at the same time so everyone may get their chance.
---
Mealworms are chicken's favorite treat. If you are looking for a chicken peck toy, this is it. The roller will keep the chickens busy by chasing it around the chicken run. They can look, scratch, peck, and eat the mealworms.
Mealworms are great for fattening up your chickens but sometimes it seems those don't last very long since they are so delicious. You also need to make sure your chickens don't eat too many mealworms at once or they can gain weight too quickly.
This chicken treat dispenser will keep your chickens occupied with the same delicious treat for much longer. Remember, the longer you can occupy your chickens, the less time they have to develop bad habits like bullying and fighting.
---
The Lixit Chicken Feeder toy is a classic when it comes to chicken toys. It is relatively easy for chickens to figure out and keeps them busy doing important chicken business.
The Lixit Chicken toy can be compared to other portable food dispensers but there really is none like it. Your chickens will be hooked and you will have plenty of entertainment just watching them pecking and eating all day long
---
Let's face it, chickens do not concern themselves with keeping their food clean. This Vegetable Chicken Feeder toy is perfect for giving your chickens the chance to have clean vegetables before anyone has the chance to drag them through the dirt (or poop on them).
It's also ideal for giving multiple chickens the opportunity to have some of the treats. Too often, food and treats are hoarded and only the quickest gets the worm. This toy allows you to control that by limiting the access and how much each chicken can take.
These ladies need a veggie treat ball to keep their morning treats off the ground! It might also help the olive egger and Speckled Sussex learn some manners…they're always jumping to the front of the line.
---
Music toys for chickens
It's almost like chickens were made to play the xylophone. Their quick pecks and curious minds make it an ideal toy for them. Xylophones also make great entertainment for the family. Your little kids will be laughing and pointing at the silly chicken playing music.
Chicken Xylophones are unique because they won't have styrofoam anywhere on the toy where they can eat and damage their insides.
---
Another great musical instrument for chickens is an electric piano. A simple one, like for toddlers, works well. It may take a bit of coercion and lots of treats but your chickens will certainly get the hang of it and you will have some clucking beats to listen to.
Be sure to place the piano on something low enough the chickens can hit the keys and don't confuse the buttons instead of the keys. You may want to place some food on the keys to get them started, after that, they should realize their pecking is making some extra noise.
---
Chicken Mirrors
Chicks grow pretty quick, so it is imperative that they receive the mental stimulation they need to be well behaved chickens. This baby chick perch and mirror toy is perfect for the little ones.
Though they'll grow out of fitting inside the toy, they'll be able to use the perch and mirror as an adult chicken.
---
Imagine seeing yourself for the first time in a mirror, a photo, or the water's reflection. Your perception of yourself would change forever. That is essentially what this experience is like for a chicken, perhaps a bit more subdued.
Mirrors are some of the best stimulation you can provide your flock. It really gets them admiring themselves and keeps them more focused on good behaviors that promote a healthy set of chickens.
---
Chicken Perches
Chicken perches are incredibly important especially to keep chicken's feet healthy. This perch has the added benefit of being heated and perfect for cold spring nights.
Once your chicks are no longer using their heat lamp, use this perch to make sure they have some help staying warm. Whether you have a small flock or some baby chicks who need some warmth help, this perch is ideal for all.
---
It's no secret that chickens love to see things from a different perspective. This is the easiest way to keep your chickens entertained and occupied with something different.
This perch has the benefit that it is super portable. If it seems your chickens are getting bored and need a change of scenery, just move the perch to somewhere new to keep them busy.
---
Chicken Chew Toys
Chickens like to sift through the ground for all sorts of interesting things. Why not give them something colorful to decorate their chicken run with? This toy helps divert your chickens attention towards something other than each other.
Take as many opportunities as you can to keep your chickens thinking about something. An occupied flock is a healthy flock.
---
Chicken toys come in all shapes and sizes, but making sure they are non-toxic to your chickens is important. This Chicken Chew toy is made of non-toxic materials safe for your chickens to ingest if they tear a piece off.
---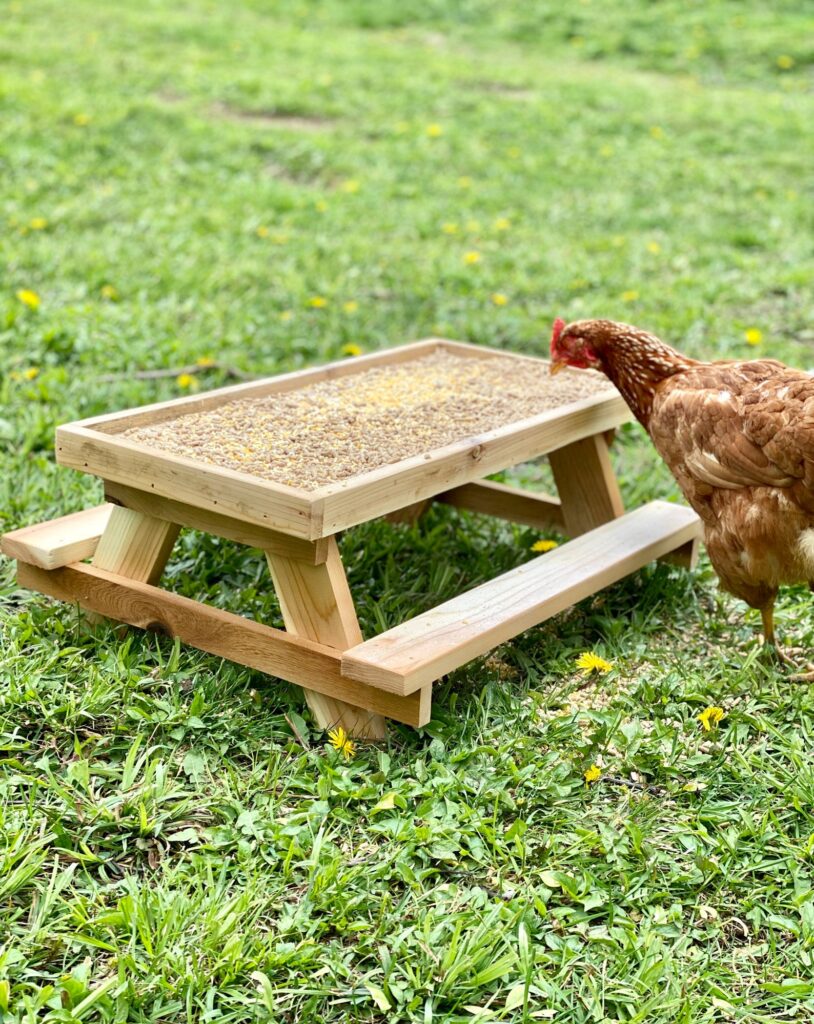 One of the novelties of having chickens is that you have the opportunity to shop for really interesting looking things. This chicken sized picnic table is a perfect example of why to have chickens.
Whether you make this their permanent feeding station or just their treat table, it will be a great addition to your chicken toy collection. Made out of wood, the materials are not toxic to chickens.
It is worth getting the cedar option because cedar is naturally rot resistant. The pine version may survive a season but will not make it past the rainy season without some special attention. This is a must have for chickens everywhere.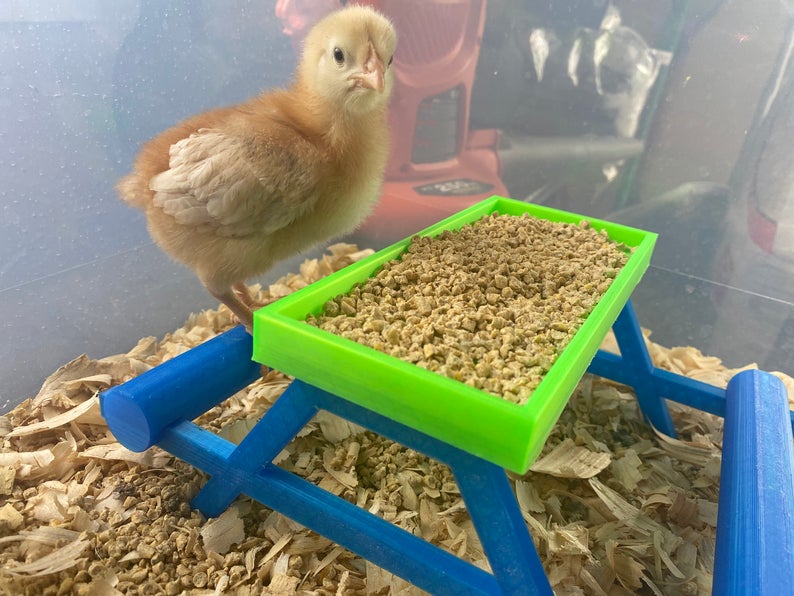 This is a great handmade perch for the little ones. Encouraging the little chicks to work for their food is a great way to keep them busy, focused, and healthy. With this toy, the little chicks have to climb onto the perch to get their food. This is great for the chicks who are one to six weeks old.
The chick feeder has an optional divider. This keeps the chicks off the table and on the perch to encourage good table manners. As the chickens grow up, it will teach them to not trample their food. This chicken toy is super adorable and the colors are great.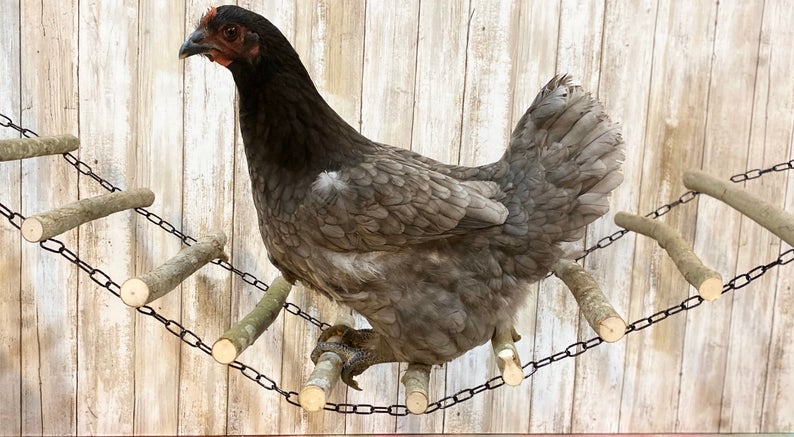 Here is a handcrafted chicken bridge which features natural wood with the bark still on, allowing your chickens to have the ultimate natural feeling. Just like any new toy, the chickens will take their time, don't rush them or be disappointed if your chickens don't immediately jump on the brdige.
Don't worry about the bridge being unstable, chickens have great balance. You can progress your chickens to higher and higher perches with the ladder but you can start with one end staked into the ground and the other attached to a one foot high perch with food on it to encourage using the ladder.
---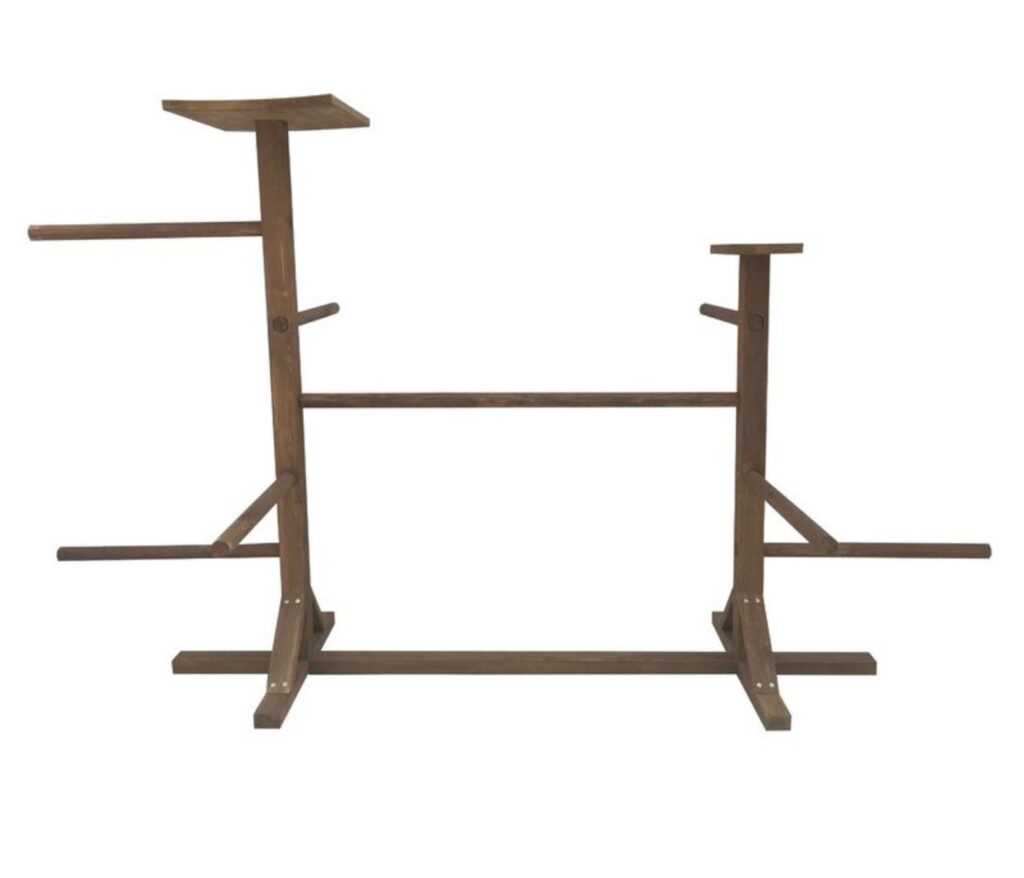 Getting your chickens off the ground is key. They love being up high especially to sleep. However, making a stable perch can be complicated, time consuming, and confusing. Remove the headache with this hand made perch made out of wood.
Here the chickens can choose whichever perch they desire and not worry about the structure falling over. This is also a great structure to pair with one of the ladders listed in this post.
---
If you're the DIY type, you will enjoy this book of DIY Chicken Keeping Projects from Lisa Steele of Fresh Eggs Daily.
Not all of the projects are toys, but the book includes 40 fun chicken projects that range in difficultly from very simple (the egg tray and chicken swing) to complicated (like the roadside chicken egg stand.)
The picture below shows my mother-in-law's chicken swing built from Lisa Steele's plans. The coop is from her New England Chicken Coop plans. (If you decide to build the coop, count on it taking more than the 6 hours suggested in the plans! It took me several weekends to finish.)
For a DIY chicken toy on a budget, check out this idea for a chicken treat feeder toy made from a plastic bottle.
You can also learn how to make your own simple chicken swing from Kris of Attainable Sustainable.
Whether you hire a full time entertainer, play music, or just let your toddler play with the chickens, it's important to give your chickens something to do. Just imagine if you had no responsibilities but also had no mental stimulation other than a bunch of other feathery beings just getting in your way all day. Yeah, you too would probably develop some bad habits.
Chickens are not incredibly intelligent but that does not mean they don't have an understanding of what is going on around them. The toys in this post are simple seeming, which is good, but highly effective at keeping your chickens occupied and healthy.
What's your favorite chicken toy? Leave a comment and let us know!