Are you longing for a burst of color in your garden? Here is a list of the 10 most beautiful yellow flowering shrubs prized by most gardeners. 
Yellow is often associated with happiness and freshness, which is what makes yellow flowering shrubs a major hit among gardeners. The stunning color instantly brightens up your garden and stands out among the other plants in your garden.
Yellow flowers aren't just pretty to look at. Yellow flowering shrubs can benefit your entire garden and the local ecosystem, too! Many bees and other pollinators are attracted to the color yellow. Read more about attracting pollinators to your garden in this free guide from the US Fish & Wildlife Service.
If you love yellow, you'll find tons of shrubs and bushes that give yellow flowers. Here are the ten most beautiful ones that are easy to grow and will add a burst of color into your garden.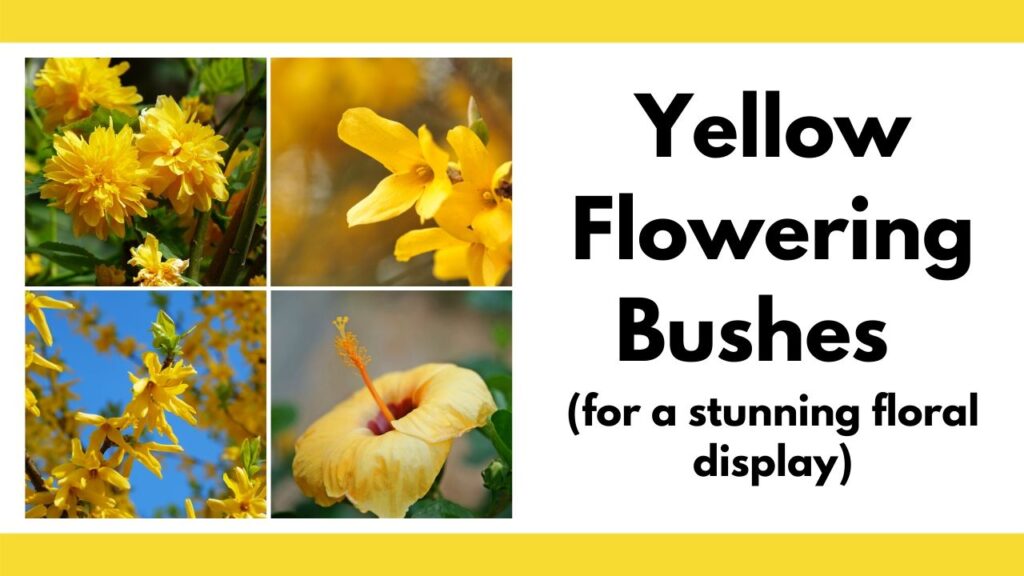 This post includes affiliate links. If you make a purchase using one of these links, Together Time Family will receive a commission at no additional cost to you.
Forsythia
Climate: Zones 3b-8
Scientific name: Forsythia (genus)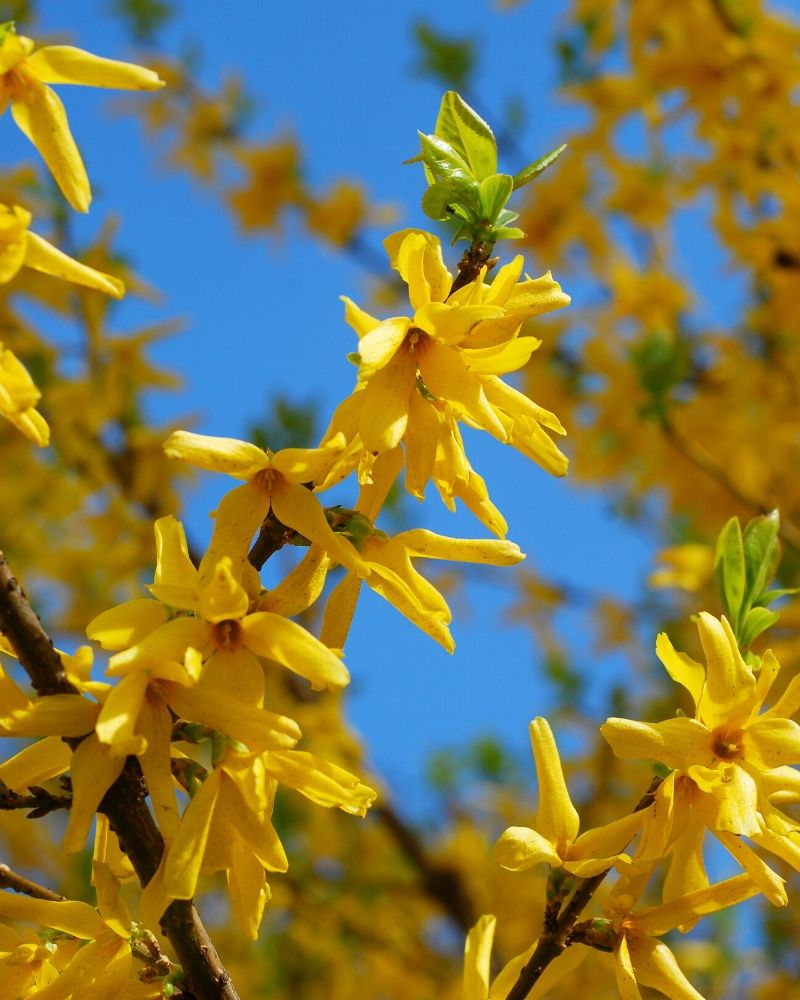 Forsythia isn't just cheerful because of the bright yellow flowers, but also because it's one of the first shrubs that will begin blooming with the start of spring each year. The tiny yellow blooms appearing on the branches of Forsythia signals the end of winters and the beginning of spring.
Not all forsythia varieties are extremely cold hardy. Dormant flower buds overwinter on the plant and may be killed in extremely cold weather if you don't select a cold tolerant cultivar. Varieties like Fiesta, Gold Cluster, Meadowlark, and Northern Gold, and Norther Sun work well in zones 3-5. (source)
Some of the most popular forsythia cultivars include:
Beatrix Farrand (one of the tallest – it can reach 10 feet tall!)
Northern Gold (can withstand temps of -30ºF)
Show Off Sugar Baby (dwarf variety suited to container gardening)
Sunrise (mid-sized shrub about 5-6 feet tall at maturity)
Goldilocks (a dwarf variety that's generally under 3 feet tall)
Other than regular pruning to keep the bush in shape, the plant doesn't ask for much maintenance at all. Forsythia shrubs should be pruned just after blooming. (source) As long as it's grown in well-drained soil and gets full sun, it will grow well. Forsythia will even tolerate clayey soil. 
Yellow Azaleas
Climate: Zones 5-9
Azaleas belong to the Rhododendron genus.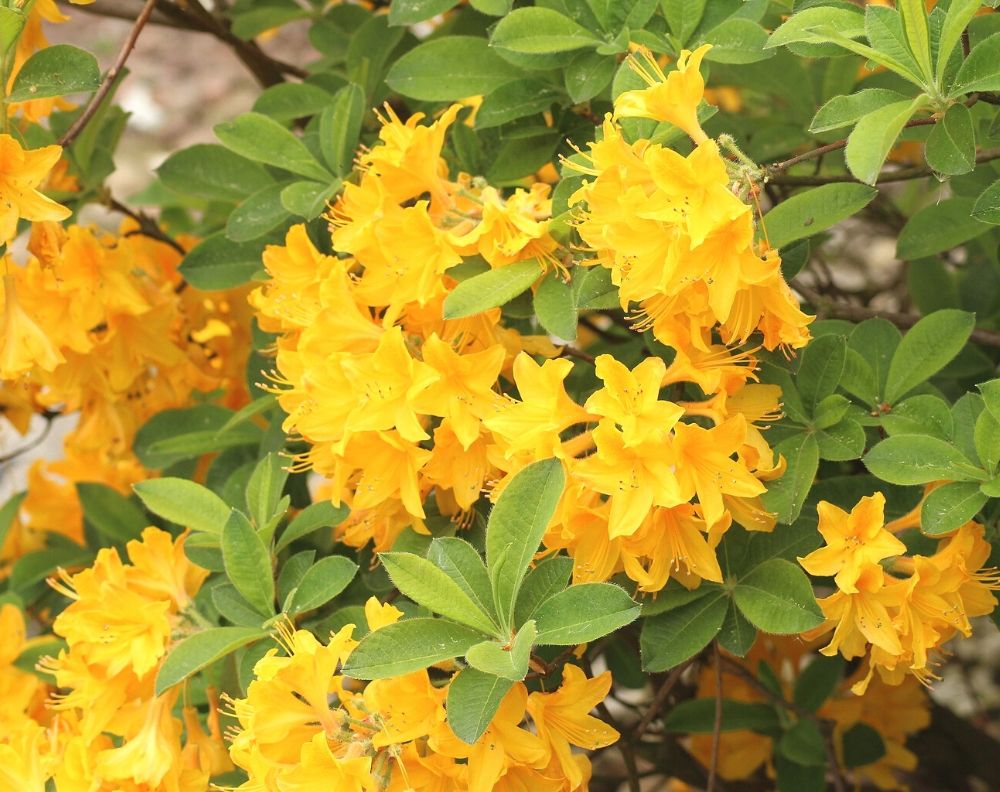 There are both evergreen azaleas, which are in the subgenus Tsutsusi, and deciduous azaleas from the subgenus Pentanthera.
Azaleas are my all-time personal favorite flowering shrub. I used to work at a historic plantation in Charleston, South Carolina and adored the beauty of azalea season in early spring.
According to the Azalea Society of America, some North American native species azaleas are yellow, but no evergreen azaleas (which are primarily native to Japan) are yellow.
There are over 10,000 different azalea varieties! Hybrid varity azaleas grown from seed will not "breed true" and look like the parent plant. Instead, they need to be propagated from cuttings. If you find a yellow azalea you love, you can grow your azalea collection over the years by taking and rooting your own cuttings.
Some popular yellow azalea varieties include:
Appalachian Gold
Aromi Sunny Side up
Aromi Sunstruck
Aromi Sunrise
Arneson Gem
Lemon Lush
Golden Lights
Tallulah Sunrise
Azaleas are heavy bloomers and give off a bright yellow color to light up your garden. What's even interesting is the fact that these mildly fragrant blossoms appear before the foliage somewhere in mid-spring. The bush will be flushed in a stunning lemon color during this time with trumpet-shaped flowers. 
You can grow it anywhere in USDA growing zones between 5 and 9. The shrub asks for occasional pruning and will grow well in partial sun to partial shade. Keep it out of the full sun since it can burn the leaves. Plant it in well-drained, acidic soil that's rich in organic matter.  
Yellow Camellia
Climate: Zones 8-10
Scientific name: Camellia japonica
Camellias come in a variety of different shades and colors. The yellow camellia shrubs are distinct given their white outer petals and pale yellow centers for a beautiful ripple effect. The foliage is evergreen, while the blooming starts in early spring.  
There are a handful of truly yellow, not yellow-white, hybrid camellias. The American Camellia Society is a great place to find information about these cherished plants.
Many gardeners in the US South plant both azaleas and camellias. Camellias tend to blossom first, followed quickly by azaleas. This ensures you have plenty of beautiful yellow blossoms for several weeks in the spring.
You can make it a part of your garden landscape or plant it in a container. It will grow best in USDA growing zones between 8 to 10 and thrive in partial shade. Younger plants need protection from direct sunlight, but older camellia plants don't mind the full sun. Plant in a well-fertilized, well-drained, and slightly acidic soil and maintain consistent moisture for best results.
Yellow Hibiscus
Climate: 9-11 (can be grown indoors and taken inside in winter in cooler zones)
Scientific name: Hibiscus rosa-sinensis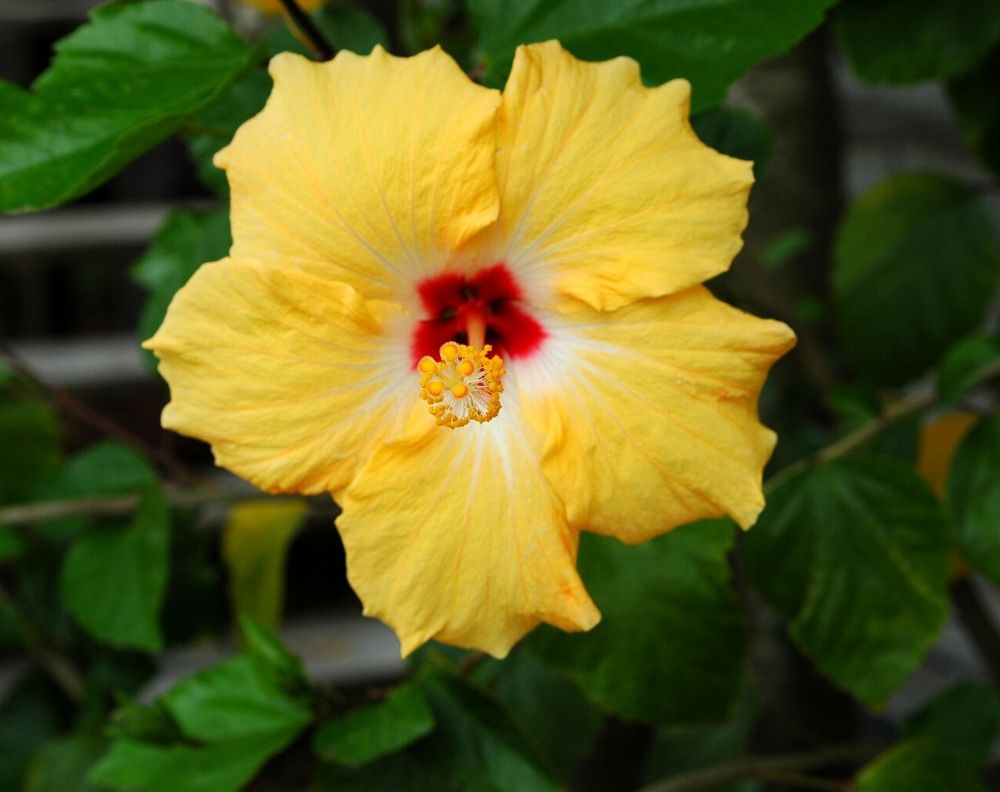 The hibiscus is a beautiful perennial with exotic yellow flowers that can grow to about 5 inches in diameter. These trumpet-shaped flowers come in an assortment of shades from bright yellow to lighter colors. 
We lived in Hawaii for several years. I always loved seeing hibiscus bushes around our apartment building and the local mall.
There are many yellow and stunning yellow combination hibiscus varities, including:
Native to the tropics, the plant grows well in warmer, humid climates and enjoys full sun. They won't tolerate temperatures below 30 degrees, so you'll need to bring your hibiscus plant indoors if it gets too cold during the winters. The bush can grow to a height of 15 feet if it's given the right conditions. Prune during early fall to keep it in good shape.
Witch hazel
Climate: Zones 3-8
Scientific name: Hamamelis (genus)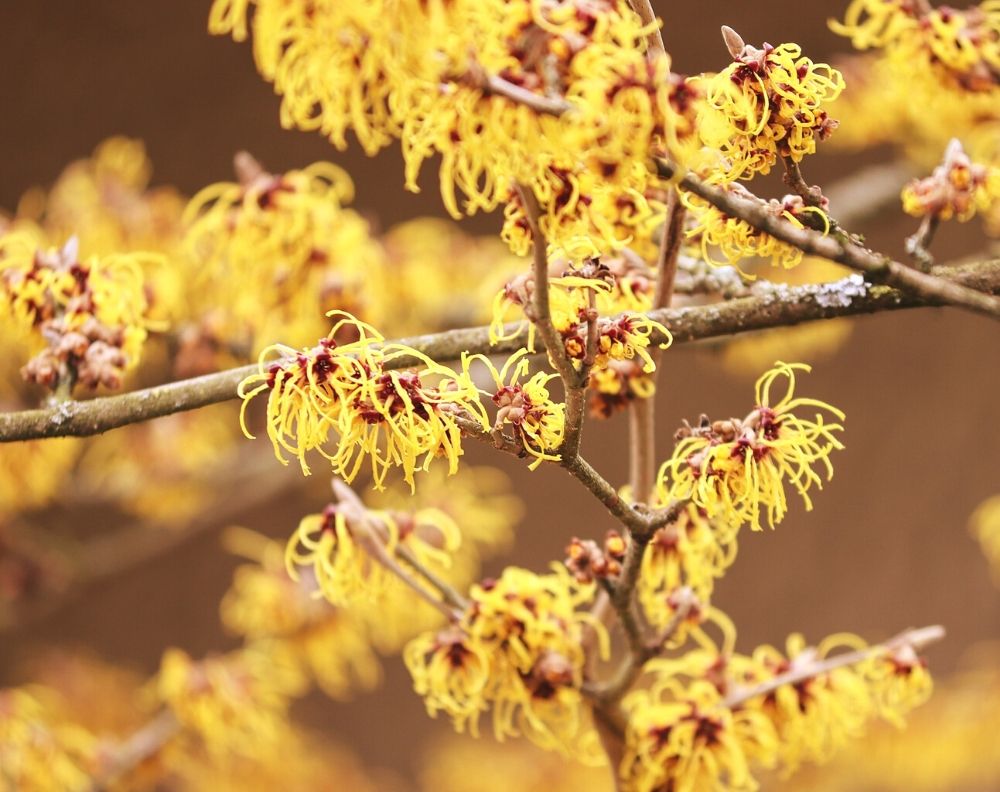 If you like early bloomers, Witch Hazel is the one for you. When it comes to early blooming, it even beats the forsythia bushes. The blooming starts as early as the end of winters and flushes your garden in fragrant yellow blooms before all other flowers. The flowers are rather unique with thin petals sticking out of a brown ball. The shrub isn't just unique given the shape of the flowers, but also for the "dry" smell that you won't find elsewhere.
They can grow as high as 30 feet, but you can prune them back to maintain the desired height. Witch hazel grows well even with minimal care and time. Grow it in well-drained, slightly acidic soil, and remember to water it regularly during its first season. Witch hazel will even tolerate clay soil and deer. (source) The plant is rather adaptable and will thrive in full sun to partial shade.
Lydian Broom
Climate: Zones 6-7
Scientific name: Genista lydia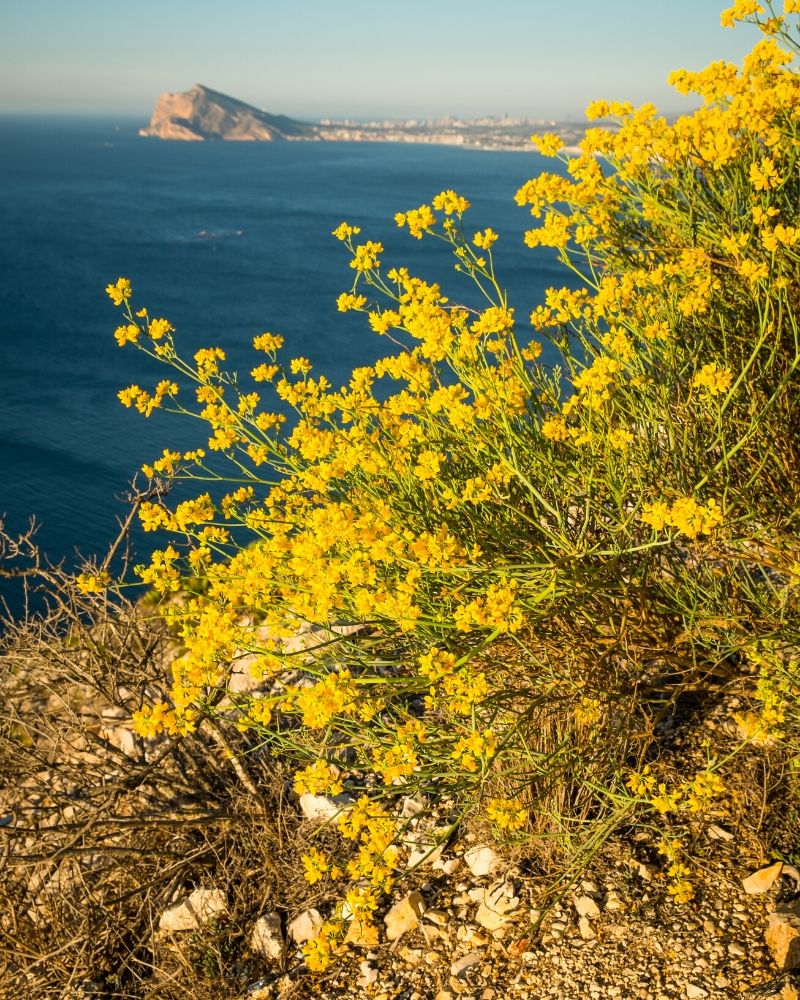 Lydian Broom, also known as Genista Lydia, is a beautiful yellow flowering shrub to add to your landscape. The compact shrub starts flowering in early summer and retains its attractive blooms throughout the season. It grows to a height of 2 feet and a width of 3 feet and looks gorgeous when planted as borders, or on beds or slopes.
The dwarf shrub is packed with vivid yellow flowers that appear in clusters arranged neatly on the branches. When the plant is in full bloom, the flowers are so densely packed, that you'll hardly see any foliage hiding underneath.
It's a hardy perennial that will thrive even if you don't pay much attention to it. It tolerates drought, heat, poor soil, and even deer. (source)
Regular pruning will keep the plant in shape, but it's recommended not to cut down more than one-third of the plant at a time. Full sun and well-drained soil are ideal for its healthy growth. The shrub will even do well in poor quality soil with minimum fertilization. 
Yellow Rose
Climate: Zones 6-10
Scientific name: Rosa (genus name)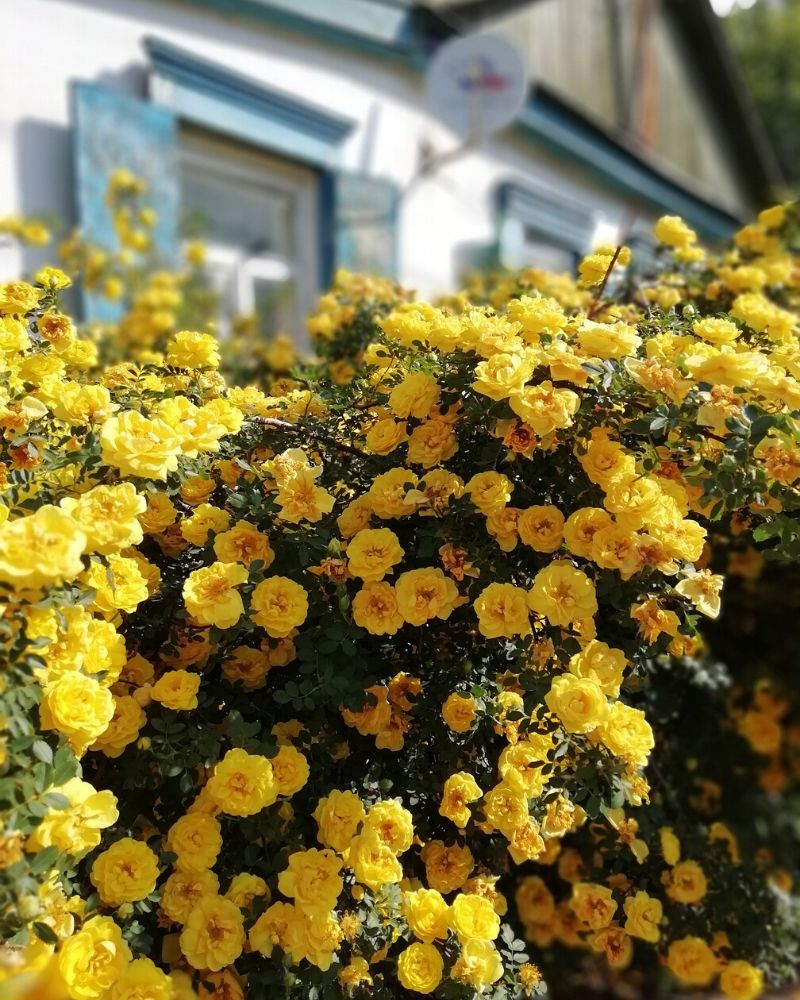 Roses may sound cliche to many, but the truth is, they won't ever lose their charm. Yellow rose bushes are a popular choice of home gardeners who are looking for an instant boost of vibrance in their lawn. There's an entire array of shades to choose from. There are lighter shades with pastel yellows, and then there are brighter shades that automatically stand out in their surrounding.
Some popular yellow rose bush varieties include:
Midas Touch
Graceland
Sunbright
Summer sunshine
Julia Child
Grandma's Yellow
Yellow submarine
Sunny knock out
Because not all roses are bush roses, make sure any varieties you get are bushes if you'd like bush roses instead of vining roses.
Rose bushes blossoms somewhere between late spring and early summer and give off a rich fragrance. They look beautiful growing beside a fence or along the borders of a house. 
Rose bushes grow well in USDA growing zones 6 to 10 and grow to about 6 feet high if given the best conditions. You'll need to prune them back one a year for upkeep. Plant them in fertile, well-drained soil that's exposed to full sun for at least 6 hours every day.
Roses need lots of water; you'll need to water them at least twice a week during summers. Cut down on watering during the fall, but don't let the soil dry out completely. Mulching can help retain moisture in the soil for healthier growth.
Japanese Rose
Climate: Zones 5-9
Scientific name: Kerria japonica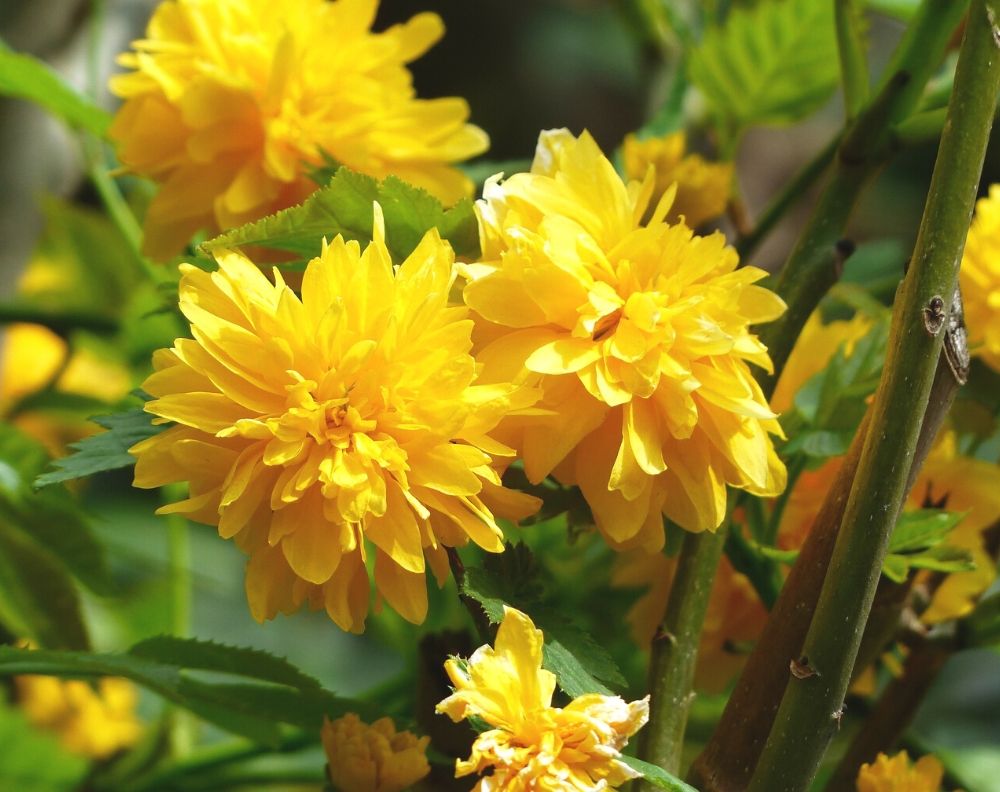 Blossoming with delicate yellow flowers, Japanese rose is another yellow flowering shrub from the rose family. However, the blooms are quite different from typical roses. They can either appear in single flowers or double flowers, depending on the variety that you have planted.
The shrub isn't just popular for the attraction it brings during springtime. Bright green foliage that turns yellow during the fall, and dark, elegant, bare stems during the winters once the leaves fall out, make it a charm to look at throughout the year.
Popular Japanese Rose cultivars include:
Golden Guinea. This variety has large flowers.
Picta. This varitiy has green leaves with white edges.
Pleniflora. This rose bush features double flowers.
The Japanese Rose grows well in USDA growing zones 5 to 9 and will thrive with full bloom even when it doesn't get full sun. In fact, it grows better in partial shade than it does in full sun.
Make sure you plant it in well-drained soil and water it regularly but don't keep the soil waterlogged. Prune it once the flowers are gone to give the shrub a tidier appearance and promote healthier growth.
Mahonia Shrub
Climate: Zones 5-10. There are about 70 species of Mahonia. Not all of them grow in all of the overall genus range.
Scientific name: Mahonia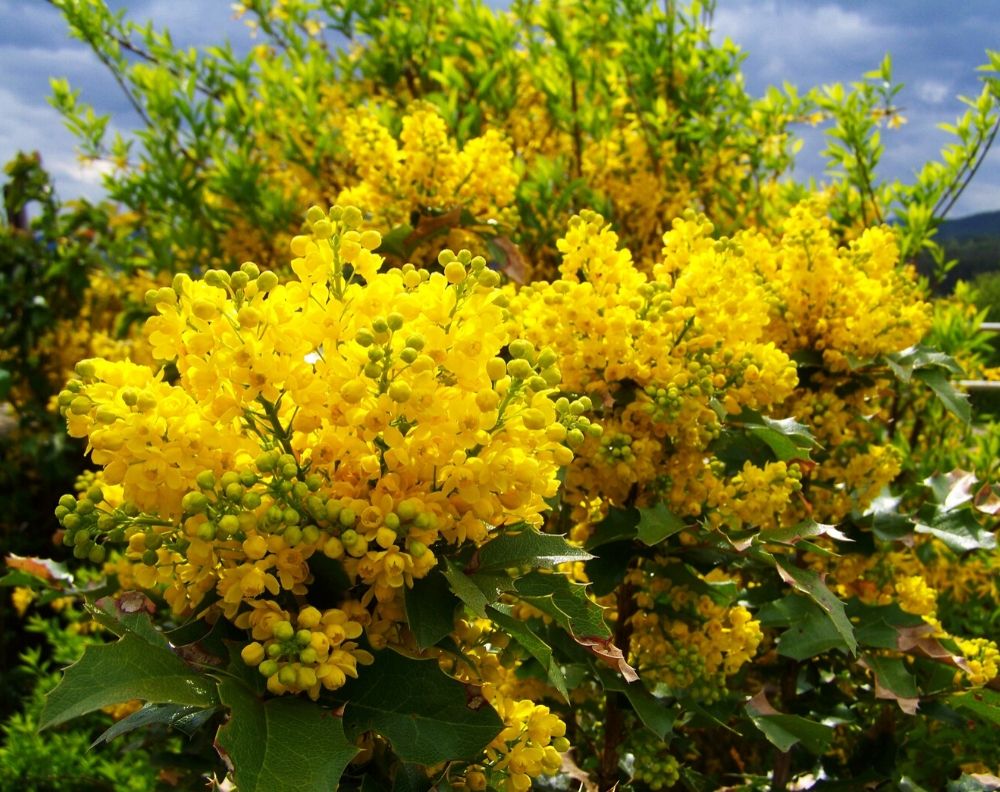 Adding color to your winter landscape is easy with Mahonia shrub since they're easy to take care of and start blooming earlier than many other perennials, between January and April. The beautiful pale-yellow flowers give a deep scent to enjoy, and the spiky thorns on the branches make it an excellent hedge to mark borders for security.
The evergreen foliage is deep green in color, and the winter flowers offer an early source of nectar for the wildlife. The shrub grows well in USDA growing zones 6 to 9 and can grow up to 7 feet tall and 10 feet wide once it matures completely.
If you have a garden with dry shade and want cheerful yellow flowers, Mahonia is for you. I also recommend checking out the book Dry Shade Gardening for information about plants that grow in these challenging conditions.
Some popular varieties of Mahonia include:
Like many plants on this list, mahonia has been examined for potential medical applications, especially in the treatment of psoriasis and atopic dermatitis.
The good thing about the shrub is the minimal maintenance it asks for. They'll grow well in partial shade to full shade but avoid full sun. Moist, well-drained soil works best for them. Many Mahonia varieties are drought tolerant and are even deer resistant. (source)
St. John's Wort
Climate: Zones 5-7 (some varieties live in 5-9)
Scientific name: Hypericum calycinum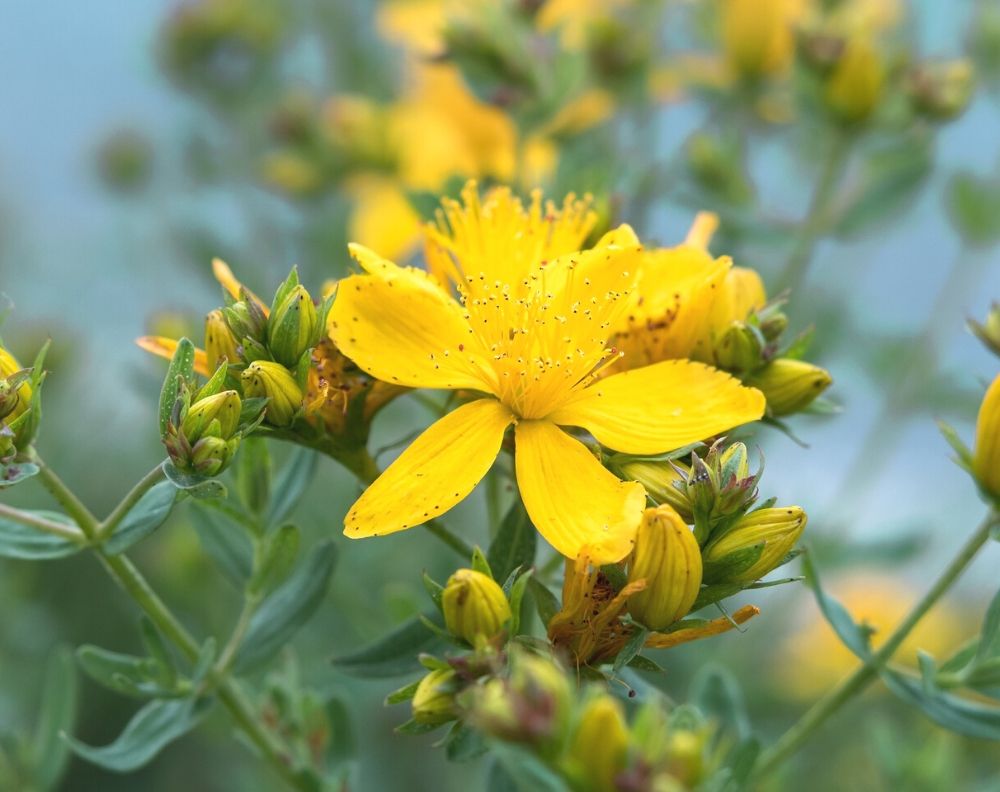 St. John's Wort is a beautiful little shrub that brings a burst of color to your garden every year from midsummer to fall. The delightful bush practically grows without any care, giving stunning blossoms all summer long and different colors of berries through the winters. You may find orange, red, or white berries, depending on the species that you have planted.
St. John's Wort is also called Brigadoon or Aaron's Beard. It has been used since medieval times for various folk medicines and to ward off evil spirits during the midsummer festival. Modern medicine has examined a compound in St. John's Wort, hyperforin, for various medicinal purposes. You can read more about research into St. John's Wort here.
The shrub grows well in USDA growing zones between 5 to 7, with some varieties able to grow in zones 8-9, and isn't fussy about its soil type. It can tolerate rocky and sandy soils and can survive in acidic to slightly alkaline soil pH. It can live through drought but would appreciate some watering, especially during dry spells. 
There are more than 400 varieties of St. John's Wort. They have different soil requirements and all look a bit different, too, so make sure to pick a variety that appeals to you and matches your growing conditions. (source)
Allamanda
Climate: Zones 10-11
Blossoms: Most of the year with peak blooms in summer and fall.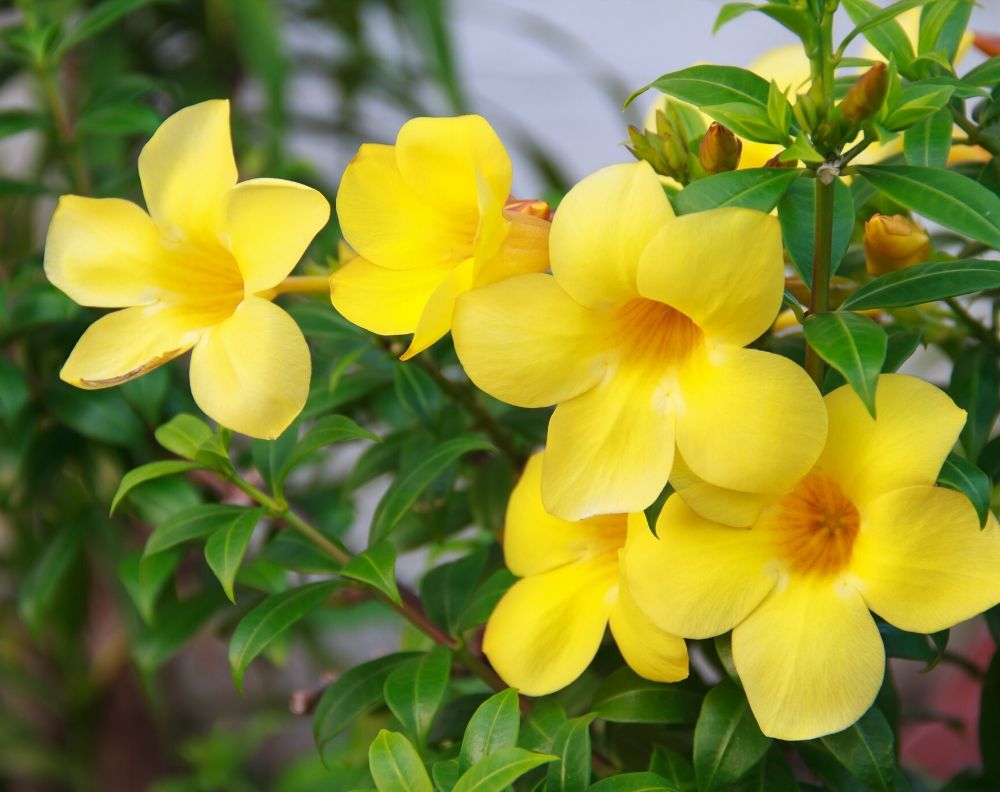 Scientific name: Allamanda cathartica (shrub) and Allamanda schottii (compact/dwarf shrub)
If you've ever been to Florida, chances are you've seen a blooming allamanda. It's easy to grow and features clusters of yellow trumpet-shaped flowers. It blooms on and off throughout the year and especially likes hot weather.
Allamandas are evergreen and able to tolerate some salt, which makes them ideal for planting if you live somewhere hot near the beach.
One of the most stunning allamanda varieties is the hard to find Stansills Double Allamanda that produces double flowers.
Full-sized allamanda bushes can grow very large. As a result, they make a great privacy screen for a pool or back yard. If you'd prefer a smaller yellow flowering shrub to grow around your house, make sure to select a dwarf allamanda variety. You can also keep your allamanda pruned to about 3 feet tall when it's young, or 4-5 feet tall when mature. Cut your allamanda bushes back in late March or Early April.
Allamanda bushes need fertilizing three times a year to ensure they stay healthy, blooming, and and strong. It's a tolerant plant that can grow in alkaline or acidic soil and tolerates clay, sand, and loam. It does best in full sun, but can tolerate partial shade. Learn more about the allamanda from the University of Florida Extension.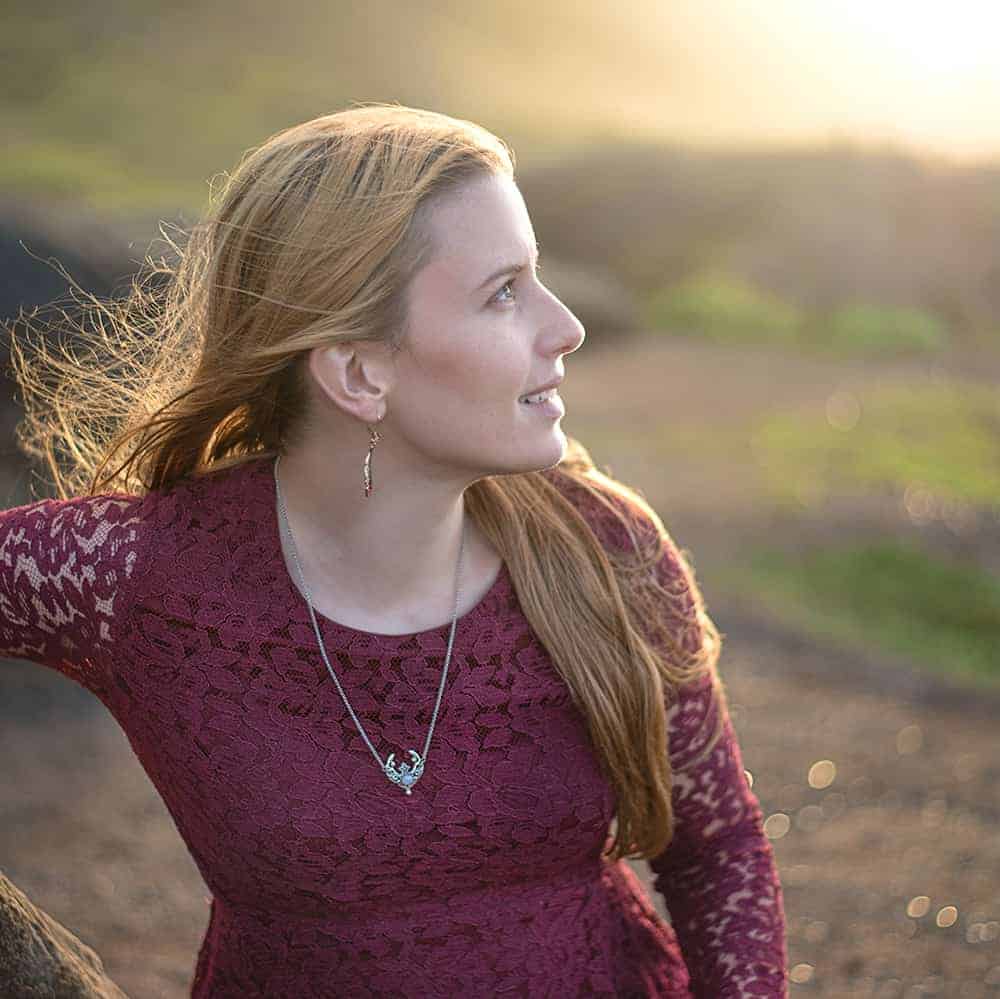 Natasha Garcia-Lopez is an avoid home-gardener and proud owner of 88 acres of land in rural West Virginia. She was a member of the Association for Living History Farms and Agricultural Museums for many years and is currently enrolled in the Oregon State University Master Gardner Short Course program so she can better assist you with your gardening questions.She holds a certificate in natural skincare from the School of Natural Skincare.