Hedge trimmers are valuable tools that can save you serious time when you're trimming your hedges, shrubs, or even small trees. For best results, and long-lasting garden tools, it's important to perform basic maintenance of oiling on you hedge cutters every time you use them.
Here are tips on how to keep your hedge trimmer in good working condition and how to select the best oil for lubricating your hedge trimmers. This guide is relevant for both electric hedge trimmers and any petrol hedge trimmer.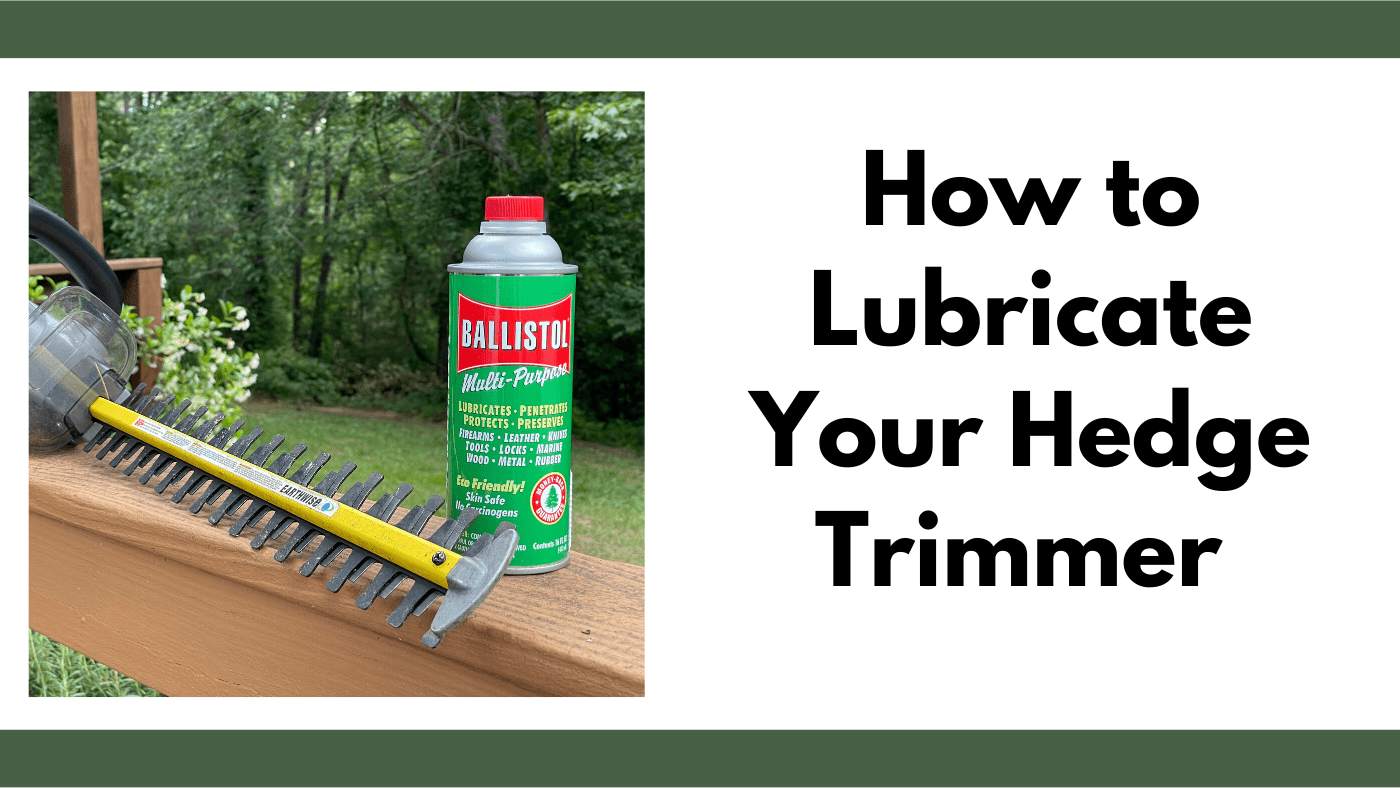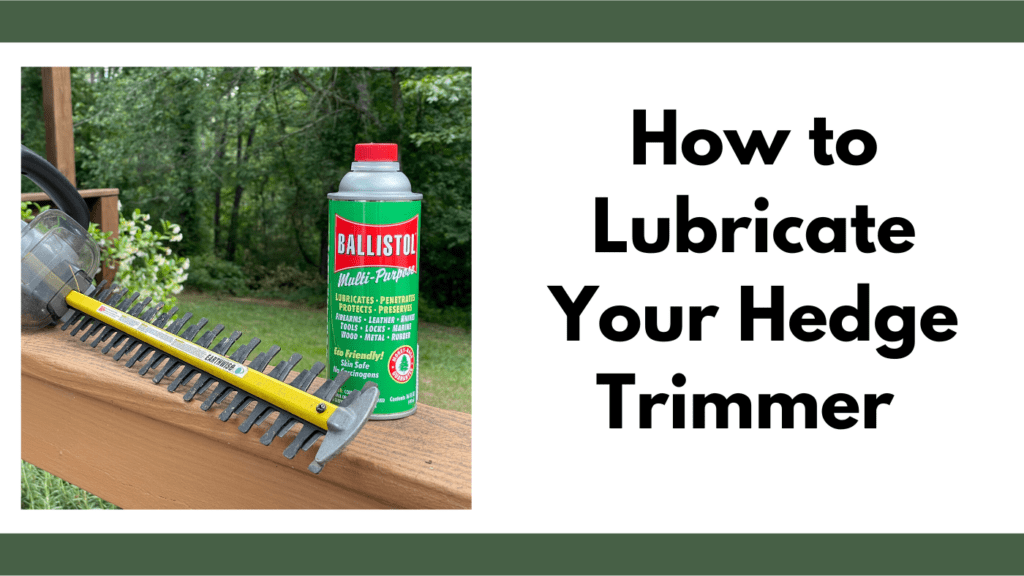 This post includes affiliate links, which means I may earn a commission on purchases made at no additional cost to you.
Do Hedge Trimmers Need Oil?
Hedge trimmers need proper lubrication to keep the friction between the blades low to prevent excess heat which can bend the trimmer's blades. Unlike chainsaws, hedge trimmers do not have an oil reservoir. The oil is applied directly to the trimmer blades. To keep your trimmer in good shape, you need to oil it regularly. Ideally, you should oil the blades of your hedge trimmer before or after each use.
Keeping your cutting blade lubricated also prevents damaging rust. The water displacement offered by the oil helps keep water out of the blades . Lubricating your hedge trimmer, and keeping it clean, will extend the life of your trimmer. Even if your hedges are dry when you cut them, moisture from the plant's residue has sufficient water to rust your hedge trimmer blades if they're not cleaned properly.
Do Electric Hedge Trimmers Need Oil?
Some homeowners are under the impression that electric hedge trimmers do not need oil because they don't have a fuel tank. This is not true. An electric trimmer does need blade oil and regular maintenance.
What type of Oil Should I Use?
You can use any machine lubricating oil for oiling the blades of a hedge trimmer. As long as the lubricant you use is a penetrating oil and the applicator allows you to apply it to the main points of a hedge trimmer, then that lubricant is suitable.
Ballistol Multi-Purpose Oil, Aerosol Spray is a popular lubricant for many applications. This is a common lubricant used for firearms. It is made to withstand heat and will penetrate really well.
This is my favorite lubricant and I use it on all my power tools when I feel they need some help. To apply, spray or apply the oil to your hedge trimmer blades generously and then wipe off the excess with a cotton rag. Once again, you don't need to be too careful about where or how much you use because these lubricants will penetrate the areas between the blades as you run the tool.
You also don't need to wear any special gloves to apply this one since it does not have carcinogens.
Sale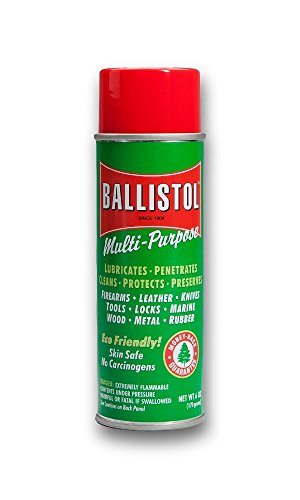 The 3-IN-ONE – Multi-Purpose Oil is a great lubricant for any hedge trimmer. This lubricant will preserve the life of any tool in your shed.
Simply apply a few drops along the length of your hedge trimmer and you are done. Do this before any hedge trimming to ensure it is lubricated and after to clean any plant residue from your blades.
You don't need to be too precise with this one, even if you use too much lubricant, it will not damage the hedge trimmer and it may actually help it.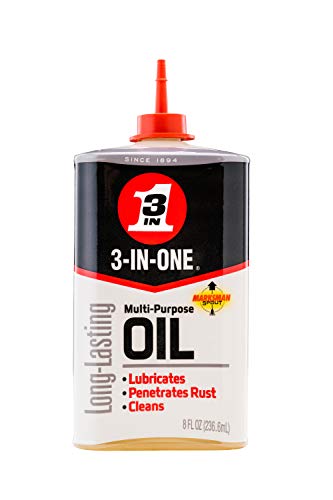 3-IN-ONE Multi-Purpose Oil, 8 OZ
Since 1894 this versatile multi-purpose drip oil has been a trusted tool used by professional tradesmen and do-it-yourselfers
Lubricates, cleans and protects against rust and corrosion. Offers precise application with no overspray or splatter, and its updated packaging has a...
Great for wheels, casters, sliding doors, chains, power tools and external parts of small motors, hinges, nuts and bolts, bicycles, wheels, fans and...
If you want to use a different lubricant, you can put some in an applicator bottle and apply it to your hedge trimmer with the applicator tip.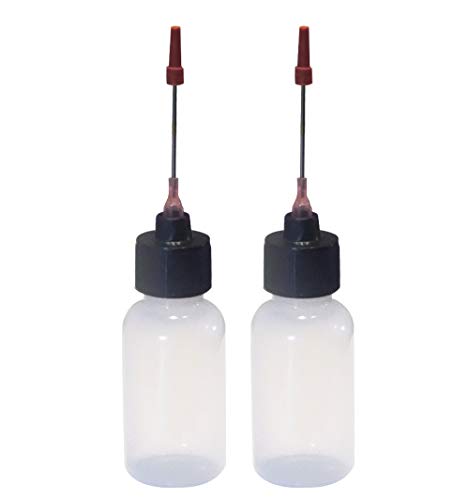 Hicet 2 Bottles -1 OZ Size Bottles with Stainless Needle tip for All Your...
This offering is for two medical grade 1 oz. boston round dispensing bottle with an 18-gauge stainless needle applicator.
These dispensing bottles are made of the highest quality soft Low Density Polyethylene (LDPE) made for dispensing a large variety of liquids.
The combination of the LDPE bottle and the precision 18 gauge needle applicator is perfect for dispensing any liquid exactly where you want with no...
Can I use WD-40 to lubricate my hedge trimmer?
Do not use WD-40 to lubricate your hedge trimmer. WD-40 is marketed as a household lubricant, not for lawn equipment. WD-40 does not have the required lubricants or rust inhibitors to protect your hedge trimmer.
WD-40 is not an effective lubricant for hedge clippers. Unlike other types of tool oils, WD-40 is not a lubricant and actually does more to attract dirt than to protect. The accumulation of dirt will start to wear out the moving parts on a microscopic level and then lead to serious damage. WD-40 carries other styles of lubricants, those can certainly be used, just stay away from conventional WD-40.
You may want to use WD-40 for it's anti-corrosion agents. It does do a great job of removing moisture and preventing corrosion, it is the lubrication which is the problem.
Because the formula is a secret, the MSDS sheet does not provide sufficient information to know the oil viscosity, rust inhibitor additives, or lubricating additives used in WD-40, WD-40 has also been shown to be a poor lubricant for machinery (source). It does not do well under the conditions present of a hedge trimmer which is of high friction and heat, similar to bearings.
How do I Lubricate My Hedge Trimmer?
The main points of a hedge trimmer you need lubricate are the blade surfaces and the throat of the hedge trimmer. If there are any shiny spots on your hedge trimmer, then apply some lubricant there too.
You'll need to prepare the blades for lubrication by cleaning them first.
Prefer to watch the process instead of read? Make sure to check out the video below to see how to clean and oil your hedge trimmer:
Clean off any residue from your trimmer blades before applying oil
Hedge trimmer blades are notorious for accumulating residue and tree sap on the blades so you should clean them with warm soapy water. If that is not enough to remove the resin, then consider using a resin solvent like Goo-gone. Use a lint free dry cloth to remove as much of the cleaning solvent and moisture as possible before applying oil.
Sale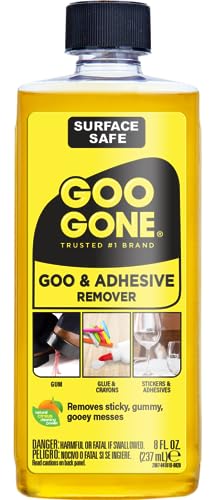 Goo Gone Adhesive Remover - 8 Ounce - Surface Safe Adhesive Remover Safely...
Safely Restore Your Surfaces - The surface-safe formula removes the goo without harming your surface. Formulated with citrus cleaning agents and a...
Trusted #1 Brand For Removing Gooey Messes – Try it on stickers, wax, markers, crayons, glue, tar, window decals, glitter, gum, labels and so much...
Multiple Uses Around The House – Everything from wine glass label remover, scuff eraser, window sill cleaner, adhesive remover, tar cleaner, crayon...
Apply the Lubricant
To apply the oil, simply use a spray lubricant and liberally apply to ensure the the oil penetrates to every part of the blades. If you don't have a spray bottle top, then just apply a few drops of oil at every blade. The throat of the hedge trimmer also needs oil since the internal metal parts can rub significantly. You can then wipe off the excess with a clean cloth.
How Often Should I Lubricate My Hedge Trimmer?
You should lubricate your hedge trimmer before and after every use. Lubricating before ensures smooth operation. Lubricating after cleans the blades and prevents rust.
Rust is the oxidization of metal and this is accelerated when metal is not kept clean and dry. The moisture from the plant's residue has sufficient water to rust your hedge trimmer blades if not cleaned properly.
Be sure to keep your tools clean and dry if you wish to have a well-maintained tool.
Safety Note
Be sure to secure the power source to your hedge trimmer so there is no chance the it will run and accidentally injure you while cleaning and lubricating. A hedge trimmer accident is no joke. As always, using protective gloves is a good idea.
On your next use, check your hedge trimmer to make sure it is in good working order. A thorough check should include inspecting the blades, electrical cord, air filter, spark plugs, and general appearance of the tool.
Angel is a Cuban immigrant who grew up with backyard chickens and a yard-loving abuela. He is our "gear guy" who can never have too many pairs of gloves or weed whacker attachments.