Too many people ignore hearing protection until they have ringing ears. Stop hurting yourself – get the best hearing protection for your yardwork and lawn mowing today!
We all miss key opportunities to protect our hearing from being damaged in simple situations such as yardwork, lawn mowing, working in a workshop with loud tools, and even doing household chores like vacuuming.
Because you don't experience hearing loss immediately, it can be difficult to feel like hearing protection is necessary. Hearing loss is gradual and can affect anyone, especially those who do not take steps to prevent hearing loss.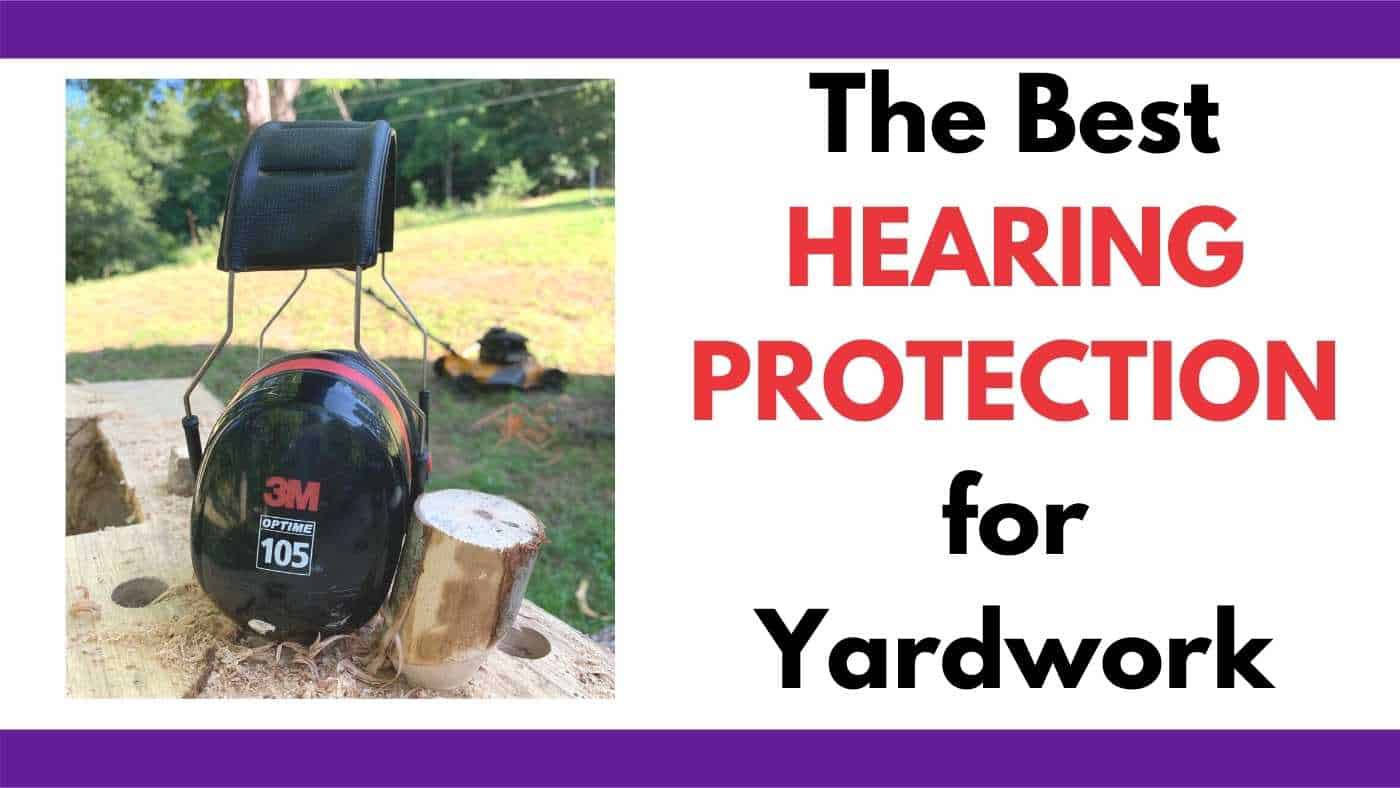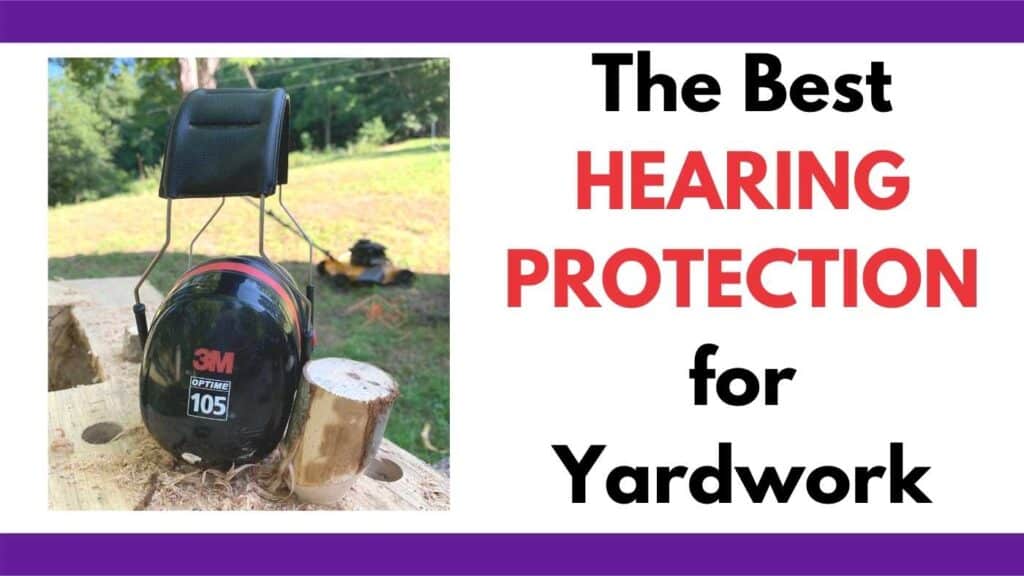 This post includes affiliate links, which means I may earn a commission on purchases made at no additional cost to you.
There are many hearing protection products on the market today. Some are electronic, other are ear plugs, and some are traditional, but they all have a Noise Reduction Ratio (NRR) which you should absolutely pay attention to. Keep reading to find out which is best for your needs.
This guide breaks down the various types of hearing protection options so you can make an informed, confident decision and select the best hearing protection for your needs.
In a rush? Here are our top picks!
---
Picking the best tools can be exhausting, so we're here to help. Here are the best hearing protection products on the market today.
Over the Head Hearing Protection
The 3M WorkTunes Connect + Gel Ear Cushions Hearing Protector with Bluetooth Technology are the best 'Over the Head' hearing protection. They are also my top pick for the best hearing protection for lawn mowing because they can help relieve the monotony of mowing your yard again. These have a number of features which make the product comfortable, lightweight, and super useful.
One thing immediately stands out: the Bluetooth technology. These are not just a set of hearing protection ear muffs, these are also headphones which allow you to pair it with your phone or Bluetooth device and work while you listen.
This connectivity is a huge deal for me. These earmuffs first caught my eye when I was regularly mowing my mother-in-laws acre and a half. I wanted to listen to music or an audiobook while mowing, but wearing earbuds under regular earmuffs was painful. The WorkTunes headphones solved this problem for me – I could mow safely and listen to my favorite songs.
If you're bored while mowing the lawn, these are the headphones for you.
The next big thing you'll notice is the lightweight construction and the gel cushions. The typical material for the ear pieces is foam wrapped in a soft vinyl. The gel cushion pairs very well with safety glasses too because it forms to the safety glasses legs. Check out our post on the Best Safety Glasses.
The one downside to this set is the NRR is 23 dB. Though this is not the best NRR on this page, they still provide ample protection for tasks like mowing the lawn.
The Walker's Razor Slim Passive Earmuffs are a great set of over the head ear muffs. Their sleek design makes them easy to use with the rest of your equipment. These are easy to store because they can fold into a small bag. They also provide superior protection, with a NRR of 26 dB, this is impressive for a slim set of ear muffs.
This hearing protection is made for comfort. The headband, the ear muffs, and the size of the product are well designed and you can easily wear it all day without discomfort. There are also a number of color and design choices to choose from.
Though these ear muffs are under the shooting section they can still be used for mowing, weed eating, or any other yardwork. Here is a customer who claims they work well for any of these, "These are used for mowing and yard work with chainsaws and they are extremely comfy, and slim to just pop up and talk then toss back down." Read the full review here.
You can upgrade the ear muff comfort by buying this set of gel ear pads made specifically for these ear muffs. These are silicone and will last longer than traditional vinyl ear pads.
The 3M PELTOR X5A are the ultimate ear muffs for hearing protection. These provide an incredible 31 dB of noise reduction. This is meant for the loudest of working environments.
Though they are super effective, they are very bulky but not heavy. These only weigh 8.8 ounces which is not a heavy set of ear muffs. The size is the problem because these have the potential to really get in the way.
If your working environment is really loud, this set of hearing protection is for you. However, there are those who find these are great for sleeping and can deal with the discomfort of wearing it for hours, like this customer, "The comfort of the earmuffs takes some getting used to; as it is somewhat tight; but they are comfortable enough for me; and I can wear it for hours on end." Read the full review here.
Behind the Neck Hearing Protection
The 3M PELTOR Optime 95 Earmuffs are a great set of behind the neck ear muffs. They are comfortable and great for any task which requires hearing protection. The reason you would want behind the neck earmuffs is so you can wear a hat, probably while mowing, weed eating, or leaf blowing. A hat which works well with these is this hat by Kavu.
The design of these ear muffs is slim and light which means they are more likely to stay on your ears and not fall off. These weigh in at 7.8 ounces.
The one downside to these is the lower NRR of 21 dB. This is the lowest NRR of any of the ear protection ear muffs. Though, in some instances, you don't need super bulky ear muffs to keep you safe. You must evaluate the hazard and make the decision yourself.
The 3M PELTOR Optime 105 Earmuffs H10B are a heavier duty type of ear protection which provides a serious amount of noise reduction, the NRR is 29 dB.
Since these ear muffs provide more protection, they also need to be bulkier. This means more weight, so they can fall off your ears more easily. However, these are equipped with a hook and loop strap to keep the ear muffs steadily on your head. These weigh in at 11.4 ounces.
These pair very well with a hat for mowing in the sun like this awesome hat by Kavu. Since the straps wrap around behind the neck, you can wear a hat without the ear muff strap getting in the way.
Ear Plug Hearing Protection
These Reusable Silicone Ear Plugs are a unique product. They may not be the first thing that comes to mind when you think of yardwork, but they provide serious ear protection and a better fit than foam earplugs.
We really like these because they provide the best amount of noise reduction. In fact, these ear plugs boast a 32 dB NRR which is more than any of the ear muff styled hearing protection units.
Silicone ear plugs are also suited for many different purposes. Not only could you use them for typical loud situations such as industrial environments but you can also use them for swimming. I personally used them when I would spearfish because it kept the water out of my ear for the hour or two I spent in the water hunting for tasty fish to spear and take home.
To use silicone ear plugs you need to roll them into a ball to get the silicone warm and malleable, then you pull on your ear to open the canal, insert the silicone plug and release your ear. The silicone will form a perfect fit in your ear and it is generally a comfortable fit.
The downside is that they can be difficult to use because they are not as simple to insert as foam ear plugs. They also tend to collect trash and debris so they may not be as reusable as they claim. I suggest you at least give these a try to see if they are what you need.
The Peltor Sport Tri-Flange Reusable Earplugs are by 3M, a brand trusted for all things safety and protection. It is a reusable set of ear plugs which have a NRR of 26 dB.
This design of ear plugs are super simple to use, simply push into your ear canal until you are happy with the position and sound. To remove, simply pull out (you may need to open your ear canal by tugging on your ear). By far the easiest style of ear plug to use.
This set of ear plugs is stylish and even has a cord between the two earplugs so you can have a better chance of not losing one.
It is worth noting, there are other styles of reusable ear plugs, but most are by untrusted brands or they have a new novel design which isn't properly tested and leaves customers disappointed. So don't be fooled by the cool designs, trust your hearing with 3M.
These Ear Plugs by AMAZKER are a typical style of ear plug when you think of hearing protection. They provide superior protection with a NRR of 35 dB, the highest of any of the products mentioned in this article.
Hearing protection is clearly the metric but these also come in a cool green color with dark green swirls so you can easily tell them apart from all the yellow and orange earplugs other people have. You definitely don't want to accidentally reuse someone else's earplugs – gross. If your pair gets too dirty, just toss them and grab a new pair since this is a 60 pack. You can also store a pair in the handy carrying case which fits on your key ring.
There are many reasons to select these ear plugs. Check out this customer who succinctly points out the benefits: "I've been through several brands that left my ears sore or didn't fit well. These are the complete opposite! They are lighter than any brand I've used before, and they don't rub or pop out in your sleep. They also come in the perfect storage container instead of the usual plastic packaging that leaves them everywhere." Read the full review here.
What you Need to Know About Hearing Protection for Yardwork
As a reference, 70 dB is the noise level emitted by a loud washing machine, whereas 80 dB is the noise level from busy city traffic heard from inside your car. You should try to keep noise levels below 70 dB to prevent hearing loss.
When Do I Need Hearing Protection
You need hearing protection when noise levels exceed 85 dB. Noise levels above 110 dB can cause hearing loss in less than one minute. (source)
The Center for Disease Control (CDC) is an authoritative source of information on hearing loss if you want in-depth information.
Typical Noise Levels
As you can see from the table below, you will need hearing protection for all power tools, lawn mowing, and yard equipment. With some tools, like chainsaws, hearing damage can occur in less than one minute.
| | |
| --- | --- |
| Washing Macine | 75 dB |
| Vacuum Cleaner | 81 dB |
| Lawn Mower | 86 dB |
| Power Tools | 90 dB |
| Leaf Blower | 105 dB |
| Chain Saw | 118 dB |
| Car Horn | 119 dB |
dB levels of different home use products
Noise Reduction Ratio (NRR)
NRR is everything when it comes to hearing protection. The highest rated ear protection products are usually ear plugs. These can be found to provide NRR of up to 35 dB. NRR subtracts from the noise level, a 100 dB sound would then be made into a 65 dB sound while wearing a set of ear plugs with a NRR of 35 dB.
To increase the NRR, use double hearing protection. This means using a set of ear plugs and ear muffs together to maximize your protection. The best combination would be the 3M PELTOR X5A Over-the-Head Ear Muffs and the Ear Plugs by AMAZKER. This combination provides a NRR of 66 dB. While this level of hearing protection isn't necessary for everyday tasks, it is great for seriously noisy situations and people with sensitive hearing.
When to Use Double Hearing Protection
You should use a combination of ear plugs and ear muff style hearing protection when the noise levels cannot be reduced below 85 dB with a single set of hearing protection.
Remember to properly insert your earplugs before putting on your ear muffs and know that any cords, straps, or eye glass legs can create a gap for sound to enter the ear muffs.
Comfort
You need to consider how long you'll be wearing your hearing protection. Any form of hearing protection will eventually become painful. This is why some companies have started making their ear muffs out of different materials such as soft gels for ear muffs. The typical material for ear muffs is vinyl which can become stiff with use and age.
The fit of the hearing protection is also a factor to consider. Ear muffs can usually be adjusted for your head size but them will tend to squeeze your head to provide the hearing protection they are rated for. The only way to figure out which is best for you is to try them out for a day or two.
Ear plugs can be relatively comfortable but the increased pressure in your ear canal can bring about some amount of discomfort. You may grow more accustomed to it over time.
Other PPE or Hats
In some cases, you may need to wear a hard hat, safety glasses, or a hat to keep the sun off. Usually, over the head ear muffs will not work with these accessories. You will need behind the neck or ear plug styled hearing protection.
Electronic Amplification
Most yard work does not happen at a dangerous level unless you are using gas powered equipment or something is getting demolished. Most of the time it can be fairly quiet. For those instances you want to be prepared for whatever your working environment has to throw at you. For this you can use an electronic amplification set of ear muffs which allow noises below 82 dB into your ear muffs but then automatically turn off the amplification once the noise level exceeds 82 dB. These style of head phone protection are popular with shooting where there is lots of percussive noise. A well rated set of ear muffs for this are the Howard Leight by Honeywell Impact Sport Earmuffs.
Sale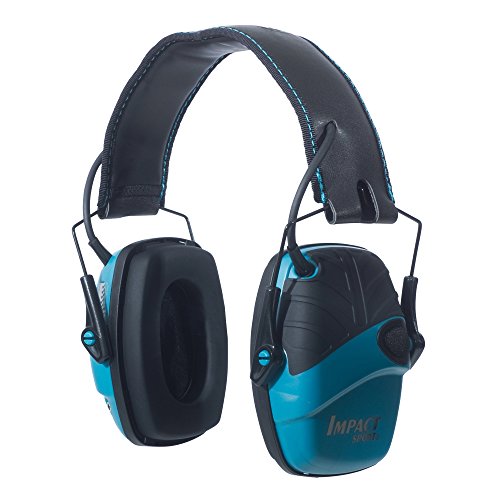 Howard Leight by Honeywell Impact Sport Sound Amplification Electronic...
Built-in directional microphones amplify range commands and other ambient sounds to a safe 82 dB, providing more natural listening and enhanced...
Actively listens and automatically shuts off amplification when ambient sound reaches 82 dB; Noise Reduction Rating (NRR): 22
Features low profile earcups for firearm stock clearance; adjustable headband for secure fit; compact folding design for convenient storage;...
If you want to have a better yard and garden with less work this year, be sure to check out our additional yard and garden tool reviews:
Yard Tool Reviews
Are you sick of your old, broken down lawn tools from a yard sale 10 years ago? Discover these yard tool reviews so you can save time and backaches on yard work day with a new, modern tool.
Angel is a Cuban immigrant who grew up with backyard chickens and a yard-loving abuela. He is our "gear guy" who can never have too many pairs of gloves or weed whacker attachments.