Discover the best, mom-approved toddler camping beds so you and your toddler can sleep well while camping! These camping beds for toddlers are safe, comfortable, and portable. They're great for camping, traveling, or even use at home.
We've always used a "portable" bed with our daughter. She slept in a folding bassinet as a newborn, then graduated to a portable crib at three months.
Using a portable baby and toddler bed has helped us tremendously. Being able to use the same bed for your baby or toddler while traveling can help minimize sleep disruptions.
These recommendations for the best toddler camping beds comes from our own extensive research into travel and camp beds for toddlers. It includes our absolute favorite – the bed we've trusted with our daughter for over two years! I hope you find this list of camping beds for toddlers helpful.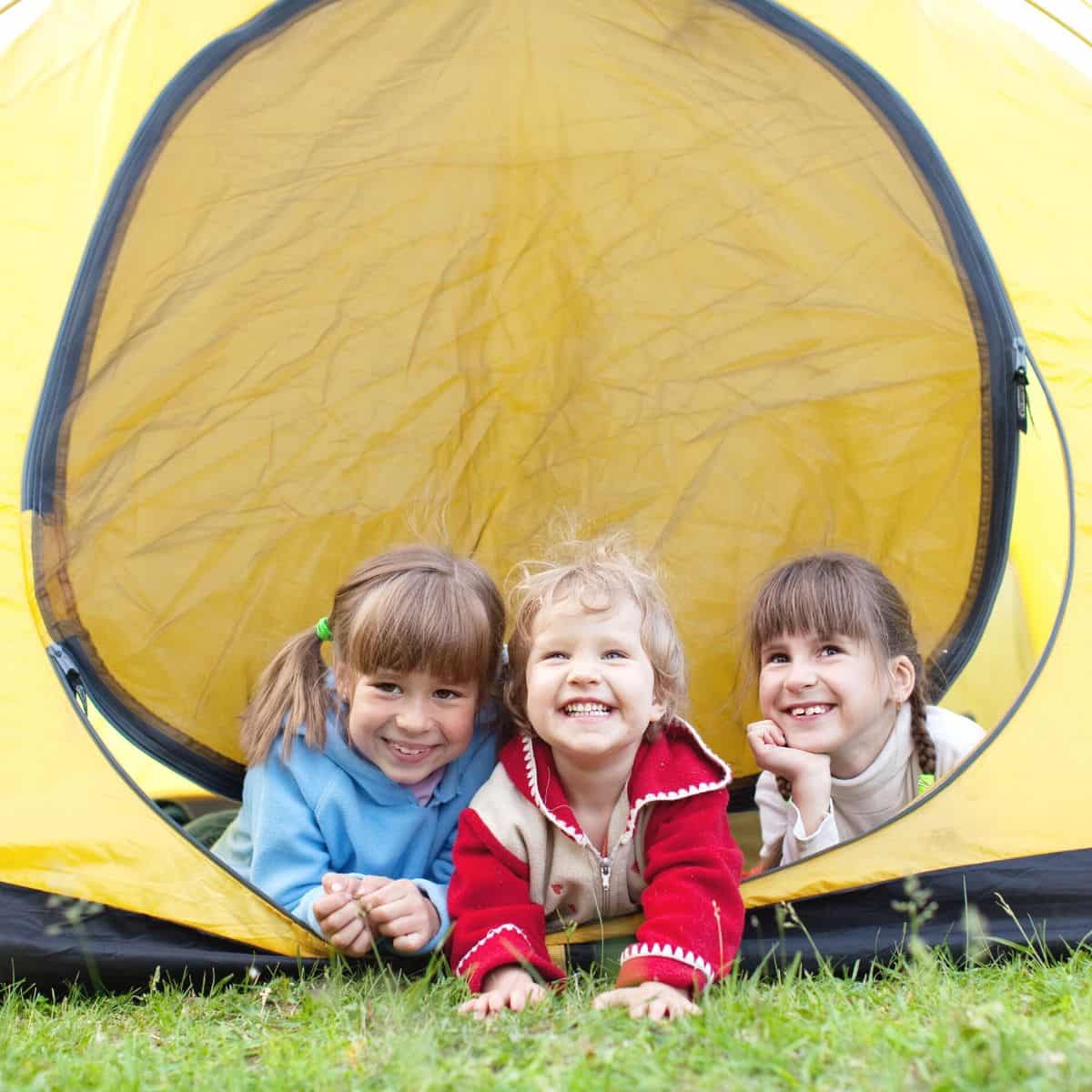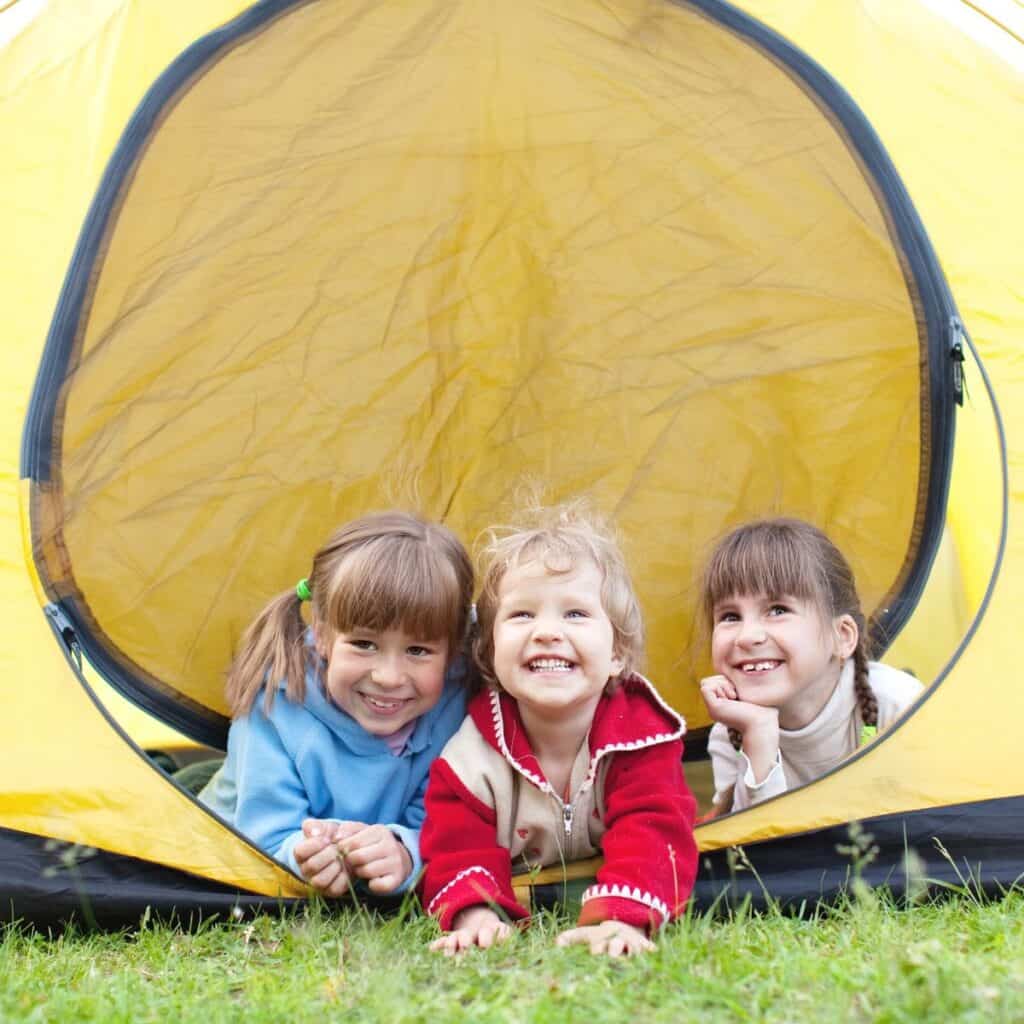 This post includes affiliate links, which means I may earn a commission on purchases made at no additional cost to you.
In a hurry? The Guava Lotus is the bed we personally use at home and for traveling/camping.
The Guava Lotus – the best toddler camping bed
The Guava Lotus is, hands down, my favorite toddler bed for camping, traveling, and even sleeping in a van.
The Guava Lotus is like a Pack n' Play, except it's more durable, lighter, and easier to set up. (We received a hand-me-down PNP and it drove me nuts!). The bag easily converts into a backpack for hands-free carrying. It's sturdy, easy to set up, and has optional upgrades like a bug netting and sun shade that are great for camping. (We have both, though we've actually never used the sunshade.)
The mattress is thin and firm enough for an infant, but the mini-crib sized bed is large enough for a toddler. They make a plush, quilted sheet for toddlers to make the mattress more comfortable.
Sale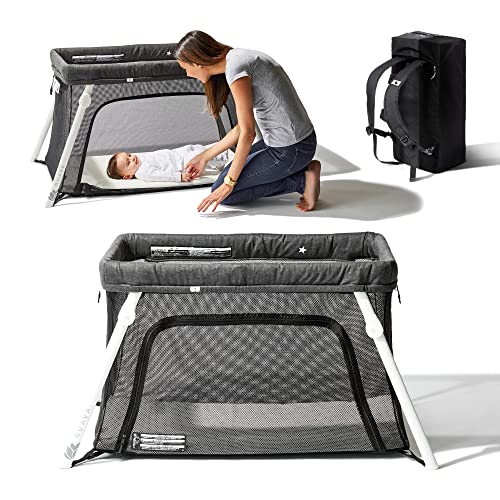 Guava Family Lotus Travel Crib | Certified Baby Safe Portable Crib with...
【WORRY-FREE AIRPORT TRAVEL】3D Z-Fold Technology allows it to fold compact enough to carry on airplanes, making the Lotus Travel Crib a baby travel...
【CERTIFIED SAFE & NON-TOXIC】It's surprising, but some baby products, including play yards, still contain harsh chemicals. That didn't fly with...
【BUILD A BETTER BOND】Quietly and easily unzip the lockable side door to help your baby fall asleep or turn the portable crib into a play yard....
We removed the first row bench seat in our Sprinter van and use the second row for our daughter's carseat. This gives us enough space to put her bed between the bench and the front cab area. Our daughter has slept comfortably in our van using her Guava Lotus.
She's also slept in countless hotels, friends' houses, and vacation rentals. She's sensitive to changes in routine. Using a travel-friendly bed at home, too, helps minimize disruptions when we're on the road. It also gives babies and young toddlers a safe, clean place to hang out (instead of on icky hotel carpet!). Here's our LG "reading" in the corner of Guava Lotus in a hotel as a baby: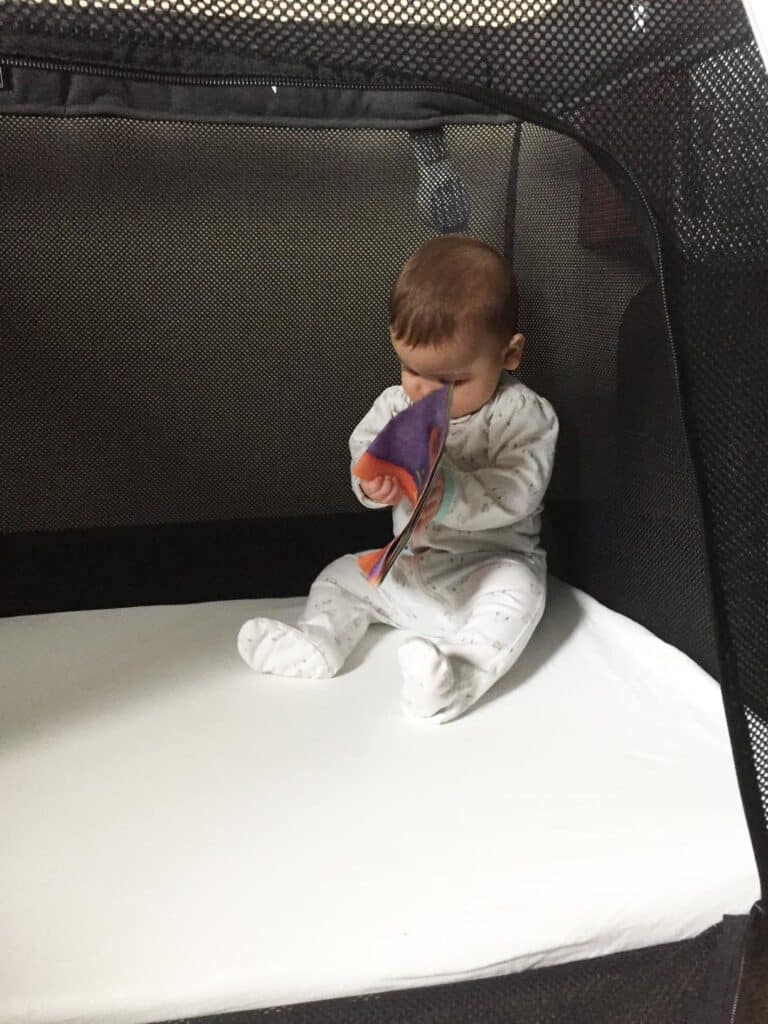 The Guava Lotus is the only travel-friendly bed that I feel comfortable using every single night.
After more than two years of use, it's holding up fine and shows very few signs of wear. The zipper has never had a problem, the bag is in fantastic condition, and there are no (extra) holes in the mesh (in spite of cats climbing up the sides on more than one occasion).
Here's our Guava Lotus set up at home. It's been used every night for 2+ years and is looking great!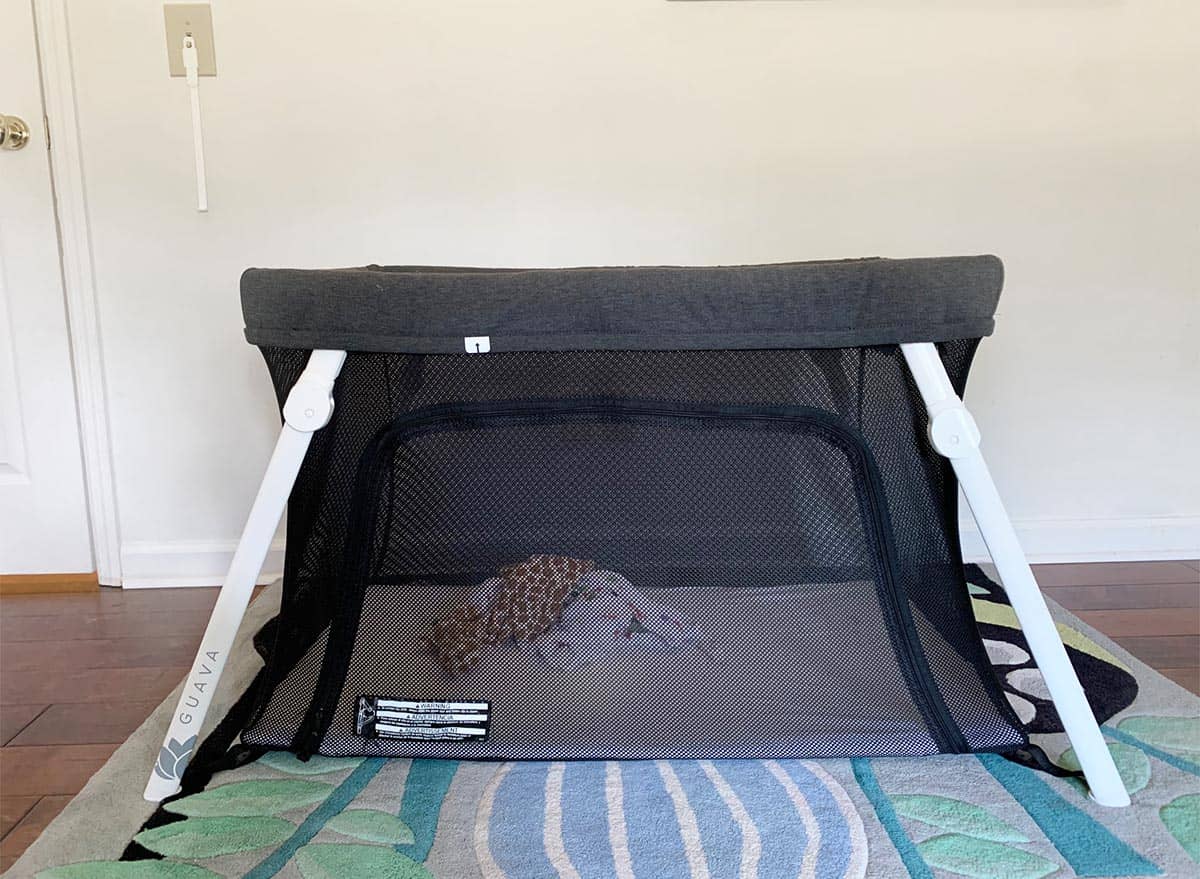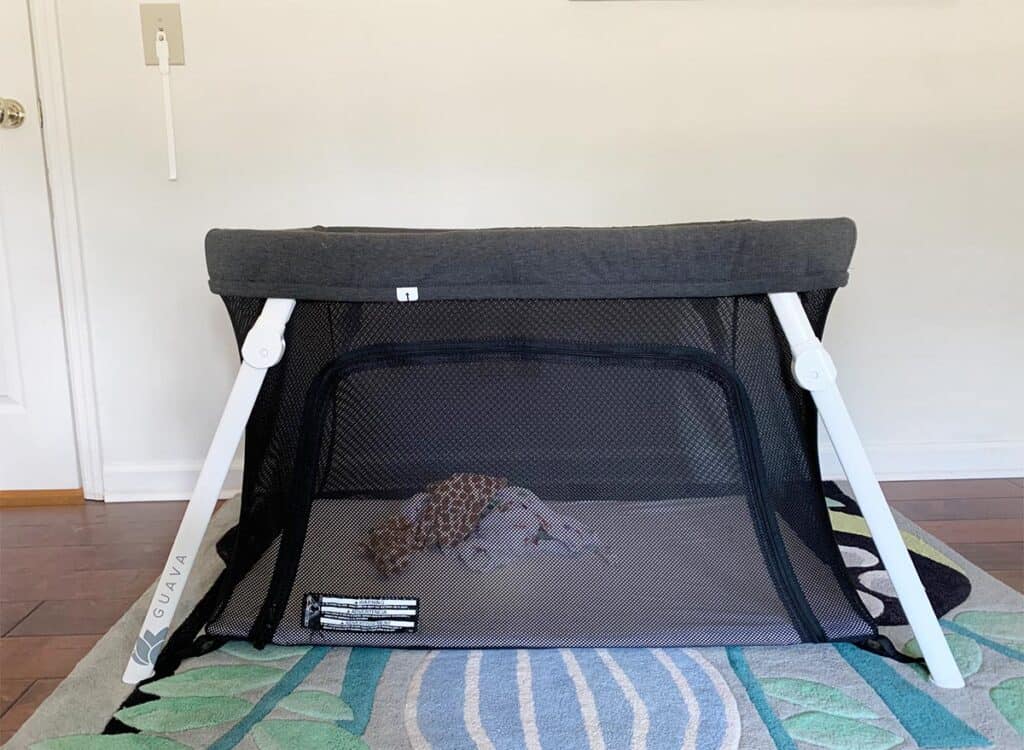 Planning a camping trip with a toddler? Be sure to check out this toddler camping checklist!
Go with me Bungalow Travel Cot
The Go with me Bungalow travel cot is the best camping cot for toddlers because it has rails.
I'm not a personal fan of folding cots because they usually aren't all that comfortable and they can be noisy. Additionally, the Bungalow is tricky to lock in place. (But aren't all cots?)
However, the Bungalow is fairly lightweight and easy to transport. It also comes with rails and an optional canopy. (Yes, I have to mention the rails again! My daughter moves so much in her sleep and falls right off a mattress or cot if there aren't sides of some sort.) The canopy works as a sunshade during the day and can make the bed a bit darker at night. (You know how light it can be in a tent on a long summer evening!)
Sale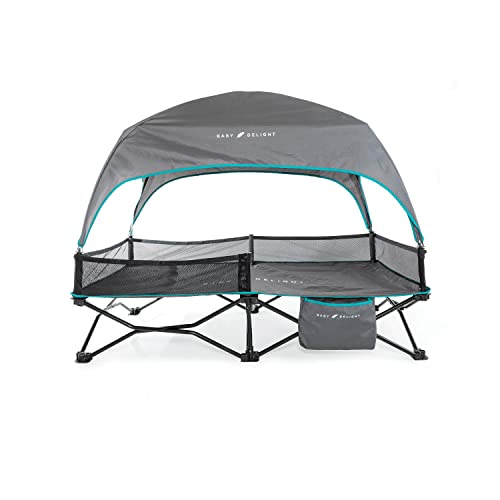 Baby Delight Go with Me Bungalow Deluxe Portable Cot, Toddler Travel Bed,...
ON-THE-GO TRAVEL COT: As a parent, we know that life takes you many different places. So, we designed the Go With Me Bungalow to fit into a portable...
MAXIMUM SAFETY & STYLE: Our strong and stable metal frame locks into place and keeps the cot secure wherever it goes. You shouldn't have to...
FOR ANYWHERE: The Bungalow portable travel cot is really meant to travel with you. Whether it's camping trips, backyard BBQs, beach days, or...
If your child has trouble adjusting to new sleep environments or is used to a mattress, they may not sleep well on a cot. If they're easy-going when it comes to sleep and can pass out anywhere, it's a great choice.
The Shrunks portable bed for toddlers
The Shrunks toddler bed is the best choice for a toddler air mattress.
It comes with a flocked mattress top, bed rails to prevent rolling off, and an included electric air pump. The bed uses standard crib sheets, which is very handy.
The biggest downside is that the Shrunks toddler bed is made out of PVC. It says it's BPA free and phthalate free, but it still has a distinct PVC odor out of the box.
PVC off-gassing is a serious concern. Many people chose to air out their air mattress before use, but that off-gassing can continue for weeks. According to the EPA, short-term exposure to high amounts of vinyl chloride (which is used to make PVC) has various negative effects, including:
Drowsiness
Dizziness
Headaches
Long-term exposure to vinyl chloride through inhalation can cause serious problems, including liver damage and cancer.
An inflatable bed that's been aired out for an extended period of time is probably okay for short-term use. However, I wouldn't let my daughter sleep on one for an extended period of time. If your child is an easy-going "good" sleeper, they may do fine with sleeping in a completely different bed while traveling. My daughter benefits from the continuity that always sleeping in her Guava Lotus brings.
It's also important to note that the Consumer Product Safety Commission says air mattresses are not safe for children under 15 months of age. They also warn that children's air mattresses should always be fully inflated.
If you have an older toddler and allow the mattress to air out fully before use, the Shrunks toddler bed is a good choice. It is more comfortable than a cot and less expensive than the Guava Lotus (and other similar travel mini cribs.)
Budget travel cot for toddlers
Finally, there's the Regalo My Cot portable bed for toddlers.
The Regalo My Cot is lightweight, durable, inexpensive, and comes with a fitted sheet. It also doesn't have rails, or a place to put them. Several reviewers also report the cot tipping over if the child's weight it all the way to one side.
Because of the lack of rails and potential tipping problem, I recommend using the Regalo My Cot only for children who are peaceful sleepers and don't toss and turn all night.
Even though I wouldn't use it at this stage in my daughter's life, I included the Regalo My Cot because is popular for younger children and fairly easy to find. I think it's better for preschooler and kindergarten age kids, though.
Sale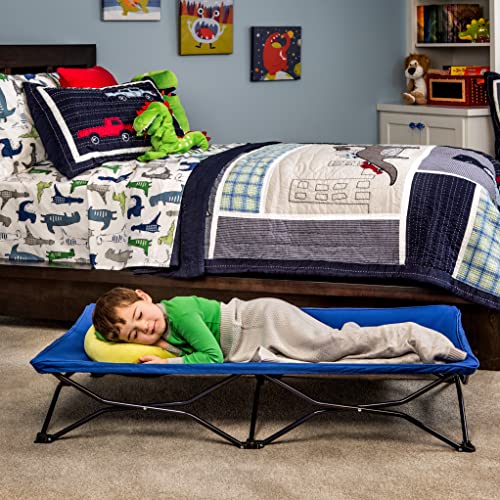 Regalo My Cot Portable Toddler Bed, Includes Fitted Sheet, Royal Blue ,...
CONVENIENT: No set up required. This cot's simple fold and go system is quick and easy to use.
DURABLE: Made with an all steel frame that is light-weight and will hold up to 75 pounds.Cleans up quickly with a damp cloth and soap
COMFORT: This cot has a large 48"L x 24.5"W x 9"H sleep surface with full canvas sleeping area and includes a fitted sheet for added comfort.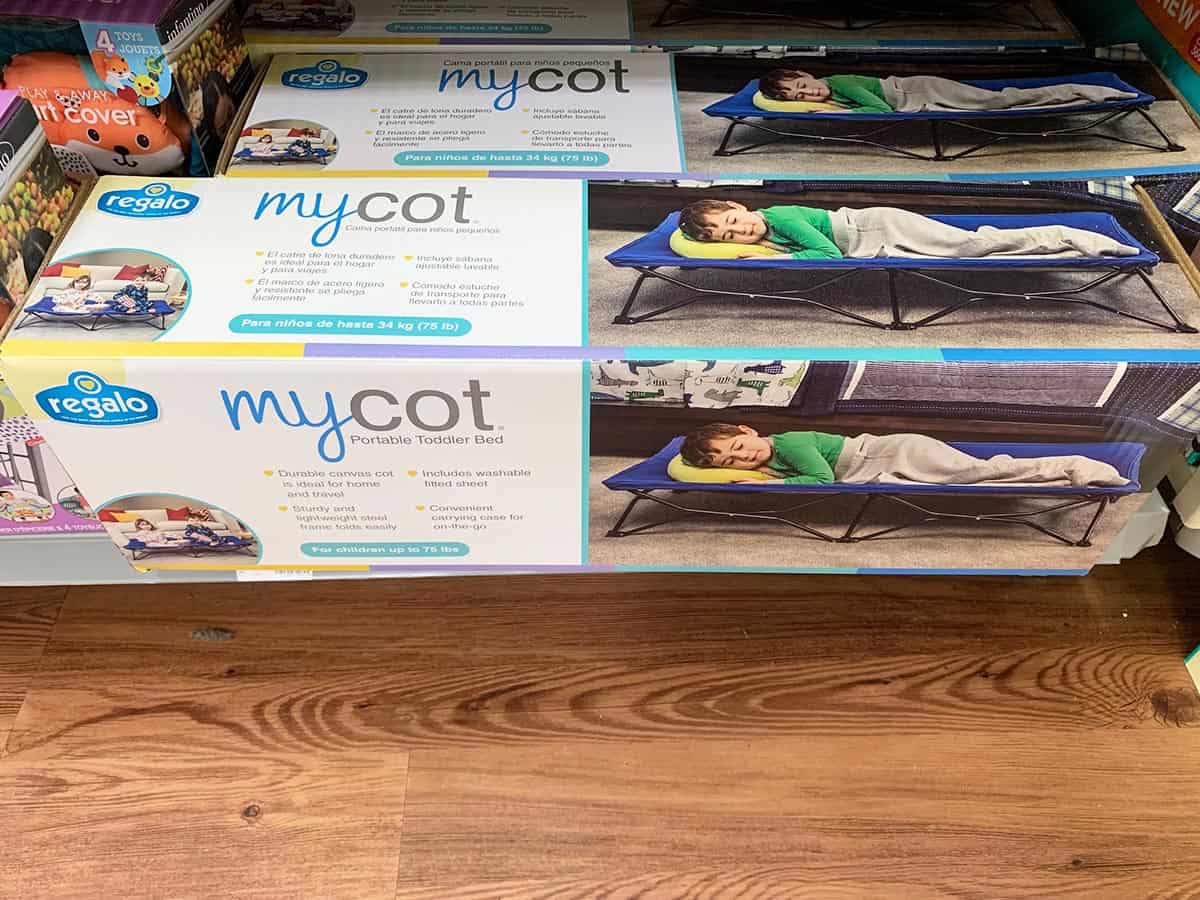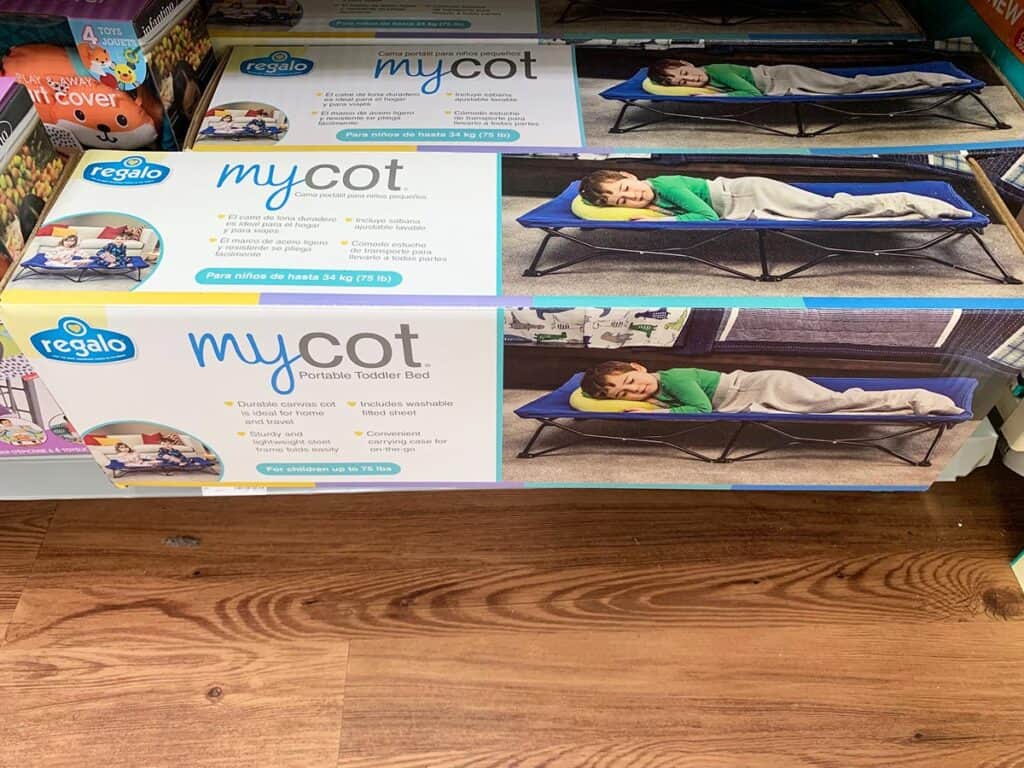 The best travel bed rails for toddlers
Portable bed rails can be an easily solution for traveling toddlers. Bed rails come in handy when you're staying in a hotel or need to use a bed in an RV or camper.
My daughter is a very active sleeper, so I searched for the most secure, highest foam bed rails I could find.
The extra tall foam bed rails from BuBumpers are my top pick.
These bumpers are great because:
They are 5″ tall (most are only 3 or 4 inches).
They have a non-slip backing to help them stay in place.
They have a removable, washable cover.
They come in a two pack (some rails are sold in singles).
You can cut down on their storage space by stuffing them into a stuff sack. If you're in an RV or camper, you can leave them on a bed or on the dinette bench during travel and storing them isn't a problem.
If your child is sleeping in a RV bunk or dinette bed, they should only need one rail. If you're using these on a twin bed, they will take a total of 14″ of mattress width away. That should still leave plenty of space for a toddler, but I did want to point their width out so you're not surprised!
Sale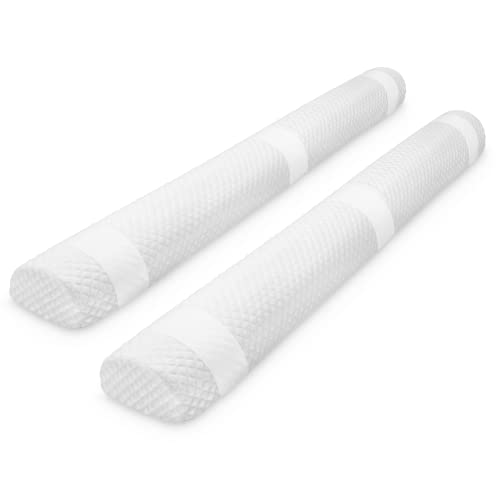 Tall Foam Bed Rail Bumpers for Toddlers | Soft Bed Bumpers for Kids | Baby...
MOMMY & BABY FRIENDLY! Down with clunky, bulky bed guards, this bed rail is everything the metal kind isn't! Soft, unobtrusive and subtle, they slide...
STURDY, SAFE & SECURE! 100% non-skid, this kid's bed rail isn't going anywhere. Enjoy the peace of mind knowing your child is safely tucked away,...
Safety always comes first, and that's our priority. Surpasses the industry standard for performance and endurance. Non-toxic, including no heavy...
How to get a toddler to sleep while camping
If you're worried that your toddler won't sleep while camping, you are not alone!
I'm obsessed with our bedtime routine and very strict with bedtime because my daughter has never been an "easy" sleeper. (I wasn't either. My mom laughs about me getting my payback…)
Travel can disrupt her sleep and causes some issues. These disruptions are more likely when we're rushing to unpack before bedtime and don't have sufficient time for our bedtime routine.
Our LG has traveled lots in her short life (beginning with trip from Hawaii to the East Coast and back again at 10 weeks). These are my top tips for helping your baby/toddler sleep while traveling or camping:
Pay as much attention to your little one during the day as you can.
My daughter knows when we're packing for a trip and gets super flustered. It's easy to put your kids off and keep saying "later, not now, later" when you're trying to get out the door. Pay as much attention to them as possible to help minimize sleep disruptions.
I've noticed that my daughter has a "cuddle tank" (as I like to call it). If she doesn't get enough attention and cuddles during the day, she will be up at night to get her cuddles. Several of my friends have noticed the same thing.
Keep your bedtime routine as much as possible.
Obviously things will be different. But the more similar we make things, the more successful bedtime is. Try to keep your routine in order and keep things at the same time, if possible.
Make your tent or RV darker.
Children (and adults) sleep better in the dark. Light and darkness are important cliques that tell your body when it's time to sleep.
This can be a problem while camping, especially tent camping, because summer nights are short!
To make your tent darker at night, consider getting a "blackout tent." A light blocking tent can also help with nap time. Light blocking tents darker inside than traditional tents and they are also cooler in the summer.
If your trailer or RV curtains don't block enough light, consider hanging extra blackout curtains. You can also tape black cardstock or cardboard over the small window in a bunk, if needed. We have blackout curtains for our Sprinter van and they're awesome! They're especially helpful for nap time.
As a kid I frequently camped in old, canvas tents. They were bright if there was daylight and hot as heck in the summer. Do your family a favor and get a modern, light-blocking tent! (Yes, I have actually slept in the tents shown below. I think at least one of them is still in the attic…)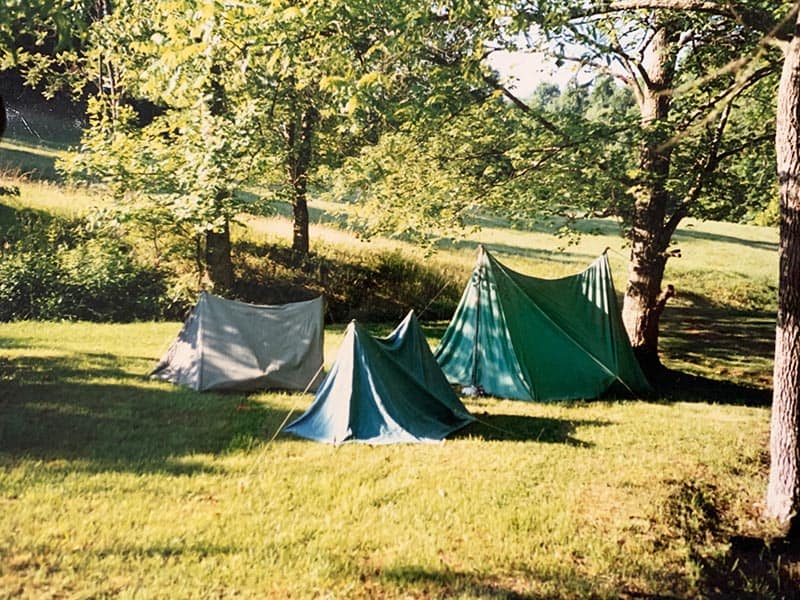 Use white noise.
Tents aren't known for blocking ambient noise (and RVs/trailers aren't always quiet, either!)
When we sleep in our van, we use our rechargeable speaker with an old phone to play our "sleepy music" and usually have a fan going. You might not want to play music in your tent all night, but a rechargeable battery powered fan can give just enough background sound to mask ambient noises and help your toddler stay asleep.
Both our Doss Soundbox and the fan shown last all night on a battery charge. (We don't run the fan on high and oscillate, but it holds up fine at medium-low speeds.) A battery-operated white noise machine works well, too, if that's what your little one is used to.
Be a bit flexible (even if you're super strict about bedtime like I am).
Disruptions do happen, especially when you're traveling. If you've worked hard to form a bedtime routine that works, it's difficult to let things slide. What if it undoes all your hard work?
Sometimes you will have late nights or early mornings while traveling. It's just how things are. Try to embrace it and enjoy it. Know that things will get back to normal after a few days at home.
When we traveled to my sister's wedding in Glacier National Park, our sleep routine was upended. Her ceremony started just one hour before bedtime. Obviously I wasn't going to skip out on my only sister's wedding just for the sake of getting my toddler's jammies on her "on time!" Our flight home also got back in way later than bedtime. It was a bit of a mess, but LG ended up sleeping for a zillion hours straight once she finally calmed down. Everything was back to normal in no time once we were at home.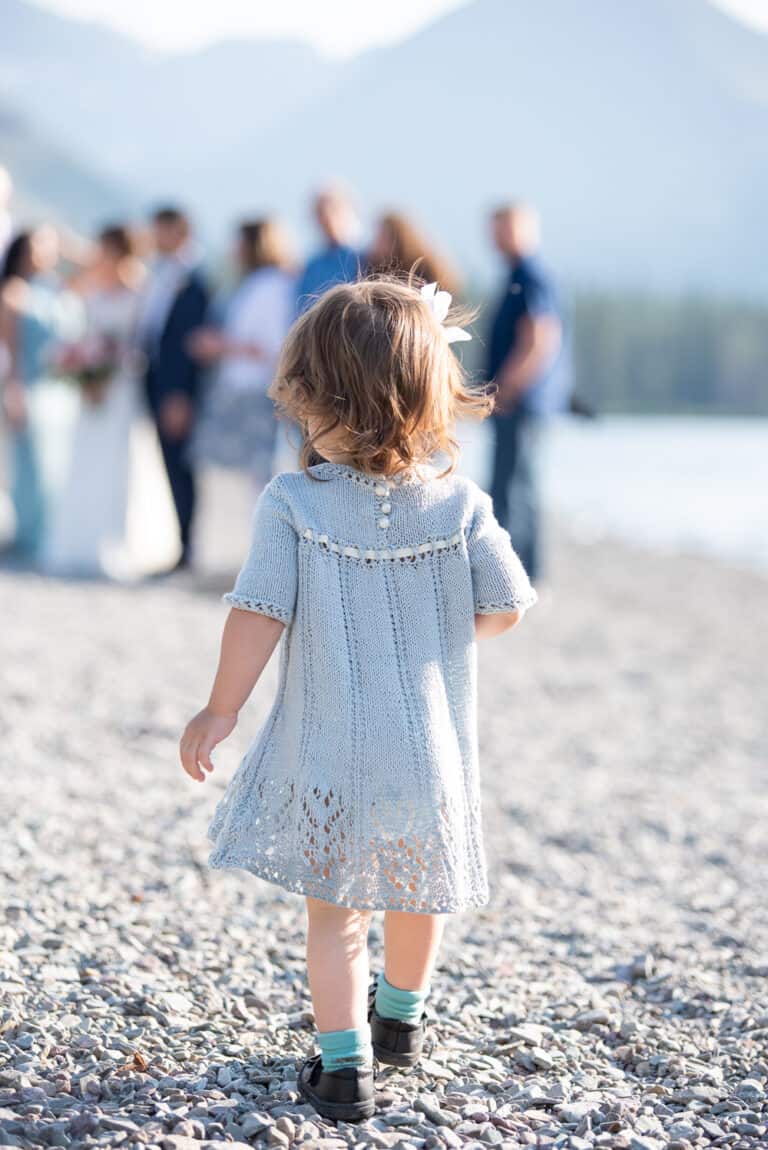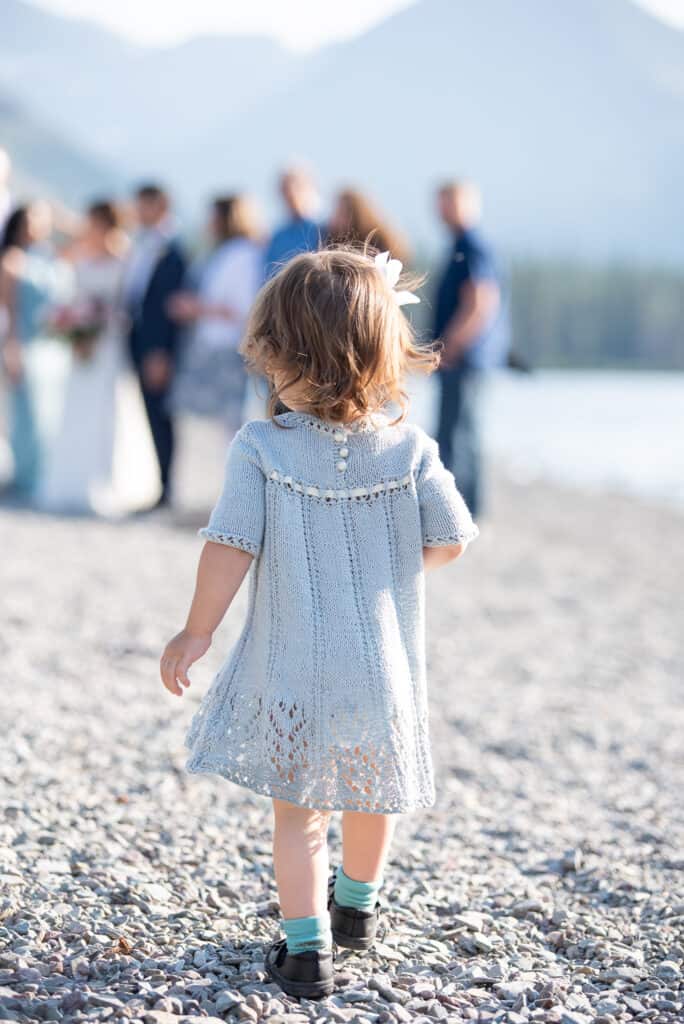 I hope you've enjoyed this look at the best toddler camping beds!
If you're planing a family camping trip, make sure to check out this toddler camping checklist and grab free printable camping bingo for your family.
Don't lose track of this toddler camping bed guide – Pin it to your family camping board now!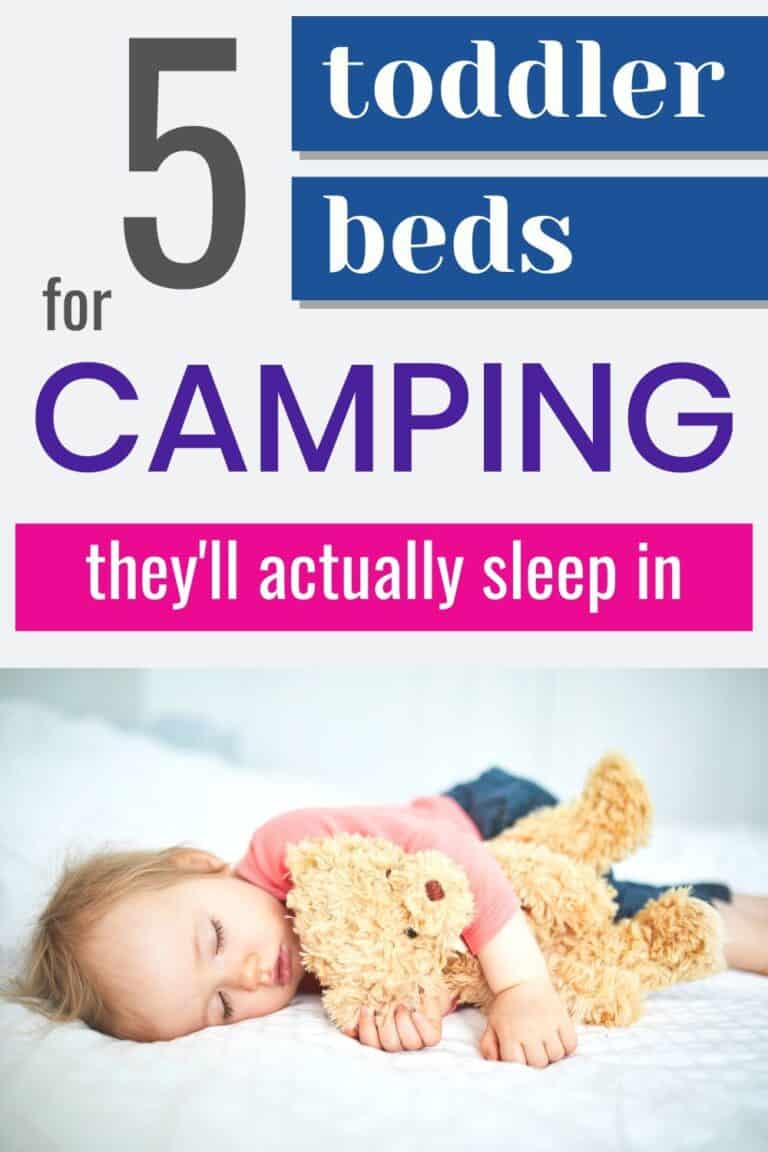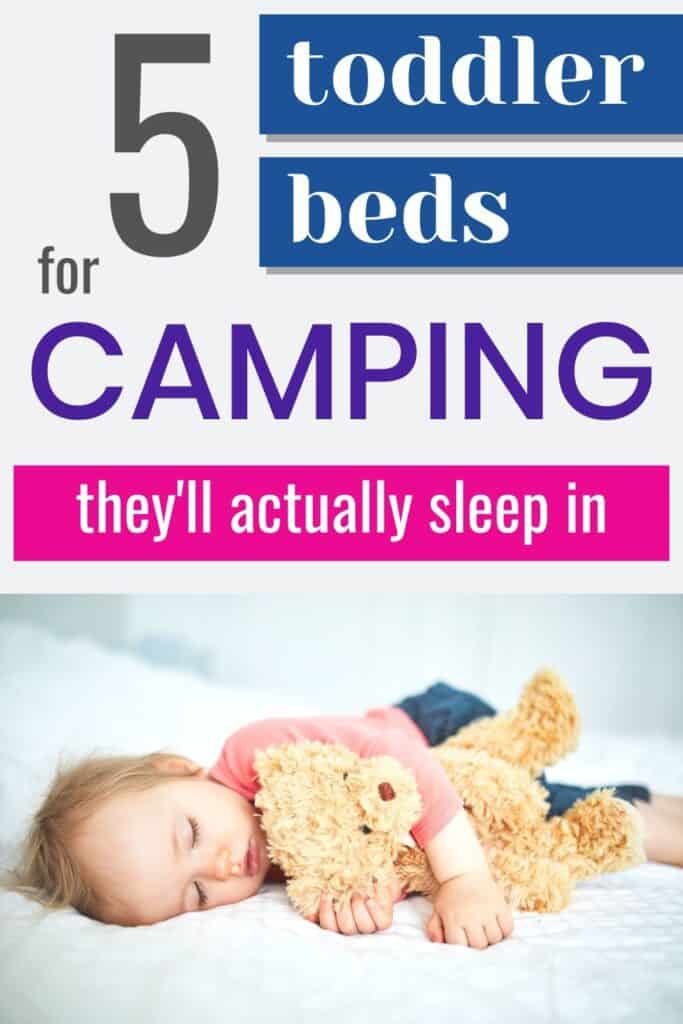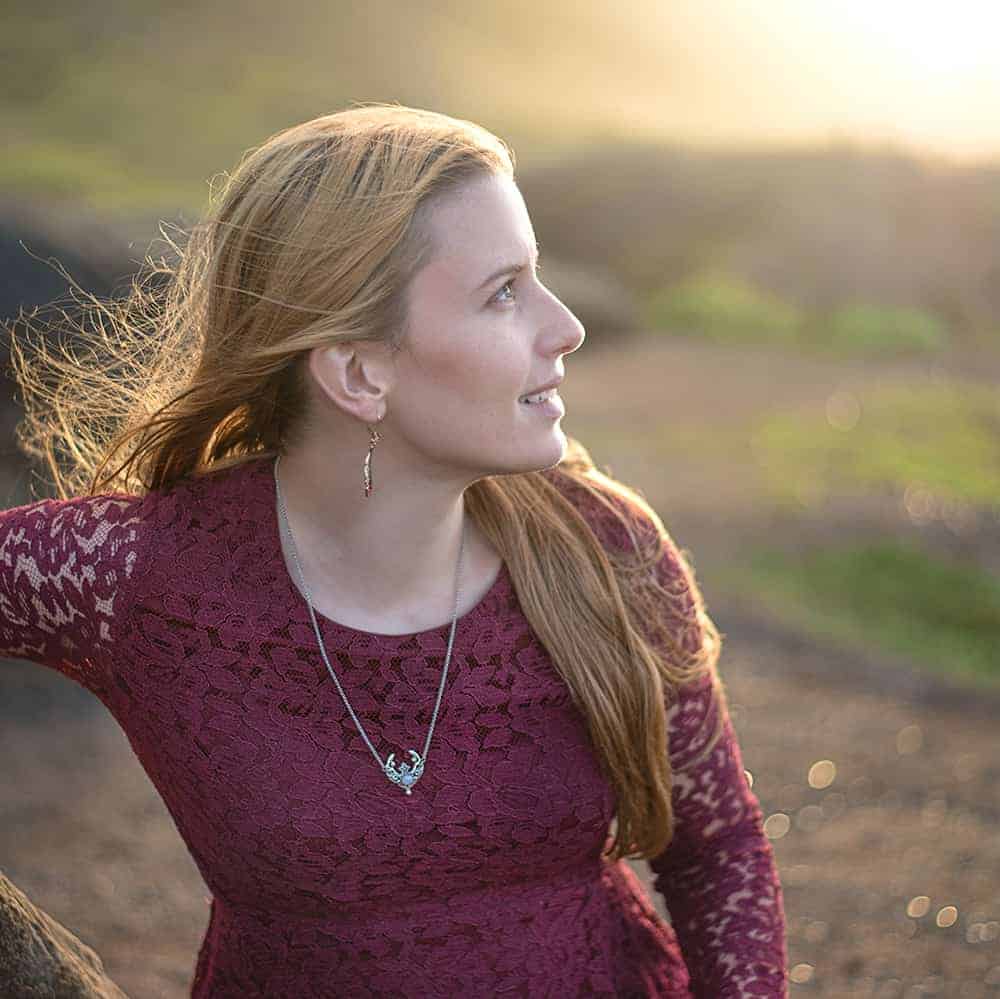 Natasha Garcia-Lopez is an avoid home-gardener and proud owner of 88 acres of land in rural West Virginia. She was a member of the Association for Living History Farms and Agricultural Museums for many years and is currently enrolled in the Oregon State University Master Gardner Short Course program so she can better assist you with your gardening questions.She holds a certificate in natural skincare from the School of Natural Skincare.