These free printable camping scavenger hunts are a fun, low-prep outdoor activity for kids! Pick from a picture scavenger hunt for younger children or a text-based scavenger hunt for older children to keep your little ones busy and exploring during your campout.
I love creating and sharing printables. That's why I made two versions of this camping scavenger hunt for you! The first version is simpler and features bold, colorful images for young children. The second camping scavenger hunt for older children is text-based and features three camping images to color.
Both scavenger hunts can be laminated and used time and again, year after year. I hope you enjoy!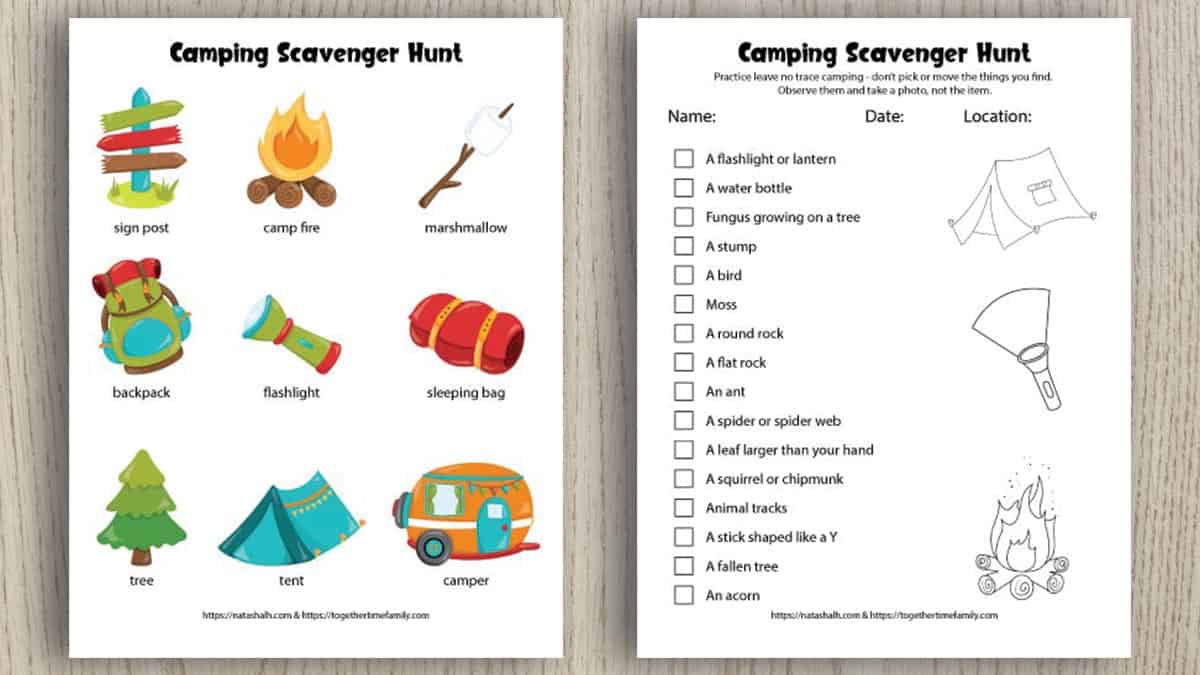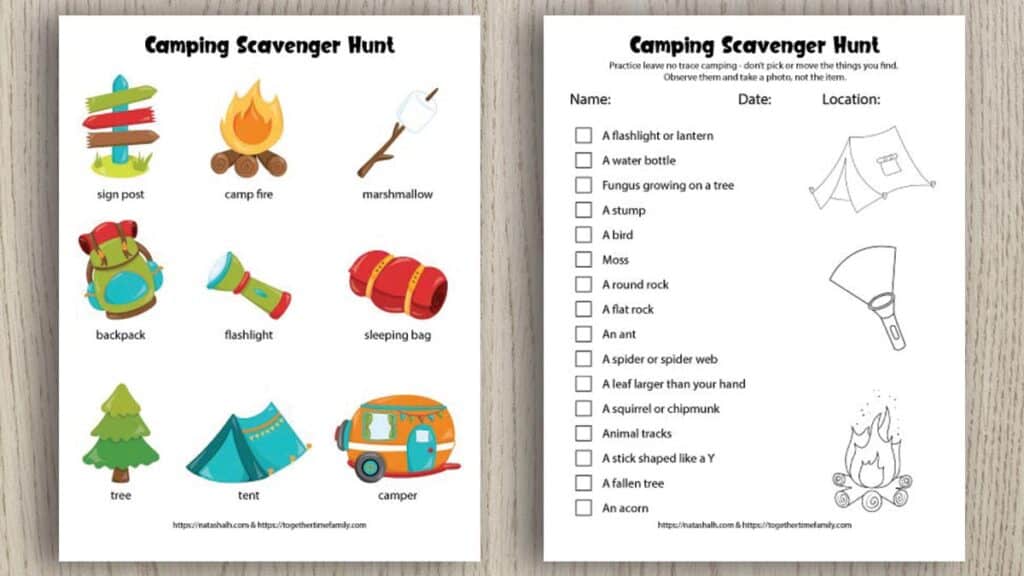 You can do these scavenger hunts as a family, make teams, or give children individual copies of the scavenger hunt. They're great for keeping kids busy while you set up camp or as a family outdoor activity.
This post includes affiliate links, which means I may earn a commission on purchases made at no additional cost to you.
Tips for using printables
These printable camping scavenger hunts are easy to print and use, but these tips will help you make the most of your printables.
I'm seriously protective of my colored ink. I recommend printing the colorful preschool camping scavenger hunt on presentation paper or cardstock and laminating it for repeat use.
Presentation paper is a heavyweight paper with a special coating for crisp, vibrant images.
When you laminate the scavenger hunt, your little one can use it over and over again. Your child can use a marker or (if you don't trust them with a marker) a crayon to mark each picture off. Erase the marks and they're ready to hunt again!
You may also want laminate the campground scavenger hunt for older children. The camping images to color can still be colored with markers or crayons.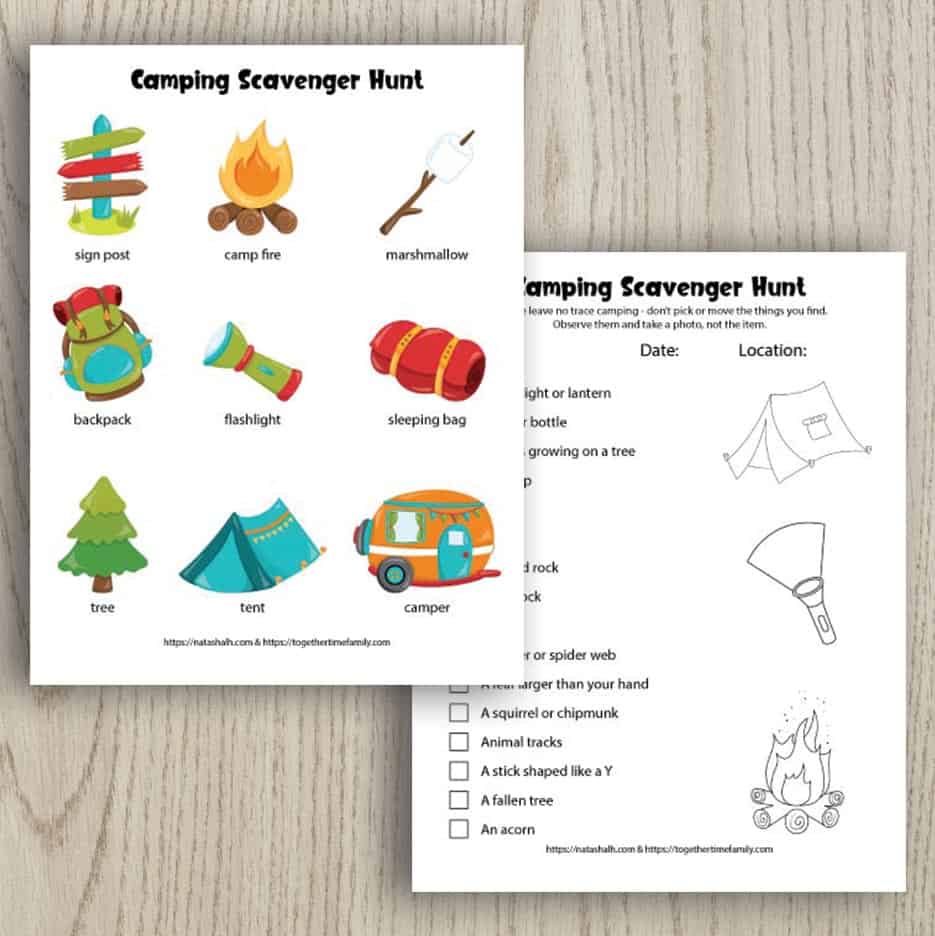 Related: Free printable camping bingo
Free printable camping scavenger hunts for kids
Before we get to the printable download links, please note that these printables are for personal and classroom/scouts use. You are not authorized to redistribute the files to other adults for use with activities they are organizing. Please just send your friends and coworkers to this page to download their own copies for their families or groups.
Download links are located below the preview images. I highlighted the links with a grey box to make them easier to find. Don't print the images you see in the post – they are low resolution previews that will look terrible if printed.
Free printable camping scavenger hunt for preschoolers and kindergartners
The outdoor scavenger hunt for preschoolers and kindergartners is perfect for younger children! It features 9 bright images with text labels for learning readers. The items are fairly easy to find in most campgrounds.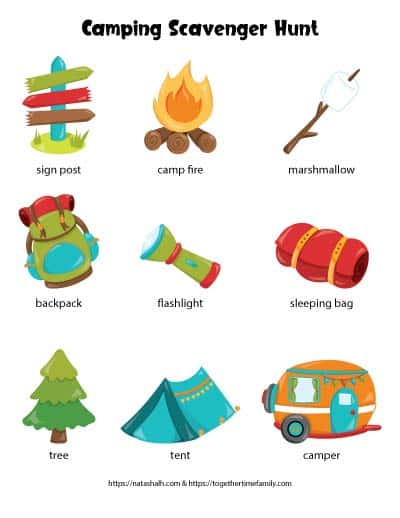 Download the camping scavenger hunt for preschoolers & kindergartners here
Camping scavenger hunt for kids
Next there's the text-based camping scavenger hunt. This version is best for independent readers and older children. The items are more involved and may require a little hiking around and searching. Most of the items are natural, not manmade so this scavenger hunt is great for a nature walk.
Using this outdoor scavenger hunt is a great opportunity to talk to your children about leave no trace camping. Encourage them to observe the items they find and snap a photo instead of taking the item.
The printable also features three camping images to color and spots to record the date and location. If you take photos of the items found and complete a different scavenger hunt each time you go camping, you can look back over your finds to compare and contrast them at the end of the camping season.
You could also print out the photos to make a collage or as part of a nature project.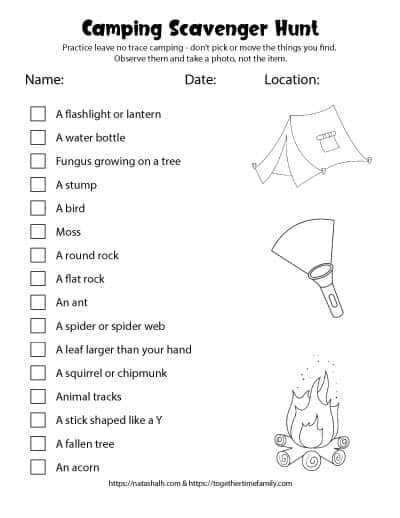 Download the camping scavenger hunt for kids here
Pin this post now so you can find it again later!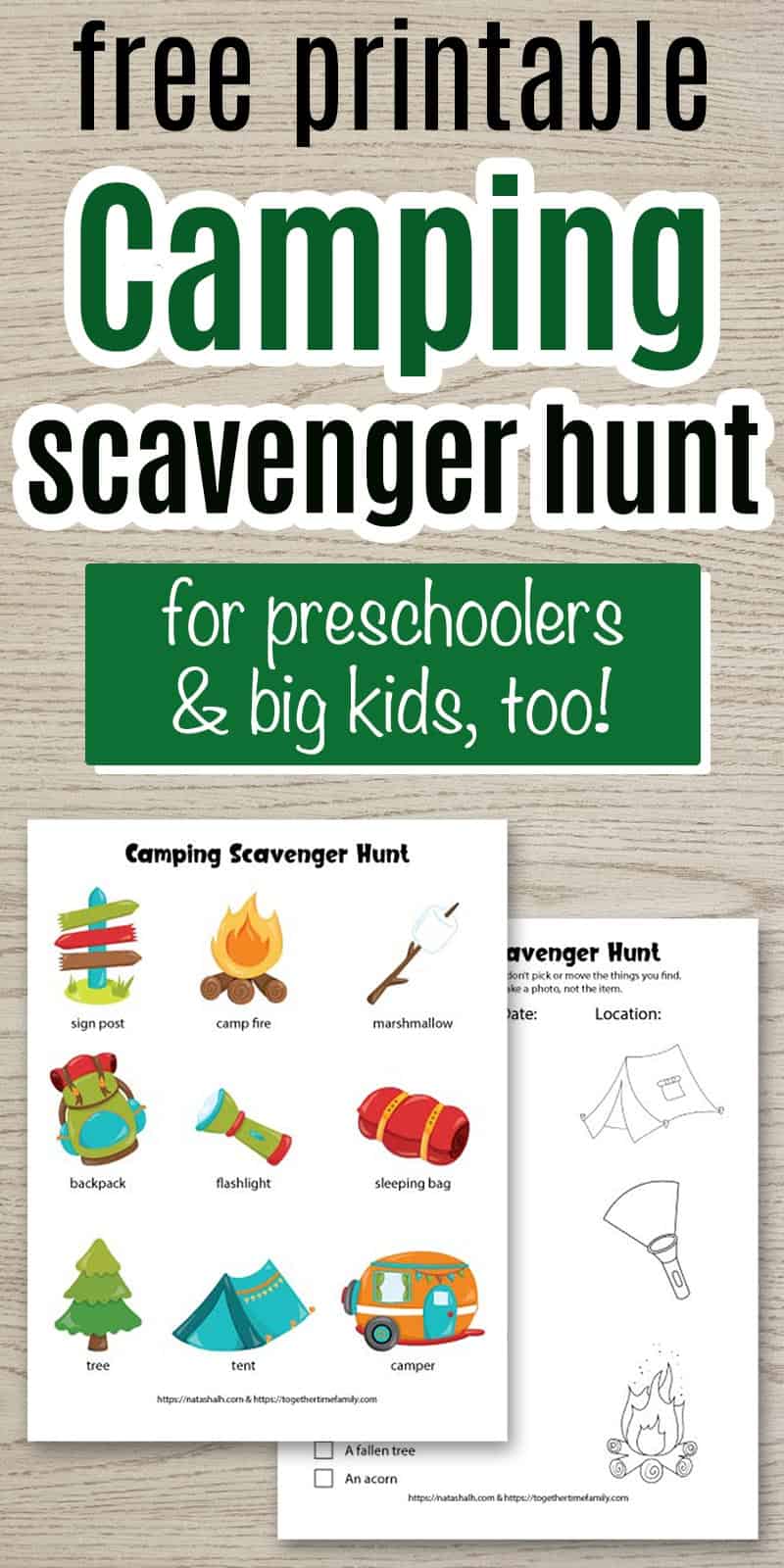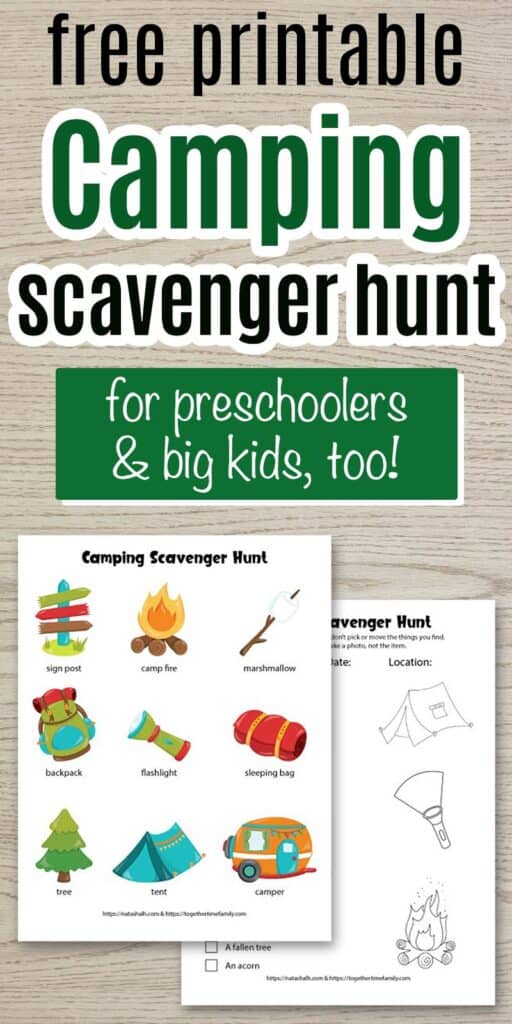 I hope you have an amazing camping trip with your family! Be sure to check out these other family camping resources and games on Together Time Family:
Camping with Kids
Discover these resources for camping with kids and outdoor activities for families!
This free printable camping bingo is a fun family activity for a rainy day at the campground.
Discover the best camping beds for toddlers so you and your little one can get a good night's sleep.
Are you planning your first camping trip with a toddler? Discover essentials for camping with a toddler and grab your free printable toddler camping checklist!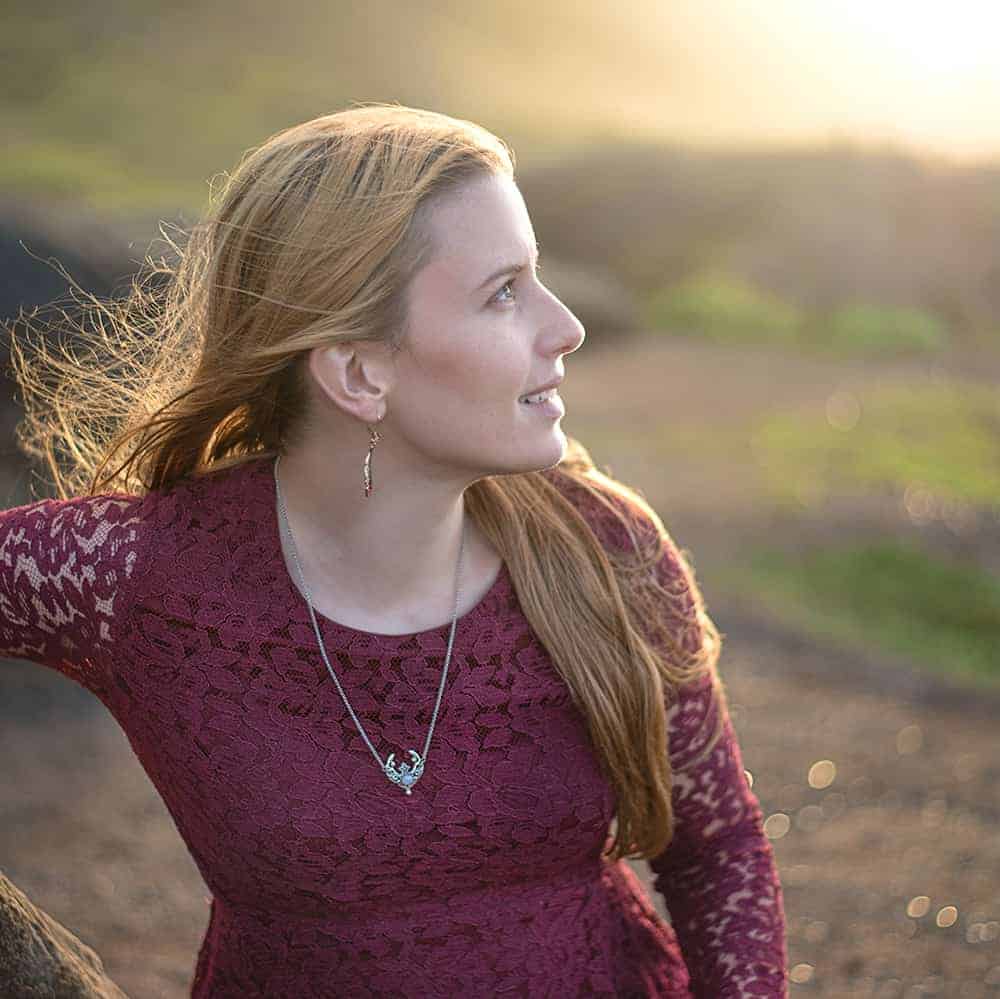 Natasha Garcia-Lopez is an avoid home-gardener and proud owner of 88 acres of land in rural West Virginia. She was a member of the Association for Living History Farms and Agricultural Museums for many years and is currently enrolled in the Oregon State University Master Gardner Short Course program so she can better assist you with your gardening questions.She holds a certificate in natural skincare from the School of Natural Skincare.