Removing weeds from your yard is never an easy job. Spending long periods hunched over your garden beds, pulling up weeds is not fun, and it puts a hurt on your back. Luckily, there is a great tool for the job called a 'weed torch.'
A weed burning torch is a highly effective tool which burns the weeds and does not allow them to regrow. There are some obvious dangers with this method and there have been some people who've set fire to their homes. Remember that fire is a hazard and should be treated with respect and caution.
Using a weed torch is better than chemical weed killers and even manually removing weeds
It's not hard to see how a weed torch is better for your garden than chemical weed killers but better than manual removal? The act of manual removal may actually cause more damage than you think, this is because when you remove the weed you end up leaving a bare patch of dirt on the ground. This then exposes the dirt to sunlight which raises the temperature of the soil and bakes the biological organisms which were thriving there.  
This post includes affiliate links, which means I may earn a commission on purchases made at no additional cost to you.
One of the principles of regenerative agriculture is to armor your soil. Farmer and author Gabe Brown goes into great detail about this in his book 'Dirt to Soil'.
When using a weed torch, you destroy the plant but don't disturb the ground. Therefore, the weed plant dies and is thus recycled back into the ground as it decomposes. The weed will not grow again but it's carbon will deposit itself into the soil for other plants to use.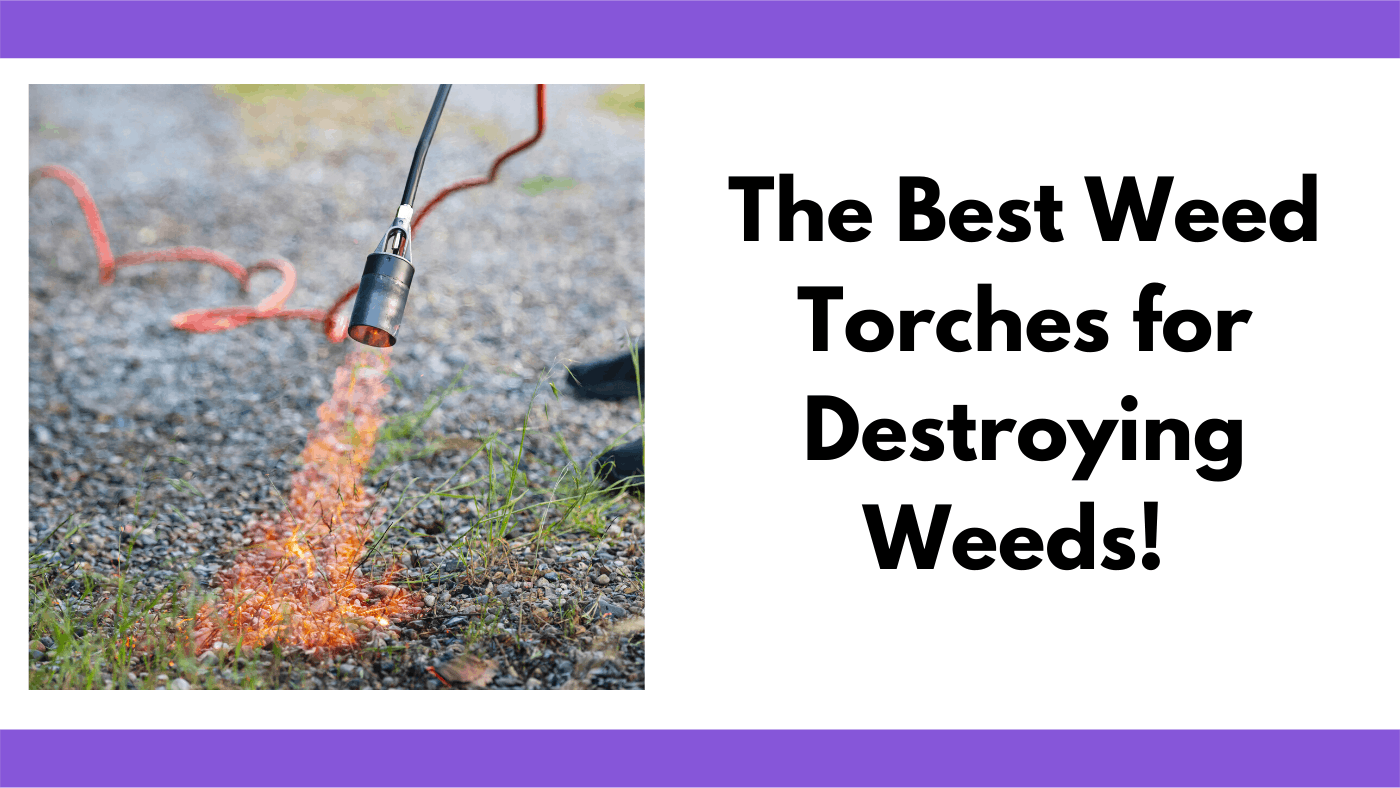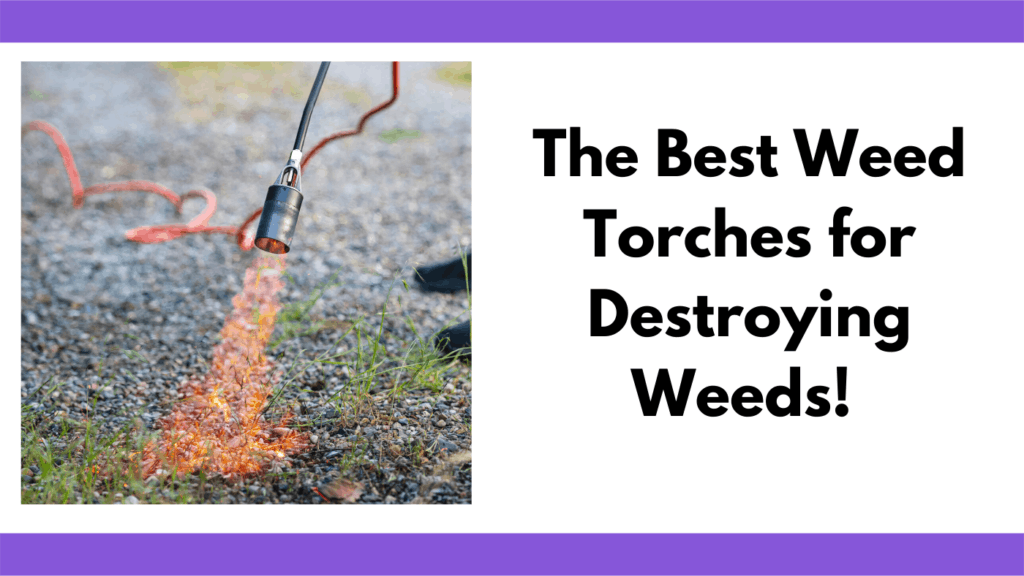 There are a few things to know about weed torches, they are not all created equal. Keep reading to find out which are our favorites and what you should look for in a weed torch.
This guide breaks down the various types of weed torches so you can make an informed, confident decision and select the best weed burner for your needs.
In a rush? Here are our top picks!
Great Value
Flame King YSNPQ810CGA Propane Torch Weed Burner with Integrated Lighter,...
Easy to Move Around With
Red Dragon BP 2512 SVC 400,000 BTU Weed Dragon Backpack Propane Vapor Torch...
Heavy Duty
Propane Torch Weed Burner - Weed Torch with 10ft Hose (cCSAus Certified),...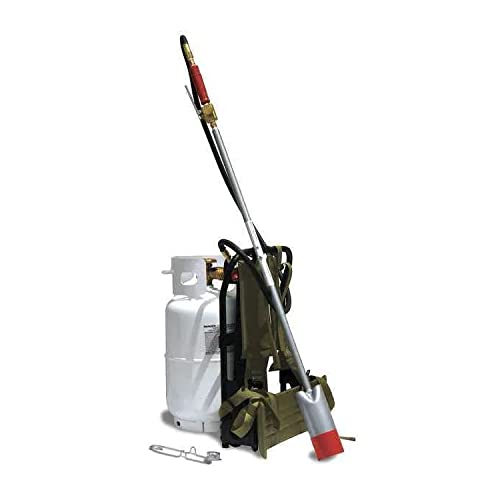 Great Value
Flame King YSNPQ810CGA Propane Torch Weed Burner with Integrated Lighter,...
Easy to Move Around With
Red Dragon BP 2512 SVC 400,000 BTU Weed Dragon Backpack Propane Vapor Torch...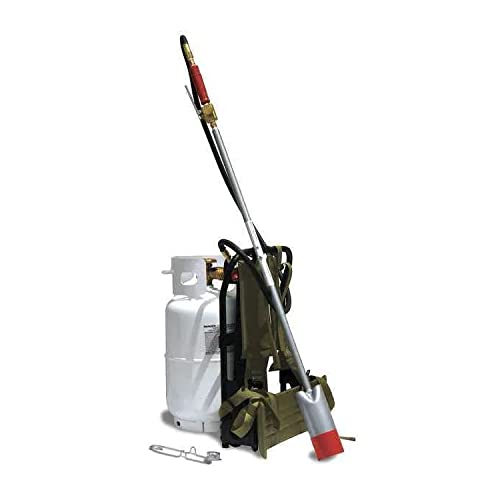 Heavy Duty
Propane Torch Weed Burner - Weed Torch with 10ft Hose (cCSAus Certified),...
---
If you've ever tried browsing for garden supplies, you may have been struck by analysis paralysis.
Picking the best tools can be exhausting, so we're here to help. Here are the best weed burners on the market today.
The Best Weed Torches
The Flame King Propane Weed Burner is an ideal weed torch for small yards. The slender and ergonomic design makes it easy to handle and maneuver. This model of weed burner is meant to be used with the smaller 14.1 ounce propane bottles, making this a light weight weed torch with an output of 24,000 BTUs. This weed burner arrives fully assembled so you can get right to using it after it arrives. Simply attach the propane bottle and get to work.
The integrated ignition is another great feature of this tool. You won't need to mess with using a flint striker to get the flame started. Also, the flame control valve allows you to easily regulate how large you want the flame. 
Remember that this is a light duty flame torch so it may take longer than the larger more robust weed torches to burn the weeds in your yard. Also, you should avoid using this weed torch on windy days as it will make it more difficult to effectively torch weeds. 
This weed torch by AUSAIL is a great weed burner for smaller yards. Some of the great features of this torch are the ergonomic handle which make it easy to hold and accurately burn the specific plants you want to get rid of. It also includes an integrated igniting mechanism which saves you the hassle of trying to manually light the flame, plus it's way safer and quicker. 
This is a lightweight propane torch with an output of 50,000 BTUs. This makes this torch easily portable because it can use a 1 lb or 14.1 ounce propane bottles. 
The Red Dragon Weed Torch is a heavy duty weed burner. The backpack design makes it easy to move around the yard with your propane torch. The 10 pound tank also ensures you'll have plenty left over to torch as many weeds as you'd like. 
This is a heavy duty use weed burner which puts out 400,000B BTUs, quite a bit of energy when compared to the Flame King Weed Torch, only 24,000 BTUs. This means you can destroy weeds much quicker and you have plenty of propane leftover for further work.
Since this is a heavier duty propane torch, it does require you to manually light the flame with the included flint striker. There's a simple set of steps for how to get it started since you'll need to open a few regulating valves. 
The propane tank which is provided is empty, so you'll need fill it at a local propane refill station. Your local hardware store should be able to help you out.
This heavy-duty propane torch by STEINBRUCKE is a great weed burner. With such a high output, 500,000 BTUs, this propane torch needs a larger bottle to effectively work. 
This weed torch internal ignitor makes it really easy to start and use efficiently. First, the regulator valve is highly intuitive. Next, there is an integrated piezo electric starter which ignites the propane, so you don't need a flint striker. Additionally, there is a squeeze valve which opens the supply valve further and quickly burns weeds. 
Despite the elegant design, there is one drawback regarding the fuel supply. Since this weed torch needs a 20 lbs bottle to work, you'll need to move that around with you as you move around the yard. The 6.5 ft hose definitely gives you some maneuvering freedom, but you'll still need to move the propane tank frequently.  
What to look for when buying a weed torch.
Propane cylinder bottle size
Propane cylinders come in a few different sizes. The typical size for a weed torch is a 14-ounce bottle. You can also use a 1-lb propane bottle like those sold for Coleman stoves. These small propane bottles are appropriate for smaller gardens of about ½ an acre.
There are also 20-lbs propane cylinders. These larger propane bottles last longer but are difficult to move around because of it's size and weight. To use a 20-lbs propane cylinder with your weed torch, you'll need a dolly or a carrying backpack to move it easily.
Keep in mind that you can easily refill the smaller propane bottles from a large 20-lbs cylinder using a propane refill adapter. Using a refill adapter is super simple. Simply hook everything up then open the valve on the 20-lbs cylinder. You'll be able to tell when the transfer is complete when there is no longer a 'hissing' gas sound. Then shut-off the valve and undo all the connections. Your smaller propane bottle is ready for use.
Sale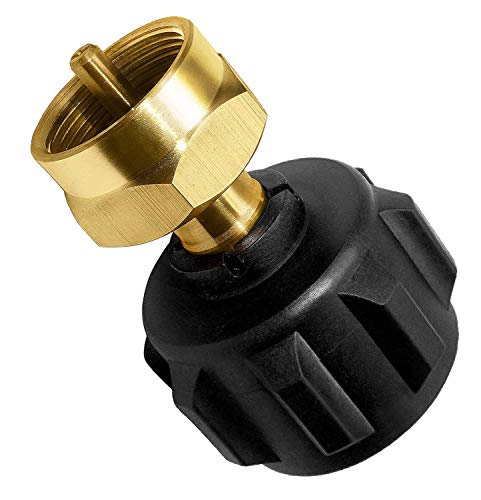 DOZYANT Propane Refill Adapter, LP Gas Cylinder Tank Coupler - Fits QCC1 /...
SAFETY - Built in safety feature that will ensure you never over-fill your smaller tank. Well-constructed, built Heavier, Bigger, and Safer.Cuts off...
EASY INSTALL - No others tools required and easy to install with handheel grip for tightening.
CORROSION RESISTANT - 100% solid brass construction provides secure and airtight connection for your security
Igniter (automatic or manual)
There are two ways to ignite a propane torch. One is an automatic internal ignition source which requires no external heat source. The other method is by using an external heat source, such as a flint striker, to ignite the flame.
If you've never used a flint striker, you may want to only consider models with an internal ignition source. This will ensure you don't need to place any of your body parts close to the flame and can keep yourself from injury.
Using a flint striker is inherently dangerous and requires some practice to master. There are lots of videos to show you how to safely ignite these types of weed torches.
Shroud
Some weed torches have a shroud like cover at the end. This is to better direct the heat flames of a weed torch. This becomes especially useful when killing weeds among other sensitive plants. Though it is not a perfect design, you can direct the flame much more effectively.
How to use a weed torch
It is best to use a weed torch after a light rain. This causes the ground to become slightly wet and minimizes the risk of a fire spreading from your garden or yard.
To kill a weed with a weed torch, you need only place the flame on the plant for a few seconds. It is not necessary to char the plant, but you do need to visibly damage all appendages of the plant.
Do not use a weed burner on a mulch covered garden bed. The mulch can catch fire and cause embers to develop which can pose a danger long after you've packed up the weed torch for the day. Extinguish all flames immediately to prevent large fires from breaking out.
What flame size do I need for a weed burner?
First, you should always look for a weed burner which has an integrated flame regulator (valve) installed. All the weed burners recommended in this post have a regulating valve installed to control the flame size. 
There is no right or wrong flame size but you'll know when the flame is too much because your propane bottle runs out too quickly. You'll also know when the flame size is too small because it takes too long to kill weeds and the flame may even blow out easily. A good rule of thumb is being able to destroy weeds about 6 inches away from the nozzle in about 5 seconds. 
Do not burn poison ivy
Do not burn plants or brush piles that may contain poison ivy, poison oak, or poison sumac. Inhaling smoke from burning plants can cause severe allergic respiratory problems (source).
What is a weed burner?
A weed burner, or a weed torch, is a propane torch used to kill weeds with fire. The tool consists of a propane cylinder attached to a long metal necked handle which has a torch on the end. The best weed torches are auto igniting which remove some of the dangers of use.
Does a weed torch really work?
Yes, weed torches work very well. Flame weeders are highly effective at killing weeds in your garden. Your goal is to burn the center bulb of the weed to completely kill the weed. This will cut the roots off from the above ground plant and prevents any further spread.
Does a weed burner kill roots?
Yes, a weed burner kills the plant and therefore the roots cannot grow any further. After torching a weed, the plant will not propagate any more. The plant will die and decay in place.
However, if a plant has many different roots, like a wild black berry vine, it may be more difficult to cull this plant with a weed torch. You'll need to burn every node on which there are roots.
Why are these burners rated in BTUs?
A BTU, or British Thermal Unit, is the amount of energy required to heat one pound of water by 1 degree Fahrenheit. It is the conventional set of units used to measure heat output. 
Safety
There are quite a few recorded incidents of people setting their house on fire while using a weed burner like these. Please use caution and follow all safety guidelines per the manufactures recommendations. Please don't set yourself or your house on fire.
Angel is a Cuban immigrant who grew up with backyard chickens and a yard-loving abuela. He is our "gear guy" who can never have too many pairs of gloves or weed whacker attachments.