Garden hose reels and retractable hoses are one of those things you think you don't need…until you realize you do. If you're sick of having a kinked up hose that's a nuisance to use and leaves stripes of dead grass all over the lawn, discover the best garden hose reels and retractable garden hoses with this post!
Hose reels can also be referred to as a 'hose keeper.' It is ultimately a way to store your hose so it isn't flopping on the floor.
You may be tempted to order the cheapest garden hose reel you can find. We've learned the hard way that this simply is not a good idea.
Hose reels take a lot of abuse and sit outside in the weather. Flimsy hose carts and retractable hoses quickly break and leak. This leaves you purchasing a second hose reel after just a year or two. Save yourself time and hassle by going with a higher quality retractable hose reel or garden hose reel the first time around.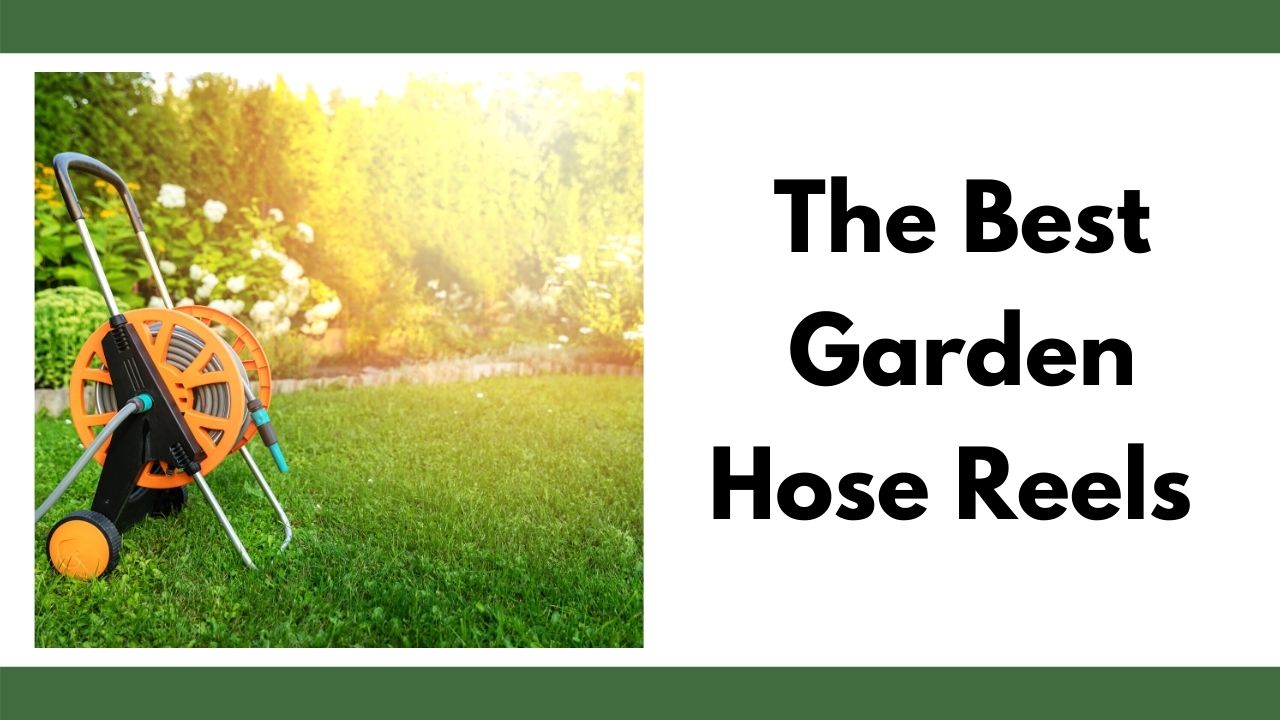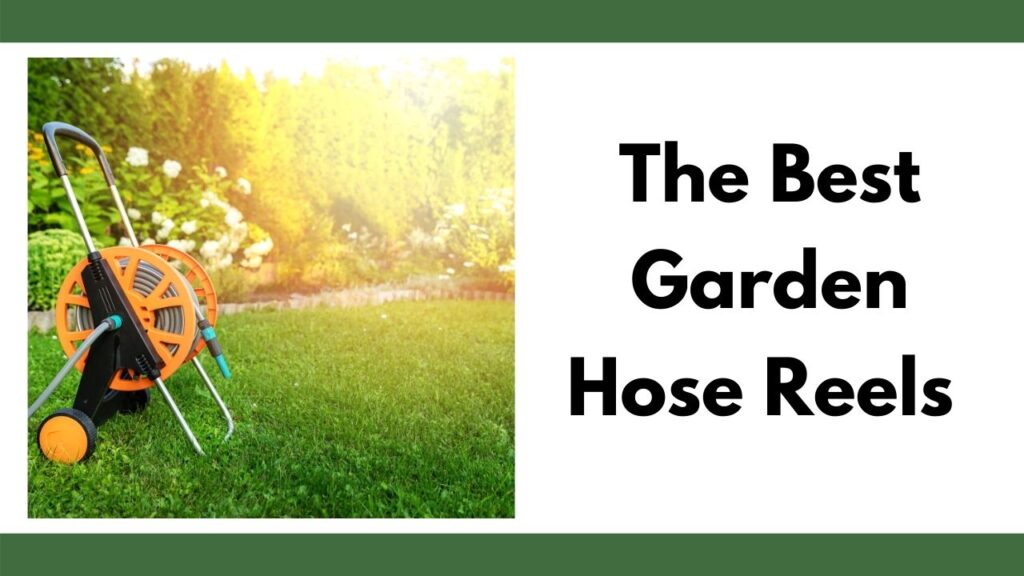 This post includes affiliate links, which means I may earn a commission on purchases made at no additional cost to you.
In a hurry?
After hours of research and testing hose reels, these are our top picks:
Best Retractable Hose Reel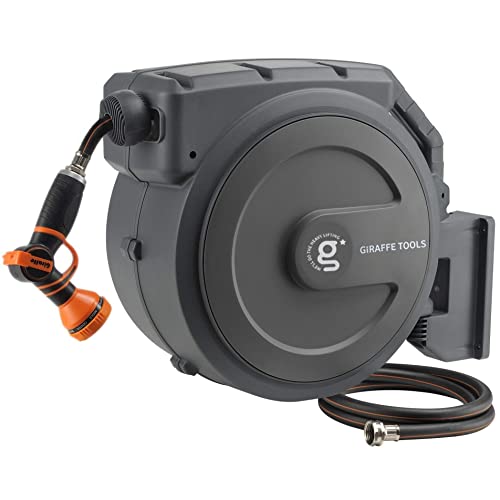 Best Hideaway Hose Reel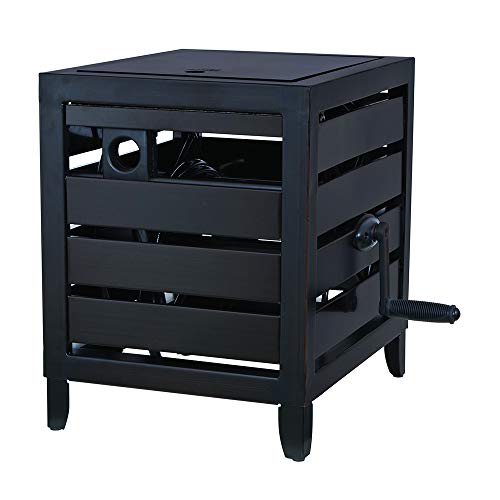 Best Hose Cart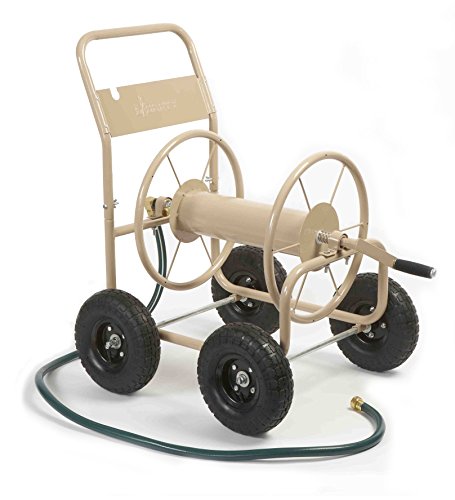 Most Aesthetically Pleasing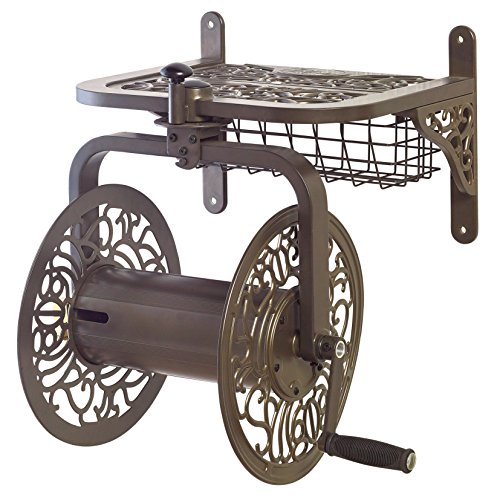 Best Retractable Hose Reel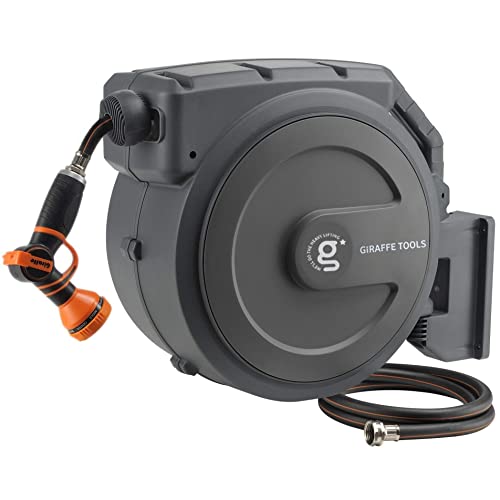 Best Hideaway Hose Reel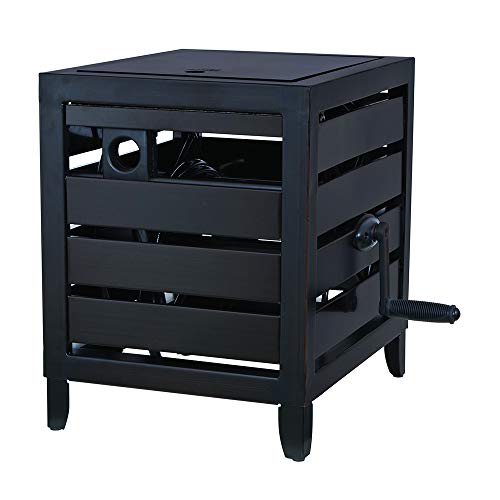 Best Hose Cart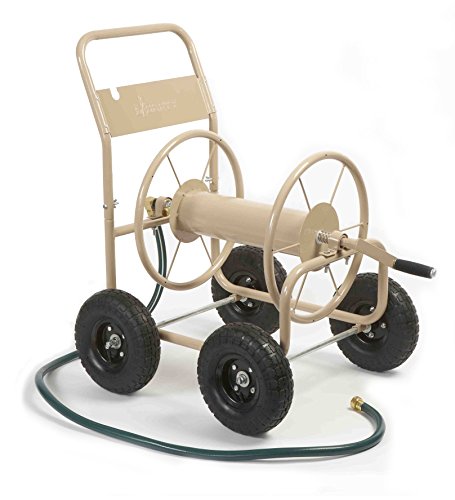 Most Aesthetically Pleasing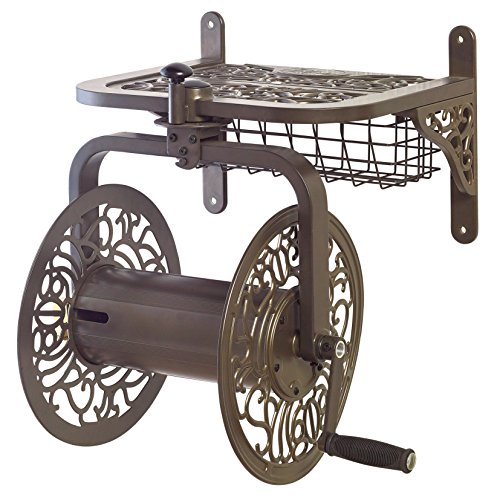 Why do I need a hose reel?
A loose garden hose is a tripping hazard, unsightly nuisance, and it tends to kill your grass.
Having your hose flopping about in the garden also puts the hose at risk. Many hoses degrade in sunlight. Leaving entire hose exposed may shorten its lifespan. It's also more likely to be cut by a stray lawnmower blade or weed trimmer swing or have the nozzle run over and mashed.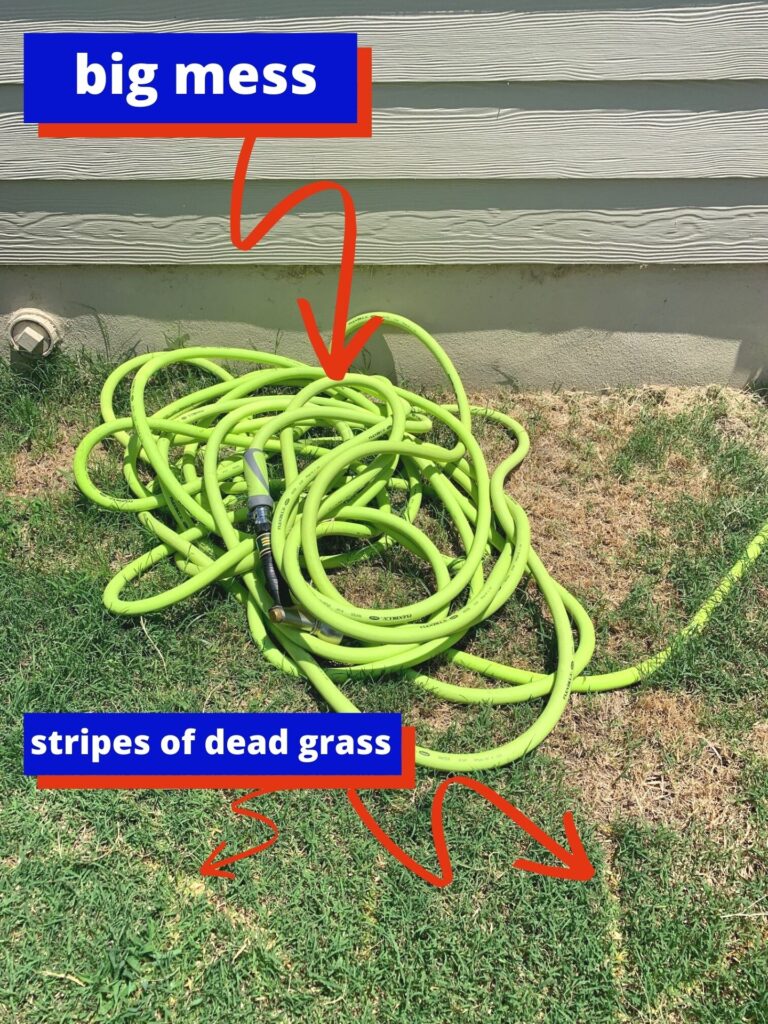 Hose reels make your outdoor life that much more convenient and enjoyable. Your hose is easy to use, causes less grass damage, and is less likely to cause a fall. It will also last longer because it isn't fully exposed to the sun and being walked over.
It's important to consider your hose reel purchase carefully. Overall, metal hose reels will outlast plastic hose reels. Due to the exposure of rain, sun, snow, and temperature changes it is hard for plastic hose reels to last more than a couple of years. Regular wear and tear is much harder on plastic hose reels, too, making them more likely to break.
Things to consider when buying a hose reel
Plastic or Metal
Overall, hose reels are made of one of two materials, plastic or metal. Metal will almost always outlast plastic. However, the metal can develop rust which also causes deterioration of the components.
Plastic hose reels can be sturdy but usually degrade due to the direct sun exposure.
Plastic hose reels do tend to cost less, but unless you're certain you'll be storing the hose reel out of the sun you probably won't save money in the long run.
Number of Moving Parts
As with anything, the fewer moving parts, the better. The more moving pieces there are the greater likelihood there is of something breaking. This is especially crucial for retractable hose reels which have springs which assist with reeling the hose in. It is not a deal breaker, just keep it in mind when deciding on which style to choose.
Portability
Believe it or not, you may need to move your hose. Depending on the use of your hose, you may need to gather your things and move it to the front yard to wash your car or tap into a different spigot to reach a certain part of your yard. Keep this in mind when making your selection.
Equipment Needed for Installation
The major difference between wall mounted hose reels and just about any other hose reel is the mounting hardware needed. Many wall mount hose reels include the necessary anchors but some may not. The hardware is also dependent on the material you are mounting it to. If you are mounting hardware for wood is completely different from that needed for concrete or brick. Keep this is mind and you may need special drills, bits, and anchors depending on your mounting material.
Convenience vs Function
An automatically retracting hose reel does the work for you. There is no need to worry about how the hose is fitting on the hose reel, however, this is usually at a price. Often times, automatic hose reels have a higher price point, are wall mounted, and come equipped with their own hose. They may also be more prone to breaking down since there are additional moving parts.
If you are someone who likes to have a choice in which hose to choose, then you will have a hard time finding an automatic hose reel to fit your needs. Instead I suggest the AMES Hideaway Hose Cabinet or any guided hose reel.
All hose reels obviously keep your hose neatly stowed but do consider that unless you have a retracting hose reel, the hose will never be perfectly stowed on the reel.
Though most of the hose reels include a guide rail to assist with directing the hose, it requires a steady tension to wind perfectly. This is basically impossible to accomplish as the hose moves across your yard and into the reel.
Automatic hose reels get rid of the problem of an untidy hose on the reel, mostly because you never see the hose but mainly because the hose is specifically designed for that reel. All manual reels will always have the problem of being slightly untidy because of the constant tension problem.
We omitted conventional hose hangars and flimsy hose reels from this post. Too many times I have found myself paying twice – once for the "cheap" produce and a second time for a higher quality replacement. I want to save you this waste of time and money.
How to prevent hose reel leaks
No matter the hose reel or hose you use, it is always a good idea to use plumbers tape, aka Teflon tape, when installing your hose. It will save you lots of headaches and prevent over tightening of the unions.
With just a few wraps of plumber's tape, your hose unions will be that much more leak resistant. I like to give the male fittings about 7 wraps of plumber's tape to ensure a good seal and prevent any cross threading.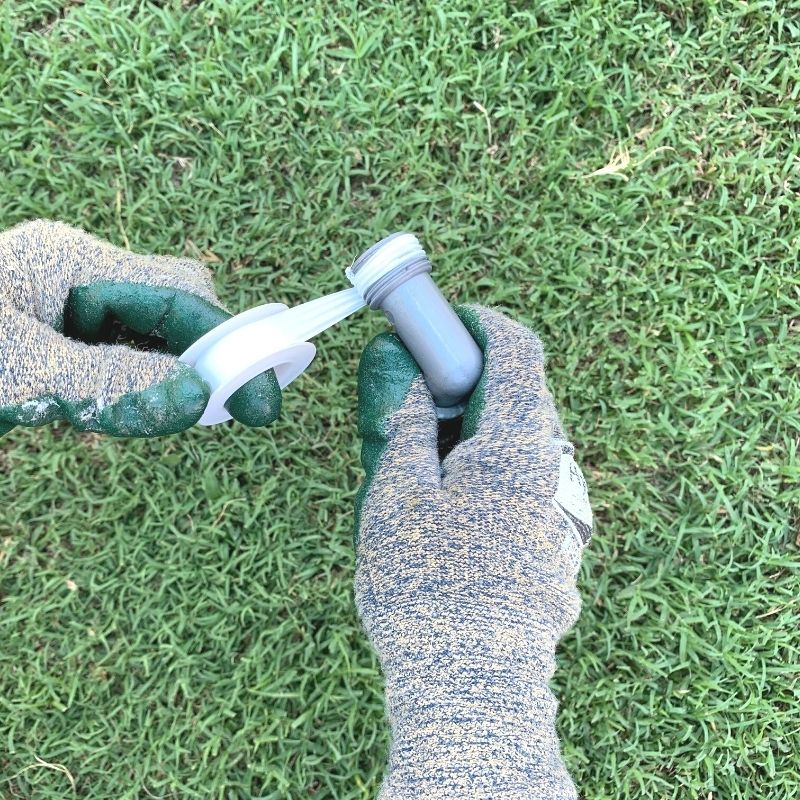 Don't worry if the threads don't show. Once the female adapter is introduced, any excess air or plumber's tape will be squeezed out and the fittings will fit snugly one you hand tighten the pieces.
Usually plumber's tape is one use. If you take apart one of the unions, you will probably have to give it another few wraps of plumber's tape to prevent leaks.
Liberty Hose Reels
Liberty is the leader in quality hose reels. Their solid construction will outlast almost any other hose reel. Whatever your garden hose needs are, Liberty hose reels has one for you.
The Liberty Decorative Garden Hose Reel Cart is the ultimate hose reel. This hose reel cart delivers on all fronts. It is obviously portable because of the wheels but it is so much more.
Here is a hose reel that shows your modesty and care for your garden. The accents on the hose reel tell a story of your subtle desire for beauty but underlying passion for effectiveness.
The functionality of this hose reel is superb.
Features include:
A5ft leader hose to connect to the main hose bib
A 90 degree angle swivel to keep the leader hose from developing a nasty bend
13 gauge steel construction
A low center of gravity for ultimate stability
Two 8.5″ never-flat tires which ensure a smooth ride over any terrain
Holds up to 200ft of 5/8in hose
There are some drawback to this design, however. Multiple owners have expressed that the lack of a hose lock allows the hose to pay out when in transit. They have also shown the desire for a foot tab to easily reel in the hose.
You'll love
♥ Beautiful aesthetic blends well with your garden
♥ Superb quality design and construction
♥ Large hose capacity: 200ft
! Watch out for: The hose may pay out as you move over the terrain.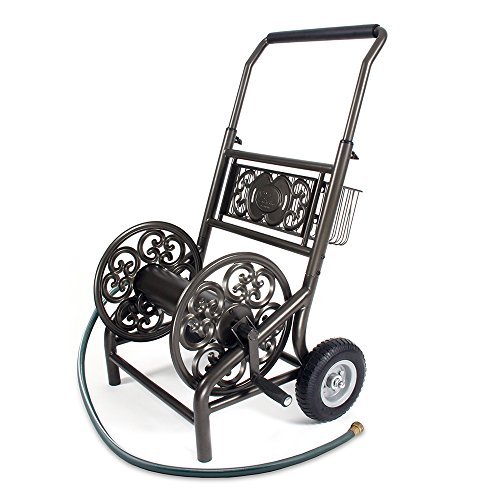 Liberty Garden Products Garden 301 Never Flat 2-Wheel Decorative Garden...
PORTABLE REEL: If you've ever gotten tired of hauling a heavy hose, only to strain to reach those hard-to-reach corners of the garden, this portable...
DURABLE: Aside from providing attractive storage, the 301 Liberty Garden Hose Holder is built with an attractive and durable steel frame.
CAPACITY: Easy reel feature keeps hose neatly stored and generous cart holds up to 200-feet of standard 5/8-inch hose
---
The Liberty Decorative Wall Mounted Hose Reel is my the best of their wall mounted options.
This hose reel is one of exceptional quality. The aluminum body makes the product sturdy yet lightweight so you don't have to worry about it tearing off your wall.
The leader hose attaches to a brass 90 degree connector which keeps your leader hose from developing nasty kinks.
One thing to watch out for is that the handle may thump the metal cage when paying out. Some users found it useful to lock the reel in place or to mount your hose in a way that the handle faces outward when paying out.
You'll love
♥ Wall mounted keeps the hose off the ground and ready to use
♥ Beautiful design
♥ 360 degree for easy reeling in and out
! Watch out for: The handle may hit the assembly when paying out. Just coil your hose onto the assembly in the opposite direction to ensure the handle faces outward when reeling out.
Sale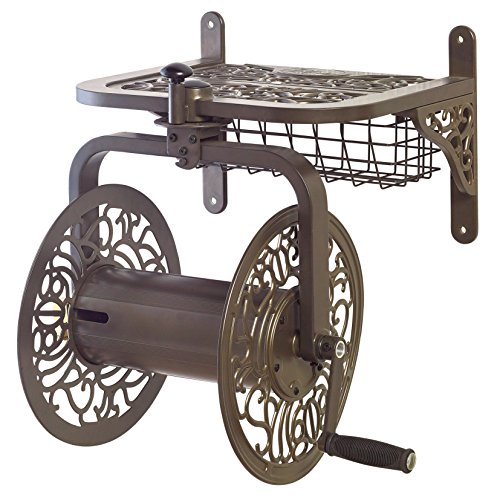 ---
This is the ultimate professional hose reel. It's portability is quite obvious but the rugged tires make it that much more suited for your professional needs.
The design of this hose reel is simple but elegant. As a professional landscaper or gardener, you should pride yourself in your equipment. The Liberty 4-Wheeled Cart Garden Hose Reel is a piece of equipment anyone can admire.
As with any metal unit that sits outside for a prolonged period of time, rust is going to appear. This is a quick fix, some fine grit sandpaper and a spray bottle of Rustoleum will go a long way. Be sure to keep an eye of the weld joints and scour any rust that appears, then seal the area.
You'll love
♥ Ultra Portable
♥ 90 degree brass swivel connector
♥ Large hose capacity: 300ft of 5/8in hose
! Watch out for: Rust is bound to appear on anything metal that sits in the rain or holds water. Be sure to sand off the rust and use some Rustoleum to stop the spread.
Sale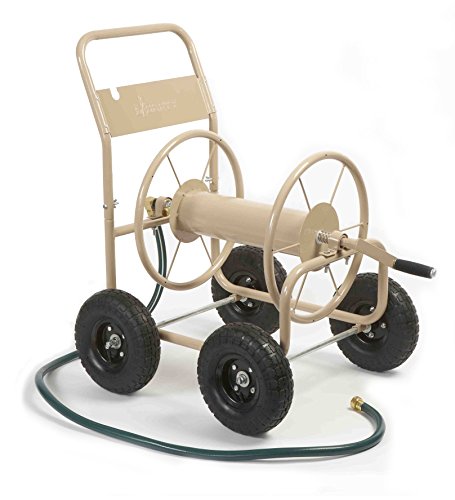 Liberty Garden 870-M1-2 Industrial 4-Wheel Garden Hose Reel Cart, Holds...
Perfect for professional/commercial garden/landscaping needs, Functional and durable
Holds up to 300-feet of 5/8-inch hose (hose not included), Non-slip handle
Features 13 gauge steel construction, durable powder coat finish that is weather resistant, Brass/galvanized fixtures, 90 degree brass swivel...
---
Retractable Garden Hose Reels
Retractable wall mounted hose reels are great for keeping your hose off your grass or garden. They include features such as 180 degree pivot and spring assisted hose reel storage. You'll notice none of these wall mounted hose reels have a handle: the internal springs all take care of that.
The one major drawback is installation. This style of hose reel often requires you to drill into some concrete or wood studs. Needless to say, you may need extra equipment to install this style of hose reel. You should also consider that with more complexity, i.e. internal springs and moving parts, comes the greater likelihood those pieces will break.
The TACKLIFE Wall Mounted Hose Reel eliminates all the problems of an untidy hose. It's like having a second person helping you stow the hose. The automatic reel function keeps you from doing the back and forth dance of un-snagging your hose from obstructions in your garden and going back to the hose reel handle.
Some drawbacks are the hose itself. I personally like a kink resistant hose, the hose so that is one of the first things I would change. Other owners have reported the hose presents challenges because it is not kink resistant. It is fairly easy to change the hose, just pull the hose till it stops and access the standard hose fittings.
Others have found the auto reel mechanism has gotten stuck and will not move from side to side after prolonged use, some people found it useful to slowly reel the hose in to prevent damage.
Other owners have found issues with the thread size. The product says it is 5/8in, standard hose size, but the user was only able to use a 1/2in hose.
You'll love
♥ Wall mounted keeps the hose off the ground and ready to use
♥ 180 degree swivel allows easy pay out of hose
♥ Automatic reel function makes stowing easy
! Watch out for: The plastic may deteriorate and some of the auto reeling parts may fail. Slowly reel the hose in to extend the life of the hose reel.
---
Just like the previous wall mounted retractable garden hose reel, the Giraffe Garden Hose Reel allows you to bring water to far reaching parts of your garden quickly. Unreeling the hose is a breeze because of the housing and feed system.
Once you are done, the auto reel function helps you reel in the hose slowly. Just give the hose a gentle tug and the auto reel function will engage helping you stow the hose back in the housing.
Though, remember that a plastic system will not last as long as a metal one. Some customers report having pieces fail or deteriorate in performance. There is always the chance of receiving the lemon.
You'll love
♥ Wall mounted keeps the hose off the ground and ready to use
♥ Large hose capacity: 90ft and 130ft
! Watch out for: The hose is a 1/2in diameter meaning reduced flow. If necessary, change out the hose for a 5/8in.
---
Portable Hose Reels
---
The 200ft capacity of this hose reel makes it a clear choice for large yards and its portability adds another layer of utility. Instead of having multiple hoses for different functions, all you need is one quality hose and this cart.
The painted steel frame keeps the rust off this product but remember that over time, every piece of metal left in the elements will eventually develop some amount of rust. Do your best to get rid of rust spots early.
You'll love
♥ Ultra portable with pneumatic tires
♥ Heavy duty steel construction
♥ Large hose capacity: 200ft of 3/4in hose
! Watch out for: The hose may pay out during transport, just hold the hoses to the frame as you move it around your yard.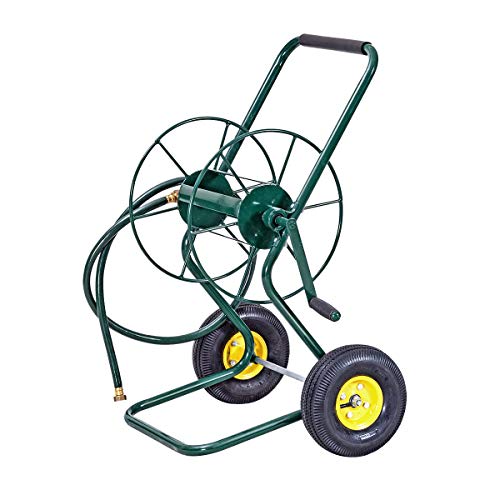 Goplus Garden Hose Reel Cart with Wheels Heavy Duty Outdoor Water Planting...
【Anti-Rust Steel & Stable Structure】Constructed of heavy duty steel with anti-rust coat, the hose reel cart features great durability and long...
【Large Hose Reel Capacity】The hose reel includes a 6 feet inlet hose and drip-less swivel with brass fittings that allows more flexibility and is...
【Portable Rubber Wheels】The hose cart is equipped with two durable 10" pneumatic wheels to tackle many terrain for smooth movement. More...
---
This is the classic of hose reels. I remember my parents having one of these in their yard when I was a kid. It was great to have the hose neatly stowed and ready to use for anything water related.
I also remember the frustration this hose reel gave me. It would always pull to the side and the leader hose would kink risking damaging the small piece of hose. After a few uses, the hose attachment inside the reel would start to leak causing the whole thing to be a watery mess.
Yes, I have some bad memories with this product, so it is not my personal top pick. It is affordable, though, and has a large hose capacity.
You'll love
♥ Relatively lower price than other hose reels and capacity
♥ Hose cutouts prevent the hose from paying out while transporting
! Watch out for: The lightweight plastic makes it difficult to pay out the hose and reel it back in without damaging your hose bib. The leader hose can get damaged too.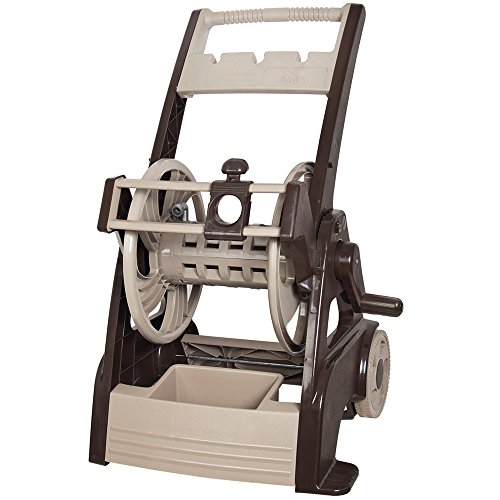 ---
Sometimes you just need a hose to get a job done. It's short length and portability make it a great choice for your tool chest.
That being said, this is not an everyday use hose. The quality of this hose is not great. In fact, many people report failure of its components early in its lifespan. The hose itself is short and small and will only function with the specific replacement parts.
You'll love
♥ Highly portable for specialty functions
♥ Lower price than other portable hoses
! Watch out for: The product is low quality. Not your main use hose. It's components may fail abruptly.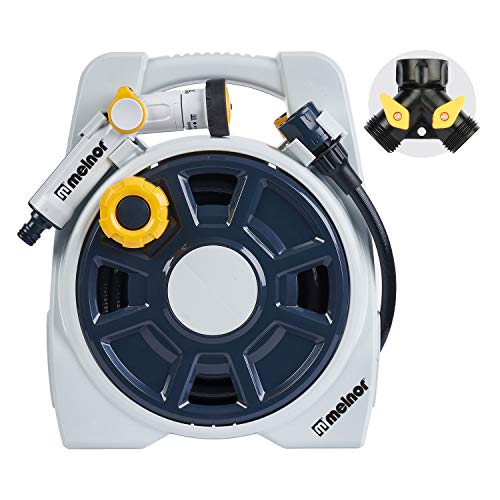 ---
Hideaway Hose Reels
Hideaway hose reels are my absolute favorite style of hose reel. They require minimal assembly out of the box so you can get your hose stored and organized within an hour of delivery.
The one drawback is that pests can find a new home in your cozy new hose reel. Thankfully, all of these hose reels have top access for you to get rid of anything which is thinking of making its nest in your hose reel cabinet.
The AMES hideaway hose cabinet is my absolute favorite hideaway garden hose reel. It is simple, really doesn't leak, and holds a large capacity of hose. The retrieval of the hose is easy since the cabinet is heavy and holds its footing when you unreel the hose.
When you are reeling in the hose, the auto track mechanism keeps the hose neatly guided on the reel so your hose fits inside the cabinet without issues.
One thing to watch out for, the black painted metal gets hot, really hot. It could easily burn little kids. I always wear gloves when I have to touch the hose cabinet on a hot summer day.
This is the hose cabinet we personally use at home. We would definitely purchase it again if we needed a second hose cabinet in the future. The cabinet was not on Amazon Prime when we purchased, but shipping was free and it arrived much sooner than expected.
You'll love
♥ Housing blends in well in the garden and yard, adds to the aesthetic of your home
♥ Metal housing is sturdy and will out last all plastic hose reels
♥ Large hose capacity: 150ft
! Watch out for: The metal gets really hot while in the sun, avoid touching.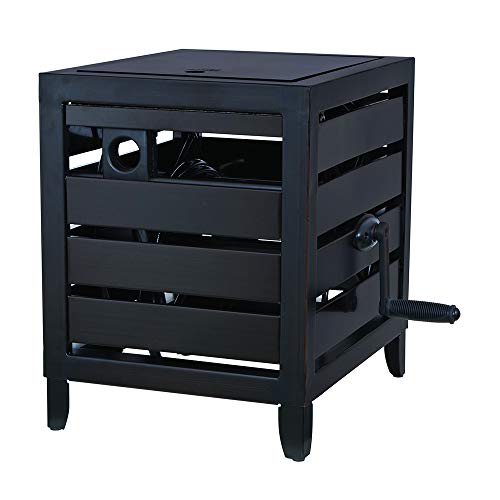 ---
This Plastic Hideaway Garden Hose Reel by Suncast is perfect for small yards which don't require much maintenance. The hideaway style keeps the hose neatly stowed without too much work installing the unit.
If you are on a budget, this is certainly the hideaway hose reel for you.
The obvious drawback is that the unit is plastic. In fact, some customers have reported their units came with broken pieces. If it can't hold up to shipping, it won't hold up to the elements beating down on it year after year.
You'll love
♥ Lower price than other hideaway hose reels
♥ Hideaway cabinet can blend in well with your patio furniture
! Watch out for: The plastic may deteriorate and not last as long as some metal products.
Sale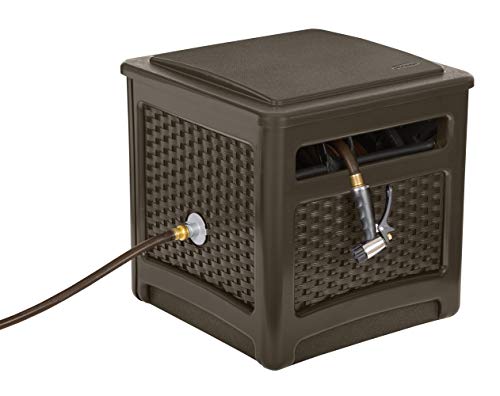 Suncast No-Leak Resin Wicker-Looker Hose Reel, Mocha
OUTDOOR GARDEN HOSE REEL: Features a neutral mocha exterior for a stylish and functional addition to your yard
CONVENIENT DESIGN: Provides easy and convenient storage of up to 225 feet of 5/8" Standard vinyl garden hose
NO-LEAK DESIGN: Aluminum connections prevent leaks for drip-free operation
---
Wall Mounted Garden Hose Reels
Here is another great wall mounted hose reel. Many of the automatic hose reels you see, you are stuck with the hose the product comes with. Not with this hose reel!
The Giraffe Stainless Steel Hose Reel allows you the flexibility of choosing your own hose. There are many reasons for choosing your own hose, some being: the hose is damaged, need longer length, or you you want an extra feature like a BPA free hose.
The solid stainless steel construction ensures your hose reel will stay on the wall. Many of the problems with the poly or plastic hose reels are associated with degeneration of the plastic over time from being exposed to the sun. Though the stainless steel may get hot, it will not discolor, deform, or catastrophically fail due to sun exposure.
Too often we find ourselves going for the bargain only to find we ended up paying double for the quality product we should have bought in the first place. The Giraffe Stainless Steel Hose Reel is a hose reel to last a lifetime.
You'll love
♥ Highly durable stainless steel material
♥ Automatic guide system keeps the hose tidy on the reel
♥ Long hose capacity: 130ft for 5/8in or 200ft for 1/2in hoses
! Watch out for: Not suited for 3/4 inch hoses.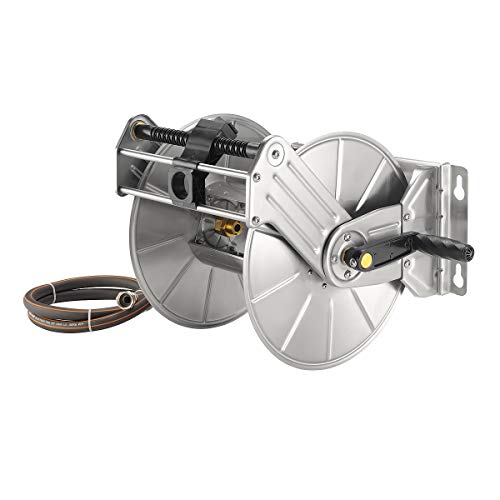 Giraffe Tools Stainless Steel Garden Hose Reel Heavy Duty, Wall/Floor...
EASY WINDING - Make garden hose storage simple and clean! The easily assembled crank handle and the hose guide helps you manually wind the hose evenly...
LARGE CAPACITY - The hose holder comes with a 5 ft leader hose, which can store up to 150ft of 5/8in garden hose or 200ft of 1/2in garden hose. But...
STURDY & DURABLE - Industrial-grade stainless steel material makes a sturdy body with a significant design touch. More durable than aluminum material,...
---
A wall mounted hose reel is ideal, a wall mounted hose reel that won't break the bank is even better. This poly wall mounted hose reel is the perfect choice to keep your hose off the ground and ready to use.
The one drawback is that many reviewers have experienced the upper mounting holes breaking after a short period of time. One purchaser found a quick solution and they just put two extra mounts across the top, under the shelf to help with the problem.
You'll love
♥ Wall mounted keeps the hose off the ground and ready to use
♥ Lower price than other wall mounted hose reels
♥ Large range of hose capacity: 50-225ft
! Watch out for: The plastic may deteriorate and cause sudden failure of the unit's anchor points. To prevent this just put two extra mounts across the top, under the shelf.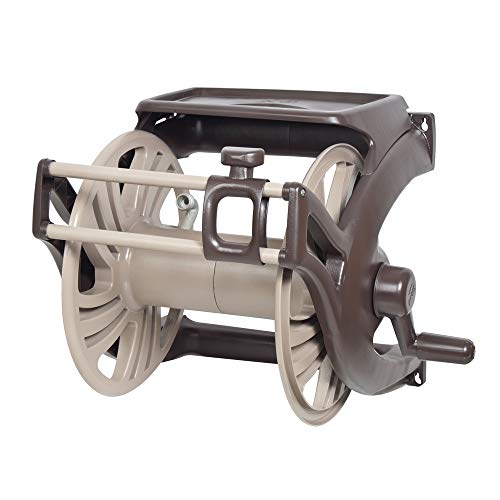 Hose reels seem like a big expense but they go a long way in taking good care of your garden. Once you have one you wonder how you ever managed without one.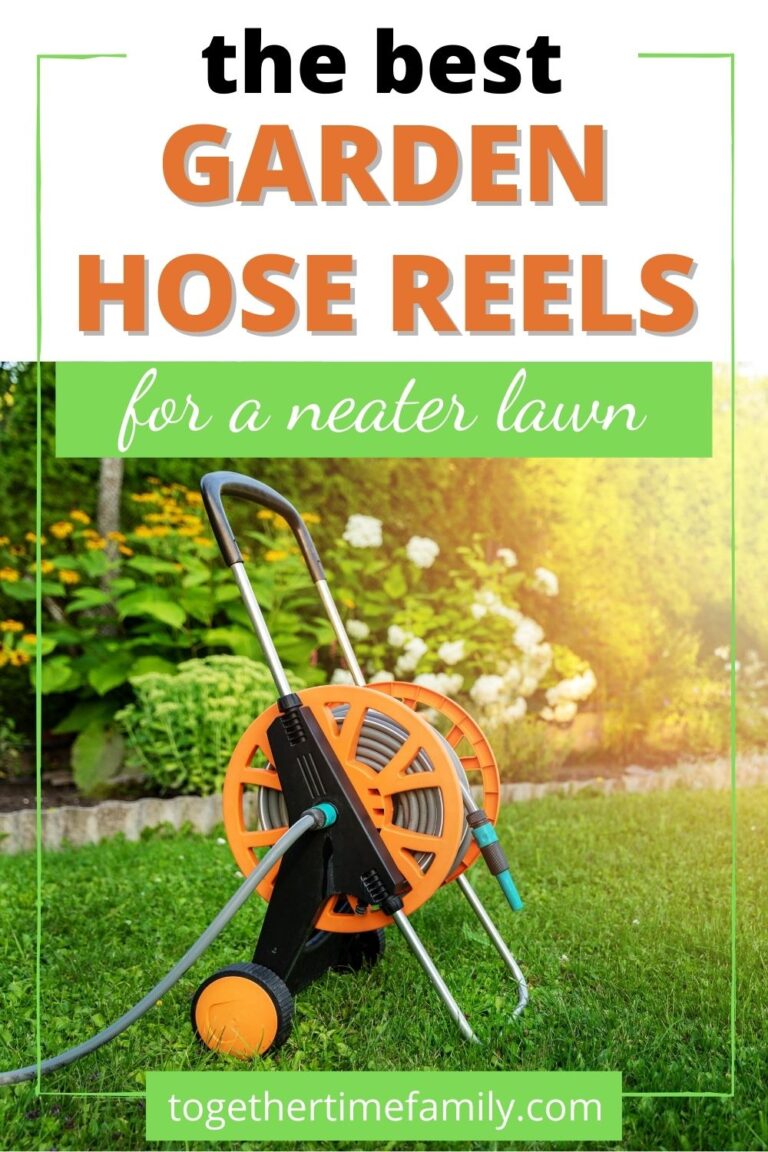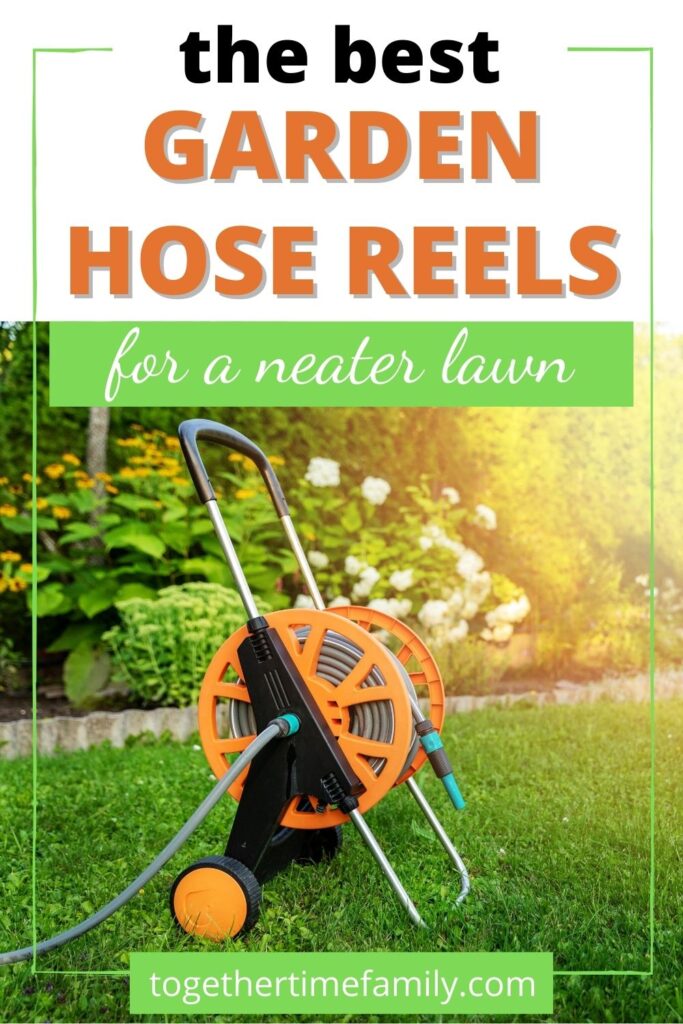 Angel is a Cuban immigrant who grew up with backyard chickens and a yard-loving abuela. He is our "gear guy" who can never have too many pairs of gloves or weed whacker attachments.