Keeping a garden weed free is always a hassle. Weed barriers make that job much easier. They prevent enough light from getting to the majority of the soil keeping weeds and other undesirable growth down.
Weed barriers are not as simple as you may think. An effective weed barrier allows the exchange of air and water so that your plants do grow and you don't just have a water slide in your backyard.
Weed barriers can even be covered with mulch or used as an underlayment for your gravel path. Keep reading to see which are best for your needs. Whether it is small scale gardening or a gravel driveway you are managing, there is a weed barrier here for you.
---
In a rush? Here are our top picks!
This post includes affiliate links, which means I may earn a commission on purchases made at no additional cost to you.
---
If you've ever tried browsing for garden supplies, you may have been struck by analysis paralysis. What features do I need? Is this one worth the extra $27? But my neighbor swears by this other brand!
Studies show that having more options to pick from isn't always better. In fact, increased choices decrease our happiness as buyers. (source)
Picking the best materials can be exhausting, so we're here to help. Here are the best weed barriers on the market today.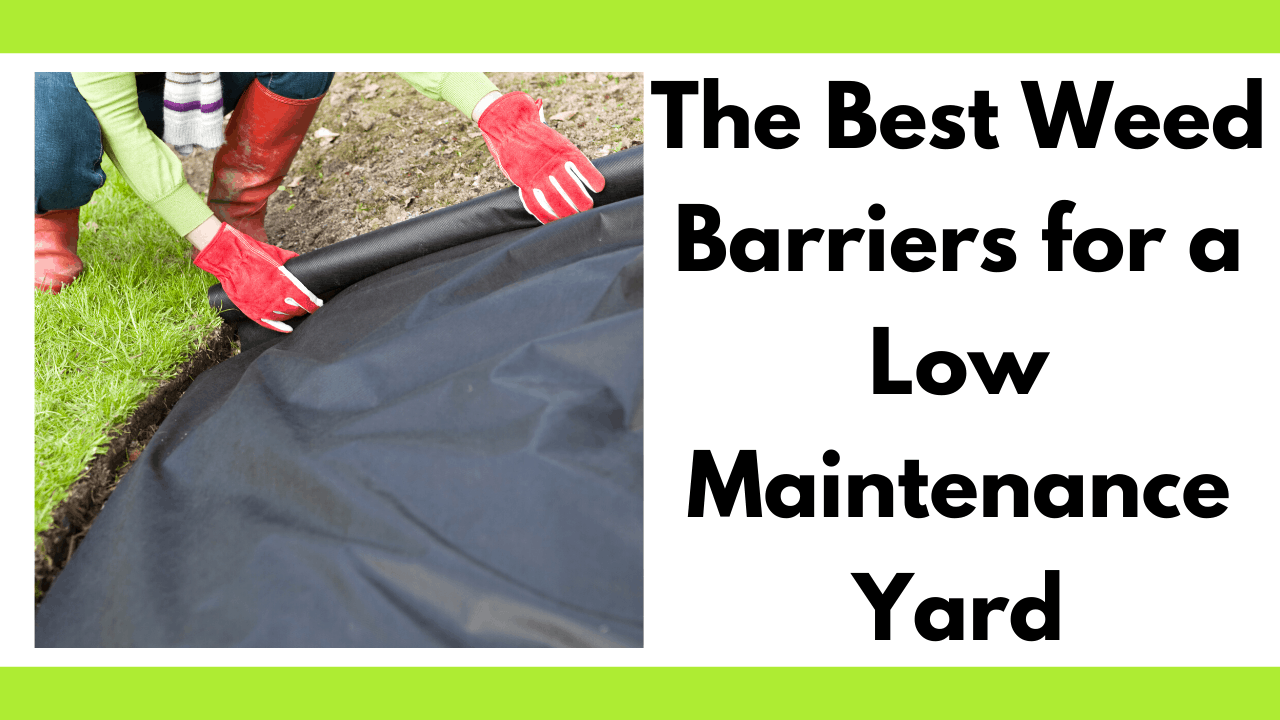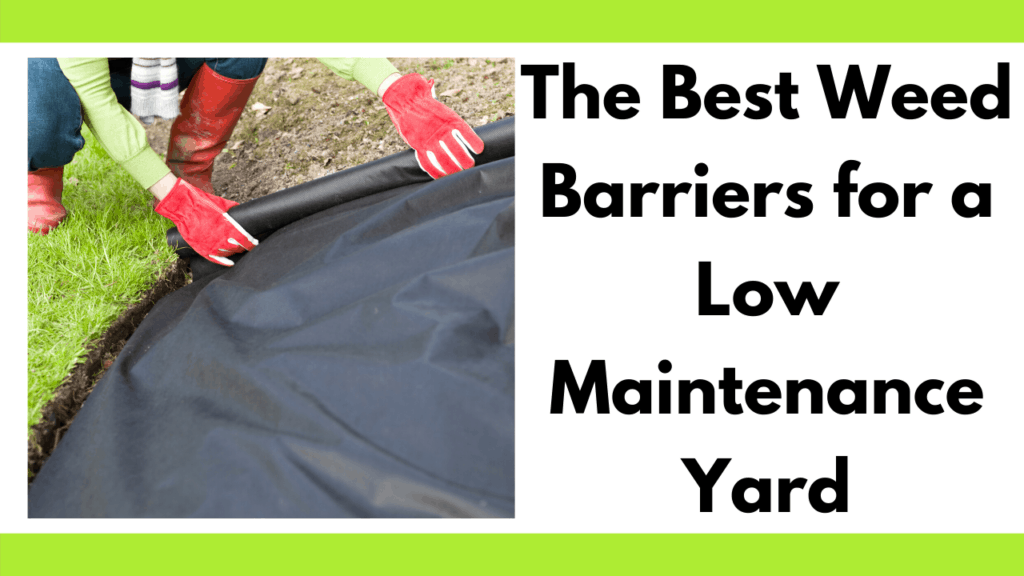 We've done the brute work of slogging through countless reviews and making product comparisons to bring you the best weed barriers with reviews and a buyer's guide on how to pick the best weed barrier. Here are our picks for the best weed barriers around.
Dewitt Weed Barriers
Dewitt is one of the popular names for weed barriers, and they make several products that are well worth checking out. Most are on the pricier side of the market, but they work well and can be worth the expense if your budget can handle it.
Dewitt has a lot of different weed barriers, however, so it is important to know your options. Here are a few of the best.
This fabric comes in rolls 250 feet long and 3 feet wide. One of the best things about this fabric is that the punctured polypropylene has been treated to make it hydrophilic. This means that it attracts instead of repels water, which is a great quality for a weed barrier to have. Your plants need water to soak through your weed barrier.
This barrier is woven and also punctured, which means it is going to let through the most amount of water while providing durable suppression of weeds. The best application of the Dewitt P3 Weed Barrier Fabric is in your vegetable garden or around plants. The fabric is black with colored stripes spaced out to guide easy planting.
Dewitt has created another product that is best applied in a vegetable garden or plant kind of setting. Like the P3, this barrier is woven with punctures and has hydrophilic treatment. Also, the barrier comes in the same dimensions and with the same-colored stripes to make planting simple.
The difference lies in two things. The Dewitt 20 Year Weed Barrier has a 20-year warranty on the material, which is nothing to sneeze at. It is perhaps surprising then that the weed barrier comes at 4.1 oz, a little less than the P3's 5 ounces.
Keep in mind, with this and any warranties, that Dewitt is advertising a warranty on the condition of the product. No weed barrier will keep weeds out of your yard for twenty years because, over time, the soil will eventually get blown in on top of the barrier allowing some weeds to grow.
The Dewitt 12 Year Weed Barrier comes with a lower warranty but provides a heavy-duty weed prevention layer. This is because it is made from 3 layers of material and is not woven or punctured. Dewitt's hydrophilic treatment helps water get through, but it takes more time than with the other fabrics.
Coming in four feet wide rolls, this fabric may be a good application for:
Gravel pathways
Lining for planting beds
For these areas, weed suppression is a must, but water intrusion less of a need than a vegetable garden. If you use it with plants, lay a layer of mulch over it to retain water on the fabric while it absorbs.
This barrier is definitely on the lighter end of the Dewitt line. At 300 feet long, this four-foot-wide barrier is a favorite for commercial applications, but it works well anywhere there is high heat.
This polypropylene fabric is a little over 3 ounces and has been UV stabilized, which means that sunlight will not easily break the fabric down. This makes the Dewit SBLT4300 a perfect application for:
Areas of high heat
Greenhouses
Because this particular fabric does not let air and water in as easily as the first two, it is a good one to use if you have installed or are planning to install a drip system.
Garden Use Weed Barriers
Hoople makes a woven weed barrier that is thicker than most but also comes in smaller rolls, as wide as 4 feet but only as long as 180 feet. This makes the Hoople Garden weed barrier a great choice for homeowners who may be working with smaller garden areas.
The thick fabric has been UV stabilized and can withstand long periods of direct sunlight. Because of its thicker fabric, it is less absorbent of water in heavy rainfall but works well with moderate to light precipitation.
You can use this fabric for:
But its thicker construction means it is also well suited to use under gravel or paving stones. In all cases, it works well to keep those pesky weeds from poking through.
The Agfabric weed barrier is a polypropylene substance that has more of a plastic look and feel, even though it is a woven substance. It comes in a variety of weights, widths, and lengths to suit your needs. It can be as long as 300 feet and even as wide as 16. This makes the product flexible for both home and commercial needs.
The fact that this is a heavy plastic substance means that it works in a variety of ways. Of course, it controls your weeds, but it also provides a barrier against the intrusion of microbial substances that might damage your soil.
This fabric is heavy-duty but light and easy to move around, even though it is somewhat difficult to get your staple through it. Nevertheless, once it is in place, it stays. The only problem with Agfabric is that the edges of it tend to fray when cut. But with a little extra effort, you can fold the edges under before you secure them.
Weed Barriers for Stone Paths
Woven weed covering fabrics are generally the best for garden bed applications, but a nonwoven fabric that is punctured can provide weed protection for plants while being used for more strenuous applications.
This is what Flarmor achieves with their landscape fabric, which puts the "armor" in weed protection. This fabric can be used for:
Gravel paths
Stone or brick paths
Stone features like creek beds
But its strength also makes it an ideal choice for lawns or areas of your yard that are sloped. The nonwoven polypropylene provides stability against soil erosion.
Made with a moderate weight that makes it workable in and around your garden and lawn, Flarmor also backs its product with a 30-day money-back guarantee.
The ECOgardener premium weed barrier fabric actually manages to complement the best of all the fabric worlds in a way that does not comprise much of any one of them. The only problem with the fabric is that it does not last as long when exposed to sunlight as some of the others, so use it with some kind of covering.
Here is what it does well. It is light, and yet its double layer is resistant to tears and rips, so it is a good application for gravel paths. And while it has that double layer, it is woven and punctured so that it is very breathable, allowing water and air through to your plants.
Furthermore, it is a lightweight fabric making it easy to maneuver and set into place. It also does not take any finagling to get the staples through the fabric. ECOgraden has made a great all-purpose weed barrier.
Natural Material Weed Barriers
Easy Gardener makes another version of the all-natural weed barrier using burlap. Burlap is a good consideration for a weed barrier because, unlike the polypropylene barriers, burlap retains moisture for the soil. Easy Gardener's burlap is 3 feet wide and rolls out to 150 feet.
Therefore, if you like the idea of using a natural weed barrier, then this is another great option to choose.
If you want a break from the polypropylene made material, there is a more natural alternative that is effective against weeds: burlap. LA Linen makes 100% natural jute burlap rolls that they sell by the yard.
Burlap is a natural fiber, so the color of each roll may vary, but it is mostly brown. Since it is natural, it is also biodegradable when you lay it under your soil or ground cover. It is extremely breathable, allowing water and air to permeate it while also acting to suppress weed growth. So, if you want an alternative to plastic, this is your best bet.
Heavy Duty Weed Barriers
As the name implies, AmorLay Driveway Fabric is expressly made as an underlayment for driveways but can also function as a weed barrier for your garden projects.
AmorLay is designed to stabilize the soil and prevent erosion. This is why it is so effective at preventing potholes and ruts. If you use this material for your paths or decks in your backyard, you can rest assured that it will do its job and then some.
You can also consider this project when looking for a pond underlayment, and it will withstand any rock or stream feature. The fact that it comes in a size of twelve and a half by sixty feet makes this good for large, deck-sized areas, if somewhat difficult to haul around.
Just when you think you have seen the heaviest fabric on the market, think again. Super Geotextile is an industrial strength and grade fabric for weed control. This non-woven material weighs in at a whopping 8 ounces.
While using this material for garden projects is certainly an option, you will probably want to reserve this roll for the projects that are really going to need a strong, tear-resistant layer. Super Geotextile works as an underlayment for cement projects and ponds, as well as a barrier for your rock features and French drains.
The sheer thickness of the material makes it able to last a long time. In addition to that, it is resistant to UV sunlight, mildew, and rot.
The Becko garden weed barrier is a nonwoven ground cover that is punctured to allow water to permeate, so it has the durability of a solid fabric without the low drainage. Another fact Becko makes a lot of is that the fabric is chemical-free. For those who are considering Burlap, this is another chemical-free alternative with high durability.
The fact that it is nonwoven means that it is easy to trim, and the cut edges do not fray, so you do not have to fiddle with folding or melting edges when laying the material. It is also UV resistant but is not designed to lay permanently in the sun. Because it is heavy-duty, you can use it for:
This material is another great material that can be used for a grow bag if you want something that can serve multiple purposes.
UV Resistant Weed Barriers
Petgrow makes a weed barrier that is UV stabilized to last for more than five years uncovered to the elements. This nonwoven barrier is punctured by needles to allow water and air to pass through. It can function both as a weed barrier and as erosion control.
This versatile barrier can be used for a wide variety of applications, including lawns and gardens. They claim it also works as a driveway underlayment. Whatever you want to use it for, it comes in lengths:
As short as 100 feet
As long as 300 feet
The widths of Petgrow barrier vary between three and five feet.
The GardenMate weed control fabric is durable and uniquely packaged in sheets of 6 feet by 33 feet. It might be to your advantage if you have areas comparable to this size. You can just unfold the sheet and trim as needed, although it is prone to fraying when cut. But it is more suited to small areas.
Nevertheless, this woven covering is very durable and not easily torn. This makes it an ideal fabric for under rocks or gravel paths where foot traffic will provide a lot of pressure against the material.
It is also UV resistant for those applications where it will be exposed. And despite its durability, water can permeate the covering, which means you can use it for plants. It is not ideal for larger areas, but it may just be the ticket for the backyard garden.
Buyer's Guide
What are weed barriers for
Weed barriers are primarily for keeping weeds out of an area. They are also used to properly space your plants and give them the best chance at growing and producing. Some weed barriers already come with a pre-cut hole for plants.
Whether you use them in your garden or in your driveway, weed barriers allow the exchange of water and air by perforations in the material. They minimize the amount of light passing through which suppresses most growth beneath the fabric.
Things to consider
Material Breathability
Weed barriers are there to prevent weeds from growing but they should allow your plants to grow in the locations you cut out. This means the material needs to allow an exchange of air and water. If the membrane is not permeable, then the plant's roots will not get the water they need.
All of the weed barriers listed in this post are permeable and will allow for a healthy garden. The barriers to avoid are those made of plastic without perforations. They must allow water to drain and not simply to pool.
Material Durability
Preparing an area for a weed barrier is hard work. Having to do it every year is even more work. Most weed barriers last over 10 years.
The life of natural fiber materials vary depending on the moisture, depth, and use. These tend to decompose much quicker but it is the peace of mind you are after in this instance.
What will you use the weed barrier for? If it is for gardening then you will be able to choose more generic materials. For a gravel path, more rugged material may be needed. A gravel parking lot will require a heavy duty weed barrier.
Size of the Roll
Size up the area you are trying to cover. There are many options when it comes to size but the best choice will always be an exact fit situation. Anytime you have to double layer an area means you are paying double for that section and you are making it harder for air and water to circulate.
Final Thoughts
I hope this guide brings you closer to being able to select your weed barrier for whatever your need. Remember, try not to be influenced by fancy brands or special features, your garden and yard are your own. Only you know what your needs are and you should look to satisfy those.
Angel is a Cuban immigrant who grew up with backyard chickens and a yard-loving abuela. He is our "gear guy" who can never have too many pairs of gloves or weed whacker attachments.