Are you tired of crummy garden shears that break when you try actually use them? Sick of sawing your way through branches and vines that should be easy to cut (but somehow your old gardening shears just won't work right)?
If you're tired of under-performing gardening shears that you have to replace each season, you've come to the right place.
Discover the best gardening shears, including high quality shears that will last for years and top budget picks.
Read on for more of our top gardening shear recommendations, as well as how to determine the best gardening shears for you and what sets apart a high-quality pair of gardening shears from a low-quality pair.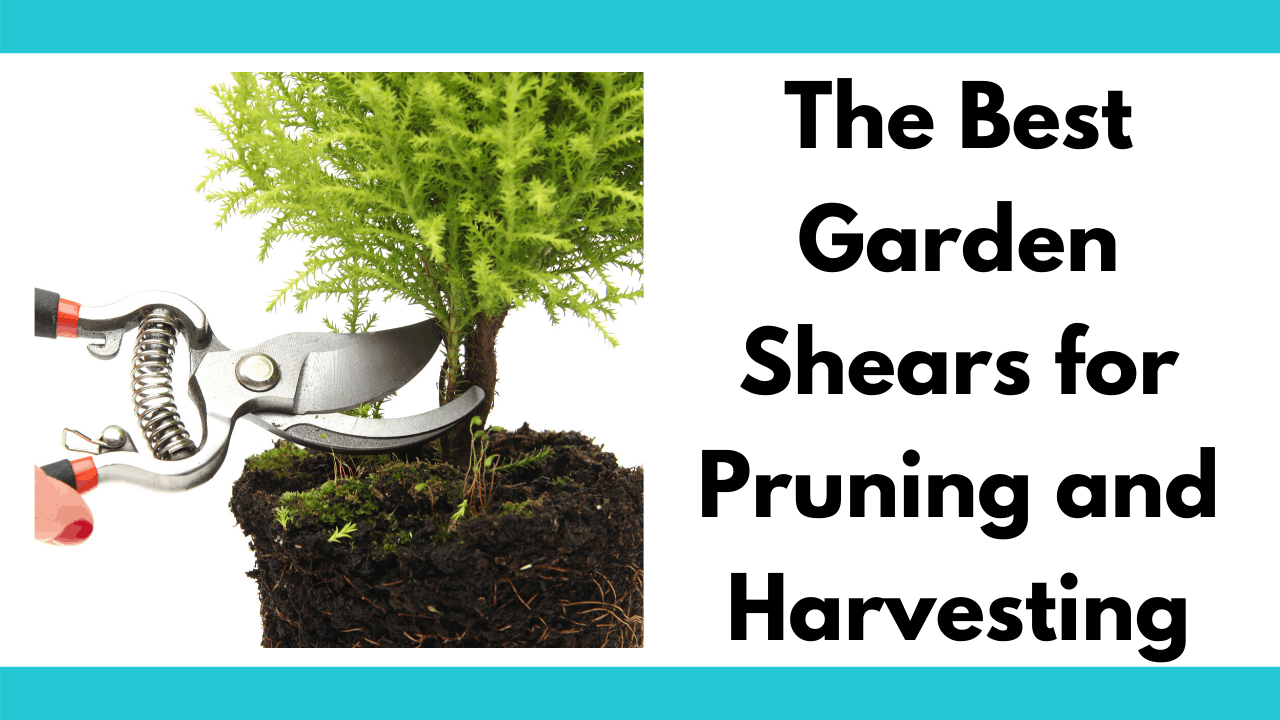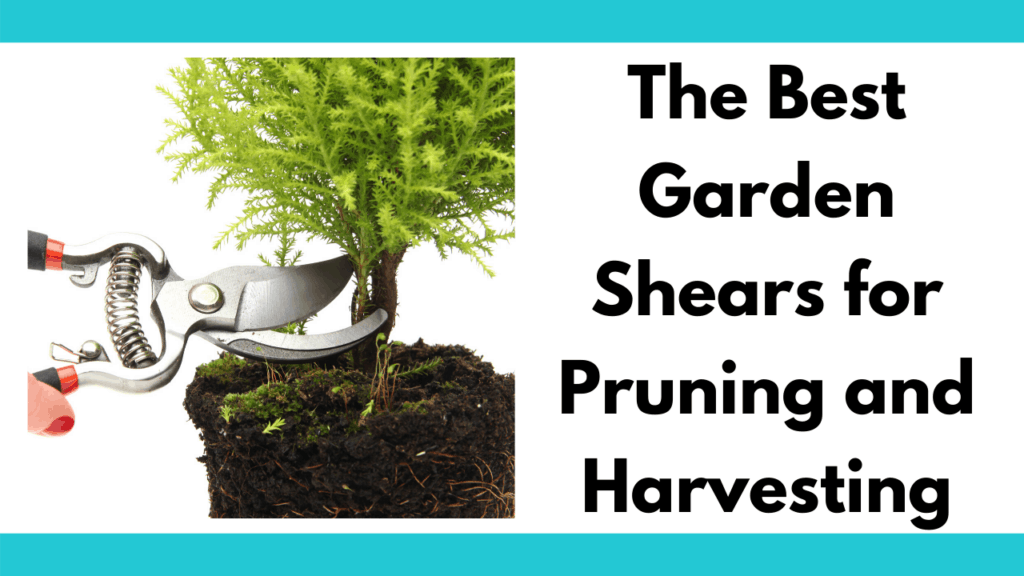 This post includes affiliate links, which means I may earn a commission on purchases made at no additional cost to you.
In a rush? Here are our top picks!
---
If you've ever tried browsing for garden supplies, you may have been struck by analysis paralysis. What features do I need? Is this one worth the extra $27? But my neighbor swears by this other brand!
Studies show that having more options to pick from isn't always better. In fact, increased choices decrease our happiness as buyers. (source)
Picking the best materials can be exhausting, so we're here to help. Here are the best garden shears on the market today.
There are three main types of gardening shears:
Pruners are gardening shears that are typically small enough to fit into one hand and are most frequently used to cut plant stems, tree twigs, and branches smaller ¾ inches.
Snips are for really small plants where it is necessary to be really precise with your cut. A wrong cut to a young plant could be detrimental and possibly kill it. They're perfect for harvesting herbs and plenty of vegetables, too.
If the stem or branch exceeds 3/4 inches, then you're going to want a pair of loppers. These gardening shears are best suited to cutting large branches and require two hands. These are used most often for pruning large vines, fruit trees, and shrubs.
We've done the brute work of slogging through countless reviews and making product comparisons to bring you the best garden shears with reviews and a buyer's guide on how to pick the best garden shears. Here are our picks for the best garden shears around.
Best Hand Pruner Gardening Shears
As previously discussed, pruners are small gardening shears that you can use with one hand. They are one of the most common gardening tools and often used to easily cut flower stems either for harvesting or pruning. Many larger vegetables, like spaghetti squash, yellow squash, and butternut squash require a sharp pair pruners at harvest time.
If you're looking to invest in only one pair of pruner gardening shears, then look no further than the Felco F-2. Thousands of gardeners have supported these shears' esteemed reputation because of their sleek and comfortable design and optimal functionality. They're Swiss-made, not made in Asia.
These shears are sharp and durable for a quick clean cut and made from quality materials to last for many seasons to come.
Felco shears might seem expensive if you're used to cheaper big box brands, but every single piece is replaceable. If you need a new blade, you can replace the blade without replacing the entire set of shears.
The Felco F-2 shears are great but they don't accommodate for smaller hands. A great choice for people with smaller hands are the Felco F-6 pruning shears.
These have the same swiss made quality you find in the Felco F-2s as well as replaceable parts. The price is middle of the road making them an excellent buy for your garden. These garden shears are made to last a lifetime.
The pruner gardening shears that give the Felco F-2 the biggest run for its money are the Corona BP 6250 MAXForged Aluminum Bypass Hand Pruners. The pruner's blades are made of high carbon steel that ensures a clean cut that won't tear-up the plant's stem unnecessarily in the process. These shears are also shock-absorbent and have a locking mechanism for safety and storage.
A cool feature of these pruners is that they have a self-cleaning sap groove, so you don't have to stop in the middle of work to clean your blades because of sap. (You may still want to clean them to prevent the transmission if disease, though. This feature won't help with that.)
If you're not really a hobbyist gardener and you don't use gardening shears frequently, you probably won't want to spend too much on a top-of-the-line pair. The Fiskar's bypass pruners may be the choice for you.
We've personally owned a couple pairs of Fiskars. The padded handles are comfortable to hold and they work well when they're new and sharp. They will rust if left out in the rain and tend to decline in functionality in a year or two. We haven't had any pairs break outright – they tend to become rusty and stick before that happens. The Fiskars are a solid choice if you're on a budget.
Best Garden Snips
Some plants require very fine pruning. For that, you'll need a set of small garden snips so you can cut the stems precisely without damaging the rest of the plant.
Garden snips are ideal for harvesting herbs. You'll need them if you want to harvest basil, parsley, dill, mint, cilantro or any other non-woody herb. (Each of those links take you to posts with information about how to harvest each herb for optimal plant health and harvests.)
A great option for small cuts are the Fiskars Micro tips. These are good for harvesting herbs, suckers on plants, or harvesting small peppers and tomatoes.
We personally use these on our herbs, calendula, and even kale.
There is also a version without the nonstick blades but those will only last you about a season before you'll need to replace them.
Keep in mind, these are not a substitute for larger shears. You'll have a hard time cutting through full sized stems with these. The Fiskars Micro tips are made for cutting smaller stems.
Best Lopper Gardening Shears
Although you probably won't use loppers as often as handheld pruners, it's worth it to invest in a high-quality pair of garden loppers.
A good pair of lopper gardening shears should be able to swiftly cut through a thick tree branch with minimal effort from you. They should also be sturdy and capable of cutting through large branches in a single cut. Tearing cuts can damage your trees and shrubs, making them more sucesptible to disease.
Corona again, making another appearance on our list. But this time, they're claiming 1st prize as our top recommendation for lopper gardening shears with the Corona SL 4264 DualLINK. Lightweight and 33 inches in length, these loppers are up for any task, whether it's a small branch blocking your view or a hefty branch several feet overhead that's knocking into your house.
The steel blades on these Corona loppers are best suited for durability, strength, and ease. The compound action design provides additional leverage support, and the soft, contoured grip ensures comfort and versatility.
Another familiar face, Fiskars claims the runner-up position with their 32-inch Fiskars PowerGear2 Bypass Lopper. The high-powered design of these loppers, in addition to their exceedingly durable steel blades, allows you to cut through branches up to 2 inches thick with ease.
An additional feature of these quality loppers is their low-friction coating, which further supports a smooth cut and results in less gumming. This feature also ensures the longevity of your loppers by making them resistant to rust. In addition to the modified gears and cam mechanisms of the lopper, their aluminum handles reduce strain on the user while still providing maximum results.
The Corona SL 3264 ComfortGEL Bypass Lopper is another quality product at an affordable price. Some people will even list this lopper as their top choice overall.
In terms of functionality, these loppers by Corona can reach up to 30 inches, which is just as long, if not longer, than its competitors. It also has comfort gel handles and integrated shock-guard bumpers for maximum user comfort and control while reducing unnecessary strain.
Overall, this is an exceptional lopper for everyday people who don't want to over-invest in their gardening equipment. This option doesn't rank as our top choice because it can only cut branches from 1- 1½ inches wide and their blades aren't structured for heavy duty tasks as opposed to the DualLink or Fiskar's PowerGear2.
What Makes a Good Pair of Gardening Shears?
There are 5 key factors to determining a high-quality pair of gardening shears.
Blade type
Blade and handle materials
Design
Presence of a locking feature
Equipment weight
We'll discuss each factor in further detail to demonstrate the impact they have on the gardening shear quality as a whole.
Blade Types
All gardening shears are made with one of three blade types. These include:
Bypass blades
Anvil blades
Ratchet blades
Each blade has its own unique structure and can alter the functionality of your gardening shears in terms of what tasks they are best suited to perform.
Bypass Blades
As you might have noticed in our listing of the best gardening pruner and lopper shears, bypass blades are the most popular. Structurally, these blades resemble those on a pair of scissors where two curved blades will pass each other in order to create a strong, clean cut.
Typically, one blade is thin and sharp, so it does all of the cutting work, while the other blade is thicker and dull to add support.
These blades allow the cleanest and most precise cut, so they are best suited for maintaining live plants that you cut to promote healthy growth and longevity of life.
Anvil Blades
The blades on an anvil gardening shear are set up differently in that they come into direct contact with one another versus the bypass blades where they pass each other. One of the anvil blades, typically the top blade when help properly, is smaller and very sharp. The bottom blade is duller and wider. Right now, they sound pretty similar to bypass blades.
The difference is, in order to create a clean cut, the sharper upper blade with land on the flat bottom blade. This means the stem is effectively pinned and then crushed between the two blades. These blades are often larger than bypass blades and often less precise.
Because of these blades' design, they are best suited for dead branches or stems rather than live plants you want to maintain. Their crushing technique would severely damage the stem of any plant you want to keep alive.
Ratchet Blades
A far less common blade type for gardening shears, ratchet blades are best suited for individuals with weaker hand strength that often comes with old age or arthritis.
They also help you cut through thicker, more difficult material using a built-in mechanism. This is great for individuals who know they will be cutting through many thick twigs or stems and want to limit the strain this will inflict on their hand and wrist.
Structurally, these blades are setup like anvil blades with a sharp top and dull wide bottom so you can pin and crush what you are cutting. The mechanism built into the blades allows you to cut in stages without losing leverage. As you press down on the handle and pass a stage, the mechanism ensures the blades won't release past this point without your intervention.
Therefore, you could open the blades and more or less saw your way through thicker stems or branches easier than other blades. It'll get the job done, but not cleanly by any means.
Blade and Handle Material
The material that makes up your gardening shears can profoundly affect their functionality and how comfortable they are to use.
Blade Material
Starting with the blades, you'll want to ensure that your gardening shears are made of steel. It is unlikely they are made from another material unless they are extremely cheap, but this is a vital first step you need to take to ensure their quality.
Once you've confirmed the blades are steel, you'll want to check for their level of quality by determining if they are made from hardened steel or carbon steel. These materials provide ultimate strength, durability, and longevity to your gardening shears.
They are likely to wrack up the price more than lower-grade steel, but if you're looking for quality, they're top of the line.
Handle Material
Gardening pruners or loppers can have the biggest, baddest, most high-quality blades, but if their handles aren't comfortable to hold or apply pressure on, then the overall functionality of the shears decrease.
Many gardening shears use "ergonomic" handles for maximum efficiency and comfort. If you see this word anywhere on the packaging or description of your gardening shears, it means the company has gone to extreme lengths in their design process to ensure their shears are functional but also comfortable to use.
Most ergonomic shear handles will be shaped to fit a person's hand or made of a moldable material to inhibit a painful grip.
Design
A few design elements will also help you determine if a pair of gardening shears is of high or low quality. The first of which is its springs.
Although springs are not often present in gardening shear loppers, they are essential in nearly every pair of gardening shear pruners. Springs can help increase the shear's strength and efficiency while also reducing strain on your hand and wrist while you work.
If you are looking for a high-quality pair of pruners, you're going to want a pair that has a metal coil spring mechanism versus a standard spring. A metal coil is more tightly constructed with few spaces for branches, leaves, vines, or other garden materials to get stuck in the mechanism.
Another design element to be conscious of is whether or not the blades and other elements on the shears are rustproof or rust resistant. Gardening shears are often used to cut through wet or sappy plants, and so, it is crucial to their longevity that you buy a pair that is less likely to be affected by these elements. To help prevent rust, always clean your pruners after use and store them inside.
Presence of a Locking Mechanism
This might seem like a simple element of gardening shears that should have little effect on its quality. In reality, is extremely important to prioritize a pair of shears with a locking mechanism in addition to the other features listed here.
Using a pair of gardening shears with a locking mechanism proves that the manufacturing company has taken additional measures to ensure their customers' safety. It is crucial that you lock your gardening shears when they are not in use to limit potential injuries, especially after they've been stored in a big dark garden bag.
Locking your garden shears closed also helps their longevity. While they are closed, the blades are less exposed to dirt, dust, water, and other elements and contaminants that could potentially damage them or promote rust.
Equipment Weight
The weight of a pair of loppers or pruners can significantly affect whether or not they are the best fit for you.
In terms of pruners, if you are an older individual or you suffer from arthritis or other diseases/disorders that affect your hands or wrists, you're going to want a pair that requires minimal strength from you but still yields significant results. Part of this can be determined by the overall weight of the pruner.
A pruner that weighs a couple of pounds or more might not seem like a lot, but if you are using them for an extended period of time, they could certainly add strain to your hand and wrist.
Loppers are affected even more by this factor because they are much larger pieces of equipment that you need to hold with two hands. If you are trimming tall hedges or cutting branches hanging overhead, your arms are going to get extremely tired very quickly if you have a heavy pair of loppers.
To prevent this, try to find a pair that weighs no more than three pounds, especially if you use them to perform heavy-duty tasks or for extended periods of time.
Why Do You Need Gardening Shears?
Gardening shears are a fantastic tool in any gardener's toolbox. However, some might question why these tools are even necessary or worth acquiring. Ultimately, whether you are a passionate gardener or simply enjoy having a few healthy plants around, you're going to want to have a pair of gardening shears for several reasons.
Primarily, these tools can promote a healthy garden and assist in regular maintenance. However, in terms of gardening shear loppers, they can also be essential to home and personal safety.
Harvesting
You can't harvest your delicious produce without a sharp pair of garden shears! We have an entire section of the blog devoted to harvesting popular vegetables and herbs. Make sure to visit this section for advice on which tool to use for harvesting specific plants.
Pruning
Some plants need to be pruned in order to receive sufficient sunlight and promote healthy water flow throughout the plant. This occurs because the process of pruning will remove diseased or unhealthy shoots from the plant, which allows it to receive more light and could ultimately rejuvenate the entire plant if it was neglected.
For example, many people remove the lower branches from tomato plants to reduce the risk of blight and encourage air flow.
Others, especially perennials, should be pruned after they've flowered so that new flowers can grow in their place next season. Sometimes this process could even promote more fruit or flowers than in previous seasons when performed correctly.
Bramble fruits, such as blackberries and raspberries, can be pruned with pruners. Larger plants, such as fruit trees, need enthusiastic pruning with loppers or a saw.
Property Safety
The last reason it is beneficial to have at least one pair of gardening shears around is for the safety of your home and surrounding property. In this case, we are referring specifically to the benefits of loppers in battling oversized and potentially dangerous tree branches.
Trees can cause a significant amount of damage to a home or property when they fall or grow too close to a structure.
Fortunately, insurance will often cover the cost of damages, but this doesn't eliminate the potential dangers and the inconvenience of fixing a broken roof, siding, or windows that could have been prevented with a simple pair of loppers.
Most loppers can cut a tree branch ranging from 1-2 inches wide and stretch nearly three feet in length. Although this might not help with some more concerning tree branches that are well over two inches wide, there are plenty of concerning branches you could eradicate with this tool.
You could also use it as a preventative measure if you notice a certain branch is starting to grow in a concerning direction or proximity to your home or other property structures.
Loppers are also great tools for cutting dangerous bushes, such as poison ivy or thorn bushes, without getting within arm's reach of them. This is beneficial for individuals who have children or pets that might accidentally fall victim to these plant's dangers.
Final Thoughts
Before you head over to the closest box store and buy that cheap $10 pair of gardening shears, we strongly recommend you consider the options mentioned on this list.
Not only do these pruners and loppers provide maximum comfort and functionality, but they are also guaranteed to outlive any cheap pair you might be considering. And if you're really on a budget, we promise our budget recommendation will fully satisfy your needs as well as your wallet.
Remember that a quality pair of pruning gardening shears could really make or break the health, appearance, and longevity of your garden, while an excellent pair of loppers can ensure property safety and ease of mind.
Yard Tool Reviews
Are you sick of your old, broken down lawn tools from a yard sale 10 years ago? Discover these yard tool reviews so you can save time and backaches on yard work day with a new, modern tool.
Angel is a Cuban immigrant who grew up with backyard chickens and a yard-loving abuela. He is our "gear guy" who can never have too many pairs of gloves or weed whacker attachments.