A heavy duty garden fork is a must-have tool in any serious gardener's toolshed. A garden fork can save your back by helping you remove rocks from your soil and aerate your soil without destroying the soil structure with a rototiller. Garden forks can help you work organic matter into your soil, add compost before planting, and even clean up after weeding.
Garden forks are similar looking to pitch forks but used for a completely different purpose. Pitchforks are suitable for loose material like hay and pine straw; they do not stand up well to tough material like dirt clumps or compost.
A garden fork is stockier than a pitchfork which is why it can move tougher material like garden soil, compacted dirt, and compost. You can lift it, loosen it, and move the dirt around easily. Aerating your garden is even possible with a garden fork. Check out other options for aerating your garden and yard in our post about the best compost aerators.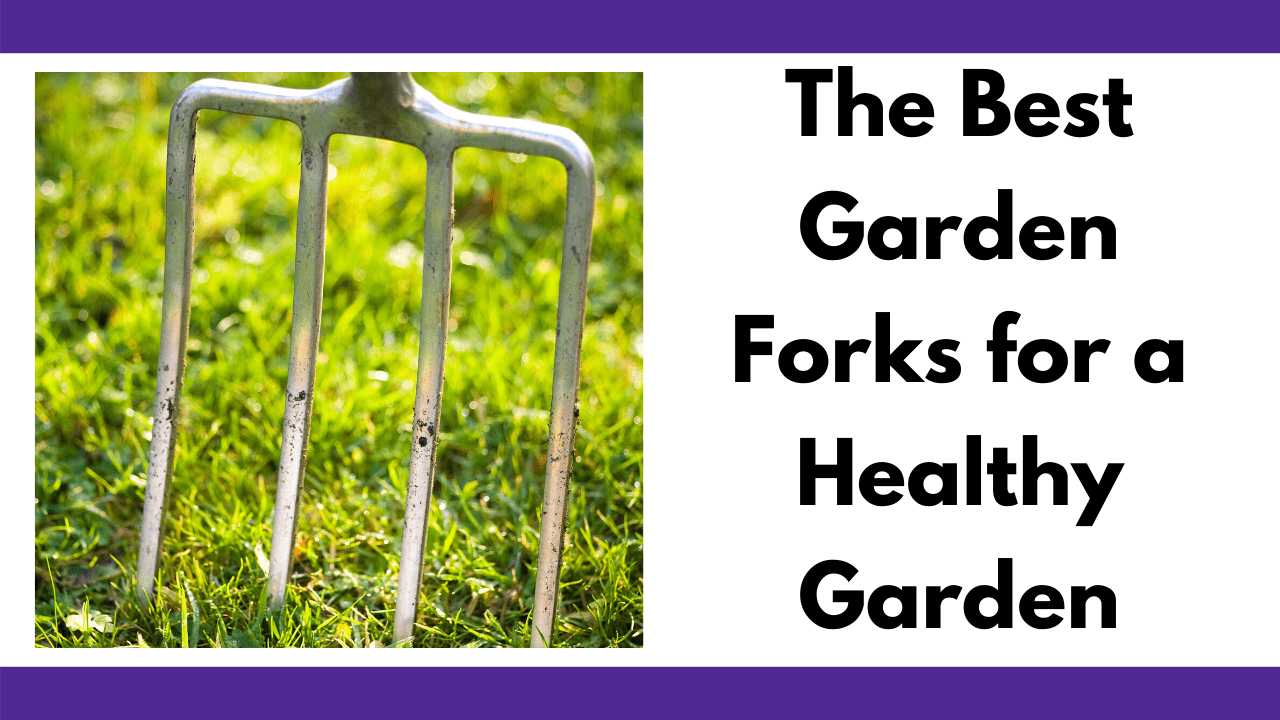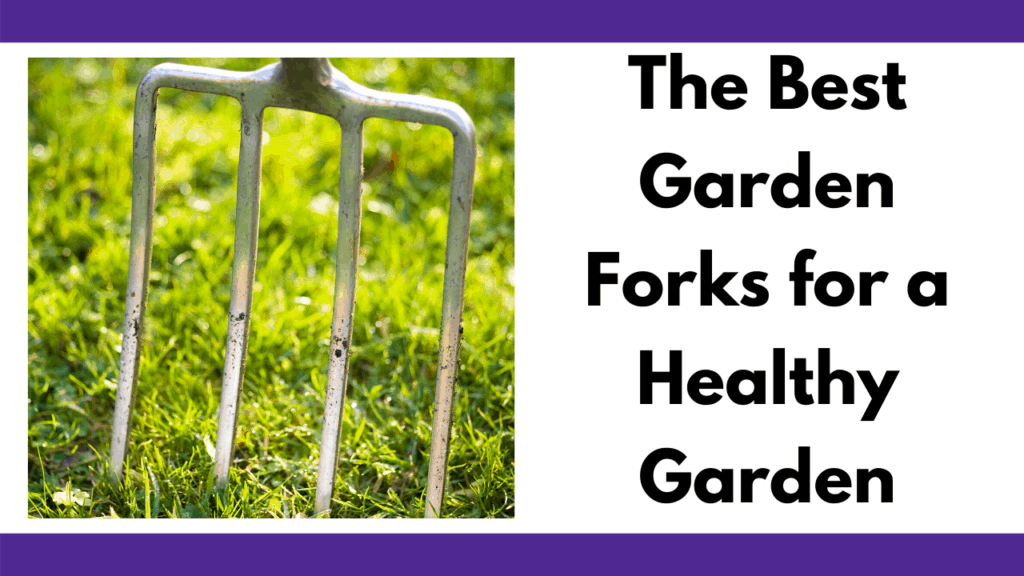 ---
In a rush? Here are our top picks!
This post includes affiliate links, which means I may earn a commission on purchases made at no additional cost to you.
---
If you've ever tried browsing for tools, you may have been struck by analysis paralysis. What features do I need? Is this one worth the extra $27? But my neighbor swears by this other brand!
Studies show that having more options to pick from isn't always better. In fact, increased choices decrease our happiness as buyers. (source)
Picking the best tool can be exhausting, so we're here to help. Here are the best garden forks on the market today.
---
The Best Full Sized Garden Forks
The True Temper 4-Tine Spading Fork is all you'll need when it comes to garden forks. This fork's design is perfect for any type of digging or moving around which your shovel cannot accomplish.
The diamond pointed tines make it easy to penetrate any tightly compacted soil and hoist it around. The square part of the fork is sturdy enough for you to brace yourself on it an sink it into the ground. You can then exert as much force as you'd like with the confidence that the handle will not break. The handle is a heavy duty hardwood which you'll have a hard time bending. Go ahead and give it all you got.
This garden fork even works with mulch, "I'm paving my driveway with coarse mulch. Shovels won't go in, raking takes forever and ever and ever. Borrowed one of these off a neighbor, worked like magic and I had to have one of my own." Check out this customer's review here.
There will always be the lemons of any product. Some customers have had the handles break after a few uses. If this happens, you can cash in on the 15-year warranty offered by the company.
The Radius Garden Stainless Steel Digging Fork is a great tool for your garden. This garden fork is designed for anyone. It'll make all of your digging and uprooting jobs a breeze.
The round handle makes it easy to grip, maneuver, and use as a lever. You can also forget about ever bending or breaking the shaft of the garden fork because of the resin covered carbon steel shaft. You can also sleep peacefully knowing you are covered with their lifetime guarantee.
The tines are also heavy duty stainless steel, plus there is sufficient room for you to push with your legs onto the fork.
The TABOR TOOLS Digging Fork is a garden fork for some serious garden work. This tool is virtually indestructible. The complete steel construction means you can dig with confidence you will not bend or break the fork.
If you have back problems, this tool may be too short for you. One reviewer writes: "This is a well made digging fork, but be prepared for a workout. You'll be spending a great deal of time bent over as you work with this tool." Check out the full review here.
Garden forks do tend to be shorted than pitch forks and that is on purpose. The shortened shaft is a good thing – it cannot bend as easily as a pitchfork, making it less likely to break. This does mean however that you will be working closer to the ground.
The Hoss Tools Garden Digging Fork has a unique design that allows you to properly place your foot on the fulcrum and push the fork into the ground.
There are plenty of happy customers who bought this garden fork. One customer wrote about how helpful this fork is instead of a rototiller for preparing her soil: "The extremely sharp tangs allow you to drop into the soil and push down on the handles and you will have over 12-15" down and 14" wide of my good soil being turned over." Go read her review here to learn about how she uses this fork to turn over soil and incorporate organic matter for great veggie harvests.
The one drawback may be the small handle. Even in the preview photos, you will see that two hands don't fit on the handle. However, this is not a deal breaker since it is still a high quality garden fork.
The Berry and Bird Digging Fork is both attractive and functional. It's the kind of tool you'll be proud to display in your shed or greenhouse.
The wooden shaft has a great look and feel to it. The shaft is made of ash wood from sustainable foresting. Even the handle is made from wood.
Another great feature of this garden fork is the solid stainless steel fork head. The polished head looks great with the ash handle and will go well with your other garden tools.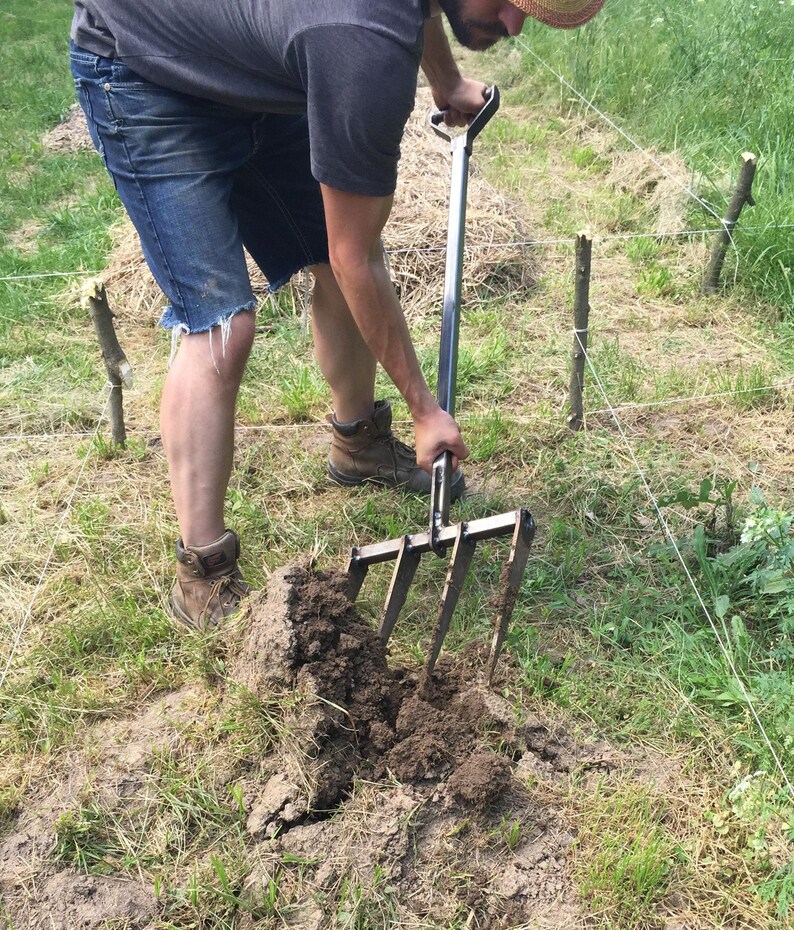 This handmade garden fork is for serious gardeners who want a tool that will last a lifetime. The tines are made of high grade steel which will power through any job you have in your garden or yard.
The O-handle also allows you to easily maneuver it to get the right grip on your garden fork. This is the ultimate garden fork for your yard which will live up to any abuse you put it through.
Though the tool is built for heavy duty use, it is also relatively lightweight for such an overbuilt tool. Weighing in at only 10.5 pounds, you'll be able to move it around your yard easily and without too much fatigue. Some customers even claim they have their 13 year old carry it for them.
Garden Fork Buyer's Guide
What is a garden fork for?
Garden forks are a smaller but more robust version of pitch forks. Since the garden fork tines are thicker, they are excellent for digging up high density soil and dirt. They can also be used to break apart compost, dirt clumps, or mulch.
Handle Selection
The biggest variance between the different models in this post are the handle shapes and sizes.
A round handle seems to be the preferred style of handle. They offer the most real estate for your hands to hold onto. With a D-shaped handle, you are having to shimmy your hands all the way to the edges as you step on the fork head to sink the tines into the ground. The awkward placement of your hands makes it difficult to effectively work with the tool.
Material Construction
A solid metal construction will give you the most peace of mind. This is because it will have the least likelihood of bending and snapping. Though the garden forks are small, you can still exert a great deal of torque on them; it is possible to break the shaft. Handles are more likely to break than the shaft.
An all metal construction is more prone to rust and results in an overall heavier tool. A wood shaft is not a bad choice. I have had plenty of wooden tools which have survived a generation or two, plus they age quite nicely giving your shed a feeling of distinction. Ash and other hardwoods are generally used for tool handles to include high use items like shovels and pick axes.
Final Thoughts
The choice is always yours in what you choose to purchase. A garden fork certainly has it's place in all of our garden tool repertoires. You will find a job for it and you'll be happy you have one.
I hope you are a bit more educated about garden forks and can now make your decision with more confidence.
Angel is a Cuban immigrant who grew up with backyard chickens and a yard-loving abuela. He is our "gear guy" who can never have too many pairs of gloves or weed whacker attachments.