Gardening is fun and rewarding, but if you're new to growing vegetables it can be a bit intimidating. There are so many types of vegetables, where do you start? Don't worry – we're here to help you through the basics of gardening, starting with choosing the easiest vegetables to grow.
We also have a bonus section with common vegetables to not grow. These seemingly simple veggies are actually difficult to grow so make sure to avoid them if you're looking for easy fresh produce! Be sure to scroll to the bottom to ensure you don't accidentally plant one of these difficult vegetables.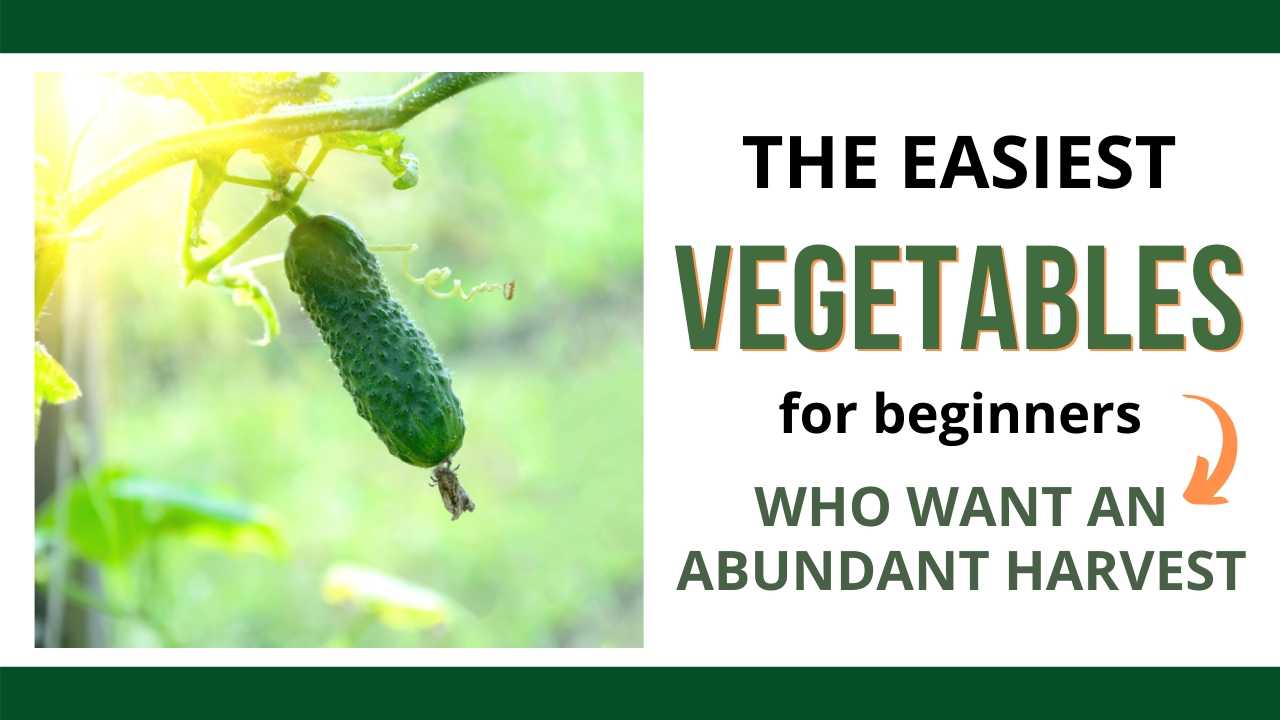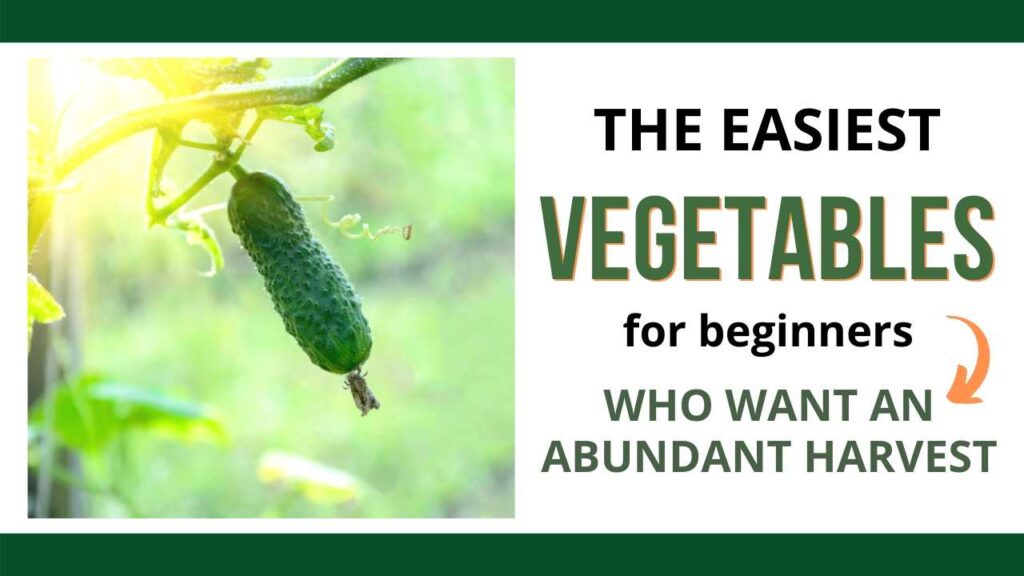 Easy vegetables to grow at home
Let's start by taking a look at the 7 easiest vegetables to grow at home. All of these are easy to grow and can produce large amounts of fresh vegetables for your family.
Want to see a quick checklist? See this web story with 5 easy veggies to grow. (Then stop back here for the details and links to growing guides!)
Tomatoes
A garden isn't really a garden without a few tomato plants. Thankfully, they are super easy to grow. They just need the right spot and a little bit of care, and you'll be swimming in tomatoes all summer long.
Tomatoes must be planted in full sun. This is the number one mistake new gardeners make with tomatoes. Never plant them in the shade. You'll need to verify that the garden spot gets sun all day long, and isn't shaded by the large tree in the yard half-way through the day.
There are two main types of tomatoes: indeterminate and determinate. It is essential you understand the differences between them and make the correct tomato variety selections for your particular situation.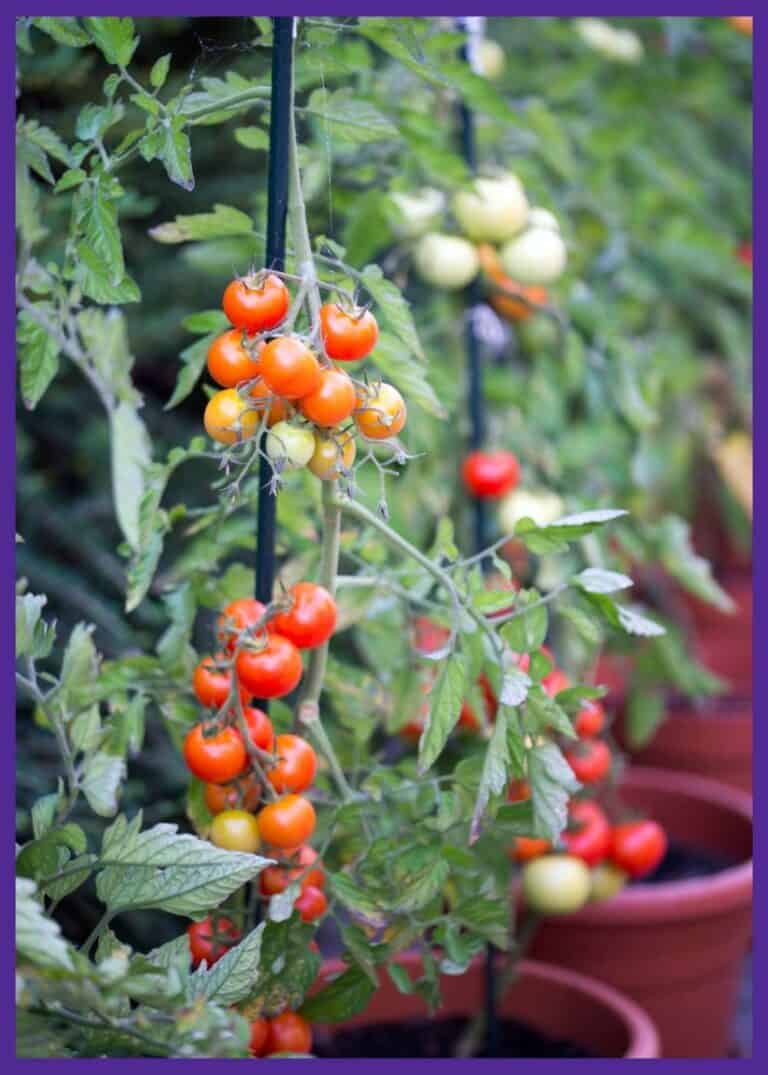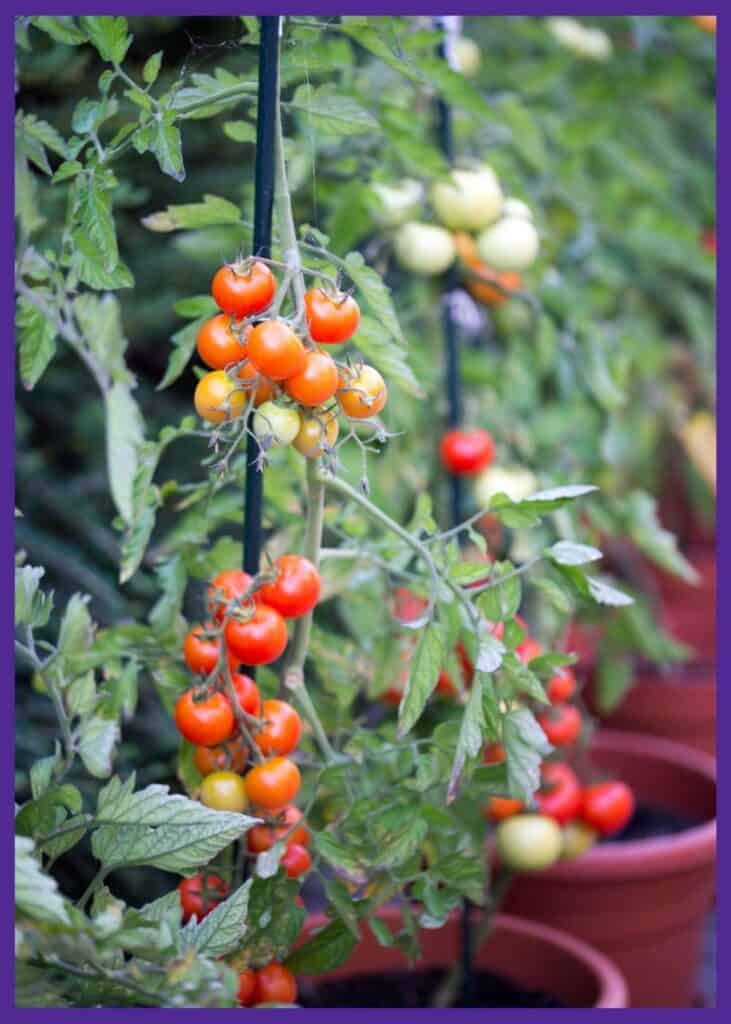 What are indeterminate tomatoes?
This type of tomato can grow to be 6-12′ tall, or even taller. That's right; they are huge! If left to grow without pruning, they quickly become a jungle of plants.
Indeterminate tomato varieties must be staked or trellised, and they should be pruned regularly. They are not great choices for containers, but can work in a large container with proper support. Most heirloom varieties are indeterminate.
Below is an image of an improperly potted indeterminate tomato. The pot is too small and the plant is insufficiently supported. This plant is still young and will have trouble as the season progresses.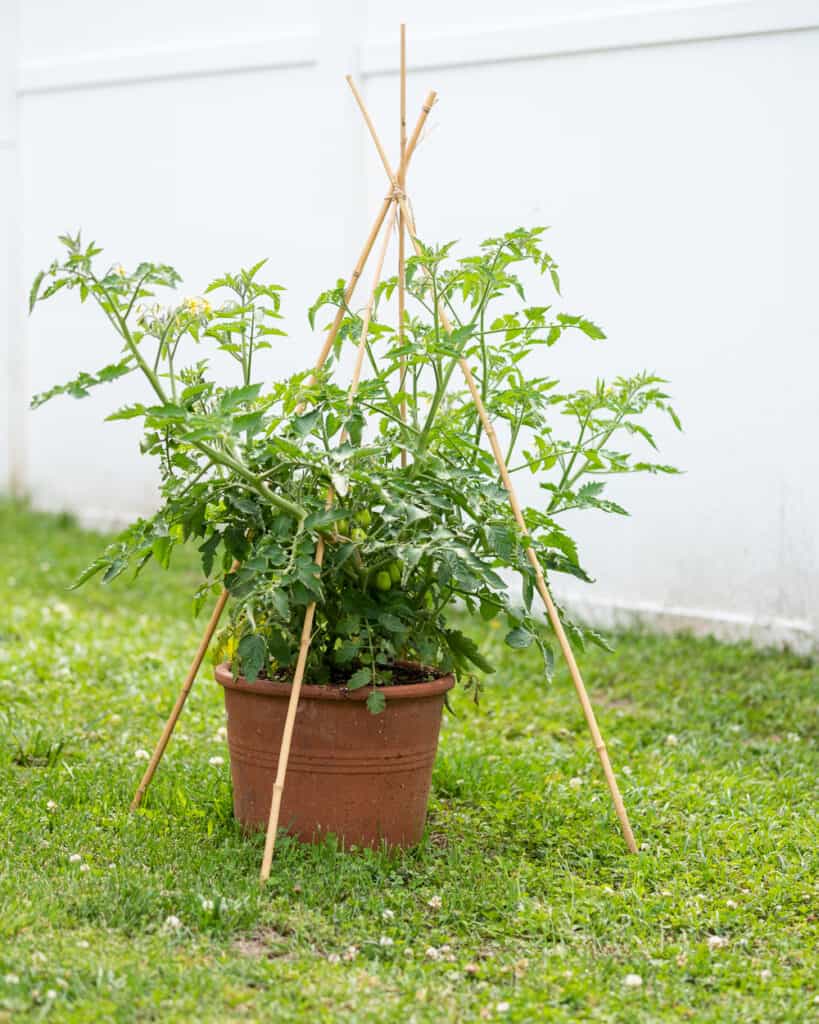 When fruit is harvested regularly and the plants are pruned, indeterminate tomatoes will typically produce throughout the growing season. This is great if you want a steady supply of fresh tomatoes all summer long!
What are determinate tomatoes?
The determinate tomato types are bushy, generally averaging between 3-4′ tall. They grow to a certain height and stop. This type is excellent for container growing.
Determinate tomatoes set their flowers at one time and give one harvest. Early season determinate tomatoes will give you the fastest tomato harvest.
If you live somewhere with a short, cool growing season, you need determinate tomatoes if you want a tomato crop. This publication on short season tomato growing from the Idaho Extension is an excellent resource.
If space and your climate allow, growing a mix of determinate and indeterminate tomatoes can keep you in fresh tomatoes all season long!
Cucumbers
Fresh cucumbers in salads and sandwiches are a treat on a hot summer day. Or try some refreshing cucumber water on a hot day! Once your cucumber plant starts producing, you'll be enjoying this treat for weeks.
Cucumbers are available in two main types: slicing (also called salad) and pickling. Slicing cucumbers are the ones you see in the grocery store, long, and dark green. Pickling cucumbers are shorter and have thicker skin with spines.
It's easy to see the difference once you know what you're looking for. These are a classic slicing cucumbers: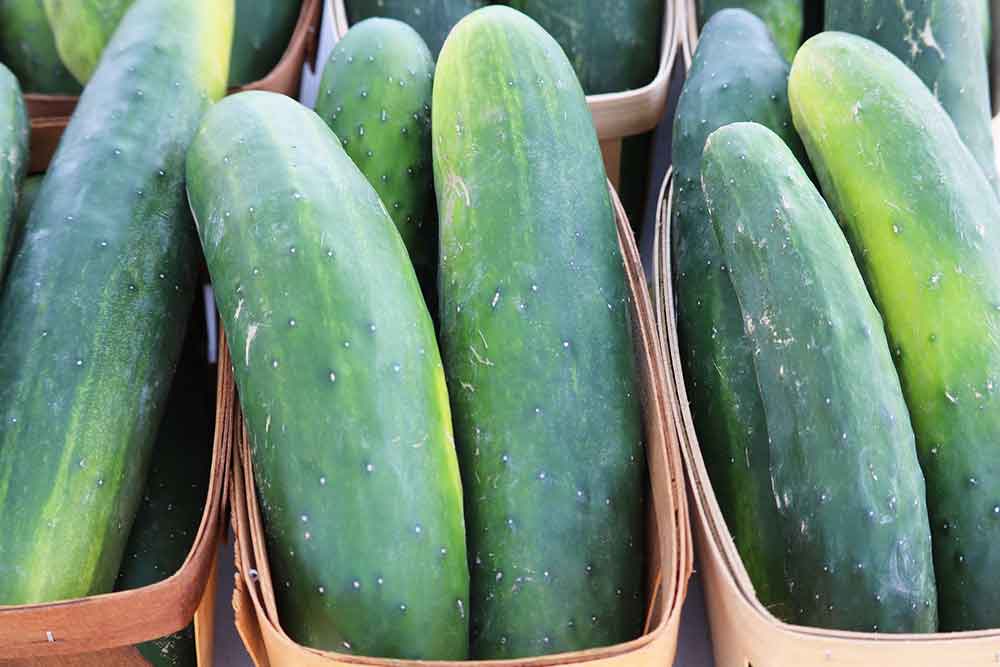 And these are pickling cucumbers: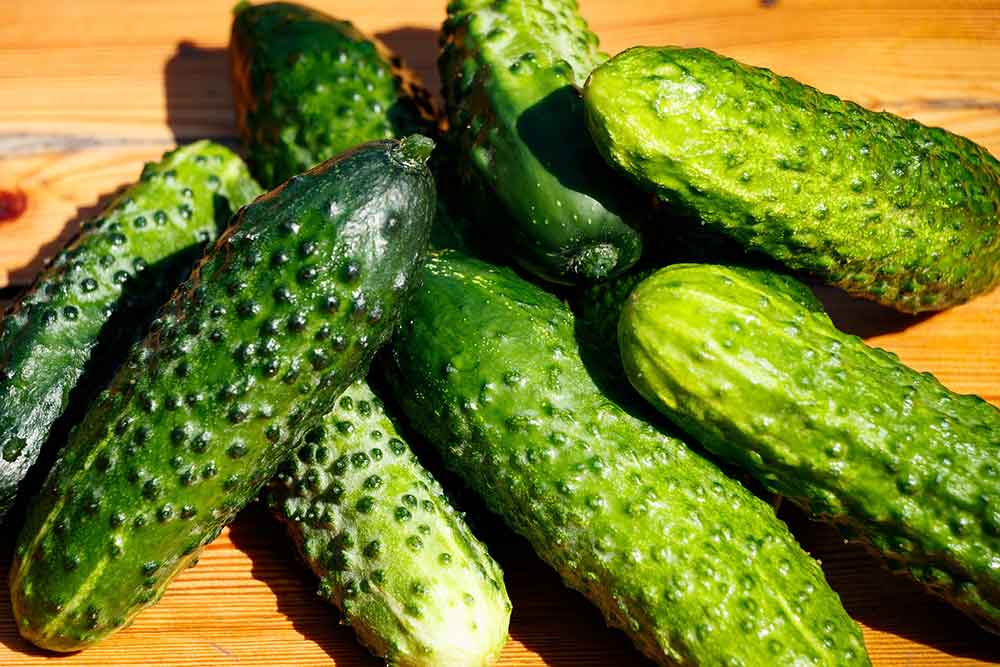 Cucumbers need lots of sun, and fertile well-draining soil. The vines grow very long, so there needs to be space for them to stretch out, or they need to be trained onto a trellis. Cucumbers can also be grown in containers. Read this guide to growing cucumbers in containers for all the information you need!
Once the cucumber plant starts producing, it needs to be harvested at least every other day. Cucumber fruits, at the height of their maturity, will double in size in one day! The vine will produce abundantly for weeks if the fruit is picked regularly, averaging 10-20 cucumbers per plant.
Radishes
The fastest vegetable to grow, radishes go from seed to harvest in as little as 25 days. They need rich soil since they are root vegetables, and also full sun. They only problem with radishes is that you may end up more than you know what to do with! Discover how to plant and grow radishes.
Every part of the radish plant is edible – the roots, greens, and even the seed pods. Radish greens can be eaten raw, especially when young, or cooked like other greens (such as spinach, kale, and collards).
Because they sprout so quickly, and rarely have trouble doing so, only plant what you anticipate wanting. I almost always have a 100% germination rate when I'm using good seeds.
Because they grow quickly, radishes are rewarding vegetables to grow with children. Radishes typically sprout in just a few days and grow visibly each day. They're also really fun for kids to pick!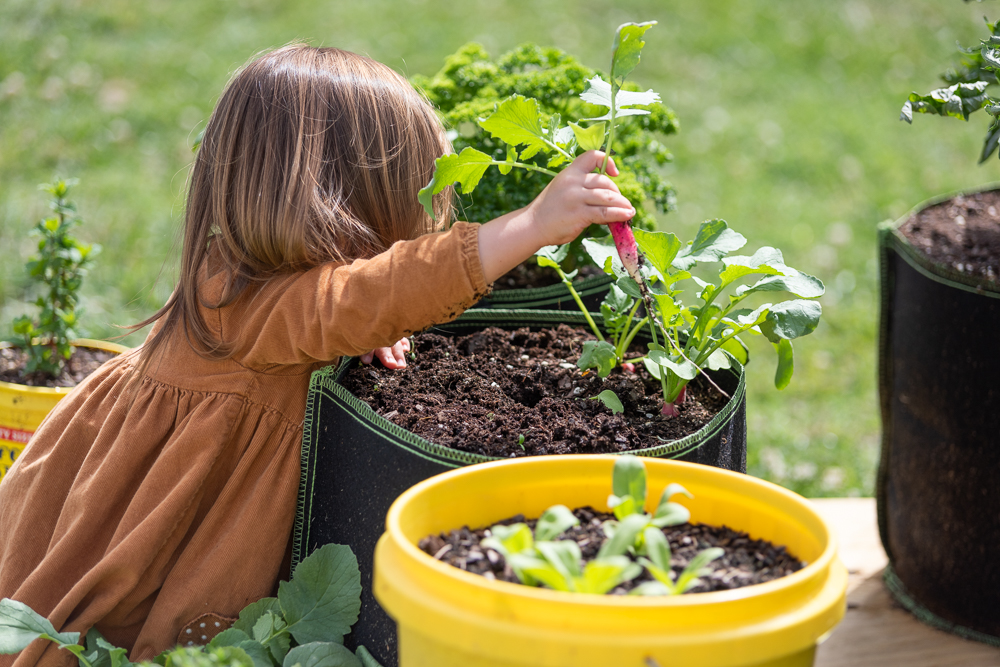 Radishes become tough and woody if you leave them in the ground too long. Instead of planting a hundred radishes all at once, practice succession planting to spread your harvest out. Plant as many radishes as you anticipate using in a week. A week or two later, plant more radishes. Then, do another planting 2-3 weeks later.
Most people don't realize that there are two types of radishes: spring and winter. The spring varieties are the fast growers. Their flavor is best if they mature in cool weather. Winter varieties take longer to grow, but their taste is generally superior. Plant a mix of both for continuous and variable radish harvests.
As a general rule, the small, round "classic" radishes are spring radishes.
Winter radishes tend to be larger and starchier. Daikon radish, watermelon radish, and black radish are all winter radish varieties. Winter radishes are less common today, but can provide delicious fresh vegetables throughout the winter in many climates. Winter radishes also store well – up to six months if it's cool. (Learn more about winter radishes here.)
If raw radishes aren't your thing, try roasting them. Once roasted, they loose their bite and have a deep, earthy flavor. We personally enjoy roasting our radishes in the oven with olive oil like in this recipe for roasted radishes from Love and Lemons.
Zucchini and Summer Squash
We all know the stories of the zucchini plants that keep on giving, and giving, and giving. This year, it could be you leaving zucchini on your neighbor's porch!
Zucchini and summer squash are extremely easy to grow. One plant is more than enough for a small family. Don't get too enthusiastic and plant ten unless you want your house filled with it!
Plant zucchini in full sun and ensure it gets enough water – about 1-2 inches per week. Like cucumbers, zucchini plants produce more when harvested often. Pick it every other day, and the plant will produce for weeks. Squash blossoms are also delicious, especially when battered and fried.
Check your plants frequently – squash and zucchini can grow alarmingly fast and quickly become incredibly large. Large squash are bland, woody, and (in my opinion) inedible. Pick them when they're small – only 6-8″ long – for best flavor. If you can't easily scratch the squash's skin with your fingernail, it's too big.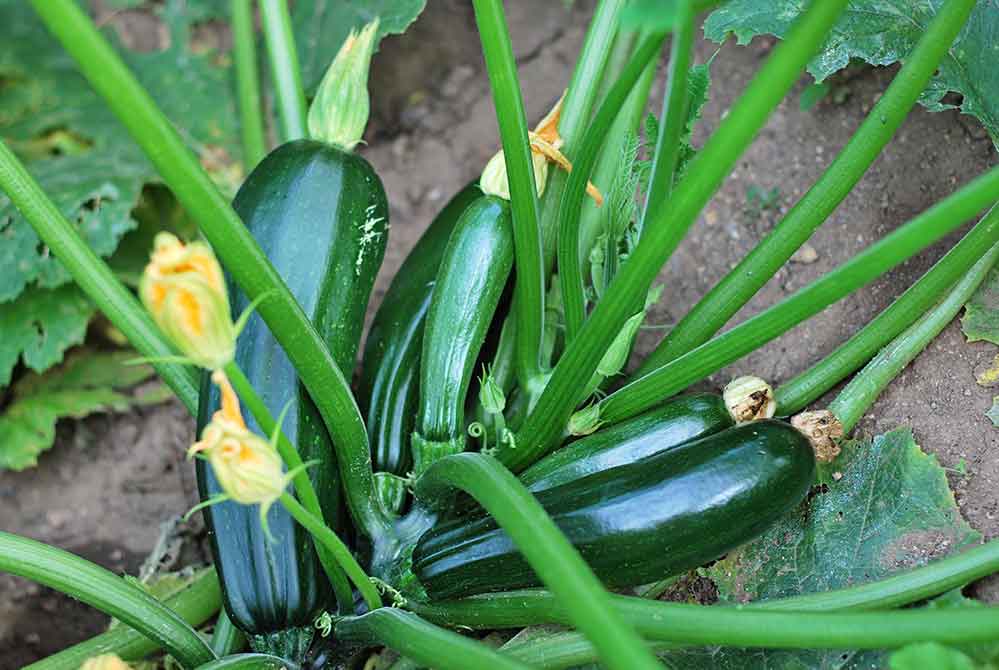 Kale
Kale grows quickly, easily, and produces new leaves for months. I've harvested from the same kale plants from summer through fall, without the plant ever showing signs of stopping. Kale is extremely hardy and survives light frosts. One to three kale plants will give you plenty of fresh, abundant leaves.
Treat it was a "cut and come again" crop by cutting away the outer, lower leaves and allowing the inner, upper leaves to keep growing. Harvest them small and young for salads or allow them to grow larger for cooking greens.
Kale can also be grown overwinter in mild climates. It's always nice to have fresh greens in the winter!
Learn how to harvest kale in this post.
Lettuce
With such a large variety to choose from, there is a lettuce for every taste bud.
Lettuce grows quickly and easily, making it a favorite of gardeners everywhere. It doesn't take much space and can be planted in succession, so there are harvests for weeks or months.
There are two main types of lettuce: leaf lettuce and head lettuce. Iceberg is a classic head-style lettuce that forms a compact ball. Red leaf lettuce is a common leaf-style.
Leaf lettuce is easier to grow and produces a continual harvest. Cut off the outer, lower leaves and allow the plant to continue growing for an extended harvest. You can start harvesting a few small leaves for baby greens in just a couple of weeks after planting!
The only particularity about lettuce is that the seeds won't sprout in temperatures above 80F. Start the seeds early, indoors and outdoors in the spring, and then start again in early fall when the temperatures drop again. Or, during the summer, start seeds indoors and then transplant to a shady spot outside where they'll be protected from the hot summer sun.
For a fall lettuce harvest, begin sewing seeds about 8 weeks before your average first frost date. Don't know your frost dates? Check the USDA hardiness zone interactive map for this important information.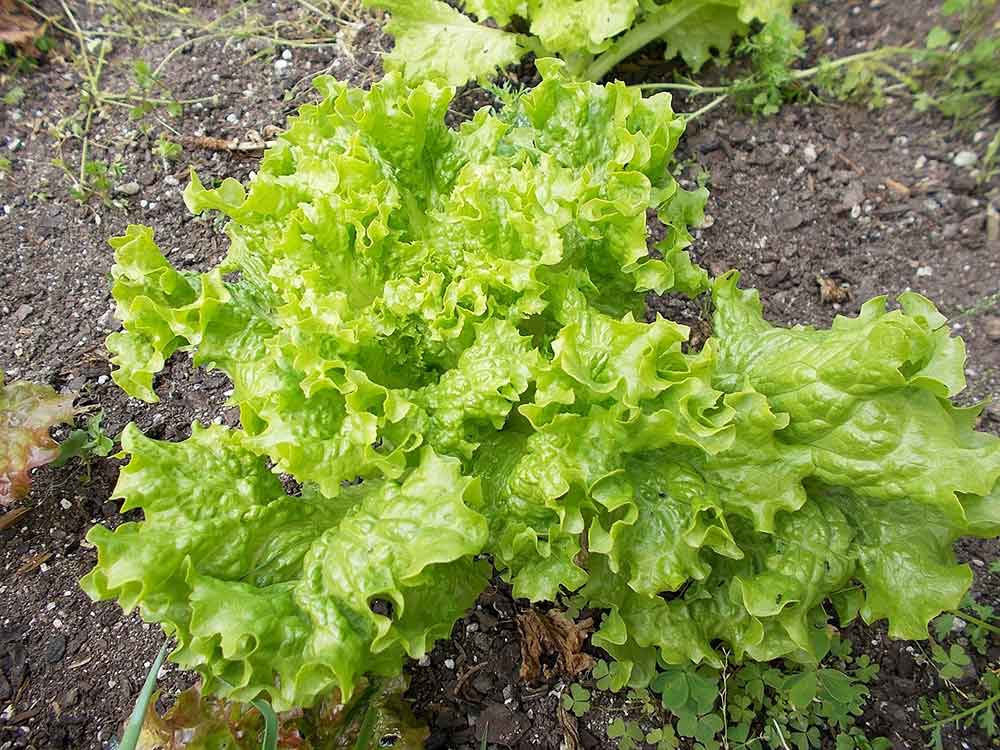 Green Beans (and Yellow or Purple Beans)
Green beans fall into two categories, pole and bush. Both are easy to grow. The only difference is that pole beans grow on long vines, which must be trellised, and bush beans grow as bushes.
For the beginner, bush beans are generally less work, but both will produce lots of deliciously crisp, green beans.
Plant in full sun, in well-draining, fertile soil. Beans are ready in an average of about 55 days. They must be harvested as soon as they are ready, or they become tough and stringy. For fresh green beans, pick your beans when they're about the diameter of a pencil and there are no visible budges. If the pods are left on the vine too long, they will become tough and stringy.
Harvest beans as they ripen and store your unwashed green beans in a sealed container in the fridge for up to a week. When you harvest your beans continually, your plants will probably continue producing a second, or even third, harvest. Discover when to harvest green beans in this post.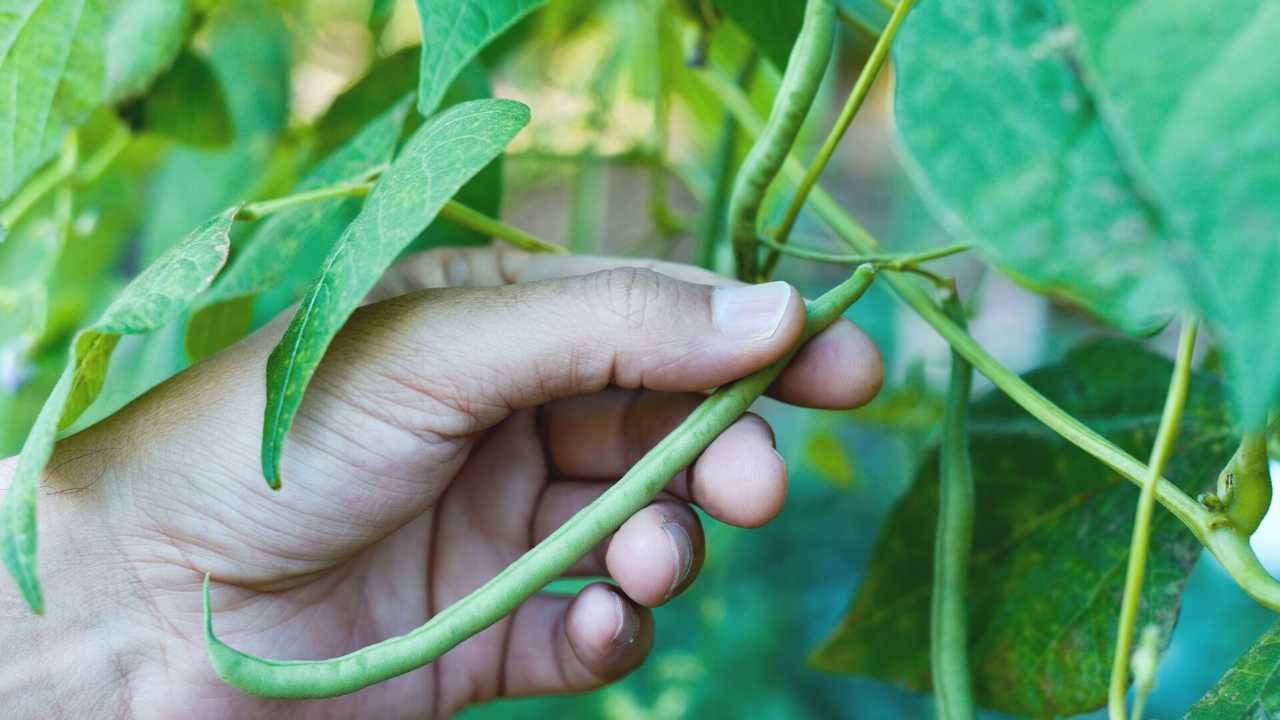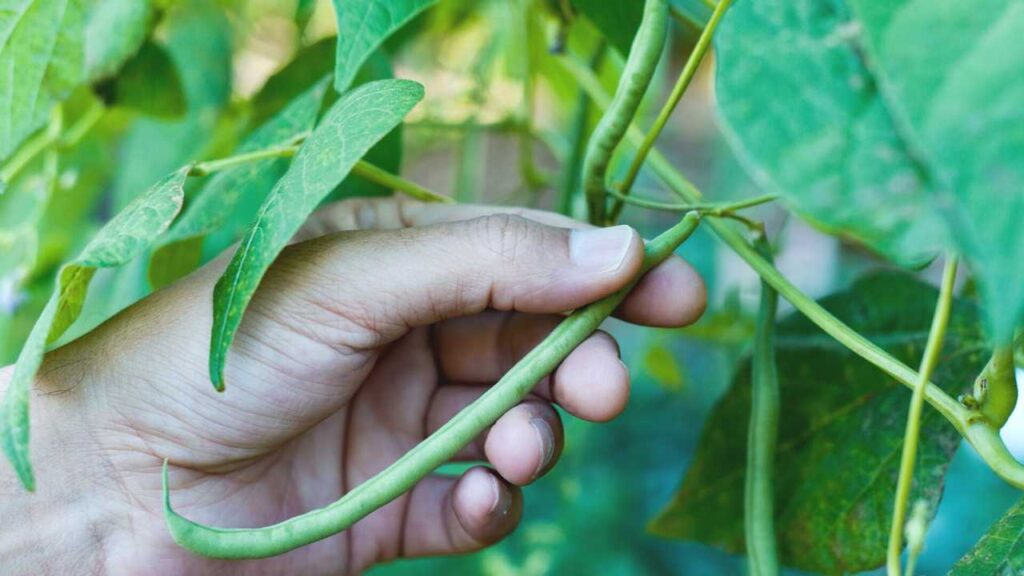 Vegetables to Avoid as a New Gardener
These common vegetables aren't difficult, per se, they just take a little extra effort or give a low yield.
Peppers
Peppers are notoriously difficult to start and seem to take forever to fruit and ripen. Many varieties take 90 days, or even more. Hot peppers can produce dozens of small fruits per plant, but sweet peppers (bell peppers) produce only a handful. It's a real bummer to wait three months watching one plant grow two bell peppers. (Though it does help you appreciate why they cost so much at the store.)
Carrots
Carrots have a low germination rate, which is frustrating for new gardeners. Carrots are also slow vegetables and frequently take 60-80 days to maturity.
Carrot seeds are tiny and annoying to work with and you always have to over plant to ensure you'll have enough that germinate. This means you'll also have to spend time thinning out carrot seedlings.
Carrots, especially long cylindrical ones, can also be very picky about soil conditions. Fresh carrots are tasty, but it's best to avoid growing this vegetable when you first start gardening. Plant something more rewarding, like radishes or tomatoes, instead.
If you do want to grow carrots, read more about how to plant and grow carrots from seed.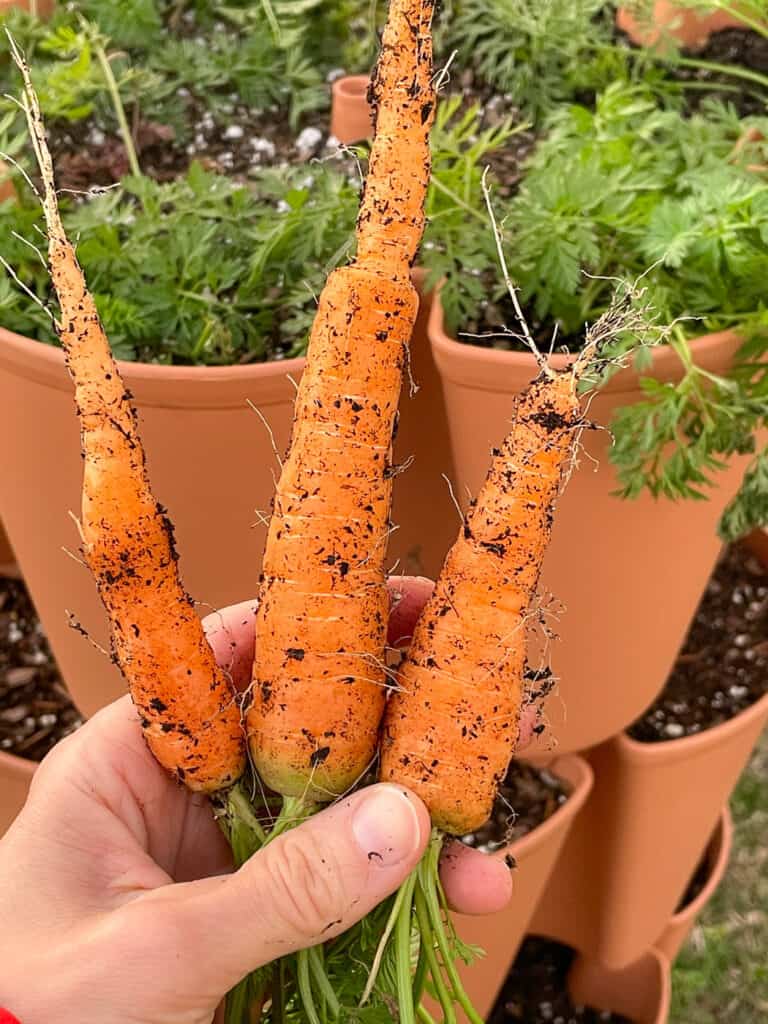 Corn
Corn takes up a lot of space and you have to grow a lot of it to ensure the ears pollinate properly. In addition to taking up lots of garden real estate, they are also low producers. Stalks typically produce just one or two ears of corn. For most home gardeners, the tradeoff simply isn't worth it.
Broccoli & cauliflower
Broccoli and cauliflower are tricky plants to grow because they have precise temperature requirements and often struggle to form heads.
Tips for the New Vegetable Gardeners
I can't leave you without a few bonus gardening tips for new gardeners! Here are three important things to remember:
Start small! If you're new to gardening, tending so many new-to-you plants can quickly become overwhelming. Pick 4-5 of your favorite vegetables, and start with those. Next year, add a couple more in. 
Plant what you like. There's no point in planting kale, even if it's easy, if you don't like it. Put your valuable energy into producing vegetables you enjoy. That makes the experience one hundred times better.
Do not over-plant squash, zucchini, or cucumbers unless you want to be the person dropping off anonymous bags of squash on your neighbor's doorstep. They are prolific producers. Just a couple of plants will suffice for most families.
I hope you've enjoyed this look at easy vegetables to grow! Be sure to check out these additional posts to help you on your garden journey:
Popular summer vegetables and herbs
Discover how to grow popular vegetables and herbs in your backyard garden or container garden with these in-depth vegetable growing guides.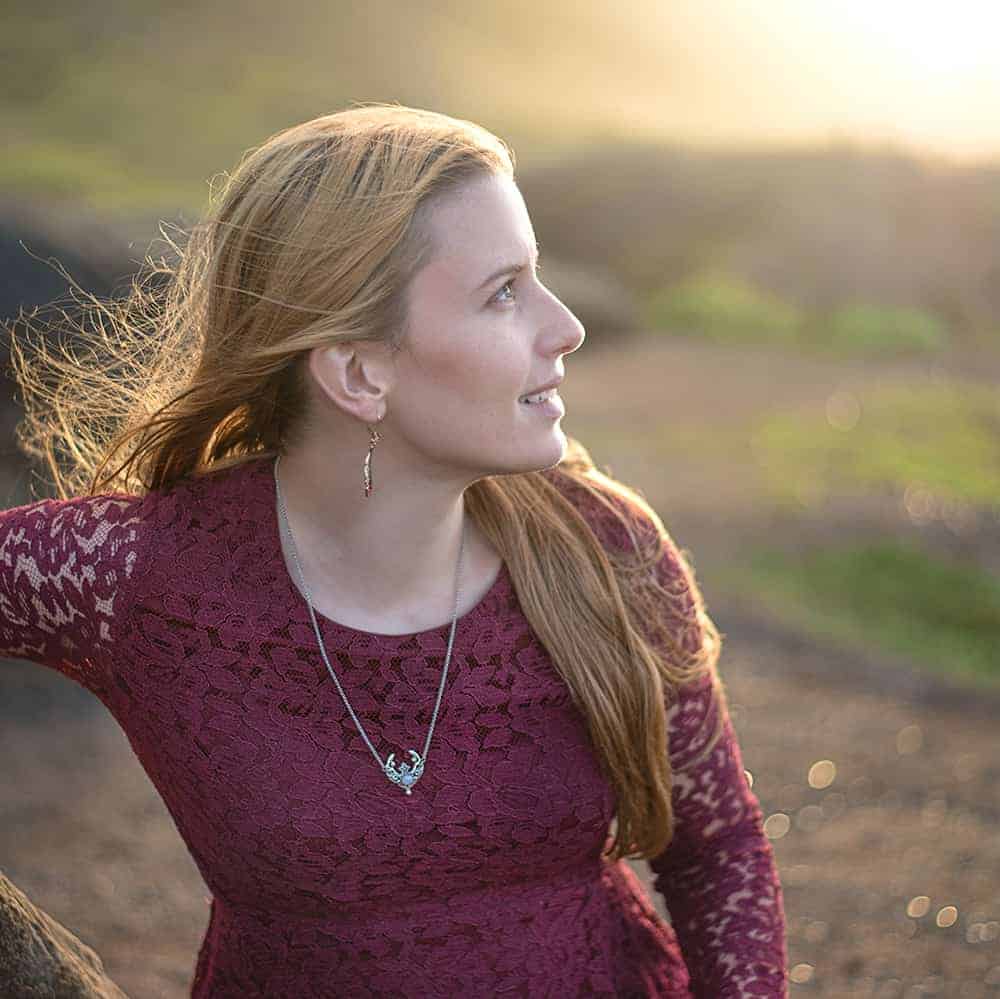 Natasha Garcia-Lopez is an avoid home-gardener and proud owner of 88 acres of land in rural West Virginia. She was a member of the Association for Living History Farms and Agricultural Museums for many years and is currently enrolled in the Oregon State University Master Gardner Short Course program so she can better assist you with your gardening questions.She holds a certificate in natural skincare from the School of Natural Skincare.