Do you want to see striking purple flowers in your garden? Get to know about the most amazing purple flowering bushes to beautify your landscape.
If you love purple, why not let your garden reflect your personality with some purple flowering shrubs? There are so many different varieties of shrubs that give purple flowers that you can fill up your front lawn with a versatile purple landscape.
Whether you want a purple background for your flowerbed, a beautiful protective boundary to keep out invaders, or a hedge to highlight your walkways, we have just the varieties for you. Here is a list of bushes with purple flowers that you can plant in your garden to make a statement.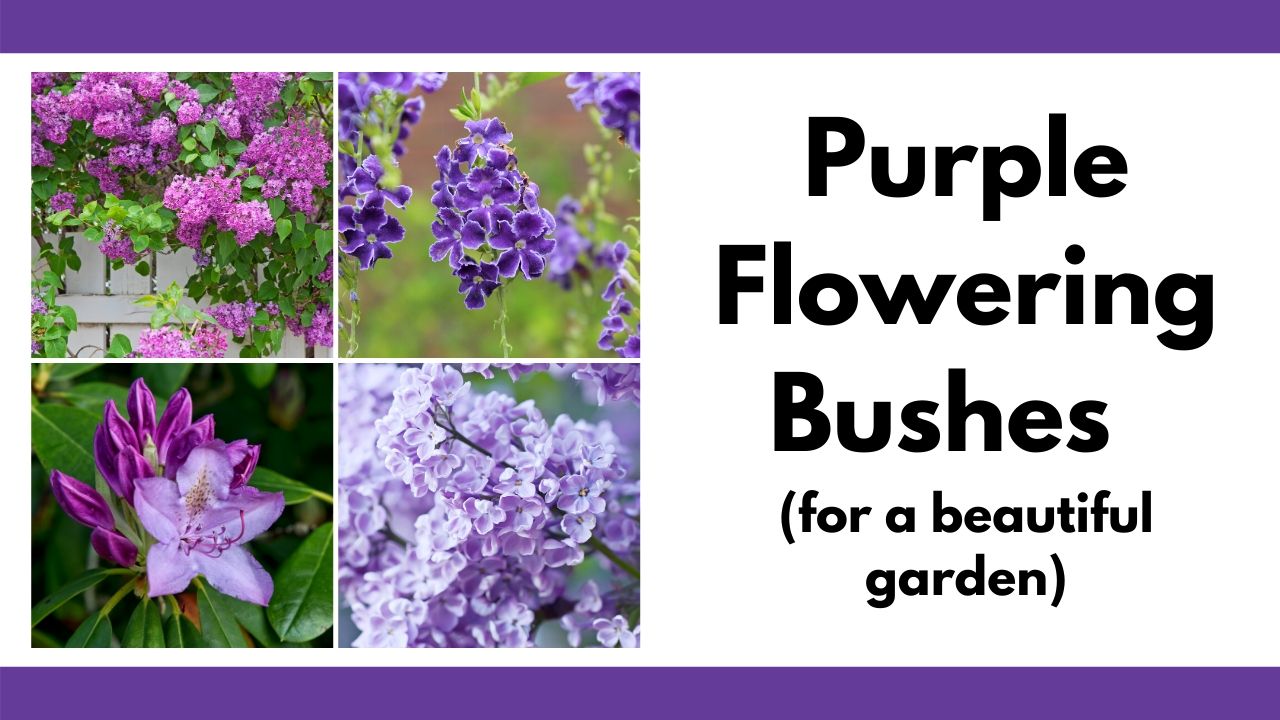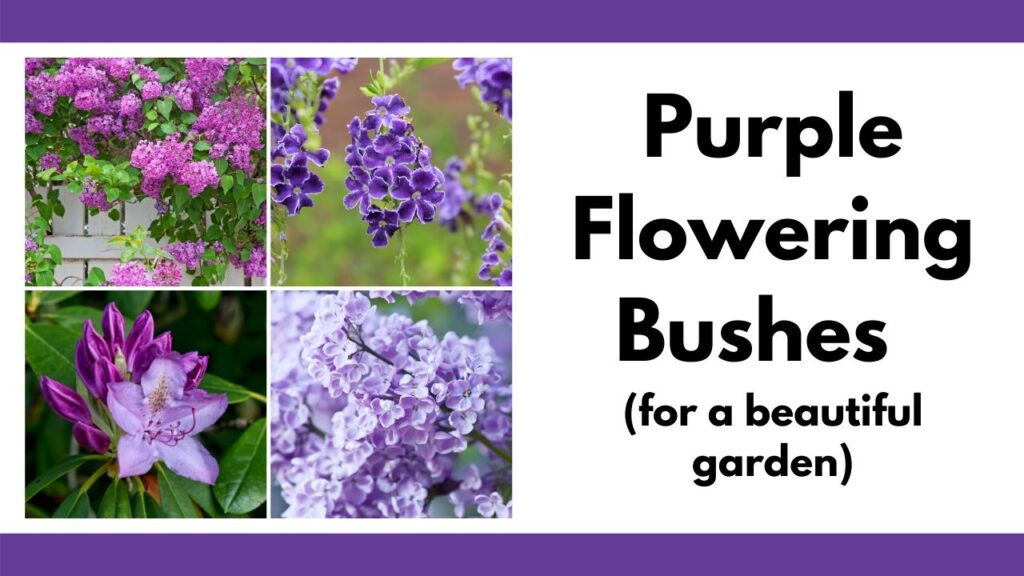 This post includes affiliate links, which means I may earn a commission on purchases made at no additional cost to you.
Purple flowering shrubs
Butterfly bush
Climate: 5-9
Scientific name: Buddleja davidii
A favorite of gardeners, butterflies, and birds, butterfly bush is a deciduous shrub that gives beautiful, deep purple flowers from summer until fall. This is why it's also sometimes called the "summer lilac."
This fast-growing shrub is hardy to zones 5 to 9 or 10, depending on the variety. It comes in a variety of different shades of purple flowers and other colors, too. If you're just focusing on purple, you'll find plums, lilacs, bluish-purple and other hues too. Black Knight butterfly bush is my personal favorite for vibrant purple blooms.
The shrub prefers full sunlight and well-drained soil. The plant may become leggy and have few flowers if it receives too much shade. (source) Other than that, it's a low maintenance shrub that'll thrive with minimum care. Water regularly while the plant is young, and occasionally once it's fully mature. Prune annually during the winters to keep the shrub in shape and promote flowering.
Live butterfly bush plants are usually 6-12 months old at the time of purchase so you can get a start on your lovely landscape. Butterfly bush seeds should be started indoors 8-10 weeks before your average last frost date.
Bougainvillea
Climate: Zones 9-11
Scientific name: Bougainvillea glabra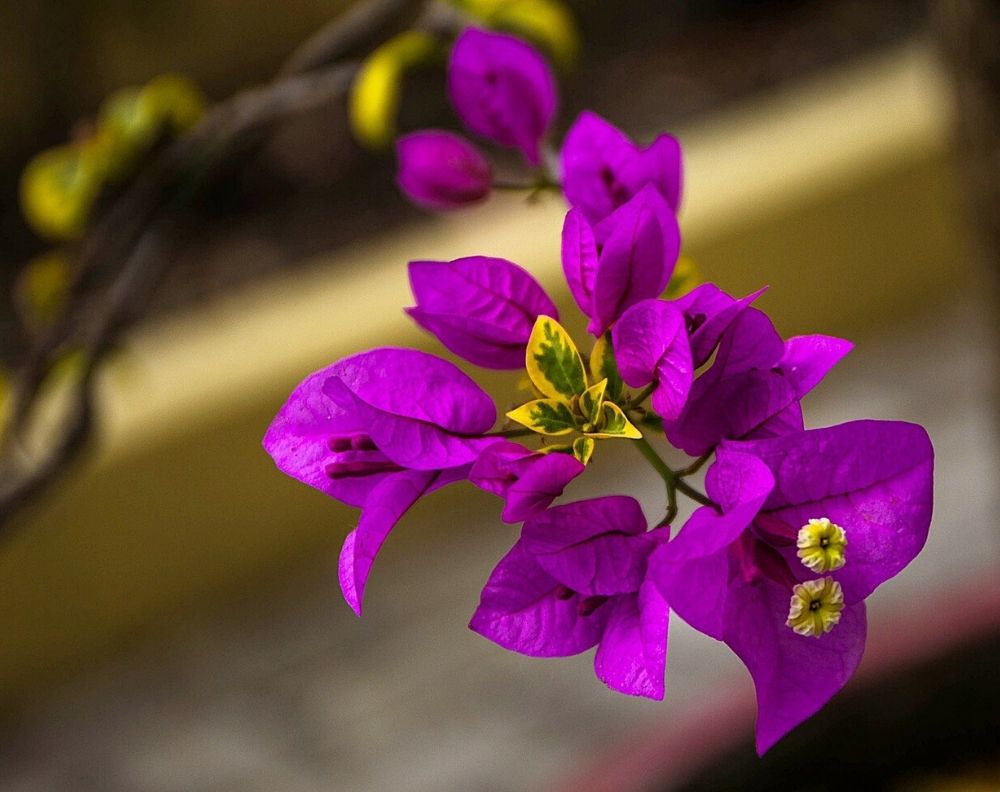 Another exciting purple attraction for your garden, bougainvillea, is a tropical vine shrub that will thrive in growing zones 9 to 11. You can grow them in pots as an ornamental plant if you're living in the north, but plant them only during the warmer months. They're available in single or double blooms if you want a little extra color for your landscape.
The shrub loves heat and will give plenty of flowers if you plant it in full sun. Since it's a vine, you'll need to give it a trellis to climb on. Since it's a fast-growing plant, you can easily train it over canopies, doors, and fences for a breathtaking view.
Bougainvillea benefits from regular pruning to shape the plant, direct its growth, and encourage blooming. Prune immediately after the plant stops blooming for the season. It benefits from fertilizing every two weeks while in bloom, but does not need fertilizing if the plant is dormant. (source)
Bougainvillea can be grow in a container and brought inside for the cooler months. Make sure it is moved outside during warmer months and placed in full sun.
Select a live bougainvillea plant to get your colorful garden started and make sure to pick up some bougainvillea plant food.
Caryopteris
Climate: Zones 5-9
Scientific name: Caryopteris x clandonensis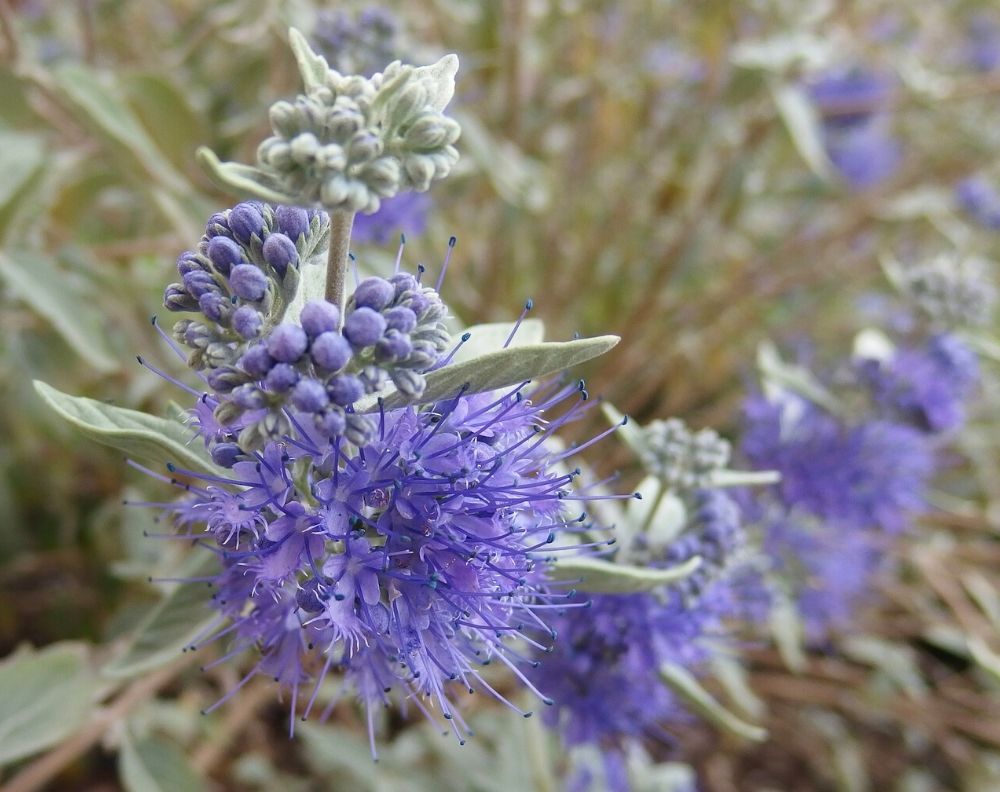 More commonly known as "blue mist," or "bluebeard," Caryopteris gives flowers somewhere between the blue and purple shades. An assortment of varieties is available to choose from, all suited to growing zones between 5 and 9.
While most flowering shrubs bloom during springtime, Caryopteris adds color to your late summer landscape when most other plants start losing their charm. This makes it a major hit among gardeners who want to see their gardens blooming for the greater part of the year.
Although bluebeard roots are hardy to zone 5, the plant aerials are only hardy to zone 7. In zone 5 and 6, stems will die in winter but new stems will grow in the spring. (source)
They thrive best in rich, organic soil, and full sun. It's a hardy plant that's drought-resistant and resistant to diseases and pests. Prune it back during the winters, for a neater profile and healthier blooming during the summers.
Crepe Myrtle (Crape Myrtle)
Climate: Zones 7-10 (some cold hardy varieties will survive in 6)
Scientific name: Lagerstroemia
More of a short tree than a shrub, there isn't a sight more mesmerizing than crepe myrtle standing in a front yard! These deciduous shrubs love the summer heat and can also tolerate some degree of frost.
They're very popular in the American South where they're commonly called Crepe Myrtles, but elsewhere in the country they're usually called Crape Myrtles. As a current zone 8a gardener in the SE, I call typically use the "crepe" spelling.
Many crepe myrtles are pink or white, but there are also purple crepe myrtles. Make sure to pay attention to the color when you purchase your plant!
Some purple crepe myrtle varieties include:
This bundle of 6 stunning lavender crepe myrtle trees will fill your yard with color!
The highly-rated seller Crape Myrtle Guy sends well-established trees that are 1-2 feet tall, not tiny seedlings and is an expert in growing crepe myrtles of all varieties.
Other than the glorious tree trunks, they present splendid flowers for the summers and colorful leaves for the autumn. In short, the sub-shrub offers an all year round attraction for gardeners.
Crepe Myrtle come in a wide variety to choose among, ranging from dwarf varieties that barely grow up to 3 feet, to those that can grow up to 30 feet. Most varieties are hardy to zones 7 to 10, while some can also grow in zones 5 and 6.
There is a myth that aggressively pruning your crepe myrtle will help it bloom more. Unlike some plants, crepe myrtles do not require pruning in order to bloom profusely. Over-pruning can create a variety of problems for your plant. Learn more about the potential problems of aggressive crepe myrtle pruning from the UGA Extension.
Golden dewdrops
Climate: 9-11, colder zones as annual
Scientific name: Duranta erecta, Duranta repens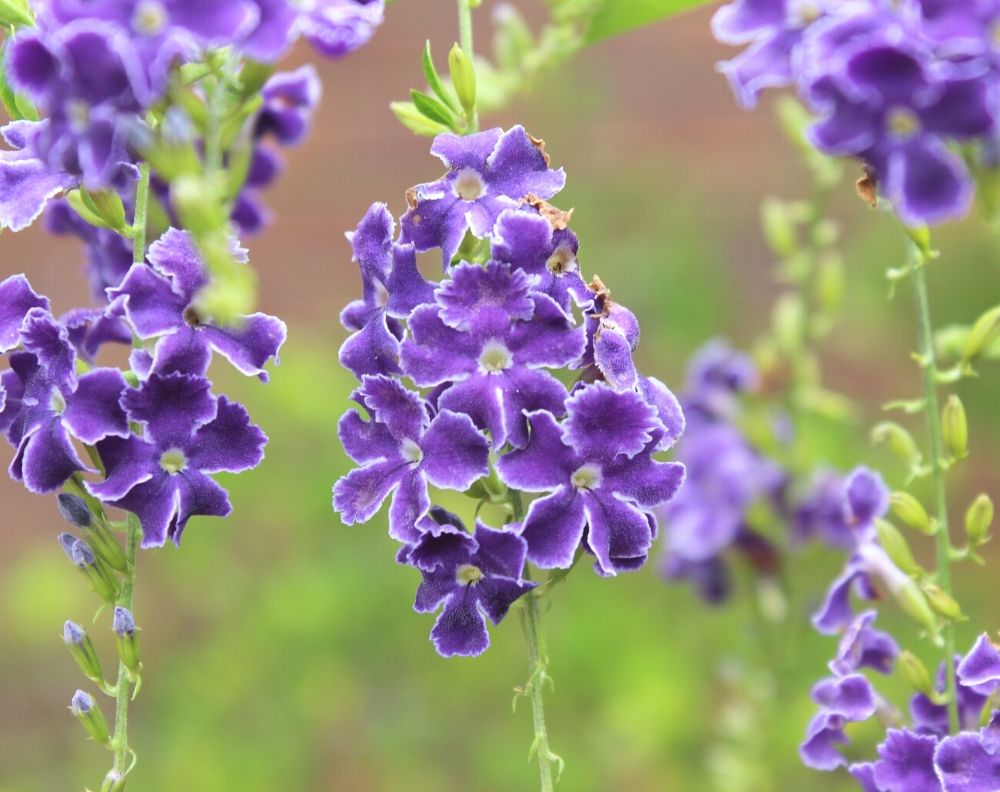 The name might be deceptive since the flowers aren't golden at all. It, in fact, gives delicate, beautiful purple flowers with a lighter border to make a charming addition to your garden. The name actually comes from the small, golden berries that hang down the stems like drops of dew.
With fresh green leaves, golden berries, and elegant purple flowers, the shrub brings bundles of colors into your landscape. It is important to note that these berries are poisonous to humans (source). If you have small children, you may want to remove the berries or keep the plants out of reach.
It grows best in growing zones 9 to 11, but you can also grow them in northern regions as annuals or container plants that you bring indoors in winter. You can even grow golden dewdrop as a bonsai!
Golden dewdrop seeds can take a while to germinate (about a month), so consider a live golden dewdrop plant if you want to see blooms more quickly.
Table could not be displayed.
The shrub will survive in partial shade, but if you want to see plenty of blooms, plant it where it gets full sun. Plant it in well-drained soil, and water it just enough to keep the soil moist.
Hydrangea
Climate: Zones 4-9 (not all varieties thrive in all zones)
Scientific name: Hydrangea macrophylla
Hydrangeas aren't just strikingly beautiful shrubs; they're also quite intriguing in their characteristics. Although they're available in a variety of colors, including purple, pink, blue and white, the soil pH also has to do with the shades of flowers that will appear.
If the soil is acidic, with the pH below 5.5, you can expect purple or blue hues if you've selected a purple variety. With an alkaline pH, you're more likely to see pink flowers on the bush.
Soil pH is not the only soil factor that influences hydrangea color. Hydrangea colors depend on the availability of aluminum ions in the soil. Aluminum ions are more accessible to the plant in acid soil, which is why making the soil more acidic helps.
In order to have purple blooms you need a combination of aluminum ions and acidic soil. This is why an aluminum sulfate additive is better than home remedies like placing coffee grounds around your hydrangea or watering it with vinegar. Read more about the science of hydrangeas on American Scientist.
Not all hydrangeas can change color so don't buy a white flowering bush and assume you'll be able to turn it purple. Instead, pick a variety that is known to be purple or blueish purple.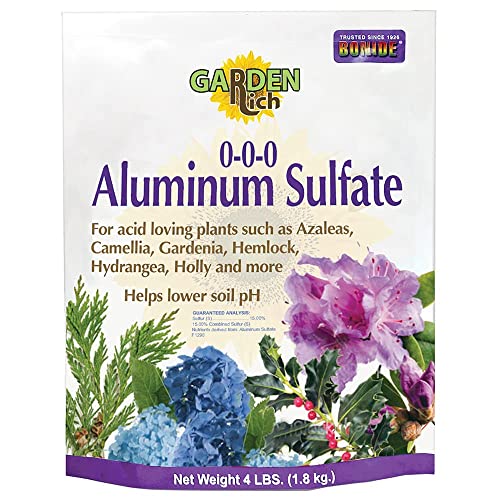 Bonide 705 Aluminum Sulfate Soil Enhancement, 4 Lb. - Quantity 1
LOWERS SOIL PH - 5.0 is a suitable pH for many garden plants that thrive in acidic environments. Aluminum Sulfate helps lower soil pH to this target....
ACID LOVING PLANTS - Aluminum Sulfate is designed to lower soil pH for acid-loving plants such as Azaleas, Camellia, Gardenia, Hemlock, Holly, & more....
ALL SOILS COVERED - Our Aluminum Sulfate works in all types of soil including sandy soil, loamy soil, & clay soil.
Popular purple hydrangea varieties include:
All Summer Beauty Hydrangea
The Let's Dance® Rhythmic Blue®, also known as All Summer Beauty, hydrangea is known for its cold tolerance, wilt-resistance, and big, sturdy flowers.
The All Summer Beauty is an easy variety to shift from pink to blue/purple so you can enjoy stunning blooms all season long.
Different varieties of hydrangeas grow well in different regions, with most species lying between grow zones 5 to 9. They enjoy the morning sun but won't do well in the afternoon heat, so plant them at a spot where it's a little shady at noon.
Moist, organic soil works best for them, but make sure there's no standing water since it can cause root rot. Remember to water the bush at least once a week during hot spells.
Lilac Bush
Climate: Zones 3-7
Scientific name: Syringa vulgaris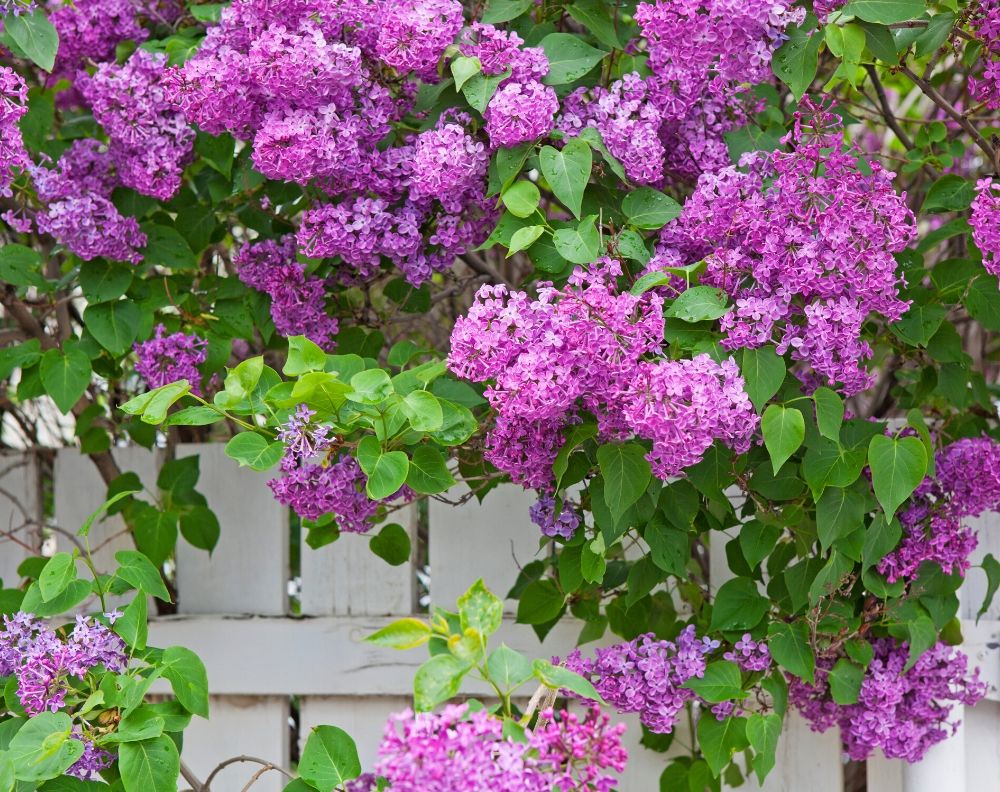 What could provide purple flowers better than the lilac bush itself? With clusters of lilac flowers, the bush is as fragrant as it is beautiful. The sweet-smelling flowers attract butterflies, bringing even more colors and versatility to your landscape. You'll also find the bush in other colors, but the purple lilacs are the absolute favorites of most gardeners.
Some varieties can grow as tall as 15 feet, while others grow shorter. They're suited for growing zones 3 to 7 and are pretty easy-going when it comes to maintenance. Lilacs do not thrive in hot, humid conditions like in the Southeast so it's best to avoid them if you live in zones 8+.
Plant them in rich, organic, well-drained soil, where they get plenty of afternoon sun. Once the flowering season is over, prune back the bush to encourage blooming for the next season.
Rhododendron
Climate: Zones 5-8 (some can tolerate zone 4)
Scientific name: Rhododendron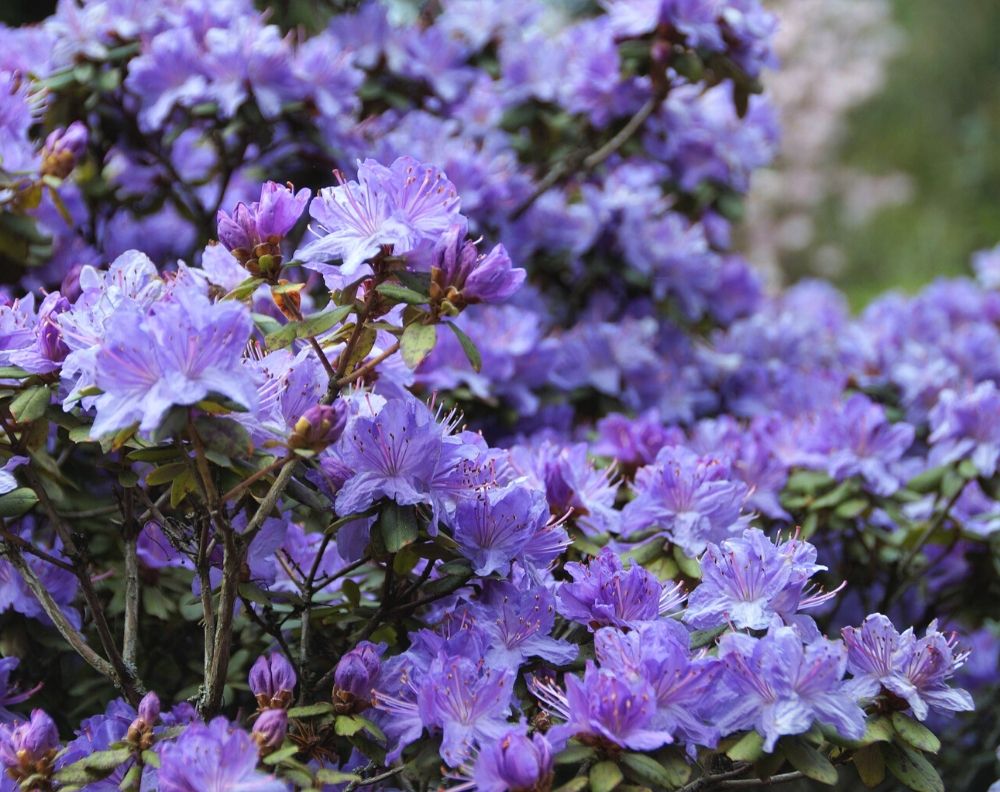 Different varieties of Rhodendrons are available to adorn your garden with purple flowers. Some grow taller, giving the appearance of a tree, while others grow short, more like a bush.
Other than those that provide stunning purple flowers, other flower colors are also available. Purple flower varieties are the most popular, with deeper purple color for the buds, and a lighter hue when the flowers open up. Rhododendron blooms in late spring, but the attraction isn't lost in winters since the foliage stays fresh all year round.
These acid-loving shrubs will grow well in zones 5-8. In cooler zones, plant them where they receive plenty of sun. In warmer zones, make sure they receive afternoon shade. Plant them in well-drained, moist, acidic soil that's rich in organic matter. Because rhododendrons have shallow, fibrous roots, they benefit from mulch to keep their root system from drying out (source).
Wisteria
Climate: Zones 5-9 (Wisteria frutescens), 8-10 (Millettia reticulata), 4-9 (Wisteria floribunda) 5-9 (Wisteria sinensis)
Scientific name: Wisteria frutescens, Millettia reticulata, Wisteria floribunda, Wisteria sinensis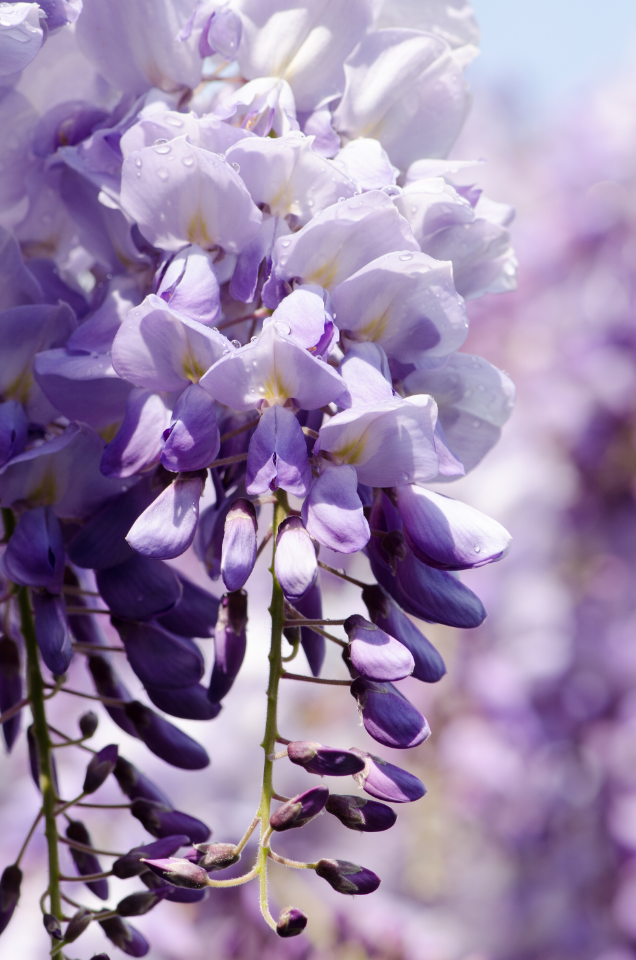 Wisteria is a popular attraction of walkways in the southern regions. The beautiful purple flower clusters hanging down from the roof of these walkways set a picturesque background. The vine, however, can also be trained into a thick bush by pruning it regularly.
There are four types of wisteria that grow in the United States: Wisteria frutescens, Millettia reticulata, Wisteria floribunda, and Wisteria sinensis. Millettia reticulata is not "really" wisteria, but wisteria-like.
Wisteria floribunda and Wisteria sinensis should be avoided in many areas, especially in the South, because they become invasive. Instead, plant Wisteria frutescens or Millettia reticulata. The invasive wisterias can cause damage to native plants. If you have a problem with invasive wisteria, you can learn about invasive vine control.
So-called native wisteria, Wisteria frutescens, has lovely purple blossoms and is far less invasive than imported Asian varieties since it is native to North America. (source)
Grow it in well-drained, fertile soil, a little distance away from neighboring plants, since it grows fast. It prefers slightly acidic to neutral soil and can suffer in alkaline soil. Prune it during the winter season, cutting back around half the plant.
Heather
Climate: Zones 3-6 depending on the variety
Scientific name: Calluna vulgaris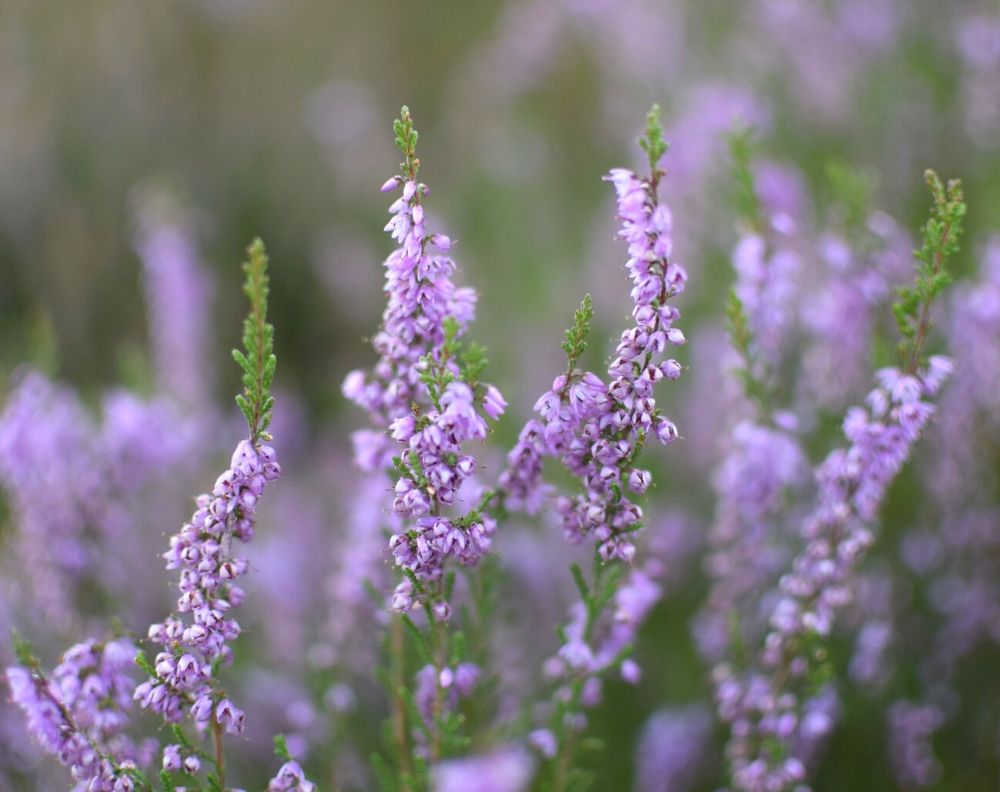 These low-growing shrubs look gorgeous growing along beds, as borders, edges and in pots. They'll produce bundles of purple flowers to enjoy. Different varieties come in various shades of purple flowers. Other colors like pink, white and red are available too.
Flowers appear during mid-summers and stay till mid-fall so your garden can have some attraction for the winter season when there isn't much blooming from the rest of the plants. Heather flowers are full of nectar and can attract pollinators to your garden.
They grow well in zones 4-6 with some varieties that are more cold tolerant. They don't ask for much maintenance. Plant them in acidic soil with good drainage where it gets plenty of sunlight. Many people say you can't grow heather if your soil isn't acidic, you can't grow heather. According to the Heather Society, some varieties will thrive in other soil conditions. Check the Heather Society website for information about various types of heather to see what you can grow in your area.
Other than that, the shrub doesn't mind poor-quality soil and is drought-tolerant once it's fully mature. Young heathers will, however, require regular watering, once or twice a week.
I hope you've enjoyed this collection of beautiful purple bushes and found something to add to your garden!
Flowering Bushes
Would you like a pop of color in your yard? Discover beautiful flowering bushes for every situation, even difficult soil, dry conditions, or high heat.
Discover a variety of yellow flowering shrubs to bring color to your yard! With early bloomers, summer bloomers, and late bloomers, you can add virtually year-round color to your landscape.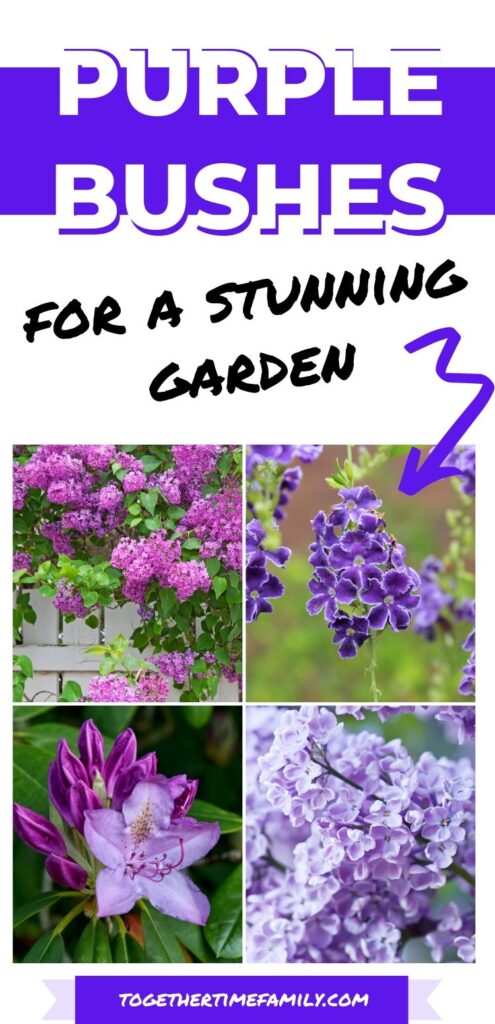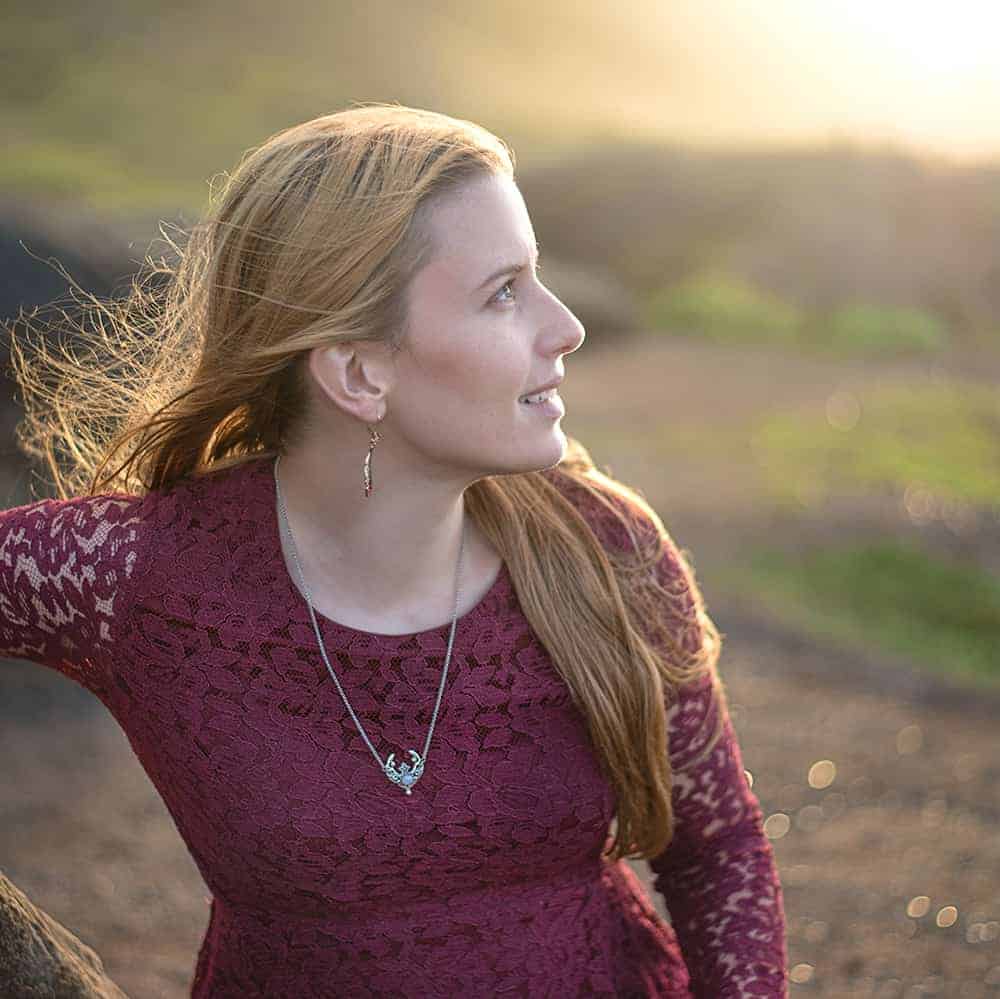 Natasha Garcia-Lopez is an avoid home-gardener and proud owner of 88 acres of land in rural West Virginia. She was a member of the Association for Living History Farms and Agricultural Museums for many years and is currently enrolled in the Oregon State University Master Gardner Short Course program so she can better assist you with your gardening questions.She holds a certificate in natural skincare from the School of Natural Skincare.