Most people think of composting as just throwing trash in a big pile and forgetting about it. If you've ever had a compost pile then you know there is actually a lot of work to be done. As with all other gardening projects, time is everything. The aerators we gathered here are the best on the market to help save you time and get your compost ready sooner. Not only that, we know how hard it is to get on your hands and knees to prep the compost so all of these aerators are ergonomically designed to help keep your back from hurting.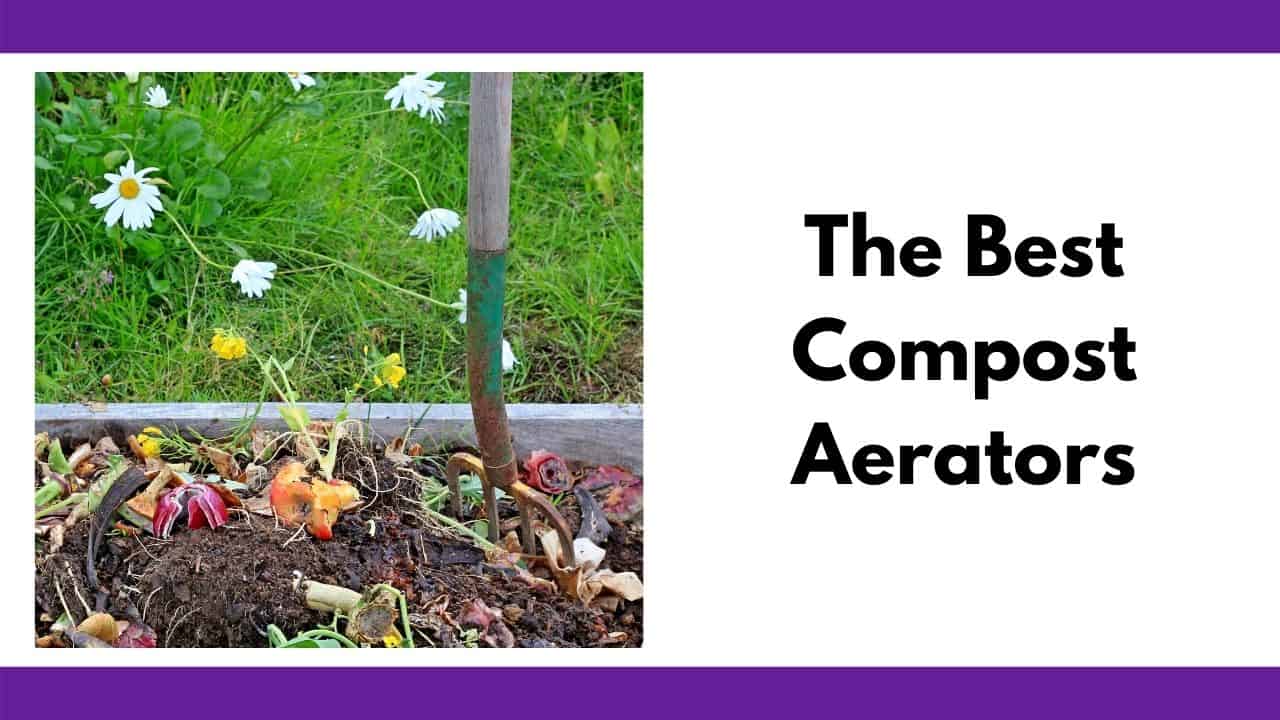 Composting is a rewarding exercise, not only because you are being more eco-friendly, but because you get to use your homemade compost in your garden. There are many ways to compost at home but composting with high quality aerators is key.
A traditional way to aerate your compost is to use a pitchfork. However, this can be very taxing on your back because of the way you have to move the pitchfork. The aerators listed here are of great quality and are also ergonomically designed to save your back.
The best kinds of compost aerators are made of aluminum or treated steel, so as not to rust, have soft handles for a comfortable grip, and are made-well and will not easily break.
Additionally, you'll learn why aeration is important in the decomposition process, and why you want to invest in an aerator tool.
This post includes affiliate links, which means I may earn a commission on purchases made at no additional cost to you.
The Best Compost Aerators
Below is a list of the highest rated, best quality compost aerators on the market! Your best option will always very depending on your needs, but these are the best overall.
Best Corkscrew Aerators
For those compost piles that are lightweight and easier to sift through, you'll only require the strength of a corkscrew aerator. Below are the best, most highly rated corkscrew aerators.
The LoTech corkscrew aerator is the number one DIY aerator tool for lightweight compost piles. It is made in the US from recycled parts, which should ease your eco-concerned mind. This corkscrew aerator is made of stainless steel (rust-free) and has a soft, non-slip grip handle! It is 32" in length and sifts through compost with little effort. This is a relatively inexpensive aerator making it a great value.
LoTech does it again with their 45" inch tall, heavy duty corkscrew aerator tool. The best part of this corkscrew aerator is the double grip handles, which allow for more control and momentum as you sift through your compost pile. While most corkscrew aerators aren't meant for heavy compost, this one can just about compete with a plunger tool.
This LoTech aerator comes with a lifetime guarantee. So, if anything breaks or malfunctions, you can send it in for repairs or replacement for free. If you purchase this tool, you'll likely never have to buy another aerator again.
The Yard Butler auger is a great alternative to manual aeration. Just attach this drill bit onto your electric drill and get to work. This is a great way to involve your tools in the gardening affair.
As this reviewer points out, it does very well at mixing the compost into the soil, "This mixes the compost into the existing soil and provides aeration of the soil too." check out the full review here.
Best Plunger Aerators
For the heavier, wetter compost piles, you'll require a plunger aerator. Luckily, these plunger tools are effective, inexpensive, and reliable!
This high-quality, well made Bosmere plunger aerator is the most ergonomically effective aerating tool you can own. It attacks compost at various levels and angles thanks to its two blades. It is made of a rust-free steel and built with a vinyl grip on the top of the handle, for comfort.
This plunger tool reaches 36" in depth, ideal for your larger compost piles, and it comes with an adjustable handle for both right and left-handed use.
This cost-effective Yard Butler plunger aerator means business. It is 37" long and helps circulate the heaviest of compost piles with relative ease. It comes with soft grips on the handles, is made with steel (non-rusting), and comes with a lifetime warranty!
This long plunger tool and its harpoon like wings is easy to use, comes with frustration-free packaging (hello eco-friendly).
What is a Compost Aerator?
A compost aerator is a tool that serves to sift through and aerate the contents in your compost bin. Using an aerator tool affords you a quicker and cleaner aeration process (as opposed to reaching in with your garden gloves to churn the mix.)
Why Aerate your Compost?
The process of aeration is necessary, whether you use an aerator tool or not, to help your compost decay and transform, and be virtually odor-free. This is especially necessary in hot temperatures. Aeration also assists in reducing any moisture within your compost. Moisture especially leads to rot and strong odors.
Do you Need to Use a Compost Aerator Tool?
If you want to compost quicker, more successfully, and get your hands less dirty, you want to invest in an aerator. The type of aerator you choose depends entirely on the amount of compost and kind of items you are putting in your compost.
Aerator tools are by no means required to compost, there are plenty of compost bins, especially small ones, that do not utilize aerators. We empathize if you are reluctant to add yet another tool to your gardening toolbox. However, compost aerators do make composting significantly easier.
The Two Types of Compost Aerators
Not all compost aerators are made the same. There are two types which we'll go into further detail about: corkscrew and plunger.
Corkscrew
The corkscrew compost aerator functions by attaching to the curled handle of the composter and twisting it clockwise down the pile. In doing this, the compost is pulled from the bottom up to the top, so that it gets thoroughly mixed up and properly aerated. Corkscrew aerators are best for light compost
Plunger
A plunger compost aerator had a pointed pole or stick that poses two different retractable blades.
When the aerator is pushed into the pile, the blades zip through and pull up the compost, to mix it up.
This type of aerator is ideal for heavy composting with a fair amount of dry green refuse. The spikes make a significant difference in the level of ease, as they can more through the toughest of soils.
Other Tools to Use instead of Aerators
If you don't want to purchase a compost aerator, the following tools can be used in their stead:
Pitch Fork
Salad spoons (double sift that compost, baby!)
Hands
Gardening shovels
Metal chopsticks
Thick, short tree branches
What Makes for a Reliable Compost Aerator?
Now that you know of the best compost aerators available to you, here's an investigation into what qualifications are need for an aerator to be considered 'the best,' and most high quality. The type of qualifications you should look for in any aerator are:
Rust Proof – by far one of the most crucial aspects of any tool is that it functions and be long lasting. When you purchase an aerator tool you want it to last you a while. Since some compost can be wet, you want an aerator that won't rust after encountering moisture.
The best types of non-rusting aerators are made with either aluminum or treated steel. Purchasing a rust-proof aerator means you'll get to use the tool for years to come and not have to buy a new aerator every year.
Ergonomic – when wielding a tool meant to make your job easier, make sure to get a tool that is ergonomic and comfortable to use. There is no point in purchasing an aerator tool that hurts to hold. Make sure your aerator comes with comfortable, padded handles. This may not be a concern for everyone, but it's worth taking into consideration!
Made Well – make sure your aerator feels sturdy and of materials not easily broken. Additionally, it doesn't hurt to check and see if your aerator comes with a warranty!
The Key Take Away
The aeration process in composting is crucial and helps prevent foul odors and rot from growing within the compost mix. While you certainly can aerate by hand or using make-shift tools from your garden shed, aerator tools make the process of aeration far easier and cleaner. When looking for the ideal aerator, always consider the thickness, weight, and material make-up of your compost.
If your compost is small and light, invest in a corkscrew aerator.
If your compost is heavy and/or wet, be sure to buy a plunger aerator!
Regardless the type of aerator, make sure the brand you buy is rust-free, ergonomic (easy and comfortable to use) and made by a trustworthy manufacturer that offers a warranty!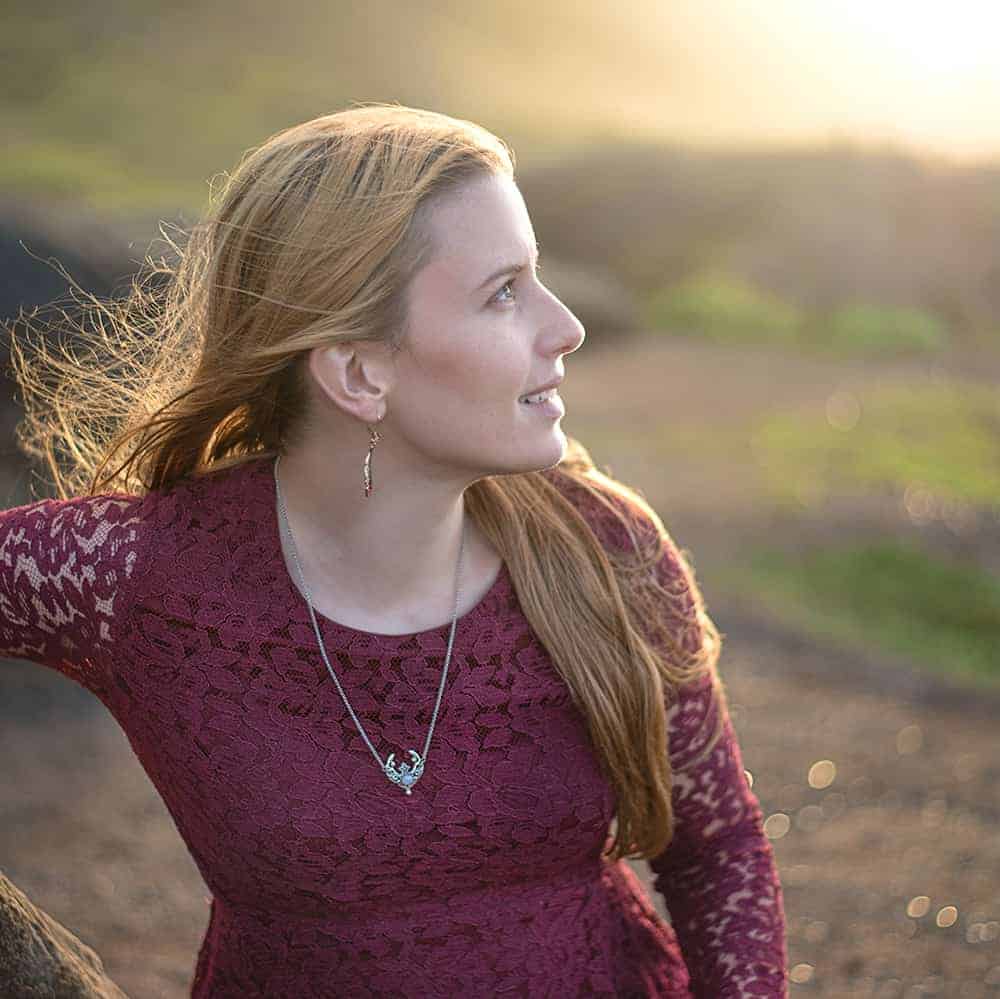 Natasha Garcia-Lopez is an avoid home-gardener and proud owner of 88 acres of land in rural West Virginia. She was a member of the Association for Living History Farms and Agricultural Museums for many years and is currently enrolled in the Oregon State University Master Gardner Short Course program so she can better assist you with your gardening questions.She holds a certificate in natural skincare from the School of Natural Skincare.