Gardening and yard work can be satisfying, but also time-consuming and backbreaking.
At the height of summer, keeping your precious garden watered and healthy can be a major chore if you don't have an irrigation system. Instead of installing an expensive and difficult to maintain sprinkler system, you can save time, money, and backaches by purchasing a high quality soaker hose.
Soaker hoses are a best kept secret of professional gardeners. Soaker hoses give you back time and delivers water exactly where your garden needs it most so you don't waste time, money, or water.
When I first learned about soaker hoses, it was a life changing experience. I was amazed that with some rough planning I could setup a great irrigation system that would not leave my yard or garden a soggy mess without breaking the bank or having to tear up my yard.
Thanks to our research, you can quickly and easily find the best soaker hose for a healthy, perfectly watered lawn or garden.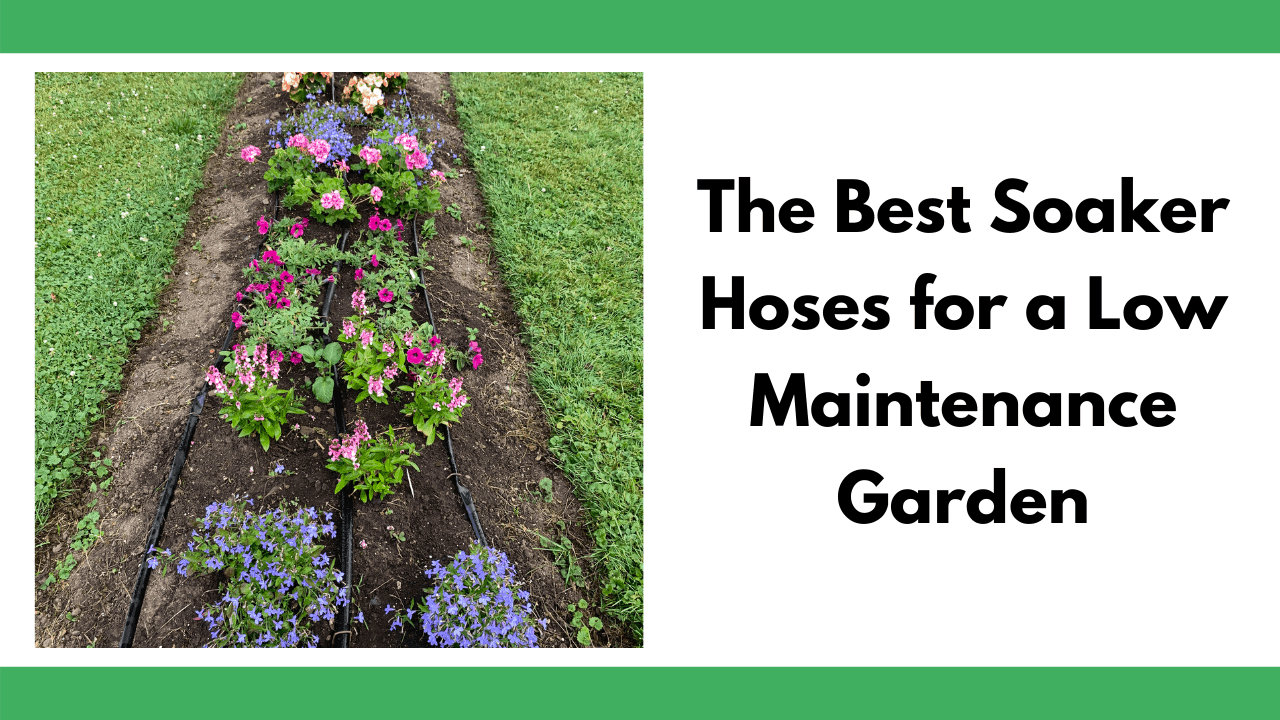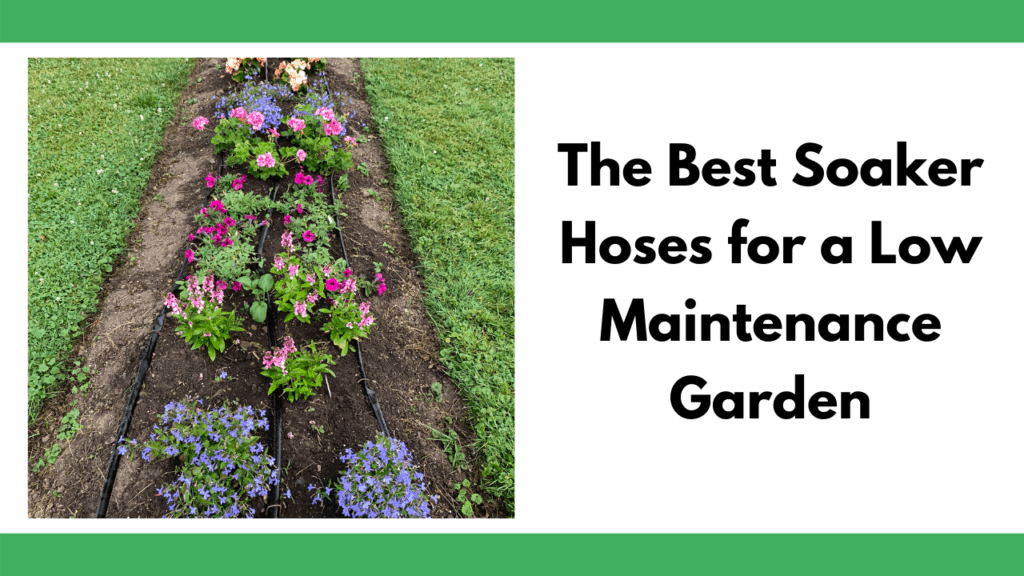 This post includes affiliate links, which means I may earn a commission on purchases made at no additional cost to you.
In a rush? Here are our top picks.
Best Flat Soaker Hose
Rocky Mountain Goods Soaker Hose Flat 50 ft - Heavy Duty Double Layer...
Most Durable
Water Right 700 Series (1/2") Soaker Hose, Drinking Water Safe, 25-Foot,...
Budget Friendly
Dramm 17051 25' ColorStorm 1/2" Standard Soaker Hose
Most Versatile
Swan Products MGSPAK38100CC Miracle-GRO Soaker System Customizable Hose...
Best Tree Soaker Hose
Dramm Corporation 10-17052 Color Storm Tree Soaker Ring, 5-feet,Black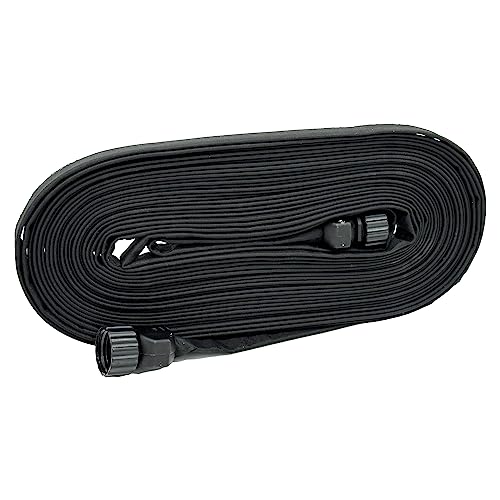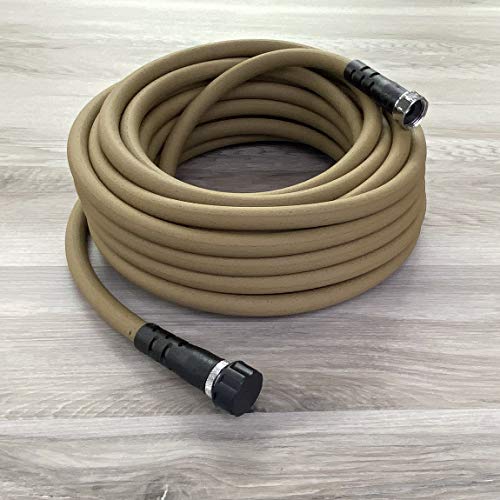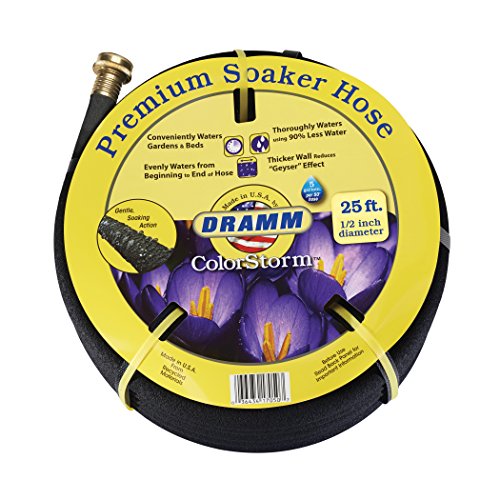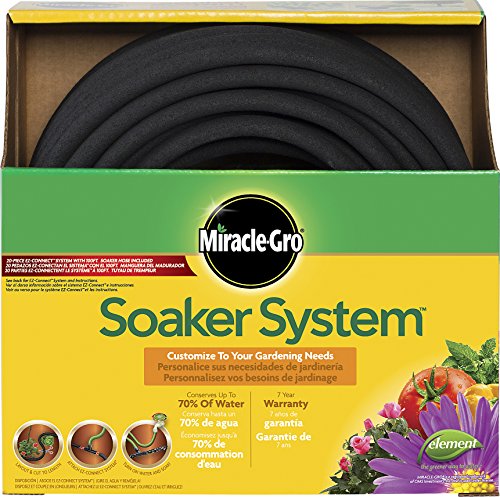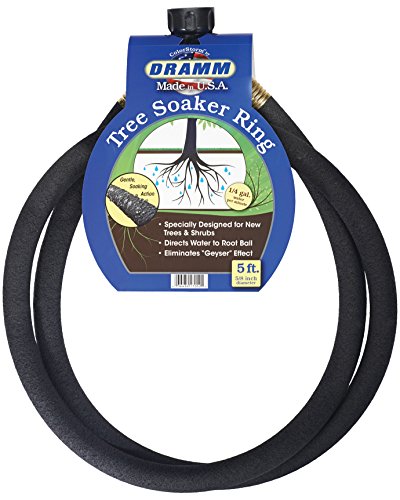 Best Flat Soaker Hose
Rocky Mountain Goods Soaker Hose Flat 50 ft - Heavy Duty Double Layer...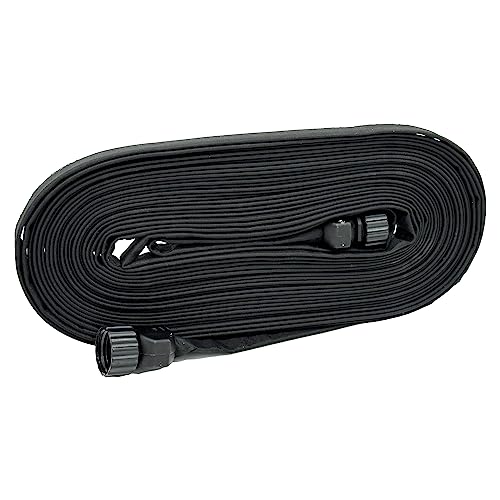 Most Durable
Water Right 700 Series (1/2") Soaker Hose, Drinking Water Safe, 25-Foot,...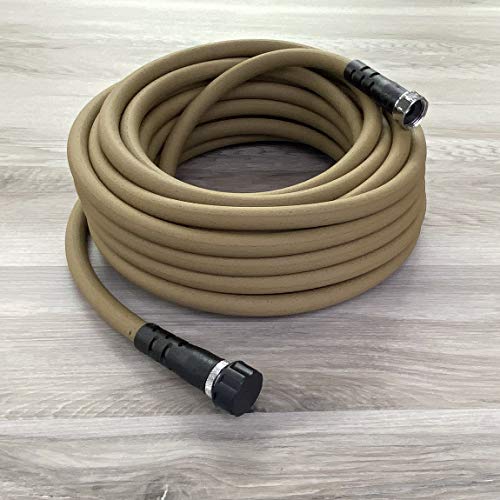 Budget Friendly
Dramm 17051 25' ColorStorm 1/2" Standard Soaker Hose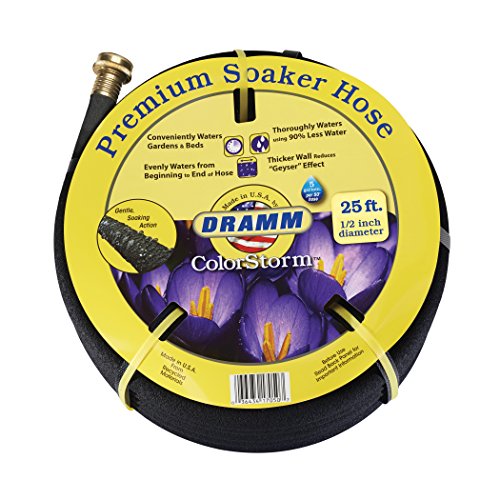 Most Versatile
Swan Products MGSPAK38100CC Miracle-GRO Soaker System Customizable Hose...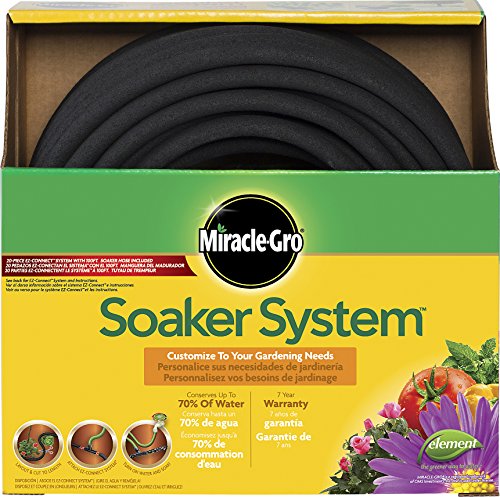 Best Tree Soaker Hose
Dramm Corporation 10-17052 Color Storm Tree Soaker Ring, 5-feet,Black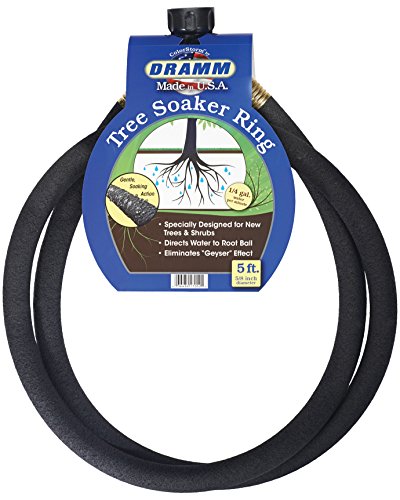 Best Soaker Hoses on the Market
Below are some of the best soaker hoses on the market today. Keep reading to discover which suits your needs best.
The Rocky Mountain Goods flat soaker hose is a great soaker hose for your yard. It is one of the lowest priced soaker hoses but of great quality. The extra strength fabric and PVC liner ensure this hose lasts more than a single season.
Since this hose lays flat, it is super easy to put away after the season is over. Just drain the hose, roll it up, and store it away.
This customer found a great alternative use for their hose, "They keep the ground from drying out around the foundation to avoid foundation repair costs in the future." Read their full review here. Keeping your foundation from cracking is a real problem in some areas. The watering from this hose is gentle but effective.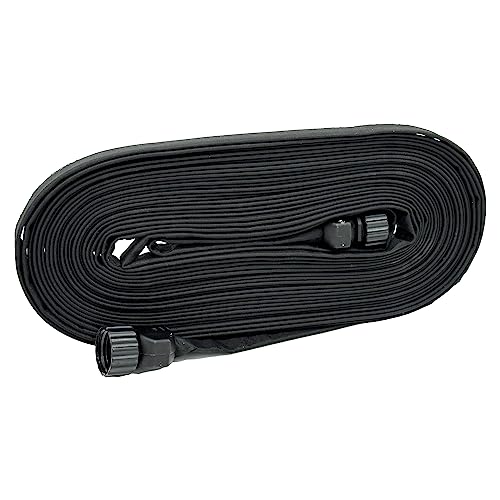 The Water Right polyurethane soaker hose is the most durable soaker hose in the market. It will not deteriorate in the direct sun or even in the ground. This hose will last a lifetime.
One of the greatest benefits of this hose is the BPA free and contains no phthalates. Water your garden with peace of mind, knowing you aren't adding toxins to your dinner.
This customer remarks on the quality of this soaker hose and how it actually saves you money in the long run, "While this item is on the costly side, it is worth it to not have to repeatedly go back into the garden and replace soaker hoses that spring leaks." Check out the full review here.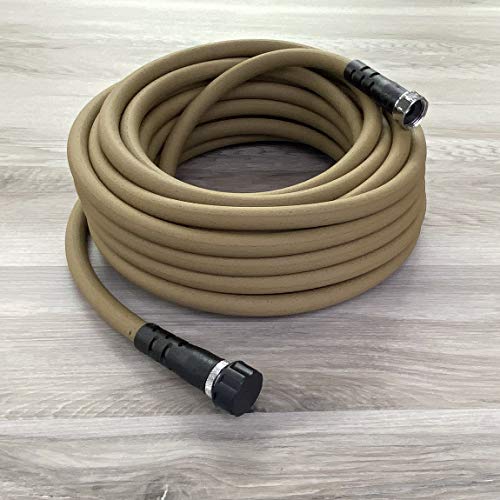 Water Right 700 Series (1/2") Soaker Hose, Drinking Water Safe, 25-Foot,...
Manufactured in the United States using brass fittings, top quality, UV stabilized polyurethane
Specially engineered strain reliefs on both hose ends to prevent hose kink; flexible in all weather conditions, even freezing temperatures
Solid chrome-plated machined lead-free brass fittings are long-lasting and will not tarnish
If the Water Right Polyurethane soaker hose doesn't match your budget the Dramm ColorStorm Soaker Hose is a great alternative. Though this one does not have the incredible durability as a UV stabilized hose, it will still last you several seasons. This soaker hose is made of recycled rubber and also has a lifetime guarantee.
One customer had an issue with their hose but was able to reconcile the problem by replacing the end cap. Here is what they have to say, "Other than the cap, this hose is better than any other hose we have purchased over the past decade. Just make sure you replace the crap cap with a good one, and it will be one of your bestest hoses evah!" Check out the full review here.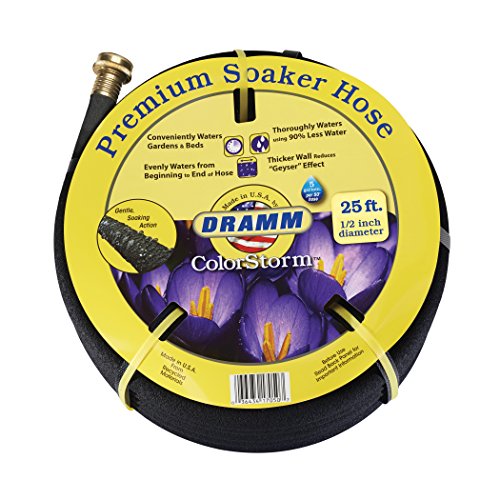 The Miracle-GRO Soaker Hose System is for those gardens needing a little more than just a single soaker hose. This system includes a 50, 75, or 100ft hose and multiple fittings and caps to fully customize your soaker hose pattern.
Keep and eye out on this one. You might find the prices don't quite line up with the lengths. For instance, we've seen the 75ft hose sell for less than the 50ft hose, making it a great deal.
We found one customer who left a fairly detailed review to help preserve the life of your hose. He has some good tips on how to setup your hose such as, "The hose arrives fairly tightly coiled & is stiff. Make sure you roll it out slowly & without kinking onto a flat, sun-drenched lawn or driveway, allow the sun to warm the hose for a couple of hours, to reduce residual tension." Check out the full review here.
Sale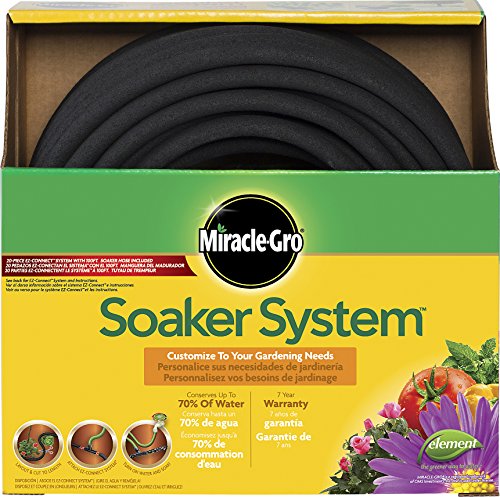 Swan Products MGSPAK38100CC Miracle-GRO Soaker System Customizable Hose...
Releases a range of . 5 to 1 gallon of water per foot while delivering water straight to the roots; Uses 70% less water than standard sprinklers with...
System lies directly under soil or much; Delicate foliage and vegetables stay protected from high pressure water
Meets the lead free standard under the Federal Safe Drinking Water Act; Measures 100' in length and 3/8" diameter: Includes 4 male connectors with...
The Dramm Tree Soaker Ring is great for small to medium sized trees that need more water. Simply place the ring around your tree and turn on the water. There will be no geysers and the water will slowly soak into the ground.
This model does have one big shortcoming, though: the Y-connector does not spin. This means you need to spin the whole hose assembly to connect it to a feeder hose.
This reviewer gave it a 5-star review and provides some great tips such as using a quick connect system, "Once you've got it around your tree it can be a struggle to re-attach the soaker hose end back onto the Y-adapter. Instead, add a Hose Quick Connect to one side of the Y-adapter and to the soaker hose end. That way you can easily open and move the soaker ring" check out the full review here.
If you want to learn more about quick connects, check out our post on quick connects.
Sale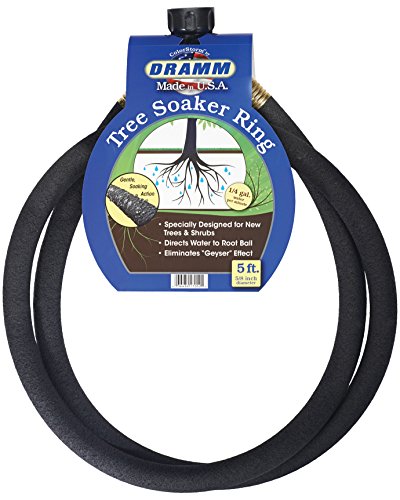 How do soaker hoses work?
Reading up on soaker hoses can leave you feeling confused and frustrated. We're here to help!
There is not a consensus on whether all soaker hoses require a pressure reducer.
Some soaker hoses will claim they can only operate at 10psi but others don't give specific guidance.
Some sources claim you do need a pressure reducer, others say to simply shut the valve till you have a trickle flow.
If you value your time and investment, use this 10 psi pressure reducer to protect your hose and keep it from delivering too much water. It reduces the pressure to exactly 10 psi and keeps your soaker hoses operating at optimal conditions.
Sale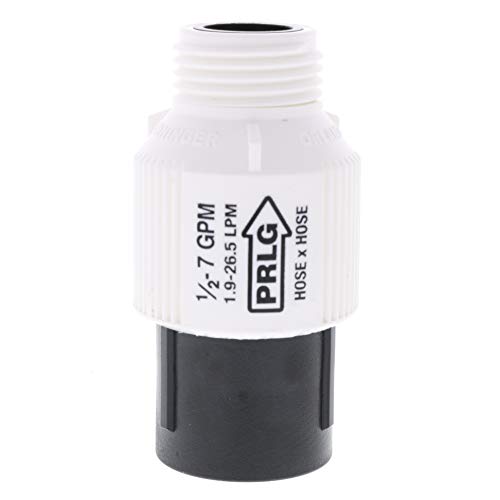 You can also achieve a fairly decent flow rate by just using the valve on your spigot by only opening the hose 1/2 to 3/4 turns. This method is not as precise as a regulator but will work in a pinch.
Soaker hoses are also incredibly beneficial because they deliver water right to the roots. Minimizing water on the plant's leaves promotes a healthy plant and lowers the chances that a fungus will grow on your plant's leaves or stems.
Should I bury my soaker hose?
There are some things to consider before burying your soaker hoses. First, these hoses should no be buried more than 4 inches or so in the ground.
They much pressure on them, especially if you have a flat soaker hose. If you do need to bury the hose deeper than that, you will need a non-collapsible hose or pvc pipe to make the run underground.
Burying a soaker hose is usually done for aesthetic reasons or to prevent tripping hazards. We recommend you clearly mark where you have buried the hose because if you ever decide to dig in the yard you can easily slice into the hose and destroy the hose forever.
Also, be mindful that a buried soaker hose is more likely to rot quicker because of the soil and root damage. Plants will find the water source, wrap their roots around the hose, and even start to grow into the hose.
How long should I run my soaker hose?
You should start with 30 minute watering periods per section of hose. Do this a few times per week depending on your plants and where you live. Test the soil around the hose and see if it penetrated to where you wanted it to water. Adjust accordingly. Do not leave your soaker hose on all night, you will have quite a water bill if you do.
Buying Tips for Soaker Hoses
Flat or Round
Some round soaker hoses have a memory, meaning they are hard to uncoil. You may think you are setting it in a specific location in your yard but come to find out that it has dislodged itself and is no where near where you needed it to be.
Flat soaker hoses do not have the same problem. The material used makes it so the hose stays put as long as there is a bit of mulch or soil on the hose. Test your setup's staying ability by slowly admitting water to your soaker hose and seeing what parts creep away, you'll need to put some more mulch on those parts or use hose stakes. You can also use the stakes to help keep round soaker hoses in place.
Durability wise, round soaker hoses will typically outlive flat soaker hoses. This is because of the difference in materials. Flat soaker hoses are usually made of nylon type materials where round soaker hoses are primarily recycled rubber.
That being said, it is not unheard of to replace your soaker hoses every year. Because they are in contact with the ground, they tend to be on an accelerated path to rotting. And since they work under a constant pressure, you may have significant calcium and mineral deposit from the water which reduces the flow of water delivered.
Thankfully, most of these hoses are fairly inexpensive unless you have an elaborate setup with multiple sections and hoses for your garden.
Length
The desired length of a soaker hose is up to you as a consumer. Depending on the size of your garden you may decide that a short 25-foot hose is all you need. A larger garden may require multiple 100-foot sections to adequately water your garden. Either way, the operation of a 25-foot and a 100-foot soaker hose is exactly the same.
All soaker hoses rely on a certain pressure, roughly 10psi, to work. This ensure a steady flow of water uniformly distributed throughout the entire hose length.
If your hose is not watering uniformly then you may have to do some troubleshooting to find out what the problem is. The issue can be anything from too little or too high water pressure to a clogged hose from dirt or mineral deposits. A rupture in a soaker hose can be terminal for a soaker hose unless you can plug the end of the hose like with the Miracle-GRO soaker hose system.
Final Thoughts
Soaker hoses are an incredible timesaver. Not only do they help keep your plants healthy but, if planned well, can make your garden look immaculate. A well laid out soaker hose setup is the secret to a beautiful and fruitful garden. How will you setup yours?
Angel is a Cuban immigrant who grew up with backyard chickens and a yard-loving abuela. He is our "gear guy" who can never have too many pairs of gloves or weed whacker attachments.