Keeping a well trimmed lawn is a necessity for gardeners and property owners. It's not enough to just mow you lawn and weed eat the edges, lawn edging makes your lawn stand out. But gas lawn edgers are a nuisance and yard maintenance can get pricy.
If you want a pristine lawn but don't want to waste your time looking everywhere for the right lawn edger, it's time you get an electric lawn edger. Take a look at the best rated electric lawn edgers available today to meet your needs.
---
In a rush? Here are our top picks!
This post includes affiliate links, which means I may earn a commission on purchases made at no additional cost to you.
---
If you've ever tried browsing for tools, you may have been struck by analysis paralysis. What features do I need? Is this one worth the extra $27? But my neighbor swears by this other brand!
Studies show that having more options to pick from isn't always better. In fact, increased choices decrease our happiness as buyers. (source)
Picking the best tool can be exhausting, so we're here to help.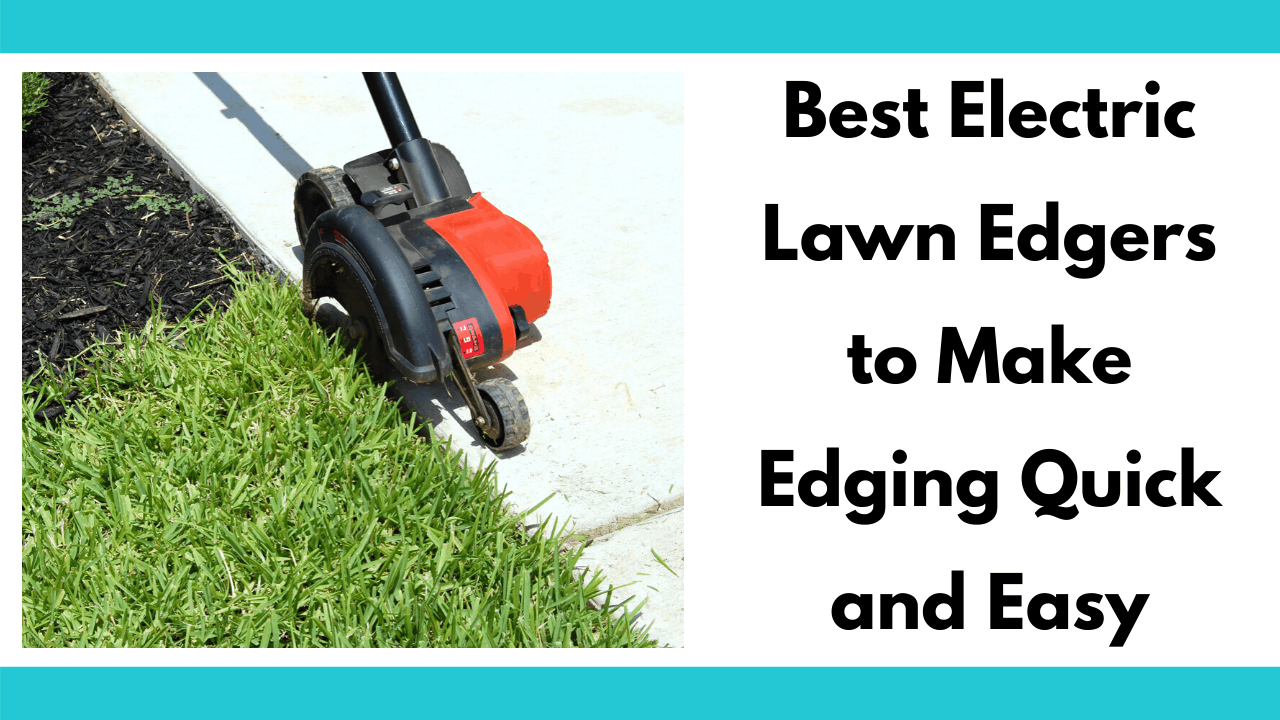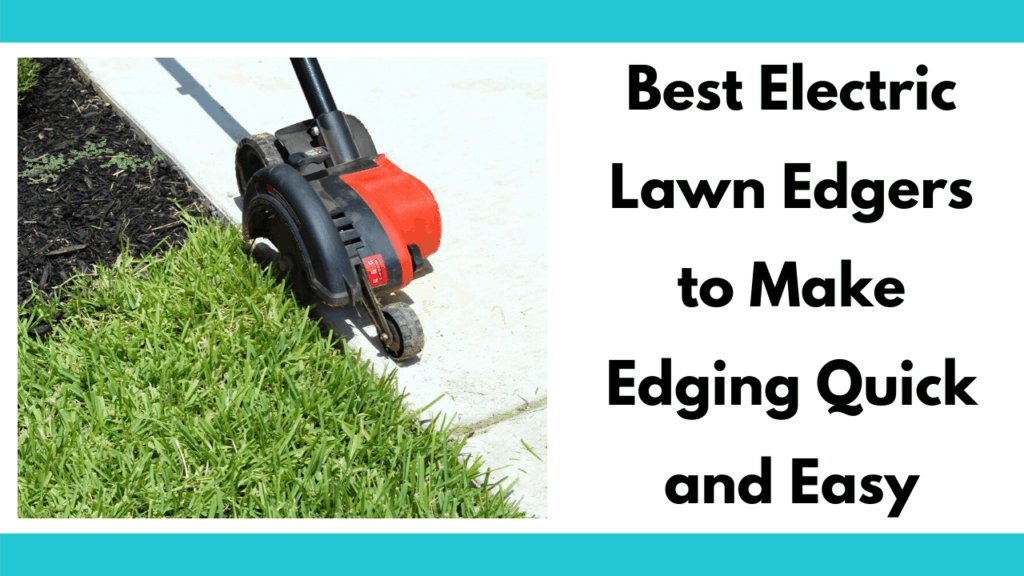 We've done the brute work of slogging through countless reviews and making product comparisons to bring you the five best electric lawn edgers with reviews and a buyer's guide on how to pick the lawn edger. Here are our picks for the best electric lawn edgers around.
WORX WG896 Electric Lawn Edger is a super easy tool to use. Edging your lawn will never be simpler. This corded electric lawn edger allows you to have a perfect edging every time.
The design of the WORX WG896 Electric Lawn Edger is made for repetitive use with the same results. It also has a very easy to use height adjustment in case you are dealing with uneven terrain. The most unique part of this electric lawn edger is the ability to dig a small trench. Want to setup a row of lights in your garden bed, use this trencher to hide the wire.
Here is a very realistic review of this electric lawn edger: "Other than the problem mentioned regarding the unit struggling to make the initial cuts through overgrown, thick grass, the edger does a very good job."
One drawback of this electric lawn edger is the inability to cope with heavy material. There are cautions against using this lawn edger with wet soil because it will overwhelm the machine. Sure enough, there are reviews of people mentioning they had trouble with wet soil and needing to clean out the shroud. Overall, this unit is a great solution for your lawn especially because of the relatively low price point.
EGO Power+ ME0800 8-Inch Edger Attachment is a great tool for edging your lawn. This electric lawn edger will not get bogged down with wet soil or heavy turf. It powers through anything you send its way.
Remember, you will need the EGO Power Head that goes with the attachment. Though it may seem a bit expensive, there are plenty of attachments that can give you an advantage in taming your yard.
The cutting head of this lawn edger allows up to 3 inches in depth making it really easy to deal with uneven terrain or hard to reach areas.
The drawback is the major investment for this system. The attachments are separate from the power head and separate from the battery. If you're curious, check out the prices in the links below. However, this system is very high quality and has many attachments to choose from.
Before you discredit the EGO electric lawn edger as an option, read this review here about a 54 year old lady who's thankful to have it in her arsenal of lawn tools. Here's a small excerpt from her review: "Ego's products, while a little pricey upfront, have made lawn maintenance a breeze and cost-effective long-term."
The Greenworks Pro 80V 8″ Battery Lawn Edger is another great electric lawn edger to add to your tool set. Unlike the EGO lawn edger, this electric lawn edger is a complete unit and is relatively low cost.
As with most of the edgers in this post, it has a sufficiently large blade to take on any lawn. Tough grass is no match for this edger. The 80V battery makes the blade unstoppable even in soggy dirt.
Here is a great review comparing gas powered edgers to this battery powered lawn edger: "These 80v battery powered units are just as powerful as their gasoline powered equivalents." Every yard is different, keep an eye on what maintenance you need to give your yard to keep it looking its best.
The one drawback of this unit is the relatively high price of the battery. However, given that this is equivalent to a market gas powered unit, it's a good deal.
The BLACK+DECKER LSTE525 Battery String Trimmer/Edger is obviously not a single purpose tool. It is true you can use most string trimmers as lawn edgers. However, if it were that easy, lawn edgers wouldn't exist.
This string trimmer is different from others because of the design feature which lets it function as a lawn edger. The guide wheel works great to give you the right amount of control to edge your lawn. In addition, you can easily adjust the depth by pushing the 'string feed' button which automatically lets out string. That's right, no more bumping the string trimmer on the ground for more line.
Going from string trimmer to lawn edger is a breeze too. Simply twist the shaft lock mechanism to adjust the trimmer. You don't even need to hold the trimmer upside down to edge your lawn.
Here is a highly detailed review on this lawn edger: "Battery runs about 20-30 mins (of actual cutting) on the power saving mode, a bit less on power mode." Read the full review for yourself.
The BLACK+DECKER 3-in-1 Lawn Mower, String Trimmer and Edger made our list simply because of it's versatility and uniqueness. Though it's function as a lawn edger is limited to that of a traditional string trimmer; the multi-purpose tool is worth considering.
The amount of time we spend tending our lawns can be daunting to most people. A large part of that time goes to switching between power tools. This 3-in-1 mower, trimmer, and edger reduces that time significantly by making it quick and easy to transition between one and the other.
Similar to the BLACK+DECKER LSTE525 Battery String Trimmer/Edger, the cutting head rotates to give you the right angle needed to trim and edge your lawn. Transitioning to the lawn mower attachment is also a breeze; just snap it in place and adjust the height.
This trimmer proves its value as a multi tool. Here is a great review with a highly informative video of how easy it is to go from one to the other, "It's downright fun to transform it from a string trimmer to a mower and back."
How to pick the best lawn edger for the job
Types of electric lawn edgers
Electric power tools have come a long way in recent years. With more powerful battery technologies and more affordable brushless motors, today's electric tools are no joke.
Electric lawn edgers are ideal for homeowners and gardeners who need to keep their lawns pristine. They're quieter and more pleasant to operate, plus there's no need to mess with special fuel.
There are two types of electric lawn edgers: cordless and corded.
Cordless (battery) electric lawn edgers
Battery operated tools have an immediate advantage over their corded companions because of their portability. However, their drawbacks are quite well known: the battery life itself. Today's batteries are much more powerful than the batteries of yesteryear, but battery life is still a limiting factor.
You need to consider how long your yardwork takes you. Most of the batteries on these lawn edgers last under 1 hour. How long do you think it will take you to fix up your garden? Will you do it often? If you do run out of battery, can the job be done at a later date?
Corded electric lawn edgers
The first thing to consider for electric lawn edgers is accessibility. Do you have a way of getting power from the outlet to the tool? Most of the corded lawn edgers draw under 10 amps so you don't need a super heavy duty gauge extension cord, but you also can't use a lightweight indoor cord. Here are some extension cords to choose from, 12/3 Heavy Duty Outdoor 100 Ft Extension Cord and a Contractor Grade 100 Ft Water Resistant Extension Cord
The drawback is that you won't be as maneuverable as you'd like to be. You'll have to worry about keeping track of the cord, untangling it, and making sure you don't accidentally cut through it. Additionally, you'll be powerless to trim any part of your lawn outside your extension cord's reach. If you have even a moderately sized yard, this can be a problem.
The benefit of a corded lawn edger is that you can work for as long as you'd like, given that you have sufficient time and perhaps string. This means you can afford to edge precisely and be meticulous about your straight lines.
Gas lawn edgers
Because this is a post about electric lawn edgers, we won't be going into depth with gas lawn edgers. Gas lawn edgers are more powerful than electric lawn edgers and can run for hours. They're great for heavy duty, extended use in remote areas. They're also more difficult to use and require a gas/oil mix, not straight gasoline. For most homeowners, an electric lawn edger will do the job just fine.
Cutting depth
What cutting depth blade should I choose? In this situation, bigger isn't always better. Luckily, all the edgers listed here have sufficient cutting depth and are well suited for any yard. Anything larger that 8 inches and the cutting head will just be unwieldy to use.
Weight
It's important to consider the tool's weight. As any parent knows, 10 pounds easily feels like 100 pounds in no time. You should consider that most lawn edging jobs take at least an 30 minutes to complete.
Corded electric lawn edgers weigh around 8 pounds, with most of the weight coming from the cutting head. Battery electric lawn edgers weigh around 15 pounds, yes nearly double that of corded, but with most of the weight being from the battery. Consider how much weight you can manage.
Final Thoughts
It's up to you to choose what best suits your needs. Don't let the brands get to you, they all come and go. Choose the lawn edger which is right for your yard. If you want an all in one tool, then get a multi purpose lawn edger.
I hope our guide has helped you make your choice of which lawn edger is right for you.
Yard Tool Reviews
Are you sick of your old, broken down lawn tools from a yard sale 10 years ago? Discover these yard tool reviews so you can save time and backaches on yard work day with a new, modern tool.
Angel is a Cuban immigrant who grew up with backyard chickens and a yard-loving abuela. He is our "gear guy" who can never have too many pairs of gloves or weed whacker attachments.