Pulling weeds is an unfortunate reality of gardening. Thankfully, there are some really unique tools to make this job easy. They even keep you from getting on your hands and knees. Yep, stand up weed pullers are a thing and they are super cool to use.
This post includes affiliate links, which means I may earn a commission on purchases made at no additional cost to you.
Since using chemical weed removers have been linked to significant health problems (source), it is best to find other alternatives to remove weeds from your yard and garden. This reminds me of the time we had a small garden with some tomato plants growing but they looked sickly and the leaves were dying mid season. Sure enough, our neighbor was spraying Round-Up weed remover and it was blowing over into our yard. Turns out vegetables are very sensitive to chemicals and they were not enjoying the chemical castration.
Using a manual weed removing tool is much more environmentally friendly and your neighbors' gardens will thank you.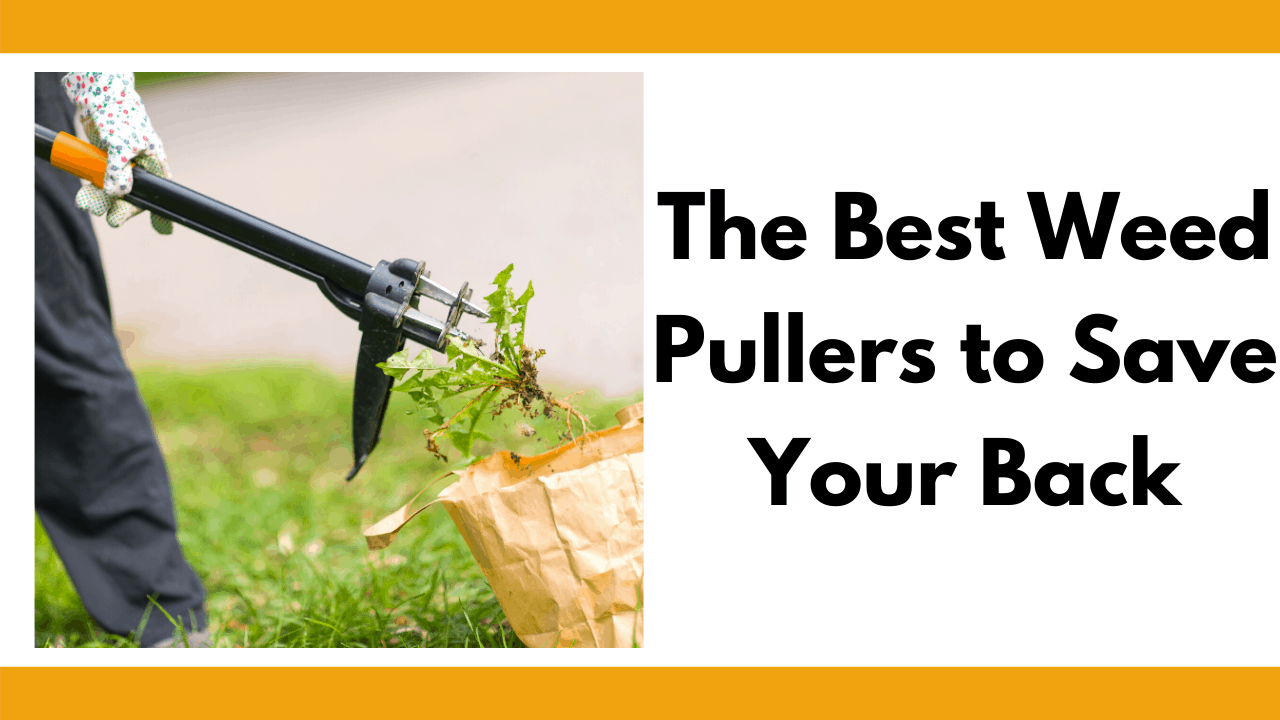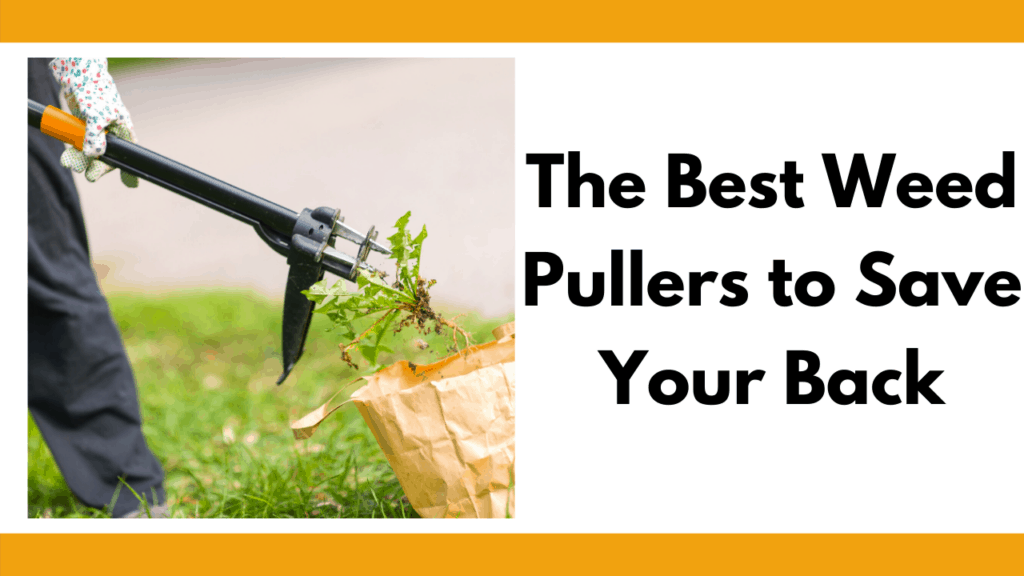 In a rush? Here are our top picks!
Drill Attachment Weed Puller
WeedSpinner Model WS-1 Drill-Powered Weed Removal Tool
Hand Weed Puller
Radius Garden 10211, Ergonomic Aluminum Hand Weeder, Red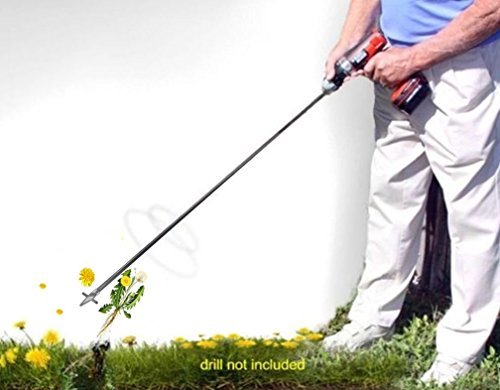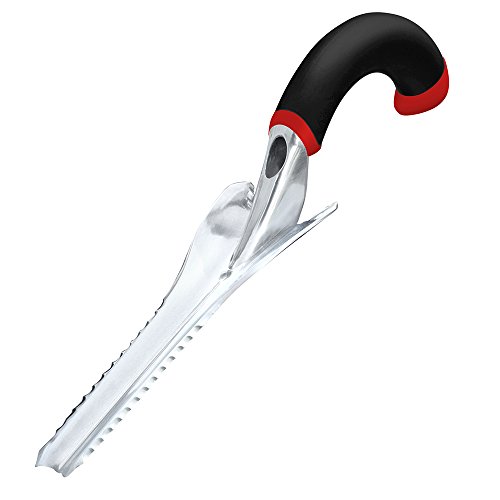 Drill Attachment Weed Puller
WeedSpinner Model WS-1 Drill-Powered Weed Removal Tool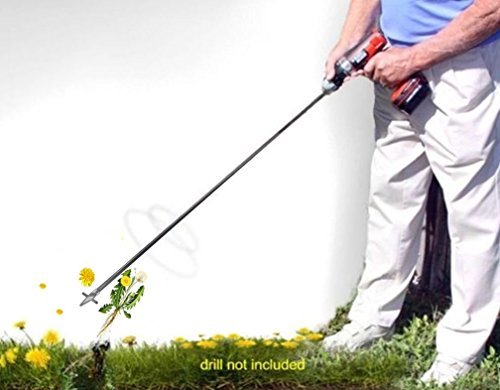 Hand Weed Puller
Radius Garden 10211, Ergonomic Aluminum Hand Weeder, Red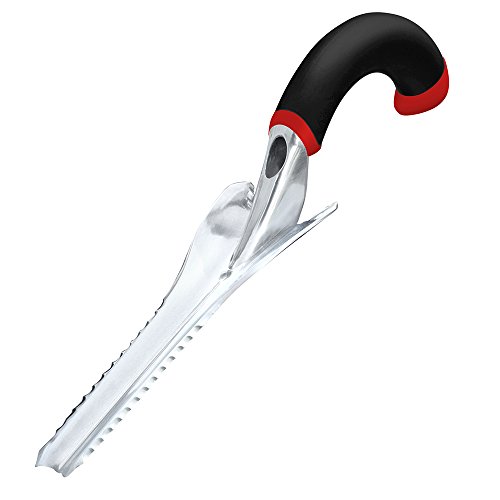 ---
If you've ever tried browsing for garden supplies, you may have been struck by analysis paralysis. What features do I need? Is this one worth the extra $27? But my neighbor swears by this other brand!
Studies show that having more options to pick from isn't always better. In fact, increased choices decrease our happiness as buyers. (source)
Picking the best tools can be exhausting, so we're here to help. Here are the best weed pullers on the market today.
Stand-Up Weed Pullers
Grampa's Weeder is one of the oldest weeders on the market. You would not think that people in 1913 would want a weeder, but apparently, in Seattle, Washington, where it was invented, they did. With a straightforward and simple design that has withstood the lure of automation, the tool has endured ever since and remains a popular choice.
And no age jokes, please. Grandpa's Weeder might be old, but it is tough. Made with a bamboo handle that is 45 inches long, the weeder makes use of a simple lever mechanism in the head that is made of powdered steel. While it only weighs in at a pound, Grampa's Weeder is light but not likely to break easily.
The head of the weeder is a simple device based on the principle of the lever that makes pulling weeds easy. The head is two-pronged, and the lever comes out from the base of the head and is attached to one of the prongs, acting as a support for your foot when it comes time to push Grampa's Weeder into the dirt.
Simply straddle the weed with the prongs and shove them into the ground using your foot against the lever. Then pull the bamboo handle towards the lever when it is level with the ground. The lever works to close the prong around the weed, enabling you to pull it out easily from the dirt.
Sum-up
Grampa's Weeder is stout and tall (total length is fifty inches) and well suited to the rough and tumble world of backyard gardens. While the length may seem a bit much, pretty much anyone who uses it will not have to bend at the back or at the knees, especially someone who is tall.
The other great thing about this weeder is that it is light making it easy to carry, which is surprising given the materials it is made with. You would not think that a sturdy bamboo handle would make the lightest standing weed puller on the market, but it does. Here are a few of the best things about Grampa's Weeder:
Long enough for tall people to use without bending
It has a simple mechanism containing only one moving part, so there are fewer parts to break
Made from durable materials
When it comes to age and experience, Fiskars probably has everyone on the market beat since the Finnish company's origins date back to 1649. Given that they have been making tools for almost four centuries, they have a lot going for them in terms of knowledge. Fiskars has probably seen it all down through the ages.
The proof of this is in their 4-Claw Weeder. Made of an aluminum shaft with plastic working parts and stainless steel claws, the 4-Claw Weeder is one of the best on the market. It is about 39 inches long and weighs in a little over 2 pounds, which makes it heavier than Grampa's Weeder but light enough to tote around your yard.
Fiskars' 4-Claw Weeder works on a similar principle that uses the length of the handle to manipulate a lever device at the base of the weeder, but it has more moving parts that give it a little more functionality and about twice as much grip. It is impressive to see those four claws at work.
You can push the weeder over the weed with your foot on the lever or your hand on the offset grip or both to lessen the strain on either part of your body. When the weeder's claws sink into the ground, the ejection mechanism clicks into place. When you pull the weed out by levering the handle back against the lever, the roots come with it.
Sum-up
Fiskars made this weeder with four serrated claws (hence the name), which gives it more gripping potential. The lever at the base of the weeder moves three of the claws against the fourth, which is stationary, leaving the weed nowhere to run or hide. This, of course, means more moving parts.
The eject mechanism seems to be made of plastic, which always seems more likely to break than metal. But the fact that you have an easy way to release the weed into your bucket or trash can without having to fumble with the long shaft is pretty cool. The following highlights make Fiskars 4-Claw Weeder a good buy:
Use of a simple mechanical principle applied to a few more moving parts
The offset handle makes gripping easier
Really cool ejection function makes removing weeds from the weeder easy
Worth Garden is a Chinese company that has recently expanded to provide gardening tools to a worldwide market. With quality manufacturing, Worth Garden has made a weeder with a long name but great results. It has some drawbacks, but it nevertheless is a strong contender in the stand-up weeder market.
The Stand-Up Weeder and Root Removal Tool is plated with zinc to protect against rust, this weeder looks a little like a medical-grade cane. It is cleanly designed and appears stout enough to help with your balance in addition to your weeds.
In terms of grip, Worth Garden's weeder has a narrow head with an amazing five steel claws for gripping obnoxious weeds out of the soil. The narrow head comes with the advantage of being able to slip into modest cracks between paving stones, giving it a slight functional advantage in this area over other products.
Worth Garden also gave their tool an ejection mechanism. When you press the weeder into the ground using the handle and stable foot pedal, the claws close around the weed, and the stick-shift style handle pushes up from the top of the weeder. Then, it is simply a matter of holding the weeder over your trash can and pushing the handle in.
Sum-up
The Worth Garden Stand-Up Weeder and Root Removal Tool comes with an advantage that also creates another drawback. You can get the head of the weeder into smaller spaces, but that means you will have more trouble getting the narrow head around larger weeds. This is something to consider if your yard is prone to weeds like thistles.
Also, at 33 inches, the weeder is not as easy for tall people to use. Nevertheless, Worth Garden has made a great tool that is sturdy (if a tad on the heavy side) and easy to use. Here are the highlights:
All steel construction makes the Worth Garden Weeder very durable
The handle of the cane-like construction is padded for easy gripping
The ejection mechanism is simple and easy to manipulate
Sale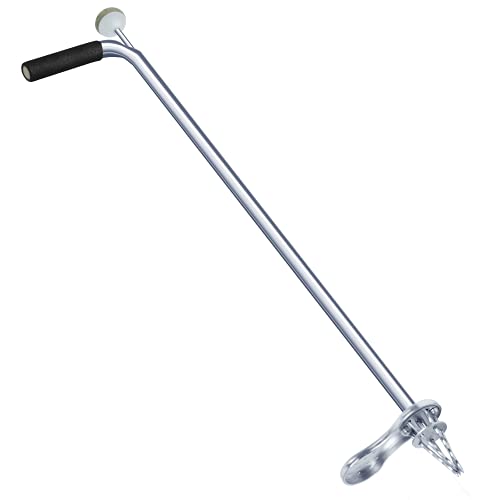 Worth Garden 34 Inch Long Handle 5 Claws Comfort Foam Grip Anti-Rust Steel...
STANDUP WEEDING TOOL FOR A BETTER GARDENING EXPERIENCE- Get rid of weeds without risking your back with this long handled weeding tool. The 34" tall...
POINTED 5-CLAW DESIGN SUITABLE FOR DIFFERENT SOIL TYPES - The pointed claw is specially designed to make it easier to remove weeds no matter what kind...
DURABLE AND LONG LASTING MATERIALS - This weed removing tool is made from durable steel that can withstand your weight when you step on the foot...
Garden Weasel has been selling bright red gardening tools since it was discovered at a trade show in Germany in 1974. Their tools are shiny and ergonomic, and the Step and Twist Hand Weeder is no exception. While some weeders work on the principle of the lever, this weeder works on the principle of the twist (not the dance) motion.
The Step and Twist Weeder looks a lot like an industry-grade water main shut-off tool. It is about 38 inches long in total and has a t-shaped handle at the top. At the bottom, a foot pedal sticks out above the two claws, which curve on either side of a smaller plunger. As you may have guessed from the description, the operation is pretty simple.
You simply place the tool over a weed, then push and stomp the tool into the ground. As it goes in, the plunger depresses, engaging the ejection mechanism. Once the head of the tool is buried around the weed, you grip the t-shaped handle on top and twist it. You will see the weed moving with the tool as its roots disengage from the dirt.
At that point, pull the weed out of the ground and hold it over your trash can pressing the simple button at the top of the handle to eject the weed into the can. The tool is made of carbon steel, and it is extremely durable if also being a tad heavy at about two and a half pounds. But with a simple twist and shout, removing weeds is easy.
Sum-up
The Garden Weasel Step and Twist Hand Weeder is a simple tool to use but may have a drawback with its twisting motion. As a general rule, a lever is easy on the body to manipulate that a twisting motion. So if you have arthritic hands or back, the twist method of removing weeds may not be the best for you.
That said, if you simply want to avoid bending over or being on your knees for an extended period of time, the Step and Twist Weeder is a great option. The highlights are:
A minimum of moving (and possibly breakable) parts
Easy to use ejection button
Sturdy carbon steel construction
A longer handle means it is easier for tall people to use
Fiskars makes another model of a weeder, the 3-Claw version that is like a younger sibling to the 4-Claw. It does the same work but with fewer moving parts and a more streamlined design.
The 3-Claw has (you guessed it) three stainless steel claws that are coated and rust-resistant, so they can endure season after season. Other than that, it works very similarly to the model with four claws, though it may take a little more practice to figure out the best balance of the three claws as opposed to four, which are more intuitive.
The foot pedal helps you get the weeder fully into the ground, and it also houses the lever mechanism that engages the three claws. So, when you pull the handle back towards you, the lever engages, and the three claws grab the weed, roots and all, allowing you to pull it out of the ground.
Sum-up
The Fiskars 3-Claw Weeder has a similar ejection mechanism to the 4-Claw model, which is in the handle, but the moving parts of it, as well as the foot pedal, are plastic. It seems like they would be more prone to breaking than if they were made of some kind of steel like the serrated claws.
The handle is straight rather than curved like a handle grip, so it does not seem as ergonomic as the 4-Claw model. Also, at close to three pounds, the 3-Claw weeder is oddly heavier than the 4-Claw weeder. All the same, here are some great highlights:
The 3-Claw is about 39 inches long, making it usable by tall people
The ejection mechanism is easily accessed on the handle
The claws are serrated, giving them good gripping power
Sale

Fiskars 3 Claw Garden Weeder
Ideal for permanently removing dandelions, thistles and other invasive weeds without multiple applications harsh, costly herbicide
Long handle eliminates sore knees from kneeling and back ache from bending and stooping
Three serrated, stainless-steel claws firmly grab weeds and roots for permanent removal
The Homes Garden Stand-Up Weeder is very similar to the Worth Garden Stand-Up Weeder and Root Removal Tool in almost all respects. Homes Garden has made a tool of powder-coated steel to be rust-resistant and durable, and it utilizes five thin prongs or claws to grab the weed and pull it out with the roots.
The Homes Garden tool also has a similar ejection mechanism in the form of a stick-shift-style handle at the top of the tool. It engages when you press the tool into the ground, moving inside the tool as the claws grip the weed, and it releases when you push the handle into the tool.
The Homes Garden Stand-Up Weeder is also shaped somewhat like a cane with a padded handle and a foot pedal to make pushing into the ground easier. It does have some differences, though, one of which is significant. It is black instead of silver, but the significant difference is that it is longer, coming in at 37 inches.
Sum-up
In its length, Homes Garden's tool makes a significant improvement over the one made by Worth Graden. Tall people are more likely to be able to use it comfortably. But it also carries the limitations of the design. Namely, the head is narrow, which means that it may not be as effective at gripping and removing large weeds.
That said, it is still able to get into tight spaces like the Worth Garden Weeder, and it has a durable construction. So the highlights are:
Usable by tall people
It weighs less than two pounds, so it is easy to tote around
Black looks snazzier than medical-cane-style silver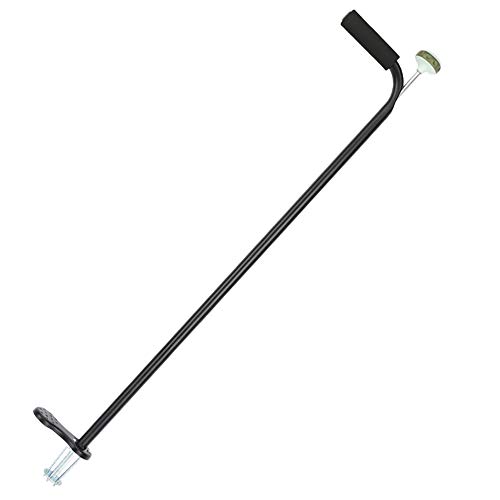 Solution4Patio Homes Garden Upgrade Stand-Up Weeder 37" Long Handle No Bend...
👍 NO BEND OVER WEED REMOVER - Save time and your back with this effective garden root puller tool to remove weeds without causing pollution, which...
👍 5-STRONGER SPIRAL NAILS - The pointed claw is specially designed to make it easier to remove weeds no matter what kind of soil they grow on, and...
👍 STURDY AND LIGHTWIGHT - This weed removing tool is made from durable high strength steel with powder coated. No rust and bend-proof. Built with a...
Drill Attachment Weed Pullers
One of the disadvantages of the Garden Weasel tool was its use of the twisting motion as it relates it possibly being harder on some users' bodies. But WeedSpinner has taken this style of weed removal and given it a different twist. The Model WS-1 utilizes an electric or cordless drill to create the twisting motion.
The WeedSpinner Model WS-1 is really an attachment more than it is a tool in and of itself. The WeedSpinner works with any drill and is about 35 inches long, weighing in at just under 1 pound. It connects to the drill as any other drill bit would, and it works much the same way. Engage the drill forward and squeeze the trigger.
The business end of the attachment is shaped like a drill bit but with a couple of short prongs coming out the side of the bit. Once you have it attached to your drill, you simply put it against the weed and drill into it. The "bit" end of it drills out the weed and root, much like it would drill out wood or drywall.
Sum-up
While the WeedSpiner Model WS-1 is a clever idea and works well as far as it goes, it does have a drawback to it. The WeedSpinner more or less chops or decimates the weed. It has no way to eject the weed into a trash can because it never grips the weed, and anyway, there is nothing much left of the weed to grip when the drilling is done.
But you still have the remains of the weed left in your yard. So while the WeedSpinner saves you from bending down to remove the weed (which is great), you still have to bend down to pick it up, even employing a rake to clean up the mess if you have had to remove several weeds from your yard.
All in all, that is still not the worst thing you might have to do when removing weeds, so the WeedSpinner might be a great attachment for those who like their tools to be automated and maybe with a gimmicky flair. The highlights are:
Adding your drill to the length of the attachment makes it over 40 inches long
Lightweight even when combined with your drill, so it is easy to carry
It takes hardly any effort to use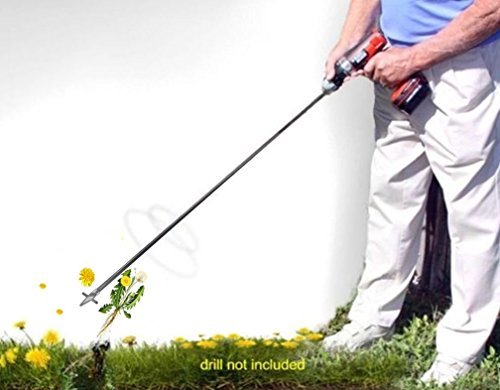 Manual Hand Tool Weed Pullers
Up until this point, we have focused on weeders that you can use while standing. But some people can get down on the ground easily enough. It is their hands that need the help. For those people, there are many hand weeders available for them to use. Enter the Radius Garden Ergonomic Aluminum Hand Weeder.
This modern-looking tool is made of die-cast aluminum, which keeps it rust-free and sturdy. Its blade is long and serrated and looks faintly like the serrated bill of some prehistoric animal. But in this case, it is your weapon against weeds, and it reaches way down to dig up the roots.
The tool's long serrated edges function well in any soil type and are able to slide into cracks and small areas where other tools may not be able to do so. The handle of the tool is curved and long, providing different angles of leverage against a particularly tenacious weed, and the handle is also cushioned for a comfortable grip.
Sum-up
The Radius Garden Ergonomic Aluminum Hand Weeder is a simply designed but highly functional weeder that tackles multiple situations while maintaining a sturdy blade and giving you a comfortable grip. It does not give assistance in pulling the weed out of the ground, the assumption being that the serrated edges cut the weed-free.
As a hand weeder, the other drawback is that, no matter how durable the material is, the thin blade is prone to breaking when a lot of pressure is exerted on it, like if it gets wedged against something that will not move. So be careful. The highlights are:
Great curved handle for support and leverage
A long, thin blade that can be maneuvered into tight areas
Serrated edges work in even difficult soil types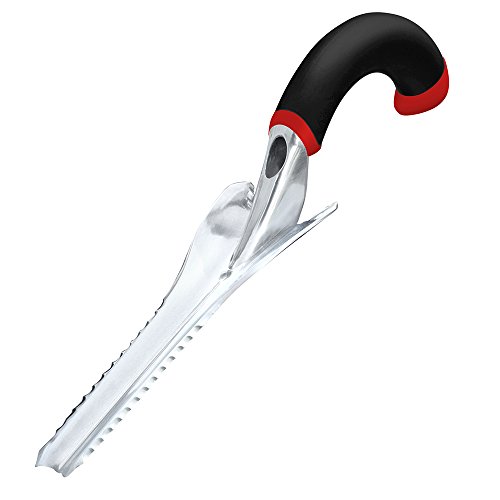 Radius Garden 10211, Ergonomic Aluminum Hand Weeder, Red
Award-winning ergonomic garden weeder with unique, patented blade designed for optimal performance in all soil conditions
Serrated, reinforced aluminum blade slides through compacted roots and earth; ultra-lightweight, stronger than Steel and will never rust
Ergonomic natural radius grip provides extra leverage and reduces hand and wrist stress
If the Radius Garden tool lacks an assist, the Edward Tools Weeding Tool has it built-in. The Weeding Tool is made of stainless steel that will not rust or break. It looks like a long thin dinner fork with a curved piece of metal that looks like a cutlass guard welded to the tool.
That cutlass guard is your assist. Its curve and its width provide a stable fulcrum on which to leverage out the weed. The end of the tool has two sharp and narrow prongs that can easily pierce the dirt and dig into the roots of the weed. Once you have the weed between the two fork-like prongs, you can use the assist to remove the weed.
The handle of the tool is wood but has a cushioned grip on the bottom of the handle. This gives it a classy and durable look while providing the comfort you need for stiff or achy hands. With easy storage and great leverage against weeds, this tool is perfect for those who can get down on their knees.
Sum-up
This is a great hand tool that gives you the assist you need for getting tough weeds out when you are on your hands and knees. The sturdy stainless steel is durable and will last a long time without rusting when stored in the garden shed. The only drawback is the prongs are not quite narrow enough for smaller weeds.
Once again, the principle of the lever saves the day. The Edward Tools Weeding Tool is a great application of it with these highlights:
Stainless steel
Cushioned wood handle
Sharp prongs for digging into the dirt
Wide, curved metal for bracing in the dirt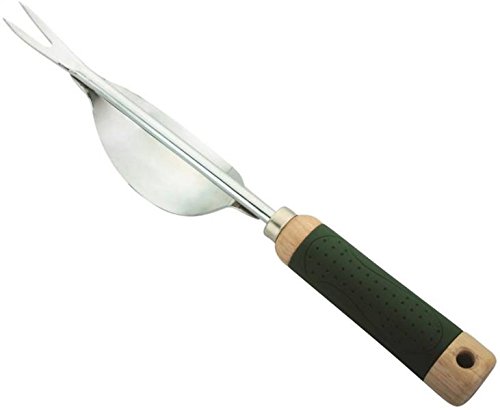 Edward Tools Weeding Tool - Leverage Metal Base Creates Perfect Angle for...
Leverage metal base makes this the most productive lawn weeding tool on the market - Rest the curved metal base on the grass and use the lever action...
Deep V nose design - while other weed pullers have short tips, this dandelion weeder is able to dig deeper and remove the deepest of roots making sure...
Lifetime warranty - Rust proof stainless steel with solid wood handle and a no questions asked lifetime warranty
If one weeder is not enough for your needs, then you can have four with the Kotto four-pack of hand weeder tools. This set includes three different types of weed pullers along with a short hoe that is perfect for digging up small areas for plants and seeds.
The tools are constructed with a combination of stainless steel and die-cast aluminum depending on the tool, and they have wooden handles except for one, which has a black plastic handle. The approach here is not to have one tool to fit all your wedding needs and situations, but a collection of tools for different weeds.
One tool is a weed puller that has a curved piece of metal welded to the short, straight shaft that acts as a fulcrum to assist you in pulling up weeds. The tool has long fork-like prongs spaced somewhat widely apart compared to the other weeding tool with a bent shaft that utilizes the same principle but with shorter, narrower prongs.
A third weed puller has a long shaft with short, shallow prongs in a "V" shape at the end. All these tools can be used for different weeds and in different situations, depending on what you need. Maybe you just need to get into the dirt to dig up a small weed, or maybe you need different kinds of leverage to help you.
Sum-up
Its diversity could be its problem. There are a lot of tools to choose from, which means a lot of tools that you could potentially lose track of. The nice thing is that Kotto has put the tools together in a black case with yellow trim that zips up easy. With a durable case to return the tools to, it is easier to keep track of them.
The one significant drawback is that the tools have wooden handles except for one that looks like it has a comfortable grip on the plastic handle. This means they do not have the ergonomic features of some of the other hand tools that this article has discussed, but they do have these highlights:
Black, zipper sealed carrying case
A variety of tools for a variety of situations
Sturdy construction
Includes a small hoe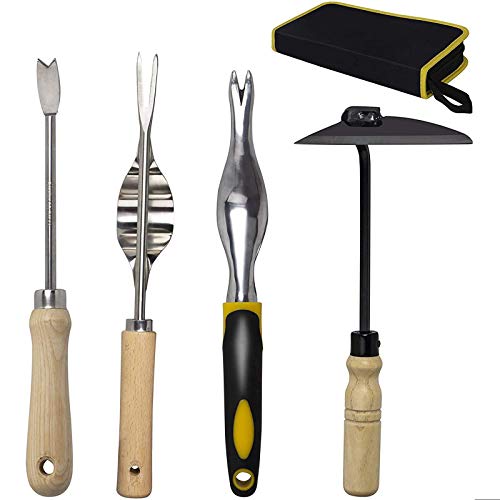 KOTTO 4 Pack Set Hand Weeder Tool, Garden Weeding Tools with Ergonomic...
Weatherproofed, wood handle for greater durability. In accordance with the mechanical principle of uprooting.
Adopt high quality stainless steel material, the hardenability of the fork is very good. Ergonomic design for comfort. Key Product Features
Suitable for the weeding in family garden, small garden and lawn, etc.
Weed Puller Buyer's Guide
How to Use a Weed Puller
Using any of these weed pullers is fairly self explanatory. The general idea is to position the prong of the weed puller around the weed itself and then engage the closing mechanism to grip the weed. Pulling the weed out at an angle is usually required to keep a good grip on the weed.
Some weed pullers are attached to your drill such as this weed spinner. In this case, the drill will be your motive force to pull the weed out of the ground.
In all instances, there are plenty of videos on Amazon and Youtube to help you get started.
Things to Consider
Ergonomics
Gardening can usually mean getting on your hands and knees a lot; check out our post on best garden kneelers. So when you find a tool which allows you to do the work without kneeling, it is a blessing. The most comfortable weed pullers are those with long handles and allow you to do all the work while standing upright.
Some of the hand tool style weed pullers can be useful for very fine weed removal but you'll usually be able to get the job done with a stand up weed puller.
Size
The down side to stand up weed pullers are the size of the tool. If you are going to go out and weed that will be your only focus with these tools because it will be too awkward to carry anything else with you unless you have a good garden cart; check out our post on the best garden carts.
Small hand tools allow you to multitask. If you are out fixing your soaker hoses and come across a weed which needs removing, then the hand tools will be a great thing to have if you can manage to bring it with you.
Final Thoughts
Weed puller's an environmentally friendly tool to have. Chemical weed removers tend to do more damage than good, not just to your garden but to your neighbors' gardens too.
As always, the choice is yours on what weed puller you get. Try not to be lured by fancy brands and focus more on what your specific needs are. Solving your problems should be your primary focus. I hope you now feel confident in purchasing your next weed puller.
Angel is a Cuban immigrant who grew up with backyard chickens and a yard-loving abuela. He is our "gear guy" who can never have too many pairs of gloves or weed whacker attachments.