A garden cart is a classic, indispensable garden tool.
Unfortunately, a cheap, flimsy, or frustrating cart feels like it creates more problems than it solves.
A good, sturdy garden cart can save your back and arms. It makes carrying tools easier, protects your clothing, and saves you time while you tend your garden. Read on to discover the best garden carts!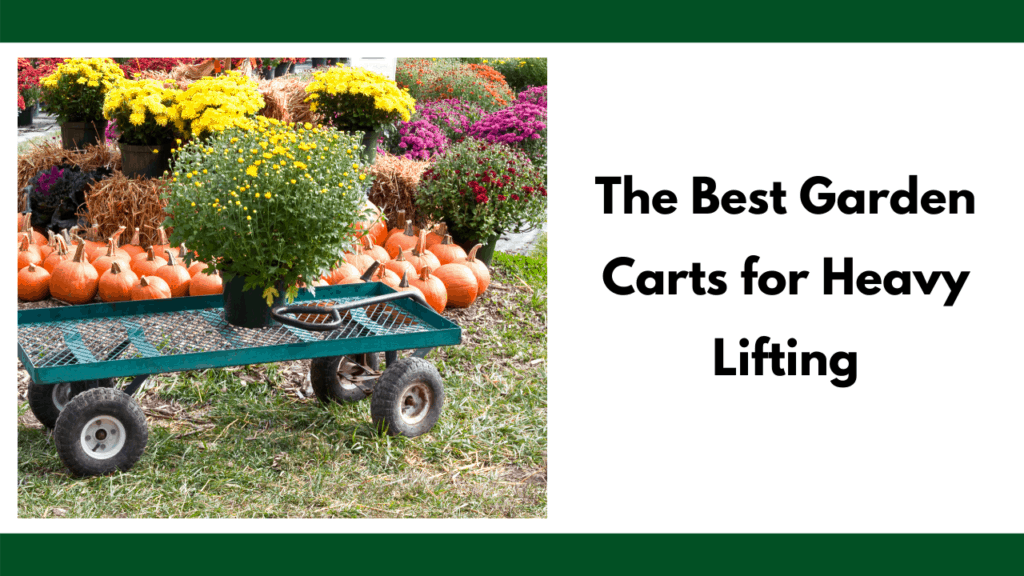 This post includes affiliate links, which means I may earn a commission on purchases made at no additional cost to you.
In a rush? Here are our top picks.
Here are some of the best garden carts available on the market today.
Steel Garden Carts
Most steel garden carts are made for really rough terrain and heavy lifting. The metal construction offers a stable base but it can also mean your cargo can get easily damaged.
A steel garden cart is not one you want to let your toddler ride in. The bumpy ride can make for a very painful excursion. This is really the heavy duty cart you use for those tough gardening jobs.
The Sunnydaze Utility Steel Dump Garden Cart is an incredibly versatile cart. Whatever you need around the yard it can haul. Be it logs, sticks, loose leaves, dirt, produce, plywood, construction materials, it can carry it all. The secret is a sturdy inner liner and removable side panels.
Plus, this cart can be dumped so you can haul pine straw or anything you need moved to another location.
Assembling the cart can be a bit of a challenge but there's a great video on the product page. Go check it out here.
As this customer claims, "Once you get it together, the cart is strong and sturdy, so the result is worth the effort. I would buy it again." Check out their full review here.
The Gorilla Steel Garden Cart is a workhorse. Your garden and yard needs a sturdy cart, the Gorilla garden cart is there to deliver anything you need. The pneumatic tires and 400 pound weight capacity make it a clear choice for your garden.
Plus, assembling this cart is a breeze. Where other steel carts fall short is on providing clear and easy to follow instructions. There's a reason why this is listed as Amazon's Choice pick.
Gorilla made it super easy to assemble with clearly numbered steps, "When you get yours, you'll see the easy-to-follow assembly instructions with the parts are numbered in sets, in steps, shrink wrapped onto an easy to access card. I am a 65-year-old woman who put it together within 45 minutes, alone." Check out this customer's experience here.
As with all mass produced items, there will be some quality control problems. Some customers experienced tires which wouldn't inflate properly, rusty frames, and poor axle construction. These poor experiences are few and far between but if you do run into this situation you can easily get in touch with the company and ask about the 1-year warranty.
Poly Dump Carts
Poly dump carts are incredibly handy to have around the garden. They're perfect for carrying sticks, rocks, soil, compost, tools, and even plants.
The major downside to these types of carts is that the poly liner can get scratched. Bricks and stones will scratch it, sharp objects also don't play well with this style of garden cart. However, you'll have a hard time completely destroying the liner. This damage is just cosmetic.
The great part of these carts is how easy they are to clean. Just hose them off and you are all done.
Gorilla Carts seem to dominate the garden cart market. Their products have hundreds more reviews and are competitively priced. Are they really that good? Yes! These carts are incredibly sturdy and able to do your heavy hauling.
This Gorilla Cart model is one we personally use.
We put this cart through the wringer. Our farm has plenty of hills, rocks, and lots of roots. The terrain is incredibly uneven but the Gorilla Carts come through as winners. The thick tires don't get bogged down with mud or snow. The thick plastic is resistant to all sorts of poor treatment. Even the handle is sturdy. I accidentally shut the garage door on mine and it hardly bent.
The major drawback is the front axle. Because it can rotate freely, it allows the cart to topple over on steep terrain. I try to not let my handle go past 45 degrees (compared to the cart) to reduce the chance of flips. This is extremely important while on hills. We haven't seen the cart topple over on flat or gently sloping terrain.
There's also a sleeker version, Gorilla Cart, but it isn't always in stock
Collapsible Carts
These are some of our favorite as garden carts because of ease of use and portability. Keeping one of these in your trunk is not a bad idea. You never know when you are going to need to bring your own shopping cart.
Though most of these are made out of fabric, they hold up pretty well to yard work. In most instances the fabric is removable and you can easily wash it in the laundry. Of course, you should stay away from sharp or abrasive materials.
We own a collapsible cart in addition to the Gorilla Cart mentioned above.
The Gorilla Carts Collapsible Utility Wagon is a unique cart. It will certainly meet all of your gardening needs but it's so cool you will not want to use it in your garden. Just check out how many features and pockets it has.
This collapsible cart is incredibly versatile. The first thing you'll notice is the deep basket area, this is much deeper than most wagons and the high walls helps keep the contents stable. The design works great, it is super hard to tip over because the front wheels pivot independently and it has a low center of gravity.
The tires are not pneumatic but that doesn't mean that a little bit of mud will stop it. We've taken our collapsible wagon through the mud without many complaints. As long as you are not carrying a huge load, the mud will be no problem at all.
If the versatility and functionality are not enough for you, there are all the unique features like cup holders which double as tablet and phone holders, side straps and pockets which hold your longer garden tools or fishing rods, and inner zippered pockets for your belongings.
The only downside to this cart is that it is fabric. Mud and dirt are hard to clean off, but you can hose it down and let it dry in the sun.
The BEAU JARDIN Folding Wagon Cart is made for the mud. This cart is meant to be used in a heavy use garden.
The ultra thick tires make it great for going through mud and sandy areas. If you do manage to get this cart stuck, there is a handy fold-down handle which allows for easy two person operation. It's also lined with plenty of pockets for all of your garden tools.
Kids will absolutely love this cart. They always want to help out and the fold-down handle allows kids to be involved and help with pushing the cart around the yard especially if you make it seem like its too heavy for just one person.
The major drawback is in cleaning the cart and the weight limit in comparison to heavier duty carts. You'll get a sense for what you can and can't put in this cart.
Wheelbarrows
Wheelbarrows are a classic way of moving materials in your garden or work site. Single wheeled wheelbarrows have a tendency to tip over, but the one listed here has a remedy for that problem.
Sometimes a wheelbarrow is just not what you need. The Marathon Yard Rover Wheelbarrow is a great choice.
As opposed to conventional wheelbarrows, this two wheeled wheelbarrow stands on its own without the fear of tipping over.
A wheelbarrow styled cart offers stability and control. Maneuvering this style of cart is much easier for heavier loads and for dumping its contents. The pneumatic tires make it easy to push or pull across your yard and over obstacles.
Some customer's describe the wheelbarrow as being too small. It all depends on what your use it. This customer is totally satisfied with the product, "I've even kind of stress tested it by being rough on it but it's staying strong. I'm really pleased with this thing, it'll probably last me the rest of my life." Read the full review here.
Battery Powered
It seems most everything is battery powered these days. Wheelbarrows are certainly not missing the show. Depending on your needs, a battery powered garden cart may be a worthwhile investment. Consider it carefully but don't rule it out immediately just because of the price, this cart can be the difference in your gardening experience.
In some instances you just need something more. The SuperHandy 48V Electric Wheelbarrow is that extra umph you need to get your stack of bricks up the hill to your garden bed site.
With a 500 pound capacity, there's almost nothing which holds this garden cart back. It may seem like overkill but sometimes you need a little bit of help.
All the reviews are favorable and comment on the assembly and packing. This customer was impressed given the box's treatment, "Easy to assemble , well packaged when my shippment arrived it looked like the freight company were very rough with it, I was supprised when not one part was damaged." Read the full review here.
Final Thoughts
It is not uncommon to have more than one garden cart. If you only had to have one though, I would suggest the poly cart because it doubles as a family cart useful for hauling groceries or going to the park.
Garden carts changed the world for us. All of our projects have been made easier because of our garden cart.
Yard Tool Reviews
Are you sick of your old, broken down lawn tools from a yard sale 10 years ago? Discover these yard tool reviews so you can save time and backaches on yard work day with a new, modern tool.
Angel is a Cuban immigrant who grew up with backyard chickens and a yard-loving abuela. He is our "gear guy" who can never have too many pairs of gloves or weed whacker attachments.