With the start of every lawn care season, it is time to restring the weed eater, change the oil in the lawn mower, and lubricate the hedge trimmer (check out our post on lubricating you hedge trimmer). However, the most important part of all this preparation is the fuel which you'll use. Many of us don't think twice about the old gas which we have in the shed, however this can be harmful and costly to your lawn equipment.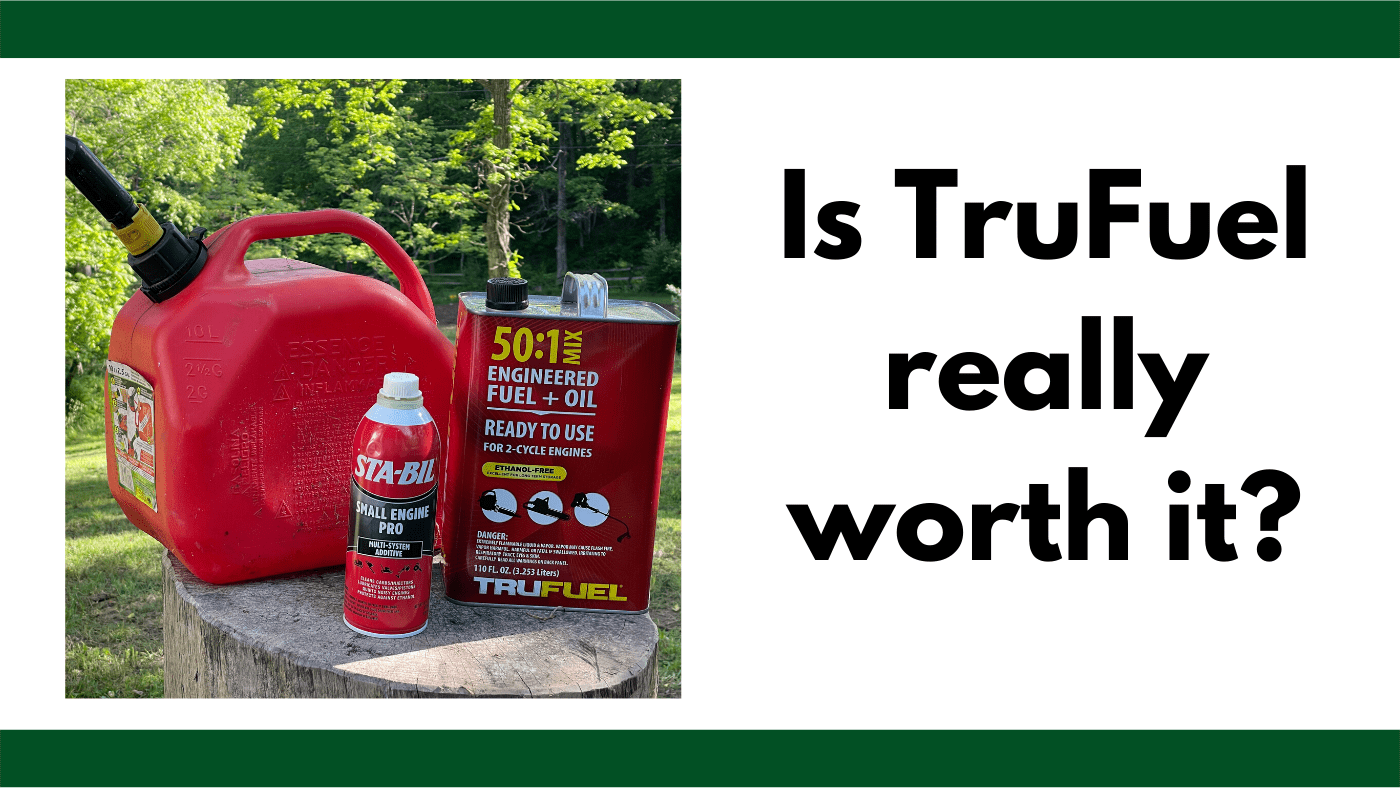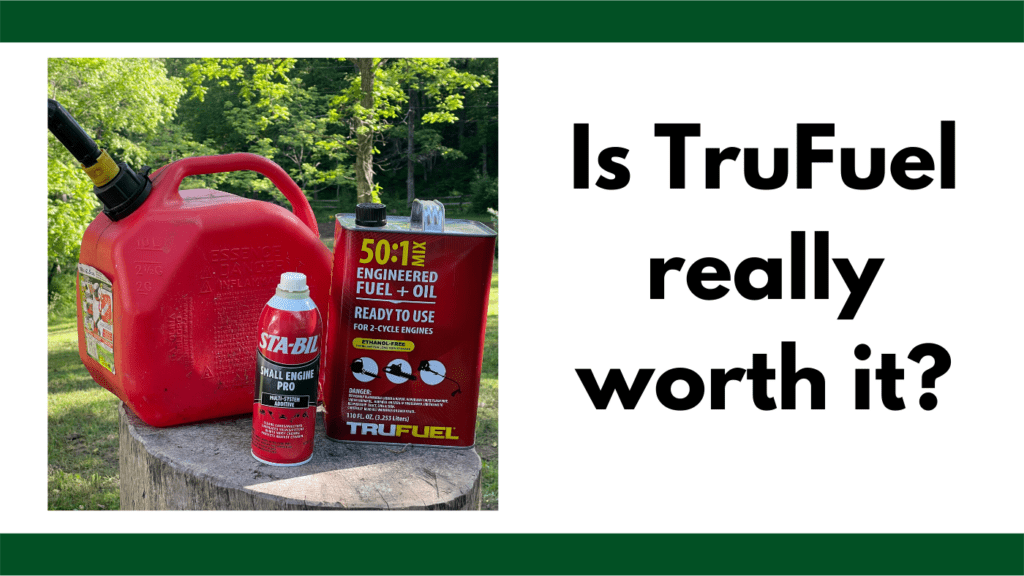 This post includes affiliate links, which means I may earn a commission on purchases made at no additional cost to you.
The answer to keep your lawn equipment running in top shape is to use a high quality fuel mixture like TruFuel. This mixture is perfectly mixed (oil and gas in a 50 to 1 ratio) so you can just pour it into the gas tank and fire it right up without any issues. It's even solved a few of my own issues.
In a rush? Here are our top picks!
The Best Fuel
Arnold Corp 6525638 TruFuel 50:1, Pack of 6 - 32oz
Try this engine cleaner
STA-BIL Small Engine Pro Multi-System Additive - Protects Against Ethanol -...
Mix your own fuel?
6 Pack, HP SYNTH 2-CYC OIL 2.6OZ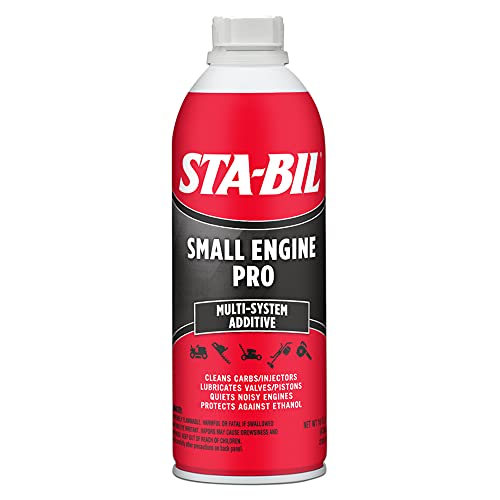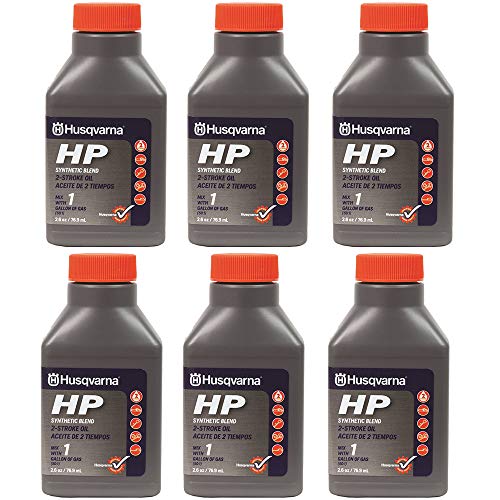 The Best Fuel
Arnold Corp 6525638 TruFuel 50:1, Pack of 6 - 32oz
Try this engine cleaner
STA-BIL Small Engine Pro Multi-System Additive - Protects Against Ethanol -...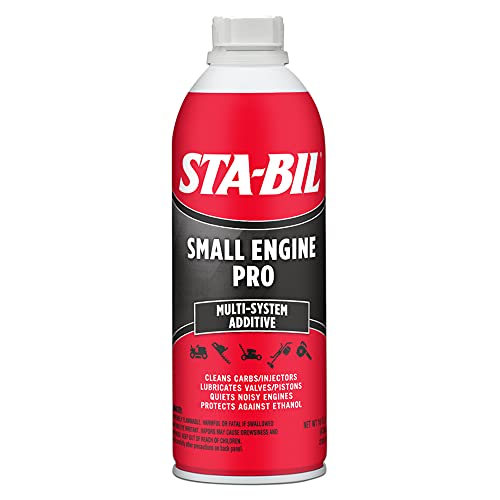 Mix your own fuel?
6 Pack, HP SYNTH 2-CYC OIL 2.6OZ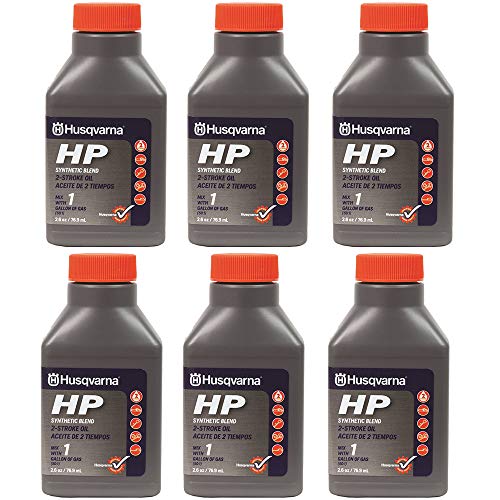 Is TruFuel worth the money?
Yes, TruFuel is a high quality gasoline product for small engines which features a perfect 50:1 gas oil mixture, cleans engines, removes moisture, and is ethanol free. TruFuel is for anyone who is looking to do their own yardwork. The major benefit is that you will avoid major gas repairs. When you compare the two costs, TruFuel around $25 a gallon and small engine repairs around $150, the cost of the fuel is certainly cheaper.
I'd like to even say that TruFuel is the solution to many lawn equipment problems. Ethanol really does cause a lot of problems in small engines. TruFuel is shelf stable for up to 5 years and if opened, is stable for 2 years. Though lots of people don't believe that gasoline can go bad, it certainly does, and you'll know it when you are paying a hefty bill at the small engine repair shop year after year.
Is TruFuel better than gas?
TruFuel is a gasoline product. The real question to ask is, is it easier to use than mixing your own fuel and oil? Yes, especially when you consider how difficult it can be measure exactly a single gallon of gas so you can add the fuel additive. Then you also have to worry about ethanol in the fuel.
My most recent experience with small engine issues, my weed eater would start to choke out around 10 minutes of use. I was really frustrated because this expensive weed eater had never given me trouble but recently it was not complying. I bought a small engine maintenance kit which involved changing the fuel filter, the air filter, and spark plug, but still kept having the same issue. The local small engine repair shop was fully booked for 2 months so I decided to suck it up and buy a gallon of TruFuel. Go figure, that was the issue. What everyone says about ethanol gasoline being evil for small engines is totally true.
Unless you are 100% on top of your gasoline and oil mixture, the easiest way to go is to use a quality premixed fuel like TruFuel.
Trouble with mixing your own gas
It is way less expensive to mix your own gas, however, getting the ratios correct is another story. Since small engines require a 50:1 gas to oil ratio, it can be really difficult to accurately measure 1, 2, or 2.5 gallons. The problem lots of us run into is that the shape of the gas can changes depending on the temperature outside. If you leave a gas can out in the sun it will naturally inflate because the gasses expand because of the heat.
Another issue is that it can be very hard to read the levels on a gas can. The cans are semi-see-thru so you can sort of tell what the level is but I've certainly been fooled by those markings or what I thought was the actual level.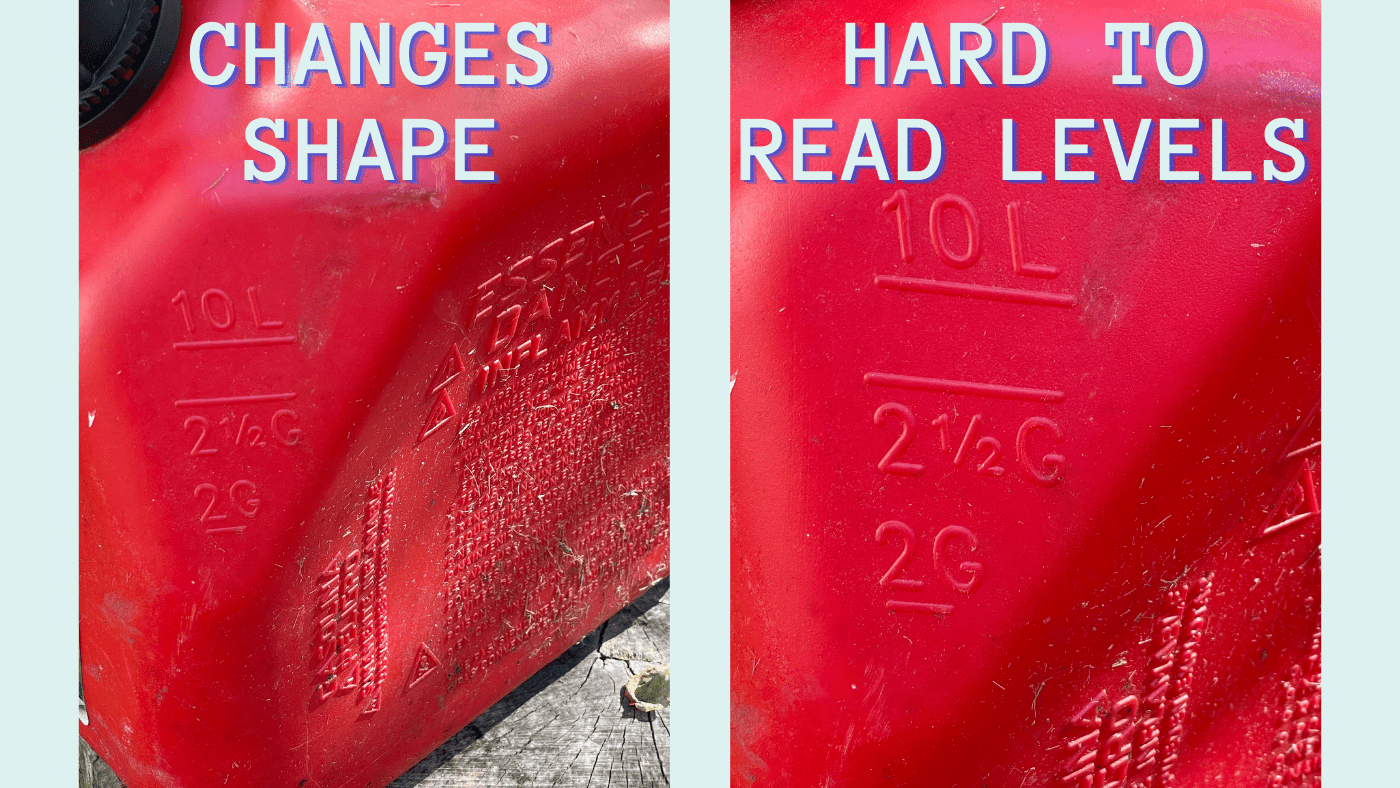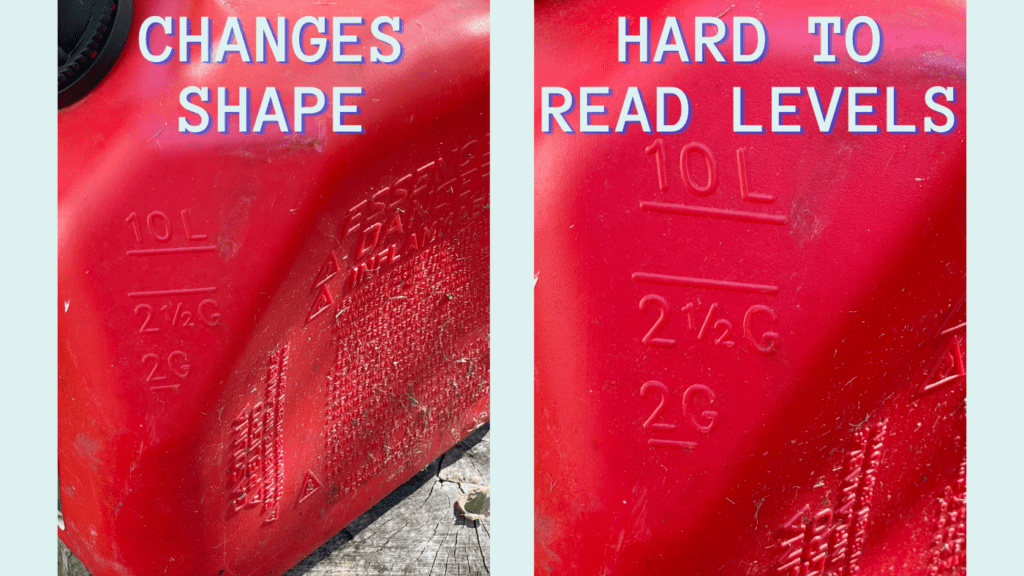 Of course, the most reliable way of measuring how much gas you have in your can is to fill it up from empty at the gas station, using the pump as your gauge. Another option is to weigh the gas can to tell how much fuel is in it. 1 gallon of gasoline weighs 6 lbs. Be sure to subtract the weight of the tank.
Does TruFuel replace gas?
TruFuel is a mixed gasoline product which optimizes the performance of all your lawn equipment. There are certain variations such as 50:1, 40:1, and 4 cycle engine products. It can be used in all your lawn care equipment machines. However, small engines are really the ones which suffer the most from ethanol enhanced gasoline.
The culprit in most small engine problems is the ethanol. This chemical is derived from corn and it attracts moisture. This then causes corrosion inside your engine making it difficult for your engine to function properly.
What if I want to mix my own fuel?
Mixing your own fuel oil mixture is really easy to do but you'll need a key ingredient if you are not using a premixed fuel. A carburetor cleaning agent, like Sta-Bil for small engines, is the key to overcoming the negative effects of ethanol in your gas. Carburetor cleaners expel water, smoothen rough running engines, and clean carburetors and injectors. All of this with only a splash, 1 oz treats an entire gallon of gasoline, but don't worry, over adding is also perfectly safe. You can add up to 3 oz per gallon and still benefit from this carburetor cleaner.
Sale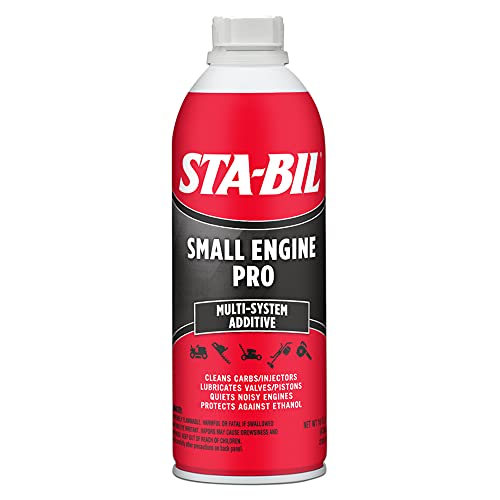 STA-BIL Small Engine Pro Multi-System Additive - Protects Against Ethanol -...
Clean and improve your fuel system with Small Engine Pro, a gasoline/oil additive that helps restore lost engine power and performance, by cleaning...
Keeps internal engine components lubricated and free, providing longevity to internal engine parts
With optimal lubrication and cleaning, this formula effectively quiets noisy engines
Of course, be sure to include the typical 2-cycle engine oil additive. The size of the container usually depends on the size of your gas can. This oil mix from Husqvarna is my favorite for all of my lawn equipment because it is a convenient size. I like that is it ready for use with 1 gallon containers.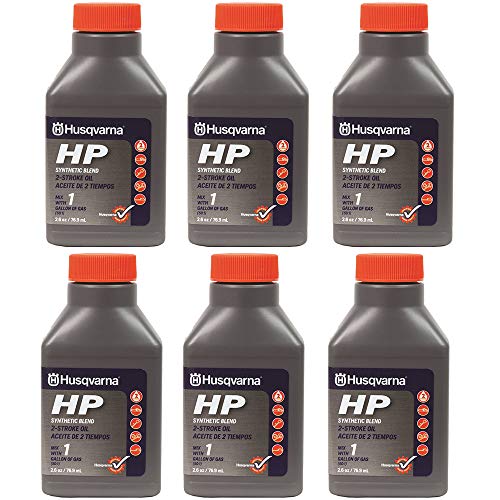 6 Pack, HP SYNTH 2-CYC OIL 2.6OZ
Husqvarna HP (High Performance) 2-Stroke oil has been designed to ensure high engine performance and longevity.
The semi-synthetic base oils and high quality additives used in the Husqvarna HP formulation ensure optimal lubricity and detergency, resulting in...
Husqvarna 2-Stroke oil formulation also contains fuel stabilizer to help reduce the risk of engine failures caused by spoiled gas.
Quick Fix for a weed eater or chainsaw
The easiest solution to any weed eater or chainsaw engine problem is to change the fuel you are using and switch to a perfectly engineered fuel like TruFuel. Try pairing it with an engine cleaner like Sta-Bil. I know this sounds too good to be true but I personally have experienced the difference from one to another.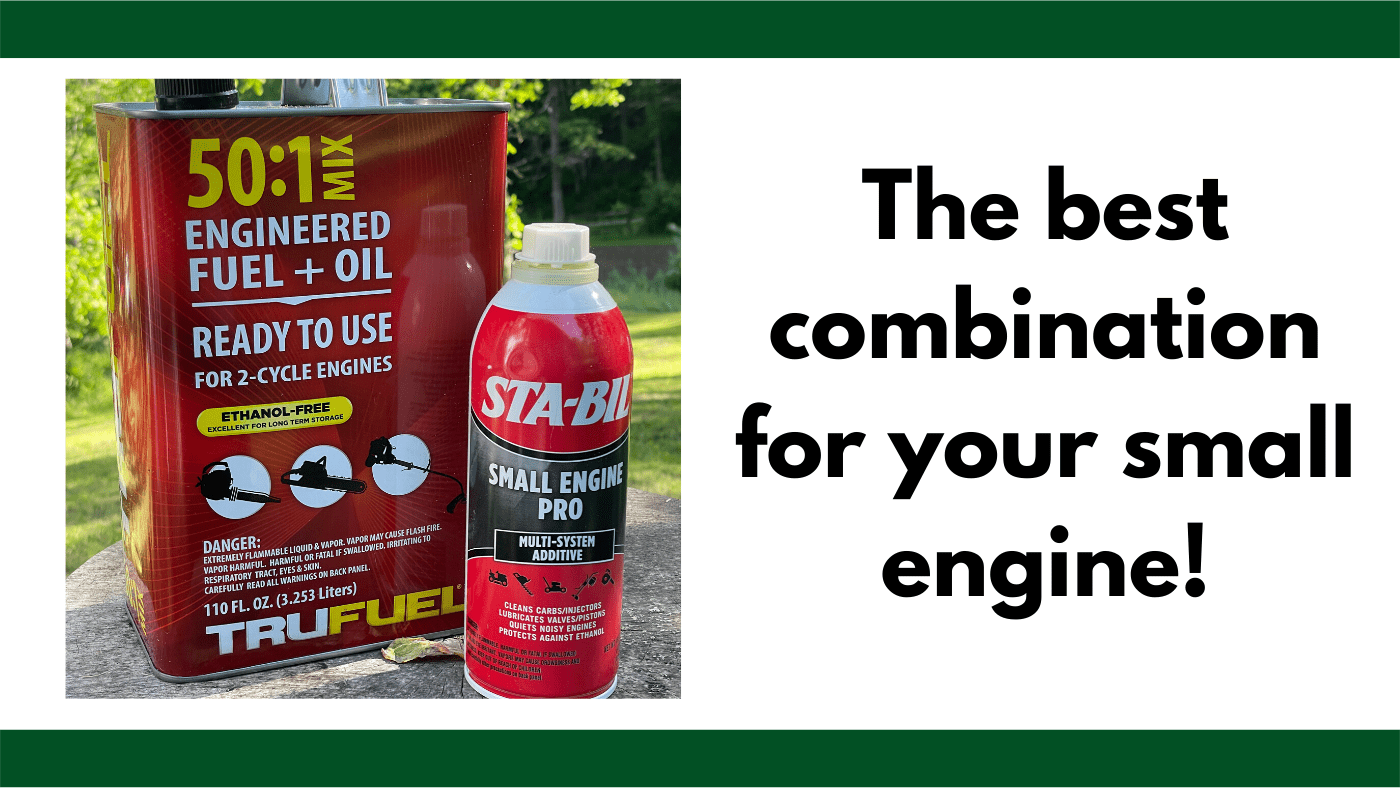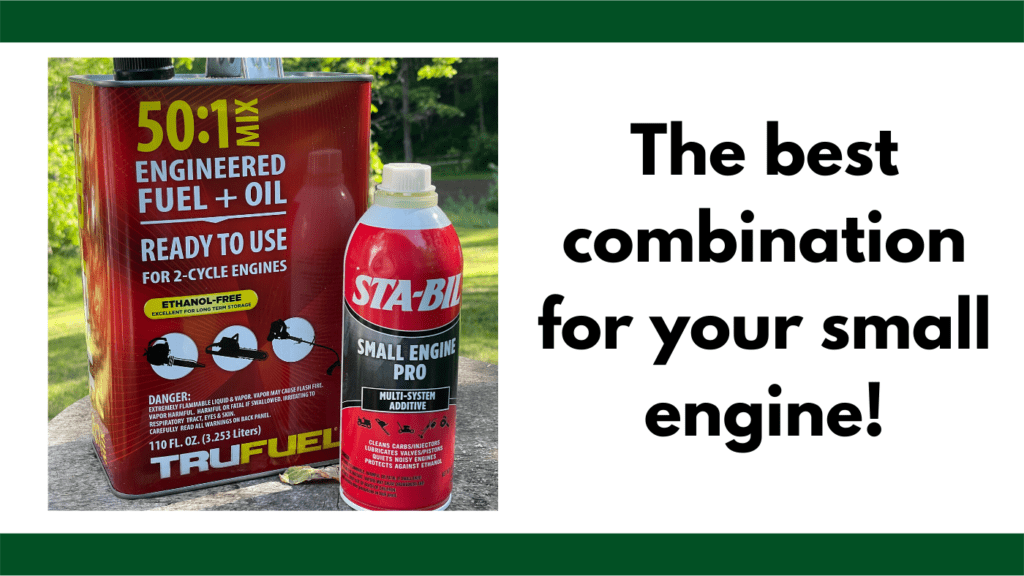 Best of luck with your yard work this year, let us know if you've had any gas related issues with your small engines.
Angel is a Cuban immigrant who grew up with backyard chickens and a yard-loving abuela. He is our "gear guy" who can never have too many pairs of gloves or weed whacker attachments.