If you want to buy plants once and enjoy delicious, fresh fruit for years without the space and hassle of large vines or trees, you need to plant and grow your own strawberries!
Fresh strawberries are a wonderful thing to harvest from your garden. They are much more flavorful and sweet than any you would buy at the store.
Strawberries also frequently top the list of produce with the most pesticide residue, and buying organic fruit can get expensive. By growing them yourself, you can enjoy a completely chemical-free and delicious harvest!
Here's what you need to know about growing strawberries, including how to plant strawberries, how to care for your strawberry plants, and how to pollinate strawberries for a bumper crop.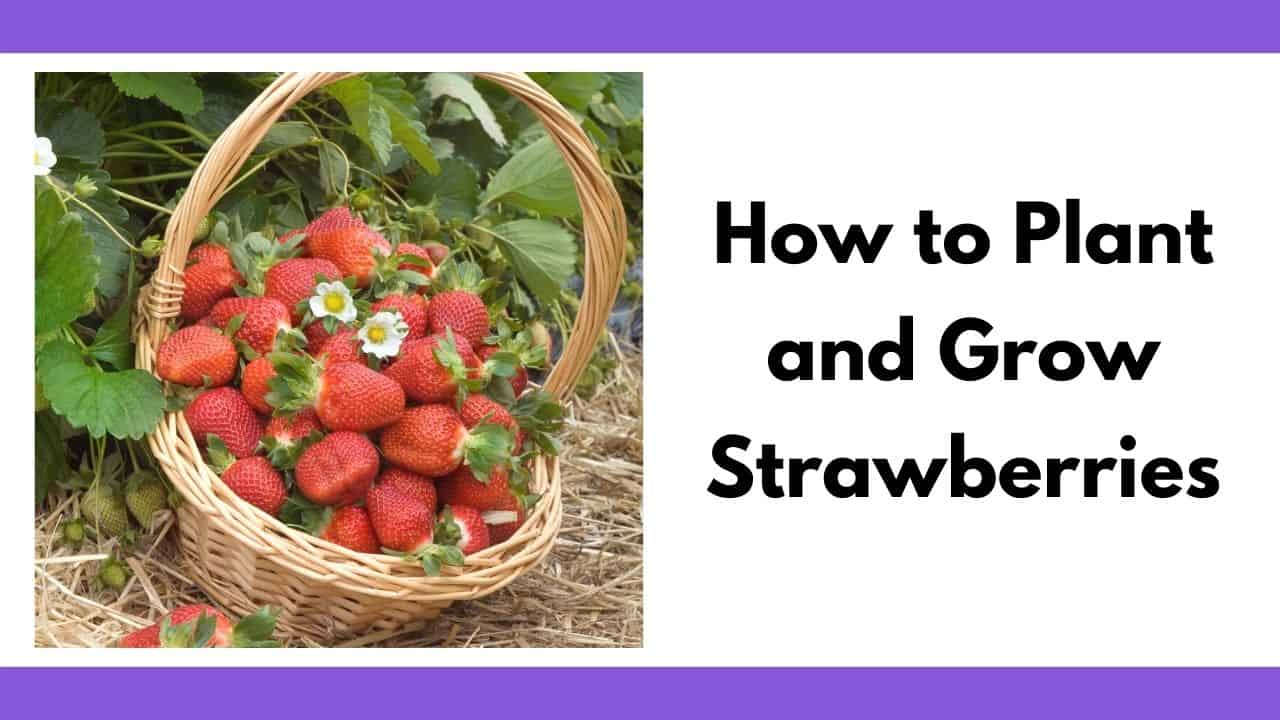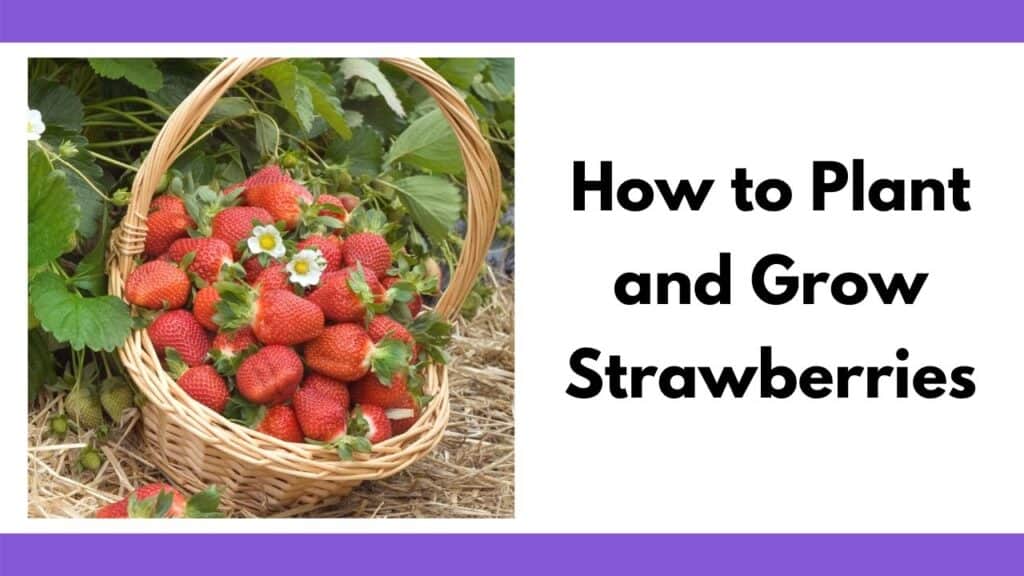 This post includes affiliate links. If you make a purchase using one of these links, Together Time Family will receive a commission at no additional cost to you.
If you want to grow your own fruit at home, even if you have a small yard, be sure to read up on these fruits that grow on vines.
Are strawberries easy to grow?
Fruit can be a lot trickier to grow than many common garden vegetables, but strawberries are a great place to start. They can be grown in almost any home garden, since you can find varieties hardy in zones 2-10.
Strawberries (Fragaria spp.) are a perennial, staying in your garden year after year. Each plant can produce up to a quart of fruit when cared for correctly.
While you'll get the highest yield from planting a large plot of strawberries, their shallow root systems make them suitable for containers as well.
The hardest two things about growing strawberries are keeping up with trimming the runners and being patient while you wait for more delicious homegrown strawberries!
Strawberries are perennial, which means they come back for several years. Because most strawberries readily produce new runners, you can purchase strawberry plants once and, with a little maintenance, grow your plant collection and harvest them for years.
Types of Strawberries
There are many varieties of strawberries that are great for the home gardener. Strawberries are all divided into three different types based mainly on when they produce fruit.
June-Bearing strawberries
June-bearers produce the largest fruit and the biggest crop, but it all comes over a one to three week period. The fruit is typically ready to harvest in June (hence the name) but can come earlier in warmer climates.
These berries are ideal for making jams and canning since you have a large crop available at the same time.
Everbearing strawberries
Growing strawberries that are everbearing will give you a large harvest in spring, a smaller crop in late summer or fall, and a few individual berries in between. The entire yield is still usually smaller than June-bearing varieties.
Everbearing strawberries are great for fresh eating.
Day-Neutral strawberries
This type produces small amounts of berries almost continuously from spring until frost. The strawberries and yield are both smaller than June-bearing varieties, and they may stop temporarily if temperatures go above 85°F.
If this is your first time growing strawberries, many people recommend June-bearing varieties. It will only give you one harvest, but it will be a massive one with large fruit.
Another option is to plant June-bearing and at least one other type to give yourself multiple harvests. You can allow June-bearing strawberries and everbearing strawberries to fruit late in their first season.
Whichever variety, or varieties, you decide to go with, select young strawberry plants from a reputable grower instead of attempting to grow from seed.
Top Cultivars
Once you've decided on type, you can pick out a specific variety. Here are some of the top overall cultivars, but make sure you select one that's suitable for your specific region.
'Alpine' – A small, heirloom variety with delicious fruits. One of the few varities that doesn't usually grow runners. Everbearing.
'Northeaster'– Well suited for the northeastern U.S. and Canada. June-bearing.
'Ozark Beauty'– Everbearer with fairly large berries and a large yield.
'Earliglow'– One of the earliest to ripen. Deep red, sweet berries. June-bearing.
'Allstar'– Huge berries and good disease resistance. Milder flavor. June-bearing.
'Chandler' – These berries are large, flavorful, and suited to growing in California and hotter areas like the Carolinas and Georgia. Junebearing.
'Tristan'– Firm, red, sweet, medium-sized berries. Plants are compact, lovely for hanging baskets, and featuring stunning bright pink blossoms. Day-neutral.
'Jewel'– Known for great flavor, freezing well, and lasting longer than other varities after picking. June-bearing.
'Purple Wonder'– Novelty, deep purple berries. Very sweet. June-bearing.
'White Alpine'– Small, white fruits that taste delicious and don't attract birds! Everbearing.
Growing Strawberries Successfully
Strawberries can technically be grown from seed, but your best option is to buy potted or bare root plants from a local or online nursery. Most plants will take a year to flower and produce fruit.
When to Plant Strawberries
In zone 6 and cooler, strawberries can be planted in early spring as soon as the ground is workable. This means March or April for most gardeners. This allows plants to be well-rooted before the following winter. (source)
A second option is to plant in the fall, which may give you a crop as early as the following spring. This is usually a better option in zones 7 and warmer with milder winters to make sure new plants don't suffer winter damage.
Where to Plant Strawberries + Soil Preparation
Choose a sunny location for your strawberry plants that gets 6-10 hours of sunlight each day. Avoid anywhere that recently had tomatoes, peppers, eggplant, or potatoes planted in it.
Strawberries will grow in a wide range of soil types, but well-drained soil that's high in organic matter will keep plants at their healthiest.
If you don't have ideal soil, amending it before planting is best, especially if you are growing in clay. The best approach is to mix in a generous amount of compost.
If your soil has very poor drainage, consider using raised beds, mounds, or containers instead of putting a lot of effort into amending the soil. I prefer Fox Farms Happy Frog for container strawberries. The soil is noticeably better than "big box" brands and, in my opinion, yields superior plants.
Strawberries grow best in a pH of 5.5-7.0, which is slightly on the acidic side. If you have alkaline soil, mix in some peat moss along with the compost or opt for a container garden.
Strawberries are very well suited to growing in containers. Many people grow strawberries in tower-like containers so they can grow lots of fruit in a small space. You can pick from smaller jars, larger vertical growers, or even hanging baskets. The compact and tidy variety 'Tristan' with pink flowers is a lovely choice for baskets.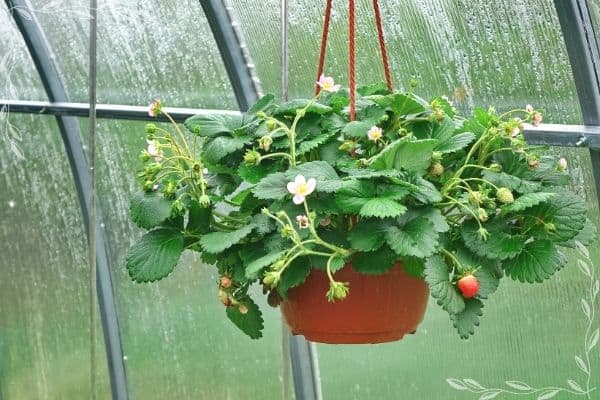 There are many different vertical strawberry growers. I personally enjoy using my Greenstalk Growers for strawberries. The growers are made in east Tennessee by a family-owned company with fantastic customer service. Pair your tiered stand with a wheeled bottom to make it easy to move and rotate to take full advantage of the light and ensure a healthy crop!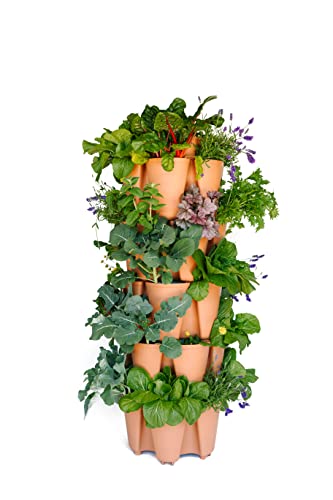 Greenstalk Patented Large 5 Tier Vertical Garden Planter with Patented...
We are proud to manufacture GreenStalk Vertical Planters in East TN. Made with high quality, BPA-free, UV-resistant polypropylene #5 plastic with a 5...
Simply fill to the 5 tier mark on the top water reservoir. Water then travels through an internal system of water reservoirs to bring fresh water to...
19 x 19 x 55" – Holds 5 cubic feet (about 40 gallons) of potting mix. Easily grows a wide variety of vegetables, herbs, strawberries and flowers...
Strawberries can also be grown hydroponically. For best yields, you'll need a year-round hydroponics system so you can allow the plants to fruit for more than one year. I recently tried an everbearing variety hydroponically and allowed the plants to fruit in their first year. The berries were tasty, but very small:
How to Plant Strawberries
One of the most important parts of successfully growing strawberries is getting them planted correctly.
Spacing depends on the variety of strawberry you're planting and where you are planning. If you're planting in rows, space rows at least 18″ apart and give them adequate space. Some varieties are fine with 6″, others need 12″-18″, or even more. Be sure to consult read up on your specific plants.
Next, dig holes that are wide and deep enough to fit the entire root system of your plants. You don't want any of the roots to be bent or squished.
Getting the planting depth right is vital for strawberries, so start by locating the crown of your plants. The crown is where the roots meet the stems of the plants. You want to be very careful not to bury this part or to let it be too far out of the ground.
Please keep scrolling further down the page to see an illustration of a strawberry plant so you know how to find the crown.
Plant each strawberry so that the crown is right at the surface of the soil. You may need to add soil just under the center of the plant to achieve this. Make sure the roots are spread out before covering them completely with soil. Then, water your plants in well.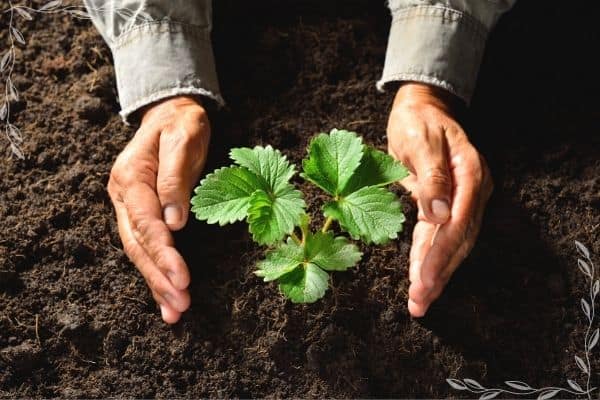 Strawberry Care
Strawberries need a bit of attention to make sure plants stay healthy and give you a good yield.
To start with, it's a good idea to mulch around your strawberries with something like pine needles, straw, or even shredded leaves. This helps to keep moisture in the soil and cuts down on weeds.
The one down side to mulching is that mulch can hide slugs. Slugs love delicious, ripe strawberries. If you have a slug problem in your garden, avoid using mulch.
Strawberries have shallow roots, so they will need watered regularly. Getting them at least an inch of water a week is especially crucial when they are first getting established. The Greentalk makes watering uniformly easy, which is one of the reasons I love the planter system.
Strawberries also benefit from occasional feeding. Compost tea, a side dressing of worm castings, and seaweed/kelp fertilizer are great choices.
A shallow root system also means that weeds can easily compete with your strawberry plants for water and nutrients. Hand weed around your plants diligently, especially throughout the spring.
Now for the hard part: You'll need to pinch off any blossoms that appear on your plants during their first year of growth if you're growing June-bearing strawberries. Everbearing and day-neutral varieties should have blossoms pinched until at least the middle of summer during their first year (source).
I know, I know, you want tasty berries now. Go ahead – don't pinch one or two of your plants. In a year or two, you'll find the plants you did pinch back are much better producers.
It may be difficult to take off flowers that will produce your first berries, but doing so will keep plants focused on growing healthy roots and set you up for a great crop next year. Everbearing and day-neutral berries can be allowed to set fruit late in their first season.
Your strawberries will eventually start sending out runners that turn into "daughter" plants. During the first year or two of life, cut these runners off with garden snips or scissors so your plant can focus on becoming established.
You can see a strawberry plant's anatomy in the illustration below: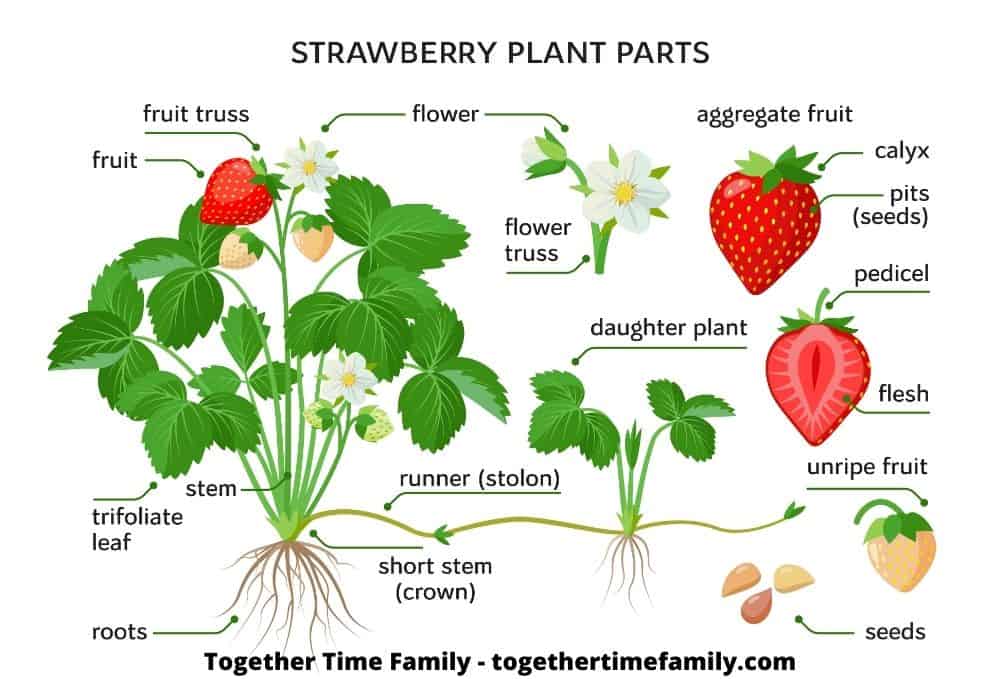 Runners look different from leaves and blossom-bearing stalks. You'll be able to tell them apart after you see a couple of runners form. Runners have long stems and a new, mini plant at the end: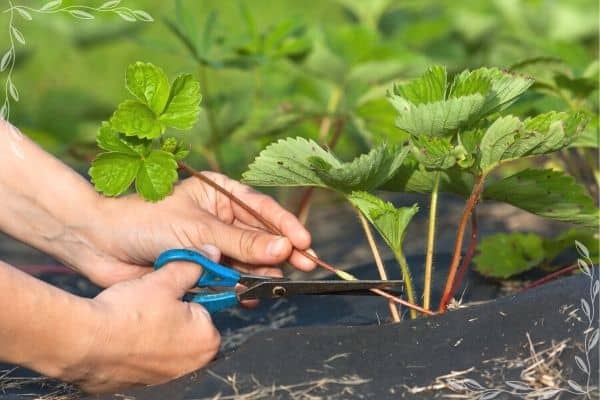 After 3-4 years, allow some runners to root in your bed, or place a small container of dirt under the newly-forming strawberry crown on the runner. Once the new plant as rooted, snip it from the parent plant and transplant it.
Use small snips, like these Fiskar's micro tip snips, to reduce the likelihood of accidentally cutting off more than you meant to.
Sale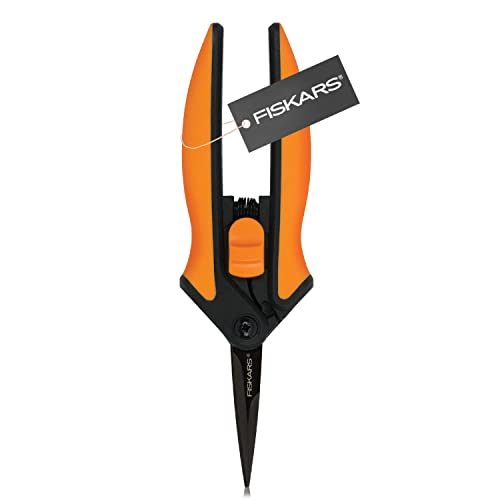 Fiskars Micro-Tip Pruning Snips - 6" Garden Shears with Sharp...
Quality Garden Tools: Designed to help you cultivate a better garden, Fiskars garden and yard tools are equipped with smart technologies and...
Maximum power and precision: Micro-Tip blades cut all the way to the tip for clean, healthy cuts in tight spaces and stay sharp through heavy use;...
Designed to reduce fatigue: Awarded the Arthritis Foundation's Ease of UseSM Commendation for a design that's ideal for those with arthritis or...
If trimming away runners and pinching blossoms seems like a big nuisance to you, you don't actually have to do either of these things. With adequate space, you can let your strawberry patch run wild and do whatever it wants. Your plants won't bear fruit as amply as they would in a more managed patch, but don't let a lack of desire to diligently tend strawberries keep you from growing any strawberries, at all.
Many strawberry plants will produce well for 6-7 years. Once productivity starts to decline, allow new plants to take root and remove the old ones. You can replenish your strawberry beds continually so you always have established plants and new, fresh plants growing to take their place.
How to pollinate strawberries
Strawberries are aggregate fruits. This means each strawberry is actually a collection of fertilized ovules. Each strawberry seed you see on the outside came from a separate ovule.
Have you ever seen a misshaped strawberry with craters and dents? This is almost always because of poor, incomplete pollination. The strawberry in the photo below is bump and misshapen as a result of incomplete pollination: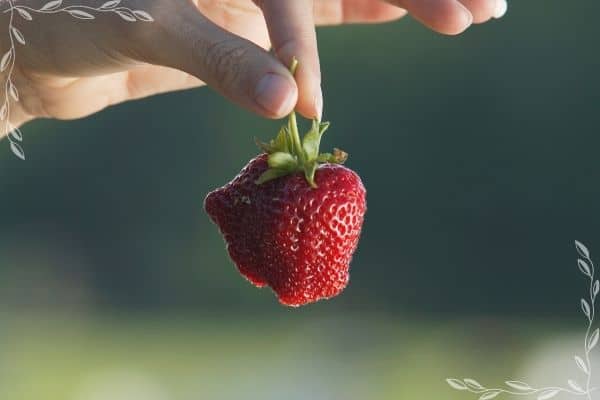 Strawberry blossoms tend to only stay open for one day. Because strawberries don't produce much nectar and don't have a strong scent, they aren't always able to attract enough pollinators to ensure ample pollination and large, full berries.
If you only have a few strawberry plants and want to maximize your harvest, consider hand pollinating your plants to help nature along.
It's very easy to pollinate your strawberries. Run your clean pinkie finger, a cotton swab, clean makeup brush, or small soft paintbrush around the center of the flower. Brush up against the pollen-covered stamen, then gently brush across the central portion of the flower. Strawberry pollen is very fine – don't be surprised if you can't really see it transfer.
Here is a young everbearing strawberry with an open flower so you can see what I'm talking about: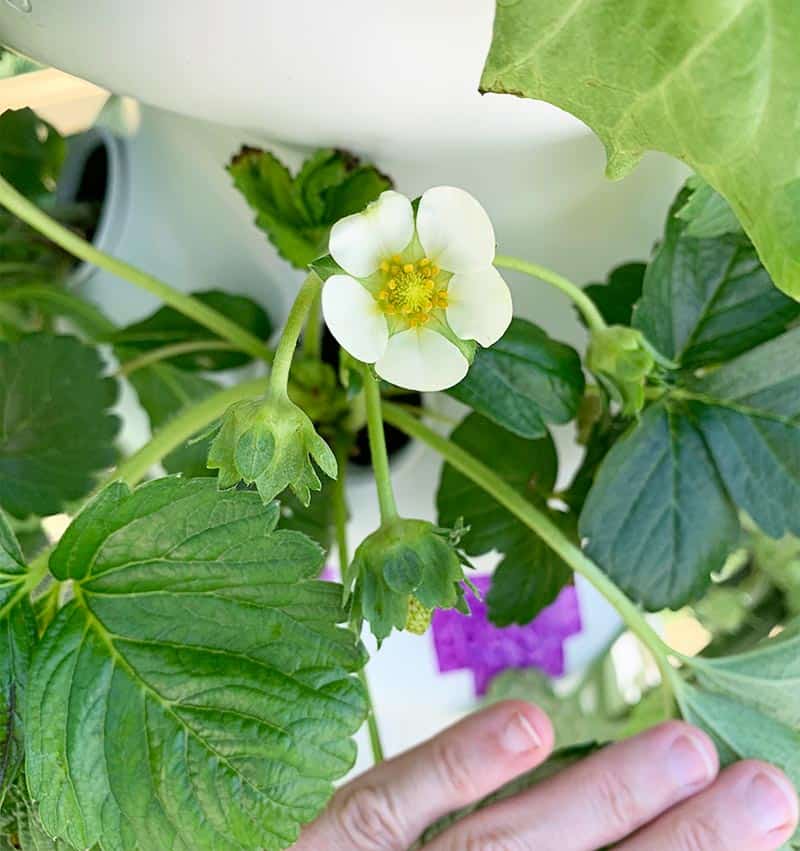 This page from the NC State Extension Office has great, up close images with circles showing you exactly which parts of the flowers produce pollen and need fertilizing.
If you have multiple varieties of strawberry growing, it's fine to cross-pollinate them (as long as you're not trying to save seed for planting). Many varieties produce larger fruits when cross-pollinated, so this can increase your yields.
How to protect strawberries in winter
Protecting your growing strawberries during the winter isn't necessary if you live somewhere with very mild weather. However, if temperatures drop to 20°F or lower, it's a good idea to provide some protection unless you're growing a very cold-hardy variety.
All you'll need to do is mulch your plants with a 4" layer of an organic material like straw, pine needles, or leaves. Make sure whatever you choose lets water through.
Remove the mulch in early spring when extremely low temperatures have passed. Don't leave it on too long or rot may develop, but you can always put it back on for a night if temperatures dip.
Strawberry pests and problems
Strawberries can be prone to a few different diseases and may be eaten by slugs, deer, chipmunks, and birds. Spider mites and a few other insects may chew on the leaves.
Fencing is really the best option for keeping deer out. Netting or scare tactics (like balloons) can discourage birds. Spreading crushed eggshells or gritty sand around your plants can deter slugs.
To keep birds from eating up your ripe berries, cover plants with bird netting. If you don't want to be bothered with netting, select yellow or white varieties of strawberries such as Alpine Yellow Wonder or Alpine White Soul. Birds are attracted to the color red, so they tend to ignore white berries.
The best tactic for strawberry diseases is to buy disease-resistant plants and make sure they are spaced properly to allow adequate airflow.
Keep your strawberry beds weed-free, and always water the soil around your plants – not the leaves.
Harvesting and Storing Your Strawberries
Harvest time will depend greatly on the type and specific variety of strawberry you're growing. Berries will typically be ready to pick about 4-6 weeks after plants flower.
It's easy to tell when strawberries are ready to harvest. The berries will be completely red (or yellow or white, if you're growing a different varitiety) and still firm. Pick a test one to try before doing a major harvest. If it has good flavor and sweetness, you can harvest other fully ripe berries.
The best tactic is to cut berries off with a little stem attached, but you can also snap them off with your fingers. Just try not to pull up or damage your plants.
For June-bearing varieties, you'll likely want to harvest every 2-3 days because the berries will ripen quickly.
Get your freshly harvested strawberries into the cool of your house quickly. Keep them unwashed and refrigerated until you want to eat them, although they'll only last about 5-7 days.
For longer term storage, make them into a delicious jam or freeze them whole.
The Joy of Growing Strawberries
Any freshly harvested produce is especially delicious, but homegrown strawberries are even more of a treat. If you keep up with your strawberry beds, you can get a good crop from your plants for several years to come!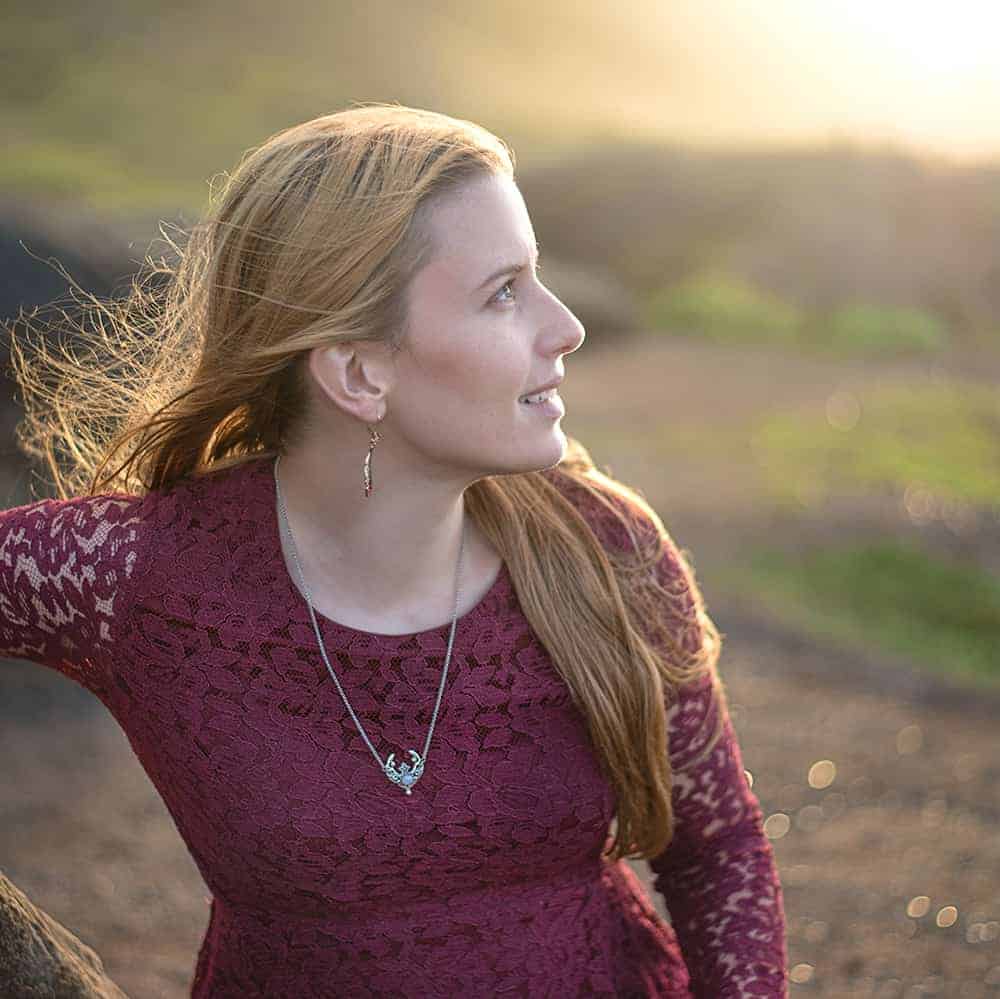 Natasha Garcia-Lopez is an avoid home-gardener and proud owner of 88 acres of land in rural West Virginia. She was a member of the Association for Living History Farms and Agricultural Museums for many years and is currently enrolled in the Oregon State University Master Gardner Short Course program so she can better assist you with your gardening questions.She holds a certificate in natural skincare from the School of Natural Skincare.