Onions are a staple in the kitchen and a fantastic vegetable to grow in your garden. If you harvest and store them the right way, they'll last for months – sometimes even up to a year.
It can be a bit tricky at first to know when to harvest your crop. Onions don't ripen and color in the same way above-ground vegetables do, but they will give you some pretty clear signs that they're ready.
Here's a guide how to tell when onions are ready to harvest, how to harvest onions, plus how to cure and store them for later.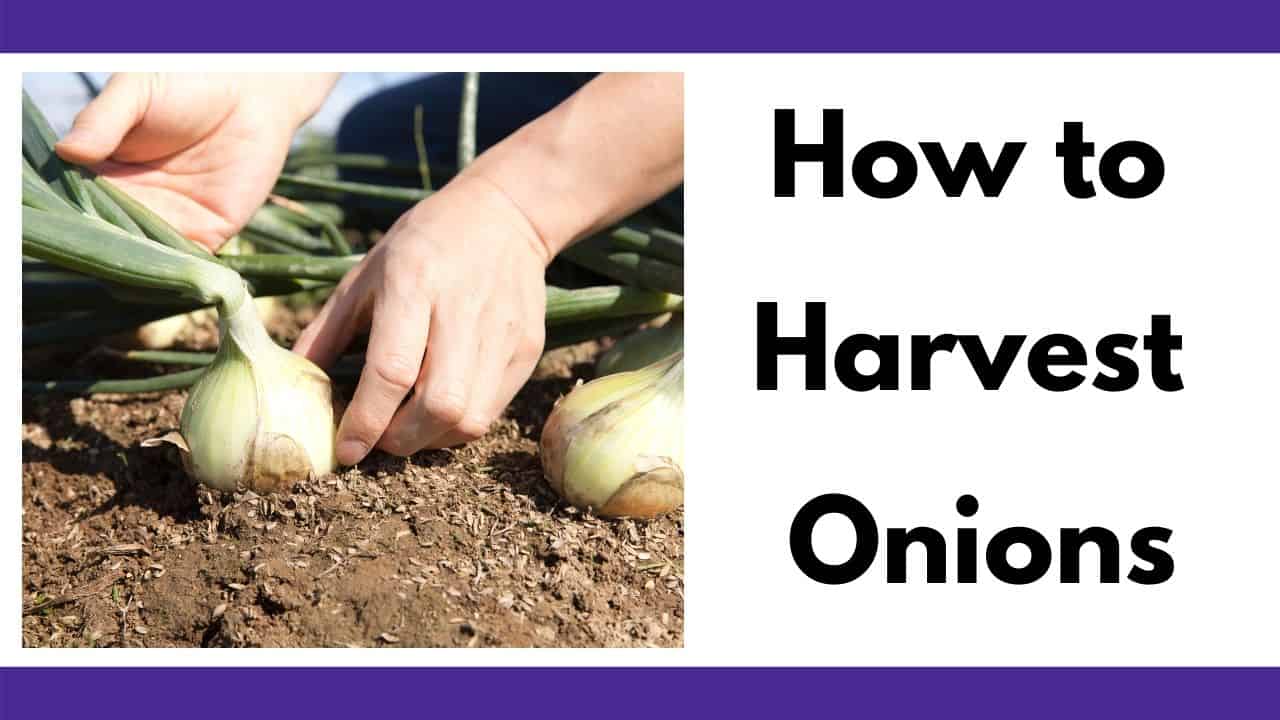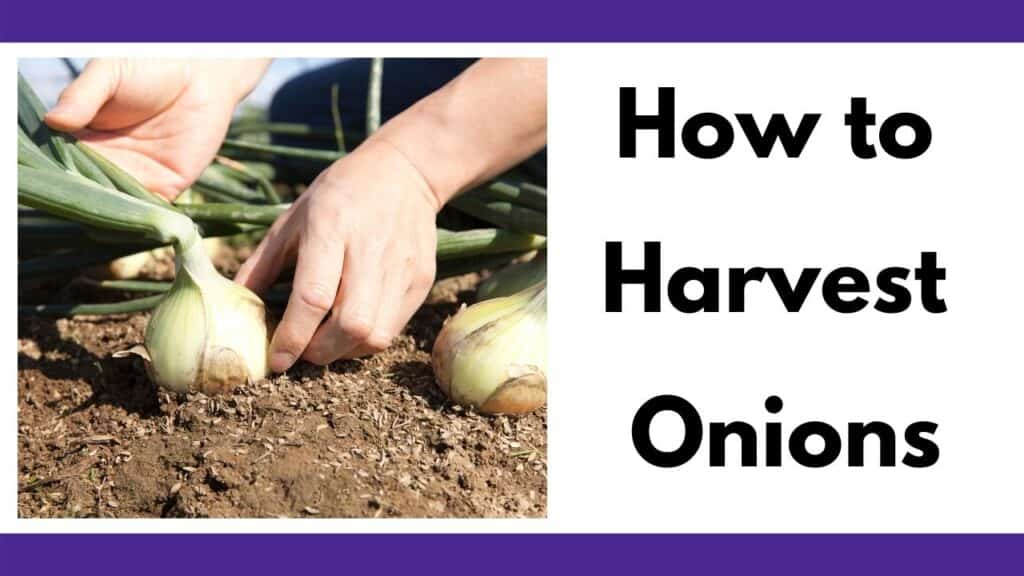 This post includes affiliate links. If you make a purchase using one of these links, Together Time Family will receive a commission at no additional cost to you.
If you're new to growing onions, make sure to check out the Storey's County Wisdom Bulletin on Onions. It's small, but incredibly informative. It can help you make the most of your onion growing experience with advice on which onions to grow for your zone, growing onions from seeds or sets, and information on relatives like chives and shallots.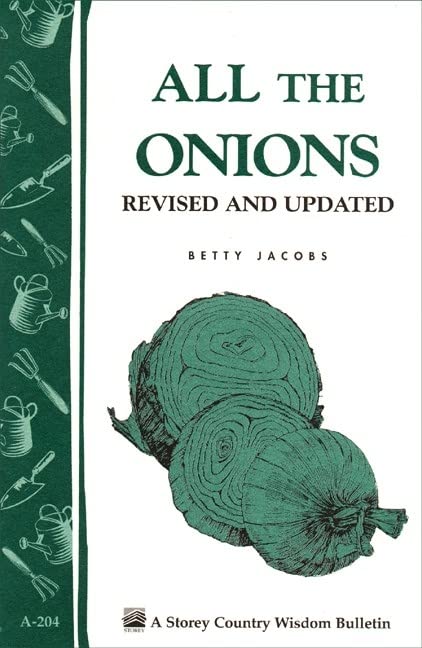 When to Harvest Onions
You can pull onions at any time during the growing season to enjoy them fresh. However, if you want to store your crop, you'll need to make sure they reach maturity before you pick them.
Onions are done growing when the foliage flops over. If you look closely, you'll notice that they bend over at the stem a few inches above the bulb.
Picking onions too early is a common mistake. The onions will still be delicious fresh, but won't store as long. When you harvest onions too soon, you risk losing some of your delicious crop to spoilage.
Once you see your onion plants start flopping, stop watering them if you were doing so. With most plants you'd be worried if they looked like the photo below, but this is exactly how you want your onions to look!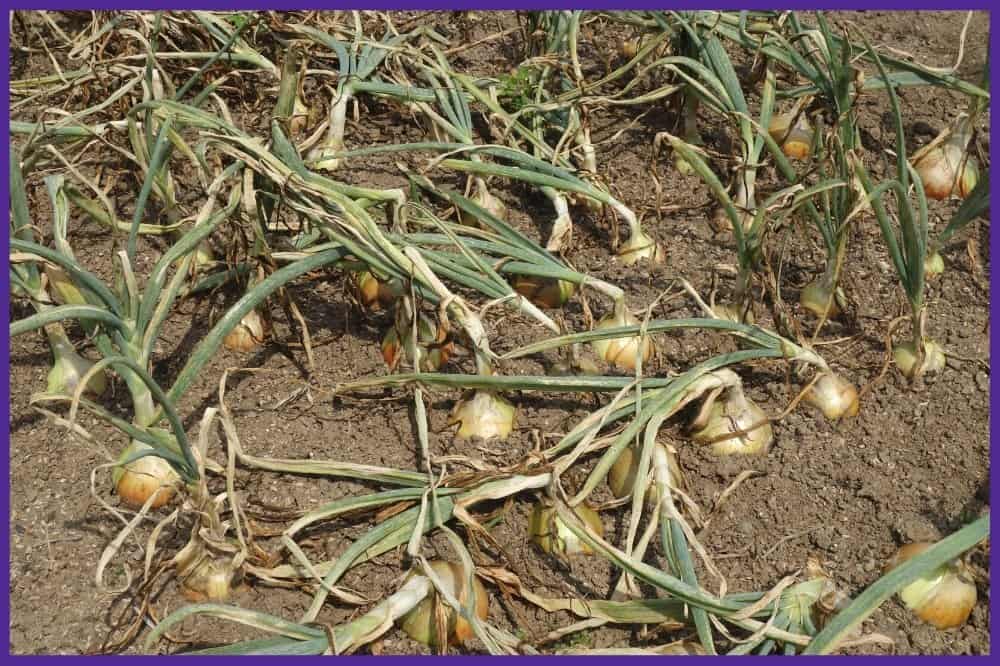 Wait for more than half of your plants to fall over and the leaves to start yellowing. After this happens, they are ready to harvest!
The exception to this is if you see your onion plants start to flower. The bulbs won't grow anymore once flowering occurs, so pull them as soon as it happens. Onions that have flowered won't store well but can still be used fresh.
Flowering is more likely to happen if you started you onions from sets. If you started yours from seed, you won't have to worry about watching for this.
How to Harvest Onions
The best way to harvest onions is to wait for dry weather and pull up your crop all at once. Onions that are harvested wet are difficult to cure and store.
There are two ways to harvest your onions. Whichever method you choose, it's essential that you handle bulbs meant for storage very gently. Any cuts or bruises will make them more likely to rot later on.
If it's a dry day and your soil is relatively loose, you can simply go through and pull your onions up by hand. Grab them at the base of the stem, right above the bulb, and pull them out gently.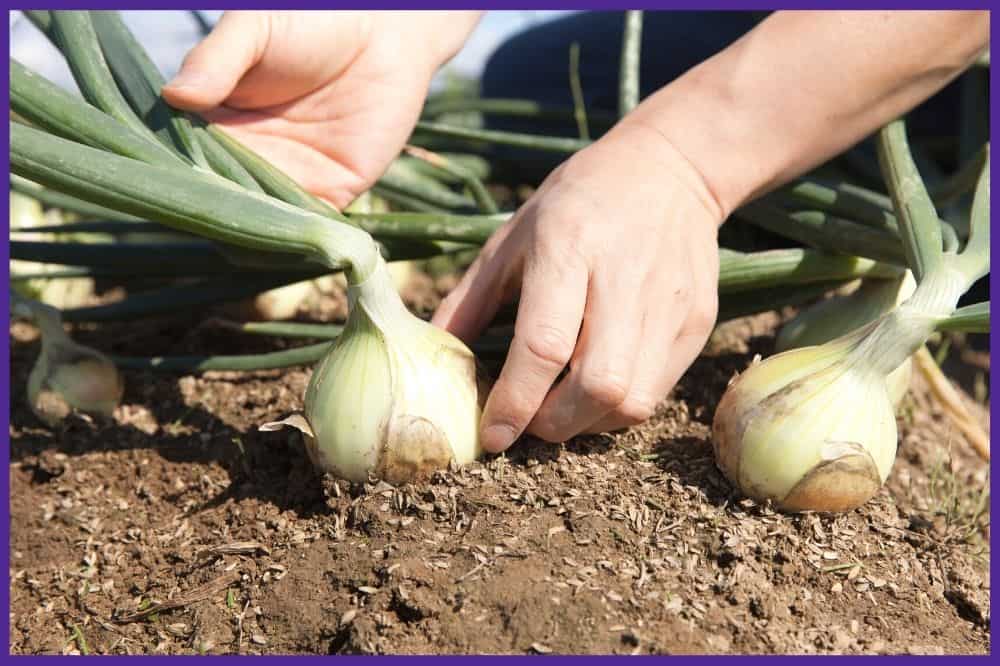 If you have heavier soil or are forced to harvest in damp weather, a better method is to use a garden fork to loosen the soil under your onions. Be sure to dig deeply enough to avoid stabbing any bulbs. Once you've done this, they should pull out easily.
I prefer to pull out a garden kneeler and use a handheld garden fork instead of using a large fork while standing. This helps you avoid damaging neighboring onions (and using a large fork isn't practical if you're growing onions in containers or raised beds).
Do yourself a favor and get a high quality, forged garden fork. My favorite company is Dewitt. They make hand forged tools in the Netherlands and every one of their tools I've purchased has been top-notch. Sturdy garden tools save you time and money. They do the job more effectively and will last years after you would have thrown out and replaced lesser tools multiple times.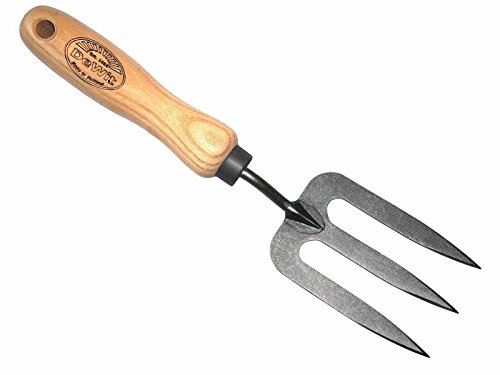 Tierra Garden Dewit Forged Hand Fork
Dimensions: 10" L x 1.5" W x 2.5" H; 0.5 lbs
Great for breaking up soil and cultivating in smaller areas
Strong and tough - ideal for aerating clay soil
As long as the weather is dry and no frost is in the forecast, you can lay your onions right out in your garden for a day or two to help them dry further. Many people allow them to lie exactly where they were planted: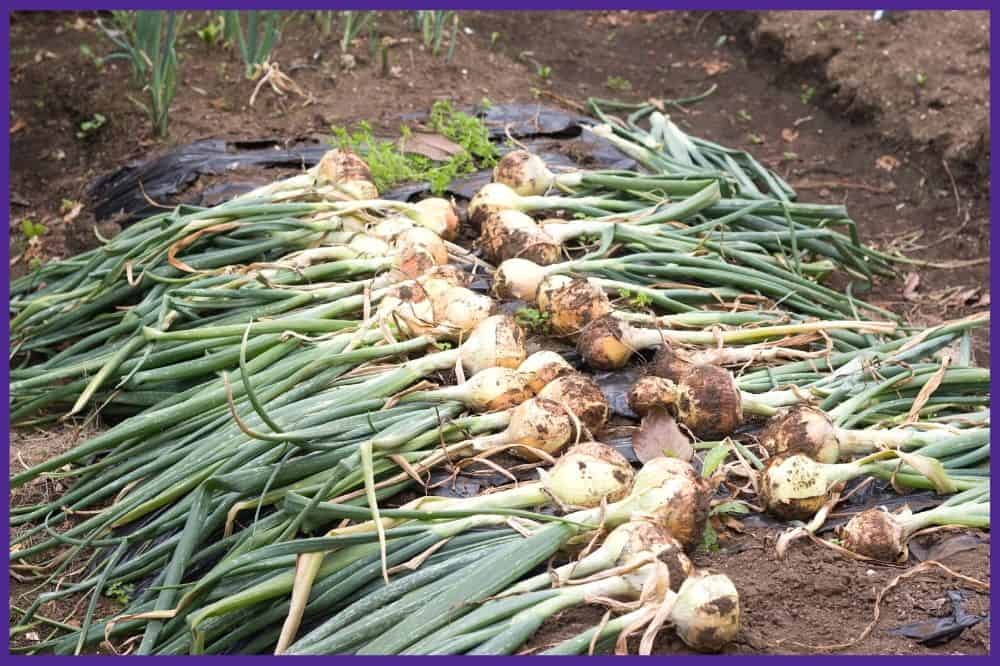 If you have a slug problem, you may want to get them up off the ground. Virtually anything can hold them for a couple of days while they start drying. The onions below are drying on a garden bench: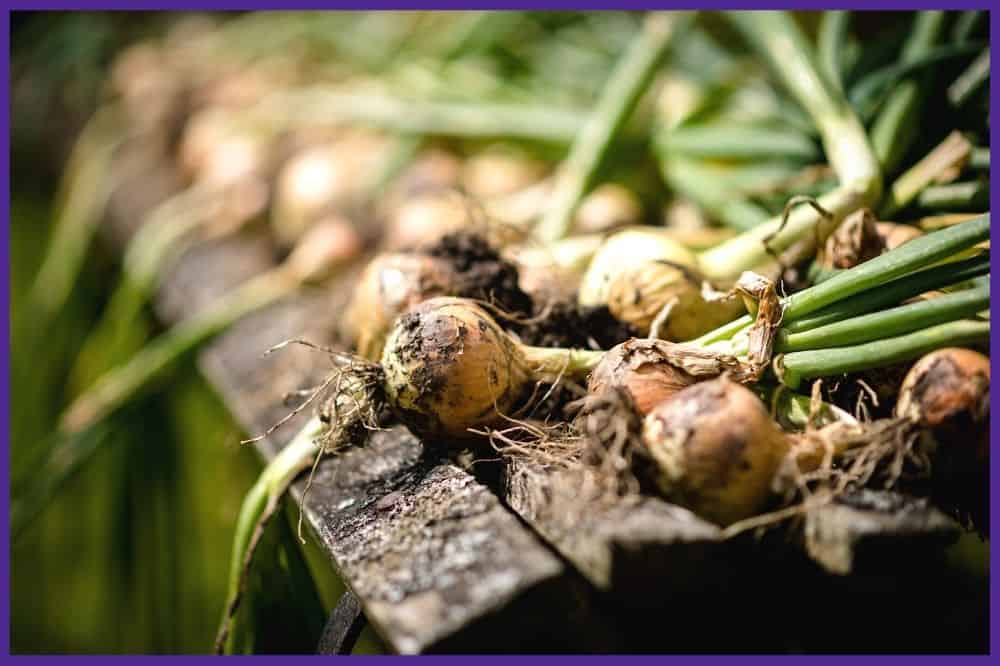 Otherwise, take them to a sheltered spot, like a covered porch or a shed, to start drying. Any you want to eat fresh can be brought inside right away.
How to Store Onions Long-Term
Now that you know how to harvest onions, what about storing them?
The first step to storing onions is to cure them. This allows them to fully dry out and causes the outer wrappers to tighten into a protective layer that will keep them from going bad.
Curing Your Onions
To start the curing process, lay out your onions in a single layer somewhere warm and dry with good air circulation. Onion drying racks are a popular option. They're easy to Temperatures of 75-80°F are ideal, but just get as close to this as you can.
It's easy to make your own onion drying rack with minimal tools, cost, and building skills. A drying rack, even a simple DIY one, can dramatically improve your ability to store onions for later.
While you are laying them out, you can clean large clumps of dirt and slimy leaves off your onions, but leave them as intact as possible. Once they are dry, you can tidy them up a bit more before storing them.
The curing time for onions depends a lot on conditions like humidity, temperature, and onion size. Typically, bulbs will be fully cured in 2-4 weeks.
When the outer skins and necks are papery and dry and there's no moisture left in the stems, your onions are ready to store. You can test one by cutting off the stem about an inch above the bulb. If there is moisture or a green color, they need to cure for longer.
Some onions won't make it through the curing process. They either won't dry out or will show signs of rotting. If this happens, take them out of the lineup and eat them!
Storing Your Onions
After the curing process is done, you can trim the stems off all your onions to about 1-2" above the bulb. You can also leave the tops on if you want to decoratively braid them into bunches.
At this time, you can also trim off the roots and remove any soil still clinging to the bulbs. The outer layer of skin may fall off during this process, which is fine. Just don't remove any layers beyond the top one.
Hanging braided onions in your pantry, cellar, or basement is decorative and practical: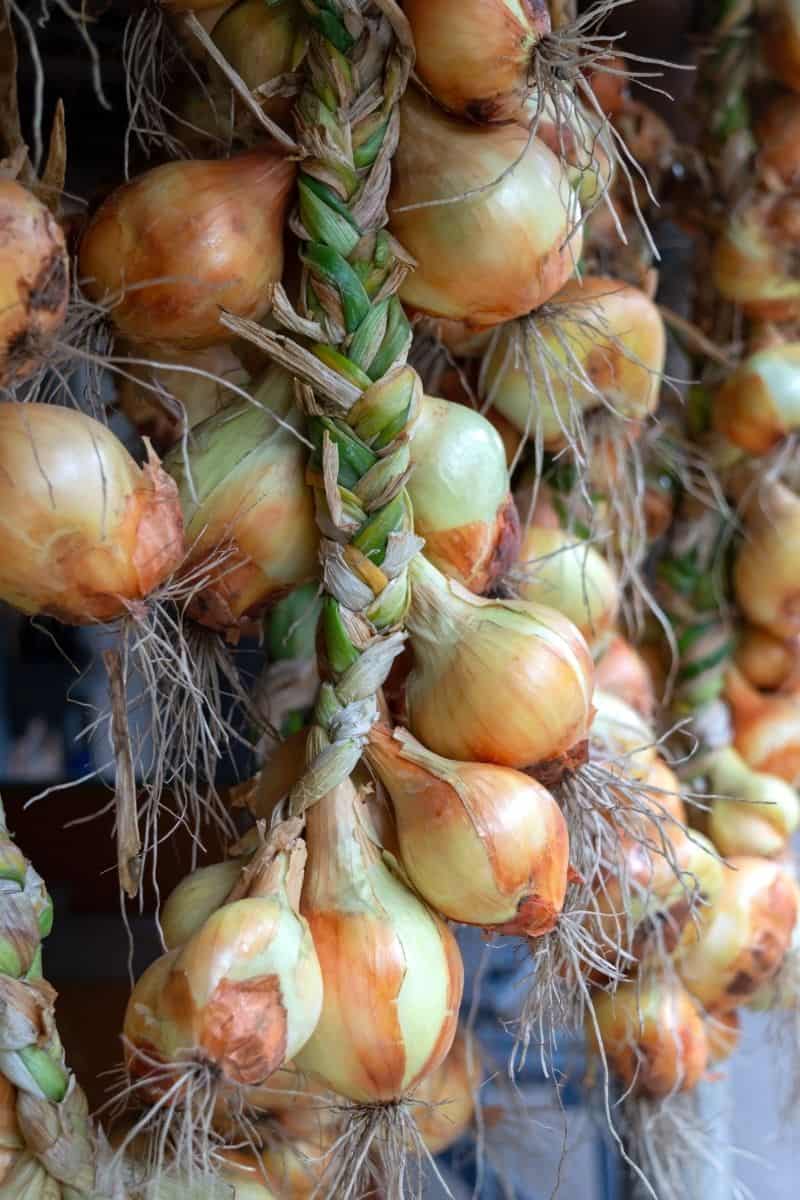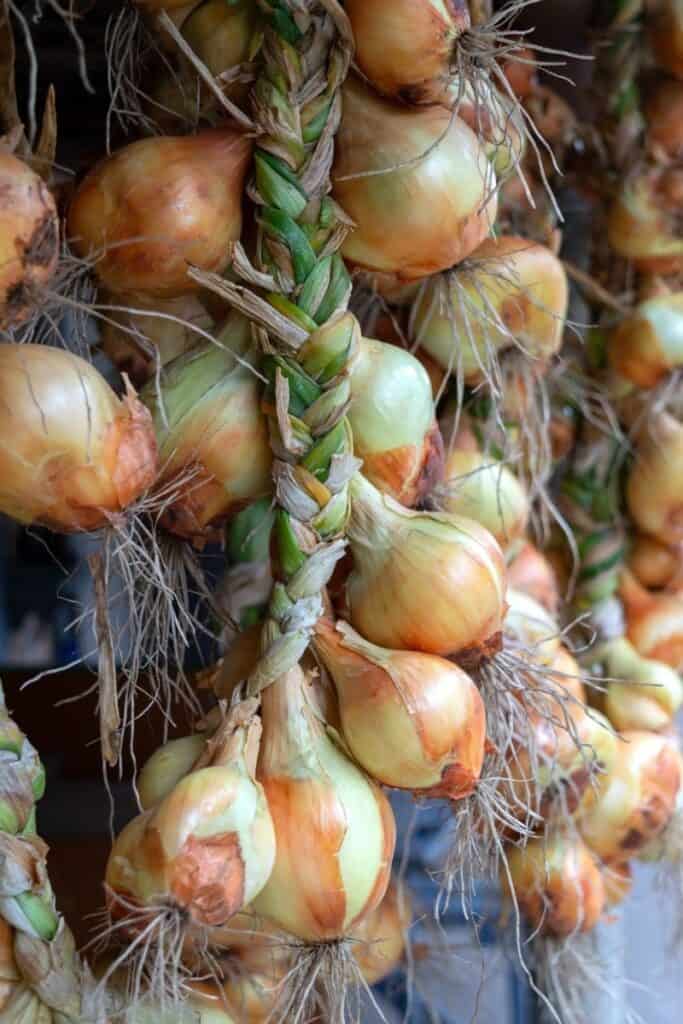 Once your onions are cleaned up, store them in mesh bags, storage racks, baskets, or anything else that will protect them but still let air circulate. Hanging mesh "tube" bags are tidy and neat looking, plus they don't take up floor real estate like a basket or rack.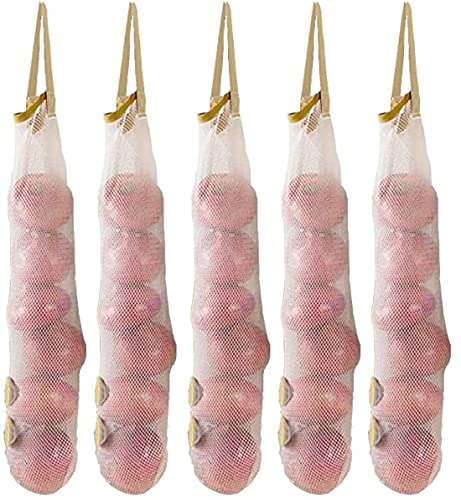 AHYUAN Hanging Mesh Storage Bags 5 Pack Onion Bags Mesh Garlic Net Bags...
Material of Mesh Net Bag: Strong pulling resistance breathable mesh bag, made from durable polyester. Breathable and hanging storage mesh bag,...
Multipurpose Net Produce Bag: Potatoes, tomatoes, onions ,Ginger, green pepper storage bags could be hang anywhere at your home, saving space and...
Proper Size of Hanging Mesh Bag: bigger top opening (up to 6.5inch), flat measure: 6.5 W * 18.5 L inch, the total length is around 21.8inch with the...
The best location for storing onions is somewhere dark, dry, cool, and well-ventilated. The ideal storage temperature is 35-40°F, but you can get pretty good results if the temperature stays below 60°F.
Obviously most of us don't have ideal storage conditions. That's okay – your onions just won't keep quite as long.
Do not try to store onions in the refrigerator. They will get too damp and will either start to rot or to sprout.
It's best to store onions by themselves, since they can affect the flavor of other fruits and vegetables like potatoes. Especially keep them away from apples and pears, which both release ethylene gas that can cause onions to sprout.
How Long Will Onions Keep?
Green onions are not for long-term storage. They last a maximum of 4-5 weeks under appropriate conditions. They're best for picking and using right away.
Sweet (also called mild) onions are not good keepers. They are better to grow for fresh use, but you can probably store them for a few months. Be sure to eat these ones first to prevent them from going bad.
Pungent onions are the best for storage. It will depend somewhat on which variety you choose to grow, but they usually last for 10-12 months in ideal storage conditions.
Keep an eye on all your onions throughout the winter. If any show signs of rot or sprouting, remove them immediately and use them.
Some of the best storage onions include: 'Copra', 'Candy', 'Stuttgarter', 'Red Wethersfield', 'Yellow Globe', and 'Cortland'.
Onions for Months
By knowing how to harvest onions and store them the right way, you'll be able to enjoy the fruits of your labor for months to come.
This is one of the things that makes onions such a rewarding crop to grow. You can enjoy them fresh during the summer and fall and keep pulling them out of storage practically all winter. One of the many reasons to grow them every year!
Popular summer vegetables and herbs
Discover how to grow popular vegetables and herbs in your backyard garden or container garden with these in-depth vegetable growing guides.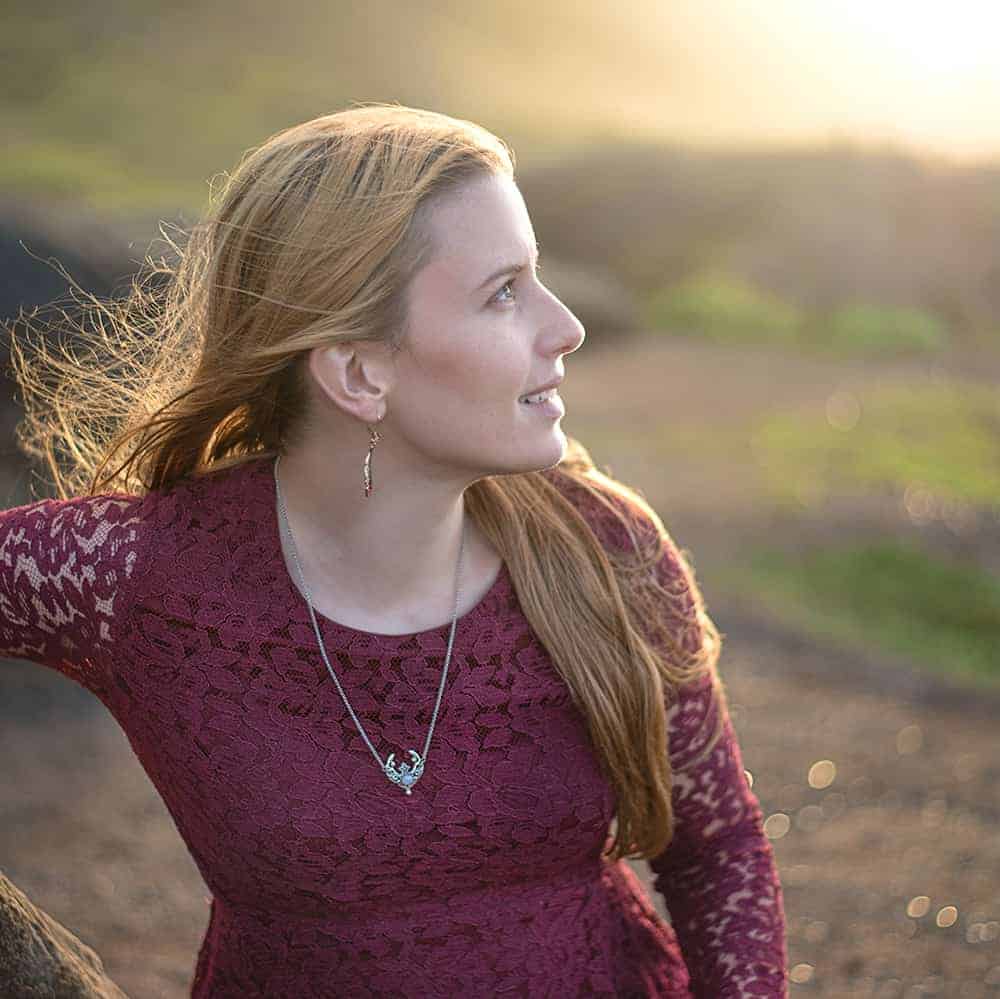 Natasha Garcia-Lopez is an avoid home-gardener and proud owner of 88 acres of land in rural West Virginia. She was a member of the Association for Living History Farms and Agricultural Museums for many years and is currently enrolled in the Oregon State University Master Gardner Short Course program so she can better assist you with your gardening questions.She holds a certificate in natural skincare from the School of Natural Skincare.