Fruits are delicious and healthy, as well as easy and inexpensive to grow. Even if you have a small yard or no yard at all, you can grow many kinds of fruits this year. Just grow them vertically. As long as your fruit grows on a vine, it can be grown vertically.
People frequently assume that growing fruit in your garden is difficult. Some fruits, like apples, are notoriously difficult to grow at home and any tree fruit can take years to start producing. Growing fruit is also associated with needing a whole lot of space.
Luckily, there are several delicious fruits that grow on vines that are easy to grow at home. Vining fruits take up less space and grow more quickly than tree fruits so you can start eating delicious homegrown fruit in just a year or two in your small backyard garden.
If you have limited space to grow your own garden, why not try vertical vine gardening? Get some fruit that grows on vines and grow them on trellises. You can yield a ton of fruits from a few fences or trellises full of fruits. And there are fruits that are easy to grow in almost any hardiness zone.
Today we're talking about several delicious fruits that grow on vines and tips for growing them vertically so you can enjoy delicious fresh fruit from your garden.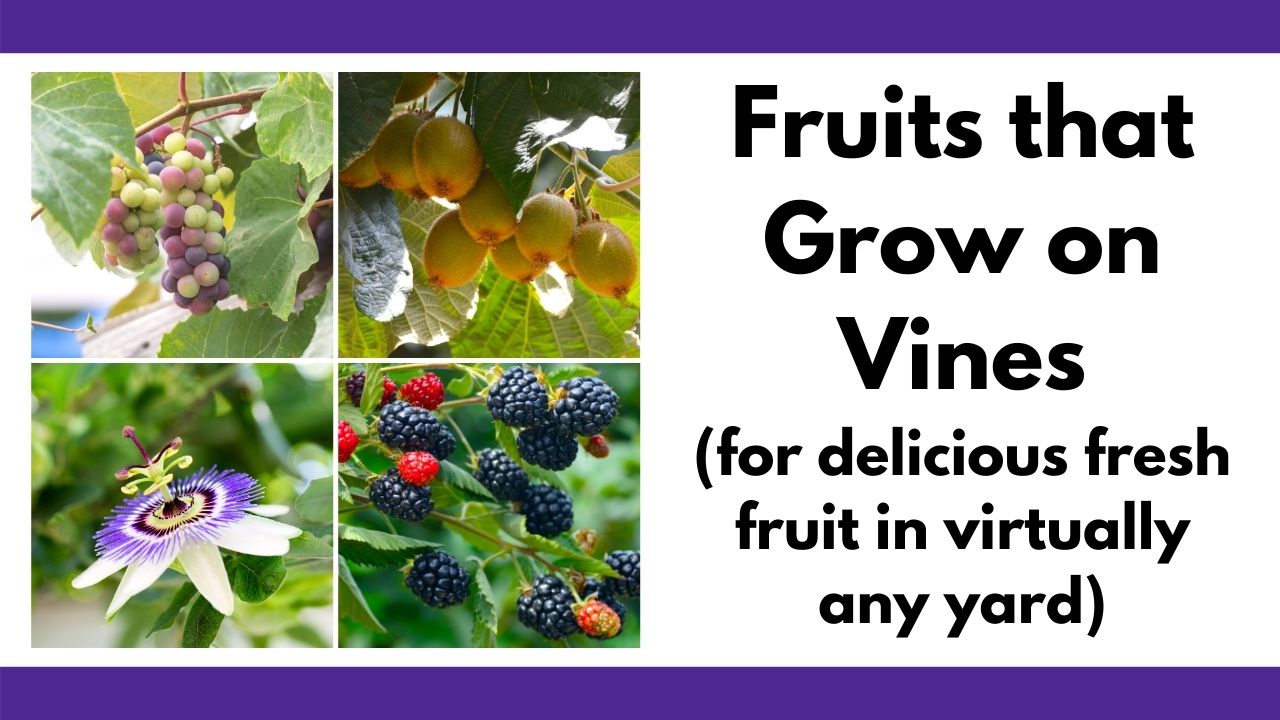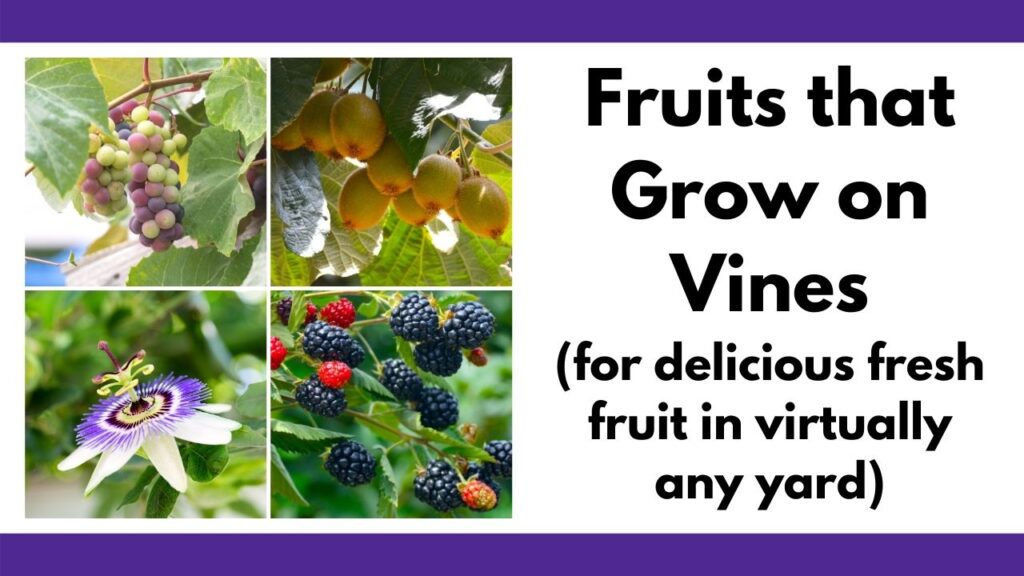 Why Grow Fruit on Vines
This post includes affiliate links. If you make a purchase using one of these links, Together Time Family will receive a commission at no additional cost to you.
If you live in an apartment or a house with a small yard, it can be difficult to find a place to grow any kind of garden.
However, lots of people don't like buying fruit at the grocery store because it's expensive, bland tasting, and fruits regularly fill the Environmental Working Group's "Dirty Dozen" pesticide covered fruits and vegetables list.
Training your fruit to grow up a trellis or fence is ideal since you can do this on your deck or porch with no problem.
Any plant that grows on a vine can be trained to grow vertically. Even the heavier fruits like watermelon or pumpkins can be grown vertically as long as you have netting to support it.
Trellising fruits saves space
You can grow more in a smaller space when you grow vining fruits vertically. This is particularly true for
Trellising fruits creates healthier crops and better harvests
Another reason for vertical gardening is to reduce insect damage and disease. Keeping your plants off the ground improves the air circulation and prevents them from sitting in water or dirt.
Many insects attack fruits that are on the ground rather than climbing up a trellis or fence.
Trellising fruits also keeps leaves, stems, and fruits further away from soil-born plant diseases.
Climbing Fruits That Grow on Vines
Any fruit that grows on a vine can be trained to grow up a trellis or fence to save space. You can even train them to climb trees or walls on your patio or deck. Let's take a look at the list of fruits that grow on vines.
You'll find the typical USDA hardiness zones for each plant listed under the title. If you don't know your zone, it's important to check your zip code and find out which zone and subzone you're located in.
Some of the fruits that grow on vines include:
Blackberries
USDA Zones 4a-10b
Blackberries can grow up to six feet high on a trellis or fence and will come back every year. Blackberries technically grow on canes, not vines, but most need trellising so they're the perfect candidate for growing vertically.
They like full sun, and some can grow huge berries bigger than a 50-cent piece. You do not have to wait long for these juicy berries because these plants produce fruit the first year. Make sure they get full sun and acidic, sandy soil.
If the thought of blackberry thorns has you hesitant to grow this delicious fruit, you can find thornless blackberry varieties. My mom grows succulent thornless succulent blackberries and they're always one of her top producing crops.
Blackberries follow a set pattern where the fruits grow and the floricanes die. The vine tends to age gracefully as the primocanes create buds to begin the process all over again for next season. These can end up growing 8-10 feet tall. Make sure to read up (or watch a video) on how to identify these types of canes and prune your plant correctly for a productive, healthy plant.
Blueberries
Zones 3a-9b
Blueberries love full sun and acidic soil, and some have berries that can grow over an inch wide. Blueberries are also not truly "vining," but they benefit from trellising and can be grown in smaller spaces.
Blooming in late winter or early spring, these juicy berry plants will climb a fence or trellis up to eight feet tall.
Blueberries also enjoy acidic soil. If your soil is not naturally acidic, you can purchase soil acidifier to make your blackberries happy.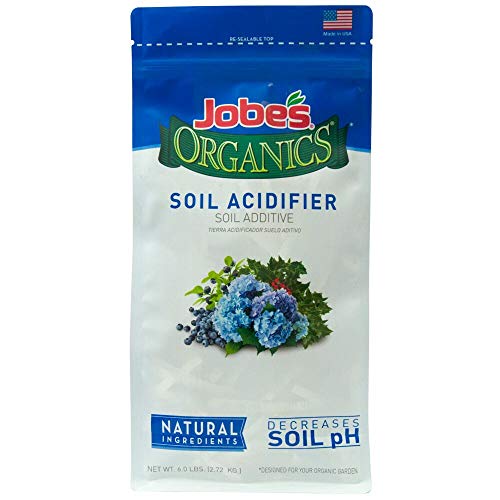 Jobe's Organics, 09364, Soil Additive, Soil Acidifier, 6lbs, Brown
Organic granular for decreasing soils alkalinity; provides acid-loving plants with all natural Sulphur
Omri listed for organic gardening by USDA; certified organic means no synthetic chemicals
Ideal formula for hydrangeas and blueberries; turns hydrangeas from pink to blue; test soil pH before applying
Cantaloupes
Zones 5a-11
Cantaloupes enjoy full sunlight with neutral to acidic pH and moderate watering. They will do well on vines if you use a hammock or net them, so they do not pull down the vine.
You can use a melon net from the store or make your own out of pantyhose, tights, or a sling made from an old t-shirt. Growing melons vertically makes for a much better fruit because they are not sitting on the ground all the time.
Beginner gardeners, and people who are sick of fighting pests and diseases, will appreciate the Sugar Cube Hybrid cantaloup because it is the most disease free melon available.
Dragon fruit
Zones 10a-11b
Dragon fruit grows on a large cactus that love heat and full sun with mildly acidic soil. They bloom in the late summer and have nicely scented yellow or white flowers in the spring. These plants can grow up to 20 feet high on a trellis or fence, and they have spines, so be careful when picking.
Grapes
Zones 2a-10b
Grapes are not just a hardy and easy to grow fruit, the plants themselves are very attractive. Get them growing up a fence or trellis anywhere for a decorative wall full of delicious fruit.
They do need a lot of sun, though with slightly acidic soil. It may take a few years for them to start producing fruit, but they are perennials, so they will be back year after year with no worries.
Make sure you learn how to correctly prune your grape vines to keep your plant happy and productive.
Grapes will grow up virtually anything, including walls. They look fantastic on a backyard pergola or growing up a piece of wood lattice. Your very own arbor of grapes will make you feel like you're living in a Mediterranean vacation!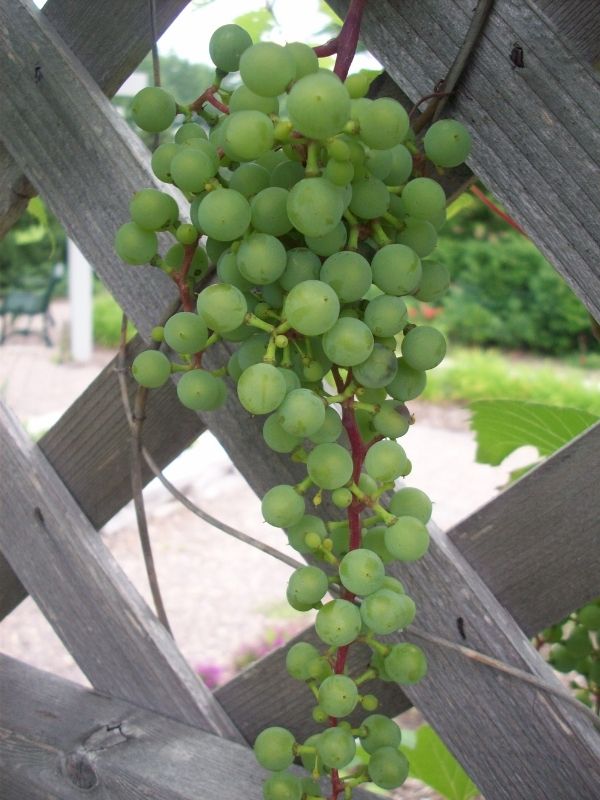 Honeydew Melons
Zones 4a-11b
Honeydew melons enjoy full sun and a mildly acidic or neutral soil to grow best. They will grow up a fence or trellis with no problem, but you will need to net the melons as they grow to support them. With average water requirements, these are easy to take care of and very hardy.
Keep your honeydews, cantaloupes, watermelons, and other related plants spaced out from each other as much as possible in your garden.
The honeydew melons shown below are being grown vertically on bamboo stakes attached to a wood fence. After experimentation, I prefer to use coated metal garden stakes when possible. They are sturdier than bamboo and can be used for multiple seasons.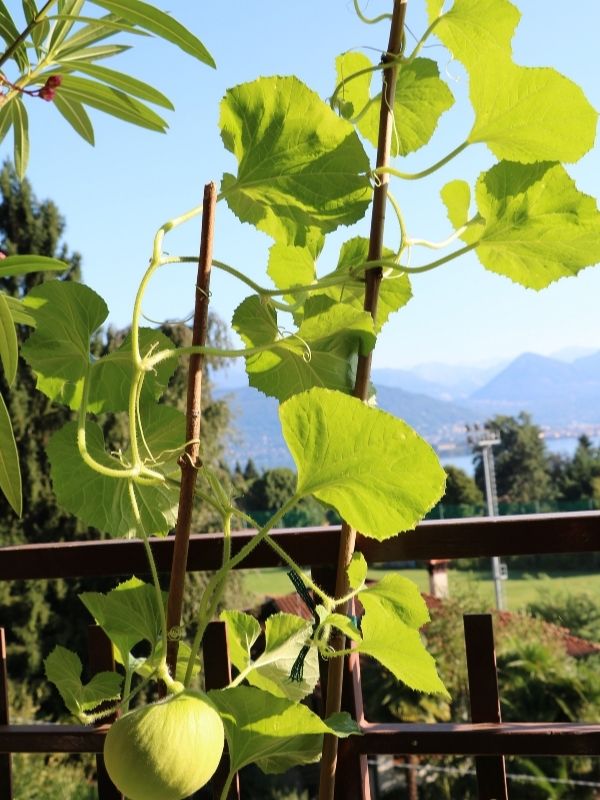 Kiwi Fruits
Zones 8-9
Did you know that kiwi fruit grows on vines? How cool is that?
Kiwi, also known as gooseberries, can grow up to 30 feet long in ideal conditions. Plant them where they will get partial shade and mildly acidic or neutral loamy soil.
For most people, an arched trellis is an attractive and convenient way to provide them with enough space to grow. plant offers exceptional growth potential as long as the spacing is appropriate for the plant's future size. The kiwi pictured below are growing on an arched metal trellis: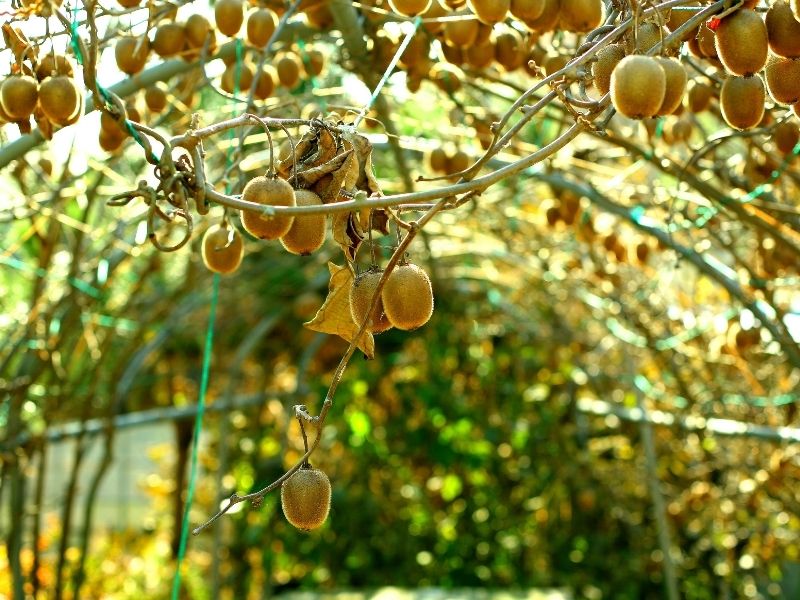 Kiwi can also be grown on a pergola or sturdy fence.
You can buy arched trellises or make your own if you're handy. This video shows an exceptionally beautiful (and well built) homemade kiwi trellis:
Tip: Kiwi have separate male and female and female plants. Only the females produce fruit, but you also need a male plant. Many plant nurseries label their vines so you can make sure you get at least one male kiwi plant for pollination purposes.
Hardy kiwi
Zones: 5-9 (some varieties can survive even colder temperatures)
If you love kiwi but live in a colder climate zone, hardy kiwi berries are the vining fruit for you! Hardy kiwi is also a very easy fruit to grow and typically has few pest and disease problems.
Hardy kiwi fruits are smaller than than "normal" kiwi, but the vines can grow even longer – up to 40 feet! That's why it's importnat to always provide a sturdy, lengthy trellis for your hardy kiwi vines. Pergolas, sturdy fences, and arch trellises can all work well.
It's important to prune your kiwi vines correctly if you want an ample harvest year after year. Luckily, it's easy to prune your kiwi vines with a pair of sturdy garden clippers and a YouTube video:
Tip: Make sure to get at least one male hardy kiwi plant to ensure pollination. Hardy kiwi vines are either male or female – you need at least one of each if you want fruit.
Passionfruit
Zones 8a-10b
Passionfruit is a perennial vine that loves the sun but can tolerate some shade as well. They are interesting looking vines with large, purple flowers that look like something out of a Dr. Seuss book!
They can be trained to grow on trellises and fences easily. However, once they get larger, they may need nets or hammocks to keep them from pulling the vine off the trellis. They grow fast but usually do not produce fruits until the second year and do best in mildly acidic or neutral soil.
This is the whimsical passionflower: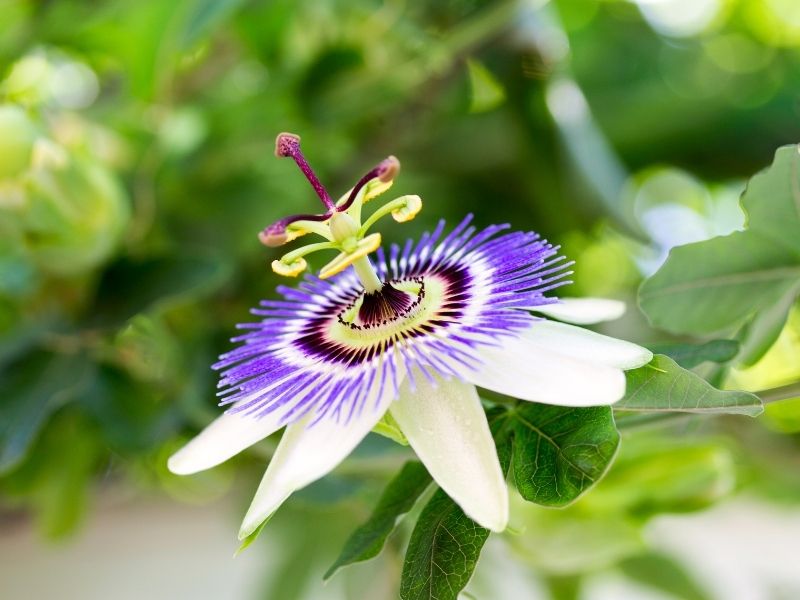 And this is a passionfruit growing on a trellis: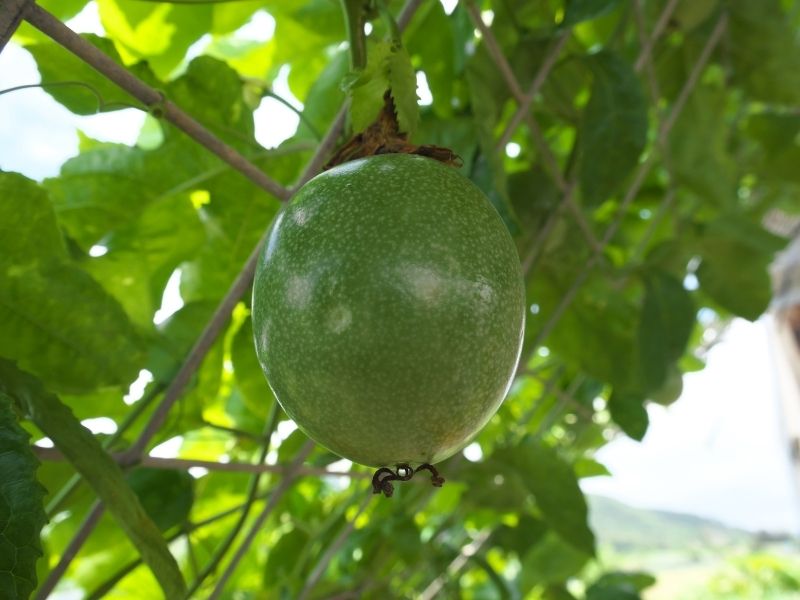 Pumpkins
Zones 3a-9a
Pumpkins are hardy growers and can be grown on a trellis or fence as long as you do not choose one of the larger styles. Try the smaller varieties like the Baby Boo or Jack be Little. With support and a sturdy trellis, you can also grow smaller edible varieties like sugar pie pumpkins. (We've successfully grown Turk's Turban gourds on a trellis with melon slings so I know it's possible to grow these 6-7 pound fruits vertically.)
Once they start growing bigger, use melon nets or pantyhose to support them. They grow up to eight feet tall and do best in neutral soil with full sun or partial shade.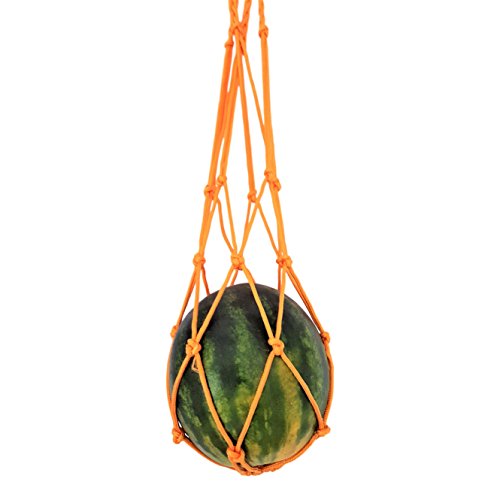 Raspberries
Zones 2a-8b
Raspberries can grow in most of the United States and give you a great bang for your buck. Raspberries are expensive to buy at the store and go bad quickly – you will quickly make a return on your investment when you grow your own raspberries.
Raspberries can grow up a trellis or fence without any trouble and love lots of sunshine. They also do best in mildly acidic to acidic soil and appreciate regular watering. The plants can climb up to eight feet tall and bloom in the middle of spring. Watch out for spines or thorns when picking this tasty fruit. The raspberries shown below are growing on trellis netting: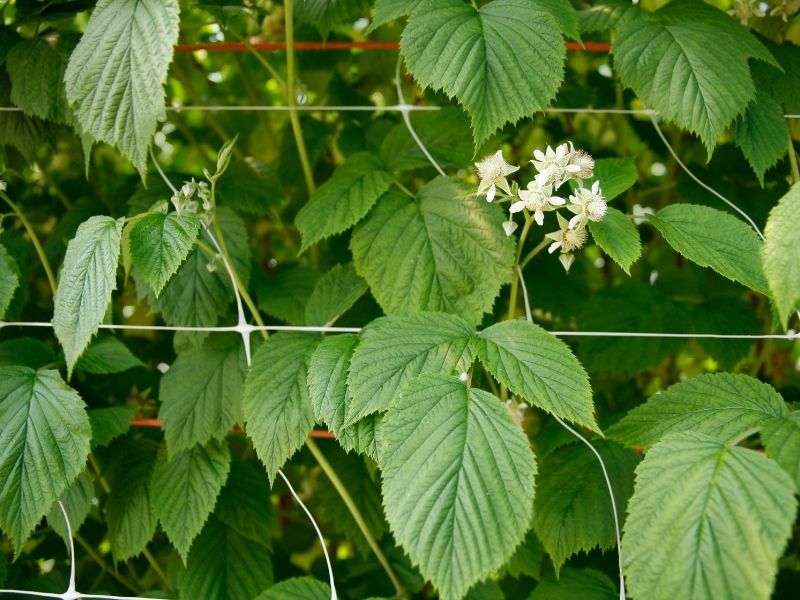 Some raspberry varieties, like the Boyne Raspberry, will bear fruit on stems that are only on year old. Cut away stems after you've harvested the fruit to make way for new growth – the same stems won't grow fruit the next year.
Strawberries
Zones 2a-10b
Strawberries are usually ground cover that creeps but are an excellent candidate for growing vertically. You can train them up a trellis, but it's easier to grow them in vertical containers. Strawberry towers are popular and easy to find.
My personal favorite tower planter is the GreenStalk grower. It comes in 3, 4, and 5 tier options and is made in Tennessee. We own three of these planters and use them for a variety of plants, including strawberries. Check us out on Instagram for some pictures of our GreenStalk growers!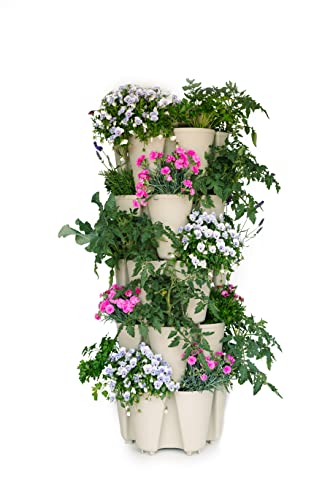 Greenstalk Patented Large 5 Tier Vertical Garden Planter with Patented...
We are proud to manufacture GreenStalk Vertical Planters in East TN. Made with high quality, BPA-free, UV-resistant polypropylene #5 plastic with a 5...
To water the entire system use GreenStalk's patented watering system: simply fill to the 5 tier mark on the top water reservoir to water all the...
Easily grows a wide variety of vegetables, herbs, strawberries and flowers including potatoes, lettuce, corn, and tomatoes
To ensure healthy strawberry plants, pinch off all "runners" and blossoms for the first year if you're growing June-bearing berries. Pinch off blossoms until July for everbearing and day-neutral berries.
In future years, runners can be propagated into new daughter plants. This means you only need buy one set of strawberry plants – the plants produce for several years and make their own replacements for free.
To learn everything you need to know in order to have a bountiful, healthy strawberry patch, stop by this post on growing strawberries.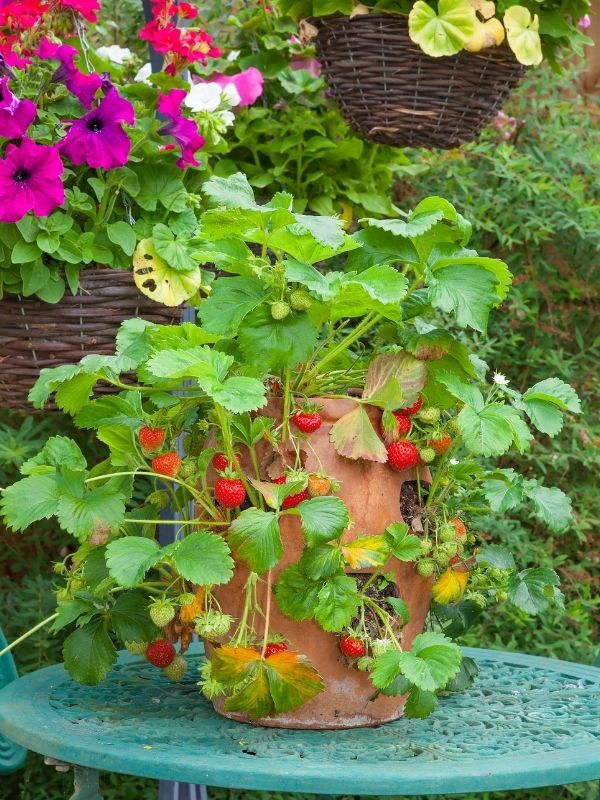 Watermelons
Zones 3a-11b
Watermelons do well in slightly acidic or neutral soil and bloom in the summer. They love full sun and need regular watering. Since they can grow quite large, you will need a support system for your fruits as they grow. It has to be something strong that will not harm the plant and drains well. Melon nets or even pantyhose work well for this.
As with other melons, it's a good idea to pick smaller varieties of watermelon for vertical growing. Some watermelon grow up to 20 pounds – these are not good candidates for trellising.
A sturdy chainlink fence makes a surprisingly good trellis for watermelons: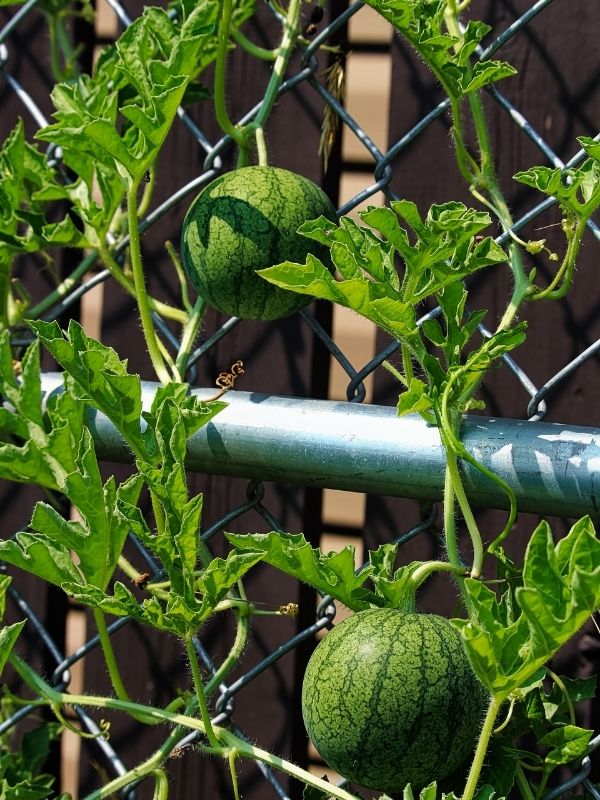 Tip: watermelons do not ripen off the vine, so try to pick them at peak ripeness. This can be difficult to determine, but the watermelon should sound hollow when you knock on it. It should also feel surprisingly heavy for its size.
Ways to Trellis Fruit
You do not have to stick to a trellis or fence to grow your fruits on. There are other options that you may like better or may work out better for your particular situation.
Teepees can be made out of anything, or you can buy them from the store. A bamboo teepee is the most common and looks just like a teepee that Indians used, but without the covering. You can use a bunch of these in a small space if you have a variety of different vining plants.
Cages sound a bit boring or restrictive, but you can get some really fancy ones that will complement your space no matter how small it is. Try some of the cages with adjustable rings that will grow with your plants.
Decorative trellises can be lovely, sturdy, and look fantastic in your garden year round. This sturdy metal trellis is 9 feet high and perfect for plants like passionflowers. You can also get a pergola trellis to act as a privacy wall for your yard and hold your vining fruits.
Arbors are beautiful structures that can make a statement if you have the space for one. Gated arbors make a beautiful entryway into your yard or garden. They are really just giant arches and can be made out of metal, wood, or even plastic. Sturdy metal arbors come with stakes to help hold them in the ground. Arbors can also be constructed of wood like a small pergola: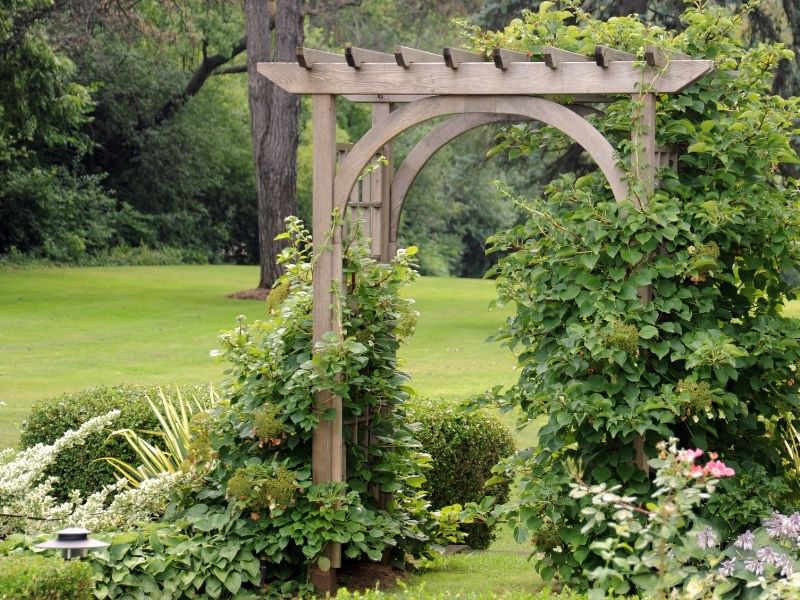 Pallets are great for vertical gardening, and they are inexpensive or even free. Some big companies may even pay you to take away their old used pallets that they do not want anymore. Just lean the pallet up against a wall and train your vines to grow up the side, or you can build a floor in each slat to stagger-step the plants up the pallet. Important Tip: It is best to attach the pallet to the wall or whatever you are leaning it on, so it does not fall over.
A-Frames are similar to trellises, but they have two flat sides joined at the top to make the shape of an A. You can build these yourself with wood or even sticks and use mesh or netting to help support them. If you're not sure of your diy skills, you can also purchase a-frame trellises.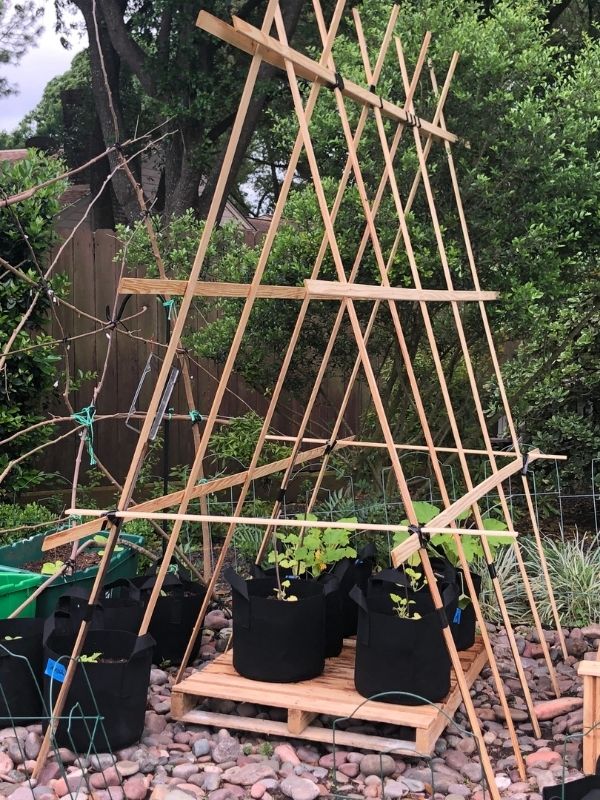 Netting is a good choice if you do not have the room for much. It is often used on trellises as well as other climbing plants to keep them supported. It also protects them from birds and other wildlife that may want to snack on your fruit.
Pergolas are similar to arbors, but they are a larger structure covering a space like your deck or balcony. The top is flat instead of arched, and can even be attached to your home for more support. Vines growing on pergolas make a stunning accent to any space.
Walls can be used to grow fruits vertically. Plants like grapes can grow up a brick wall easily, but melons will not. To avoid damage to your wall and increase the variety of fruits you can grow, consider adding a wall-mounted trellis.
Other yard structures like fences, garden gnomes, and other miscellaneous garden features can also be fun to use for vine growing. If you have an old swing set or jungle gym you were thinking of getting rid of, grow some vines on it instead.
The Difference Between Fruits and Vegetables
Did you know that most of the plants we know as vegetables are actually fruits? We have all been brought up to think of tomatoes, zucchini, and peas as vegetables. It even says so on the canned goods at the store. But these are botanical fruits.
According to the Merriam-Webster Dictionary, "a vegetable is a plant that is edible."
Botanically, a vegetable has edible plant parts like the leaves, stems, or roots. A botanical fruit develops from a fertilized ovary and contains seeds.
Tomatoes, peppers, and peas grow on plants. They are not actually part of the plant themselves.
Here are some true vegetables:
Broccoli
Cabbage
Carrots
Celery
Kale
Lettuce
Onions
Potatoes
Spinach
In everyday speech, people typically call sweeter produce "fruits" and more savory produce "vegetables," even though these are not their botanical designations.
Having a vertical vine garden full of fruits you can eat is genius.
It does not take up much room and is easy to take care of. Not only that, but it can really dress up a boring fence or patio. Let your fruit grow onto and around your porch to provide shade and privacy.
Many fruits that grow on a vine also produce beautiful blooms that can turn your patio into a showcase.
Herb and Vegetable Harvest Tips
Not sure when your vegetables are ready to pick? Or how to harvest your herbs without killing the plant? Discover these herb and vegetable harvesting guides!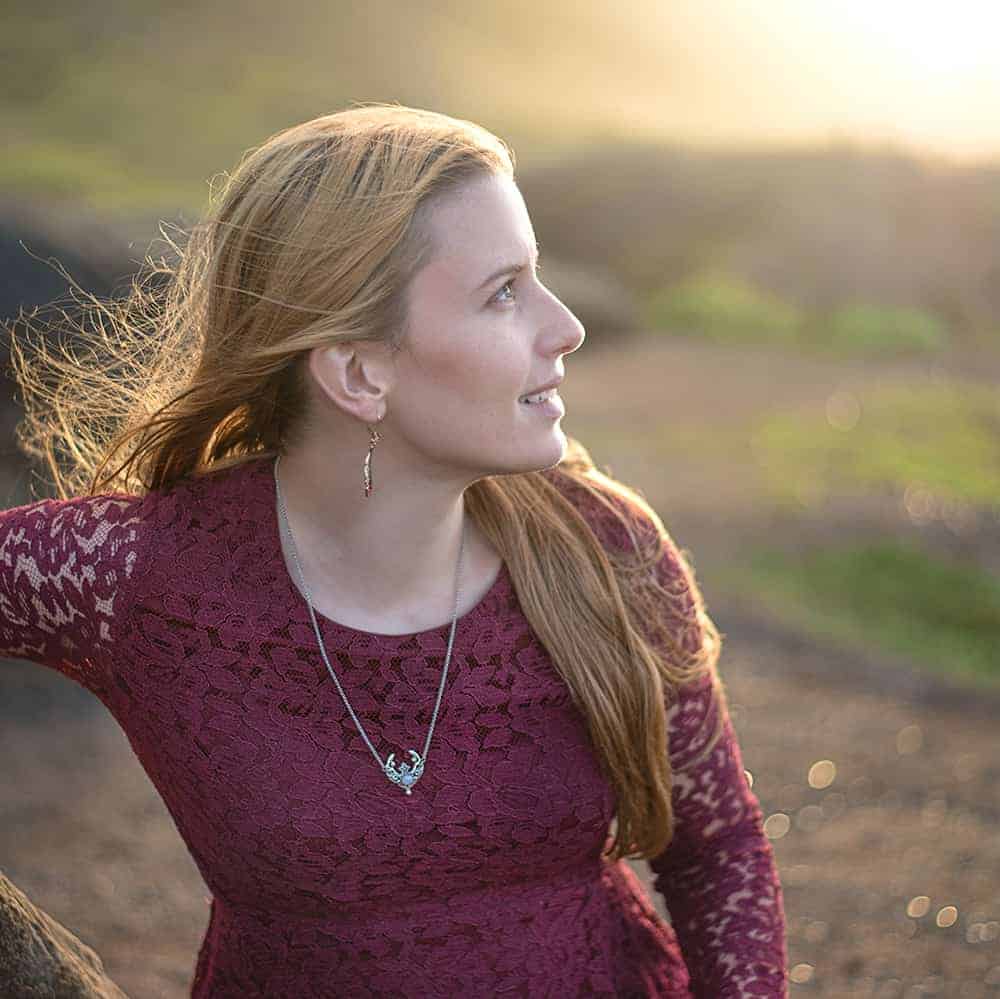 Natasha Garcia-Lopez is an avoid home-gardener and proud owner of 88 acres of land in rural West Virginia. She was a member of the Association for Living History Farms and Agricultural Museums for many years and is currently enrolled in the Oregon State University Master Gardner Short Course program so she can better assist you with your gardening questions.She holds a certificate in natural skincare from the School of Natural Skincare.