With fall upon us, that beautiful foliage is about to start coming off the trees and falling onto lawns across the world. So, is it possible to have a leaf free yard even in the fall? Sure, and it doesn't even require the use of a rake. Keep reading to find out how to quickly pick up leaves in your yard.
Picking up leaves by hand is a time honored tradition in my family. My grandmother and I used to sweep the never ending supply of leaves, almost daily, in our backyard by hand. Thinking back to those days makes me cringe because of all the back pain associated with bending over and raking by hand. Luckily, there are some new and interesting tools which make sweeping your yard so much easier.
The easiest tool for yard cleanup is a lawn sweeper. Lawn sweepers come in two varieties. A push style lawn sweeper is great for household use and can even be used for larger yards. If your yard is too big then you will probably need a tow behind lawn sweeper. There are some other options available for lawn cleanup to include combination leaf blower vacuums.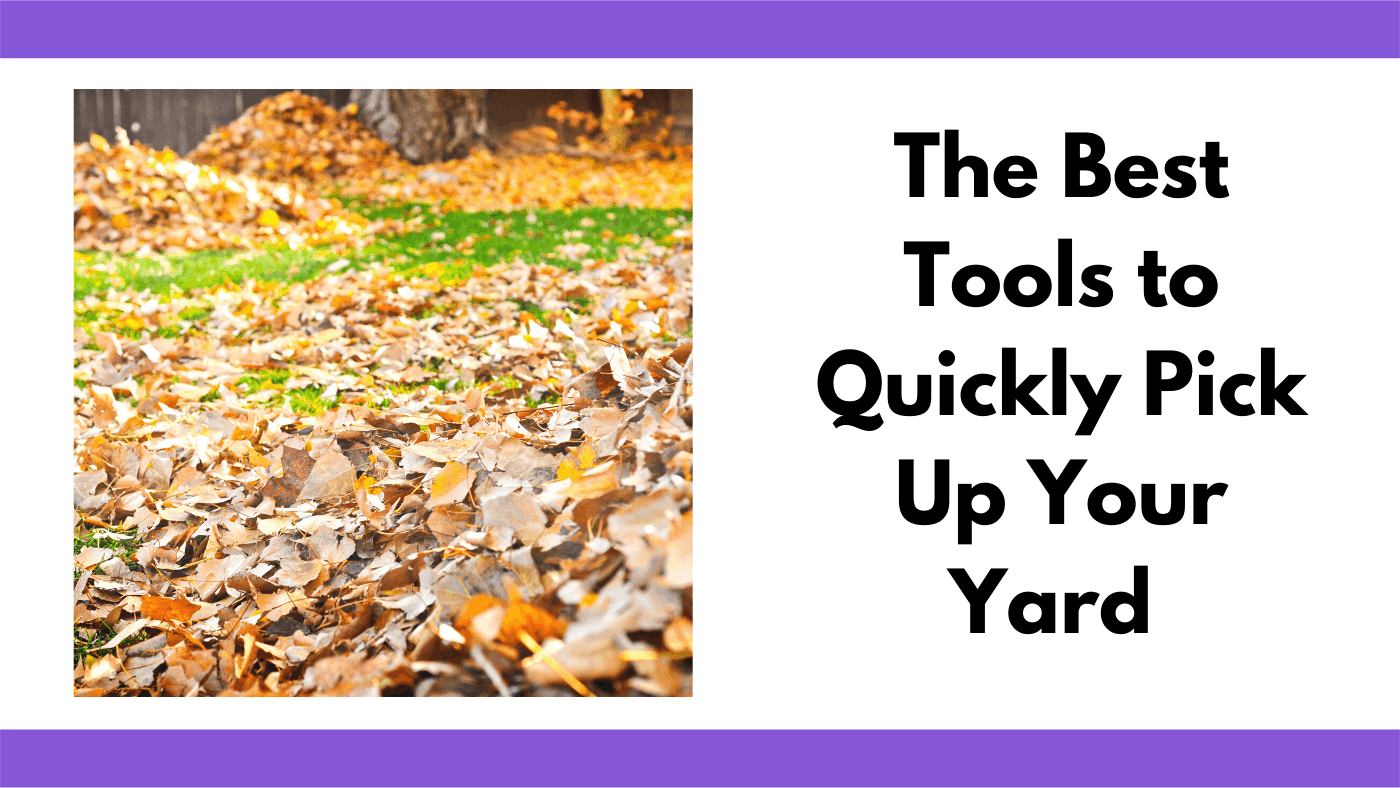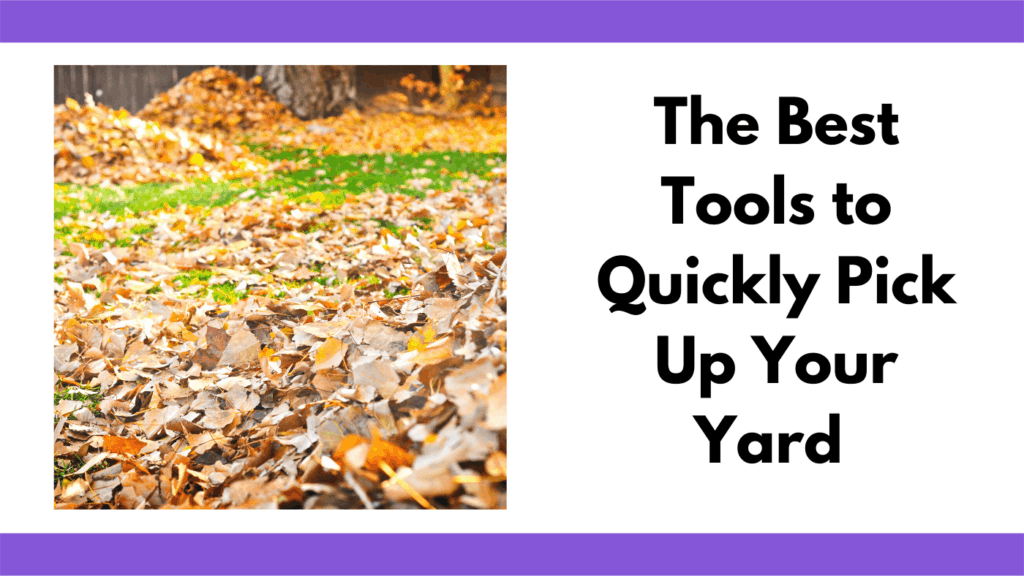 This post includes affiliate links, which means I may earn a commission on purchases made at no additional cost to you.
There are a few things to know about lawn sweepers, they are not all created equal. Keep reading to find out which are our favorites and what you should look for in a lawn sweepers.
This guide breaks down the various types of lawn sweepers so you can make an informed, confident decision and select the best lawn sweeper for your needs.
In a rush? Here are our top picks!
Combo Lawn Sweeper and Mulcher
Agri-Fab 45-0218 26-Inch Push Lawn Sweeper, 26 Inches, Black & WORX WG430...
Best Tow Lawn Sweeper
Agri-Fab 45-0320 42-Inch Tow Lawn Sweeper,Black
Vacuum and Mulcher Kit
Sun Joe 24V-X2-BVM143 48-Volt IONMAX Cordless Leaf Blower Vacuum Mulcher...
Manual Leaf Scoops
Rugg Original Leaf Scoops; 1 Pair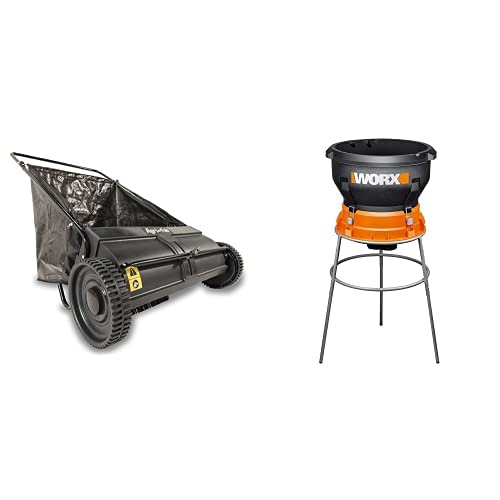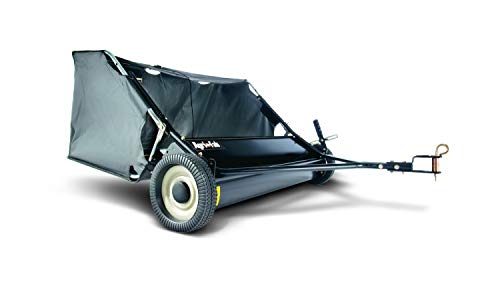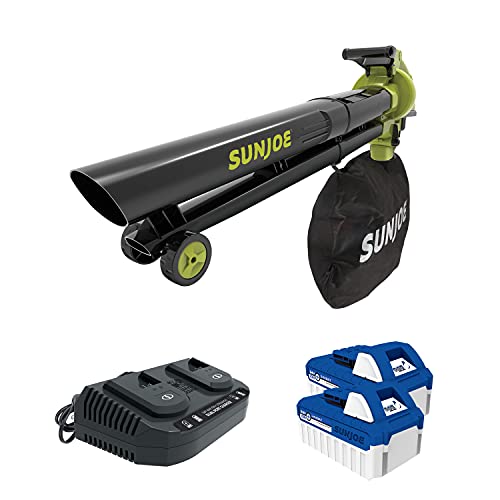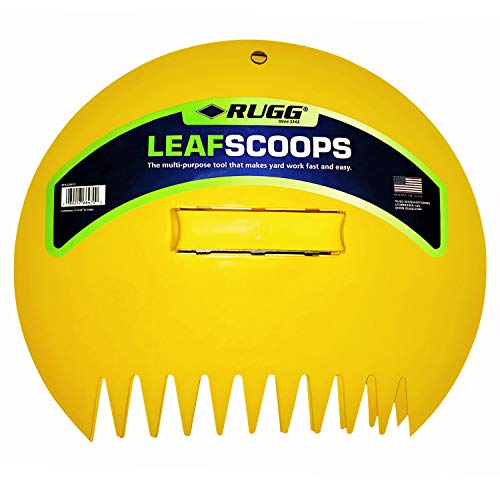 Combo Lawn Sweeper and Mulcher
Agri-Fab 45-0218 26-Inch Push Lawn Sweeper, 26 Inches, Black & WORX WG430...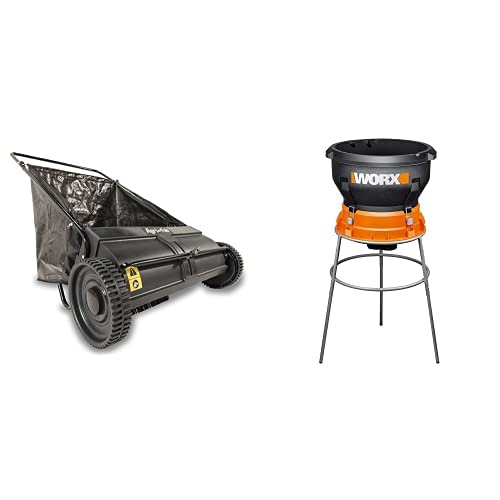 Best Tow Lawn Sweeper
Agri-Fab 45-0320 42-Inch Tow Lawn Sweeper,Black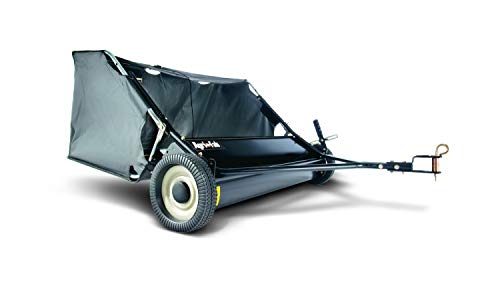 Vacuum and Mulcher Kit
Sun Joe 24V-X2-BVM143 48-Volt IONMAX Cordless Leaf Blower Vacuum Mulcher...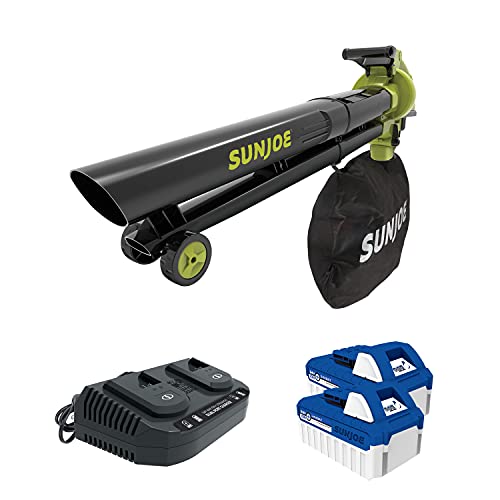 Manual Leaf Scoops
Rugg Original Leaf Scoops; 1 Pair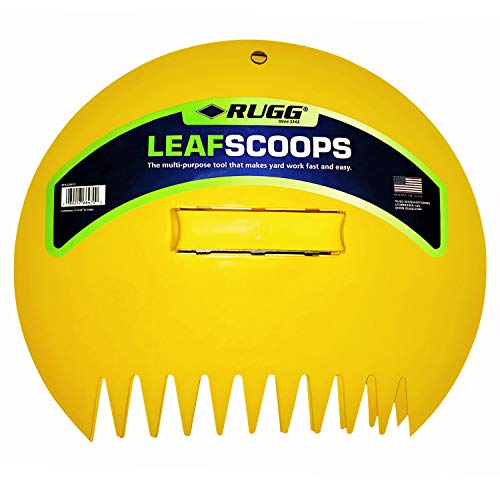 ---
If you've ever tried browsing for garden supplies, you may have been struck by analysis paralysis.
Picking the best tools can be exhausting, so we're here to help. Here are the best lawn sweepers on the market today.
The best lawn sweepers
The Agri-Fab Lawn Sweeper is a great tool for your yard. It sports a wide 26 inch body for massive leaf collection. The brush and height adjustment design make it effective at picking up leaves in a single pass. If you don't get all the leaves you expected to, simply change the height adjustment to a lower level and try again.
This manual leaf sweeper has a tarp material collection bag which is very durable. As one reviewer recommends, do not leave it out in the sun and rain, "The material of the bag seems like it'll wear quickly if you leave it outside in the sun and rain…so do not do that. but if it does tear or rip……duct tape will fix that up real quick." Read the full review here. If a tear does develop, some duct tape should fix it up easily.
Disposing of the bag's contents is also easy to do since the bag is loosely held by catch mechanisms. Simply slide the catches off and you can deposit the leaves as you wish. This makes it easy to mulch the leaves with the recommended leaf mulcher from WORX.
The one downfall is the longevity of this product. Because the bag is a specialty product, it can be hard to find replacements if it tears at a vital corner. Our suggestion is to reinforce the bag with high quality duct tape prior to use.
The Earthwise Lawn Sweeper and Rake is similar to the Agri-Fab Lawn Sweeper but there are a few different features which should make you consider this lawn sweeper too.
This lawn sweeper has all the essential features you need. First off, the wide 26 inch collection is great for covering lots of ground quickly. The manufacturer also claims an 80% pickup rate on the first pass. Many customers claim this is true and only takes 2 passes to pick up all the leaves. Either way, it certainly beats raking by hand. Adjusting the height of the brushes is also very simple to do with the height adjustment at the front of the lawn sweeper.
The big difference you should consider is the bag material and construction of the hopper. This collection bag is made of a heavy duty net material which is common in many yard working tools. The bag also has a brace which acts as a sturdy handle when removing the debris to deposit it either in the trash or a compost pile.
One other thing we noticed is that this model is exactly the same as the Scotts Push Lawn Sweeper except for the price. Scotts is usually a higher price because of the more recognized brand, but if you are okay with buying an 'off brand' name, then the Earthwise lawn sweeper is the one for you.
The Agri-Fab Tow Lawn Sweeper is a professional lawn sweeper. With this lawn sweeper, the leaves in your yard don't stand a chance. Not only is this lawn sweeper extra large, 42 inches wide, but it also sports some user-friendly features which make using it a breeze.
The one item which tends to degrade over time on lawn sweepers are the brushes which sweep the leaves into the hopper. These are upgraded in the Agri-Fab lawn sweeper to be wire brushes for better performance and longer life. They are also replaceable, Leaf sweeper replacement brushes, a major plus.
Probably the best feature which we enjoyed seeing is the tether tied to your lawn tractor which allows you to easily empty the contents of the lawn sweeper without getting out of your seat so you can continue picking up leaves and debris without interruption.
There are other tools which make picking up leaves easy such as this combination blower vacuum mulcher kit by SunJoe. For an in depth discussion about leaf blowers and yard vacuums, check out our post on the best electric leaf blowers.
This tool lets you vacuum your yard and mulch the leaves all at once. You now have high quality leaf mulch ready for your compost pile. Using the tool to your advantage is key, first use the blower to aggregate the leaves in a smaller location, then pick them up using the vacuum function.
Traditionally, picking up leaves is with a rake and a scoop of some sort. The Rugg Leaf Scoops are a great new idea which allows you to grab the leaf piles with a pair of oversized hand scoops.
They really are easy to use and super effective. The large size allows you to grab large amounts of leaves at a time and the concave shape keeps the leaves put between the two scoops. You'll easily grab 5-6 times more leaves than with your bare hands, which will increase your productivity immensely.
The fork ends are also a great feature. This allows you to rake the leaves into the center, so you don't miss a single leaf. This saves you time because you won't need a separate rake to pick up stray leaves.
The down side to this method is that you'll need to rake most of the leaves into piles before using. You'll also be bending over quite a bit to pick up the leaves.
Sale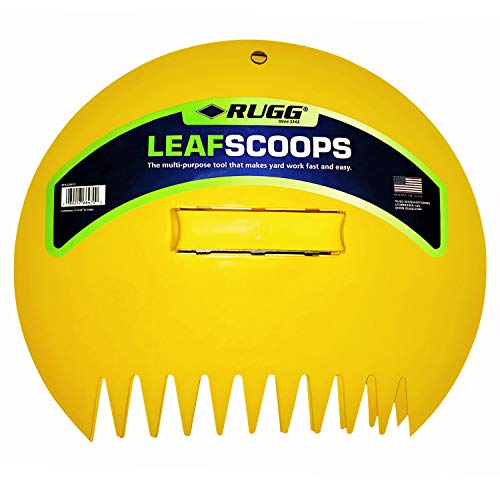 Rugg Original Leaf Scoops; 1 Pair
You Get Two Scoops one for each hand
Ideal for picking up large piles of leaves, grass clippings, twigs, mulch or anything else you need to pick up in your yard
Hi impact plastic with strong teeth
Common questions about lawn sweepers
Why use a lawn sweeper?
Lawn sweepers pick up stray debris in your yard. They can pick up anything from grass clippings to acorns. This leaves your yard with a clean look and feel of a picture-perfect yard.
The accumulated leaves and debris are very useful for composting or mulching. The leaves and grass clippings are high in carbon which are essential for protecting your soil. They also decompose easily and add a great amount of volume to your compost pile.
If you are curious on how to grow your compost pile fast, check out our in depth post on growing your compost pile.
Do lawn sweepers work on driveway?
Yes. Lawn sweepers are like a large broom with some extra power. Using a lawn sweeper on a hard surface like concrete or asphalt may actually increase the performance because the loose debris can be easily swept up and into the hopper.
Will a lawn sweeper pick up grass?
Yes. Lawn sweepers will pick up most of your yard debris that can be easily moved with a rake or broom. Lawn sweepers make short work of grass clippings as long as they are dry.
Do lawn sweepers pick up dog poop?
No. Lawn sweepers work well for loose debris. Because dog poop tends to be larger and heavier than grass clippings or leaves, dog poop will not be easy for the lawn sweeper to pick up. Plus, you will end up smearing and soiling the brushes with fecal matter.
Will a lawn sweeper pick up pecans?
Yes, you can easily use a lawn sweeper to pick up pecans. Before harvesting you should use your lawn sweeper to remove all debris from below the tree. When you are ready, simply shake the tree to cause the pecans to fall and then use your lawn sweeper to collect the harvest. Adjust the height of the brushes as necessary to collect your harvest.
Angel is a Cuban immigrant who grew up with backyard chickens and a yard-loving abuela. He is our "gear guy" who can never have too many pairs of gloves or weed whacker attachments.