Fennel is a wonderfully aromatic herb and vegetable that is easy to grow in your garden. It provides you with a lot that can be harvested: leaves, seeds, bulbs, and even the flowers and stems.
Each part of the plant has a distinct flavor and can be used in different ways. How to harvest fennel depends on which part of the plant you want to pick and also which type of fennel you are growing.
Here's a guide to harvesting the different parts of fennel, including when each one will be ready. Not sure about the different types of fennel and how to grow them? Make sure to stop by this guide to planting and growing fennel.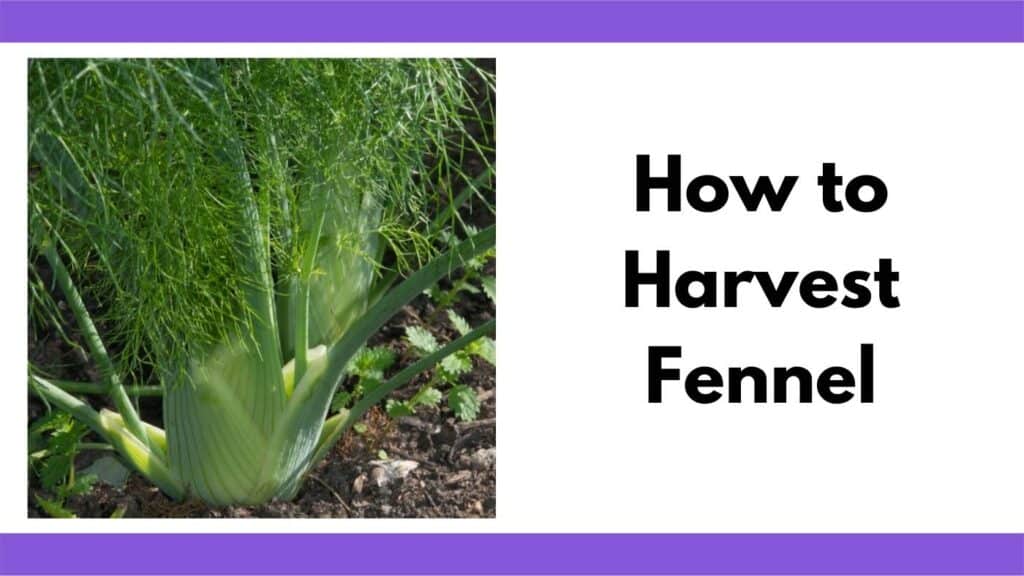 This post includes affiliate links. If you make a purchase using one of these links, Together Time Family will receive a commission at no additional cost to you.
Different Types of Fennel
There are two main types of fennel: herb fennel (also called common fennel) and bulb fennel (also called Florence fennel).
If you are growing herb fennel, you can expect your plants to get about 3-5' tall and provide you with lots of fragrant foliage throughout the growing season. You'll also get fennel seeds at the end of the season, which are just as flavorful and easier to store.
Bulb fennel plants will get about 2-3' tall and are grown for the bulb-like stem that forms right above soil level. This type of fennel is harvested as a vegetable.
Even though bulb fennel produces foliage, you shouldn't harvest it because your plants will need all the energy they get from their leaves to form bulbs later on. You also won't get any seeds from bulb fennel because you will be harvesting before the plants produce seed.
If you're interested in harvesting leaves, bulbs, and seeds, make sure you plant some of each type of fennel! Make sure to check out this guide to growing fennel for more information.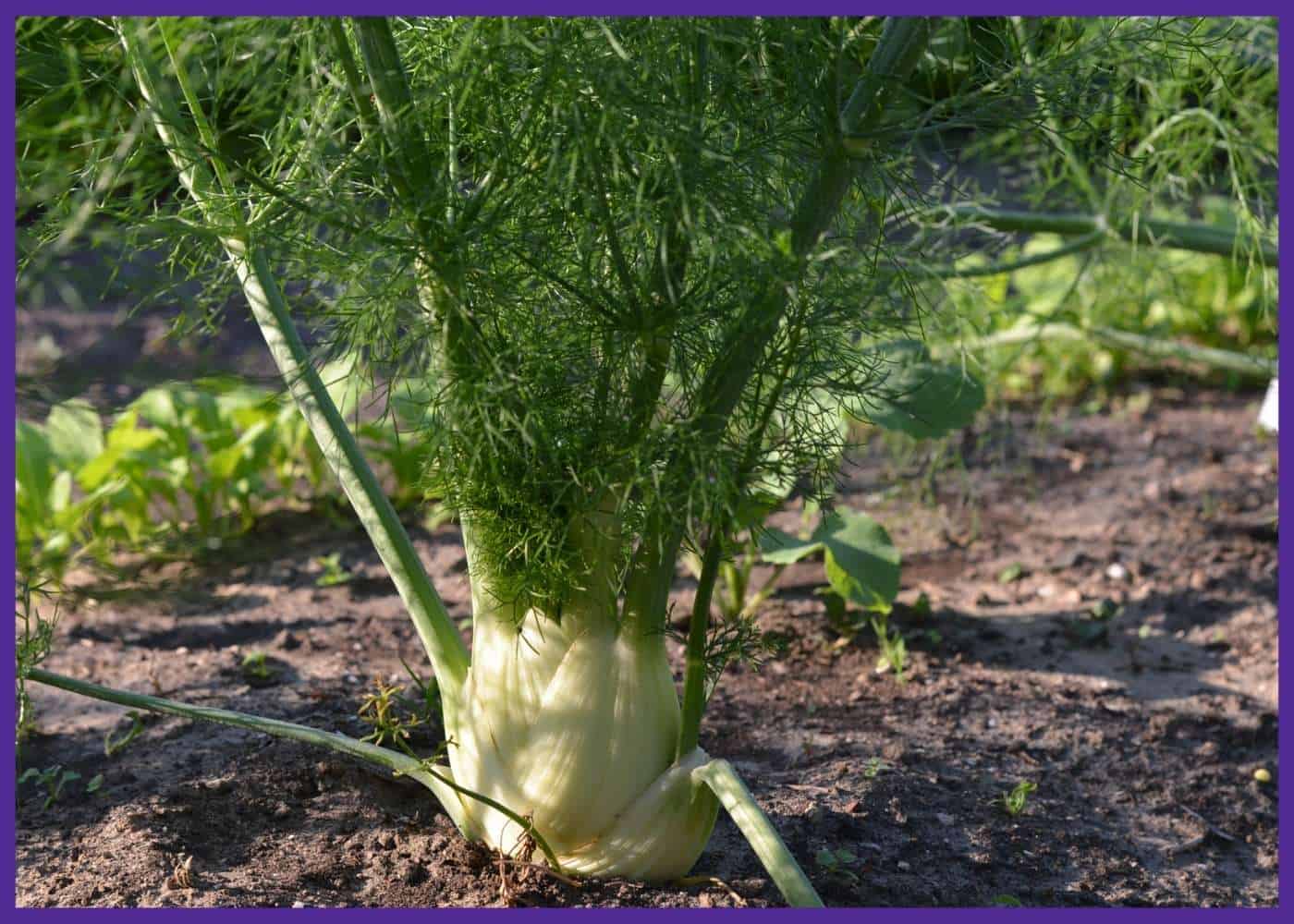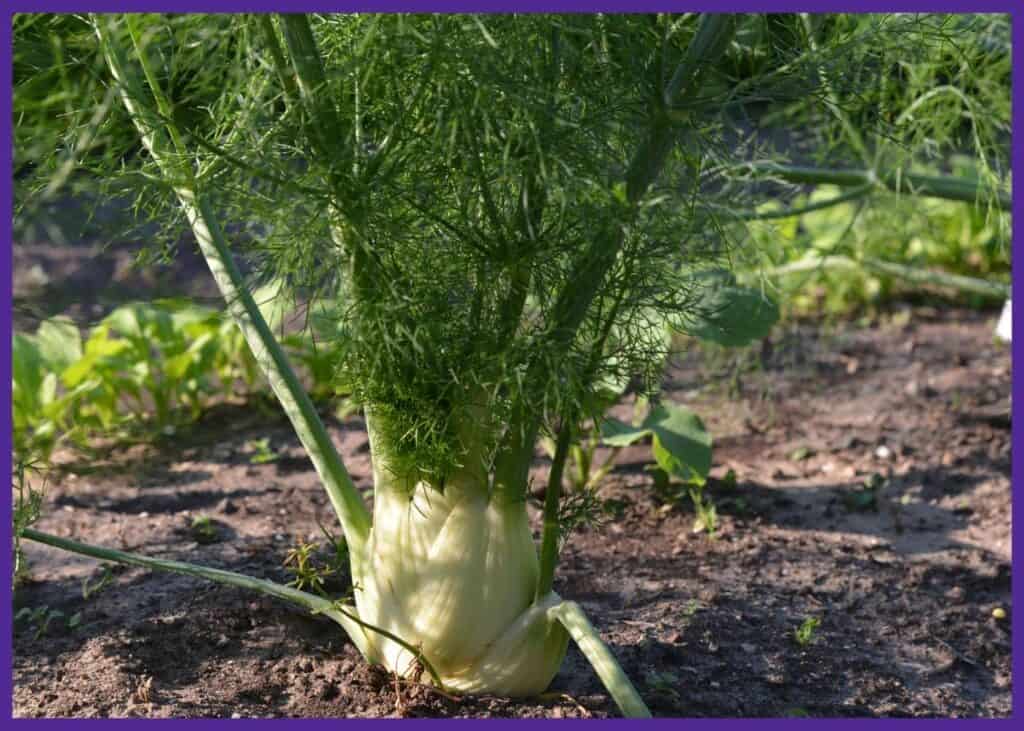 When to Harvest Fennel
Leaves
Fennel leaves can be harvested at any time of the year, but let your plants get at least 6-8" tall before you make your first harvest. Regularly trimming or harvesting from your plants will encourage new growth, so feel free to do it often.
When you see your plants start to form flower heads, you'll need to trim them off before they open if you want to keep harvesting the leaves. If you want to harvest flowers and/or seeds, let the plants bloom and continue through their growing cycle.
If you have backyard chickens, they usually love eating fennel sprout thinnings and fennel foliage you throw to them. According to Lisa Steele of Fresh Eggs Daily (via an interview on Abundant Permaculture), fennel has anti-disease and parasite qualities. Make sure to check out her book 101 Chicken Hacks for more ideas on how to keep your flock happy and healthy.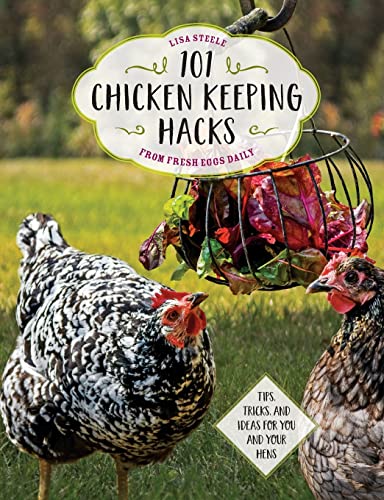 Seeds
Fennel seeds form after the plants bloom and the flowers fade. You'll notice that they appear where the flower heads were and will be green at first. Once the seeds ripen and turn brown, they are ready to be collected.
You can use fennel seeds in food, to make herbal remedies and teas, and for planting again next year. Fennel seeds are a popular component of soothing teas for upset stomachs and teas for nursing mothers. According to Healthline, it contains antioxidants and can help you sleep, too. Tea with fennel is surprisingly sweet tasting.
Bulbs
Bulb fennel usually matures 70-80 days after being planted. You can start harvesting the bulbs when they are a baby size or let them grow to full size. The ideal harvesting size for mature bulbs is tennis ball size (or when they get about 3-4" in diameter).
Keep in mind that fennel can take a light frost but not a hard freeze. Harvest your bulbs – no matter the size – before temperatures get too cold. Fennel can typically withstand temperatures in the 20s, but doesn't like when temps get into the teens. If you live in a warmer zone, like we do in our 8a winter growing location, you can probably grow fennel all winter without protection. Sources frequently list 15ºF as the lower limit for fennel.
If you have an unexpected cold snap, you can try to protect your plants with fleece row covers. If you have access to electricity near your garden, try gently wrapping your plants with a strand of outdoor-rated Christmas lights for some added warm, then add a heavy row cover on top.
Agfabric Plant Covers Freeze Protection Floating Row Covers 2.0oz 10'x30'...
Super Heavy-Weight FRCs (1.5-2.0 oz./sq. yard): Are usually used to extend the growing season in spring and fall, allow...
PROTECTION High quality spun polypropylene fabric is stabilized and reusable, and allows air and moisture to reach your plants,
EASY INSTALLATION Measured size as described, easy to cover it on the plant top personally
How to Harvest Fennel
Leaves
Leaves are easy to harvest and can be clipped off as needed with clean scissors or garden snips. I use my Fiskars Micro Tips on smaller fronds. You can clip off whole stems or small pieces, depending on how much you want, but always try to cut right above a node (where other leaves come out of the stem).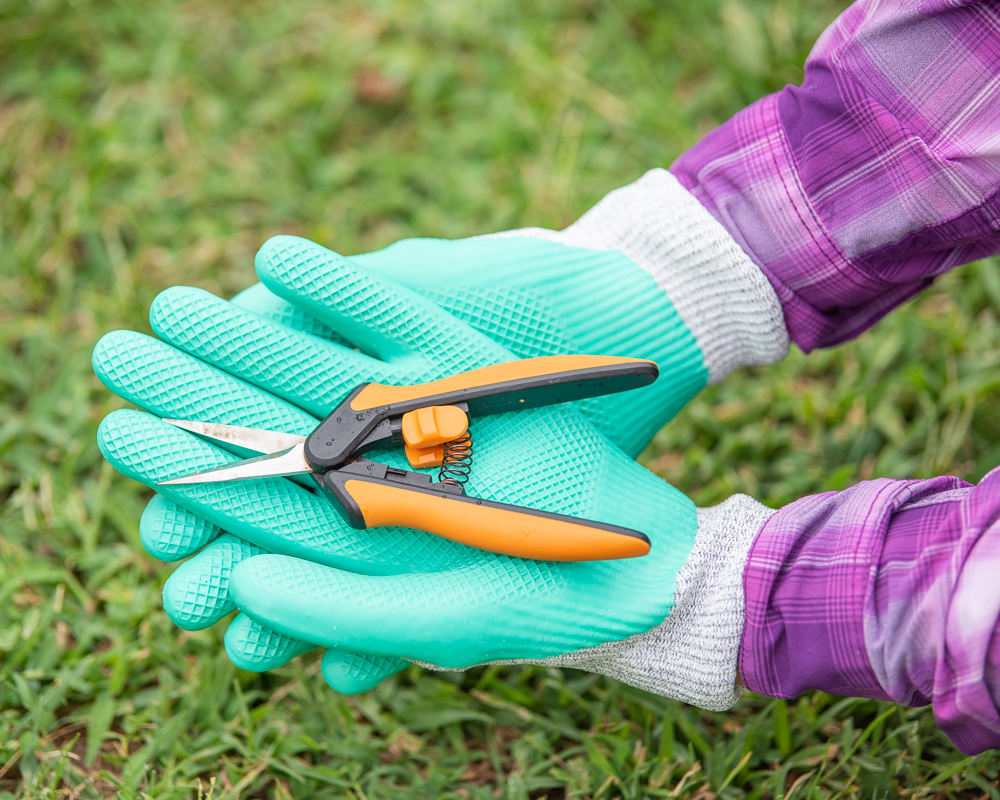 As a general rule of thumb, harvest no more than ⅓ of the leaves from any plant at one time. This keeps your plants healthy and ensures that they have enough energy to re-grow.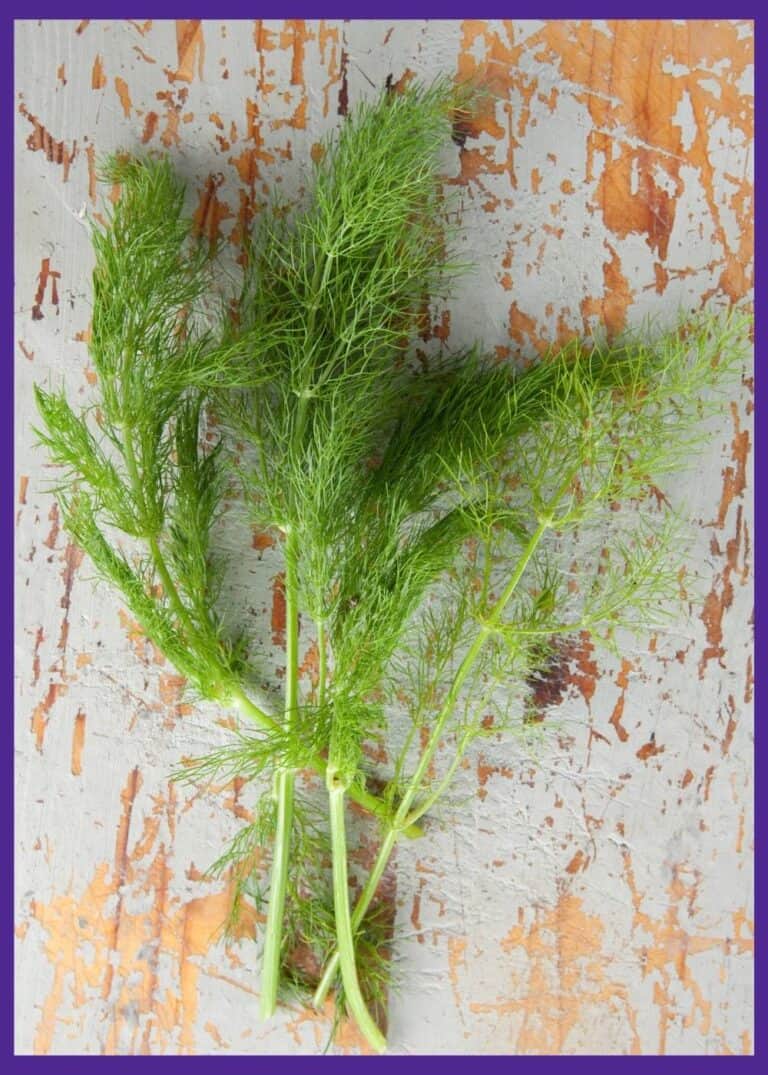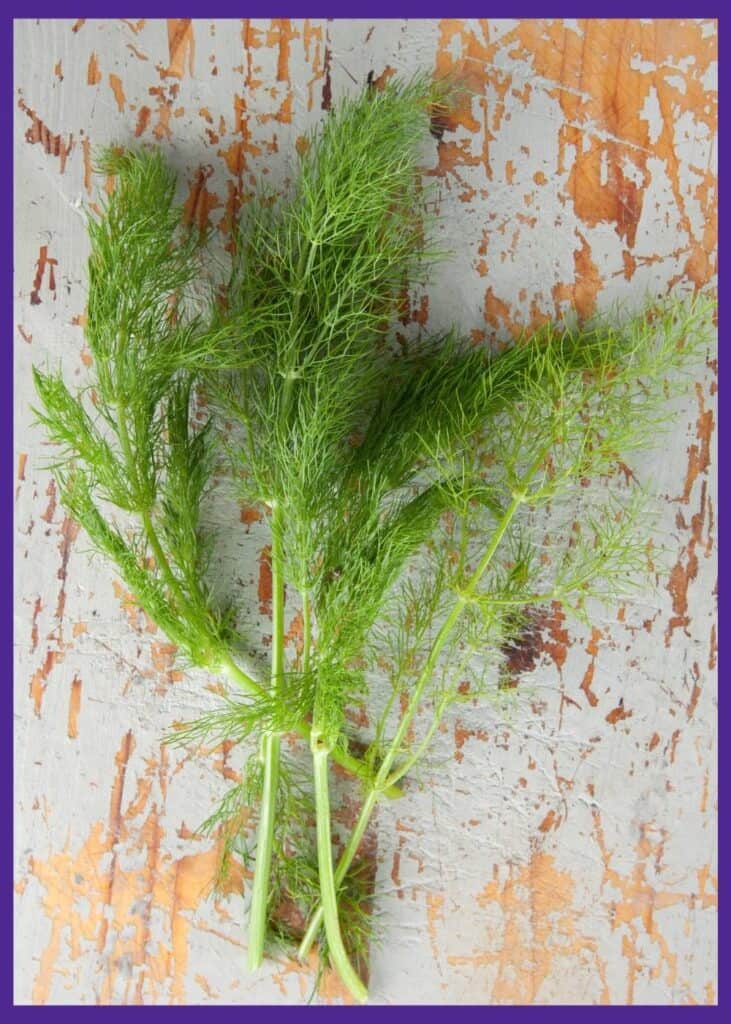 Seeds
When the seeds are ripe, harvest them by clipping off the dried seed heads. Take them inside and shake them over a container or bag so that the seeds fall out. Let the seeds dry on a flat surface for another few days to make sure there is no moisture left before you store them.
If you are planning to use the seeds for cooking, you'll probably want to put them through a sieve or hand sort to get rid of the chaff that falls off the plant with them.
Bulbs
To harvest fennel bulbs, use a sharp, clean knife to cut them off under the bulb but above soil level. You can also simply pull your plants out of the ground, but if you leave the roots in the soil, they can re-sprout and give you a crop of tender fennel shoots. Because fennel has a long taproot, pulling it out of the soil can disturb your soil structure and nearby plants. Leaving it in the ground allows it to decompose in place, improving your soil instead of damaging it.
Be sure to trim off the leaves, most of the stem, and the roots (if they are attached) after harvesting. This will help the bulbs to last for several weeks if stored in the refrigerator.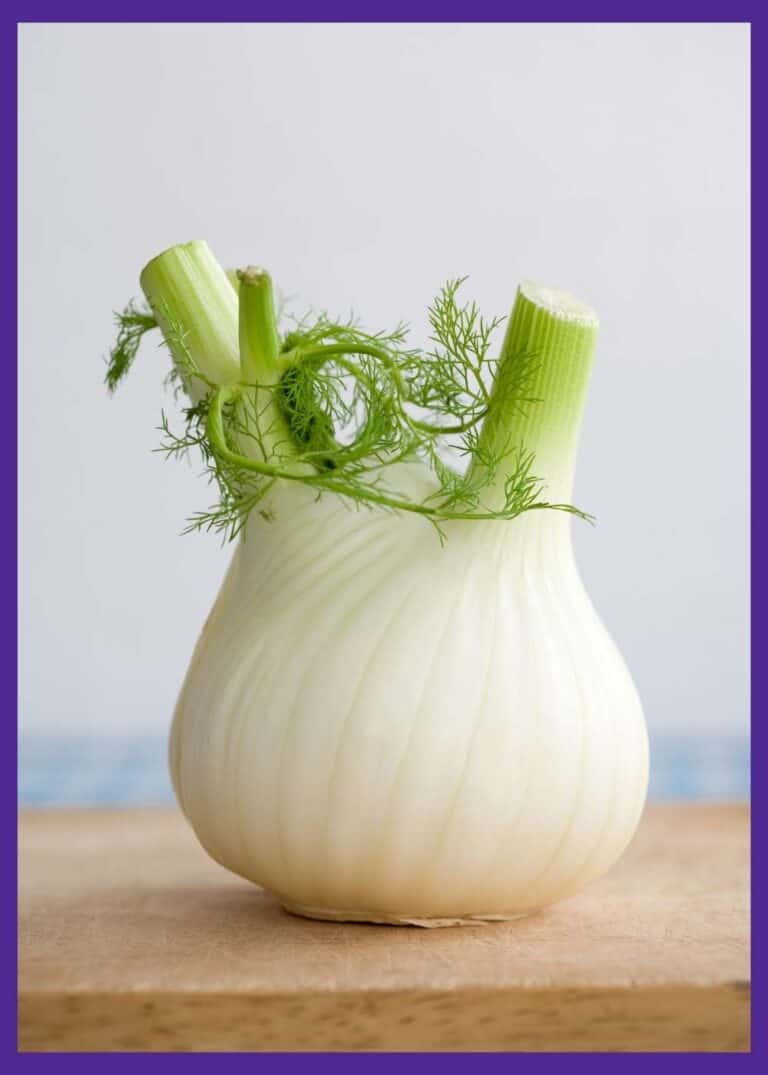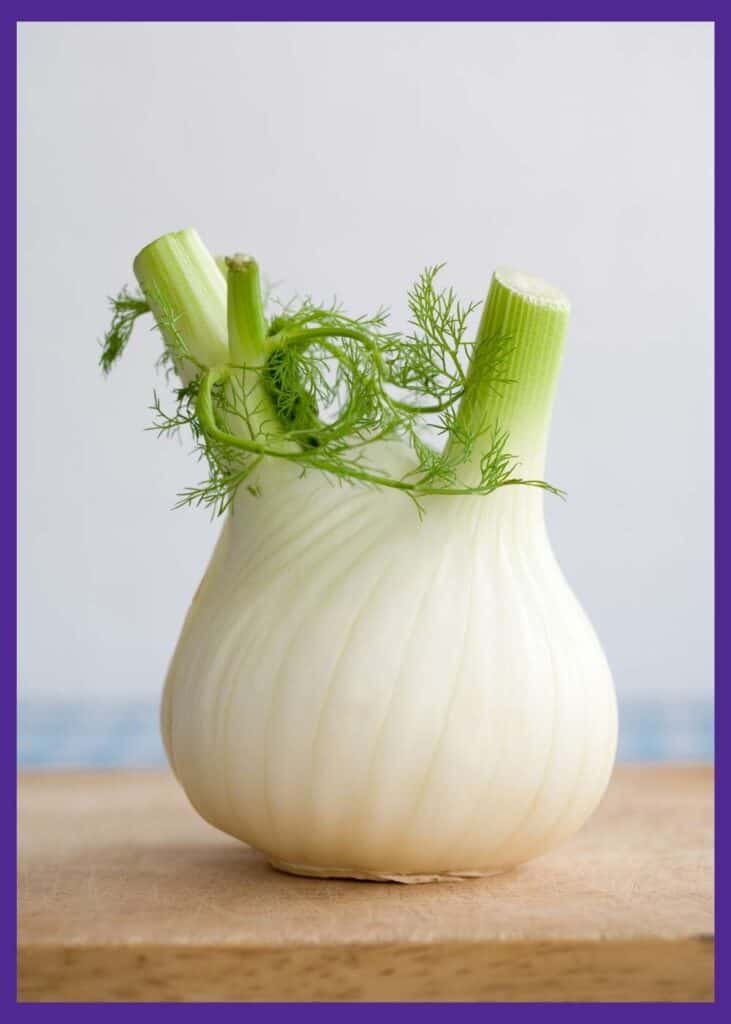 Remember the Fennel Stems & Flowers
Now that you know the basics of how to harvest fennel, why not try using some different parts of the plant – like the stems or flowers?
Fennel stems are very fragrant (like the rest of the plant) and can be used kind of like celery. They are a bit tough but will add a lot of flavor to a meal if cooked for a long time (think soups and crockpot meals). They don't taste exactly like celery, but their flavor can be excellent in dishes like chicken soup and fish stock.
You can cut and use the stems at any time, but they will be more tender the younger they are. Do not harvest more than a couple young stems if you want your fennel to grow and bulb up properly.
Check out this article on ways to reduce food waste by using fennel stalks and stems for more ideas.
The flowers can be harvested when they are yellow and used much like dill flowers to flavor a pickling liquid, for example. They can also be used as a garnish in a salad or made into fritters. You can even scrape off the pollen and add it to recipes for a surprisingly intense fennel flavor!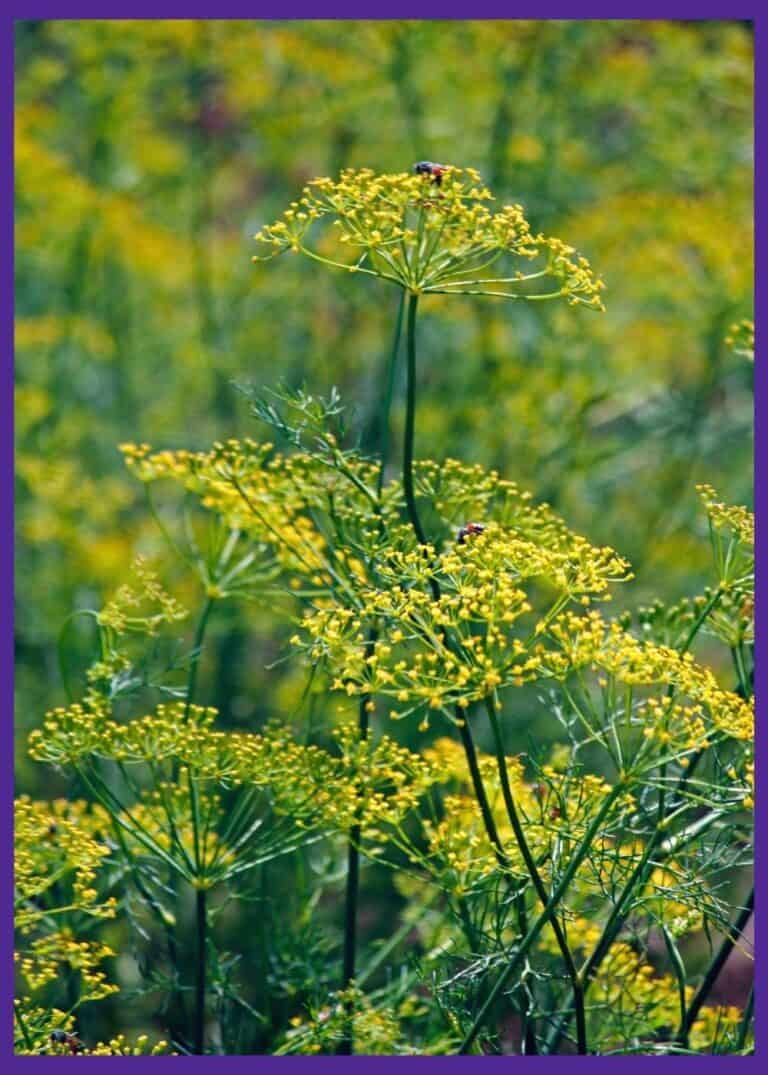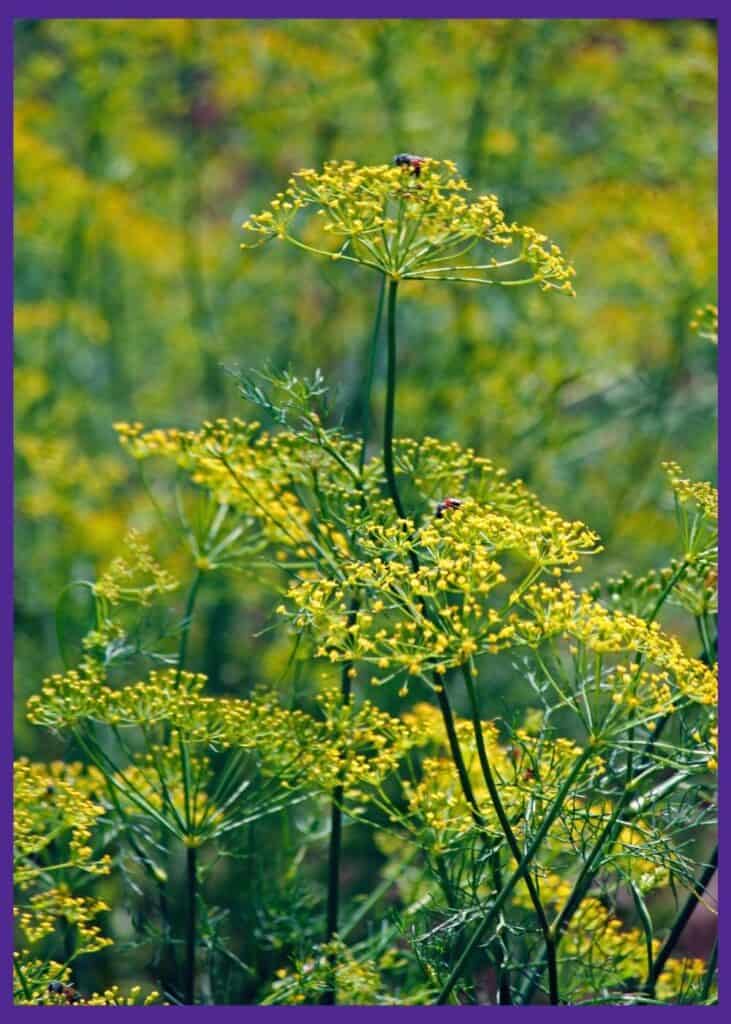 Storing & Enjoying Your Fennel
Fennel bulbs can be stored whole in the refrigerator (with the stem and roots cut off) for several weeks. Use the smallest ones first, since they usually don't keep as well as the larger ones.
Fresh fennel leaves are best used right after being harvested. You can put the cut end of the stalks in cool water to keep them fresh for a few hours until you are ready to use them. Fennel leaves can also be dried, but they do tend to lose a lot of their flavor.
For the best flavor and storage time, harvest and dry fennel seeds. In airtight containers, they will keep their flavor for a year or more and remain viable for a few years if you want to plant them. An inexpensive stacking dehydrator is the perfect way to dry seeds. If you enjoy harvesting seeds for seasonings or seed saving, a stacking dehydrator is incredibly helpful. I use this Presto model with trays that flip for nesting and easy storage in a fraction of the space.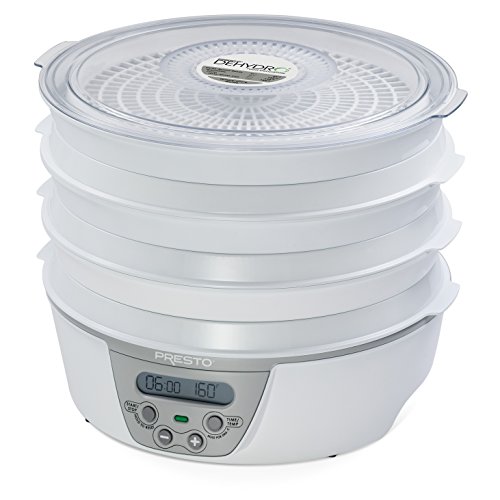 Presto 06301 Dehydro Digital Electric Food Dehydrator
Six-tray system for dehydrating foods at a fraction of the cost of commercially dried foods with no additives or preservatives.
Makes jerky from meat, poultry, and seafood includes sample packets of jerky spice and cure
Digital thermostat and timer for precise drying time and temperature choose drying temperatures from 90 to 165 degree f
With all the bounty that fennel gives you, you can enjoy its bright flavor for most of the year!
Cool Weather Crops to Grow
Spring, fall, and even winter can be a fantastic time for gardening. Discover these delicious cool weather crops for your year-round vegetable garden!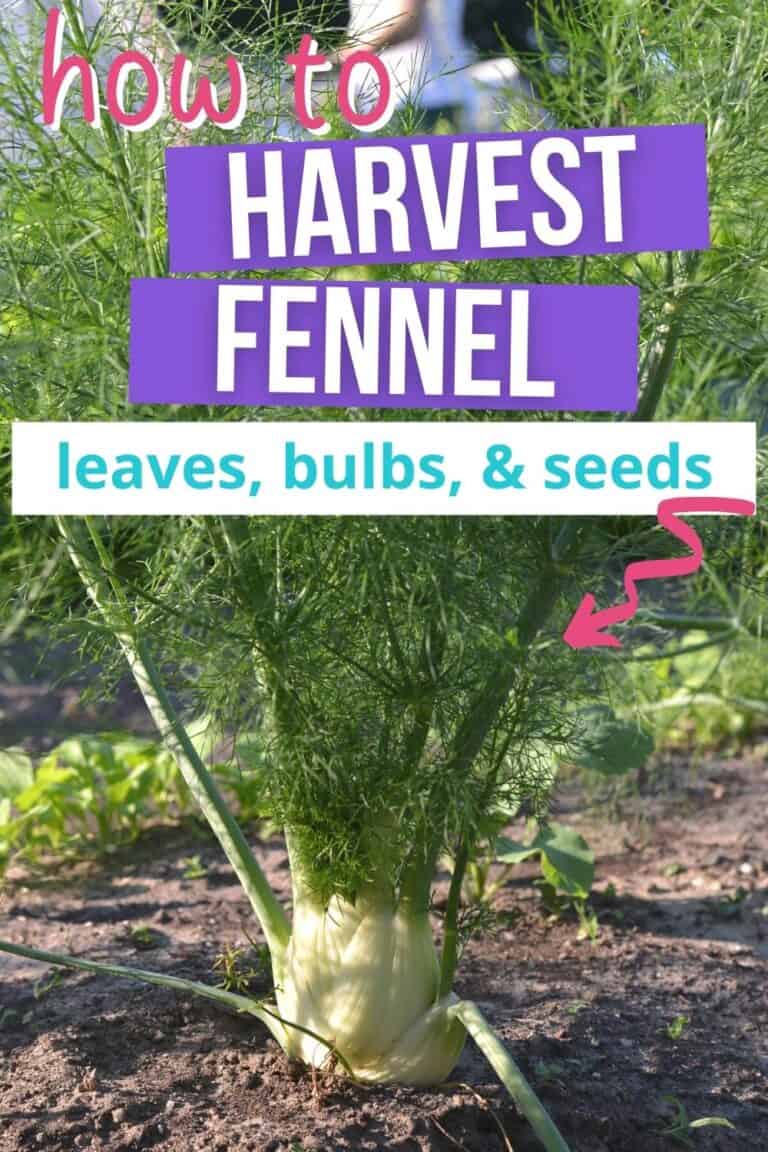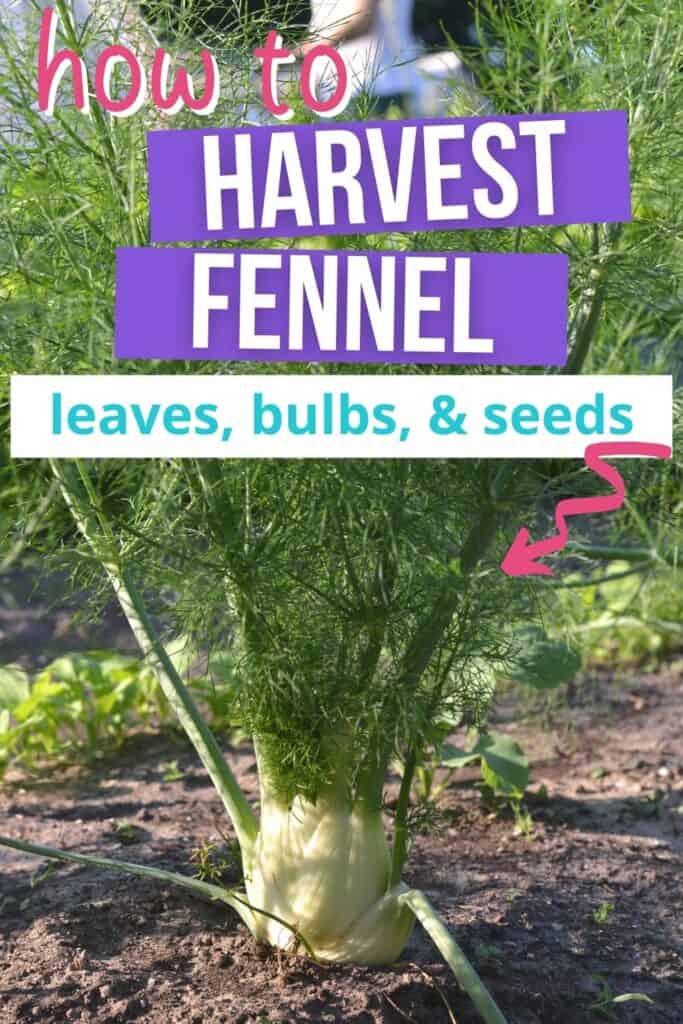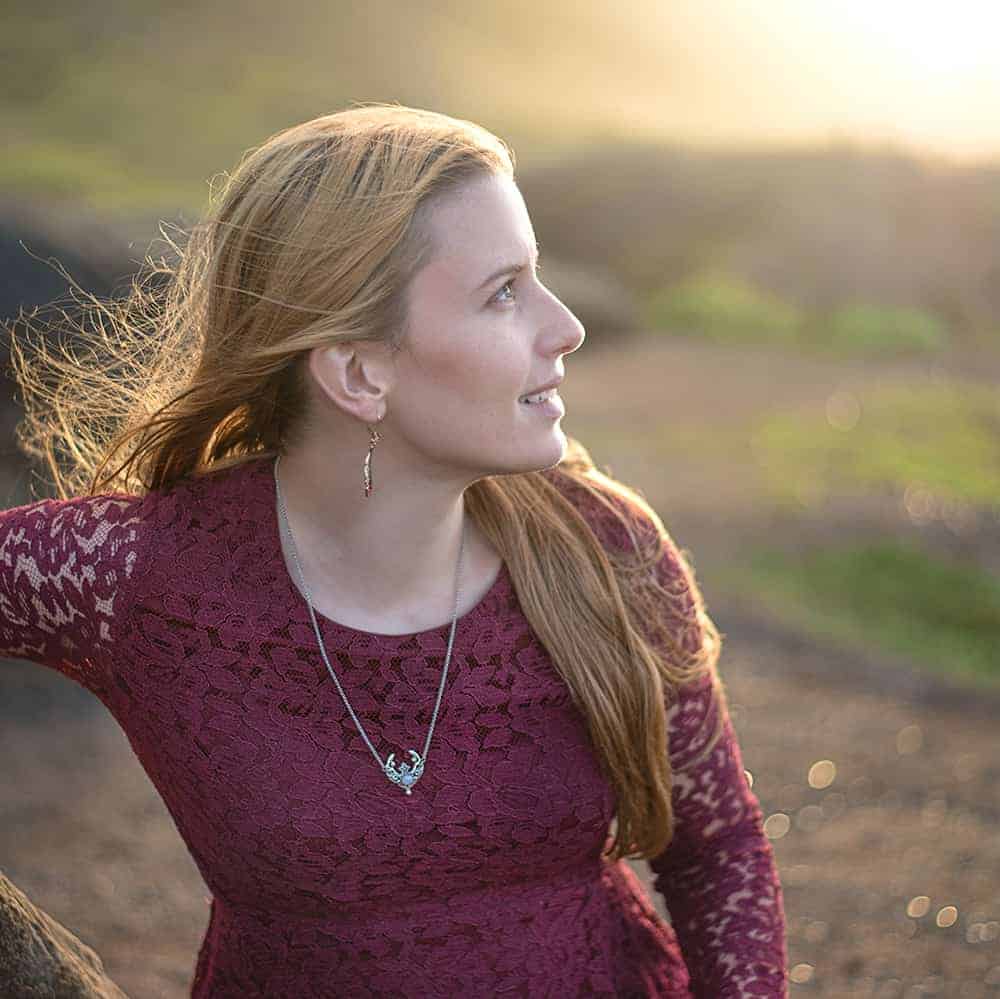 Natasha Garcia-Lopez is an avoid home-gardener and proud owner of 88 acres of land in rural West Virginia. She was a member of the Association for Living History Farms and Agricultural Museums for many years and is currently enrolled in the Oregon State University Master Gardner Short Course program so she can better assist you with your gardening questions.She holds a certificate in natural skincare from the School of Natural Skincare.