If you have trees or grass in your yard, you need an electric leaf blower. These tools are great for picking up after your messy yard work and cleaning up leaves so they don't kill your grass. You can even use an electric leaf blower to clear your gutters without using a ladder!
With electric leaf blower, you can do all of these thing without worrying about the noise, fumes, and mixed fuel of a gas leaf blower.
Electric leaf blowers have the power output of a gas leaf blower but without the mess or smell of gas. Plus, there are no false starts. Forget priming and heating the engine up, just plug in the battery and start sweeping with your leaf blower.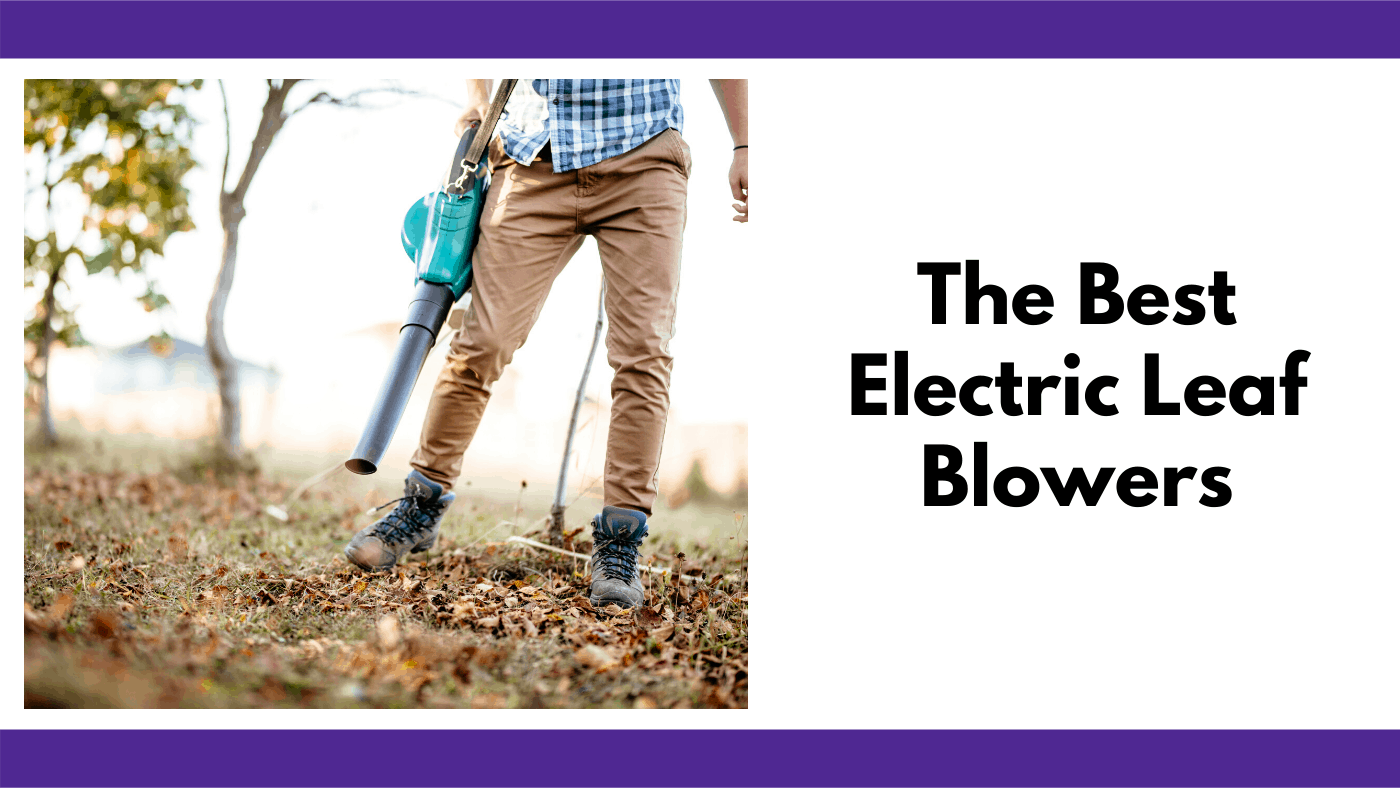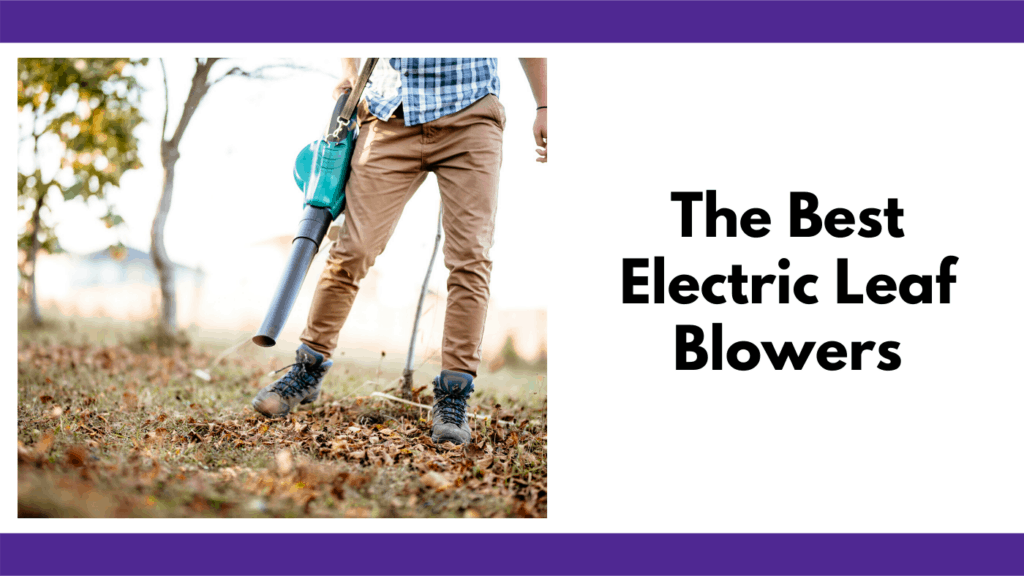 There are quite a few different styles of leaf blowers to choose from and there are a few things to know about them before you choose one for your yard.
For example, some leaf blowers have a new sleek design known as an 'axial' leaf blower. The inlet is positioned in the back of the leaf blower to avoid the change in direction of the air particles. (The older design of leaf blower has the suction port at the bottom.) The benefit of this is that it uses less energy to move the same amount of air, which means less wasted time waiting around for batteries to charge. It also translates to savings for you because you don't need to buy as many expensive, high capacity batteries.
This guide breaks down the various types of leaf blowers and their features so you can make an informed, confident decision and select the best electric leaf blower for your needs.
This post includes affiliate links, which means I may earn a commission on purchases made at no additional cost to you.
In a rush? Here are our top picks!
---
If you've ever tried browsing for garden supplies, you may have been struck by analysis paralysis. What features do I need? Is this one worth the extra $27? My neighbor says this brand is trash, but I think it looks good…
Picking the best tools can be exhausting, so we're here to help. Here are the best electric leaf blowers on the market today.
Benefits of an electric leaf blower
The greatest benefit of electric leaf blowers is their lack of fumes and emissions.
Electric leaf blowers save time. Forget needing to drive to the gas station just for your yard equipment or keeping an extra small gas tank on hand. Plus, you won't even need to worry about the mixed oil and fuel required for most gas leaf blowers. If you don't know what I'm talking about then consider yourself lucky to never know what this nightmare is all about.
Electric leaf blowers always start on the first try. If it doesn't start on the first try then you probably have a battery issue. Gas leaf blowers can take several try's to start, and you'll need to prime it, choke it, then give it a few more yanks. Cold weather makes this problem even worst for gas leaf blowers. Save yourself the hassle and just go the electric leaf blower route, you'll be happy you did.
Electric leaf blowers are pet and child friendly. Because they don't have a combustion engine, they are quiet when idle, and they don't emit smelly fumes. You also won't smell like gas and oil when you finish doing your yard work. They do still make noise while blasting air, but it's nothing compared to the noise of a gas leaf blower.
This guide provides some topics you may not have considered before when looking at electric leaf blowers. I hope it brings value to your shopping experience.
Electric Leaf Blowers Corded and Battery
The DEWALT 20V MAX XR Leaf Blower is a great tool for your shed. It's our personal go-to leaf blower when our small, inexpensive plug in model won't cut it. DEWALT has a huge line of tools to choose from (check out the DEWALT store, you'll be amazed at how many cordless cools they have.)
A major advantage is the interchangeable batteries between all the newer Dewalt tools. Now that we have several batteries, we can purchase the less expensive "tool only" models. This saves us money on batteries and a lot of time because we don't have to hunt through a stack of batteries to find the right one.
We are a Dewalt family and own a lot of Dewalt tools. One thing we've noticed is that the battery charger can trip up new users. If you simply slide the battery into place, it will light up and seem like it's charging. When you come back to use your tool, you may find the batter hasn't actually charged.
To charge a Dewalt battery, push the battery into the charging cradle all the way until you feel and hear a click. Natasha made a quick video demonstrating:
This leaf blower has such a sleek design. Even though other brands jumping on the axial blower design, DEWALT's design is way cooler looking than most (in Angel's opinion). The leaf blower also features a vortex dissipating nozzle attachment so the air stream is smooth and constant.
This leaf blower is remarkably lightweight, but is capable of moving serious debris. We were replacing gutters and decided to give the blower a go at clearing out some major gutter detritus. The video below shows a quick clip of Natasha operating the leaf blower with one hand (while holding her phone to film in the other hand). She quickly and easily clears away an entire gutter full of wet leaves and small saplings:
Another great feature is the built in stand. This allows you to set your leaf blower down without worrying about scuffing the outside. This makes it easy to treat your tools well.
The Makita 36V Blower Kit is a workhorse heavy duty leaf blower. This leaf blower uses two 18V batteries at once. This leaf blower will put out quite a bit of power and can move just about anything. The leaf blower kit has 4 batteries so you can work as long as you'd like.
Makita is well known for its quality products. Though the prices can seem steep, Makita tools will outlast most other tools in you shed. This means you save both time and money in the long run.
Everything about this leaf blower's design is incredibly well thought out. The dial allows you to set the max speed of the blower, and then the trigger allows you to throttle between zero and that selected max speed. This leaf blower also has intelligent batteries which prevent over discharge, overheating, and promote the longevity of your batteries health. This saves you considerable money because you don't have to replace the batteries frequently.
Here is a great review of the leaf blower,:"This blower is very strong, and has no problem clearing huge piles of leaves. It'll push stuff about 20′ away at full bore. I even use it to evacuate puddles of water in sagging spots in the roof. Further, it'll go for about 20-30 minutes on a full charge." Check out the full review here.
If you don't need something quite as powerful, check out the Makita 18V leaf blower which is at a lower price too. It's powerful enough for most home users and brings Makita quality at a lower price point.
You may not have hard of the Litheli brand before, but the Litheli Cordless Leaf Blower 40V is great. The controls are designed with you, the user, in mind.
This leaf blower, like the DeWalt leaf blower, includes a dial to control the power output. But it also has a turbo button which allows you to immediately increase the power output to a max of 480 cubic feet per minute at 92 mph. That's literally enough to move puddles of water clear your driveway. Being able to easily turn this kind of power on and off with a button is a great convince. Hold down the button for just long enough to get the toughest part of your job done, then let up in order to preserve battery life.
There is nothing but praise for this leaf blower. Check out this customer's review: "I'm thrilled! Great price too and light enough for a girl to use! Lol! Not just a girl-one who has had 2- full thickness rotator cuff tear-repairs… so weak shoulders too!" Check out the full review here.
The BLACK+DECKER Axial Leaf Blowers are a solid choice if you want an axial leaf blower at a lower price point. They are a simple leaf blower but with sufficient features and capabilities to take care of your yard.
These leaf blowers are capable and are durable. They have two speed settings so you can tailor your work. Plus, you can free up debris with the front scraper that's built into the front end of the blower.
The one downside is that the small batteries don't last, so make sure you get a second large battery. The larger batteries are more expensive, but the run time is longer so they save you time and money compared to multiple smaller batteries.
If you don't feel like dealing with batteries or want a slightly less expensive model, the corded BLACK+DECKER Axial Leaf Blower is a great choice.
Here is a customer who lets his three year old use this leaf blower: "This one seems only slightly heavier and my 3 year old can old it. Little Mister enjoys blowing debris off the driveway and street with daddy while wearing his ear protection." Check out the full review here.
Much like the other axial leaf blowers, the WORX TURBINE Electric Leaf Blower is packed with features to make it a great addition to your collection of yard tools.
The axial design makes this leaf blower looks super cool and it also allows it to deliver more power. The WORX brand is well known for quality at a budget price, that holds true with this line of leaf blowers. The batteries are also compatible with other Worx lawn tools, like their very popular hedge trimmer. The Worx electric hedge trimmer is a reader favorite – stop by this post to discover the best electric hedge trimmers. Check out the other WORX products here.
Worx has both corded and battery leaf blowers. The price is the main difference, btu remember that you will need a long, heavy duty extension cord if you select a corded leaf blower. If you have to purchase a heavy duty drop cord, this cuts into the cost savings quickly.
If you are looking for something with a little more muscle, you check out the WORX WG546 Leaf Blower. This blower boasts a surprisingly powerful 2340 cubic foot per minute fan.
Most customers have great things to say about these leaf blowers. Here is one customer who has some constructive things to say: "I would say this is 80% as powerful, but SO much lighter and SO much easier to use. It's actually more powerful than I thought. Low speed is great for sweeping grass and light leaves off my walks and mulch. High power was able to move wet leaves and heave amounts of leaves fairly well." Check out the full review here.
Simple Budget Electric Leaf Blower
This Sun Joe Corded Electric Leaf Blower is a traditional styled leaf blower. The best part about this product is the price. Check it out yourself and you'll see what we mean. We personally own one of these little blowers (and our 3.5 year old loves using it).
Sometimes you don't need a whole lot of power and you simply need to get the job done on a budget. This leaf blower is for those situations. It's perfect for cleaning out your garage or clearing your back deck in a hurry.
There is nothing fancy about this leaf blower, which means it has fewer parts to break and no expensive battery to charge. It has an on/off switch and it needs an extension cord. An extension cord like this 50-Foot 3-Prong Heavy-Duty Vinyl Indoor/Outdoor Extension Cord will serve you well.
Make sure to check out this hilarious review: "No one's ever trusted me with a leaf blower before! Idk what the hell I'm doing, but I like it. I ordered it and it took me 5 minutes to completely "sweep" the back deck spotless with my new leaf blower." Check out the full review here.
Backpack Electric Leaf Blower
The Greenworks Battery Powered Backpack Leaf Blower is great for when you have lots of debris to clear or hands that don't appreciate holding onto lawn tools. I personally have carpal tunnel and prefer to limit the about of time I spend holding heavy power tools.
This style of leaf blower gives your hands a much-needed break. Some of the larger batteries can make the leaf blower heavy and difficult to lug around. Using a handheld leaf blower can cause carpal tunnel and de quervain's tenosynovitis flare up. It can also be difficult, or impossible, for older people and people with injuries.
Carrying the blower on your back lets you get around easier and releaves stress on your hands. The only work your hands need to worry about is pushing the trigger and adjusting the speed.
Here is a customer who also points out that the backpack style solves the vibration problem: "Ergonomically, the backpack is very comfortable once you get it adjusted. The trigger lock is a nice touch, so you don't have to grip the trigger to keep it running. This makes the blower tube light and easy to handle. You feel virtually no vibration, another huge improvement over hand-held models." Check out the full review here.
Electric Leaf Blower Buyer's Guide
Cleaning gutters with your leaf blower
Leaf blowers are essentially big rakes that move material like sticks, leaves, and grass clippings around. One of the many problems they also help solve is cleaning out gutters. Here is a special gutter cleaning kit made for any leaf blower so you can easily clear out the debris from any gutter. without pulling out a ladder or calling expensive "professionals" every time there's a clog. Though it is much easier if you can do so from the first floor, you can also jump on a ladder and clear out those second floor gutters. Be sure to use a ladder brace to keep you safe.
Corded vs Cordless Leaf Blowers
CORDLESS (BATTERY) ELECTRIC LEAF BLOWERS
Battery operated tools are obviously way more portable than a corded tool.
Battery life is the first thing to come to mind when you think of electric yard tools like leaf blowers.
Today's batteries tend to have a decent amount of charge to get most of your yard work done. This is dependent on the charge capacity of your battery. This is referred to as Amp-Hours. The more Amp-Hours your battery has, the longer the battery life will be. Don't worry, you don't need super huge battery for your electric leaf blower, a 5 Amp-hour battery will be more than enough to get all your work done. Even electric chainsaws can last over 2 hours on these batteries.
Today's lithium batteries do not decrease in power as the battery is used. In the past, more tool batteries were lead acid. Lead acid and alkaline batteries loose power as the battery charge drops. Lithium-based batteries, like LiPo and LiFe, deliver 100% power till the very end.
Most batteries also have a protective feature to prevent over heating if you are using it too quickly. Don't fear, it's just your battery trying to protect itself.
If you're shopping in store, examine the box contents to make sure everything you need is still in the box.
Large batteries are popular and expensive. We recently purchased a Dewalt battery powered push mower. There were four boxes left and all had been previously opened. Three out of four boxes in the store had been cut open (two had the tape cut, one had a hole punched through the side of the box) and the batteries stolen. We were able to get one with the batteries in the box.
CORDED ELECTRIC LEAF BLOWERS
The first thing to consider for corded leaf blowers is accessibility. Can you reach all the debris you are trying to move?
Corded electric leaf blowers can draw 12 amps of current or more. Make sure to use at least medium duty extension cord. A 14 gauge outdoor extension cord like this will help you get the job done but a 12 gauge extension cord is better. Be sure to choose a length that will help you get around obstacles.
The biggest concern with with corded leaf blowers is the electrical cord. You can easily trip on the cord while leaf blowing. This can lead to falls, accidents, damaged tools, and even (possibly) an electrical fire. Make sure to use a brightly colored electrical cord to help you stay safe.
Another benefit of a corded electrical leaf blower is that you can work for as long as you'd like. Battery life is not an issue, you'll have no restrictions other than running out of leaves and debris to move around.
The cost of a corded leaf blower is usually much lower than battery operated leaf blowers. If your budget is tight and you already have a decent electrical cord, then a corded leaf blower is going to be your best option.
Safety considerations
Always remember that electric leaf blowers can be dangerous. We recommend wearing appropriate PPE whenever you use a power tool.
At the very least, wear eye protection and hearing protection. I use these wrap around UVEX shaded safety glasses to keep debris out of my eyes. These safety earmuffs are really comfortable for any yard work.
And remember to get safety gear for your little ones. too. My little girl was absolutely terrified of our lawn equipment because of the loud noise. After getting her these ear protection headphones she gladly sits outside and enjoys the day with us as we finish our yard work.
Final Thoughts
Electric leaf blowers are great tools to have. Gas yard tools are becoming a thing of the past and even landscaping companies are switching to battery operated leaf blowers, weed eaters, and chainsaws.
As always, the choice is yours on what leaf blower you get. Try not to be lured by fancy brands and focus more on what your specific needs are. Solving your problems should be your primary focus. I hope you now feel confident in purchasing your next electric leaf blower.
Yard Tool Reviews
Are you sick of your old, broken down lawn tools from a yard sale 10 years ago? Discover these yard tool reviews so you can save time and backaches on yard work day with a new, modern tool.
Angel is a Cuban immigrant who grew up with backyard chickens and a yard-loving abuela. He is our "gear guy" who can never have too many pairs of gloves or weed whacker attachments.