Have you been using the same leaky, heavy, kink-prone garden hose for years, but you haven't bought a new one because the options are just so overwhelming and confusing?
You know you want a new garden hose, but all the similar (and confusing) options presented by hose manufacturers have you feeling overwhelmed. You want it to be lightweight and easy to move around the garden. You want it to be kink-free and also free from potentially hazardous chemicals and BPA so your kids are safe when they sneak a drink from the sprinkler.
While shopping for a new hose for our own yard, we realized just how confusing hose buying can be these days. That's why we put together this guide to the best garden hoses.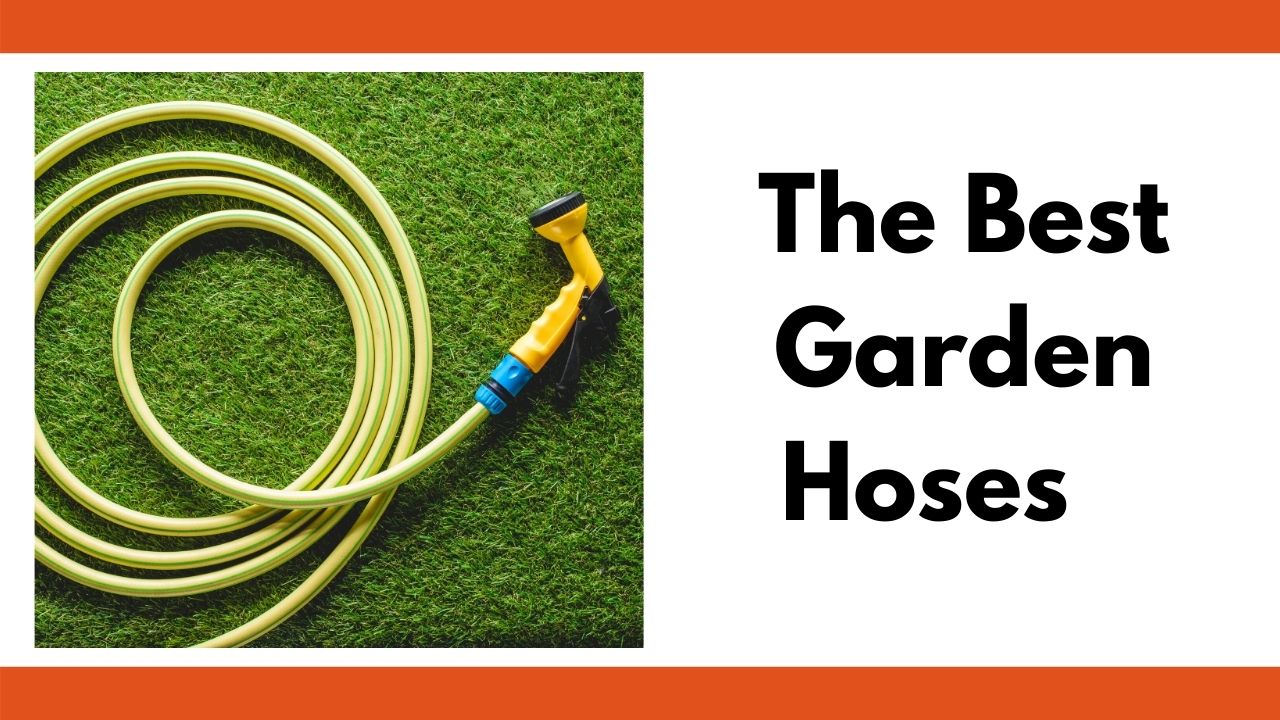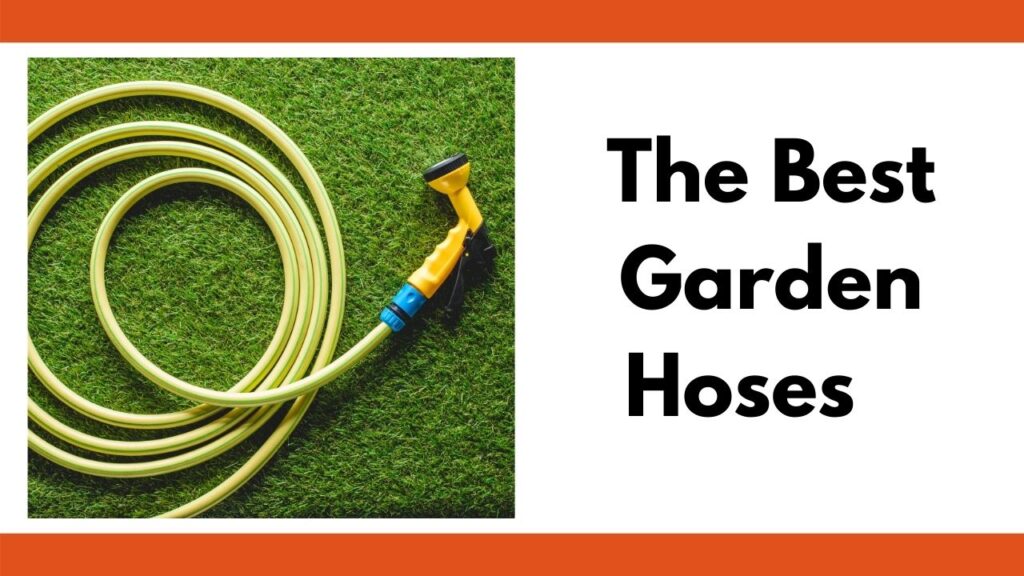 This post includes affiliate links, which means I may earn a commission on purchases made at no additional cost to you.
In a rush? Here are our top picks.
---
Flexzilla hoses are a unique brand which is revolutionizing the way we use hoses. Their premium hybrid polymer construction ensures the hose stays flexible, lightweight, and functional up 40 degrees below zero. These are our favorite hoses on the market.
We personally own a 100 foot heavy duty Flexzilla hose, which is why we feel confident with our recommendation. We were immediately impressed by how truly lightweight it is. Ours has seen a lot of heavy use from spring through fall and still looks brand new. You can see some pictures of our personal hose in this post with the best hose reels.
Flexzilla also prides itself in being a kink free hose. You can see in the picture below that a generic big box store hose easily kinks but the Flexzilla is being held in place to prevent it from springing free. The Flexzilla hose doesn't even deform when twisted up. You'll have a hard time kinking any Flexzilla hose.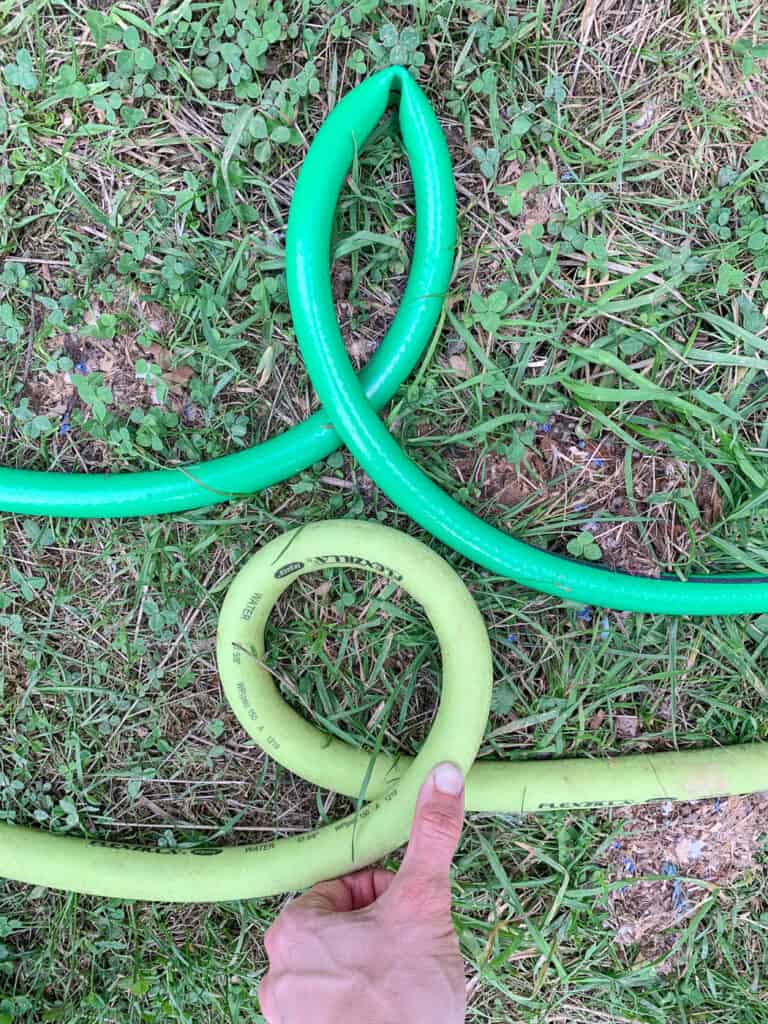 No hose is 100% kink free, but the Flezzilla is a dream come true compared to "normal" hoses from the home improvement store. It's easy to un-kink with a flick of the hose. I tried to save money by buying a cheap-o hose for a garden watering project, but ended up buying a second Flexzilla to replace it just a few weeks later. It really is that much better than a standard hose.
All of the Flexzilla garden hoses are 5/8 inch inner diameter meaning they all deliver the same amount of water. They are also all drinking water safe so there is no problem with letting your kids drink from the hose. This also means they aren't spraying toxins, like lead, on your garden and that they're safe for RV hook-ups.
Not only that, it has over 16,000 reviews. Here is one of many satisfied customers: "I have 6 different hoses – this is the BEST! Super Super light weight (for a non-expanding hose), east to coil into my container, easy to un-kink with a quick flip of the hose."
The Heavy Duty version is another great option. The main difference is the swivel grip which makes connecting and disconnecting a breeze. We own two heavy duty Flexzillas. Remember to check out our post on quick connects.
The Professional hose is field repairable, meaning with just a few fittings, you can remove any damaged sections of hose and splice the hose back to 100% function. Check out their fittings here.
---
The quality of an Eley hose is unsurpassed. The Eley promise is to provide you with a hose which does not kink, is drinking water safe, delivers more water, and will last a lifetime.
The Eley hoses come in all sorts of different sizes. They range from 6.5 feet all the way to 200 feet. And unlike other hoses you may find on Amazon, Eley has a unique photo for each variation of hose. That extra bit reassures our trust in this company.
The downside to the Eley brand is the rigidness of their hoses. Because of its high quality materials, the hose ends up being a little tough to work with which can cause handling problems around obstacles in your yard. This is easily over looked if you have plenty of maneuvering space.
The high price point can dissuade many buyers but keep in mind this hose will outlast any other off-brand hose. You'll end up paying double or even triple for the cheaper hose over the years.
---
Water Right garden hoses have a line of three different diameter hoses, 400 Series (7/16 inch), 500 Series (1/2 inch), and 600 Series (5/8 inch).
Though the 400 Series may seem a bit too slim, it has its advantages. Here is one customer who is incredibly happy with her purchase: "It is so lightweight, it's a breeze to use and doesn't hurt my hands, arms or back." The hose is only 3 pounds per 50 feet, that is incredibly light. Also, the 400 Series is the only one that comes in a rockin' cranberry color. This color pallet is really cool looking, you've got to check them out.
This entire series is highly durable. Here is a customer who's had one for years: "I've had one of these for years (from a gardening supply catalog), so I know it's durable." There are many accounts of people vouching for the hoses durability and even claiming that it does not fade in the sunlight.
These hoses have a super grippy coating. It causes problems for some when uncoiling but there are not too many reports of this problem, it might just be user error. Don't let this dissuade you.
---
Atlantic Premium surprised us, it made our cut as one of the higher rated hoses on the market. At first glance, the hose seems like it won't last a season but after some field testing, the hose definitely holds its own. The hose is durable and can take a beating.
The solid brass fittings and drinking water safe features add to the positives for this hose. It's also really lightweight. The 50 foot version is only 3.9 pounds meaning it is easy for anyone to use even young kids. My daughter loves garden chores and having a hose she can manage is really important.
This hose also comes in a variety of sizes to meet your need. Whether you need a leader hose for your hose reel or a 100 foot hose to reach the far corners of your football field garden, you are sure to find a size to suit your yard.
---
Rain Bird garden hoses premium rubber hoses which sport the classic green color of garden hoses. The fittings are nickel plated brass to ensure they last a lifetime. The rubber is also highly durable.
The 50 foot hose is great for your watering needs. The 75 foot hose is rated for a higher flow in case you find yourself needing that extra amount of water in your yard, it has a 3/4 inch inner diameter. This hose can make the difference in high volume sprinkler systems where you do need a larger diameter hose.
This hose is certainly kink free, here is a customer who compares this hose with expandable hoses they've owned: "It does not Kink. I unwound it and laid it out full length for awhile. I have wasted so much money on the so called pocket hoses. From inexpensive to very expensive." This is also surprisingly light, at only 2.1 pounds, it is one of the lightest.
Overall this hose is a standard high quality hose which will take any sort of treatment and still last you multiple seasons.
One thing we did find is the reviews are mixed with another product. It seems lots of people purchase this hose with the Rainbird Watering Timer. Not a big deal but it can make it confusing when reading the reviews, check them out yourself.
What to consider when buying your hose
Material
Conventional garden hoses are rubber. These are great and highly durable. The addition of vinyl is what makes that durability suffer. Vinyl lightens the hose weight but also reduces the durability of a hose.
Some of the hoses in today's market are also a hybrid poly material. These are in a whole different ball game. Honestly, you shouldn't even concern yourself with material unless it is 100% vinyl. To make your decision you should concern yourself with the other factors listed below.
Drinking Water Safe
Depending on what you are using your hose for, you may or may not care about this feature. Since my daughter likes to get a daily dose of hose water, I care that my hose is drinking safe. Usually the hose packaging will say if they are safe to use for drinking.
A drinking water safe hose can also be useful for filling RV water tanks, giving water to pets and livestock, and for filling emergency water containers.
Length
This is totally dependent on what you are using the hose for. Garden hoses come in all sizes, from 6 inches to over 100 feet. Be truthful with yourself, if you don't need a 100 foot hose go for the 50 foot hose. Remember you may need to move the hose and 50 feet of hose is much easier to carry or cart around than 100 feet of limp hose.
Length should also be considered when storing your hose. Different hose reels have different storage capacities. Check out some of our hose reel suggestions here.
Inner Diameter
The inner diameter of a hose is directly related to the volume of water the hose delivers but it also means there is more water in the hose when you attempt to maneuver it around the yard. If you have a large sprinkler system, then you will need something in the 5/8 inch inner diameter range. If your watering chores consist of a few window plants and 10 or so pots, you can afford to go with one of the smaller diameter hoses like 1/2 inch, perhaps the Water Right 500 Series hose.
If you do the math, a 100 foot hose with an inner diameter of 5/8 inch can hold over 6 gallons of water inside the hose. Given that 1 gallon of water weighs about 8 pounds, that is about 50 pounds of water you are trying to move around your yard. Think about that when you get your next hose.
Fittings
Brass!!! That is the only thing you need to even consider. The other option is plastic, but those are destined to deteriorate, become brittle, crack, and break before the hose gives out. Brass will withstand the test of time, not only are these fittings rust proof, they are also crush proof so you can run them over with your car or your lawn mover without destroying them.
The shape of the fittings are also important since this will determine how leak tight you can make the connections. My favorite hose is the Flexzilla Heavy Duty hose and this is because of the hand tightening fittings it has. This really makes it easy to install on any faucet. Otherwise you will want to get a hex fitting so you can get a wrench on there to tighten the connection.
Kink Free
You will see most hoses claim kink free, this is a 100% lie. You can absolutely kink any rubber, vinyl, or polymer style hose. What is more likely is that they are less likely to kink under proper use. Hoses like those made by Eley are probably the least likely to kink because of their rigid construction. Of course, there are other short comings to this feature because you then sacrifice ease of use.
Concluding Wisdom on Choosing the Right Hose
You now have a bit of information on how to choose your next hose. Getting water from one place to another seems like such a simple thing but there is a lot that goes into choosing the right hose.
Angel is a Cuban immigrant who grew up with backyard chickens and a yard-loving abuela. He is our "gear guy" who can never have too many pairs of gloves or weed whacker attachments.