Are you tired of wasting time and hurting your hands every time you need to swap out your garden hose attachment?
Maybe you want to use your sprinkler but your regular hose nozzle is attached to your favorite stainless steel garden hose. Or maybe you need to use your watering wand to water your hanging baskets of flowers.
Or maybe you're very conscientious about taking care of your belongings and always disconnect your hose nozzles to protect them and ensure their longevity.
No matter the reason you want to swap or remove a hose attachment, a quick connect can save you time and wear & tear on your hands.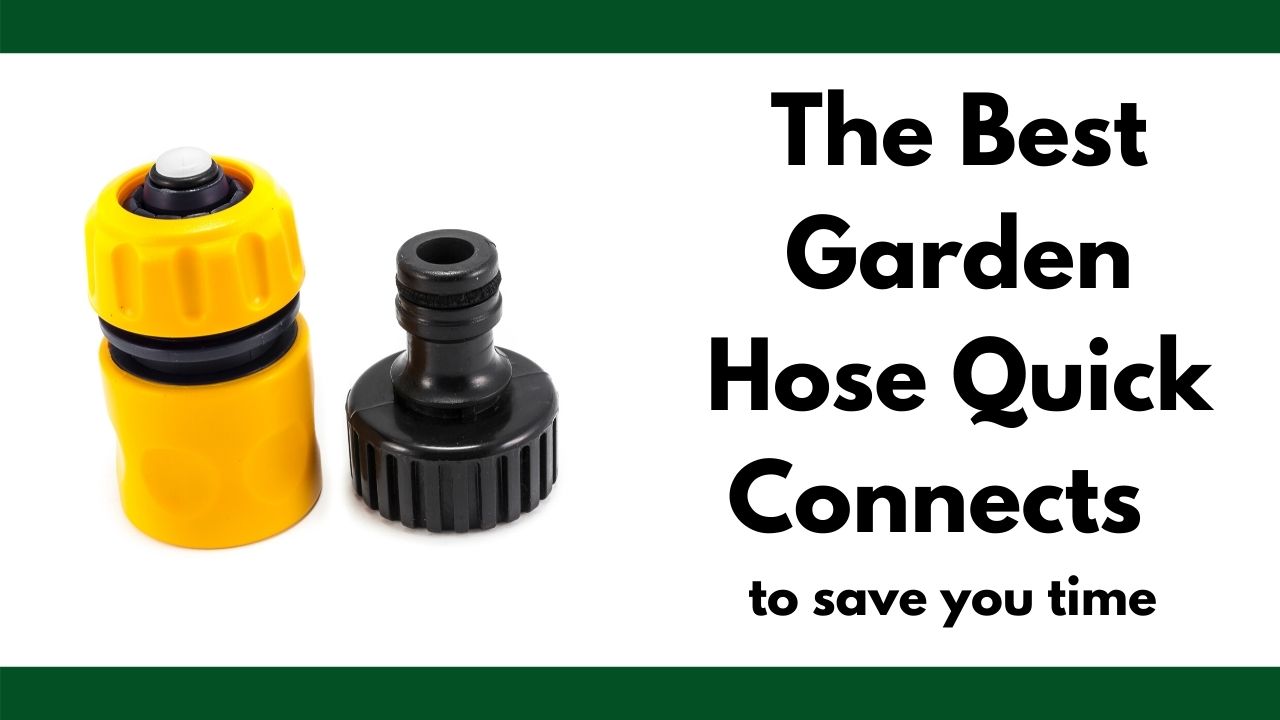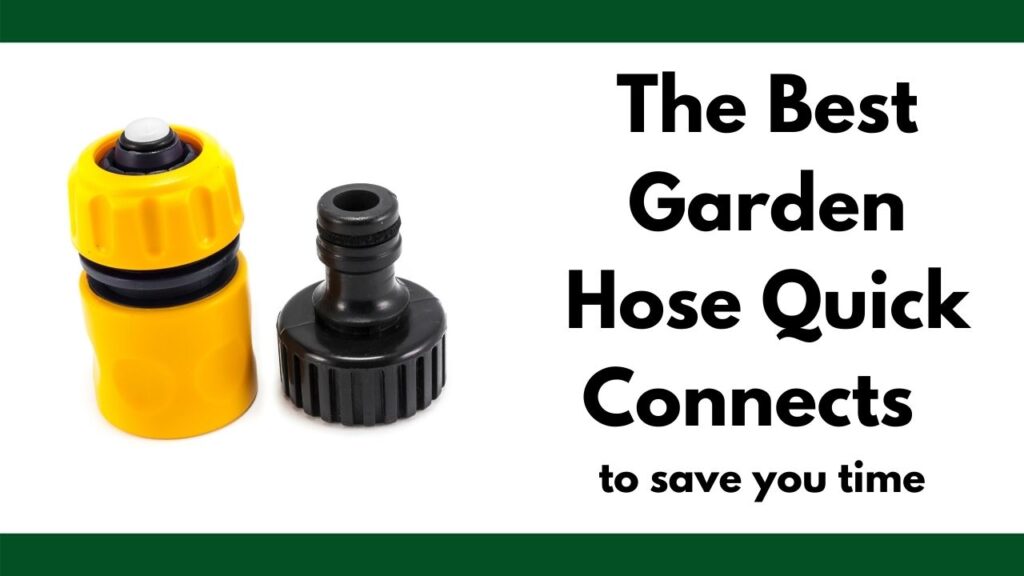 This post includes affiliate links, which means I may earn a commission on purchases made at no additional cost to you.
Most of us use a single nozzle most of the time but there are those days when you need to swap out for a different nozzle or you may need to move the hose to a different tap. Unscrewing, re-screwing, and leak checking is time consuming.
You don't have time to undo and connect all the different hose accessories in an afternoon. Especially if you do it right by applying plumbers tape every time you redo a connection. This is where a well planned garden hose quick connect set comes into play.
Imagine going from watering your lawn with your hose wand to washing your car with your high pressure nozzle to assembling your kid's mist station with no tools and almost no effort. If you don't think this is possible, then a quick connect set is right for you.
In a rush? Here are our top picks.
---
The HQMPC brass quick connect set is one of the highest rated quick connect sets in the market. Check out the confession of this person who gave up on plastic quick connects and replaced them all with these: "The connection is rock solid, leak-proof, and does not come apart no mater how much and in what direction you pull."
The really great part is the 3 year guarantee on this product. If it ever leaks and is unmanageable, just get in contact with the company and they will honor their guarantee.
The one downside to this product is the lack of auto flow control. Using and inline ball valve saves time an energy as opposed to shutting the water off at the tap.
---
The Gorilla Easy Connect is truly easy to use. The quick connect comes apart with one hand and can is smooth enough for arthritic hands. Here is a customer who's wife has no issues with this quick connect: "This can be used by my wife, who normally is adverse to any kind of coupling due to mild arthritis."
Like many of the brass quick connects, the Gorilla Easy Connect does not have an auto flow stopping function, to remedy this, install a ball valve just before the quick connect. Gorilla has a few different combinations which are bound to fit your situation, check out the recommendations here.
---
PLG's quick connect set is a great solution for many gardens. The one major complaint is the washer's tendency to leak over time.
One reviewer claims leaks are operator error and provides his own solution: "Biggest complaint with all leaking is rubber washers wear after screwing and unscrewing. They're not really made for constant screwing and unscrewing once they "seat" themselves to the nozzle." He couldn't be more right, rubber or silicone washers are meant to seat once under pressure and not come apart.
PLG's 3 year warranty is another great plus to their product. Also, these come in blue!
To remedy the lack of auto flow control, PLG recommends their own inline ball valve. These are not very different from those by HQMPC, the major difference is the solid brass construction by PLG. The tightening collar is only for hand tightening, with some plumbers tape, this should be enough to prevent leaks.
---
Melnor created a super high quality product with this one. This is my first and only quick connect hose system. I really got tired of changing out the hose every time I needed to setup our outdoor shower and then do some other garden chores. The Melnor gave me back my evenings and allowed me to stay dry while doing it.
The Melnor quick connect is the only system we found which has a working flow stopping function. As soon as you disconnect the hose union, the flow of water stops and you are as dry as when you started.
And if you don't like green, you can chose from the dark grey option.
---
Joe's Home garden hose quick connect is a unique product. An auto shutoff function is very useful but sometimes you need a manual shutoff to get the job done. This quick connect is perfect for those situations where you need to kill the water without going to the tap.
Instead of getting a separate shutoff valve, this quick connect integrates a quick connect with a shutoff valve in one system so you don't need to worry about a thing. Even if your hose attachment starts to leak, just shut the valve and forget about it.
This product has many great reviews but one of the best is this customer who vouches about this product's quality: "I very much like the sturdiness of this garden hose shut-off valve, compared to many others I've tried along the way. The handle is easy to operate and the device lasts for year after year."
---
How does a garden hose quick connect work?
All quick connect systems have a quick release function which allows you to easily remove any accessory from the hose you are using. The combinations are limitless but the general concept is the same for every situation.
To get the benefit of using the quick connects, every hose accessory you have must be outfitted with a matching quick connect adapter. The end of your hose should typically have the female adapter and all of your accessories should have a male adapter. This allows you to disconnect one and easily plug in the other with hardly any work.
Since you will need multiple adapters, it is best to go with a starter kit like the Melnor system.
The quick connects keep a water tight seal by using a rubber or silicone washer which keeps the water inside the hose and flowing to your nozzle. If you do experience leakage at the connection, it is time to replace your washer or get a new quick connect.
How Do You Release a Quick Connect Fitting
Releasing the quick connect is super simple. Most have a collar which moves toward or away from the attachment. One you move that collar sufficiently, the connection becomes loose and you can easily remove the attachment.
Remember, to make the connection fast you should feel a distinct click when you put the two pieces together. If this doesn't happen, you will have quite a splash fest on yourself when the water comes on.
How To Install a Quick Connect
No matter the quick connect or hose you use, it is always a good idea to use plumbers tape, also called Teflon tape, when making any hose connections. It will save you lots of headaches and prevent over tightening of the pieces.
With just a few wraps of plumber's tape, your quick connects will be that much more leak resistant. I like to give the male fittings about 7 wraps of plumber's tape to ensure a good seal and prevent any cross threading.
The photo below is taken from our reviews of the best hose reels, but the process is the same for any plumbing attachment: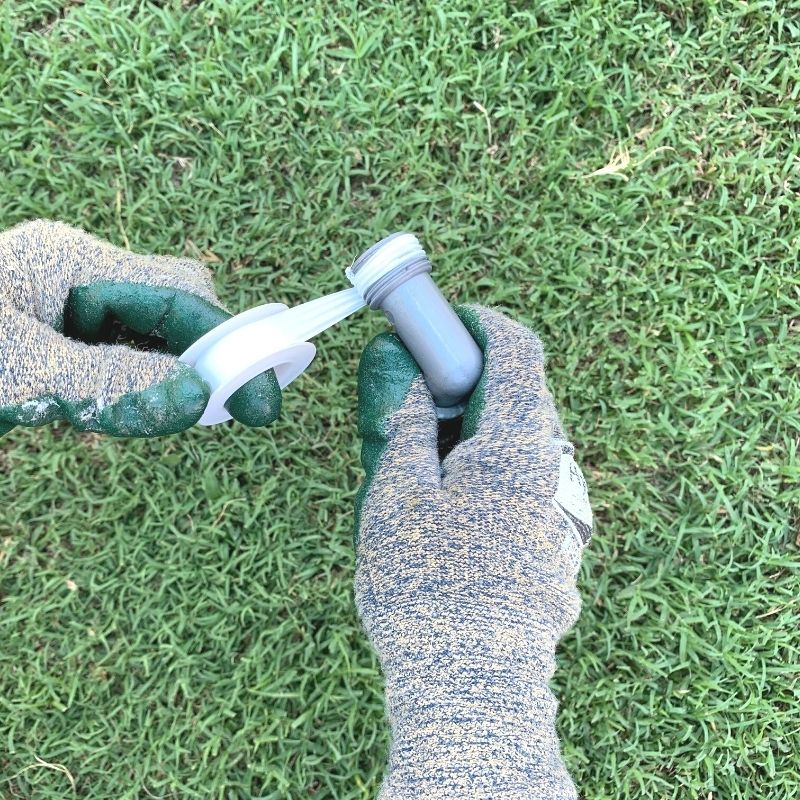 Don't worry if the threads don't show through the tape. This is fine.
Some quick connects allow you to use a wrench to tighten them down. Never grip the threads of any hose attachment with any tool, this is a sure way to destroy the threading and cause leaks.
Usually plumber's tape is one use. If you take apart one of the unions, you will probably have remove the old tape and to give it another few wraps of plumber's tape to prevent leaks.
Flow Stopper
A flow stopper allows you to disconnect the hose at the quick connect with the water still on. No water will come out of the open end because the quick connect has a flow inhibitor. This allows you to switch between attachments pretty easily and can save you quite a bit of time and many trips back and forth to the water tap.
The best quick connect with flow stop is the Melnor quick connect set. It truly stops the flow of water when swapping out attachments. No more kinking your hose to stop the flow or needless trips back and forth to the tap.
Here is a customer who's perspective on gardening tools has done a 180 after using the Melnor quick connect system: "Swapping out the sprinkler for a hand held sprayer? NO PROB. You don't even have to turn the hose off. And so far, they don't leak!!"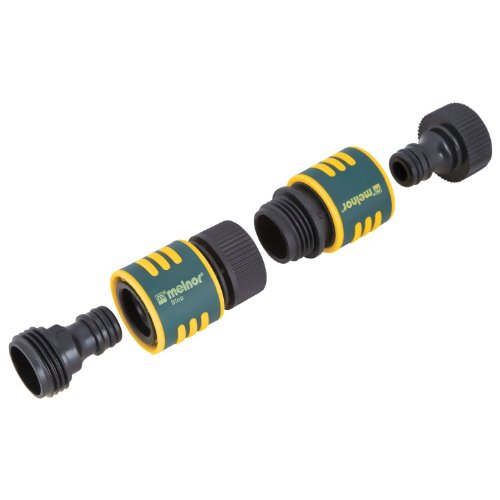 Most metal quick connects do not have a flow stopper. You can outfit your hose with an inline ball valve and swap your nozzles without having to battle the gushing water or walk all the way to your main shutoff.
The only metal quick connect which we found with a flow stopping function is the Orbit Brass Quick Connect. However, this quick connect is poorly rated due to many issues. For one, the products is not solid brass which is misleading. Some customers have also had issues with the joints not fitting well together.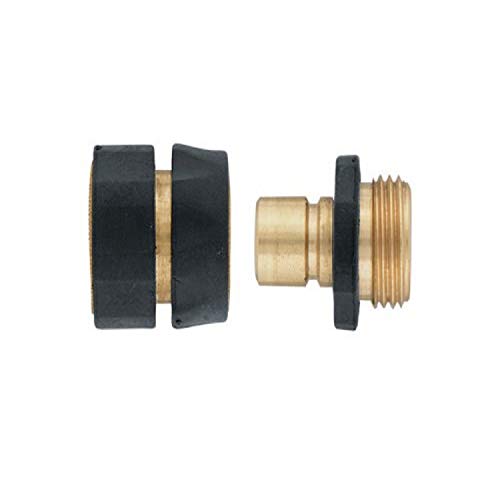 Orbit Brass Hose Shut-Off Quick Connect Set 58285
QUICK AND EASY: Save time by swapping out different hose-end accessories without twisting.
HEAVY-DUTY BRASS: The brass construction can withstand high water pressures and severe weather conditions without the worry of breaking, rusting, or...
WATER SHUT OFF: Automatically stops water flow when accessories are removed, so you can change tools in the middle of watering without getting wet.
Quick connects can be a game changer. You save time, stay dry, and don't ding up your hands.
Quick connects are too low of a price to deprive yourself of the best. You need to outfit your garden hose with a set now.
Angel is a Cuban immigrant who grew up with backyard chickens and a yard-loving abuela. He is our "gear guy" who can never have too many pairs of gloves or weed whacker attachments.