Trimming and pruning trees is a fact of life for gardeners and property owners. Trimming limbs you can't reach is a pain and relying on a manual pole saw can be taxing on your arms and shoulders.
If you're tired of getting a cramp in your neck and wearing out your arms sawing away at tree limbs you can't reach, it's time to get an electric pole chainsaw. Let's take a look at the top rated electric pole saws so you can pick the best pole saw for your needs.
This post also includes an in-depth review, with a video of our favorite electric pole saw that can replace a gas powered pole saw for normal home and garden use.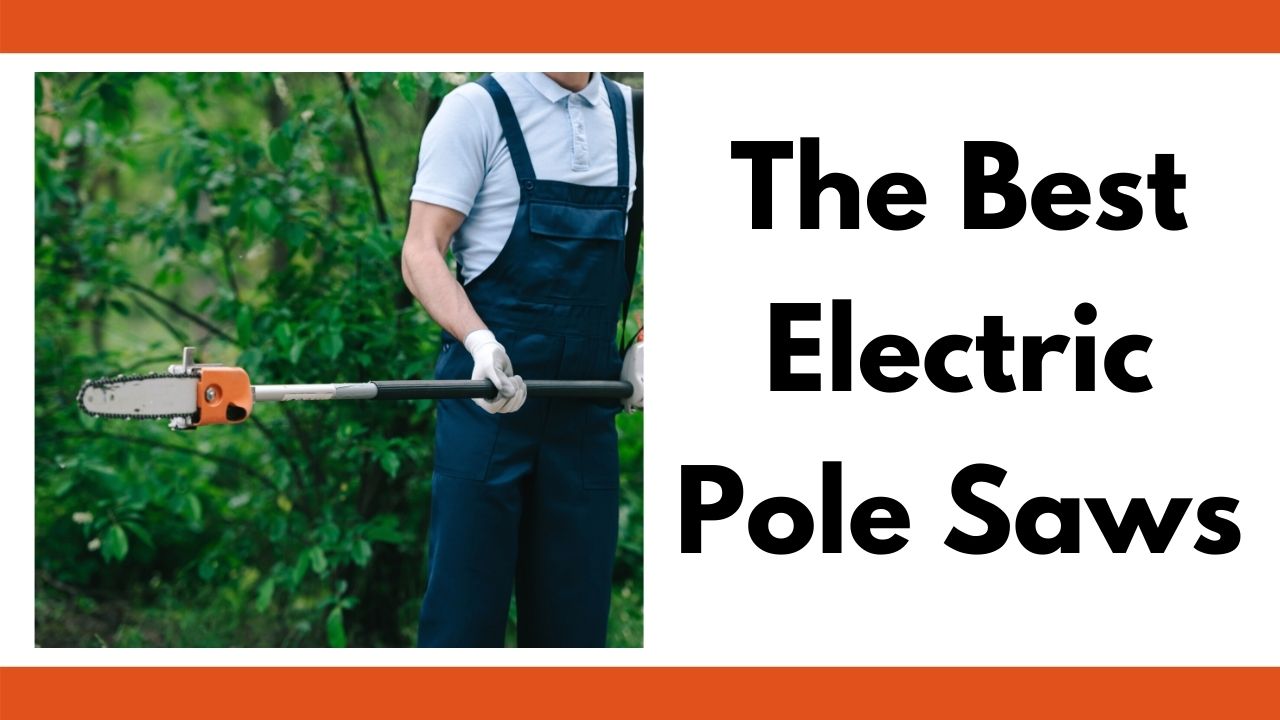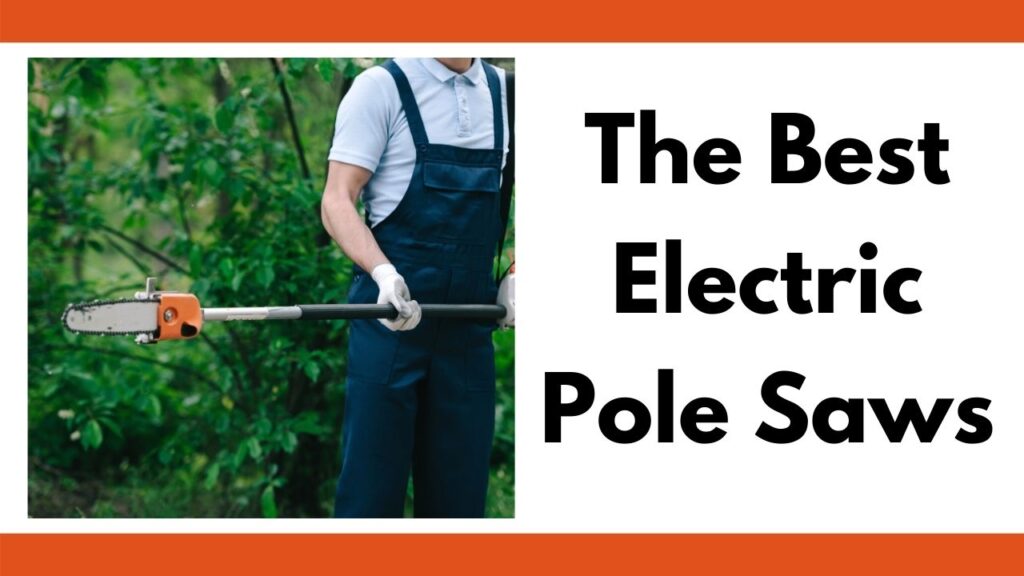 ---
In a rush? Here are our top picks!
This post includes affiliate links, which means I may earn a commission on purchases made at no additional cost to you.
Best Overall
Earthwise 2-in-1 Convertible Pole Hedge Trimmer
Best Budget Pick
Sun Joe SWJ800E 8-Inch 6.5-Amp Telescoping Electric Pole Chain Saw with...
Most Powerful
WEN 40421 40V Max Lithium Ion Cordless Pole Saw, 10"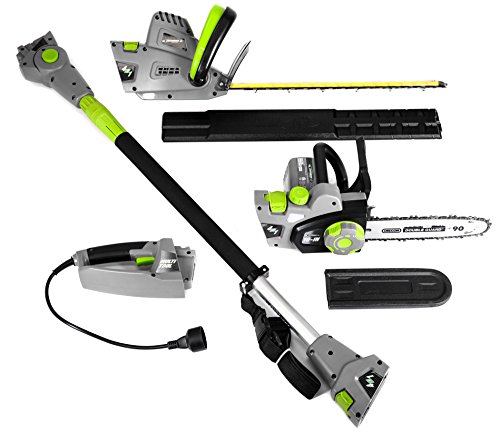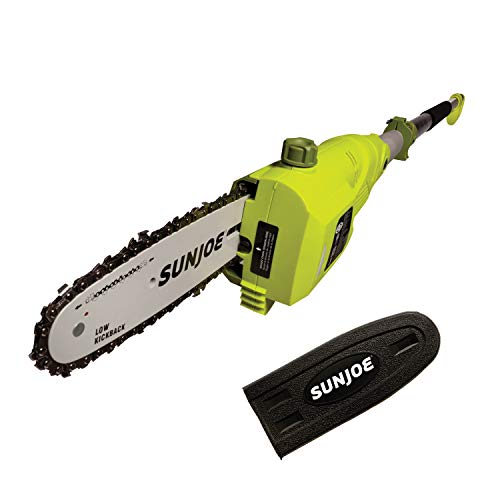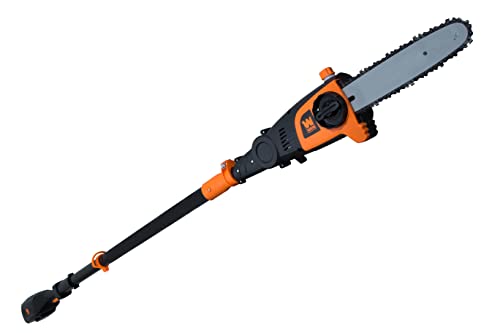 Best Overall
Earthwise 2-in-1 Convertible Pole Hedge Trimmer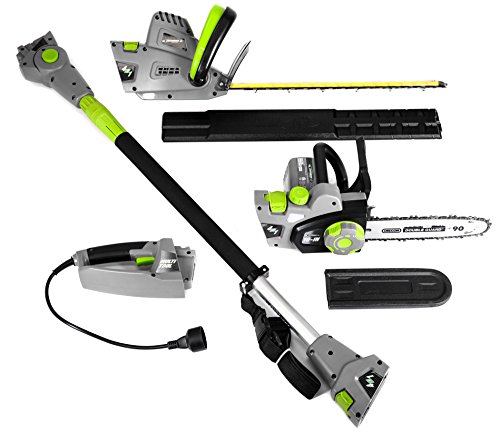 Best Budget Pick
Sun Joe SWJ800E 8-Inch 6.5-Amp Telescoping Electric Pole Chain Saw with...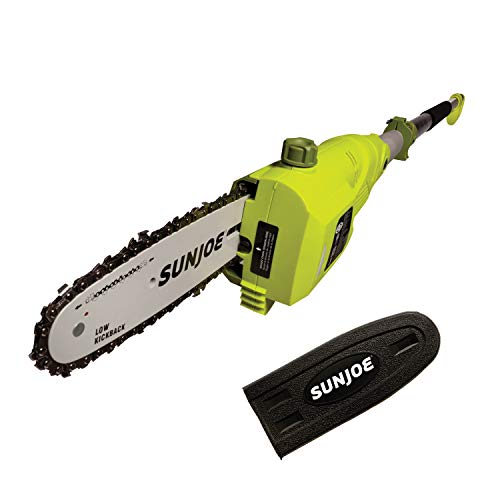 Most Powerful
WEN 40421 40V Max Lithium Ion Cordless Pole Saw, 10"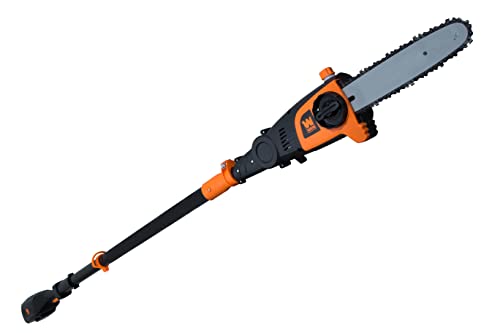 ---
If you've ever tried browsing for tools, you may have been struck by analysis paralysis. What features do I need? Is this one worth the extra $27? But my neighbor swears by this other brand!
Studies show that having more options to pick from isn't always better. In fact, increased choices decrease our happiness as buyers. (source)
Picking the best tool can be exhausting, so we're here to help.
We've done the brute work of slogging through countless reviews and making product comparisons to bring you the best electric pole saws with reviews and a buyer's guide on how to pick the correct pole saw.
The best cordless & corded pole saws
The Earthwise 4-in-1 Multi Tool is a great tool to have in your shed. We love using this pole saw multi tool. Yes, it is a pole saw, a chainsaw, a hedge trimmer, and an extended hedge trimmer. Shifting from one tool to the other is very easy. This is our number one pick!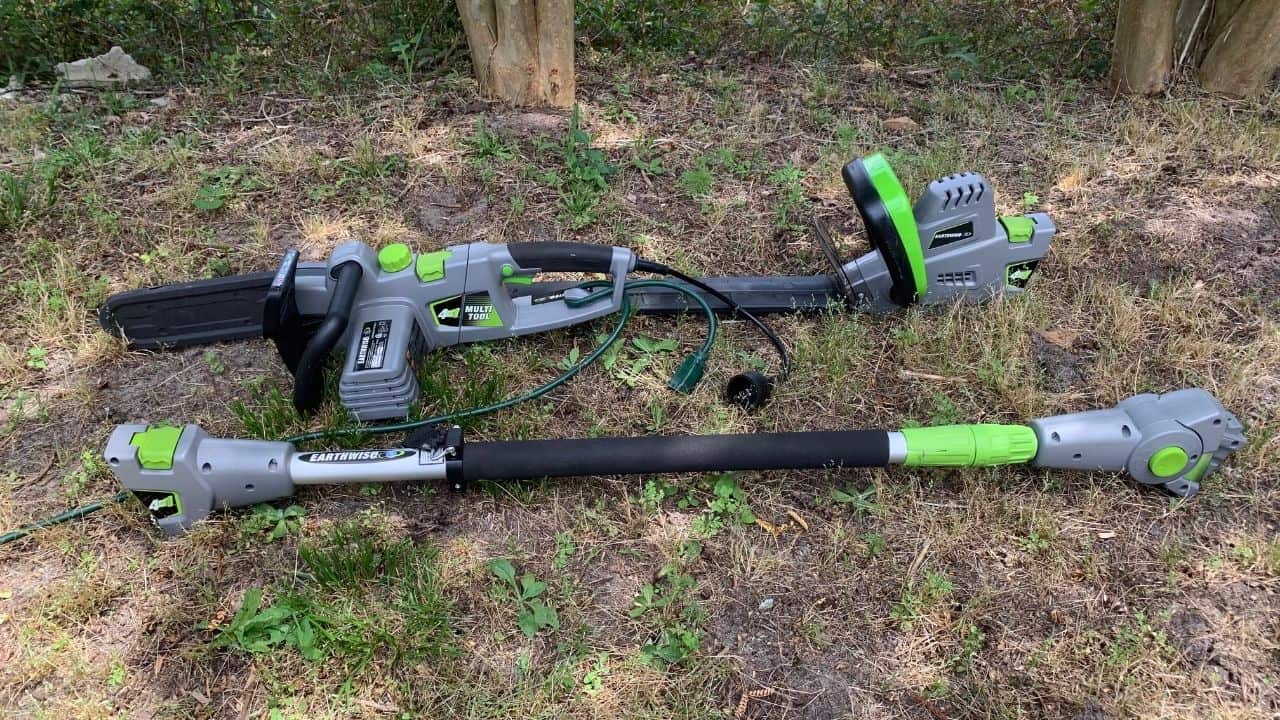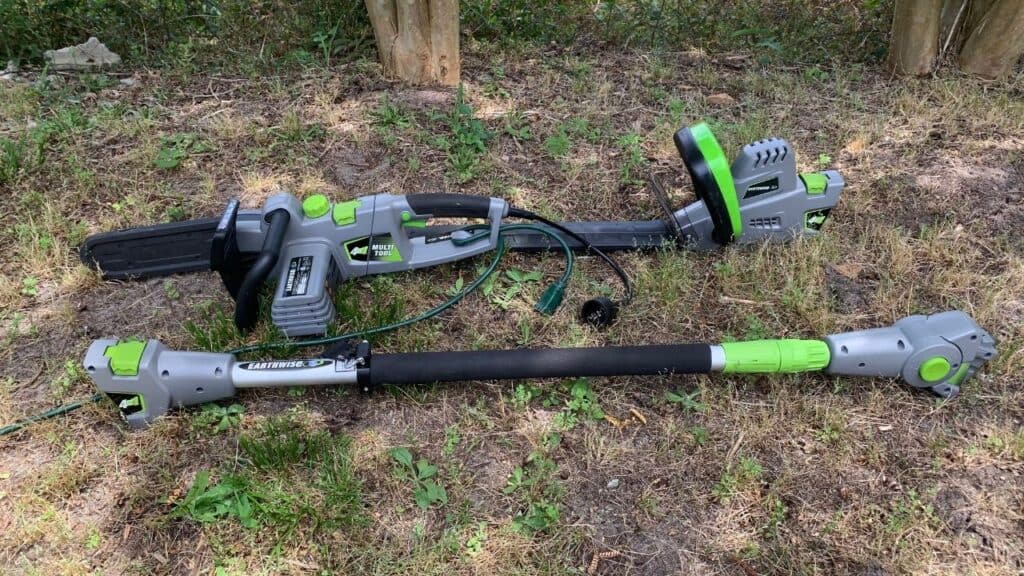 Every feature of this tool well thought out and they all fit well together. The attachment system is intuitive and very secure, there is no wobble in any of the attachments. This does mean you have to press firmly to connect the pieces, but once they're connected everything is very secure.
The chainsaw has a breaking system for safety and chainsaw sharpening. Don't worry – the saw is sharp enough to use right out of the box, but like all chainsaws it will eventually need sharpening. Be sure to check out our post on the best chainsaw sharpeners.
The pole is adjustable up to 8 feet and has an adjustable head that you can tilt to different angles. The collar tightening device is secure and keeps the tool pole extended and in place without any worry about it coming back down on you, just be sure to fully tighten the collar before going to work.
Another feature we love is the extension cord keeper. There's a hook to hold the extension cord in place – no more knotting cords together like on older electric tools. (Watch the video for a closer look at this feature.)
We love this pole saw and have found it is powerful enough to use instead of a gas powered pole saw for normal use. This electric pole saw can easily cut through 2″ branches, which means it's great for your home pruning jobs.
For a full look at the features and to see the saw in action as a pole saw and 10″ handheld chainsaw, watch our video review:
We didn't test the hedge trimmer in the video, but we know it works well. Natasha's mom has a lot of boxwoods and tea olives. She uses the hedge trimmer attachment to trim her considerable hedges. Unlike a battery operated tool, you can use this corded hedge trimmer/pole saw for as long as it takes without worrying about dead batteries or wasting time waiting for them to charge.
The Greenworks 8.5′ 40V Cordless Pole Saw is quite the workhorse. This saw gets the job done. The battery is very powerful. Some people claimed that they only managed to drain the battery by 30% in the first hour. This was with intermediate starting and stopping, so they were working for about 30 minutes out of that hour.
This saw has a fantastic price point. In the first hour this saw will literally pay for itself. The price to hire landscaping professionals is easily comparable.
On the down side, the saw only extends up to 8.5 feet. The box claims reach up to 15 feet, but that seems to take the saw's blade and your own arms into consideration. Regardless, that the saw has plenty of height for trimming back trees around cars and walking paths.
Some recurring issues revolve around the metal bracket holding the motor in place. Some customers have experienced catastrophic failure of the saw due to this part failing. Thankfully, the saw has a 4-year warranty. Of course, by no fault of their own, any warranty claim always takes for ever and a day to finally get them to take actions.
The Greenworks 8.5′ 40V Cordelss Pole Saw is also one of the heavier saws, 15.3 pounds with battery installed. Depending on your stamina, this may be a show stopper. However, very few people have complained about this. Regardless of the weight, the tree limb you are taking down bears much of it when you rest the saw onto it, so you'll get some relief.
😃 Incredibly long battery life
😃 Super easy to operate
😃 Only 5% 1-star ratings, one of the lease disliked
😖 Some customers had issues with the saw components breaking. Those are a small amount. Treat your equipment with care and it'll take care of you.
The WORX 20V 8″ Corldess Pole/Chain Saw is one of the higher end pole saws which we are reviewing in this article. It's certainly a tool to be proud of having in your shed.
This is a versatile saw with a good reach and a detachable head. As a pole saw, it extends to a total length of just over 9 feet. The chainsaw part also detaches from the pole making it suitable to do some more precise cutting.
Surprisingly, this is a really light weight battery pole saw too. It weighs in at only 10 pounds with battery installed. Not to mention the WORX has a whole line of battery operated garden tools. It's always a good idea to buy the same brand of battery operated tools whenever possible so you can share batteries and avoid extra charger styles that clutter your garage.
The auto tension feature is incredibly useful. It's one of the few electric pole saws with auto tensioning available. The only thing which needs your attention is the battery and the oil reservoir. Remember that you should check the oil level at least every 30 minutes of use.
😃 Versatile, use as a 9 foot pole saw or an in hand chainsaw
😃 Very lightweight for a battery pole saw
😖 Customer service is difficult to get in touch with. However, they will replace any damage that is not user error.
The WEN 10″ Cordless Pole Saw is another great battery operated pole saw. The battery system makes alone is a good buy since it can be used with any other of WEN's Gardening Equipment.
The pole saw is also very lightweight, with battery installed, it still only weighs in at 8.8 pounds. Definitely a manageable weight for an hour in the yard.
One of the major drawbacks is the lack of range in the pole saw's extension. The telescoping pole can only be used between 7.1 and 10 feet of length. If you are trying to do any sort of precise cutting after the branch has fallen to the ground, you may have a hard time getting the job done with just this saw and will likely need another saw to trim up the branch.
😃 Very lightweight for a battery pole saw, only 8.8 pounds with battery installed
😃 Most powerful cordless electric with 10" blade, brushless motor, and 40V battery
😖 Can only be used between 7.1 and 10 feet of length. May be difficult to use for close in cutting like after the branch has fallen.
The Scotts Outdoor Electric Pole Saw is a tool that you will come back to again and again. This saw is highly adjustable, the head tilts up and down and the pole extends out to 9.5 feet.
The only maintenance needed for this saw is adding oil to the reservoir on a regular basis. Because this is a corded electric pole saw, there is no need to charge or maintain batteries.
The price of this saw allows you the opportunity to splurge a little on the extension cord. It is nearly half the price of most of the battery operated pole saws simply because the battery system is where most of the cost is.
Do keep in mind the portability restrictions you have with corded electric pole saws. Maneuvering around will not be as easy as with a battery operated saw. You also need to have a sufficiently heavy duty extension cord.
😃 Great price for a great tool
😖 You can only cut where your extension cord can reach
The Sun Joe 8-inch Electric Pole Saw is the best budget pick electric pole saw. For this reason a great many number of customers have purchased and reviewed the pole saw with over 3000 reviews.
This saw is weighs in at just 7.7 pounds, which is incredibly lightweight for a pole saw.
This saw has a great ratio of 5 star to 1 star reviews. It has just 6% 1-star reviews and 74% 5-star reviews. This actually makes it one of the most liked pole saws around. The only saw that comes in better than this is the Green Works Cordless 40V Pole Saw.
Like with any product, there will be some saws with problems that make it out the door. However, the customer support is fairly helpful and easy to reach and they will replace any of their products within two years of purchase.
😃 Best budget pick
😃 2 year warranty with phone number listed in the product description
😃 Super lightweight 7.7 pounds
😖 Internal components are not heavy duty. The saw will operate as needed but do not expect it to operate under austere conditions or to survive rough treatment.
How to pick the best pole saw for the job
Types of electric pole saws
Electric power tools have come a long way in recent years. With more powerful battery technologies and more affordable brushless motors, today's electric tools are no joke.
Electric pole saws are ideal for homeowners and gardeners to need to prune a couple times a year and deal with occasional storm damage. They're quieter and more pleasant to operate, plus there's no need to mess with special fuel.
There are two types of electric pole saw: cordless and corded.
Cordless (battery) electric pole saws
Battery operated tools have an immediate advantage over their corded companions because of their portability. However, their drawbacks are quite well known: the battery life itself. Today's batteries are much more powerful than the batteries of yesteryear, but battery life is still a limiting factor.
You need to consider how long trimming and pruning typically takes you. Most of the batteries on these pole saws last about 2 hours. How long do you think it will take you to trim your garden? Will you do it often? If you do run out of battery, can the job be done at a later date?
Corded electric pole saws
The first thing to consider for electric pole saws is accessibility. Do you have a way of getting power from the outlet to the saw? Most of the corded saws draw under 10 amps so you don't need a super heavy duty gauge extension cord, but you also can't use a lightweight indoor cord. Here are some extension cords to choose from, 12/3 Heavy Duty Outdoor 100 Ft Extension Cord and a Contractor Grade 100 Ft Water Resistant Extension Cord
The drawback is that you won't be as maneuverable as you'd like to be. You'll have to worry about keeping track of the cord, untangling it, and making sure you don't accidentally cut through it. Additionally, you'll be powerless to cut any branches outside your extension cord's reach. If you have even a moderately sized yard, this can be a problem.
The benefit of a corded pole saw is that you can work for as long as you'd like, given that you have sufficient oil. This means you can afford to cut smaller pieces and safely maneuver your saw and extension cord safely around your yard to avoid the falling limbs.
Gas pole saws
Because this is a post about electric pole saws, we won't be going into depth with gas pole saws. Gas pole saws are more powerful than electric pole saws and can run for hours. They're great for heavy duty, extended use in remote areas. They're also more difficult to use and require a gas/oil mix, not straight gasoline. For most homeowners, an electric saw will do the job just fine.
Cutting bar length
What cutting bar length pole saw should I choose? In this situation, bigger isn't always better. In this post we have some pole saws which are 8″ and some which are 10″ cutting bar lengths. The 8″ pole saw is limited to 7.5″ diameter branches. The 10″ pole saw can cut up to 9.5″ diameter branches.
In spite of these guidelines, you can definitely cut larger branches with a pole saw. A little creative problem solving will lead you to realize that you can cut the branch from two sides, suddenly the 7.5″ constraint turns into a 15″ branch, or 19″.
Also consider the following, the longer cutting bar will have more teeth engaged into the material at any given time than the shorter one. This means a greater load on the motor, means your battery drains faster.
Don't let the bar length be the deciding factor for your pole saw, base it more on your other needs like portability, weight, corded or uncorded, and height requirements.
Weight
It's important to consider the tool's weight. As any parent knows, 10 pounds easily feels like 100 pounds in no time. You should consider that most tree trimming jobs take at least an hour to complete.
Corded electric pole saws weigh around 8 pounds, with most of the weight coming from the saw part. Battery electric pole saws weigh around 15 pounds, yes nearly double that of corded, but with most of the weight being from the battery. This means the weight is lower to the ground, so battery operated saws don't necessarily feel twice as heavy during use.
Removable chainsaw
Some pole saws have a removable chainsaw head, such as the Worx Cordless 20V Pole/Chain Saw. This can be great if you don't have any other hedge or tree trimming tools like an electric hedge trimmer or chainsaw.
Sale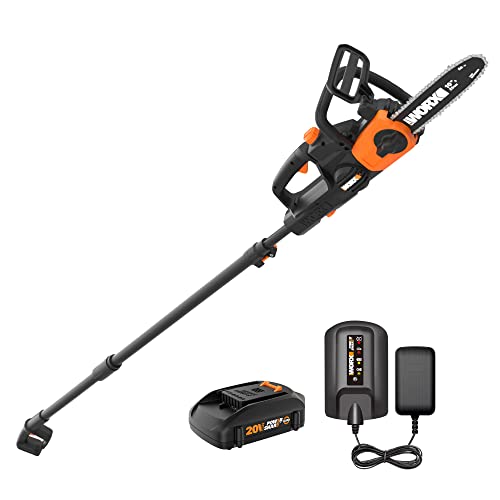 Worx WG323 20V Power Share 10" Cordless Pole/Chain Saw with Auto-Tension...
[12' EXTRA REACH] It takes just a few minutes and no tools to attach the pole. And with a reach of up to 12' and only 10 lbs., you'll be able to...
[FAST, CLEAN CUTS] This cordless 20V PowerShare chain saw is as fast and powerful as anything in its class. And with no gas, and no cord, there's...
[SAME BATTERY, EXPANDABLE POWER] The same battery powers over 75plus 20V, 40V, and 80V lifestyle, garden, and power tools in the Power Share family
Small electric chainsaws are light duty and not suited to taking down trees. They're better for small trim up jobs. If you truly need a chainsaw, get a "real" chainsaw instead of looking for a pole saw with a detachable head.
Do electric pole saws need oil?
Yes, electric pole saws need oil. They need oil to lubricate the fast moving chain on the bar hence the name of the oil, "bar and chain" oil. You can locate the oil reservoir by finding the oil symbol, unscrew the cap and fill with oil. Remember to refill as necessary. reservoir reservoir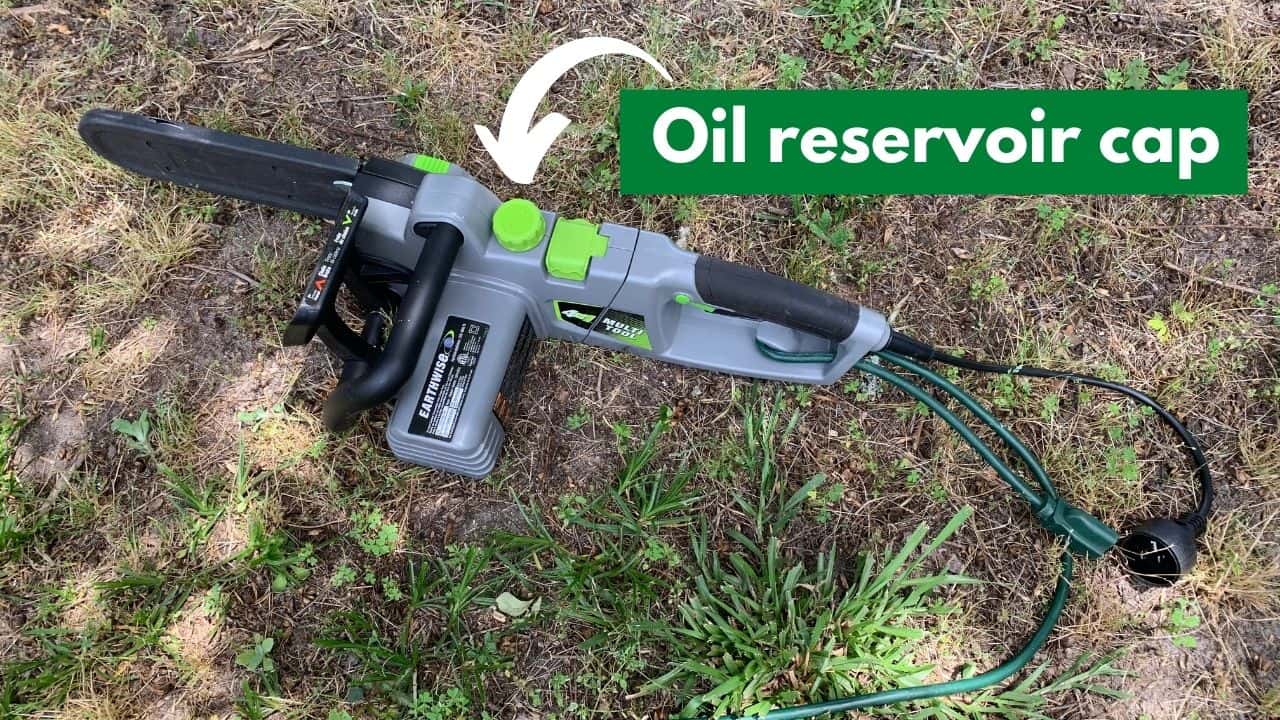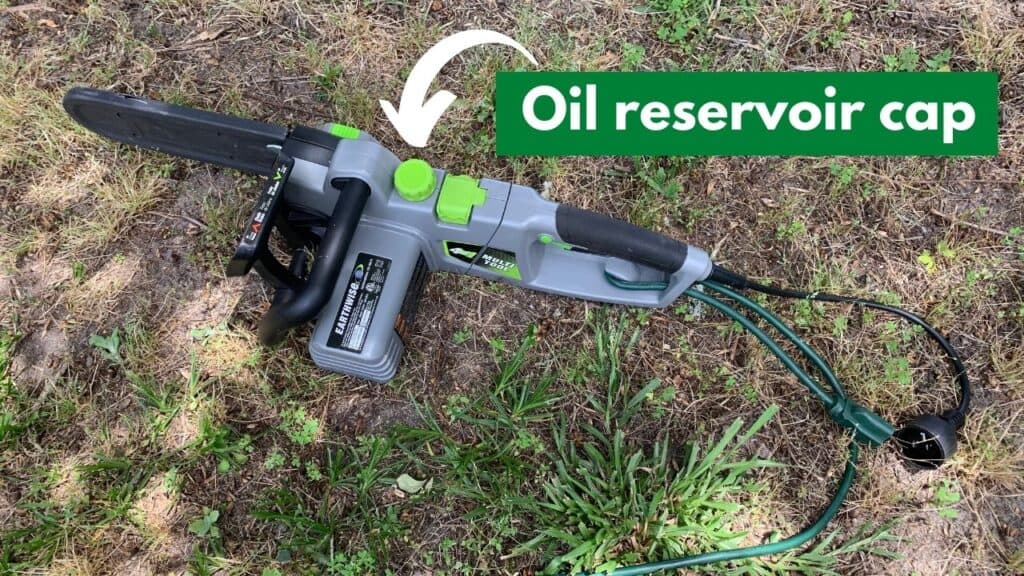 What happens if I don't add oil?
If you don't add oil to your chainsaw you will permanently damage your chainsaw because of excess friction between the chain and the bar. You will either break the chain, the bar, or the motor and the tool will be useless.
You will need to keep an eye on the oil level in the reservoir. A full oil reservoir can last up to one hour.
Here are some of the bar chain oils we recommend: Husqvarna Bar and Chain Oil 1 Quart and Mag 1 Bar and Chain Oil 1 Gallon. And remember the funnel.
Auto-Tensioning System of a Pole Saw
Auto-tensioning is a handy feature that saves you time and prevents you from inadvertently damaging your saw. Too loose chains don't provide adequate cutting power and can cause the motor to work overtime. Too tight chains bind and create extra friction, which also damages the motor.
Sharpening Your Pole Saw
To sharpen your pole saw you will use the same tools needed to sharpen a chainsaw. Here is a post we wrote about the best chainsaw sharpeners available today.
You'll need to find the "pitch" of the chain of your tool but most will be 3/8″ and therefore the Stihl 2 in 1 Chainsaw Sharpener works well.
By now you are at least a bit educated on what to expect from an electric pole saw so that you can evaluate your own needs and wants so that these tools can work best for you. Let me know what you settled on, I'd love to know your point of view.
Garden Gear Reviews
Are you looking for the best lawn and garden gear? Look no further!
If you're working in the garden or doing yard work, you need cut resistant gloves to protect your hands. Discover the best cut resistant gloves in this post including the gloves we personally use.
A garden hose reel can be a complete game changer. Say goodbye to annoying kinks and dead patches of lawn when you use a sturdy garden hose reel or retractable hose!
Expandable hoses are lightweight and kink-free. Unfortunately, many of them are also prone to leaks. Discover the best expandable hoses and how to store your expandable hose for longevity.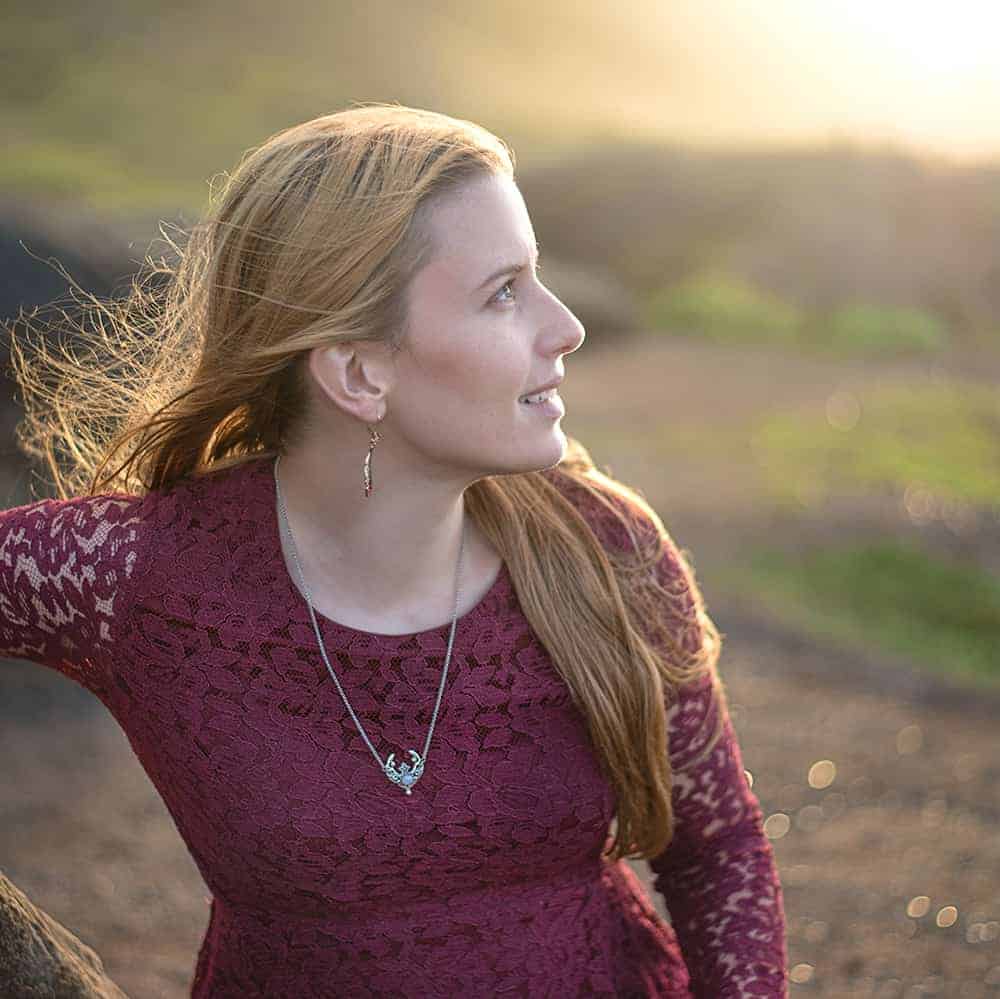 Natasha Garcia-Lopez is an avoid home-gardener and proud owner of 88 acres of land in rural West Virginia. She was a member of the Association for Living History Farms and Agricultural Museums for many years and is currently enrolled in the Oregon State University Master Gardner Short Course program so she can better assist you with your gardening questions.She holds a certificate in natural skincare from the School of Natural Skincare.