Trying to cut a tree with a dull chainsaw is like using a butter knife to cut steak.
Trying to cut with a dull blade takes forever, plus it puts extra strain on your motor and shortens the life of your saw. This means sharpening your chainsaw saves you time and saves you money.
Sharpening your chainsaw can seem like a daunting task because of all the angles and special parts of a chainsaw. Thankfully, there are some sharpeners which make it very simple to sharpen your chainsaw and leave your chain cutting like a new chain with an incredibly sharp edge.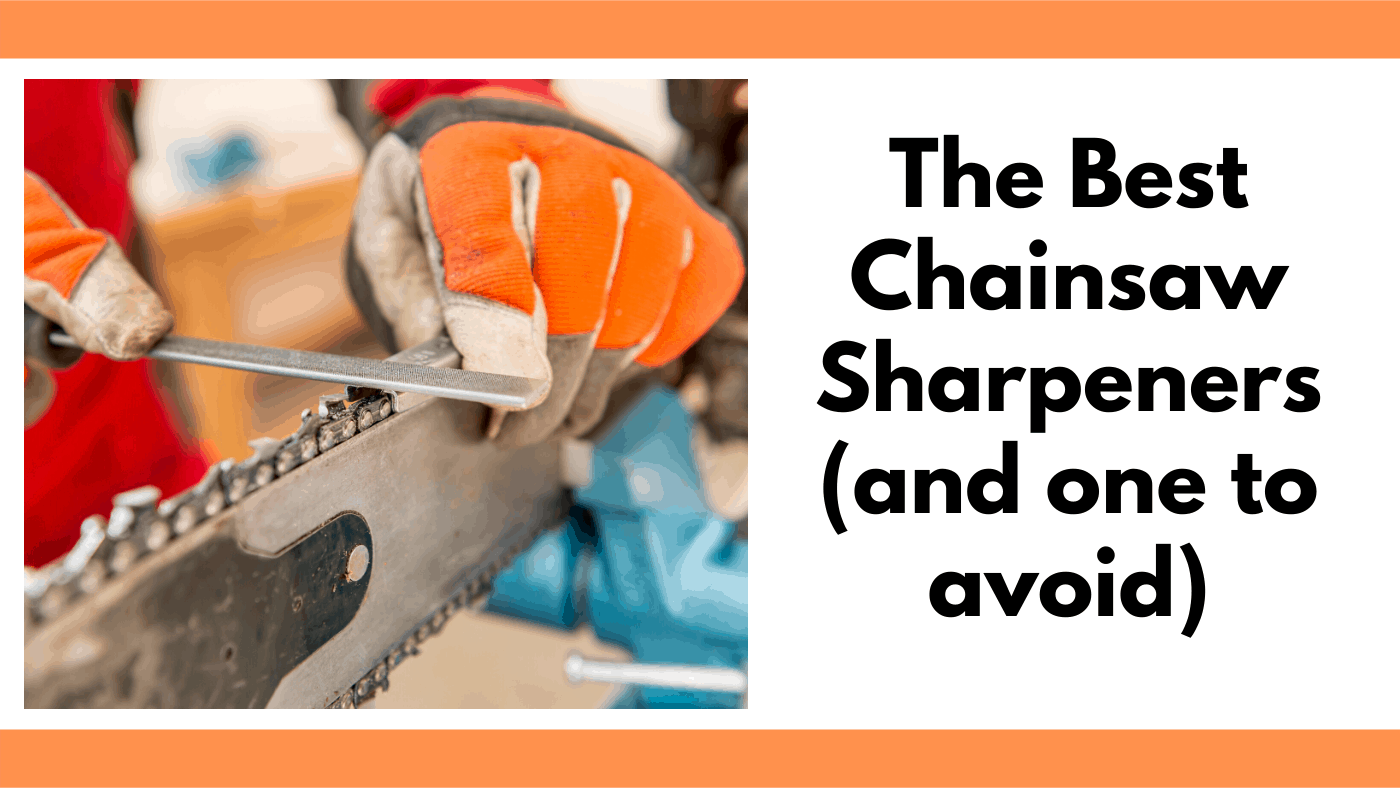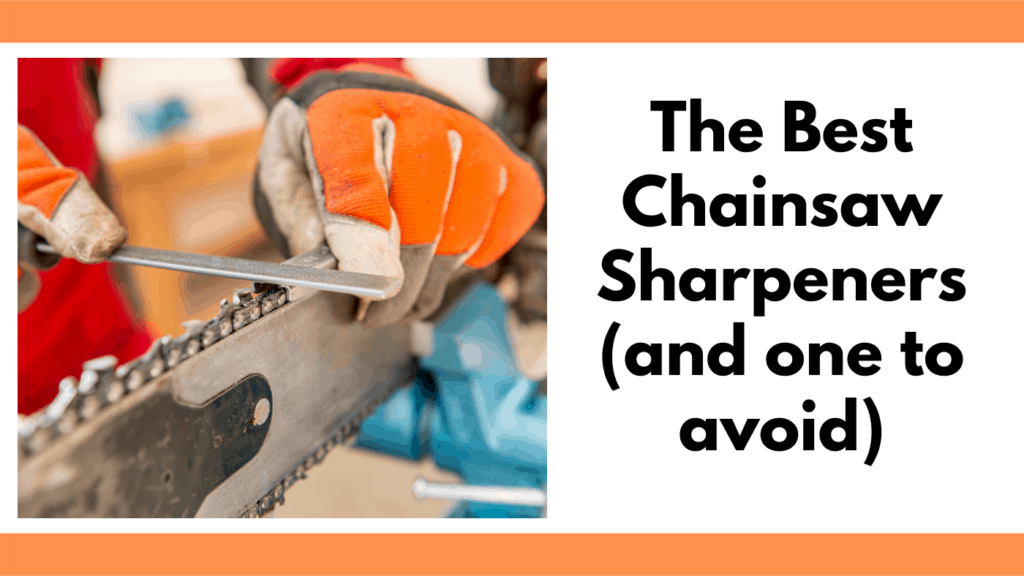 Sharpening your chainsaw is typically done by using a round files on the cutting teeth of your chainsaw at a specific angle. You then have to ensure the depth gauge is still adequate for the new tooth height. This is usually a two step process and can be done by hand with simple manual files.
There are many chainsaw sharpeners on the market today. Some can be electric which adds some convenience and there are also manual filing systems which can have mixed results. Keep reading to find out which is the easiest and best for your needs.
This guide breaks down the various types of chainsaw sharpeners so you can make an informed, confident decision and select the best chainsaw sharpener for your needs.
This post includes affiliate links, which means I may earn a commission on purchases made at no additional cost to you.
In a rush? Here are our top picks!
---
If you've ever tried browsing for garden supplies, you may have been struck by analysis paralysis.
Picking the best tools can be exhausting, so we're here to help. Here are the best chainsaw sharpeners on the market today.
Manual Chainsaw Sharpeners
The STIHL 2 in 1 Easy File Chainsaw Chain Sharpener takes it as the best chainsaw chain sharpener. This chainsaw sharpener is considered a manual sharpener but it is nothing but a time saver. It manages to accomplish many tasks at once. Not only will it sharpen your chisels, it will also guide you to achieve the correct angle, and file your depth gauge to the correct height. The sharpener has angled filing guide marks to let you sharpen the chainsaw blades at the right angle. Then, the center flat file grinds down the depth gauges to the exact right height. It is a built-in depth gauge without the extra work.
This tool is also super portable and requires almost no setup. You'll only need to brace your chainsaw, pull out your chainsaw sharpener, and get to filing. This chainsaw sharpener quickly get you back to shredding some lumber. You should be able to finish sharpening all the chisels within 5 minutes, for a 16″ bar chain.
There are many customers who think this is just too good to be true but check out what this customer has to say:
"I saw this device and tried it with very little expectation. I thought there was a good chance I was throwing my money away on something that would languish in the tool bin. This is by far the best chain saw sharpener I have ever bought. It gets the angle right and files down the gage at the same time." Read the full review here.
Be sure to get the correct size for your chainsaw. You'll need to consult your chainsaw manual to figure out what size file you'll need. The various sizes available on Amazon are .325″ file and 3/8″ file. The difference between these is that they have different files and it depends on the size of your chain. If you need a different size you may need to go to your local Stihl dealer.
If you are looking for a traditional chainsaw sharpening kit, the Oregon Chainsaw Field Sharpening Kit is what you need. This chainsaw sharpening kit is basic but it gives you a very good understanding of how sharpening a chainsaw works. The kit includes various sizes of round chainsaw files, a depth gauge, and a flat file. It is just as effective as any of the other chainsaw sharpeners on this post, but it may take a little longer to get the results you need.
Chainsaw sharpening is usually a two step process. This sharpening kit has the tools to give you sharp and precise cutting edges and depth gauge heights to optimize the cutting ability of your chainsaw. Depending on your proficiency, this sharpening your chainsaw with this kit can take between 5 and 15 minutes. Remember to use the right file size otherwise you may give your chainsaw chain the wrong profile and do more harm than good.
This kit is complete with three file sizes. This means you won't have to buy a whole new kit if you get a new chainsaw or blade. This customer finds this beneficial: "This is a good, basic chainsaw sharpening kit that has everything you'll need to keep saws with three popular blade sizes tuned up and cutting." Read the full review here.
The Granberg Bar-Mount Chain Saw Sharpener is a highly precise chain saw sharpener. There are plenty of dials to set all the different file guide angles for you to properly sharpen your chainsaw's teeth.
Because this sharpening system is on a jig, all of your sharpened teeth will be very similar and precise. This is important because manual, or freehand, sharpeners have the possibility of overly sharpening some teeth and leaving uneven angles. This sharpening jig removes the variation between teeth because the jig ensures precise sharpening. This chainsaw sharpener clamps right onto the guide bar so you can sharpen anywhere without removing the chain from the chainsaw. This saves a lot of time during the sharpening process.
One downside to this chainsaw sharpener is the amount of setup time. There are plenty of screw to tighten and dials to turn but if you can follow the instructions, you will be off to sharpening in no time. The sharpening time should take less than 5 minutes for a whole 16″ bar chain. You will also need to take down the depth gauges after you've sharpened the teeth. This could add to the overall setup and sharpening time.
It is great to see a professional, who uses his chainsaw for timbering, recommends this chainsaw sharpener: "This jig also fit the bill because when milling, you will often sharpen many many more times in a day than you would simply bucking and felling. I often work in remote areas and the Granberg is packable." The full review even gives some tips on the angle of approach which you should sharpen your chainsaw teeth to. Read the full review here.
Electric Chainsaw Sharpeners
The GOXAWEE Chainsaw Sharpener Kit is an easy to use sharpening kit for any chainsaw. It is highly versatile and you can use it on any tool in your shed.
As a chainsaw sharpener it does very well. The angle guide allows you to get the proper angle of sharpening fairly easily. There are multiple grinding stone sizes so you can set it up for the size of your chainsaw teeth.
The one downside is that it takes a bit of adjusting to get the guide positioned to the correct height in reference to the grinding stone. Be sure to read the manual carefully and follow all the instructions. This sharpener also has the potential to shoot sparks because of the high speed grinding. Be sure your work area is clear of ignitable or combustible materials.
Some customers claim the working instructions don't provide much detail such as this reviewer, "Never used a chainsaw sharpener before and had to go on youtube to search on how these things work. The instructions were a bit lacking on use but the tool itself is great once I figured it all out." With a bit of help from Youtube, you'll be able to figure out just how to use this sharpener. Read the full review here.
The Oregon 410-120 Chain Grinder is a benchtop grinder which ensures highly accurate and sharp chainsaw teeth. This chainsaw sharpener is electric and pairs well in your garage away from any combustibles.
To use this chainsaw sharpener you will need to remove the chain from your chainsaw and mount it into the guide track of the sharpener. The instructions in the package tell you all the knobs and screws to turn so you may properly secure the chain and grind at the correct angle for your chainsaw teeth. Once setup, this electric chainsaw chain sharpener makes quick work of even the dullest of chains.
The drawback to this setup is the time required for setup. Removing the chain from the chainsaw makes this setup take a long time. This also means you will not be able to use this sharpener while outside in the woods. Because of the grinding, there is a possibility for sparks, therefore you should ensure all combustibles are safely stored away.
This chainsaw sharpener has plenty of satisfied customers, here is a one review who has a suggestion on how to make this sharpener portable, "The instructions were clear and precise. I screwed a couple of "runners" to the bottom of a 2″ x 6″ board to form a platform for mounting the sharpener, which makes it portable; all I need to do is clamp it to horizontal surface and it's ready to go. I grabbed a dull chain and carefully followed the directions. The process was quick and easy." Read the full review here.
DO NOT BUY THIS ONE!!!
The Wellead Portable Chainsaw Sharpener is a chainsaw sharpener meant for a very specific type of chainsaw. Unless you have a chain with a profile like this Oregon PowerSharp chain, then you will not be able to use this chainsaw sharpener. This chain literally has a different shape and is not a traditional styled chainsaw.
There are too many bad reviews of this chainsaw sharpener simply because this chainsaw sharpener is not meant to be used with traditional chainsaw chains. This sharpener files the top of the cutting chisel whereas normal sharpeners requires you to sharpen the interior of the chisel. If this product seems too good to be true then you are right, read the instructions and see if this will match your chainsaw chain.
One review which really stands out is this one of a customer claiming to have sharpened the chain for over 10 minutes, "Attached it to my chainsaw according to the insanely vague instructions, ran the chainsaw against the sharpening stone for 10-12 minutes, removed the sharpener, tried trimming small 2" diameter branches. Nothing." This chainsaw sharpener takes just a few seconds to sharpen the cutting chisels, do not sharpen for more than 10 seconds.
If you'd like to be able to use this super easy sharpener then check out the Oregon CS1500 18 in. 15 Amp Self-Sharpening Corded Electric Chainsaw. This chainsaw already has a sharpening kit inside the housing but can also use the Wellead Portable Chainsaw Sharpener.
How do I brace my chainsaw for sharpening?
To sharpen your chainsaw outdoors, you'll need to brace your chainsaw. The best way to do that is by using a stump vice like this Oregon Stump Vice.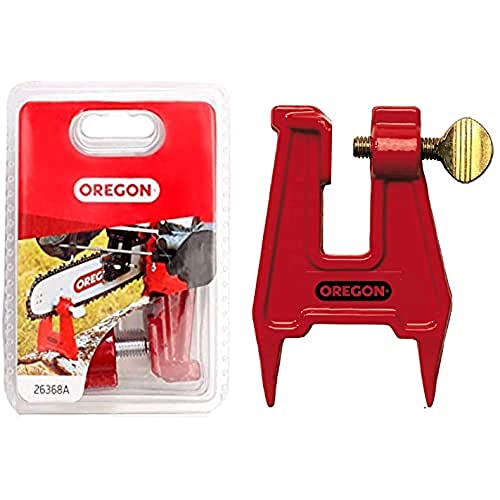 Oregon Filing Vise Pocket Stump Vise for Filing Chainsaw Chains, Provides...
This chainsaw vise is the perfect accessory for tree care professionals in the field, letting you tackle routine chainsaw and pole saw maintenance on...
With its dependable grip, this filing vise will allow you to file your saw chain while on the bar
The sharp, hard-wearing forks are easy to drive into any stump. Ideal for keeping your chainsaw functioning at its best during large felling projects
If you prefer a bench vice, there are many options to choose from. There are portable options which you can clamp onto a two by four or permanent vices which you drill onto your workbench.
How often should I sharpen my chainsaw?
Chainsaw sharpness is fairly easy to tell. The majority of the wood you shave off should come out in ribbon like strips. The longer the ribbons, the sharper the teeth. As soon as you start having sawdust appear, you should sharpen the teeth on the chainsaw.
A sharp chainsaw allows you to conserve fuel and be efficient with your cuts. A dull chain means longer cutting times and more fuel wasted. It can also shorten the lifespan of your saw because there is more strain on your motor. Holding a chainsaw for more than a few minutes can be grueling, since most weigh around 10 pounds. Having a sharp chainsaw is essential.
Getting the right chainsaw sharpener
Portable Sharpeners
Portability can be a deal breaker for some folks. If the chainsaw work you do has you far from your tool shed, then you probably want a more portable chainsaw sharpener. Having the ability to sharpen your chainsaw while out in the field is a great luxury especially if you accidentally dull the teeth and absolutely need to cut into a tree. Good portable chainsaw sharpeners should fit right into your back pocket, anything larger will only be cumbersome.
Ease of use
Some chainsaw sharpeners have way too many settings to remember. The simple the easier, I believe. If you don't mind reading the instructions each time you operate the chainsaw sharpener, then you already know which is best for you. If you want a chainsaw sharpener that is ready to go right out of the box, then the Stihl 2 in 1 chainsaw sharpener is the choice for you.
Time required to set up a chainsaw sharpener
The time required for setup and sharpening is obviously something you should consider. The quicker, the better. Be cautious of the chainsaw sharpener which you need to remove the chain to sharpen. This can lead to a really long day just to get your chainsaw sharpened.
Maintenance required
You won't need to gas up any of these chainsaw sharpeners but you may need to change out a file or a sharpening stone every once in a while. Whichever chainsaw sharpener you choose, you should familiarize yourself with it so that you understand what maintenance it needs and how to tell if its time to replace any of the pieces.
Sharpening your chainsaw is highly gratifying and you should feel proud of doing so. Understanding the angles and being aware enough to properly sharpen your chainsaw is something not many people know how to do these days. Remember to keep good care of your tools by cleaning and storing in a dry place after using.
If you want to have a better yard and garden with less work this year, be sure to check out our additional yard and garden tool reviews:
Yard Tool Reviews
Are you sick of your old, broken down lawn tools from a yard sale 10 years ago? Discover these yard tool reviews so you can save time and backaches on yard work day with a new, modern tool.
Angel is a Cuban immigrant who grew up with backyard chickens and a yard-loving abuela. He is our "gear guy" who can never have too many pairs of gloves or weed whacker attachments.