Expandable hoses have been around for quite some time now but the verdict is still unclear. Are they the best thing since sliced bread or should we just not bother?
Discover the pros and cons of expandable garden hoses and the best expandable hoses for your garden.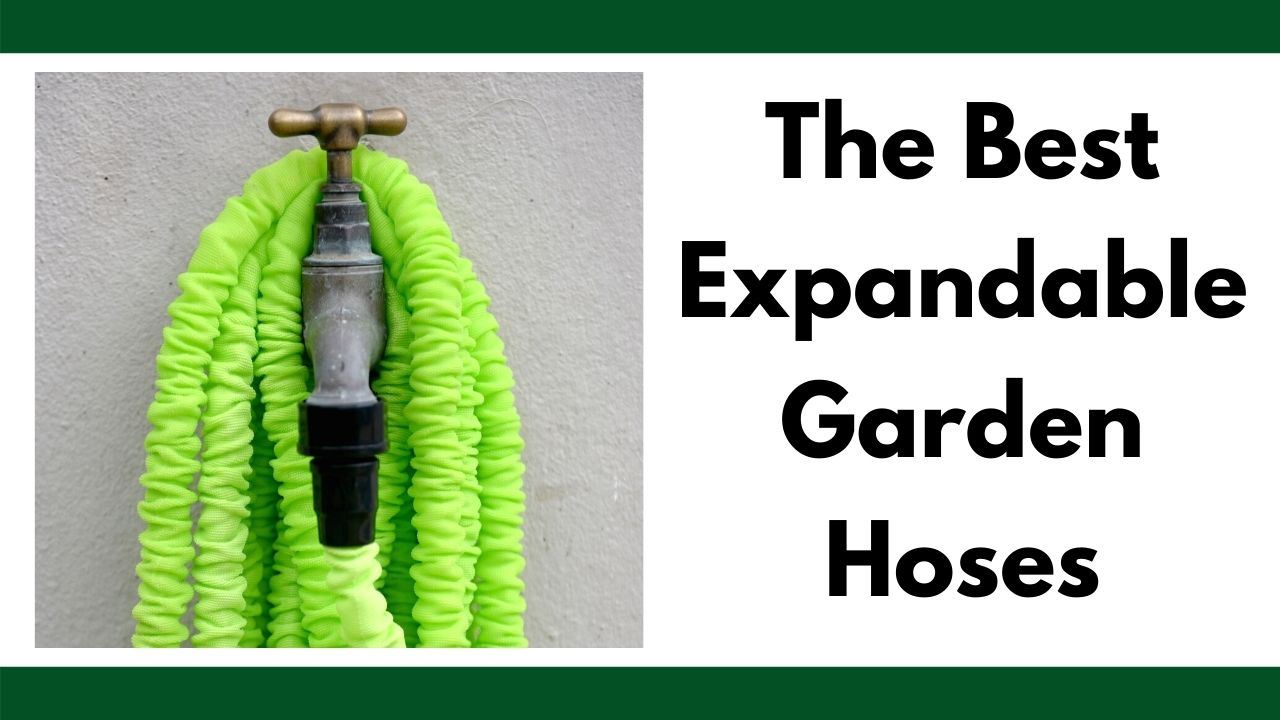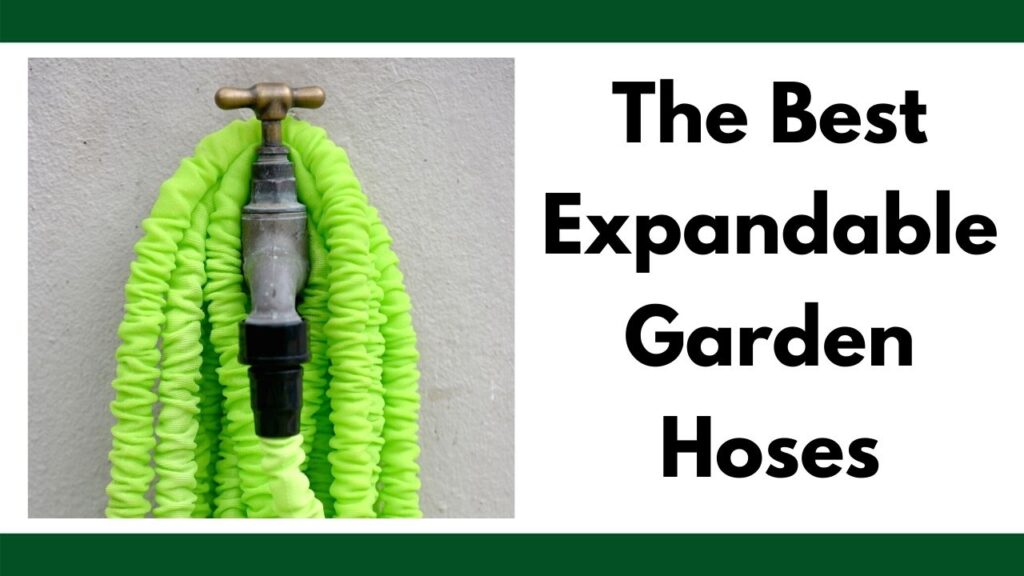 This post includes affiliate links, which means I may earn a commission on purchases made at no additional cost to you.
In a Hurry?
Here are our choice expandable hoses.
Table could not be displayed.
Are expandable hoses any good? Pros of expandable hoses
Expandable hoses solve a few problems.
Expandable hoses take less space than conventional hoses.
A conventional 100 ft hose needs a hose reel suitable to handle it, otherwise you'll have the all too familiar sight of a tangled up hose on the ground destroying your lawn.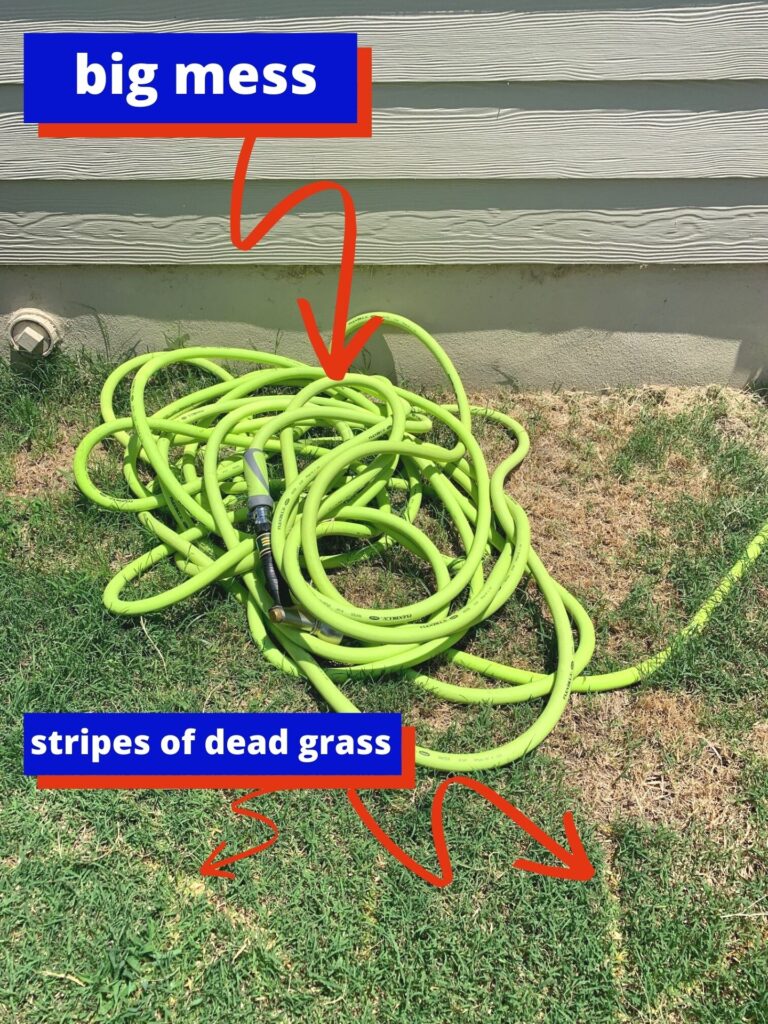 Expandable hoses are portable.
Another issue the expandable hose solves is that of portability. Imagine getting finish watering your plants, you are feeling pretty motivated so you decide to wash the cars, except you now face the issue of needing to lug around this heavy and awkward hunk of rubber from your garden to your driveway.
Unless you have a hose reel with wheels, you are in for quite a headache. Portability is optimized by using an expandable hose. Most of the 50ft expandable hoses weigh in around 2-3 pounds. Extremely light, plus they are about one third the length of conventional a hose when not in use.
Expandable hoses do not kink
Yep, that's right. The review from Consumer Reports shows that no matter what you do to the hose, even tie it in a knot, it will not kink and therefore not lose water pressure.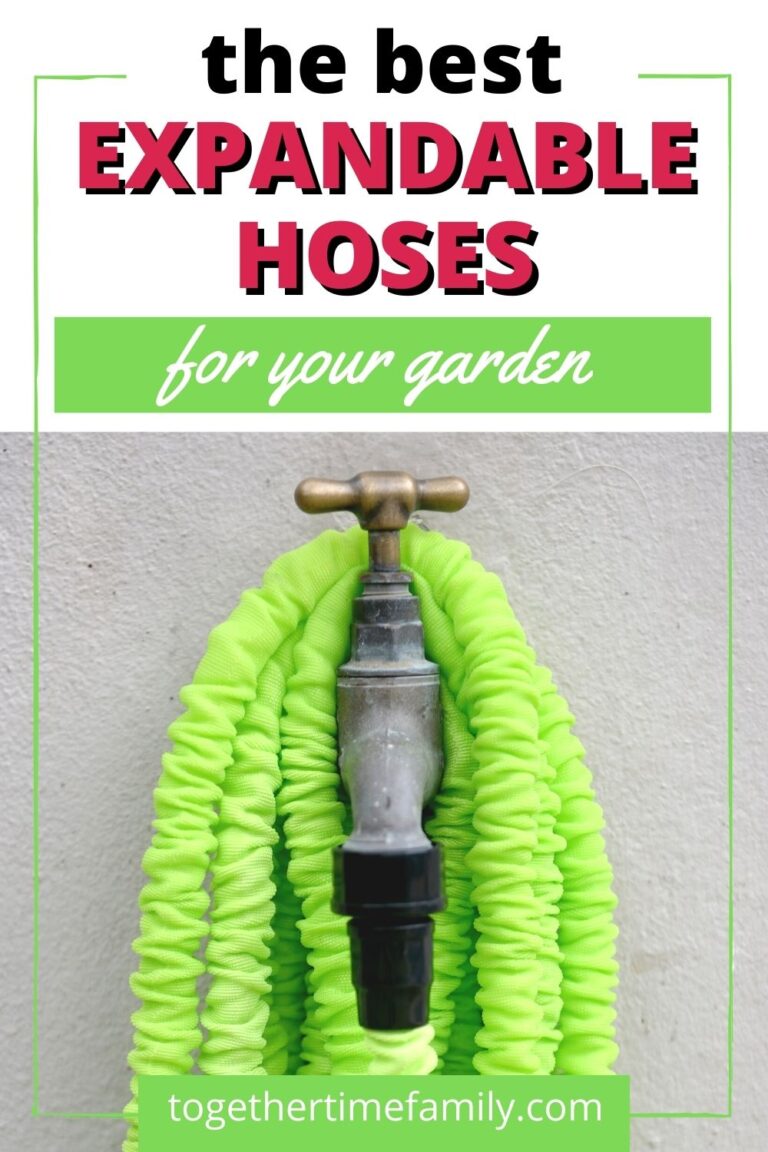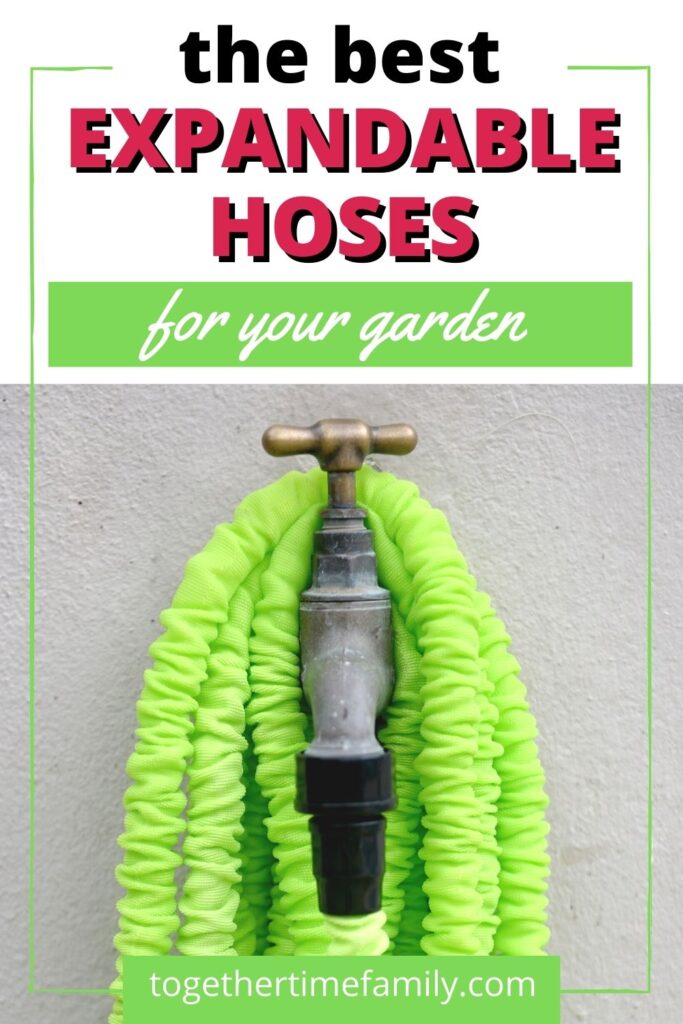 The TBI PRO Expandable Garden Hose is my favorite expandable hose. The price point on this one is a bit more than the rest and it only comes in 50ft increments. To make a 100ft expandable hose you would need to get TBI PRO's extension.
Expandable hoses are fairly similar but TBI PRO has managed to change the game a bit. They have listened to consumers and addressed the issues of leaks at the unions. They placed a hard silicone protector to keep the hose from sustaining any damage at this highly prone area.
Next, the hose has 4 latex layers which significantly reduce the possibility of a leak. This product has 7% 1-star reviews, by far one of the fewest of the expandable hoses we reviewed. Maybe the 4-layers of latex really do live up to what they claim.
To sweeten the deal, TBI Pro also includes a real spray nozzle and a hose splitter. This zinc alloy nozzle feels substantial and not gimmicky like the other expandable hoses.
Ultimately, this hose has a higher price point but it does come close to replacing a conventional style hose. If treated correctly, this hose will last more than a few seasons.
😃 The design is in line with the quality required. Solid hose that will last
😃 Zinc alloy water spray nozzle included
😖 The price is nearly double what other expandable hoses are charging
---
The VIENECI 100ft Expandable Hose is a classic expandable hose. From 33ft when empty to 100ft in under 10 seconds. This hose suits all your expandable hose needs.
From watering your garden to washing your car and blasting Japanese beetles out of the sky, this hose will not disappoint. Many reviewers have commented on the exceptional quality of this product. It does have a unique construction, a dual latex core seems to make the difference. This hose has significantly fewer percentage of reviewers experiencing leaks.
It features solid brass fittings, great for corrosion resistance and providing strength. A solid brass valve at the nozzle end keeps you in control of the flow without affecting the length of the hose. It also includes a high quality nozzle with 9 different settings.
😃 Over 2500 reviews on the quality of this product compared to other expandable hoses
😃 Solid Brass Fittings extend the durability of this hose
😖 Many reviewers report some sort of leak or rupture
😖 Fabric catches on concrete
---
Flexi Hose is a longstanding expandable hose brand They've realized that the largest variance between all the products is the color. The expandable hose is naturally kink free, lightweight, and ultra portable. These are not the selling points of expandable hoses.
Having a big color selection like Flexi Hose has is what ultimately attracts people to their product. Sure, being leak free and durable is something we would like to have from these hoses but there is not yet a product which has made the necessary innovation to guarantee 100% leak resistance in expandable hoses.
This product has 10% 1-star ratings. Seems to be right around where all the other hose rating are. This hose still has leaks but you may have better luck with their customer support in claiming the lifetime guarantee.
😃 Well respected brand which has been around a while
😃 Many different colors to choose from
😖 Many reports of the hose developing a leak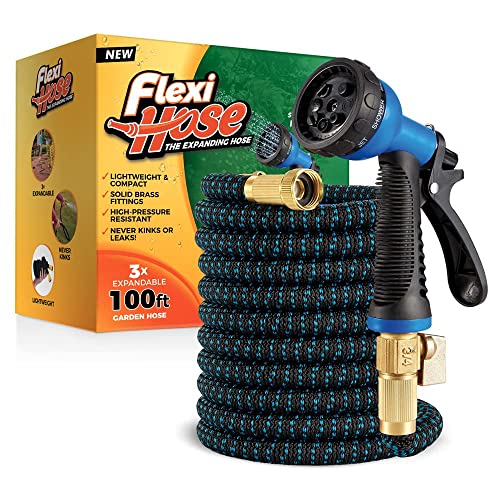 Flexi Hose with 8 Function Nozzle Expandable Garden Hose, Lightweight &...
The Flexi Hose expandable garden hose automatically expands to the stated product length - roughly 3 times extension - with standard pressure when...
Strong fittings for reliability! Solid 3/4 inch brass connectors ensure the expanding garden water pipe fits the typical outdoor garden taps in the...
Expandable, lightweight construction without sacrificing quality! The 3750D elastic outer fabric with 4 layers of latex protects the inner tube...
---
To be frank, most of the expandable hoses are extremely similar. The major difference is the internal construction which is difficult to differentiate as the consumer. The Gpeng Sunhoo Expandable Garden Hose has some very slight differences.
First, it comes in a variety of colors, even the nozzle comes in some cool colors like Orange with Blue (Miami Dolphins colors). Or some other muted colors like Green with Black or Blue with Black.
The hose claims 3 layers of latex interior core, which should mean fewer links.
This product has about 11% 1-star ratings. This is attributed to leaks which developed over time and some people also claimed the warranty guarantee process is not very friendly.
😃 Multiple colors to choose from
😃 One year warranty to cover leaks and ruptures
😖 Not a highly recognizable brand and potentially poor customer service
Cons of expandable hoses
There are some universal drawbacks to an expandable hose.
For one, the expansion of the hose is reliant on a constant water pressure, so once the water is allowed to flow, the pressure in the hose drops and will start to contract.
This can be bad news for simple things like filling your kids pool or running a portable sprinkler. If you have steady water pressure, there are no problems, but if someone flushes a toilet or the washing machine kicks in and causes a pressure drop, your hose will contract and jerk around. It can also be difficult to use expandable hoses if you rely on a pump and well water.
Most of the expandable hoses have a fabric exterior, this makes them highly susceptible to getting caught on concrete driveways where damage can occur and affect the integrity of the hose. Fabric can also decay in sunlight, so it's important not to store your hose out in the elements.
There is truth to the claim that expandable hoses develop leaks more than conventional hoses.
Since these types of hoses are made to expand, that means that even small pin prick sized holes expand to 3 times their original size. In addition, the constant expansion and contraction of the material at the union produces lots of stress on the hose which can cause catastrophic failure and lead to leaking joints.
Many reviewers report these types of hoses develop leaks after just a few uses. This accounts for a majority of the problems people encountered with these types of hoses.
However, there are many people who have reported their hoses worked perfectly well and never developed a leak.
How to Store Your Expandable Hose
Expandable Hoses are highly susceptible to damage from sunlight and extreme cold.
Avoid Prolonged Sun Exposure
Whenever possible, you should avoid prolonged direct sunlight exposure to your expandable hose. Just like a wet shirt that gets left in the sun will feel different and degrade over time, so will your expandable hose since the exterior is made of fabric.
Store Your Hose Over the Winter
Make sure you drain all the water from your hose after every use. Do this by shutting the water at the source and then pressing the nozzle to empty the hose. This is especially important to do if storing your hose over the winter as any freezing of water may permanently damage the latex interior.
The way you store your hose is not particularly important but a neat coil is probably best. Most of the hoses below come with a handy storage pouch to keep your hose in.
Best Practices for a Long Lasting Expandable Hose
Keep your hose empty unless using it. This means draining the hose after every use by closing the shutoff valve at your house and then draining the hose of any water using the nozzle. Next, keep your hose off the ground.
Avoid the concrete. The fabric tends to catch on the surface. Next time you are out on your concrete driveway or sidewalk, try dragging a t-shirt across the surface, you'll notice the damage almost immediately. Now imagine if you did that over a long period of time. That being said, conventional hoses also don't like the concrete but the damage to them is must less.
Store it in the shade between uses. Though it may be impractical to avoid all sunlight from hitting your expandable hose, you may be able to strategically place your expandable hose on a tap that receives the least sunlight, perhaps somewhere on the North side of your house (South side if you live in the Southern Hemisphere).
Do not use to supply fixed sprinklers. This is not so much a practice to extend the life of your hose as it is a safety concern. Depending on the type of sprinkler, the contraction of the hose when depressurized could make the sprinkler into a projectile in your yard. Keep this in mind when setting up your irrigation system.
The Best Expandable Hoses
Which do you prefer? An expandable hose or a traditional garden hose?
Angel is a Cuban immigrant who grew up with backyard chickens and a yard-loving abuela. He is our "gear guy" who can never have too many pairs of gloves or weed whacker attachments.