Jalapeños are by far the most popular hot pepper in North America. They are a New World plant that's native Mexico. Like its tomato relatives, jalapeños are a summer garden classic.
The medium heat of jalapeños (2500-8000 units on the Scoville scale) gives them just enough heat to spice up a meal without making them too overwhelming. They also have a great flavor that doesn't get overwhelmed by the spiciness.
Fortunately for gardeners, these much-loved chili peppers are easy to add to just about any garden. Like with virtually everything else, you can grow peppers that are superior to what you can find in the store. To help you be successful, here's everything you need to know about growing jalapeños.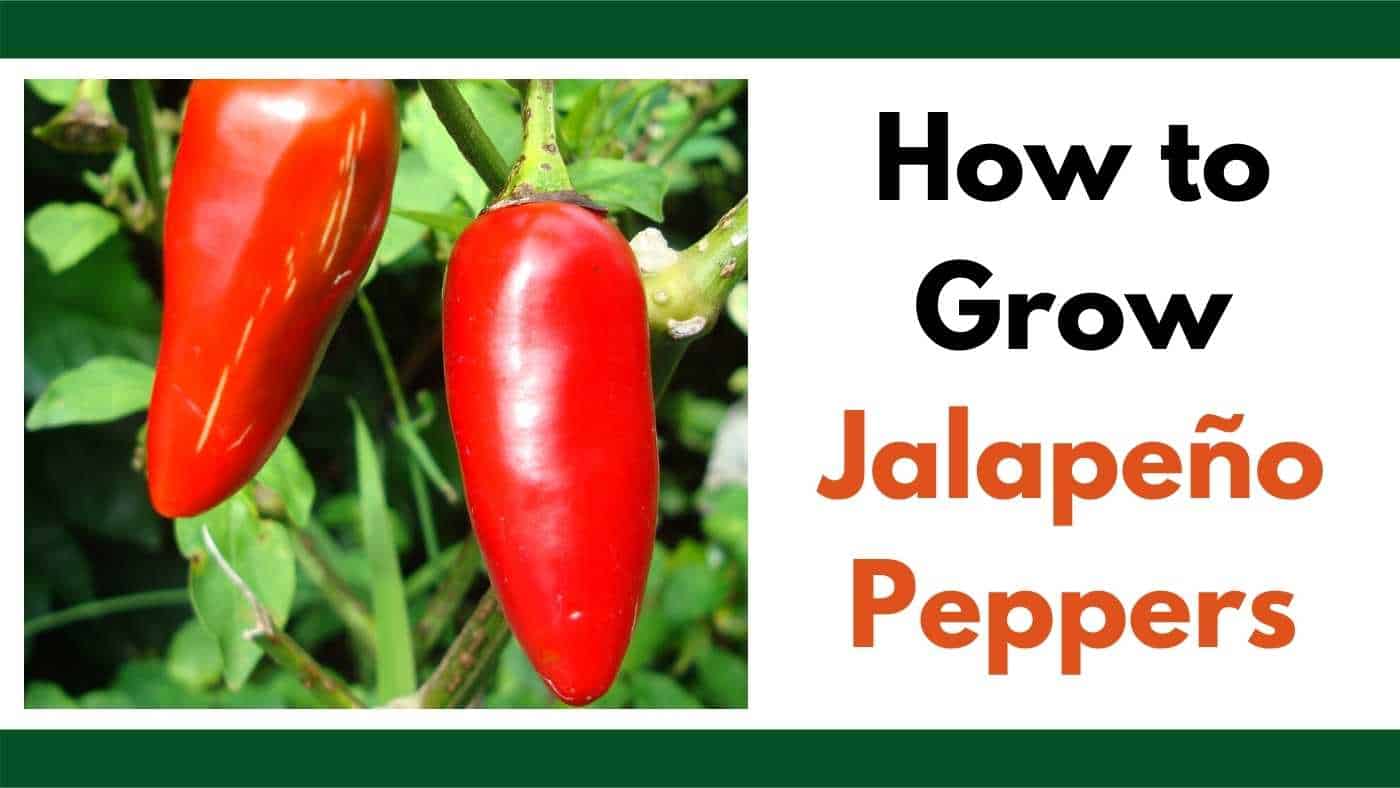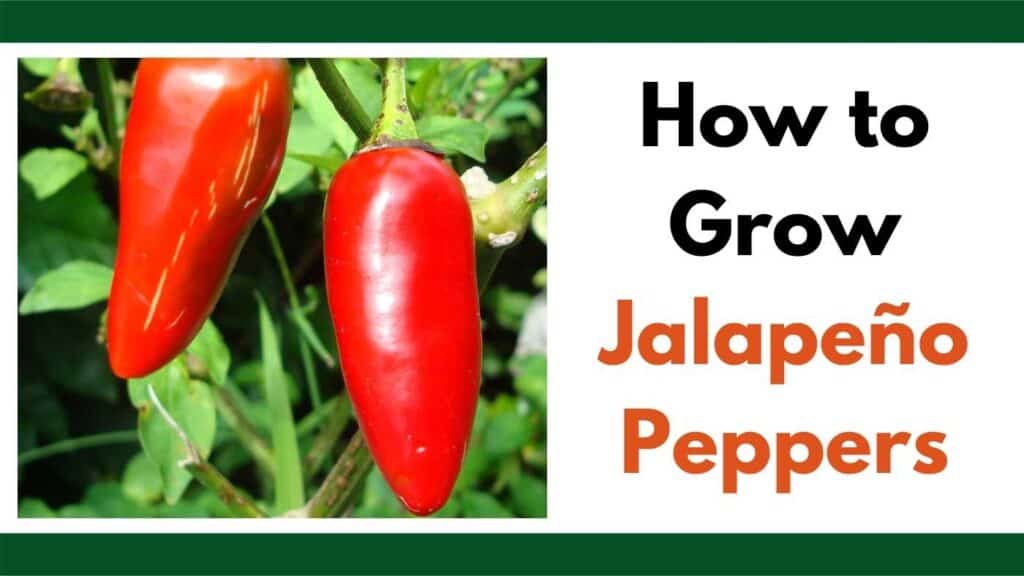 This post includes affiliate links, which means I may earn a commission on purchases made at no additional cost to you.
All About Growing Jalapeño Peppers
Like any other variety of peppers, jalapeños love heat and sunshine. They are originally native to warm, tropical parts of the world, particularly Central and South America, and thrive when given conditions similar to their homeland.
Grown as an annual vegetable in most parts of the world, jalapeño plants are very susceptible to cold temperatures, which can be a big nemesis for gardeners in northern regions.
However, by getting the timing right, most gardeners can successfully grow jalapenos and get in a good harvest before winter comes.
Typically, jalapeño plants will grow about 2-3' tall and produce 3-4" fruits that mature from green to red. Jalapeños are frequently picked and served green, but you can let them mature to red if you have the patience. Red jalapeños have a sweeter flesh, but spicer seeds. You can even grow jalapeños in containers, which is great news for gardeners short on space.
Jalapeño Cultivars
At one point, there was just a single standard jalapeño variety, but several cultivars have been developed over the years that each have their own beneficial characteristics. Here's a look at the top choices:
'Mucho Nacho' – This is a hybrid jalapeño that matures very quickly – about 2 months after planting. Peppers are jumbo and plentiful.
'Senorita' – Plants grow about 2' tall and peppers mature from green to purple to red. Heavy yields of 3" jalapeño.
'Jalafuego' – Plants are vigorous and produce large yields of large fruit. Peppers are resistant to cracking.
Purple jalapeño – Novelty jalapeño pepper with extra dark, almost black skin.
'El Jefe' – Early maturing jalapeño with great yields- good for gardeners with a short summer.
'Lemon Spice' – Unusual, pale yellow jalapeño bred by Mexico State University.
'Sweet Tiger'– A pepper with a stunning appearance and jalapeño flavor but no heat – for family/friends who don't do spicy.
Growing Jalapenos from Seed
Jalapeños won't have time to mature in many areas if you plant seeds directly in the ground. Start seeds indoors or buy seedlings to plant. I recommend starting your own seed because it's easy, costs far less, and you're more likely to end up with a high quality plant.
If you've experienced a lack of gardening success in the past when using purchased seedlings, try starting your own plants from seed. Although there are nurseries that provide high quality starts, many big box store seedlings are poorly cared for and unlikely to thrive in your garden.
To start seeds inside, get a plug tray filled with damp seed starting mix ready about 6-8 weeks before your last average frost date in the spring. You can also use small biodegradable pots that can be planted in the ground later on. If you use biodegradable pots, make sure to rip them when you transplant. The pots are surprisingly sturdy and can inhibit your plant's growth if you don't rip the pot.
Sow your jalapeño seeds about ¼-½" deep and cover them lightly with soil. Water the seeds and place the trays somewhere warm for germination to take place.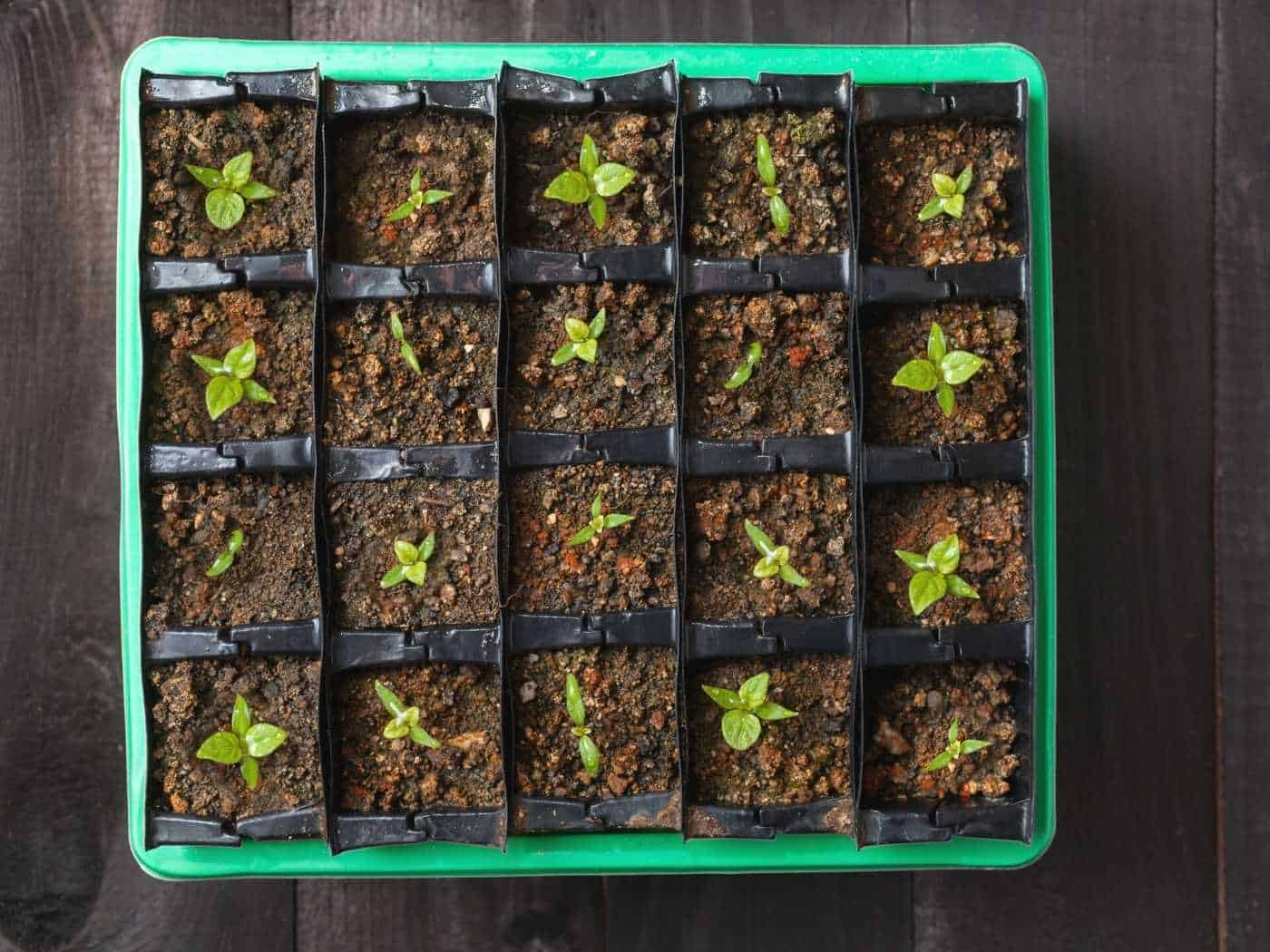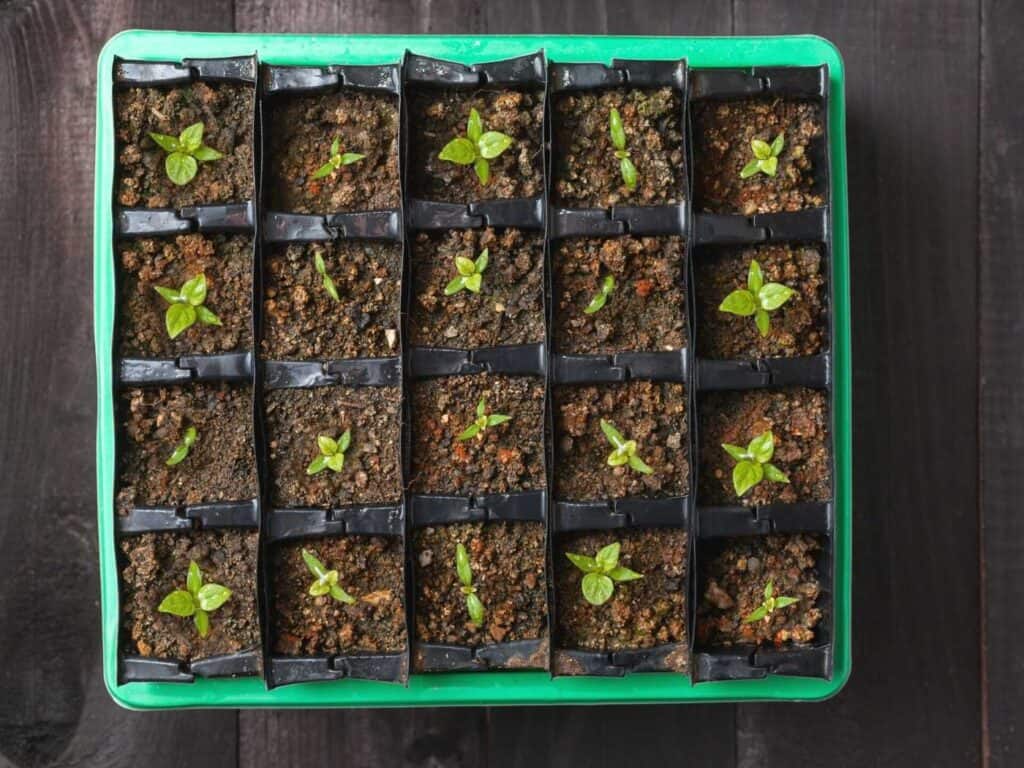 Seeds should germinate in 10-14 days, but it can take up to 3 weeks depending on room temperature. If your seeds don't seem to be germinating, you can try using a seedling heating mat underneath the trays to speed the process up. Heating mats are inexpensive and can really help you get a jump start on the growing season with heat-loving plants like peppers and tomatoes.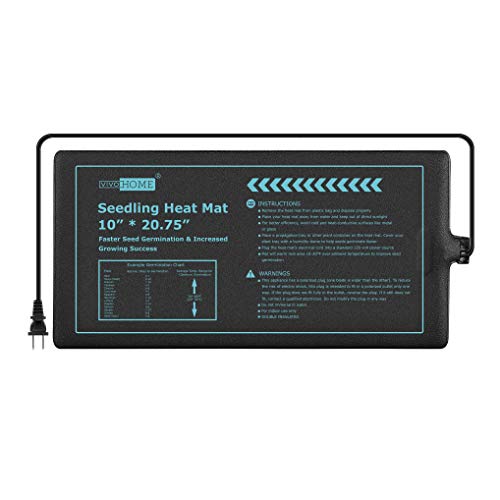 VIVOHOME 20W Waterproof Seedling Heat Mat for Seed Starting Propagation and...
PROFESSIONAL HEAT MAT - Provide your seedlings with a warmer environment to speed up germination, raise success rates, and increase growth rates; A...
DURABLE & RELIABLE - Made with heavy duty PVC material that is durable and resists wear and tear; Complies with MET standards; multi-layer structure...
STABLE HEATING SYSTEM - Automatically warms root area 10-20℉(5-11℃) over the ambient air temperature, which will increase the success of seedlings...
Once your seedlings have sprouted, they should ideally be placed under grow lights (windows don't usually provide enough sunlight for peppers). Even a small clip on grow light can give your peppers the extra light they need to survive, though serious pepper-lovers may want a larger panel grow light. I prefer my white clip on grow light to my purple light. This light works well for smaller seedlings, though it can lack power for more than a couple of older, larger seedlings.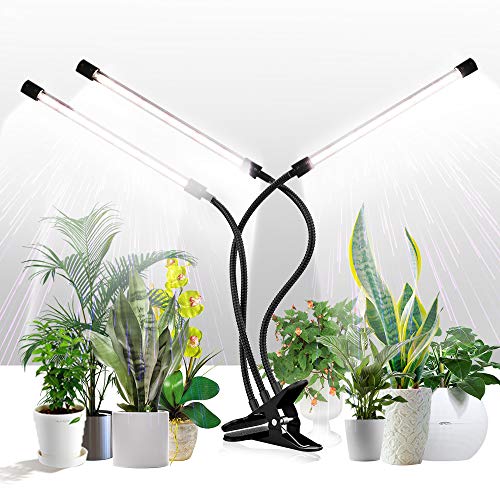 GHodec Grow Light for Indoor Plants,6000K 126LED Clip Plant Lights with...
【Sunlight White + Red LEDs】Eqquiped with 5 Red+37 Sunlight White LEDs in each bar,which is similar to the sunlight at noon,and ideal for all sorts...
【Timing Function & Versatile Settings】 Indoor plant lights offer 3 timing options-4H/8H/12H lighting time everyday. Auto on/off and no more...
【Sturdy Gooseneck & Strong Clamp】with anti-slip clamp and 360-degree adjustable gooseneck,it allows you to place the plant light in any direction...
I also own this panel grow light. It's great for older seedlings and established plants (I use it to grow tomatoes indoors all winter!). The heat it produces can quickly dehydrate small, young seedlings.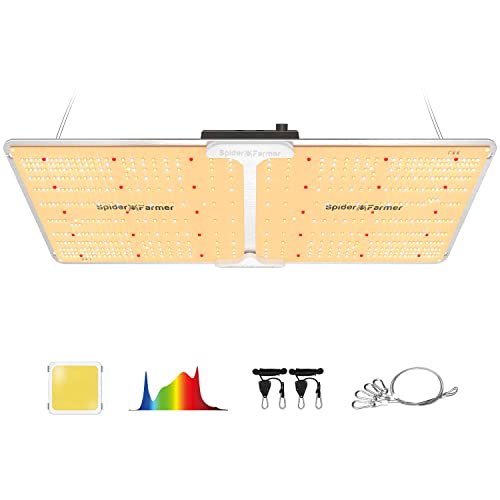 2023 Newest Spider Farmer SF2000 LED Grow Light with Samsung LM301B Diodes...
LOWER RUNNING COSTS & HIGHER-QUALITY YIELDS: SPIDER FARMER LED Grow Lights utilize the latest in high yielding LEDs technology today-Samsung LM301B...
NEW DIODE LAYOUT & DIMMING DESIGN: Upgraded SF2000 growing lights. More light beads at the edges, fewer in the middle. Helping get more uniform PPFD....
IDEAL FOR ALL GROWTH STAGES: Excellent full spectrum- white, blue, red and IR (3000K, 5000K, 660nm and IR 760nm). 3000K diodes provide more reddish...
Water your plants before the soil dries out, but avoid getting the leaves wet as this can cause fungal problems like damping off. Ideally, keep your seedlings in a warm room and run a fan a few times a day for good airflow.
Your seedlings can can be transplanted outside when they're about 6-8″ tall and the weather is warm enough.
Look at the plant's number of leaves, too, not just the overall height. A leggy plant that's been stretching towards the light might be 8″ tall, but only have a couple of leaves. Make sure your plant has several sets of "true" leaves. The image below is a pepper plant I'm growing hydroponically. I'd consider transplanting it at this size, if I were planning to grow it in soil.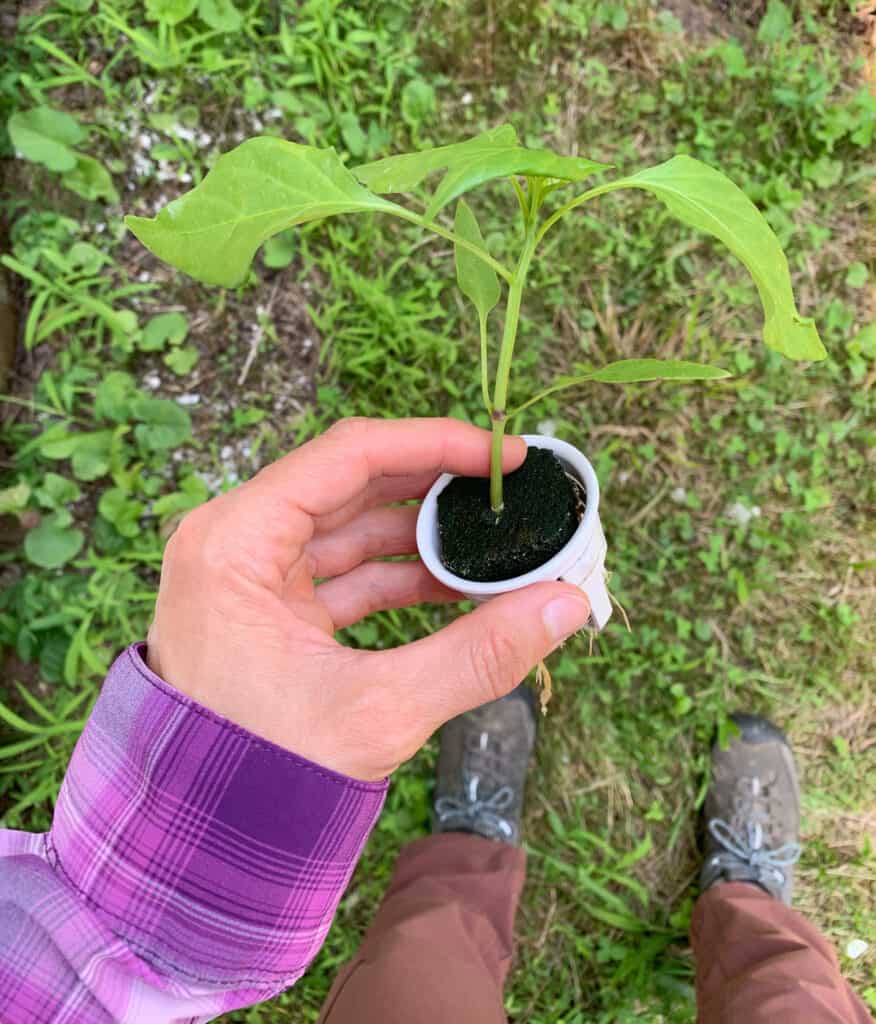 Planting Guide for Jalapeños
When and Where to Plant
Once your seedlings are ready, they can be planted outside after all danger of frost has passed in the spring and the soil has warmed to at least 60°F. Not sure what your soil temperature is? Grab a thermometer and stick it in the ground. You can use a dial or digital thermometer with a metal probe.
If you live somewhere cooler, consider using black plastic to warm your soil. Niki Jabbour's latest book, Growing Under Cover, gives many tips and tricks for extending your growing season. She lives in Canada and grows heat-loving favorites like tomatoes and peppers. If you live somewhere hot, it can help you, too, because it also gives advice on protecting plants from scorching summer temps.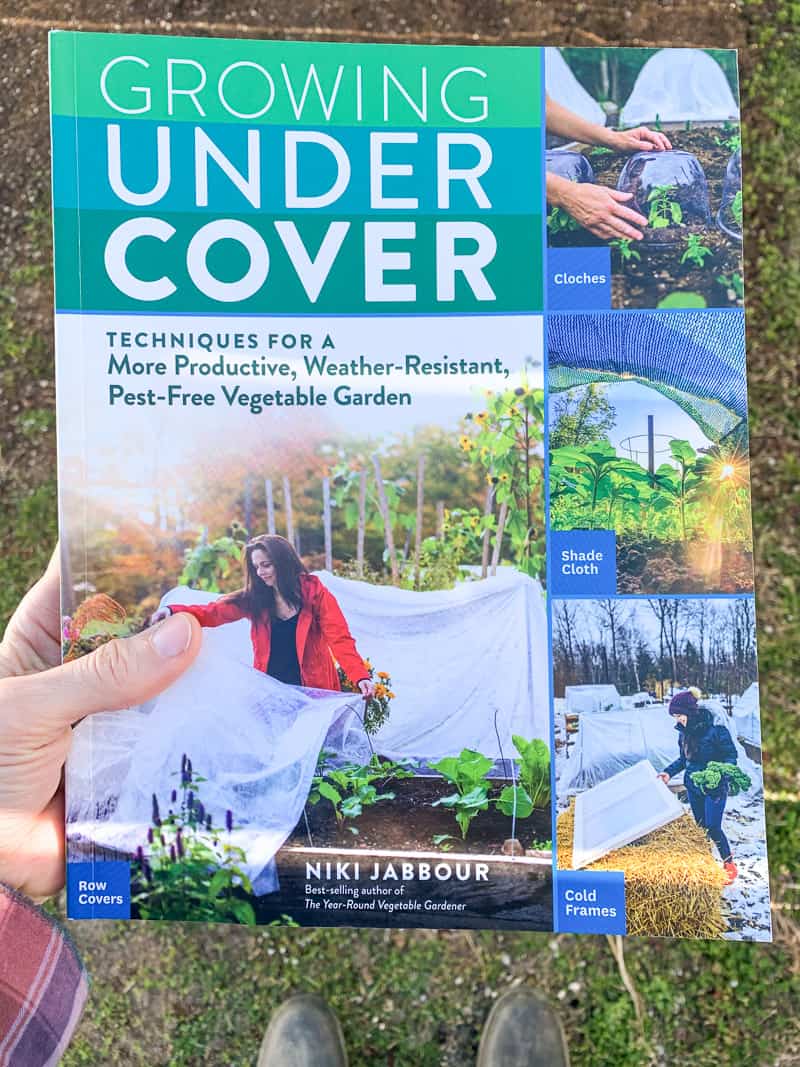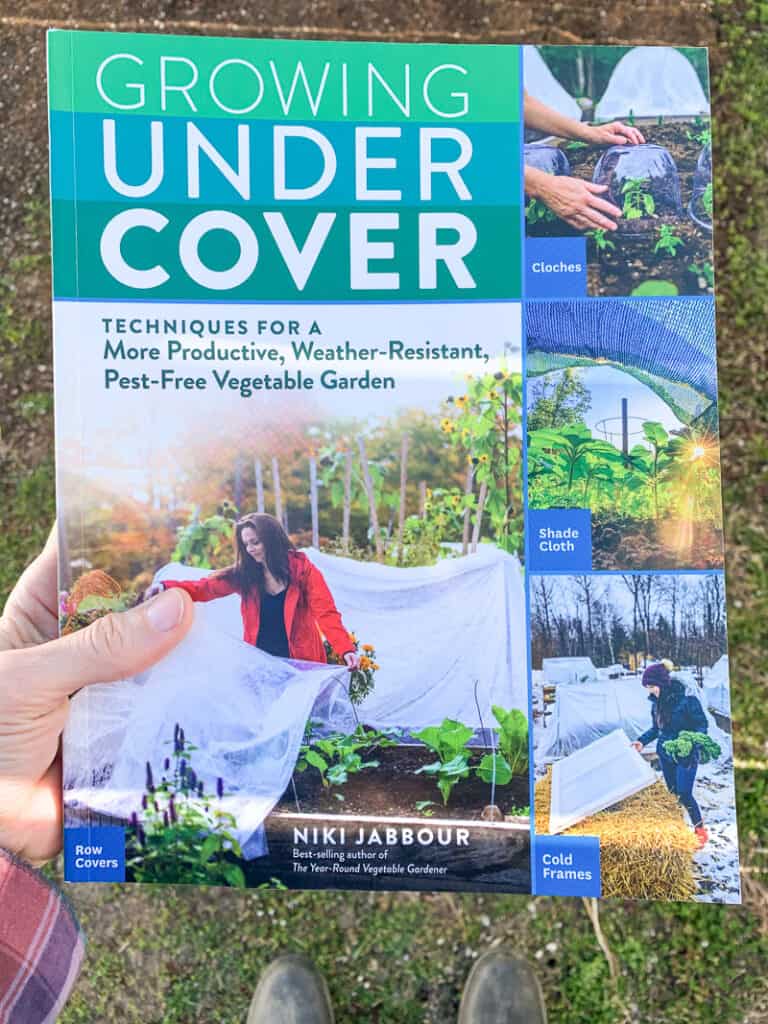 Sale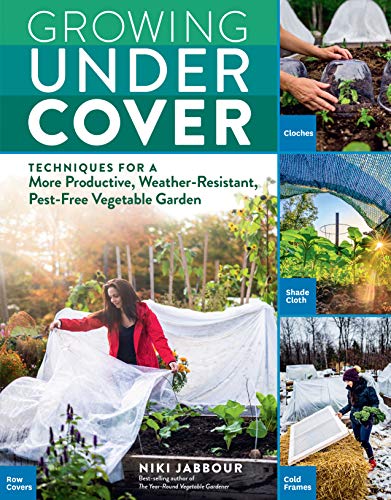 Jalapeños grow best in temperatures of 65-85°F and don't like it when the weather goes below 60°F at night. Keep this in mind when planting because if you put your peppers out too early, you'll most likely lose them before they have a chance to grow. This can be difficult in some areas. At our property in WV, temperatures can dip below 60 at night any month of the year. Throwing a lightweight row cover, or even a bedsheet, over your plants can protect them in unexpected cold spells.
As far as location goes, jalapeño plants should go in full sun and well-drained soil. They do like relatively rich soil, so add some compost or mushroom manure to their growing spot before you plant them.
Traditional advice says to avoid planting peppers where members of the nightshade family have been in the last 1-2 years. This includes other types of peppers, tomatoes, eggplant, and potatoes. Interestingly, the JADAM method recommends the exact opposite approach.
JADAM recommends returning crop residue to the soil in the fall, just like nature, and planting the same things in the same location year after year. This is coupled with other techniques, such as cultivating and spraying native soil microbes (JMS). Using JMS seems critical to the success of the no rotation method.
Youngsang Cho's garden photos speak for themselves – he clearly has fantastic results using this method. If you're interested in learning more, watch his YouTube videos or check out the JADAM Organic Farming book. There are a few typos and the English isn't perfect, but it's heartfelt and enthusiastic.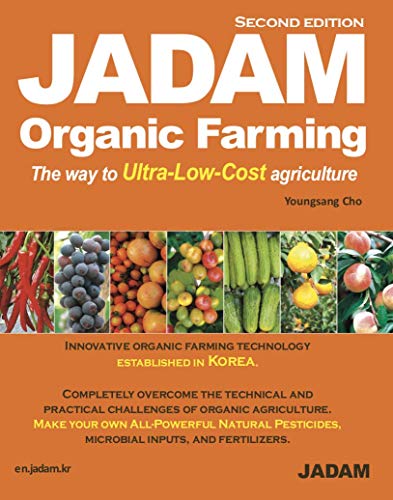 Planting Tips
Before planting pepper seedlings in your garden, you need to harden them off. This is a process of gradually getting them accustomed to outdoor conditions by taking them outside for a few hours each day, eventually working up to a full day and then overnight.
While you can get away with skipping this step for certain plants, peppers really need to be hardened off before you plant them, or they will likely suffer from transplant shock and die.
Discover how to harden off seedlings in this post.
When you plant your jalapeños, space them 14-24" apart to make sure they will get good airflow. If you are planting in rows, keep about 2-3' between rows so that you'll be able to walk between them.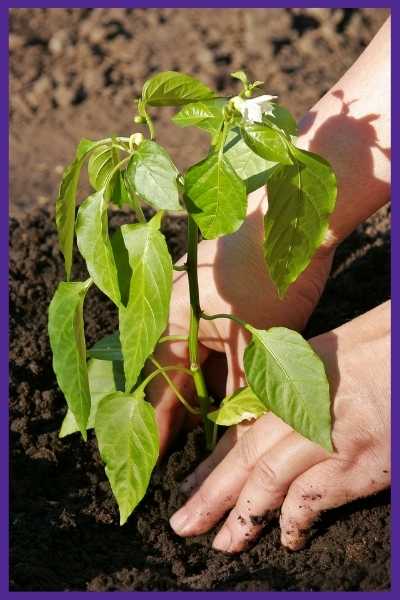 Be sure to water your new seedlings well after planting to give them a good start in your garden. Use a gentle watering wand to avoid damaging your seedlings or their delicate roots. Discover the best watering wands in this guide. (The seedlings below are not peppers, the photo is just to illustrate that 1) the spray is gentle enough for seedlings and 2) the wand is so easy to use that even a young child can do it.)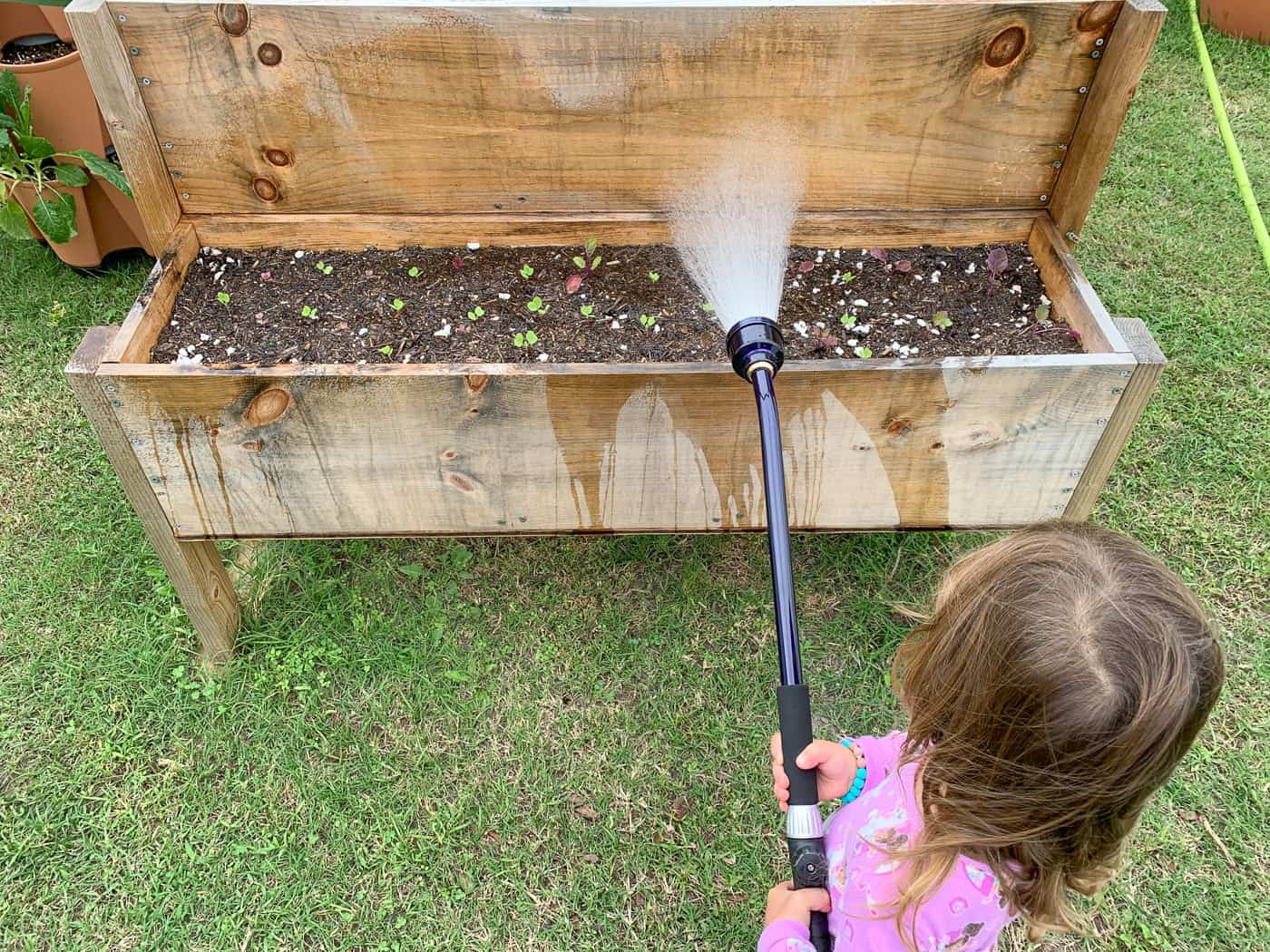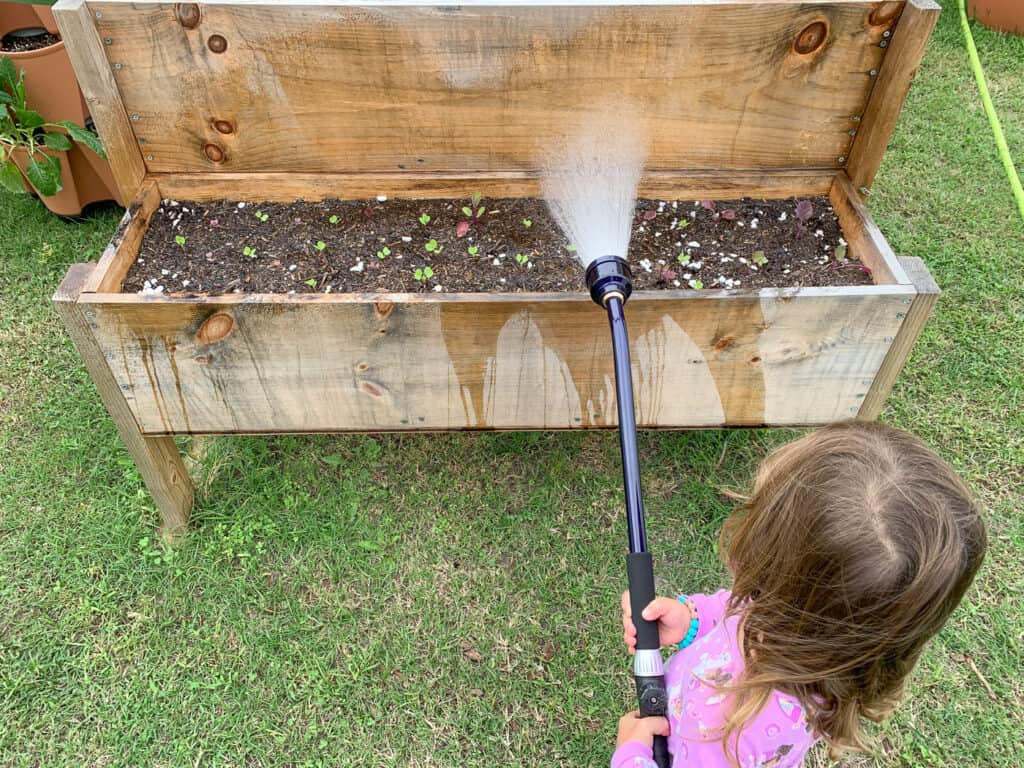 Growing Jalapeños in Containers
Jalapeños make great container plants and may even grow better in containers in colder regions because the soil will heat up more quickly.
Choose containers that are medium to large size and fill them with a high quality potting soil that drains well. A 2-3 gallon pot works for jalapeños, but you can also use a larger container. The smaller the container, the more often you have to water. Five gallon buckets are an easy, affordable choice. Make sure to drill several holes in the bottom of your bucket for drainage.
Fabric grow bags are another great choice. Fabric bags breathe, which helps prevent soggy roots and rot, but do need more frequent watering. I personally like the Vivo Sun brand. They're affordable and sturdy enough to last all season long. (I've actually used most of my bags for several seasons, after cleaning the bags and recharging the potting soil.)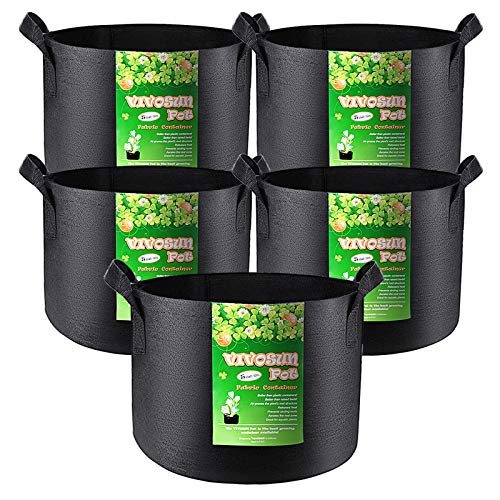 VIVOSUN 5-Pack 5 Gallon Grow Bags Heavy Duty 300G Thickened Nonwoven Plant...
Sturdy Fabric Material: Made of 300g of thickened nonwoven fabric, these pots are moderately permeable, and BPA-free
Great Drainage: Nonwoven fabric means the pots do not retain excess water, allowing your roots to breathe for healthier, more vigorous growth
Durable, Reinforced Handles: While the competition uses flimsy handles that are merely strips of the same fabric the pot is made from, we use serger...
Mix water with the soil in the containers to get it damp before you plant, then plant one pepper seedling per pot.
The biggest trick to growing jalapeños in containers is to keep them well-watered, since the soil will dry out more quickly than it does in the ground.
Inconsistent water can lead to blossom end rot. Blossom end rot is caused by a lack of calcium, but is frequently caused by a calcium uptake problem, not an actual lack of calcium ions in the soil. Blossom end rot creates brown, sunken patches on your peppers and is more likely on the earliest fruits. These spots may eventually blacken and rot fully. Luckily, the unaffected parts of the fruit are edible.
Adequate watering and avoiding high nitrogen fertilizers can help you avoid blossom end rot. Nitrogen encourages green, leafy growth. This leafy growth pulls the available calcium more easily than the forming fruits, which can cause the peppers to receive too little calcium. (source)
Jalapeño Plant Care
Jalapeño plants are very easy to take care of once they get going. Keep them weeded and water deeply as needed, letting the top inch or two of soil dry out in between waterings.
Once the weather turns hot and dry, you can put a natural mulch like straw or pine needles down around your pepper plants to help keep the soil moisture even. Some gardeners like to use black plastic as mulch because it also heats up the soil. Unfortunately, it can cause the soil to heat too much. Instead of black plastic mulch, try using landscape fabric. Landscape fabric is more breathable and helps maintain a more reasonable temperature.
Most pepper plants will need support, since they can get knocked over by high winds when fully grown. Though usually not much use for tomatoes, tomato cages make an excellent support system for jalapeño.
A wood or bamboo stake is a low-cost way to support your peppers. Drive the stake into the soil near the plant when it's small and young. Don't wait until the plant needs support to place the stake – you may damage its roots when you place the stake. As the pepper grows, tie the plant's main stem to the support. People use a variety of things from bits of cut up t-shirt to plastic bag strips to purpose-made coated wire. Below you can see a jalapeño tied to a wood stake with a piece of plastic: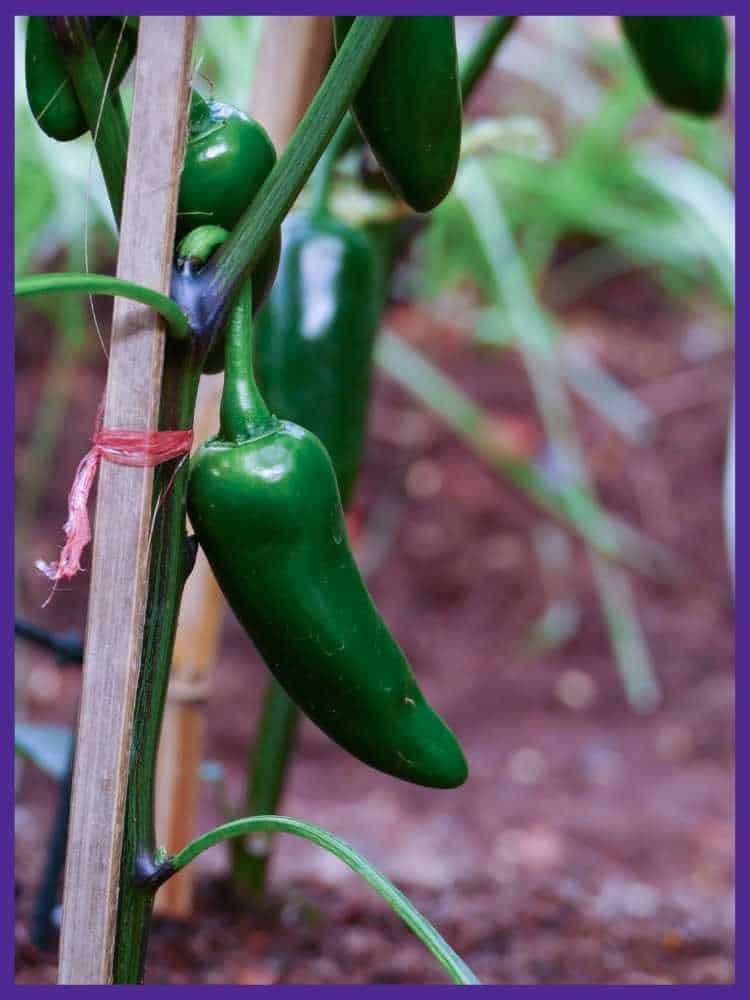 With a small investment, you can get coated metal rods to use year after year. I use coated rods, along with connecting pieces, to support peppers, cukes, tomatoes, and more. I also like to use soft coated wire to secure plants because I find it's easy to reposition as needed. I've had luck with reusing the wire several times. Use the soft coated wire, not spools of twist tie wire, to protect your plants. Twist tie wires break easily and are less likely to be reusable (or even make it through the season).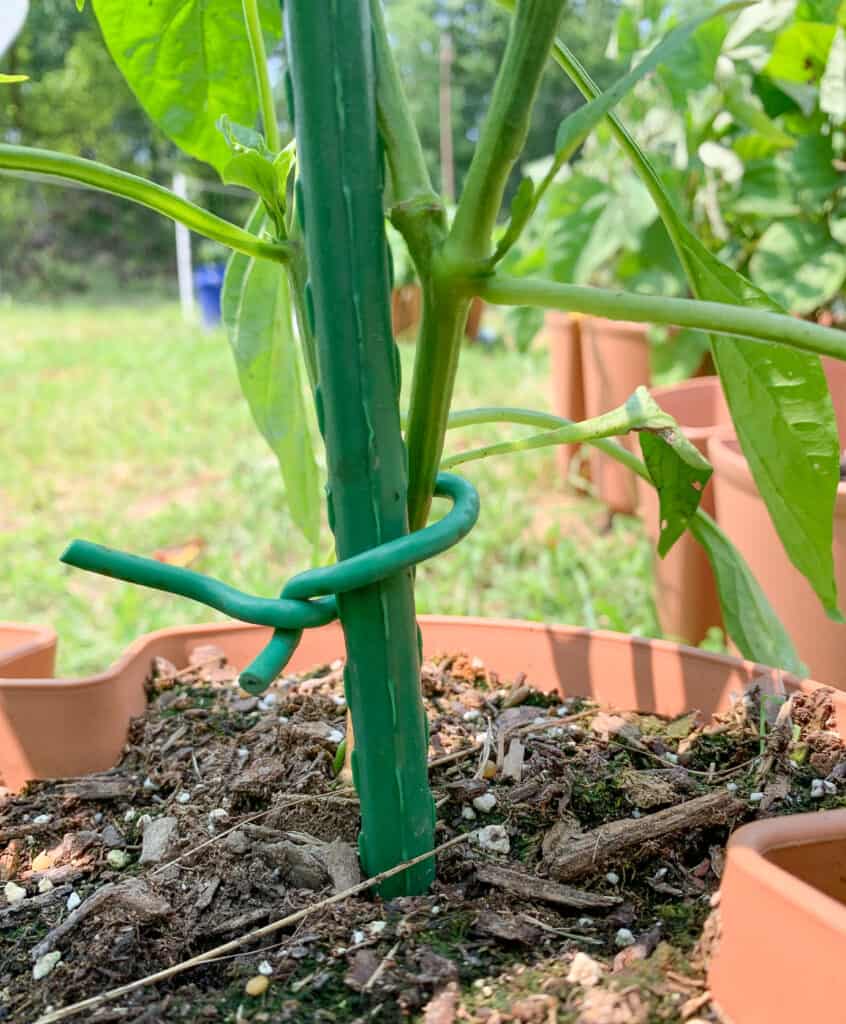 When blossoms start appearing, you can put down a layer of compost around your plants for extra nutrients or apply a balanced fertilizer. I prefer organic fertilizers and use either Neptune's Harvest or Fox Farms when I fertilize. I also make my own fertilizers from fermented weeds and comfrey. If you want to know more about "extreme composting," check out David Goodman's Compost Everything. This book completely changed my composting routine and has saved me tons of time.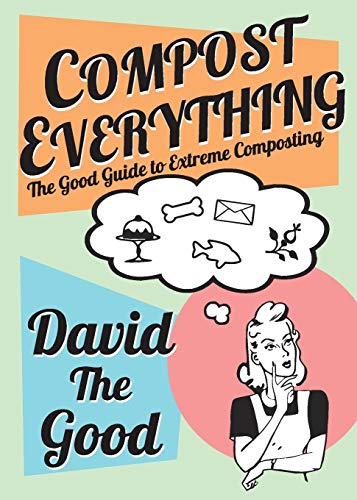 If the weather is extremely hot, your pepper blossoms may fall off without setting fruit. Hot peppers, including jalapeños, prefer temperatures between 70 and 85ºF. Consistent temperatures of 90ºF and above usually cause blossom drop. (source)
Jalapeño Pests and Problems
One bonus to growing jalapeño is that they aren't usually affected by serious pests.
These pests often won't do enough damage to cause harm to your plants but can be controlled by handpicking (hornworms) or a hard jet of water (aphids) as needed.
I've also experienced Japanese Beetles munching on pepper leaves. If you have a Japanese Beetle problem, or an infestation of even larger June Beetles, grab them with a gloved hand and toss them in a bucket of soapy water. Popular lore says you shouldn't squish Japanese Beetles because it will release a pheromone that attracts even more beetles. Evidence suggests that Japanese Beetles do not produce an aggregating hormone, but they are large so squishing them is kind of gross.
Blossom end rot is a common problem in peppers, although it usually affects sweet peppers more than hot ones. It appears as a dark, sunken spot at the very end of the peppers and is usually caused by a calcium deficiency, as discussed above.
Sometimes, blossom end rot simply works its way out, appearing on the first few fruits on a plant before disappearing. If it doesn't go away, you can try using a calcium spray on the foliage. This is a popular remedy, but science suggests that it doesn't actually work, so your mileage my vary. Calcium is absorbed from new growth roots, not through the pepper fruit skin. Clemson University states that foliar and fruit sprays are not effective and that maintaining even soil moisture is the best way to prevent blossom end rot.
Sunscald is another problem and is equivalent to the fruits getting sunburned. This usually happens on peppers not shielded by the foliage. If it becomes a serious issue, put up shade cloth to shield the fruits as they ripen. Growing Under Cover contains advice on using shade cloth. The main thing to remember is that shade cloth must be suspended above the plants to allow for air flow. Do not rest it directly on plants like a floating row cover for insect or cold protection.
How to Harvest Jalapeños
When to Pick Jalapeños
Most jalapeños will be ready to pick 2-3 months after planting. They should be 3-4" long and a glossy green color when you can pick them, unless you're growing one of the less common yellow varieties.
You can pick jalapeños when they are a medium to dark green or wait until they fully ripen to a bright red color. Red jalapeño are both hotter and sweeter than green ones, so you can harvest at whichever flavor stage you prefer. The flesh is sweeter, like a red bell pepper, but the seeds are spicier.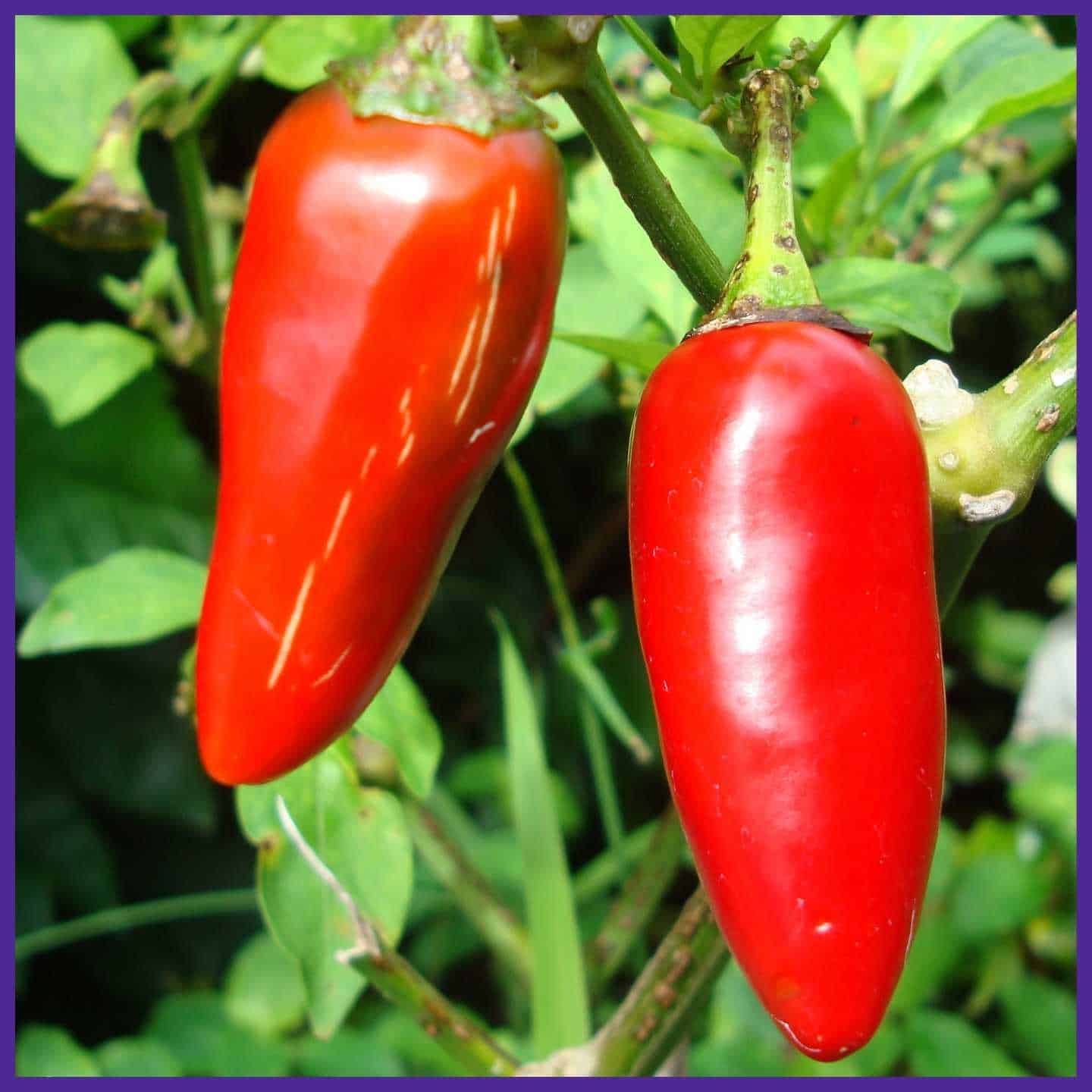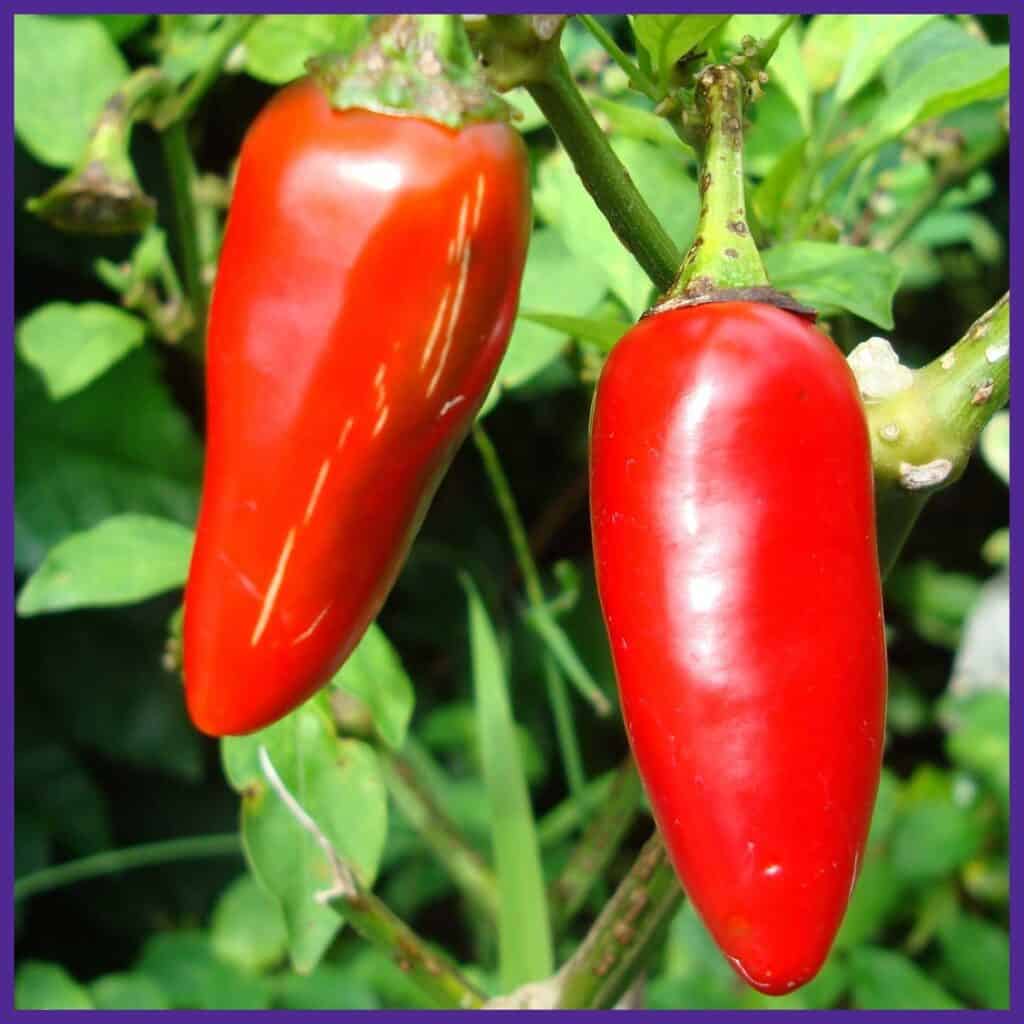 As your pepper grows, you may notice lines forming on it. This is known as corking and it occurs during periods of rapid growth and the inside of the pepper grows more rapidly than the skin can accommodate. You can see a little bit if corking on the pepper to the left in the photo above.
Popular folk wisdom says that pepper with more corking are spicier. It isn't actually that the corking makes them hotter, it's that mature peppers are more likely to have corking and older peppers are hotter. The corking is more an indication of the pepper's age, and likeliness to be hot, than a direct indicator of the number of Scoville Heat Units your pepper will have. Older peppers are hotter than younger peppers of the same variety. The peppers below are ready to pick and show some light corking: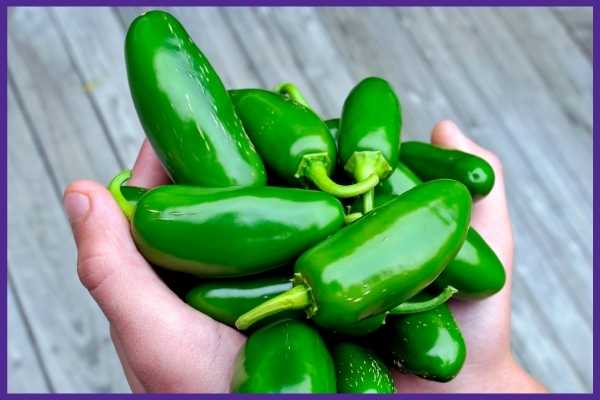 How to Pick Jalapeños
The easiest way to pick jalapeños is to use a pair of garden clippers to snip them off the plant with a little bit of stem still attached. You can also snap or pull them off where the stem meets the plant, but be careful not to damage your plants when you do.
Small garden snips, like the Fiskar's micro tip snips, work well for jalapeños because they're a smaller fruit. You don't need to bring out your largest garden loppers and risk damaging nearby fruits.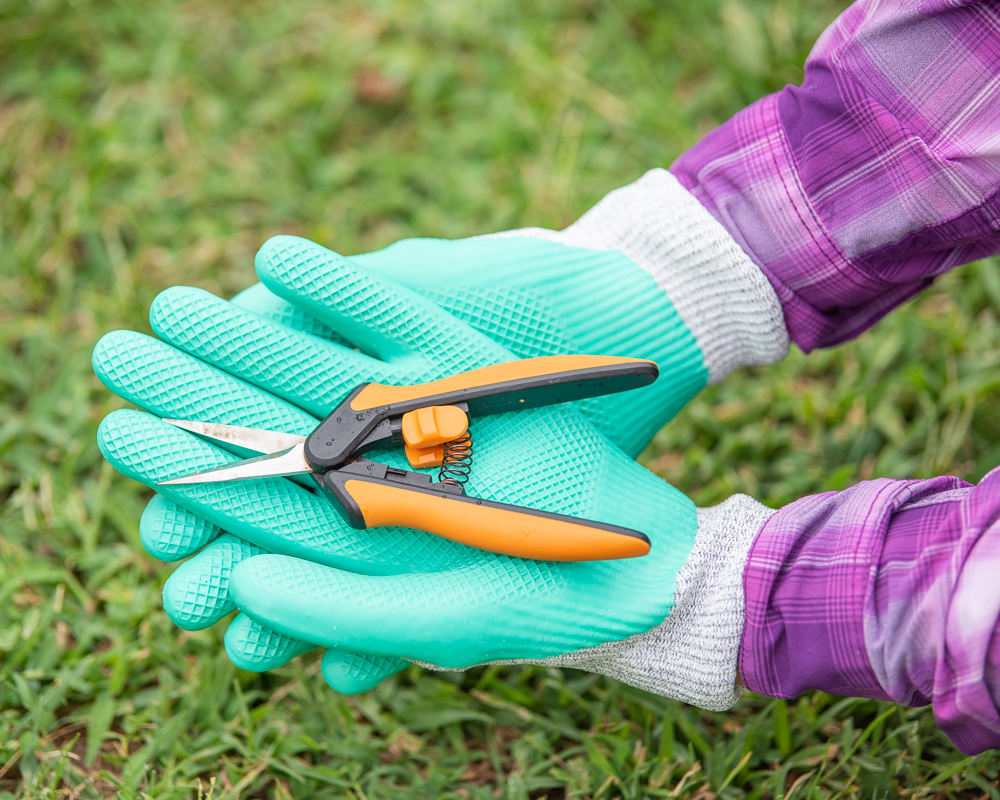 Sale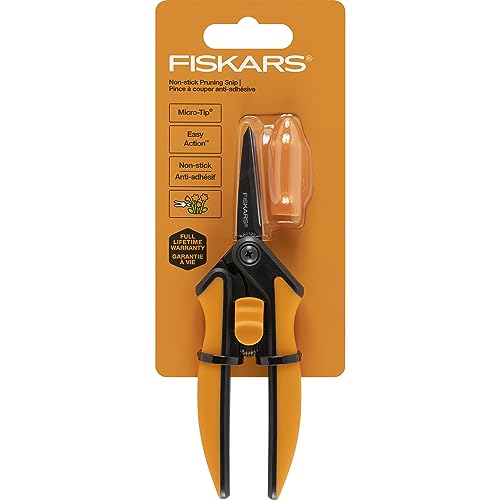 Fiskars Micro-Tip Pruning Snips - 6" Garden Shears with Sharp...
GARDENING ESSENTIAL: Stainless steel blade plant shears ideal for a variety of pruning tasks like cutting flower stems, maintaining your herb garden,...
POWER AND PRECISION: Micro-Tip blades cut all the way to the tip for clean, healthy cuts on plants in tight spaces; Low-friction blade coating makes...
LONG-LASTING AND RELIABLE: Stainless steel blades stay sharp through heavy use and provide excellent durability for lasting value; Fiskars pruning...
Because peppers are very sensitive to cold temperatures, harvest the rest of your jalapeños before the weather dips to 40°F or below. Luckily, you can harvest young peppers, they just won't be as hot. Unlike an unripe watermelon that is inedible, you can still use your young jalapeños if you have to harvest before cold weather comes.
For more information about harvesting jalapeños, be sure to stop by this guide on when to pick jalapeño peppers.
Storing and Enjoying Your Jalapeño Harvest
If you harvest extra jalapeños, wrap them loosely in plastic wrap or place them in a paper bag and store in the crisper drawer of your refrigerator. They can last for a few weeks stored this way.
You can freeze whole or chopped jalapeños to store them long term (simply wash, dry, and freeze), but they will lose their texture once thawed.
Another option is to try drying them. People in dry climates can dry jalapeños by placing them on a tray or wire rack or by stringing them up. Dry them in direct sunlight until they are crisp. The video below shows how to string up peppers for drying.
In more humid climates, use a food dehydrator to dry jalapeño peppers. Serious pepper lovers prefer a larger model, like the Excalibur.
Sale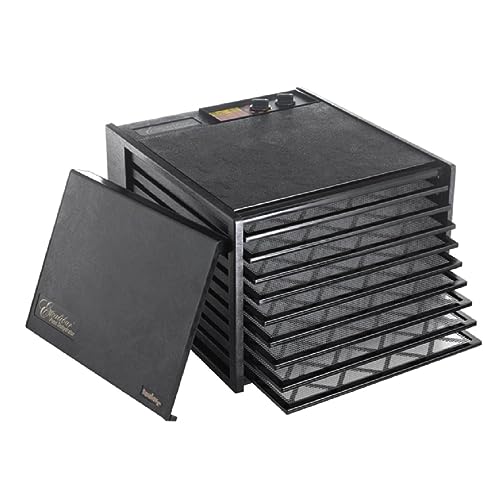 Excalibur 3926TB Electric Food Dehydrator Machine with 26-Hour Timer,...
Large Capacity: Equipped with 9 Excalibur dehydrator trays, this large food dehydrator boasts 15 square feet of drying space
Versatile Uses: Features a 26-hour dehydrator timer and an adjustable thermostat with a range of 105 to 165 degrees F – low enough for fruits and...
Low & Slow for Immune Boost: Cooking foods at no higher than 115-118 degrees in a dehydrator preserves nutrients; it's the perfect dehydrator for food...
While the Excalibur is undeniably a fantastic machine, it is a bit of an investment if you only have a handful of peppers and herbs to dry. For smaller drying needs, try the new Presto round dehydrator. The trays flip around so they actually nest to stack. Thanks to this feature, my new model Presto stores in about 1/2 of the space my mom's older model needs.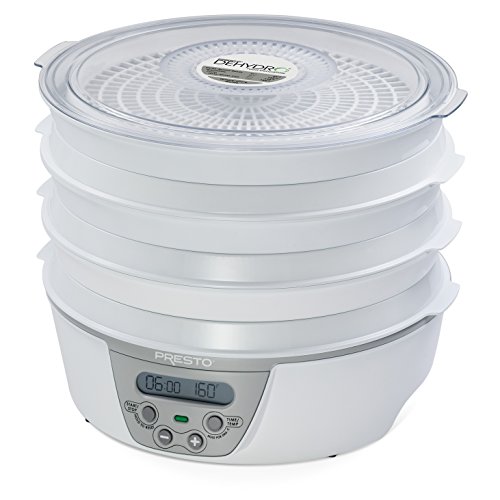 Presto 06301 Dehydro Digital Electric Food Dehydrator
Six-tray system for dehydrating foods at a fraction of the cost of commercially dried foods with no additives or preservatives.
Makes jerky from meat, poultry, and seafood includes sample packets of jerky spice and cure
Digital thermostat and timer for precise drying time and temperature choose drying temperatures from 90 to 165 degree f
You can also try drying jalapeños in your oven, but they're prone to discoloring and even scorching. It really depends on your peppers and oven. Most ovens have a minimum temperature that's too high, which means your peppers cook instead of just dehydrating. Propping the door open with a wooden spoon can help. Try with a small batch first, not your entire crop, to see how well drying in the oven works for you.
When eating jalapeños, remove the seeds if you want less heat or leave them in if you like your food extra spicy.
However you choose to enjoy them, just a few jalapeño plants will get you a big harvest, so there will be lots for cooking and storage!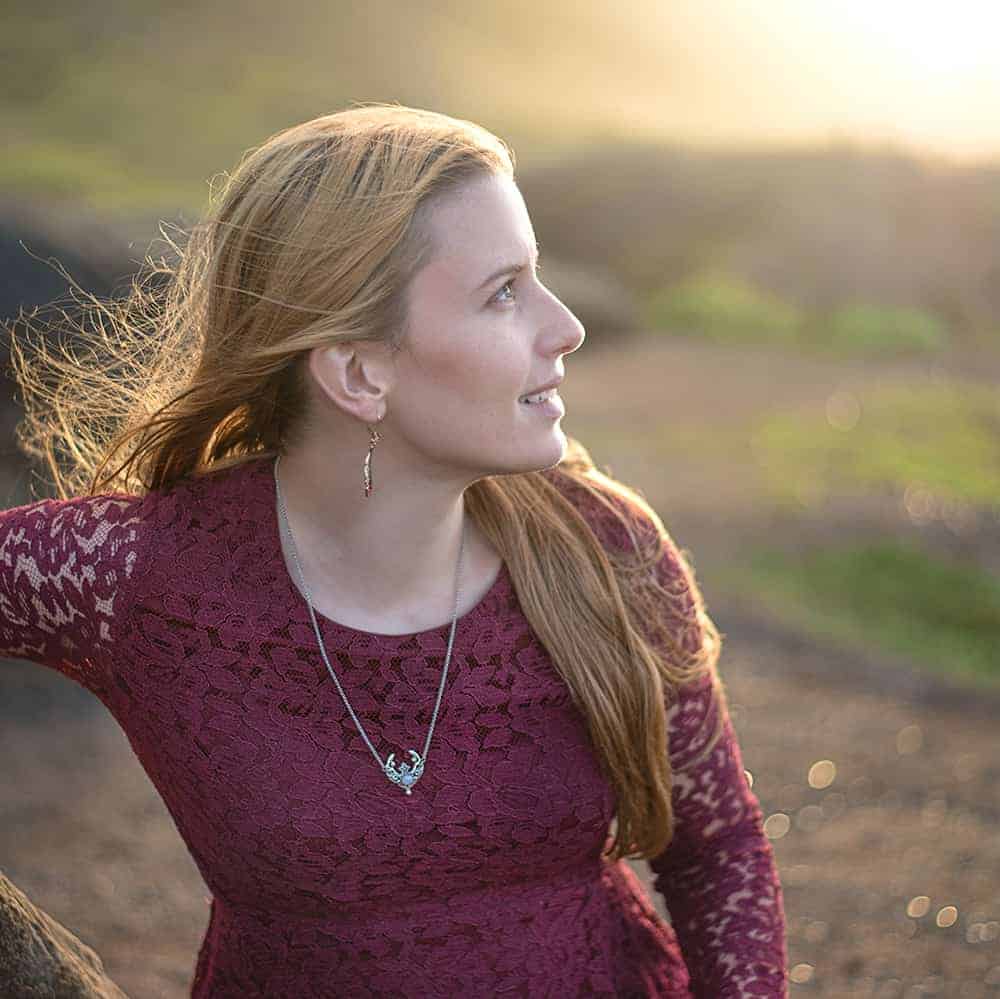 Natasha Garcia-Lopez is an avoid home-gardener and proud owner of 88 acres of land in rural West Virginia. She was a member of the Association for Living History Farms and Agricultural Museums for many years and is currently enrolled in the Oregon State University Master Gardner Short Course program so she can better assist you with your gardening questions.She holds a certificate in natural skincare from the School of Natural Skincare.