If you're operating noisy machinery, like a leaf blower or chainsaw, and want to ensure you maintain your healthy hearing, you may be wondering if you can wear earmuffs and earplugs at the same time.
Yes, you can wear earmuffs and earplugs at the same time. This is known as double hearing protection. There are some nuances to which styles of hearing protection and when to wear double hearing protection but here are two styles that go together well: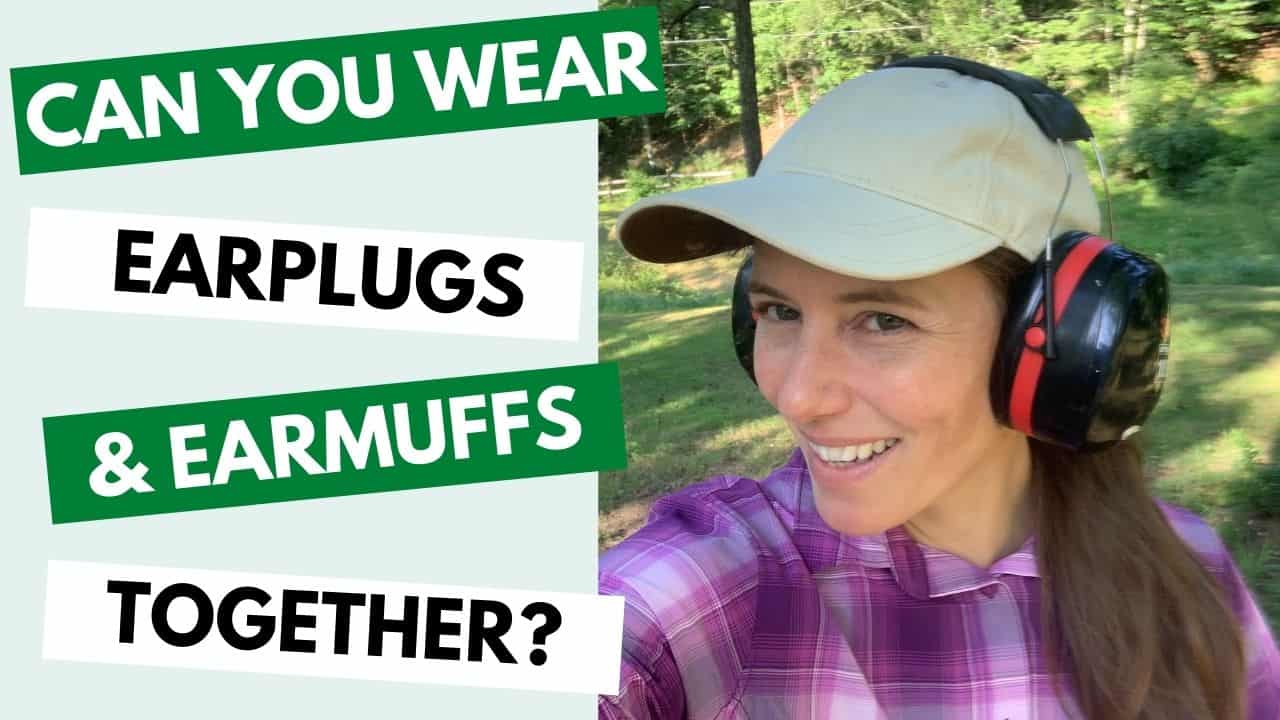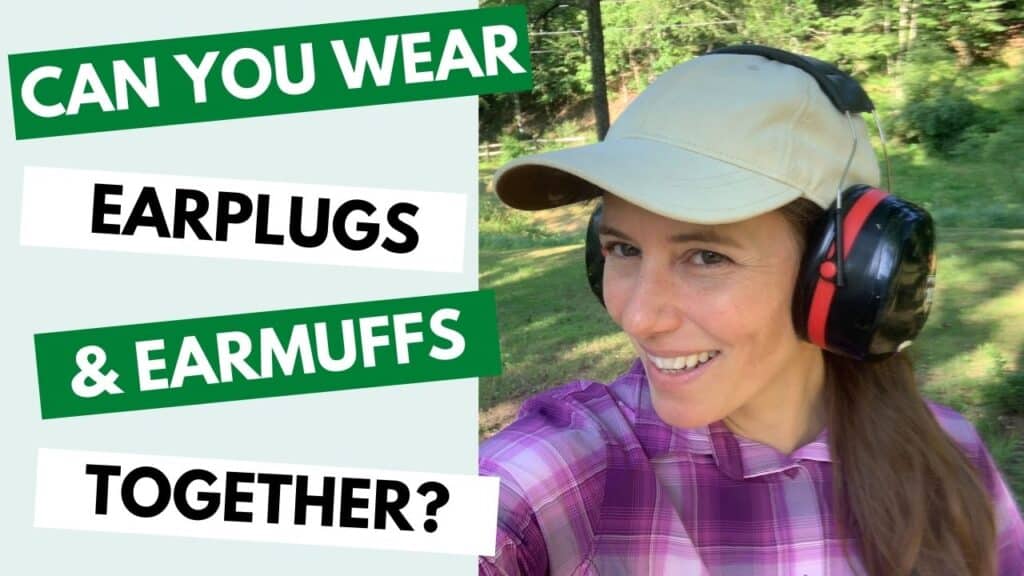 This post includes affiliate links, which means I may earn a commission on purchases made at no additional cost to you.
Hearing protection is something most of us don't think too much about until it is too late. Hearing loss is gradual and can occur from seemingly benign activities like mowing your lawn, or even vacuuming your house. In extremely loud circumstances, just one set of hearing protection isn't enough.
Dangerous noise levels are a function of both intensity and duration. An extremely loud noise (such as a jet engine) can cause virtually instantaneous hearing damage.
To mitigate really high levels of noise, you should utilize two sets of hearing protection (aka double hearing protection). The best way to do this is to use a comfortable set of earplugs and earmuffs.
The fit and quality of your hearing protection matters. Make sure to select earmuffs and earplugs with a high noise reduction rating. Not all hearing protection is created equal. Stop by our comprehensive guide to the best hearing protection to find out which earplugs and muffs offer the best noise reduction.
How to wear earplugs and earmuffs at the same time
First, you insert the earplugs you will wear. Make sure to open your ear canal by tugging on your ear a bit and inserting the squished up earplug into your ear. Let it expand until you feel the foam earplug has expanded all the way. The ambient noise should change drastically. Do this for both ears.
NOTE: Do not place earmuffs over a hat, as shown in the photos below if it "breaks the seal." Natasha was wearing a hat for tick protection while taking photos outside. In a lower photo, you'll see that the earmuff cup is over top of the hat. This breaks the hearing protection seal.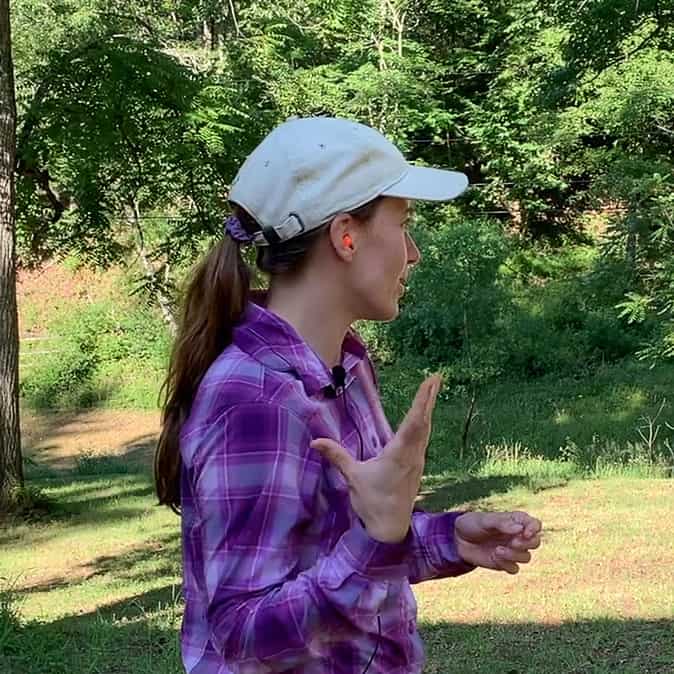 Then place your earmuffs over your ears, being sure not to disturb your earplugs. If you drag the earmuffs over your ears, you may dislodge the earplug and reduce the effectiveness of your double hearing protection.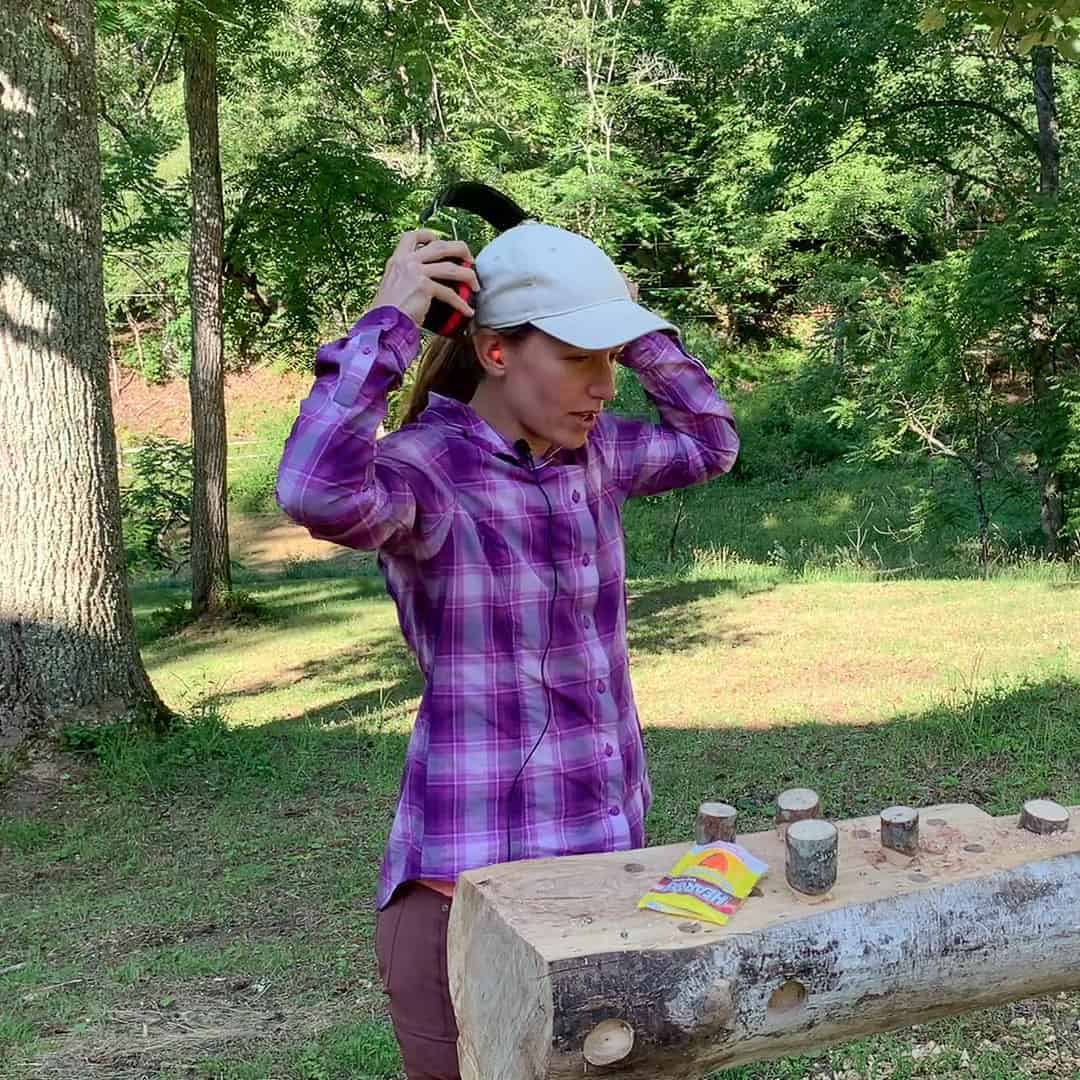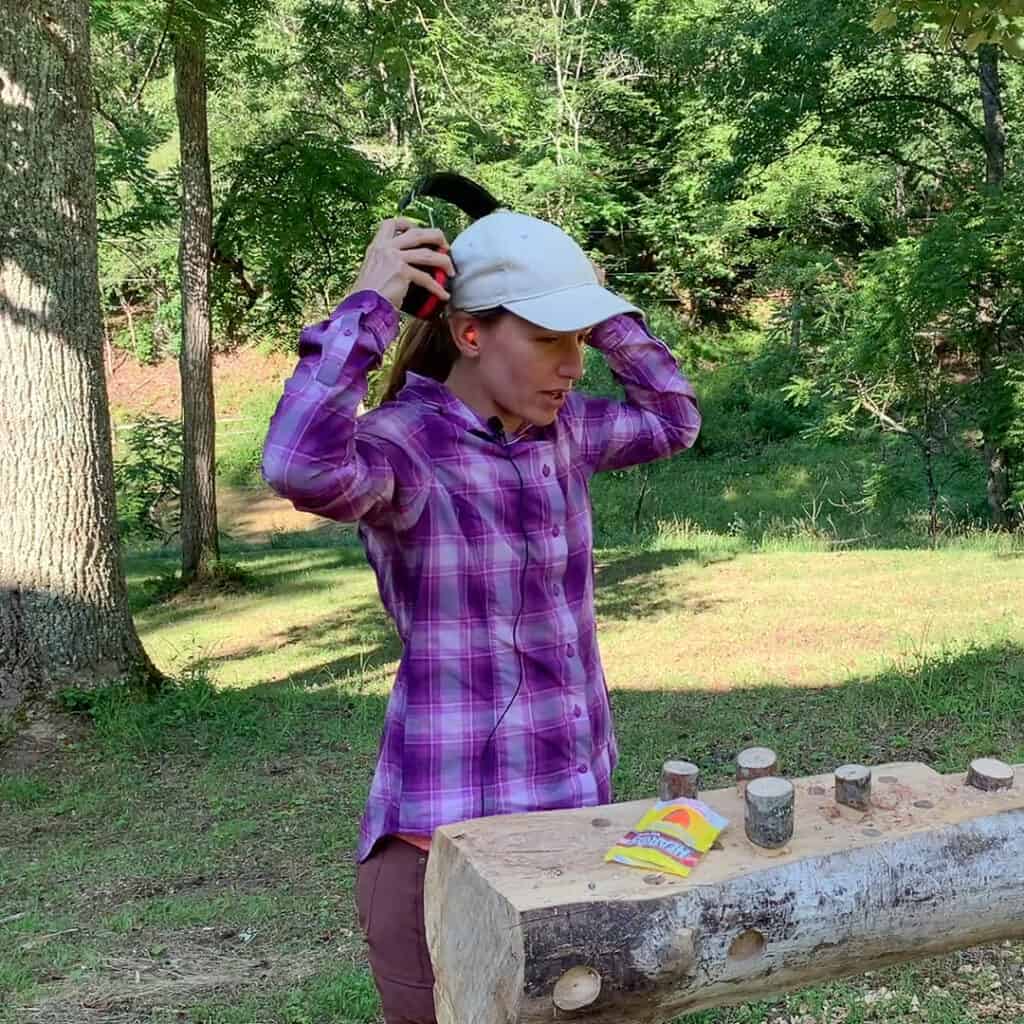 That's it! You are have double hearing protection. Finding your noise reduction rating (NRR) is simple. Add the NRR of your earplugs to the NRR of your muffs to find your overall protection.
In the photo below, you can see Natasha's hat breaking the seal on the earmuffs. Please make sure your earmuffs aren't like this! As stated above, this hat was worn for tick protection while taking photos in a wooded, tick-filled area. Wearing earmuffs like this reduces their ability to protect your hearing.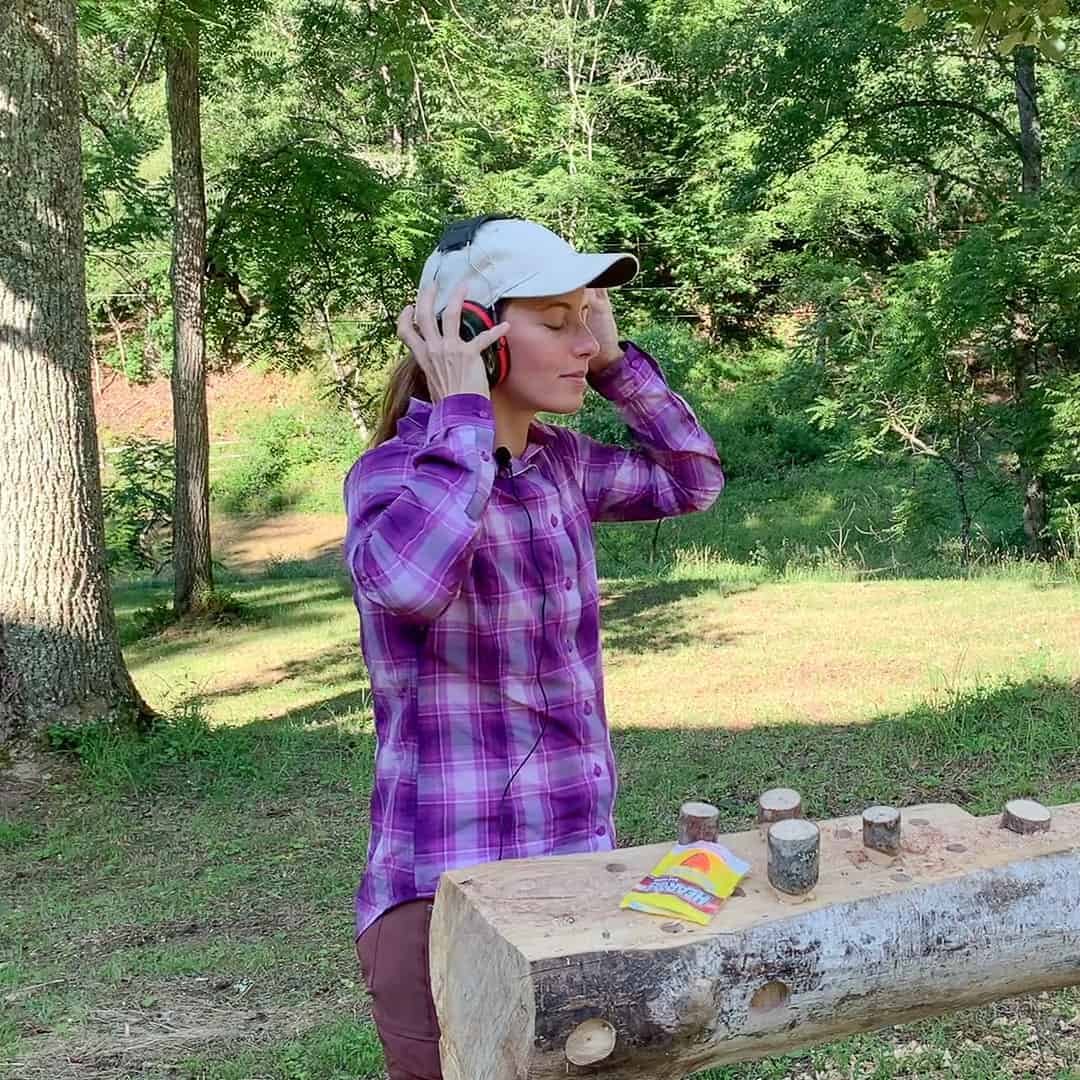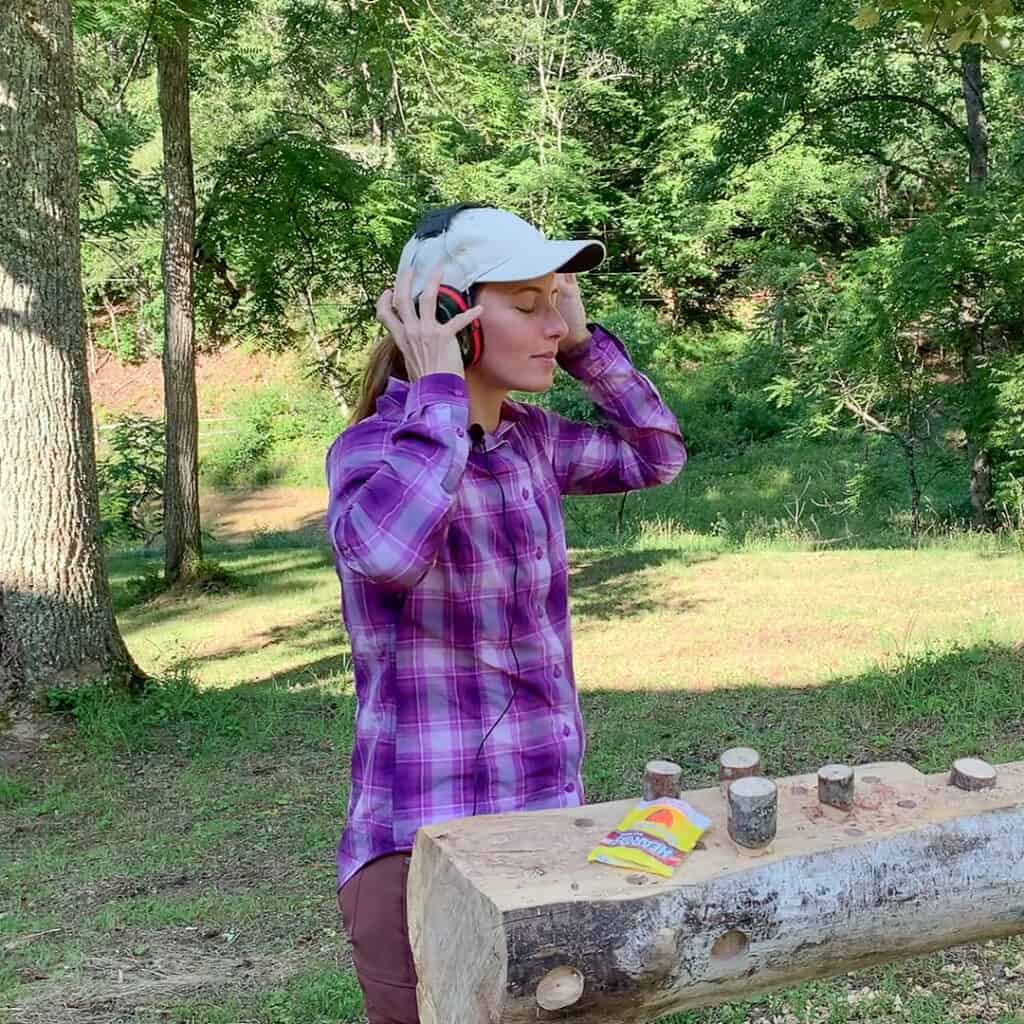 Want to know more about double hearing protection? Watch the quick video below:
There's lots of guidance on what constitutes a safe level but a good rule of thumb is to keep your noise level below 70 dB and you absolutely need hearing protection when the noise level exceeds 85 dB.
AT 100 dB, you can sustain hearing loss in just 15 minutes.
110 dB can cause damage in just one minute (source)
To see whether you've reduced the sound level adequately, subtract your total NRR from the dB of your activity. The difference should be less than 85 (or, even better, less than 70). If the difference is greater than 85 dB, you need earmuffs or earplugs with a greater NRR.
Typical Noise Levels
Here are the typical levels of noise from different common activities. (source)
| | |
| --- | --- |
| Washing Macine | 75 dB |
| Vacuum Cleaner | 81 dB |
| Lawn Mower | 86 dB |
| Power Tools | 90 dB |
| Leaf Blower | 105 dB |
| Chain Saw | 118 dB |
| Car Horn | 119 dB |
dB levels of different home use products
When to use double hearing protection
You'll need to use double hearing protection whenever you cannot reduce the noise level below 85 dB with just one layer of protection. To know exactly you'll need to know the dB rating of your ear protection, usually printed on the packaging of each product. You'll also need to know the noise level you are dealing with.
To determine the ambient noise level you can use a sound meter like the RISEPRO Decibel Meter.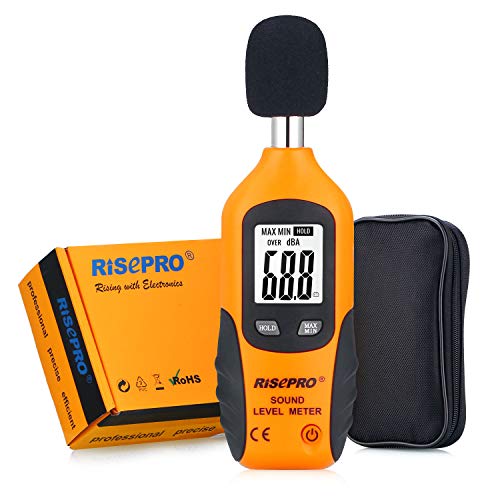 Decibel Meter, RISEPRO® Digital Sound Level Meter 30 – 130 dB Audio...
USEFUL TOOL IN YOUR WORK & LIFE – This sound level meter is a great tool for checking, monitoring or controlling the sound level of any...
WIDE RANGES & ACCURATE MEASUREMENT – It measures range from 30 – 130 dB with frequency range from 31.5 to 4Khz. Highly accurate with +/-1.5dB.
TIME WEIGHTING & FREQUENCY WEIGHTING – FAST(125mS) for time weighting. TYPE A for frequency weighting.
If you don't feel like carrying around another piece of equipment, you can use your smartphone. Search any app store for a noise meter app, I use NIOSH SLM. These should not be used in lieu of a noise meter for precise measurements, but they are accurate enough to determine ambient noise levels.
You can also wear double hearing protection whenever you feel one set is not enough. If any noise is ever painful, consider leaving the area or donning some extra hearing protection to lower the noise level to your ears. If you ever have ringing in your ears after an activity, they you should consider extra hearing protection next time your participate in that activity again.
Which earmuffs go well with earplugs?
Not all earplugs and earmuffs go well together. For example, slim earmuffs would be a poor choice to wear with earplugs because they may dislodge the earplug.
Likewise, the earplug selection is also important. There are earplugs which have a large neck band like these Howard Leight earplugs.
This style of earplug does not go well with earmuffs because the band will break the seal of the earmuffs and will not provide the hearing protection necessary. Don't get earplugs like this if you want to wear them with muffs:
A good combination of earmuff and earplug we use is the 3M PELTOR X5A Over-the-Head Ear Muffs and the Ear plugs by HEAROS. This combination provides a NRR of 66 dB. While this level of hearing protection isn't necessary for everyday tasks, it is great for seriously noisy situations and people with sensitive hearing. We use this double protection while using our large, gas powered weed whacker and our gas chipper shredder.
We hope you've enjoyed this look at wearing earmuffs and earplugs together! Put your double hearing protection to use with one of these top-rated lawn and garden tools;
Yard Tool Reviews
Are you sick of your old, broken down lawn tools from a yard sale 10 years ago? Discover these yard tool reviews so you can save time and backaches on yard work day with a new, modern tool.
Angel is a Cuban immigrant who grew up with backyard chickens and a yard-loving abuela. He is our "gear guy" who can never have too many pairs of gloves or weed whacker attachments.