Your garden needs water and, as you've probably discovered, you can't always rely on the rain to provide everything you need. Carrying water by hand in a watering can is awkward and time-consuming, but using a regular hose nozzle can irreparably damage your young pants.
So how do you water your garden without killing your seedlings or ruining your back?
With a garden hose watering wand.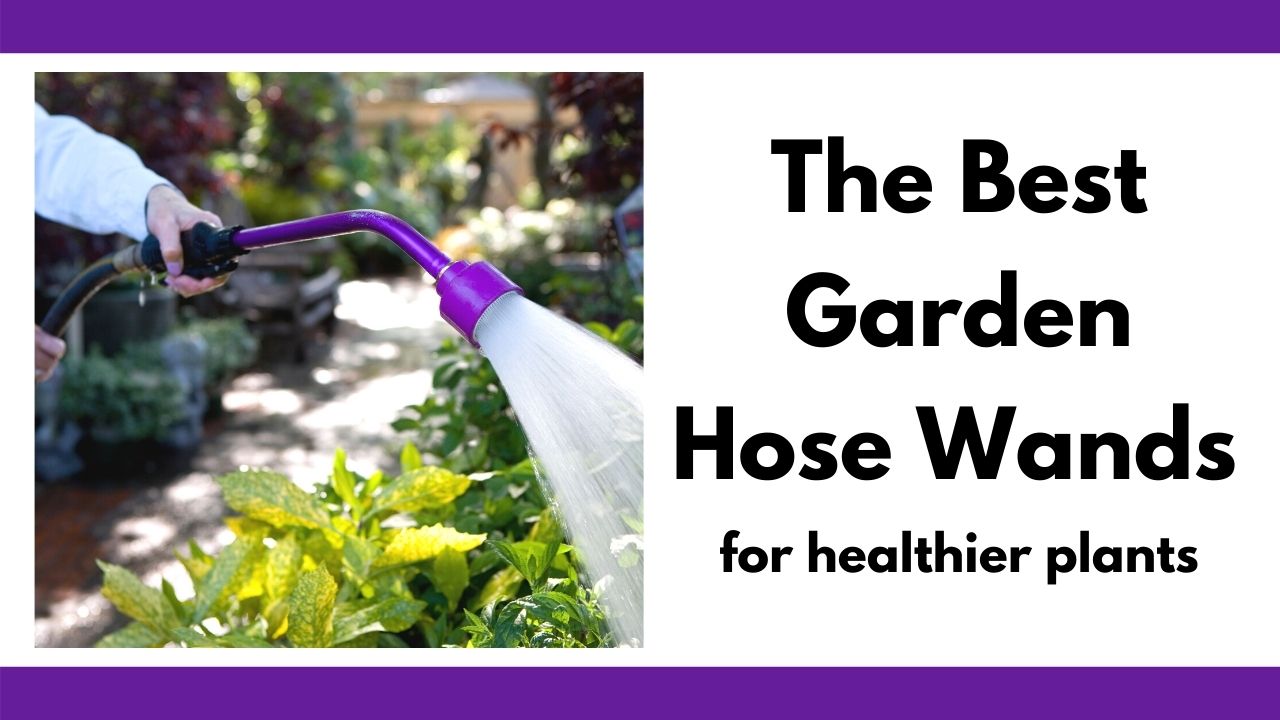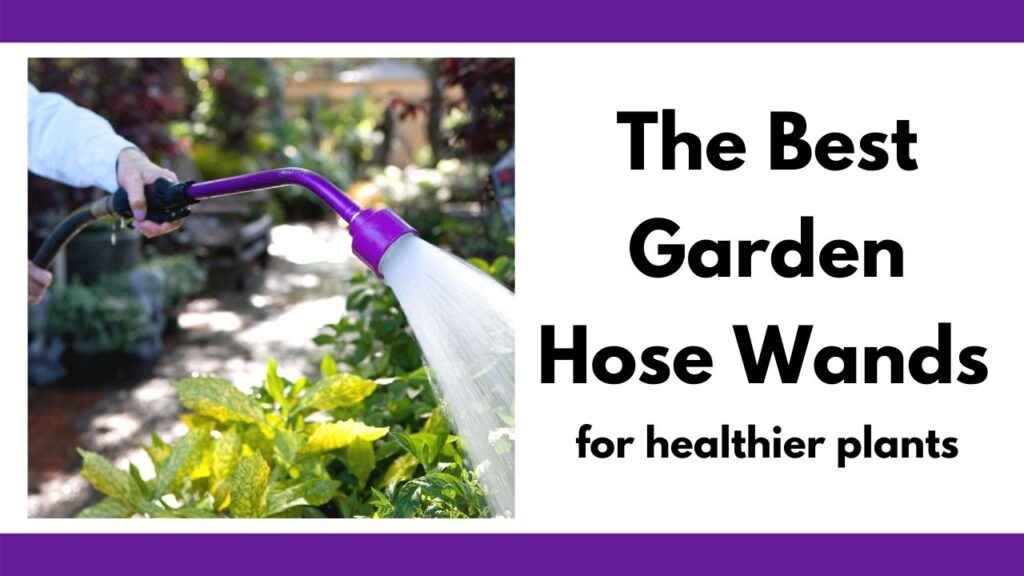 Why Use a Watering Wand?
The forceful water blast from typical hose nozzles causes erosion and disturbs seeds and seedlings. It can move seeds, ruining your careful plant spacing, break seedlings, and even damage older plants. Forceful watering can literally blast the soil out of the ground and disturb root systems for young and established plants, alike.
Forceful watering also encourages soil to splash up on to your plants. This can transmit common plant diseases, such as tomato early blight.
Weakening your seedlings and damaging plant roots can also lead to decreased yields from your garden. After some sad experiences with our daughter blasting away carrot seedlings, we decided to finally get a watering wand. These nozzles ensure the right flow of water for your plants without damaging your precious plants.
This post includes affiliate links. If you make a purchase using one of these links, Together Time Family will receive a commission at no additional cost to you.
In a rush? Here are our top rated hose wands.
Our Favorite
GREEN MOUNT Watering Wand, 24 Inches Sprayer Wand with Superior Stainless...
Most Versatile
Orbit 58674Z 10 Pattern Front Trigger Turret Wand, 1, Black
Easiest on the Hands
Melnor 65045-AMZ RelaxGrip Showerhead Watering QuickConnect Product Adapter...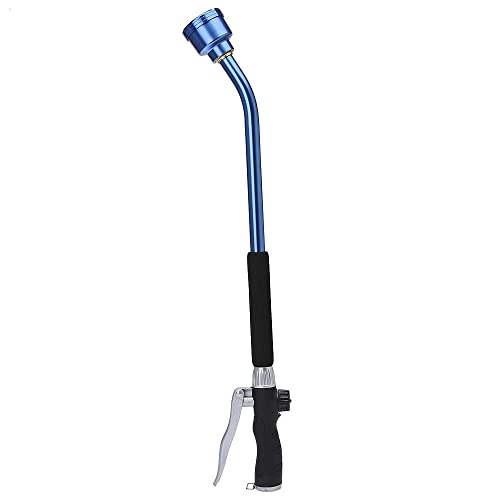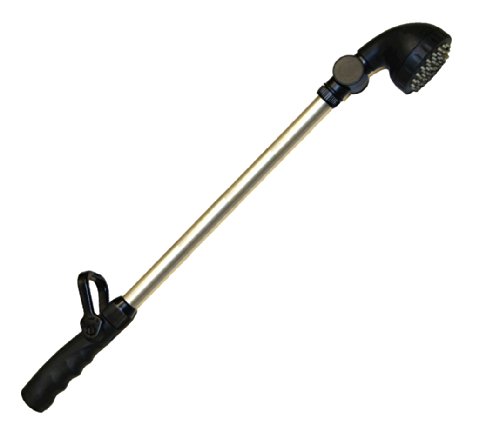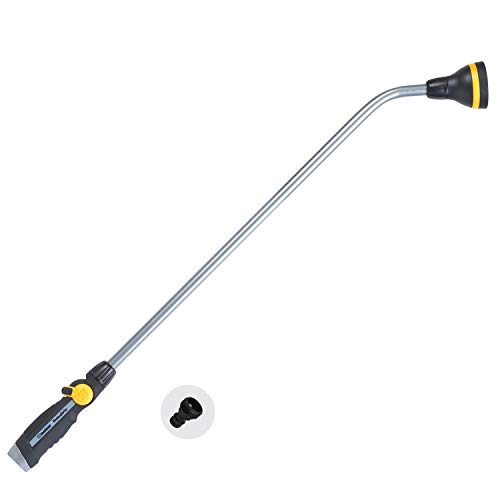 Our Favorite
GREEN MOUNT Watering Wand, 24 Inches Sprayer Wand with Superior Stainless...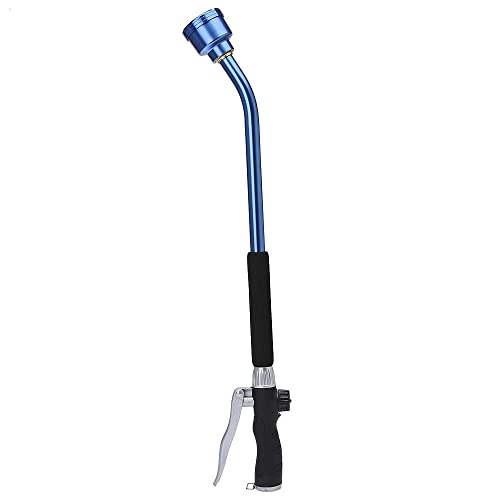 Most Versatile
Orbit 58674Z 10 Pattern Front Trigger Turret Wand, 1, Black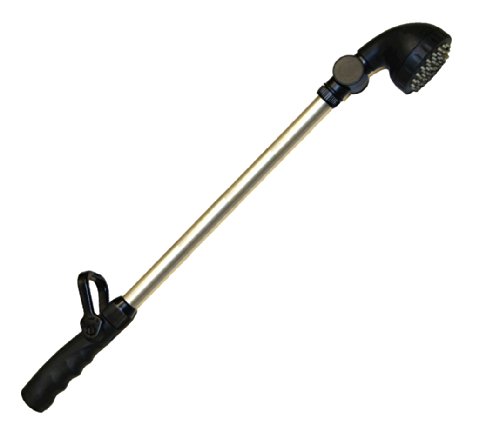 Easiest on the Hands
Melnor 65045-AMZ RelaxGrip Showerhead Watering QuickConnect Product Adapter...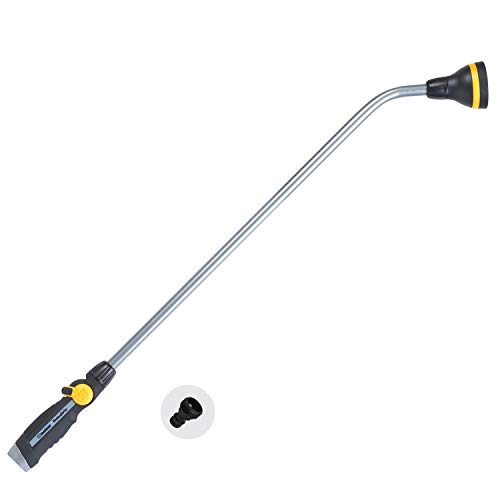 Best garden hose watering wands
Choosing the right hose wand starts with identifying what you will use it for and any particular needs you personally have.
Keep in mind that watering your garden can take a really long time. You will want something which is a pleasure to use yet provides sufficient function for your task.
You may want features like an easy grip handle, locking bar so you don't have to hold the lever down the whole time, a really long (or relatively short) watering wand, or even one that has multiple settings for different jobs around the yard such as washing your car or cleaning your gutters.
The Melnor brand is one of the best. Their newest addition to the market is their certified Relax Grip which helps with arthritic hands. Being a pre-arthritic adult myself, I take every step I can to help ease the strain on my hands. A cushioned grip also helps keep my carpal tunnel from flaring up after watering in teh garden.
Melnor watering wands are also great because they come in different lengths. They understand not everyone needs a long necked watering wand so they also have a shortened version for the smaller sized gardens.
Melnor's watering wands really can prevent further aches to sore hands. Here is a review of a person thrilled to have a Melnor watering wand: "I've already demonstrated the Melnor to several friends who have sore hands or wrists and we all agree that this is the best ever."
Orbit is a classic garden watering brand with years of experience. The Orbit Turret Wand is versatile and will meet all of your gardening needs.
Whether it is watering your garden plants, washing your car, or cleaning out your gutters, the Orbit watering wand is there to provide. The best part is the flexible neck of the wand which allows you to reach those hard to reach areas without issues.
The Orbit hose wand is made to last. Meet this reviewer who has been using this Orbit wand for a number of years only to have been thwarted by mother nature: "It had lasted a number of years until I made my mistake, and barring that, would probably have last a lot longer." The lesson here is to treat all of your equipment with the respect it deserves and it will treat you right.
You should always try to keep your garden equipment indoors, when possible. Though some products are deficient, proper care can reduce the chances of damage to your gardening tools. You should turn off the hose pressure and drain water from your hose and hose attachments after every use and ensure everything is both try and stored inside for the winter. Taking attachments off is easier when you use a hose quick connect.
As is usual for watering wands, the flow can be adjusted. Orbit has two great products to choose from, one with a fireman style handle and one with a front trigger style. Check them out yourself and see which one you prefer.
The Green Mount watering wand is another classic styled watering wand designed to provide sufficient water to your plants yet be gentle enough to not uproot your seedlings.
The design of this watering wand is our favorite and what we personally own.
The front trigger handle locks down with a metal lock so it won't strain your hands during use. It also has a flow control knob on the body of the wand. You can easily tailor the amount of flow from lawn watering to delicate flower watering.
The nozzle head is also specially designed to water your plants. It has 661 holes to create a misty stream of soft water that recreates a soft rain.
This watering wand is so easy to use, that even a young child can do it: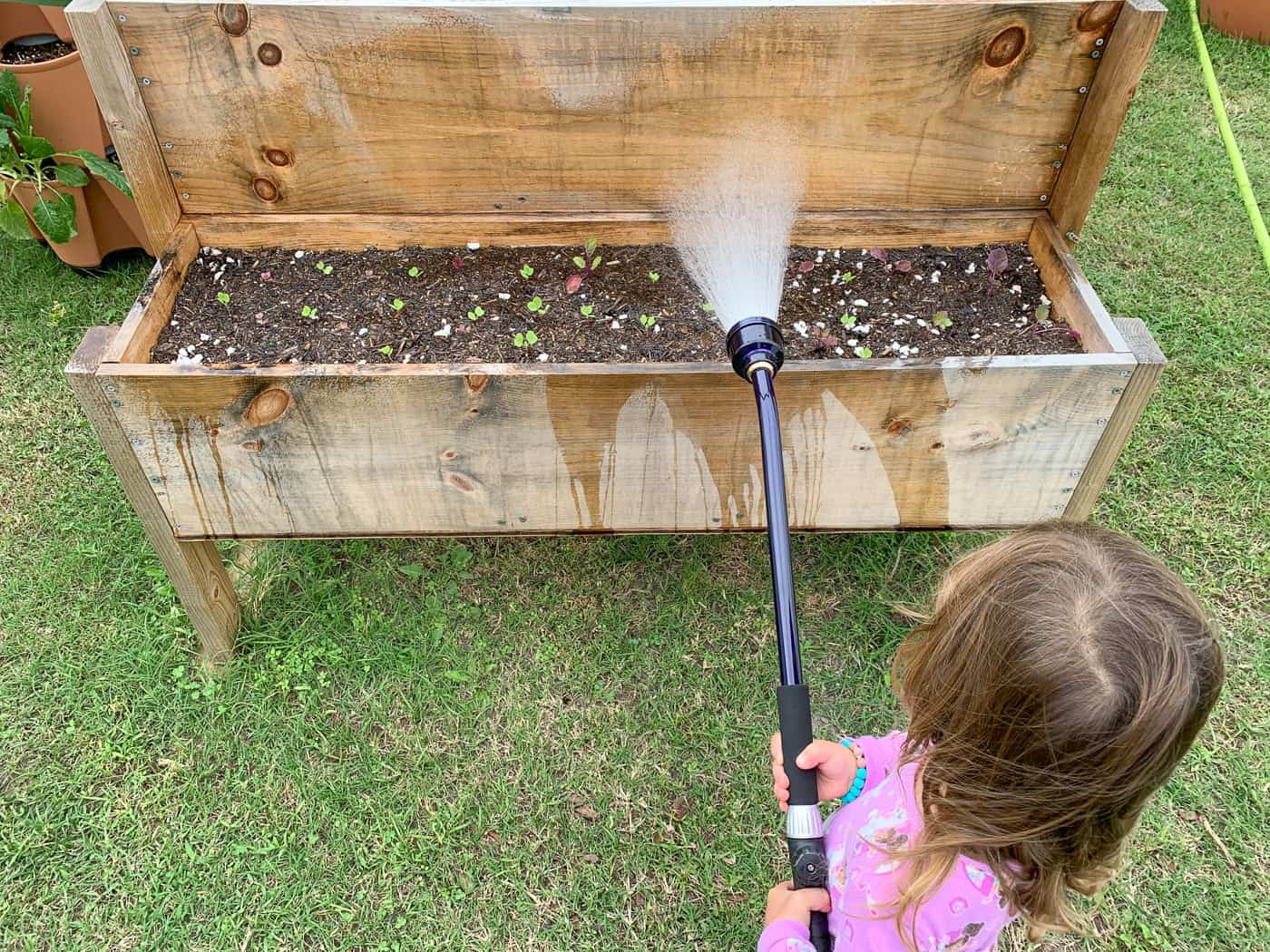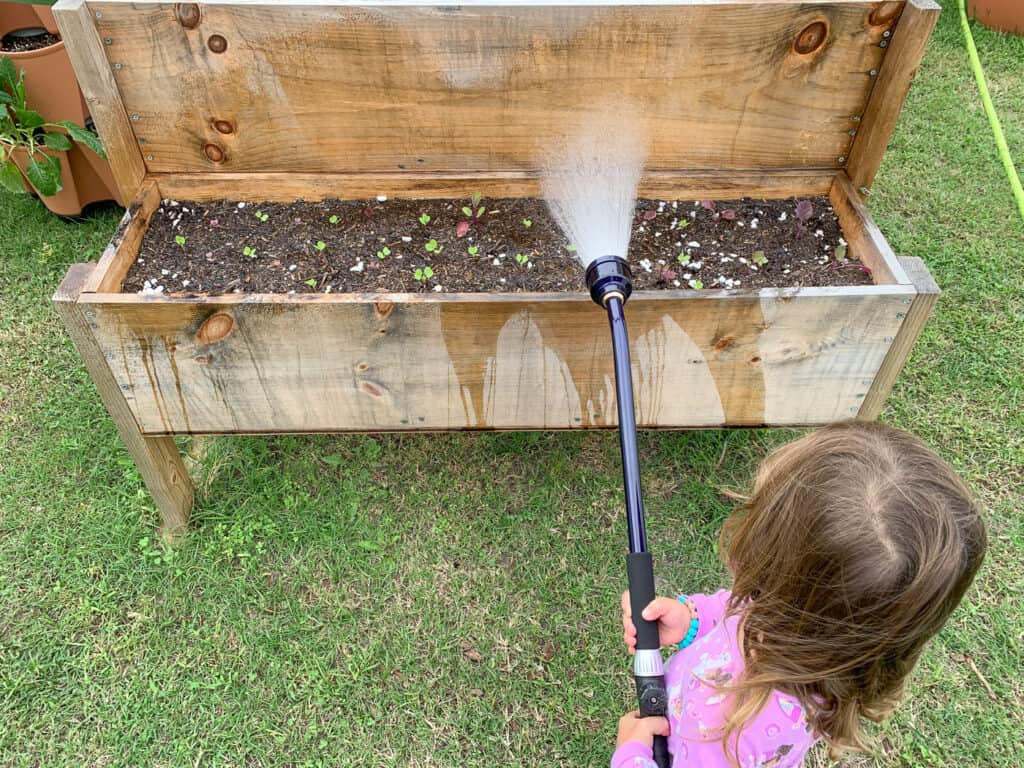 The drawback of this watering wand is it's lack of multifunctionality. This is strictly for watering your plants. You will have a hard time washing your car or cleaning your gutters with this one. If you'd like a watering wand to also serve the purpose of washing your car, I recommend the 16-inch version.
If going strictly off of function as a watering wand for your garden, this is our choice hose wand from our lineup.
Dramm's watering wand is a classic style wand for those of us who know that every tool has a specialized purpose. It has a single style nozzle which is optimally designed to deliver just the right flow of water to your plants. The front lever gives you ultimate control of the flow but even fully depressed it will not disturb your seedlings.
The 30 inch neck gives you plenty of reach to get around your garden and avoid the insects and spiders.
One fun feature is the variety of colors to choose from. There are usually 6 colors in stock, depending on the season. There is certainly a color that will fit your taste.
Dramm's customer service is a pleasure to deal with. Here is a customer whose experience with the company gives us hope for humanity: " I love it, we already have one but needed another, it's as though they read my mind. This sort of service is disappearing from the world."
Sale

Relaxed Gardener's watering wand is a pleasure to use. The ergonomic handle is gentle on arthritic hands and the nozzle control helps keep your hands from straining to hold down a trigger handle.
This watering wand combines a shorter wand with a multi purpose nozzle. Some gardens just aren't meant for large hose wands. The neck on this model is just long enough to avoid the spiders, insects, and creepy crawlies, but short enough to maneuver around those smaller gardens.
Some times products just don't perform the way they are intended to work and that is why there is customer service. Here is a customer's confession, "Best customer experience I have received to date from a product I've ordered from Amazon…and I've ordered a lot of products!"
Sale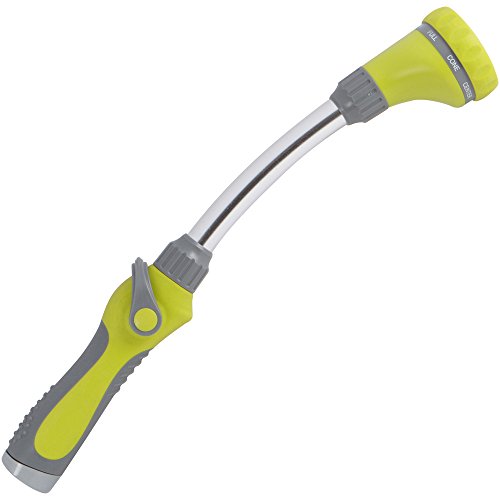 The Relaxed Gardener Watering Wand - 15" Garden Hose Nozzle Sprayer 8...
NO MORE HAND STRAIN from trigger-operated nozzles. Our one-touch thumb operated on/off switch also adjusts the strength of the water flow. Perfect for...
THE ONLY HOSE NOZZLE YOU NEED – The multi-pattern head has the right setting to use for each task. Different settings include mist, flat, full,...
STRONG BUT GENTLE – Gentle enough to mist new seedlings; Strong enough to power through a tough cleaning job or wash your car. Water your hanging...
What else does the hose wand do?
Because of the sturdy long handle, you can reach plants which are normally difficult to get to.
Since you should aim to only wet the soil and root system and not the leaves or stem of the plant, you will sometimes need to get much closer to a plant than is possible with a typical hose nozzle attachment.
The wand's reach allows you to water the soil, not the leaves, even in the middle of large raised beds or wide rows.
Whatever the your garden set up is, a garden hose wand will allow you to do water more effectively and easily. If you have plants which are up high in vertical planters or hanging baskets, you can easily give them water without having to bring them down one by one. Every tool has its function and the garden hose wand gives you your time back.
The watering wand can even help clear out your gutters. If your nozzle has a forceful stream option then you can blast those leaves out of your gutter and keep the water flowing.
How to calculate a hose nozzle's water flow rate
A great method for getting the right amount of water to your plants is put forth by Brett L Markham in his book Mini Farming. You just need to do a small calculation to approximate the amount of time you need to invest in watering your plants.
First, find out what the flow rate of your garden hose wand is. Do this by timing how long it takes to fill a five gallon bucket.
Each plant has it's own required inches of water or gallons of water per week, but a good rule of thumb is 62 gallons of water per every 100 square feet of planter bed.
Typical planter beds are 8'x4′ so 32 sq ft. Some basic math shows you will need about 20 gallons of water for typical planter beds.
32x(62/100) = 19.84 ~ 20 gallons.
For your calculation, multiple the number of square feet of your planter by .62. This gives you the number of gallons per week.
Now, if the flow of your nozzle is 5 gallons per minute (gpm), then you will need to evenly water each 8'x4′ planter bed for 4 minutes each.
For your calculation just divide the number of gallons needed by the gpm of your nozzle. That is how much time you need to spend per planter per week under normal conditions.
Sale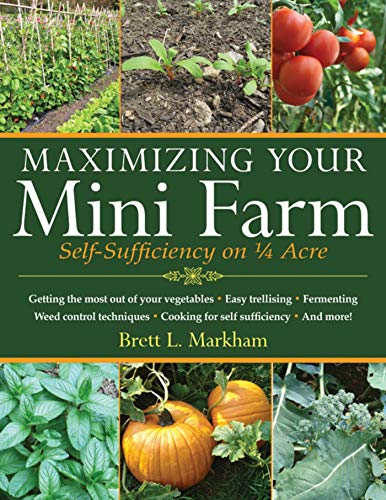 You need a hose watering wand
Watering your plants is a tough job, its even harder if you don't have the right tools for the job. A hose wand may seem superfluous but if you continue to have problems with seedlings staying put or exposing the roots of your plants too much then a hose wand is something you should consider.
I hope now you can at least make an informed decision on which hose wand meets your needs.
Angel is a Cuban immigrant who grew up with backyard chickens and a yard-loving abuela. He is our "gear guy" who can never have too many pairs of gloves or weed whacker attachments.