Lettuce is one of the easiest vegetables to grow in containers, which means you can plant and harvest it even if you don't have a lot of outdoor space. In fact, there are several reasons why growing lettuce in pots might be even better than growing it in the ground.
Here's a complete guide on how to grow lettuce in containers, including harvesting tips and potential problems you may encounter.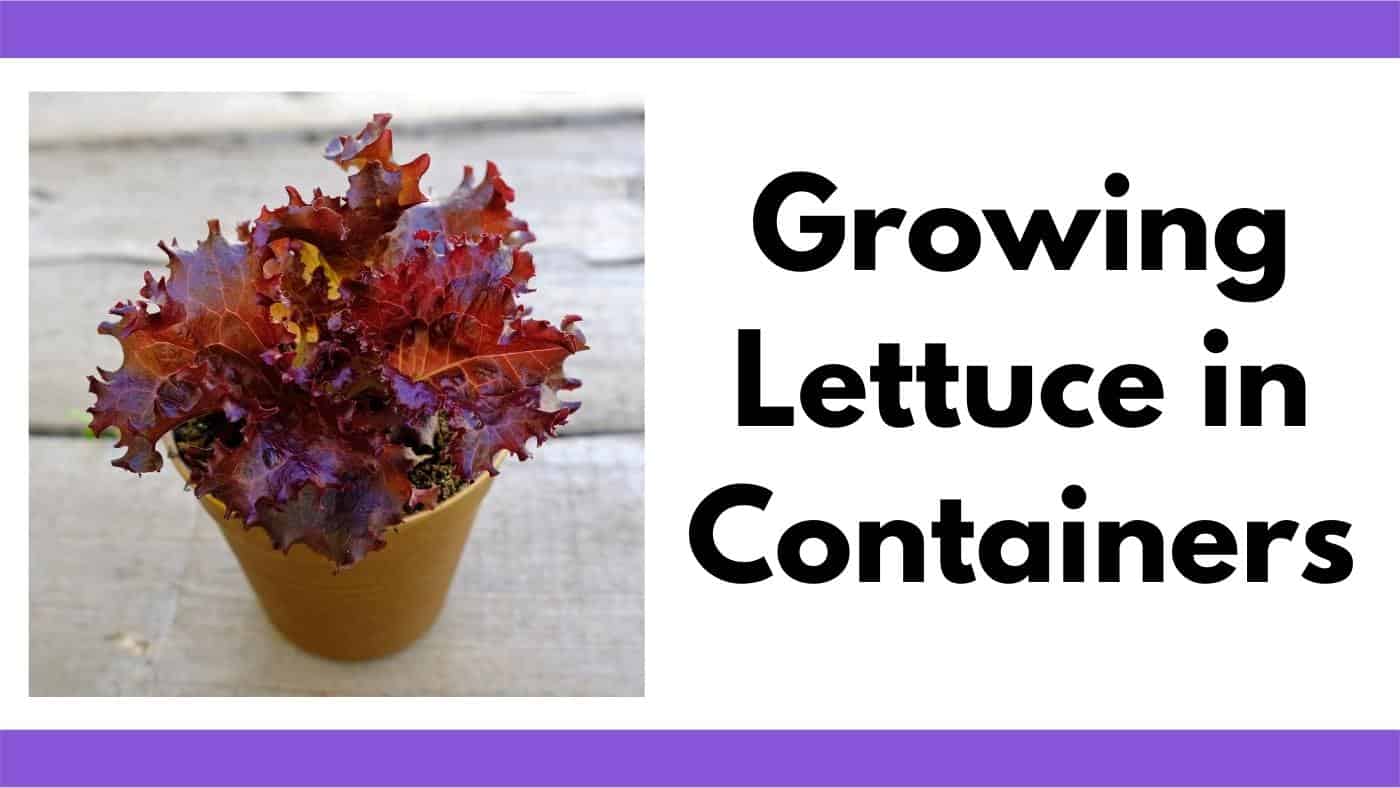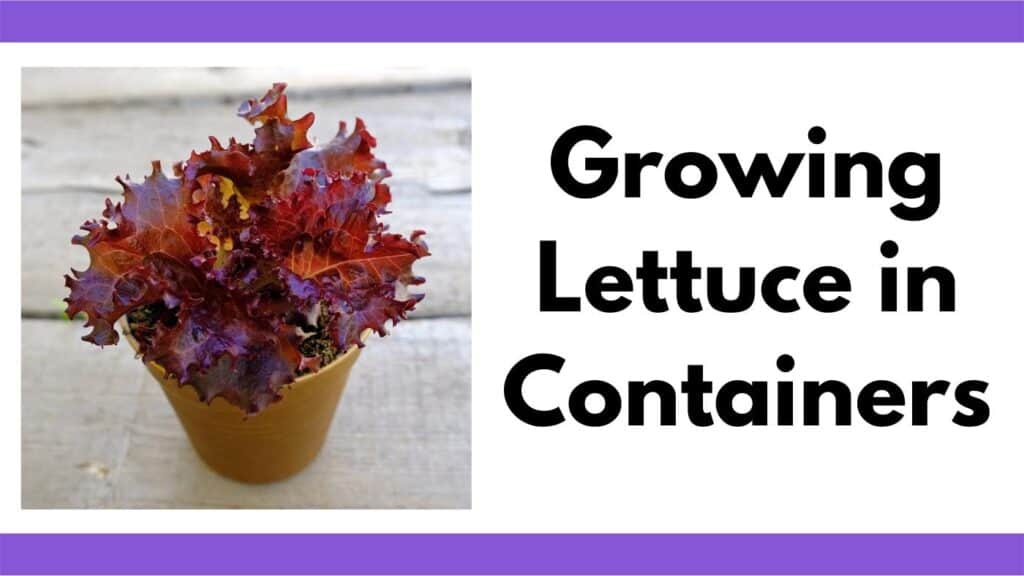 This post includes affiliate links. If you make a purchase using one of these links, Together Time Family will receive a commission at no additional cost to you.
Growing Information for Lettuce
Lettuce (Lactuca sativa) is an easy-to-grow green that thrives in cool weather. Gardeners in cooler climates can grow it practically all season long, while those who have warm summers can plant it as a spring and/or fall crop (and sometimes as a winter one).
To have success with lettuce, it's important to get your plants going early in spring so that they can mature before the weather gets hot. Once the temperature is consistently over 80°F, your plants are likely to bolt, which means they send up a flower stalk and the leaves turn bitter. You can learn more about bitter lettuce and what to do about it in this post.
Before planting, you'll want to consider whether you want to grow lettuce as a cut-and-come-again green or as a mature, full head.
The first option will give you a continuous harvest of individual leaves for as long as your lettuce plants last. Or you may prefer to let certain varieties like romaine or iceberg lettuce reach full size before you harvest them.
The choice is yours, but it will affect how you space your plants, so keep an eye out for that later!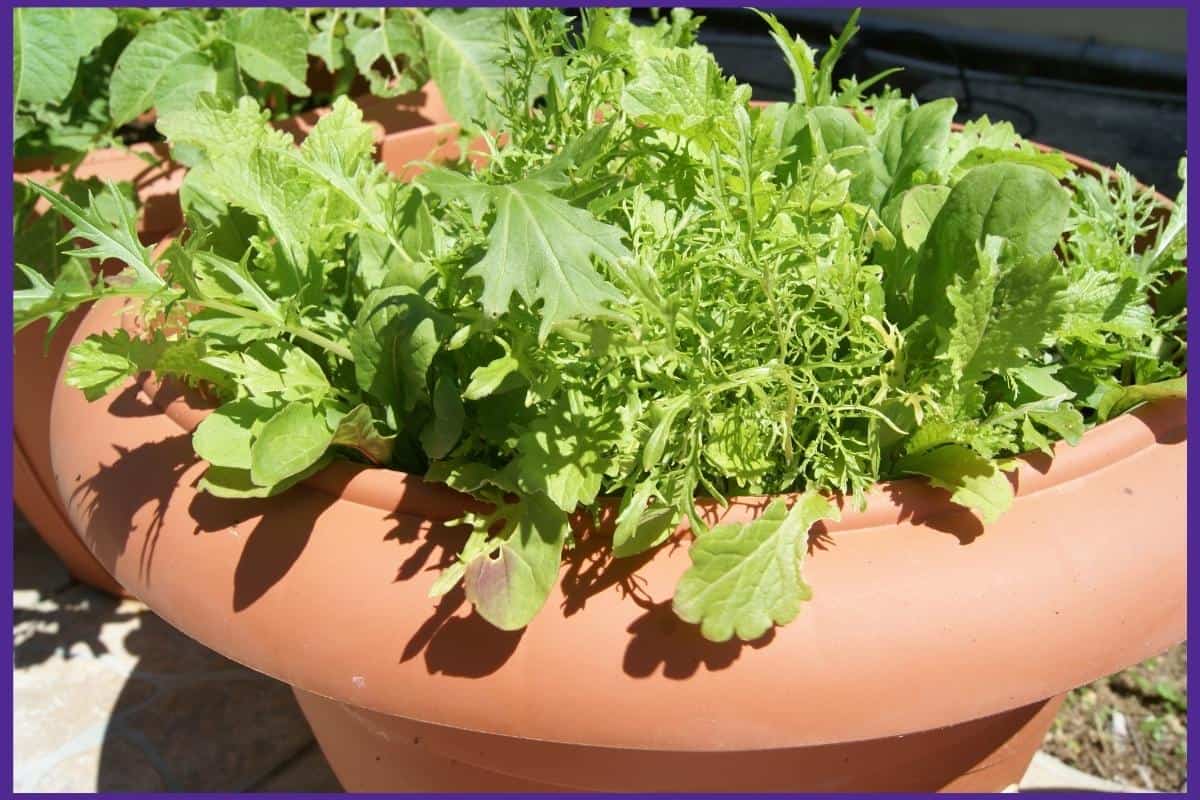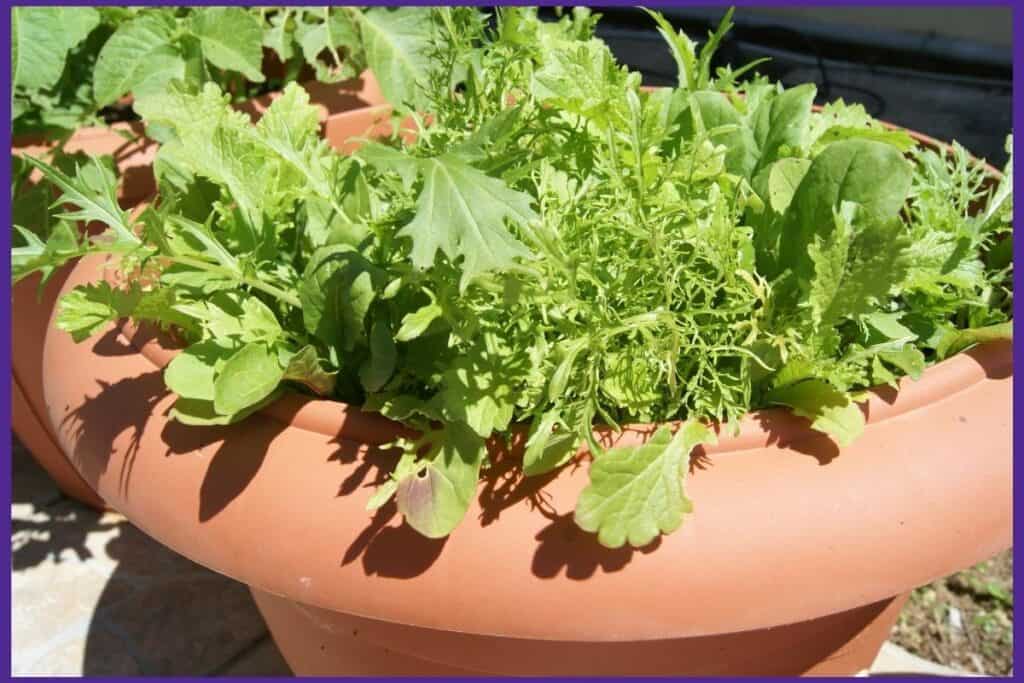 Benefits of Growing Lettuce in Containers
You may want to learn how to grow lettuce in containers simply because you are short on garden space, but there are several other reasons to plant lettuce in pots.
To begin with, using containers allows you to get a jump on the growing season. Even while the soil in the garden is still too cold to plant in, you can add soil to pots and get going a week or two earlier. Locating containers next to your house also helps shelter lettuce from harsh weather early in spring.
Another reason to keep your lettuce in containers is convenient harvesting. Put your pots near your back (or front) door to easily pick a salad whenever you want to.
Finally, container-grown greens are less likely to suffer from pest damage than those in the garden. This goes for pesky insects as well as bigger critters like deer and rabbits. Place pots on a porch, deck, balcony, etc. for the most protection against hungry critters.
Types of Lettuce to Grow in Containers
Practically any type of lettuce can be grown in a container. Some do get larger than others, so you'll need to consult your seed packet for the proper spacing when you go to plant, but all have shallow roots that adapt well to a pot.
Here are some of the main varieties you may want to consider:
Loose Leaf– One of the best varieties for cut-and-come-again lettuce. Matures in only 40-45 days and comes in both green and red cultivars.
Butterhead– A favorite among gardeners for flavor. You can harvest individual leaves or wait for the loosely packed head to form.
Romaine– Popular crisp variety used in Caesar salads. Often harvested as a head but can also be cut-and-come-again.
Iceberg– Often seen in the grocery store. Matures into a medium-size tightly packed head.
Bibb– Generally grown for mini heads, this lettuce is very tender, sweet, and compact.
Oakleaf– Unique lettuce with leaves that are lobed and shaped like oak leaves.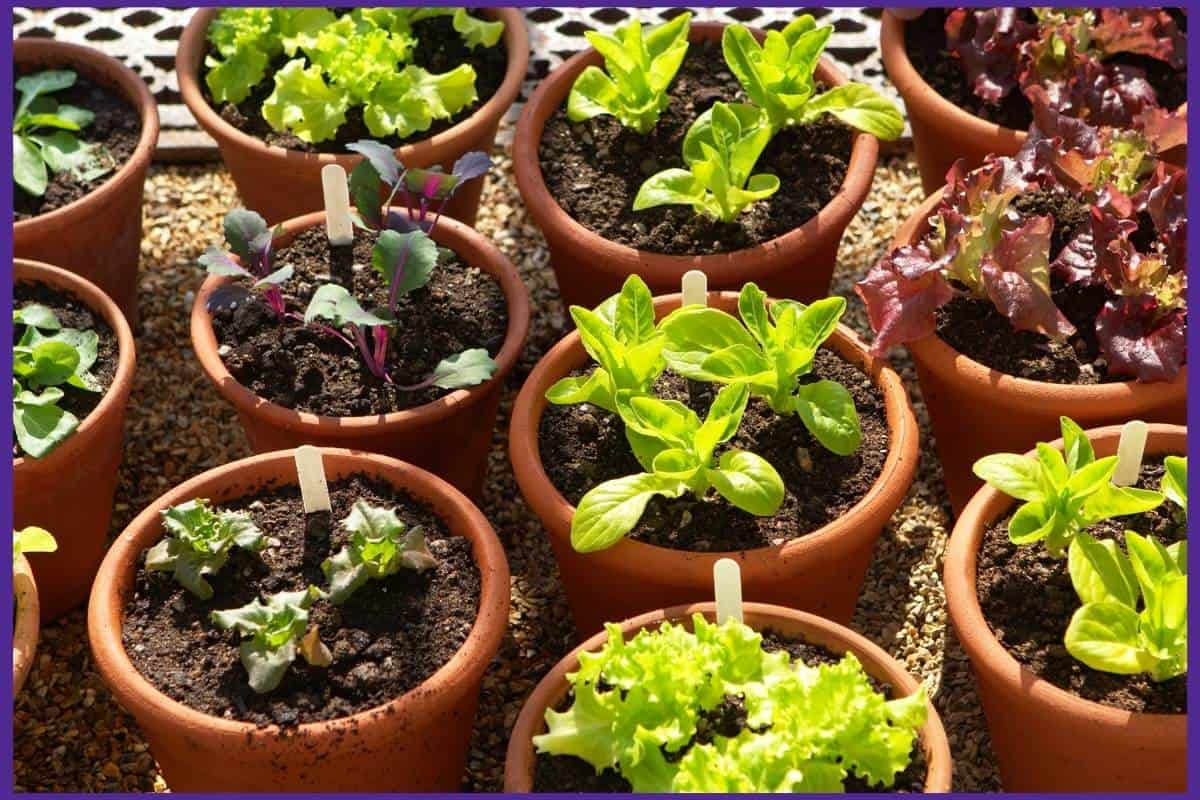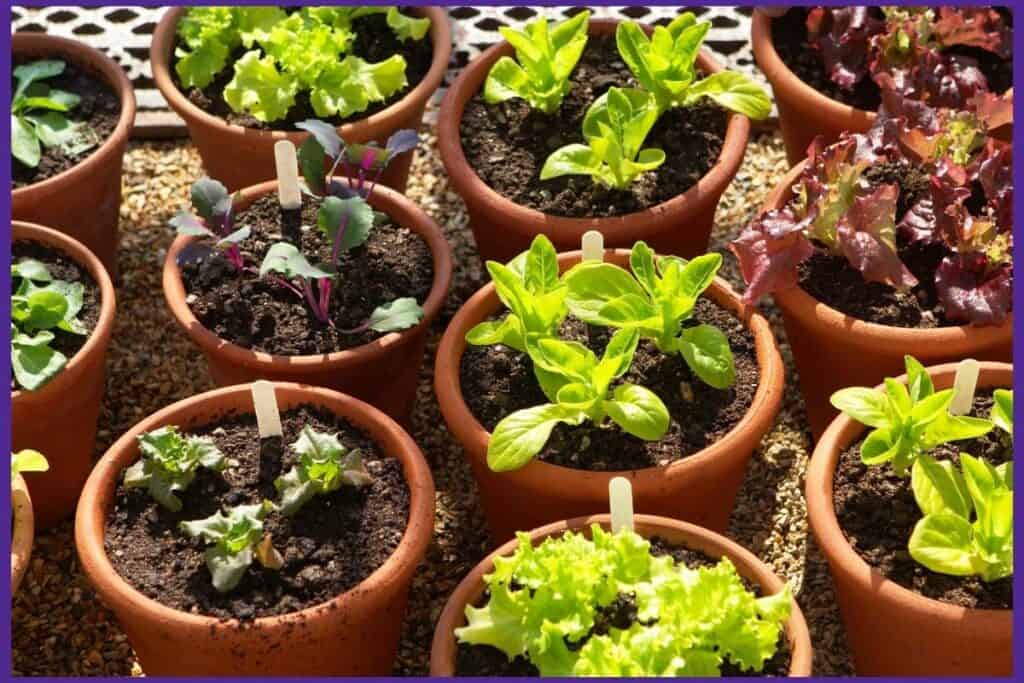 How to Grow Lettuce in Containers
Choosing the Right Pots
Lettuce has fairly shallow roots and will grow well in a container that is only about 6-8" deep. The plants will need to be spaced 4-10" apart, depending on the variety, so choose long and shallow containers to maximize your growing area. If you only have large containers, that's okay. Lettuce will not be harmed by a deeper container, you'll just have to use more soil. Below you can see a repurposed container with lettuce seedlings: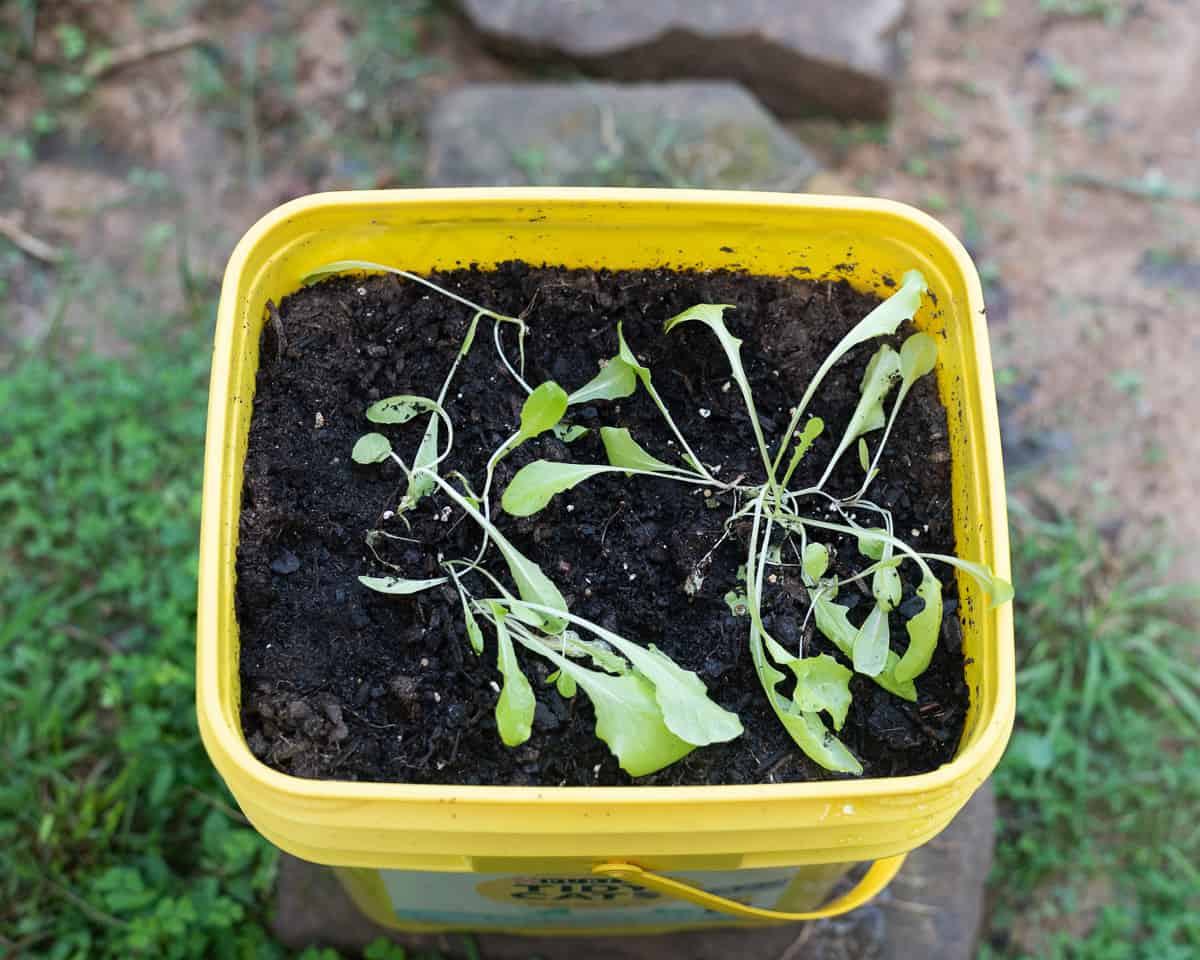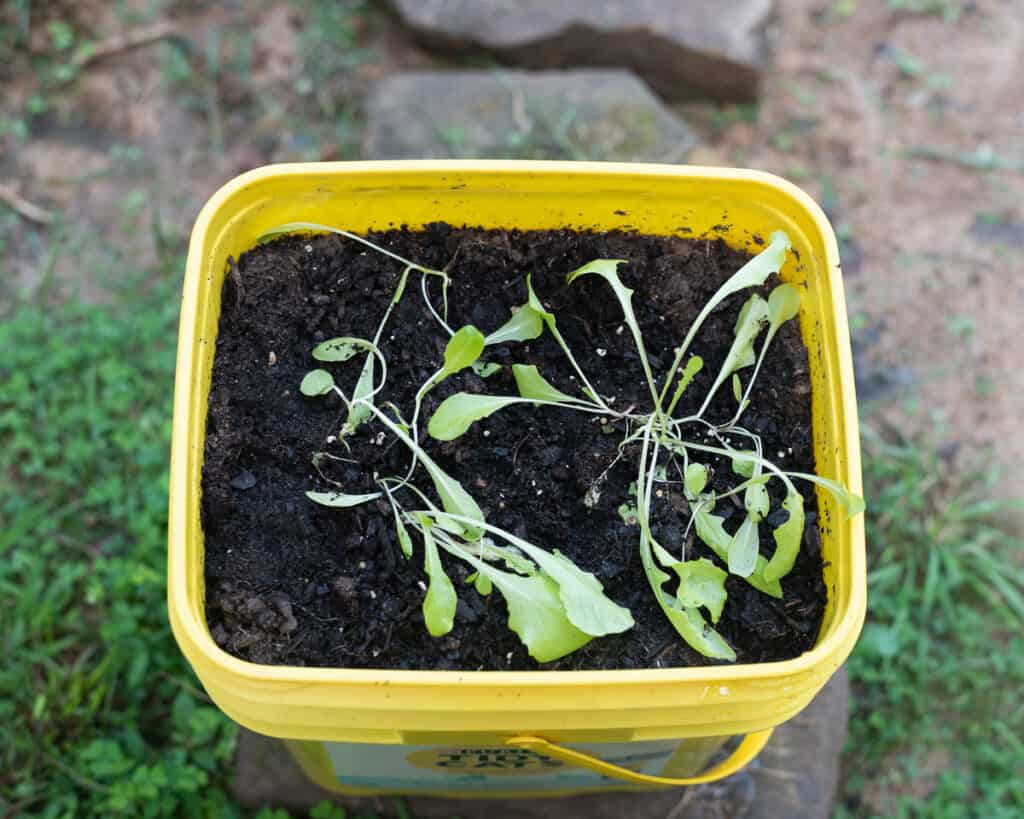 If you want to grow lettuce in individual containers instead of larger ones, you can put one plant in a pot that is at least 6" deep and 6" across.
When choosing your containers, make sure they have drainage holes in the bottom or drill your own before planting. Good drainage is essential for container-grown plants to make sure they never sit in standing water.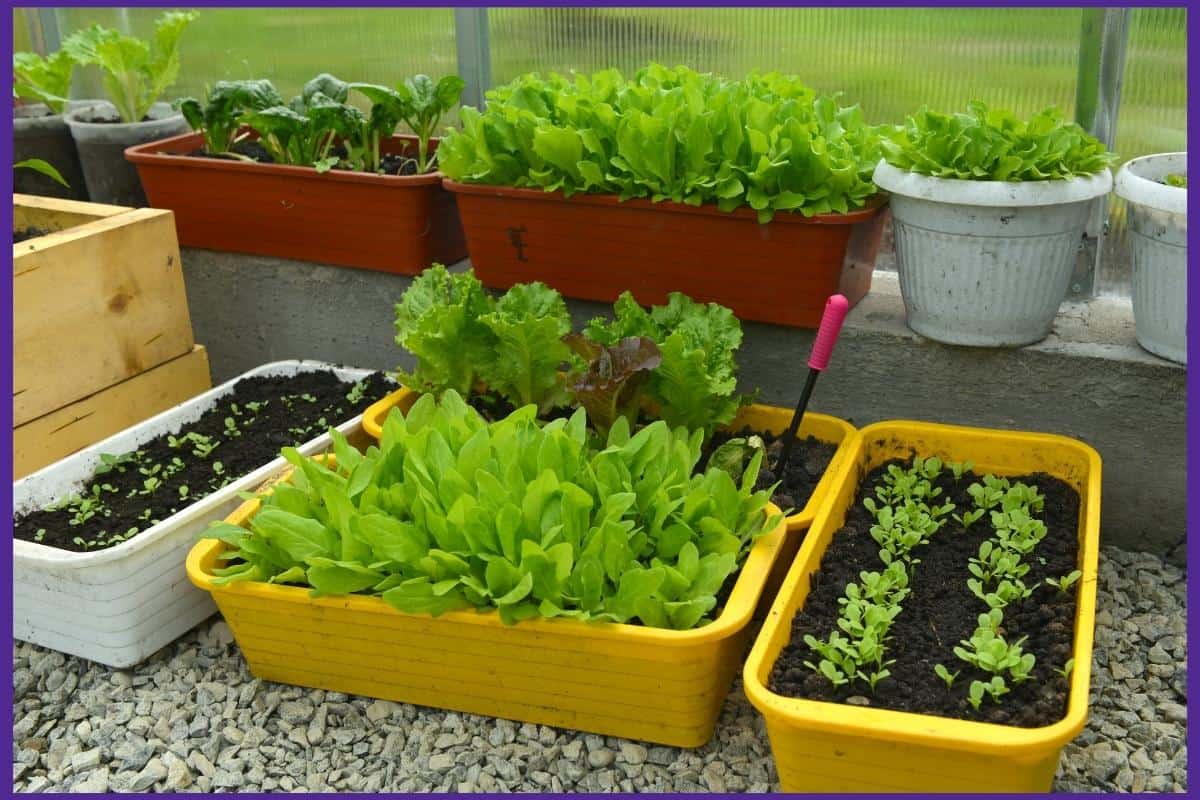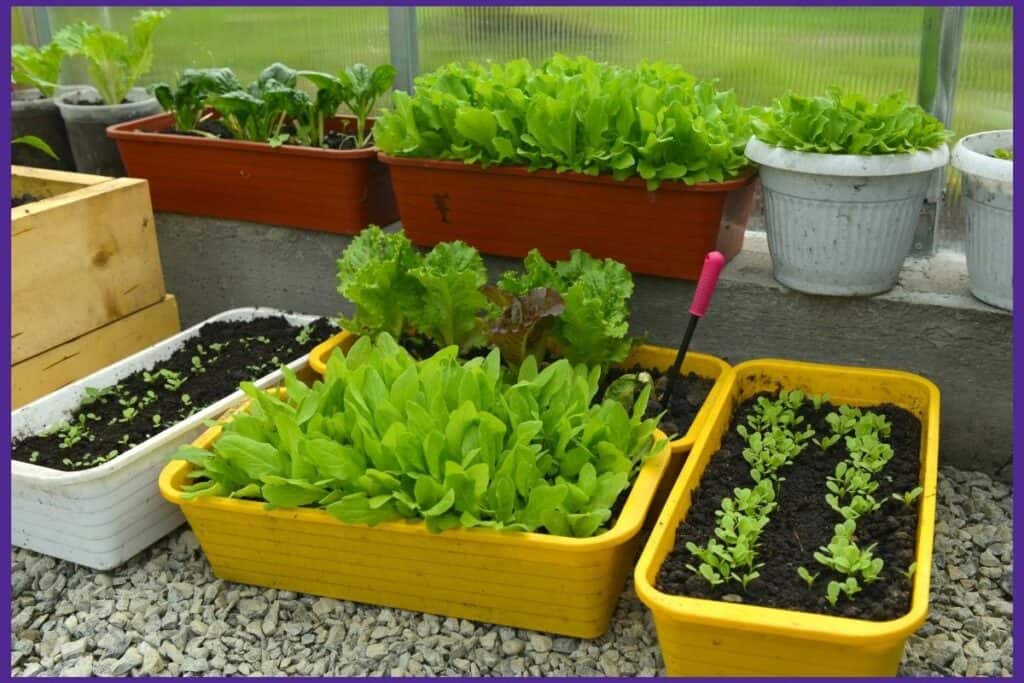 When and Where to Plant
Your first round of lettuce can be started outdoors in early spring about 2-4 weeks before your last spring frost date. For a fall crop, start seeds indoors in late summer and plant seedlings out in early fall.
To make sure you have a continuous supply of greens for most of the season, continue to plant lettuce at 2-week intervals after the first round.
Ideally, place your containers where they will get full sun, which is at least 6 hours of sunlight each day. However, lettuce does tolerate more shade than most vegetables, so don't worry if you can't give it a full 6 hours.
If you have the ability to move your pots around, shift them to an area that gets morning sun and afternoon shade when the temperature gets above 80°F. This will help to keep your plants from bolting.
Sowing Your Seeds
You can buy lettuce seedlings from a nearby nursery for easy planting, but it's also very simple to learn how to grow lettuce in containers from seed.
The first step is to fill your pots with a good quality potting soil that drains well and contains plenty of organic matter. Then, plant your lettuce seeds ¼" deep and cover them lightly with soil. Check your seed packet for their correct spacing, which is usually 4-10" apart. Lettuce can be planted more closely if you plan to eat it as baby greens. You can eat any thinned lettuce plants, even the very smallest ones, so don't worry too much about closely spaced seeds.
Lettuce grown for heads should be spaced further apart than for cut-and-come-again leaves.
Alternatively, you can start your seeds early indoors about a month before you want them to go outside. You can either plant them directly into the containers you plan to take outside or plant them in a plug tray and transplant them later.
Whichever method you choose, keep the soil moist while your seeds germinate. If you have more than one seedling come up in the same spot, thin out the weaker-looking one.
Care Tips for Container-Grown Lettuce
The biggest care task you will have for your lettuce is to water it during dry weather. Lettuce needs consistently moist soil to stay tender, and the soil in containers will dry out more quickly than the soil in a garden.
To check if your lettuce needs to be watered, stick your finger a few inches into the soil. If the soil at your fingertip is dry, it's time to water.
If your potting soil contained fertilizer or compost, you won't need to fertilize any of the quicker-growing lettuce varieties. However, if you are growing a type that forms a full head, feed it with a nitrogen-heavy, liquid fertilizer every 3 weeks.
When hot weather comes, your plants will likely bolt, which means the leaves will turn very bitter. You can delay bolting by covering your plants with shade cloth, but know that it will happen eventually. If your lettuce becomes bitter, check out this post about bitter lettuce and how to salvage your harvest.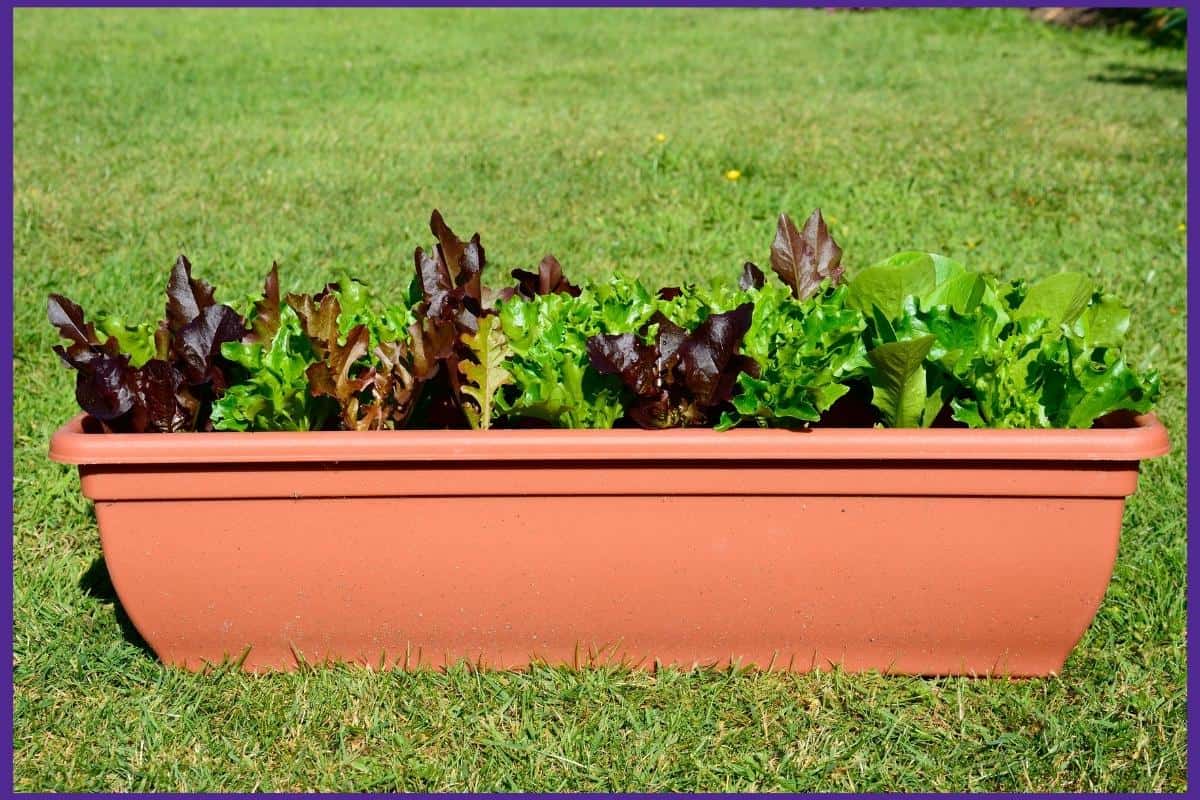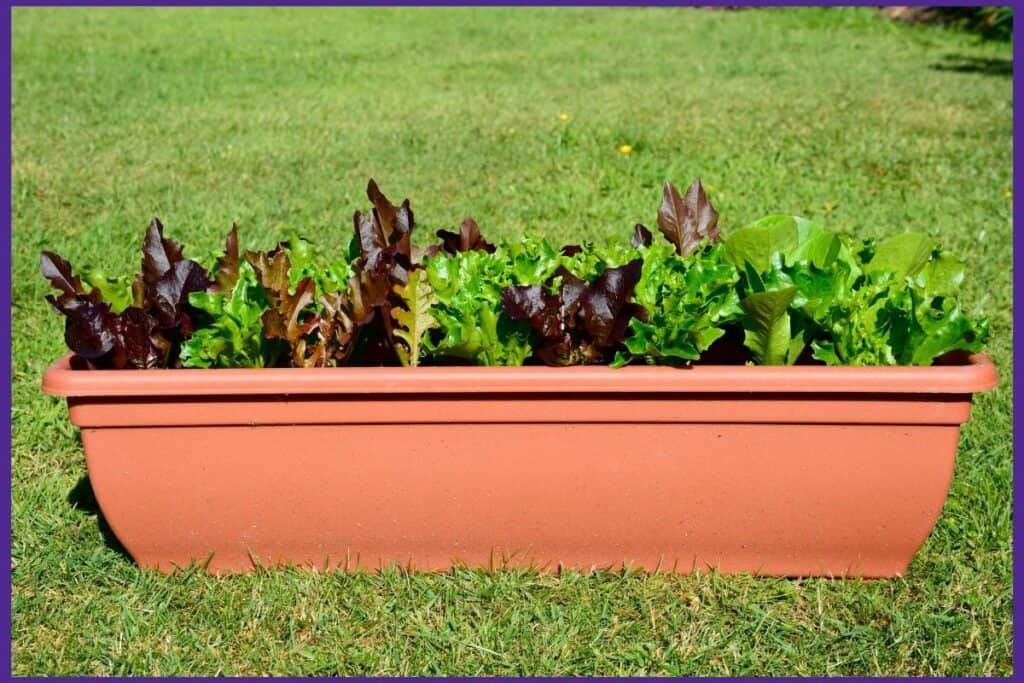 Common Pests and Problems
Even though lettuce grown in containers is less prone to pests than its garden-grown counterpart, you'll still likely have to deal with a few insects at some point.
Aphids are the most common lettuce pest. They like feeding on the leaves almost as much as you do, but they won't typically do serious damage to healthy plants. However, you will want to rinse the leaves carefully before eating. Aphids don't taste very good!
Using EM-1 on your plants can help them fight off sucking pests like aphids. Bonus: EM smells delicious because it's made with molasses and you can make your own "extension" brew so you only have to buy it once.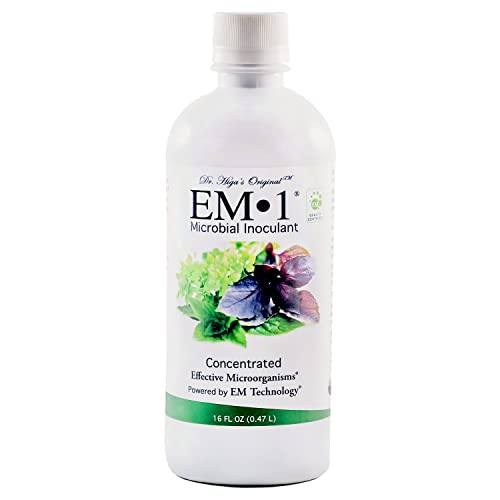 TeraGanix EM-1 Plant Growth, Microbial Inoculant Concentrate (1 Btl = 16...
THE #1 ALL-NATURAL ORGANIC PROBIOTIC for your plants and soil is finally here to improve texture and drainage for soils, while promoting growth for...
IMPROVE WATER QUALITY IN YOUR PONDS AND AQUARIUMS with our non-toxic and safe EM-1 microbial inoculant. This non-GMO and easy-to-use probiotic...
1 MILLION COLONY-FORMING UNITS OF LACTIC ACID BACTERIA will help eliminate foul odors (pet, smoke, garbage or paint smell) while conditioning your...
Slugs and snails also enjoy feasting on tender leaves. They don't always climb into pots, but if you notice large sections of leaves eaten away, put down eggshells around your lettuce to deter these two pests.
Harvesting & Enjoying Your Lettuce
Now that you know how to grow lettuce in containers, you'll be able to harvest fresh greens for weeks and possibly months.
To harvest lettuce as a cut-and-come-again plant, simply wait until the leaves are a good size for eating and carefully break off several of the outer leaves from each plant. Always leave the center section intact, and your lettuce will continue to produce new leaves.
To harvest a head of lettuce, wait until it reaches its mature size and cut the entire head off at the base with a sharp knife. You can also dig up the plant instead if you'd like to plant new lettuce in its place.
As you probably already know, lettuce doesn't last very long in storage, so enjoy it as soon as possible!
Cool Weather Crops to Grow
Spring, fall, and even winter can be a fantastic time for gardening. Discover these delicious cool weather crops for your year-round vegetable garden!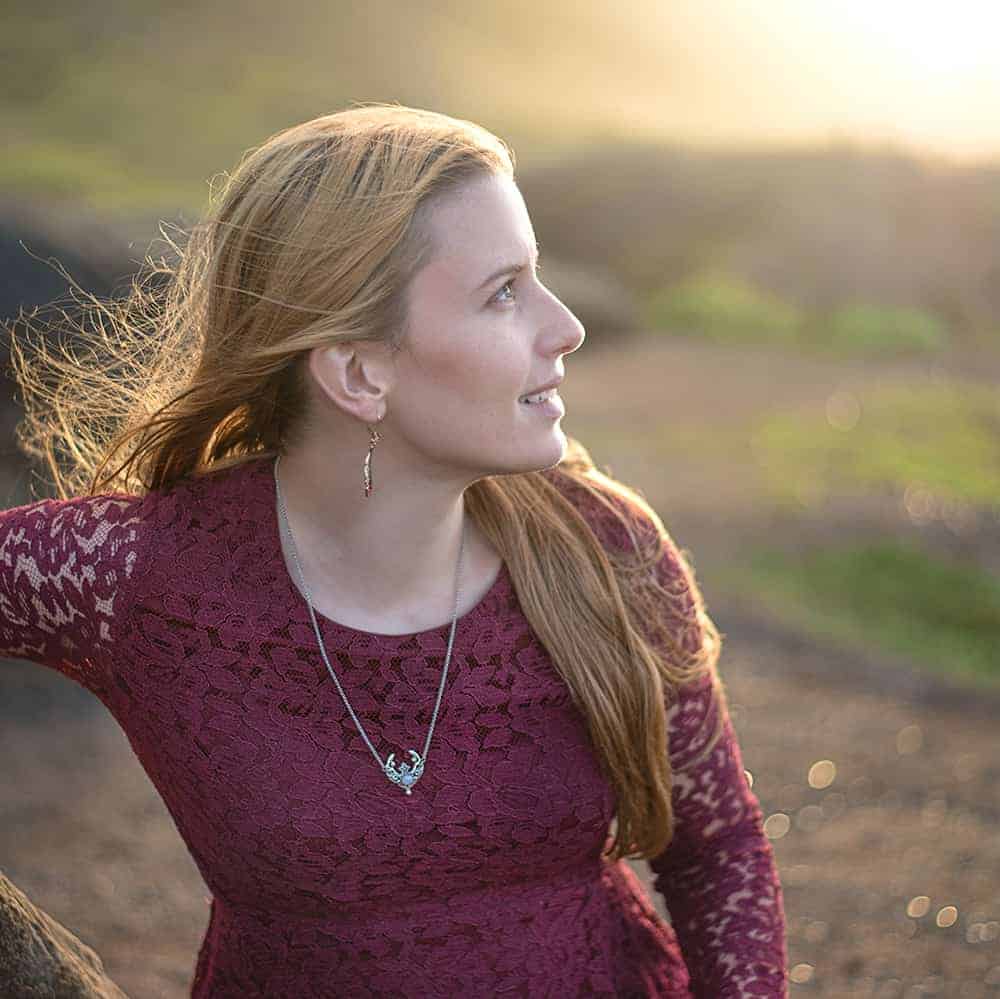 Natasha Garcia-Lopez is an avoid home-gardener and proud owner of 88 acres of land in rural West Virginia. She was a member of the Association for Living History Farms and Agricultural Museums for many years and is currently enrolled in the Oregon State University Master Gardner Short Course program so she can better assist you with your gardening questions.She holds a certificate in natural skincare from the School of Natural Skincare.