Are you wondering how your delicious, crispy lettuce transformed into something bitter and unpalatable overnight?
Nobody wants to eat bitter lettuce. If you wanted a bitter green, you would have grown arugula! Unfortunately, your lettuce crop can quickly transform from sweet and delicious to bitter.
The good news is that there are ways to avoid bitter lettuce in the future. Keep reading to find out whether or not it's okay to eat bitter lettuce, why lettuce can become bitter, and how you can avoid it.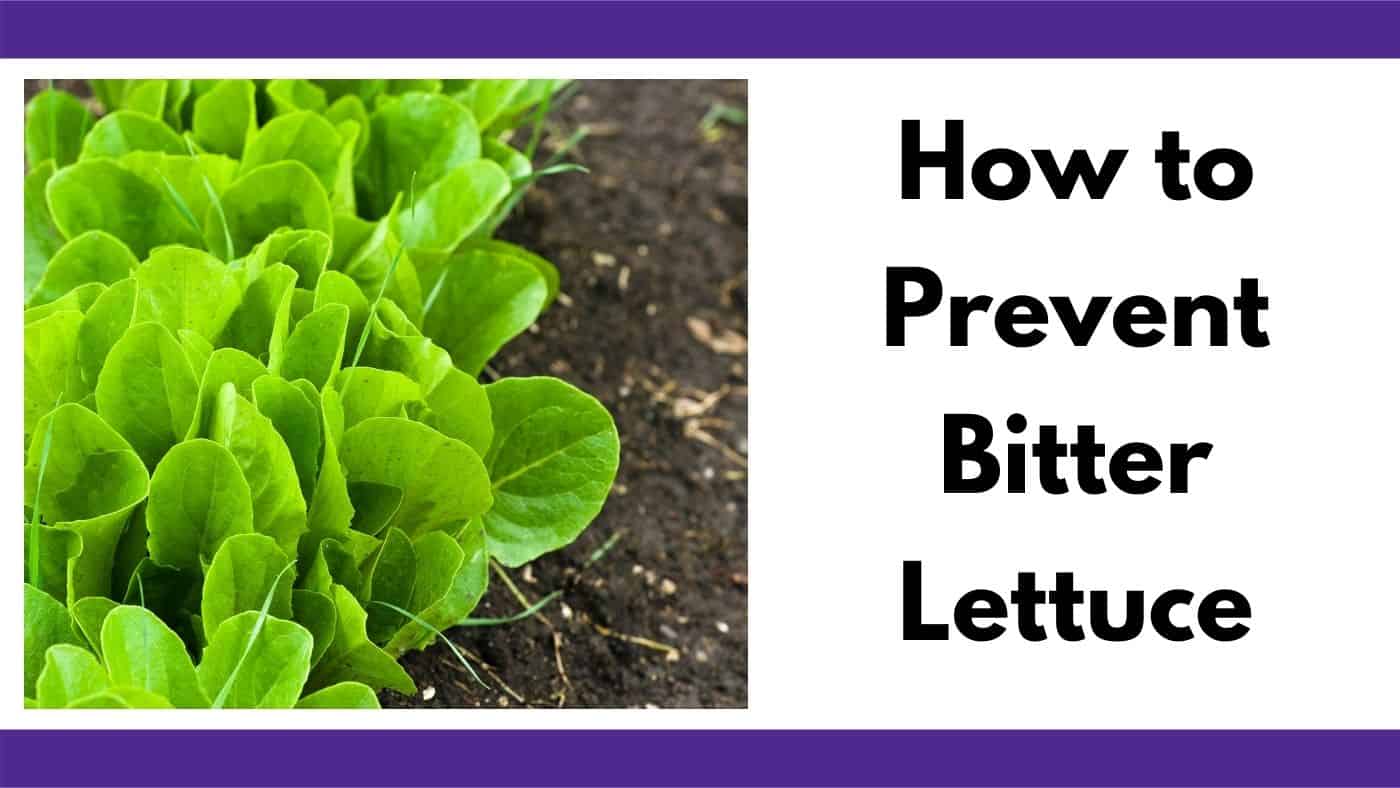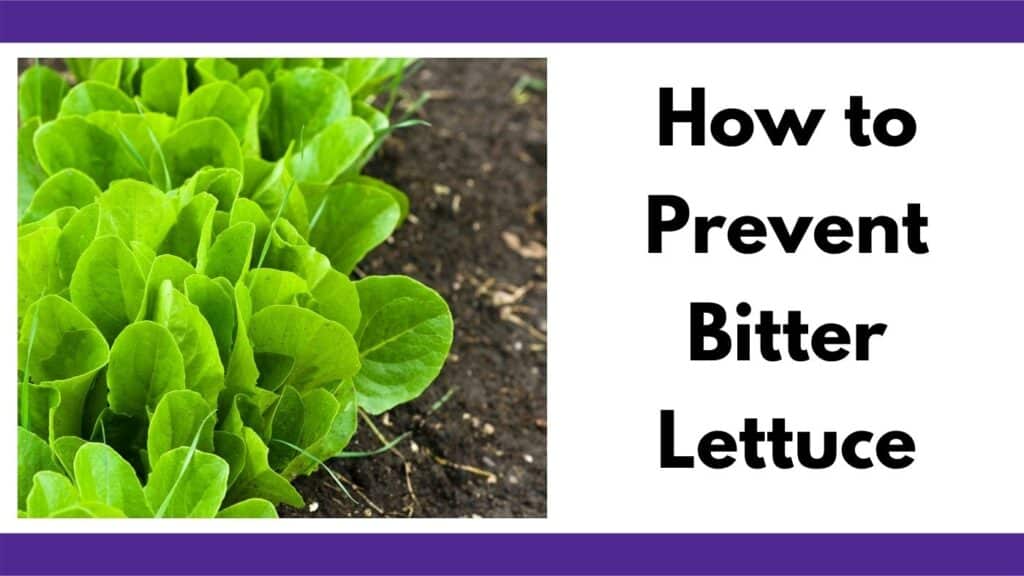 This post includes affiliate links. If you make a purchase using one of these links, Together Time Family will receive a commission at no additional cost to you.
Is It Safe to Eat Bitter Lettuce?
Taking a bite of your salad and finding out the lettuce is entirely bitter isn't the best experience. But while it doesn't taste great, is it still safe to consume?
The answer is yes, it is okay to eat bitter lettuce. It won't provide the crisp, freshness of lettuce that has been appropriately grown, but it will get the job done. You might want to consider dousing your salad with some other favorite flavors, such as a salad dressing or toppings like croutons, cucumbers, cherry tomatoes, and cheese.
How to Eat Bitter Lettuce
Sometimes you can reduce the bitter taste of lettuce by letting it soak in cool water. I use this tip a lot and it really does work, but it works best with mildly bitter lettuce
Cover your lettuce with water in a bowl and place the bowl in your fridge for several hours. I've seen some people recommend soaking your lettuce for 10 minutes to remove the bitterness, but in my experience longer is better. I frequently leave bitter lettuce in water overnight. I've even left lettuce in water for days because I forgot to drain it.
Once your lettuce has soaked, drain it into a colander or your salad spinner. Rinse it with fresh water, then pat dry or spin. After years of junky, frustrating salad spinners, I finally purchased an OXO salad spinner and it makes a world of difference.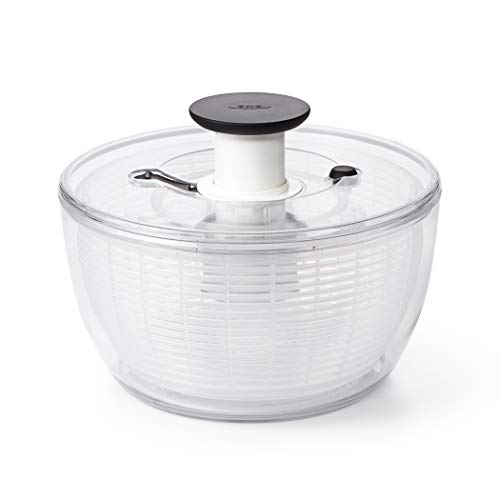 OXO Good Grips Large Salad Spinner - 6.22 Qt., White
Easy, one handed operation with patented pump mechanism and brake button
Soft, non slip knob locks down for storage, and a non slip ring and wide base keep bowl steady on countertop
Elegant, clear bowl is perfect for serving, and basket can be used separately as a colander
Lettuce tip: You can perk up wilted lettuce by soaking it in a bowl of cold water. You can even add ice to chill the water more quickly. Stop wasting produce and try this trick with any wilted lettuce, whether or not it's bitter.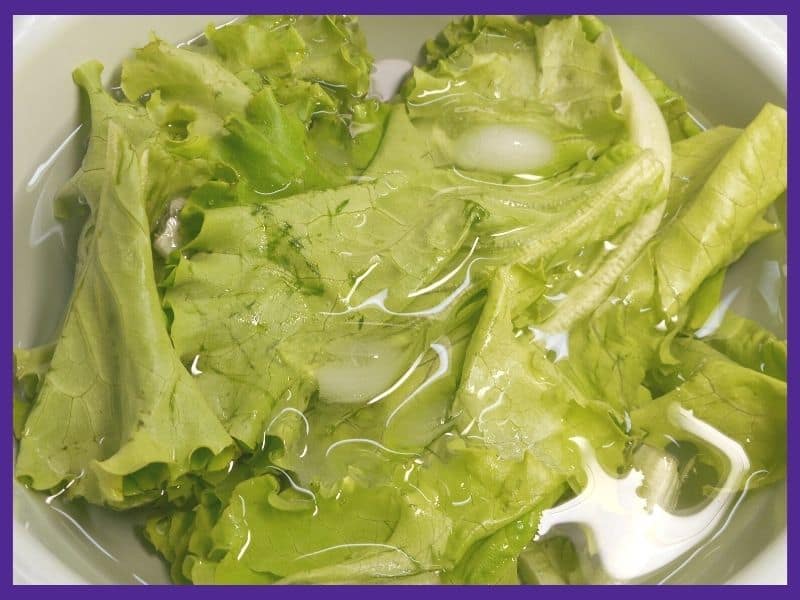 If you can't stand the taste of bitter lettuce, you can cook with it. Cooking frequently mellows out greens (it makes arugula less bitter and radish less spicy, for example). Lettuce can be mixed with other greens, like spinach, and sautéed. You can also make lettuce soup or even stir fried lettuce.
If cooking with lettuce sounds unappealing to you, you can use its stronger flavor to your advantage and make lettuce pesto.
What to Do With Bolted Lettuce
If you don't want to eat your bolted, bitter lettuce, you still have a couple of options. No gardener wants their homegrown produce to go to waste!
Add Bitter Lettuce to Compost
If you aren't going to eat the bitter lettuce or try to revive it, add it to your compost. You can also feed it to a worm bin or place it in a bokashi bin.
Give Bitter Lettuce to Animals
If you have chickens, ducks, geese, or pigs (or know someone who does), they may be happy to eat your unwanted lettuce. Guinea pigs and rabbits might eat it, depending on how picky they are. I used to have a guinea pig and she was pretty discerning when it came to her veggies. On the other hand, my mom's chickens are eager to tear into just about anything.
Let Lettuce Flower
Although many gardeners rip out (and compost) lettuce plants once they bolt, you can let your lettuce flower.
Lettuce seed is easy to harvest (but it does take a surprisingly long time to mature). Even if you don't want to harvest the seeds, you can let lettuce blossom to attract pollinators to your garden. Bolted lettuce can also be used as a trap crop for common garden pests like slugs, snails, and aphids. Lettuce has cute little flowers that add cheer to your garden.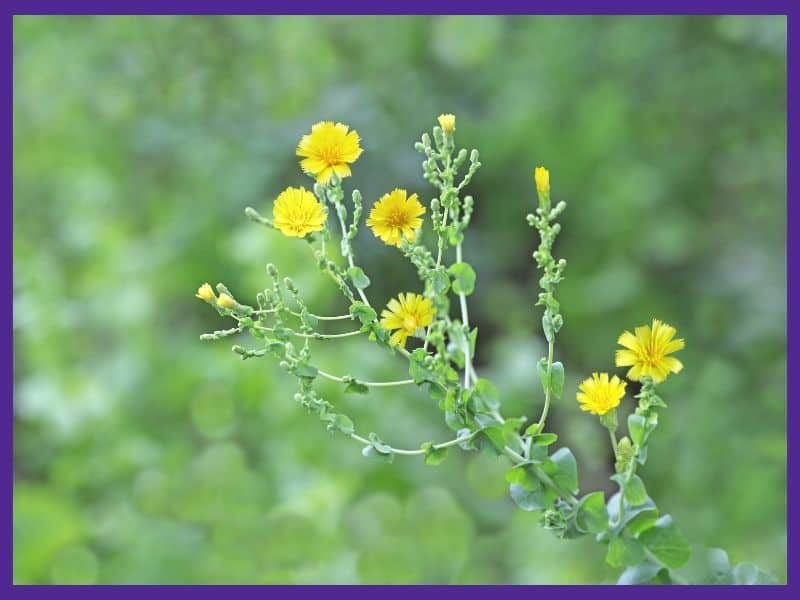 Why Lettuce Becomes Bitter
Although bitter lettuce is technically okay to eat, it doesn't mean that's necessarily what you want. But before you can figure out how to avoid the situation entirely, you need to know what causes lettuce to become bitter.
There are several commonly-accepted causes of bitter lettuce. Hot weather and bolting (going to seed) are often given as reasons for bitter lettuce.
These things do cause bitter lettuce, but the root cause of bitter lettuce is lettuce sap. Have you ever noticed a milky white substance being secreted by your plant when you harvest? This is lettuce sap.
Lettuce sap increases when a plant is preparing to bolt. If you are attentive and harvest your lettuce frequently by removing outer, larger leaves, you can notice when your plant starts producing more sap. This is your cue to fully harvest the rest of the lettuce plant before it turns overly bitter. For the photo below, I cut a forming flower head off a lettuce plant so you could see the sap. The white circle isn't a weird reflection – it's lettuce sap.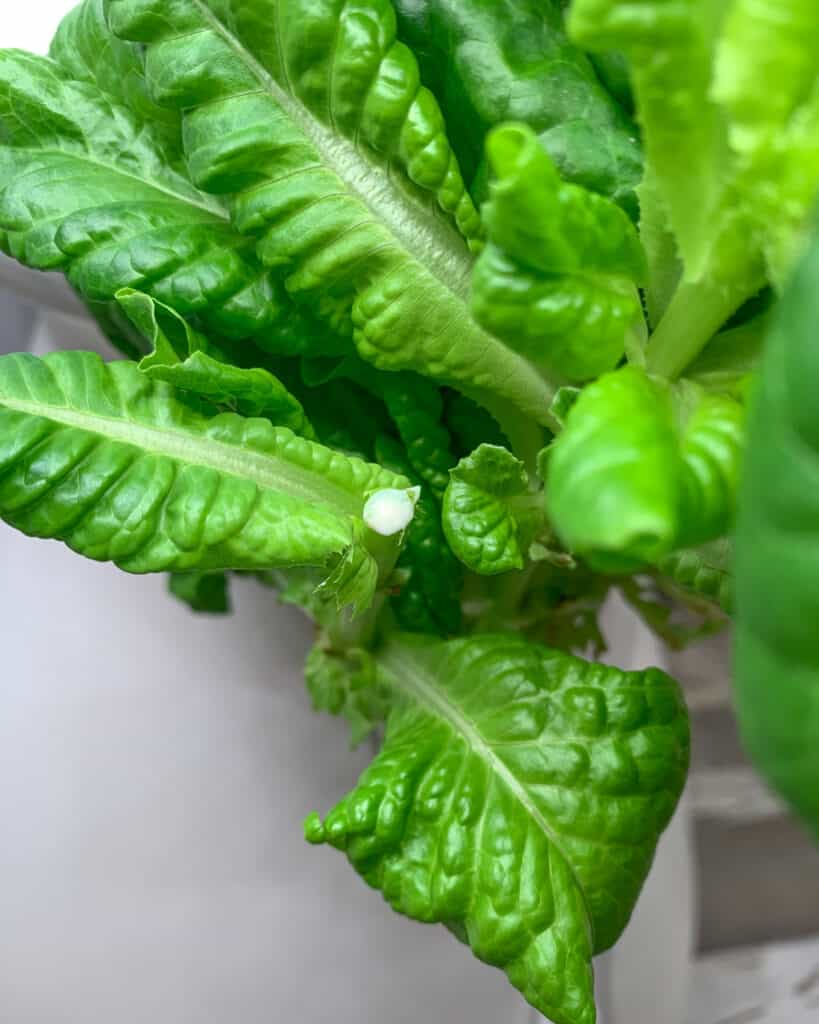 All lettuce will eventually go to seed, but certain situations make it bolt more quickly.
Too warm for lettuce
Lettuce is a cool season vegetable. Some varieties take heat better than others, but it's not naturally a heat-lover like tomatoes, peppers, or eggplant.
Lettuce needs plenty of sun – it's heat that's the problem. Looseleaf lettuces, like salad bowl and oakleaf lettuces, are usually more heat tolerant than head lettuces. In general, lettuce prefers daytime temperatures in the 60s and 70s Fahrenheit (source). After a few days of temps in the 80s, lettuce will mature rapidly and bolt.
The most significant step to avoiding bitter lettuce is to avoid hot weather. Select the correct planting times for your lettuce, typically during the spring and fall. You want your lettuce to be able to grow in temperatures between 60 and 70 degrees.
If you are in a warmer climate year-round, this might be a bit more difficult. The best suggestion for warmer temps is to ensure that your lettuce is planted in a shady area. You can put up shade cloth to protect your lettuce as summer approaches.
I've personally had success growing lettuce hydroponically outdoors in the summer using my LettuceGrow Farmstand. I was growing in a costal 8a location in full sun running my pump pretty much all day long. I also grew warmer weather varieties.
If you miss seeing extra sap while harvesting, you'll know your lettuce is preparing to bolt when closed flower heads appear on the end of the central growing stem.
Your plant may start to grow a long stalk first, or the stalk may suddenly shoot up as the flower buds appear. By the time the flower head appears, your lettuce will already be unpleasantly bitter.
If you notice your lettuce suddenly growing taller, harvest it right away and soak the leaves in water as described above. Keep a close eye on the sap and harvest your lettuce when the weather turns warm.
Although lettuce seeds take a long time to fully mature, lettuce bolts very rapidly. I intentionally let some lettuce bolt in my Farmstand indoors. The photo was taken on December 31. Notice the white sap where some leaves were removed: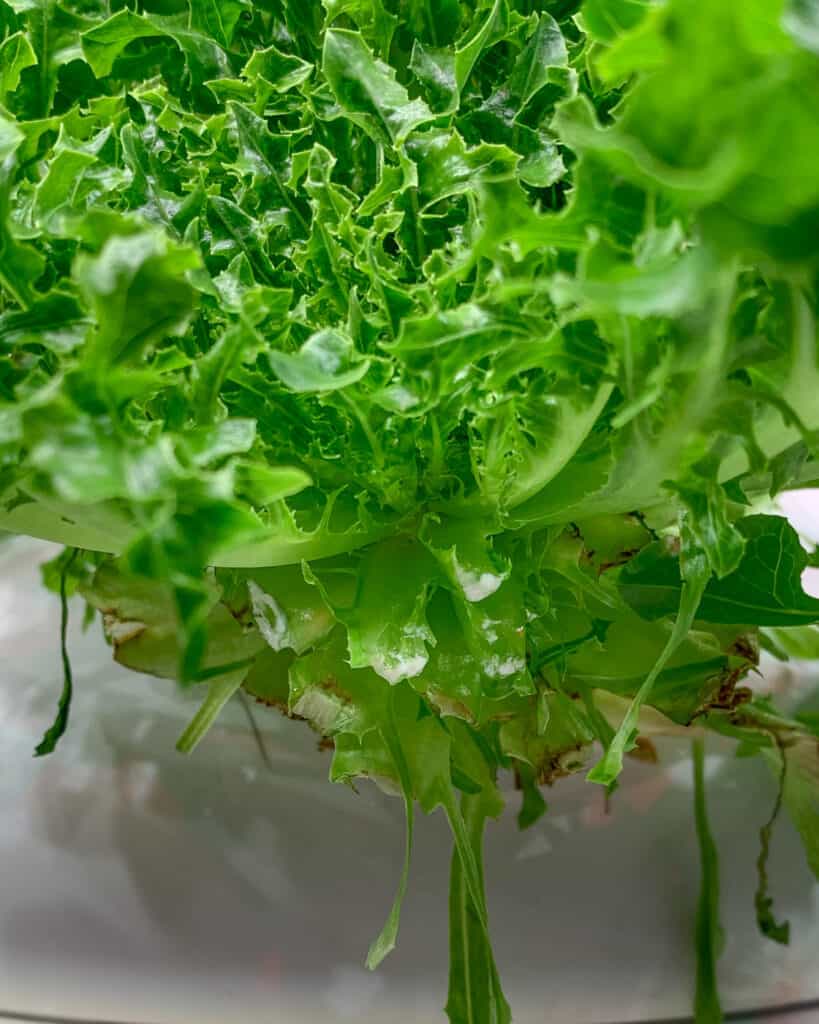 By January 4, a flower bud was forming, but the plant was still short: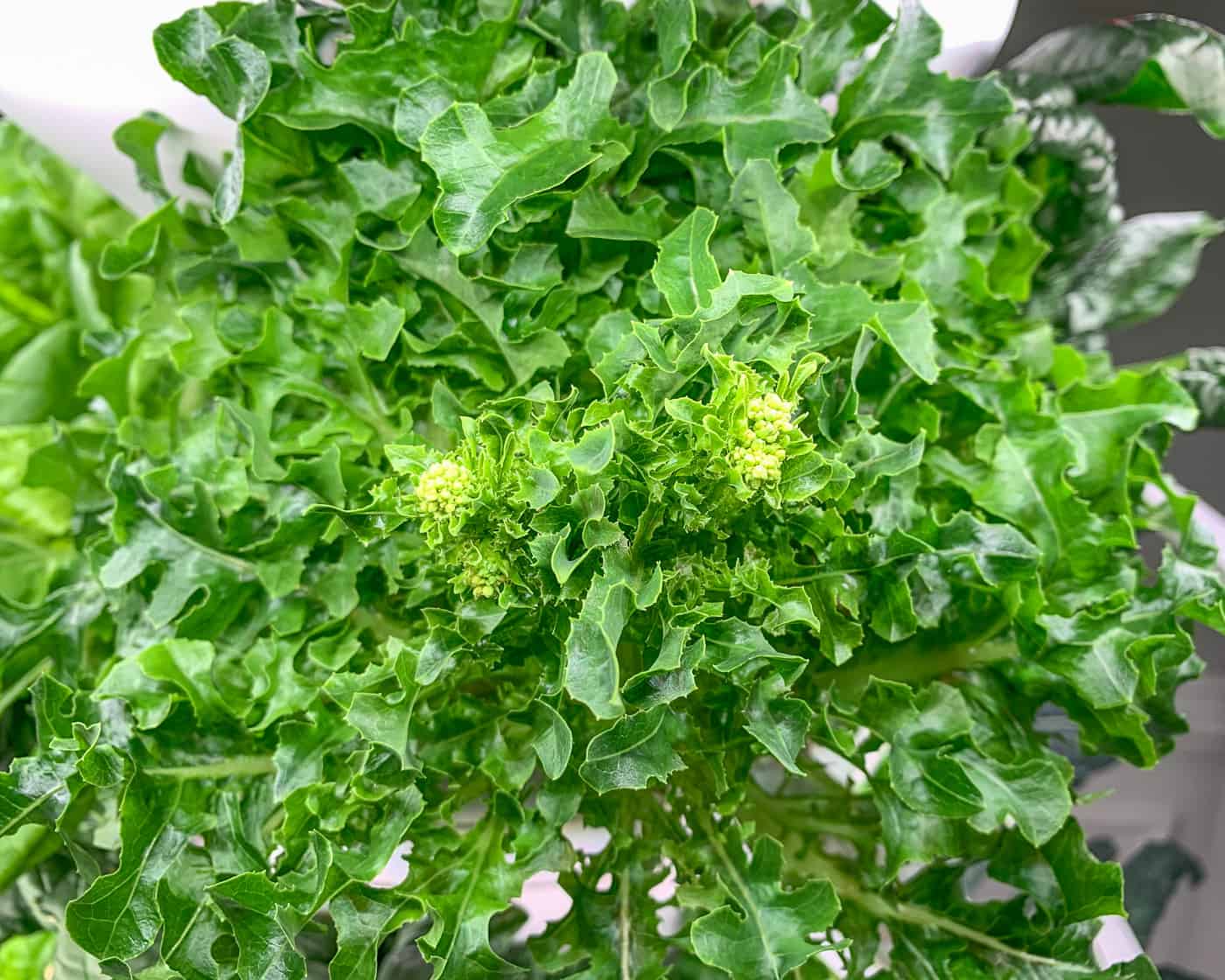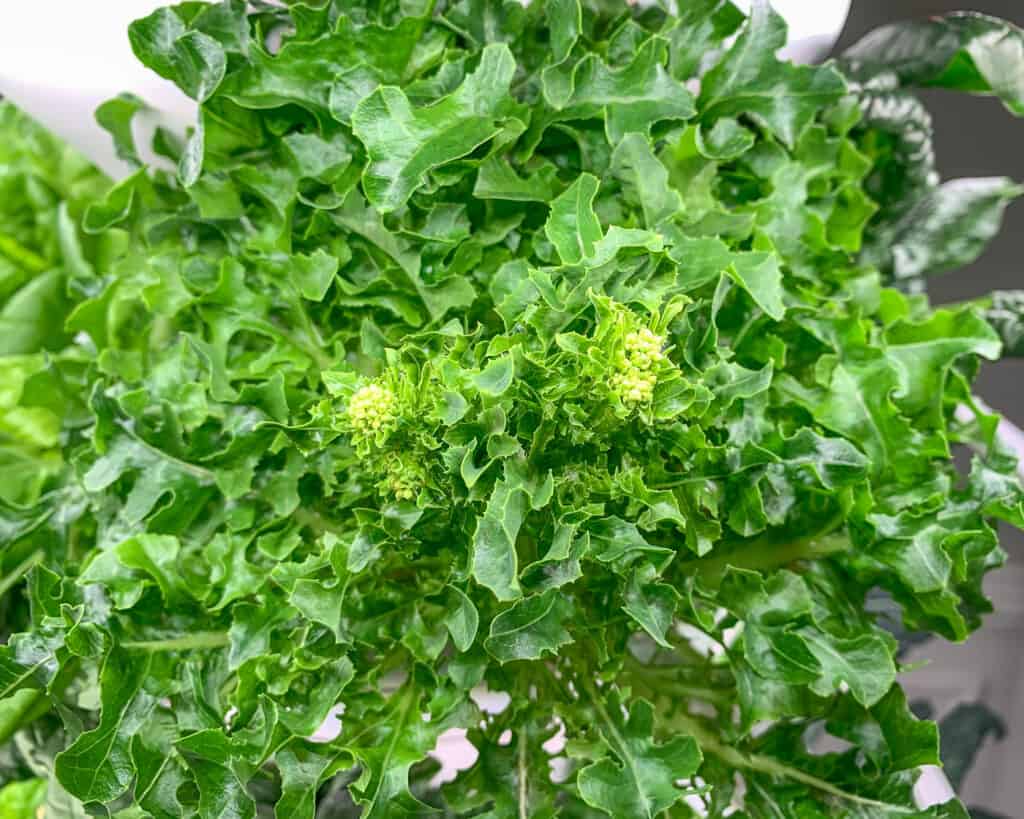 Just five days later, the lettuce was more than twice its height: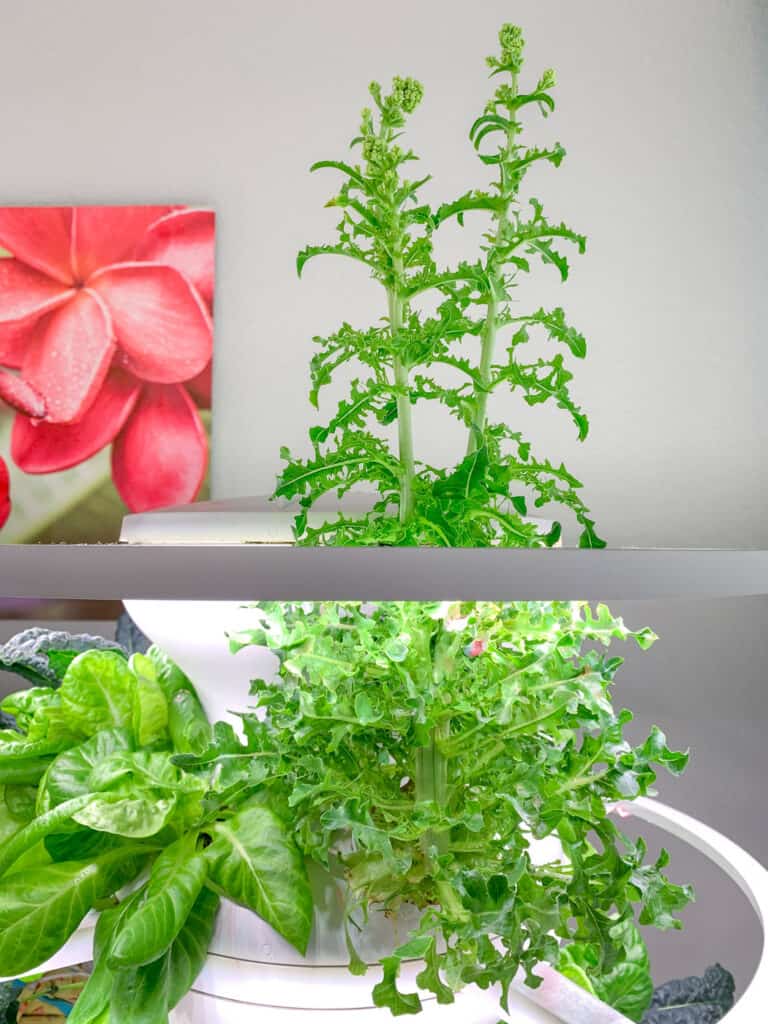 Cutting the stalk off won't keep your lettuce tasaty. Trust me, I've tried! Once the plant is ready to go to seed, there's no stopping nature. It will form new shoots and form more flower heads.
Not Enough Water
Lettuce prefers soil with good drainage, but it needs plenty of water. Lettuce is 95% water! (source) If you're overwatering or using too dense soil, you will end up with oversaturated soil that can suffocate the roots. Root rot may occur, in which case the lettuce will die.
On the other hand, it's important to keep your lettuce well-watered, especially in warmer weather. If your lettuce looks droopy, it is dehydrated. Lettuce needs consistently moist, but not soggy, conditions.
Water lettuce deeply once or twice a week, preferably with a gentle watering wand instead of blasting it with a hose nozzle. If your lettuce becomes dehydrated and stressed, it will go to seed more quickly.
The Plant is Old
Lettuce is a short-lived plant. Even under ideal growing conditions, all lettuce will eventually go to seed. Most head lettuces are ready to harvest in 6-8 weeks. I've had leaf lettuces produce for 3+ months, but that's pretty much the end of the line for most lettuces.
Once your plant is two months old, keep a careful eye on it for signs of bolting to ensure you can harvest remaining leaves before they turn bitter.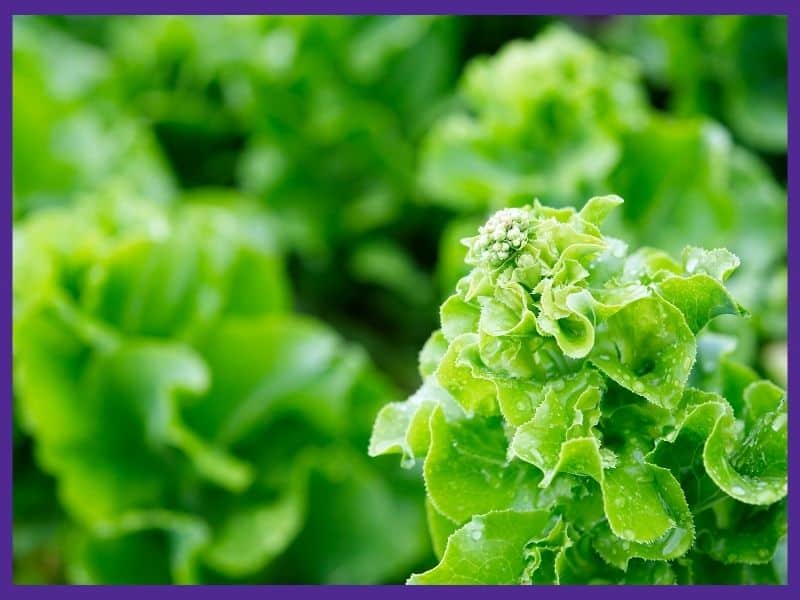 How to Avoid Bitter Lettuce
Now that you know the cause behind bitter lettuce, it's time for a solution. The good news is, there are many ways that you can avoid prematurely bitter-tasting lettuce. Here are some top tips for ensuring your lettuce comes out crisp and refreshing.
Plant in Nutrient-Rich Soil
While lettuce is relatively easy to plant and grow, you still need to be careful with the soil. The best thing to do is to make sure that your lettuce is planted in nutrient-dense soil with lots of organic matter. Organic matter will help the lettuce retain moisture and ensure that it absorbs ample nutrients for a sweet taste.
Soil with organic matter is essential for proper growth. Since lettuce needs to grow quickly, it needs moderately fertile soil. It isn't a nutrient hog like a tomato, but it needs a lot more than a lean soil loving herb like thyme. Lettuce grows quickly and needs nutrients to fuel this rapid growth.
Add compost to your soil before planting or a side dressing of worm castings. Worm castings are naturally slow-release and provide nutrients throughout the plant's life.
If you want to fertilize, I recommend an organic fertilizer like Fox Farms or Neptune's Harvest.
Use Tolerant Lettuce Varieties
Did you know that some varieties of lettuce are more heat-resistant than others? Some of the more resilient varieties of lettuce include:
Muir (I've personally grown this hydroponically in summer)
Salad bowl (This is one of my year-round favorites! It's well-suited to soil and hydroponics.)
Little gem (a great variety for containers)
Black Seeded Simpson (in my experience, this one doesn't do well in hydroponics.)
Costal Star
Adriana
Green leaf
New Red Fire (This is one of the lettuces I grew outside in summer hydroponically)
Ruby (Coral lettuce)
On the flip side, other lettuces are more cold tolerant. Consider planting heat-tolerant lettuces in the spring and cold-tolerant lettuces in the late summer and early fall.
How and When to Harvest Lettuce
How you harvest lettuce depends on the variety you're growing and your personal preferences. Some lettuces are head-type lettuces and need to be harvested completely. Many other lettuces can be partially harvested over an extended period of time.
For an extended harvest, clip off a few leaves for your salad or sandwich. I usually grow 8-12 (or more…) lettuce plants at a time and harvest a few leaves off each one on a daily basis.
Here are a few tips to make sure you're harvesting lettuce at the right time so you have delicious, crispy lettuce:
Leaves can be harvested at any time. You can harvest them when they're tiny babies or wait for them to grow larger. The choice is yours!
Make sure your plant has enough leaves remaining to continue growing. Only harvest 1/3 of the leaves, or less, at a time.
Clip lettuce leaves off near the base of the leaf. I use these Fiskar's micro-tip snips.
Do not cut the central growing stem as this can prevent further growth.
During cool temperatures, harvest can be done at any time during the day.
During warmer weather, lettuce should be harvested in the early morning.
Harvesting after rainfall is recommended, if possible, for the freshest tasting lettuce.
In hot weather, bring a bowl of cold water with you while harvesting to place the lettuce inside. This will keep the lettuce fresh.
Don't wait too long. Lettuce should be picked before or right when it reaches maturity. Old lettuce will become bitter.
If you start to see a flower stalk forming, immediately harvest the entire head of lettuce and soak the leaves in water in the fridge.
Final Thoughts
Bitter lettuce is edible but not delicious. If you're tired of munching on bitter-flavored lettuce leaves, you need to take action. Most of the time, it is an issue of heat stunting the growth and bolting the flowers. Try and avoid high temperatures and direct sunlight. Always ensure that your lettuce receives the right amount of water and nutrients, too.
Remember to harvest your lettuce early. This means early as early in the morning and early in the lettuce's maturity stages. Always drop the lettuce into a cold bowl when harvesting to ensure freshness, too. Happy growing!
Cool Weather Crops to Grow
Spring, fall, and even winter can be a fantastic time for gardening. Discover these delicious cool weather crops for your year-round vegetable garden!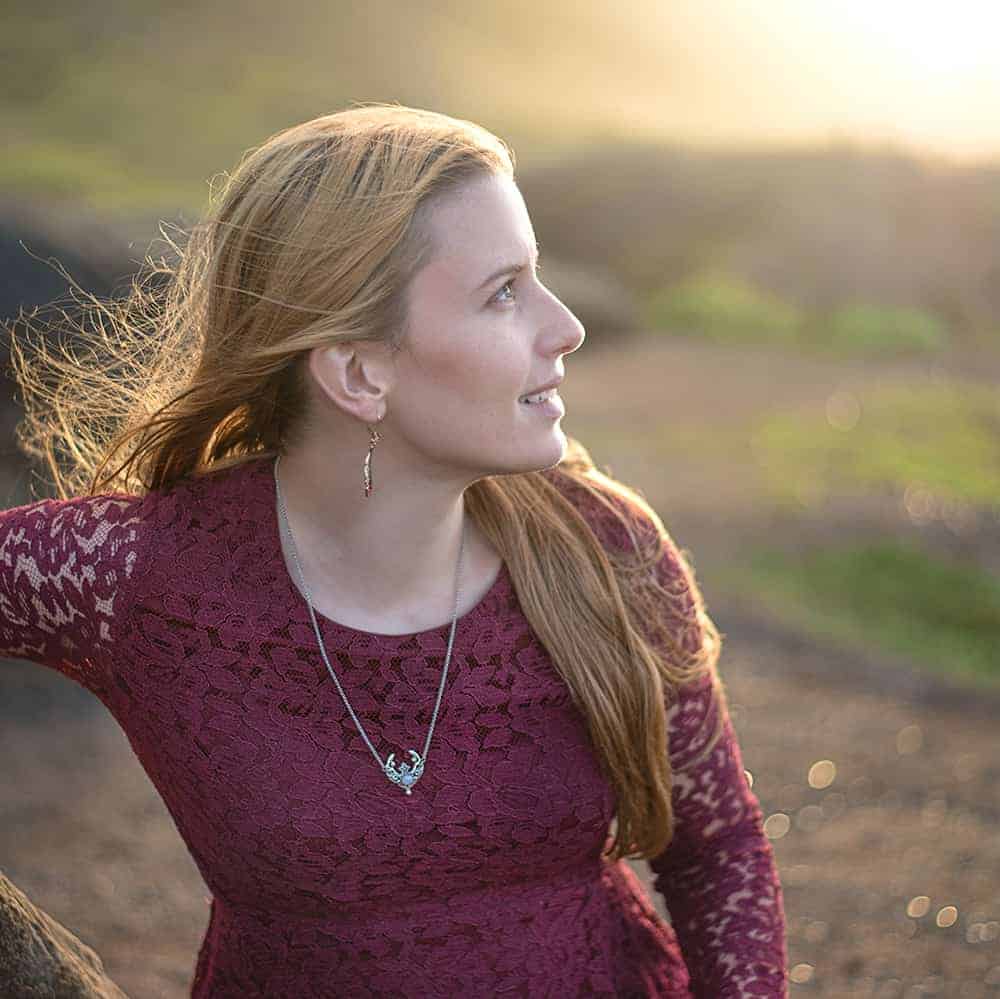 Natasha Garcia-Lopez is an avoid home-gardener and proud owner of 88 acres of land in rural West Virginia. She was a member of the Association for Living History Farms and Agricultural Museums for many years and is currently enrolled in the Oregon State University Master Gardner Short Course program so she can better assist you with your gardening questions.She holds a certificate in natural skincare from the School of Natural Skincare.