Arugula is a spicy salad green that grows best in the cool weather of spring and fall. If you're growing it in your garden, you'll want to make sure you harvest as much as you can before hot weather comes.
One of the best parts about growing arugula is that you don't have to wait long to eat it. Most varieties will be ready to pick in a month, sometimes sooner. In fact, many varieties are delicious (and more mild) when they're only three weeks old! This makes arugula one of the fastest-growing vegetables to grow for a crop in a hurry.
If you think your greens are getting close to picking time, here's what you need to know about how and when to harvest arugula (including ways to harvest arugula without killing the plant).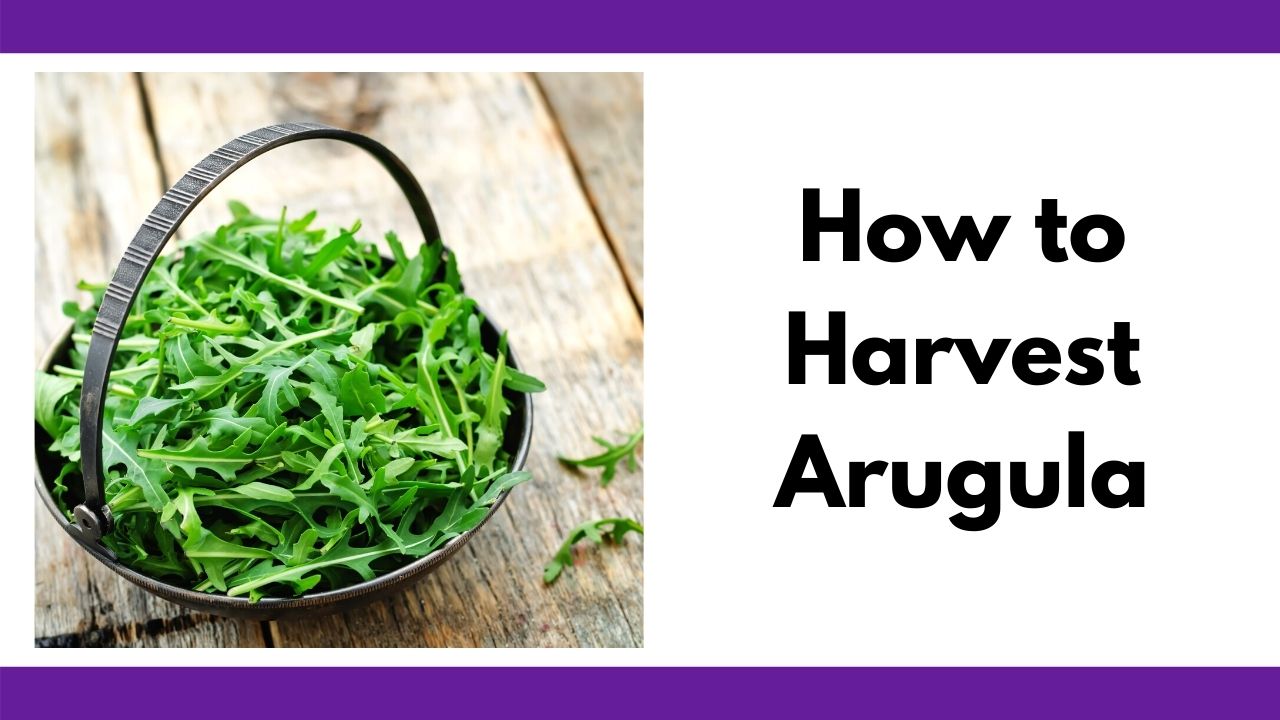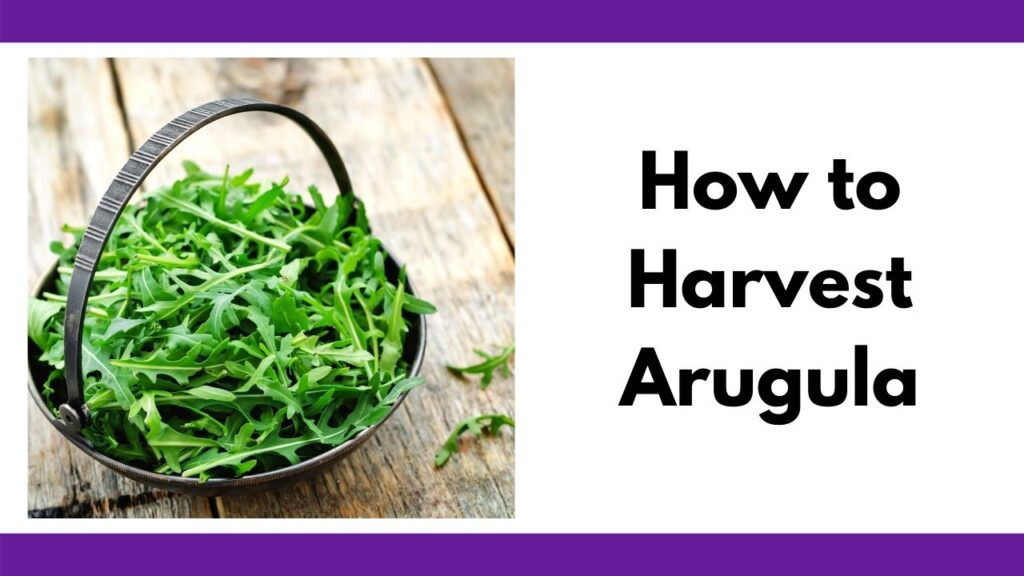 This post includes affiliate links, which means I may earn a commission on purchases made at no additional cost to you.
If you're curious about growing arugula, but don't have your plants started yet, be sure to check out this guide on how to plant and grow arugula from seed.
When to Harvest Arugula
Depending on which variety you planted, your arugula will be ready to harvest in 20-50 days after sowing it from seed. Most reach full maturity in 30-45 days, but can be harvest earlier for smaller, more mild greens. If you planted seedlings instead of seeds, they'll be ready even sooner.
There are two main stages of harvesting: baby greens and full-size leaves.
Baby Arugula: Mild and Tender
If you prefer a milder version of arugula, harvest when the leaves are small. They will be at their most tender at this stage and won't have as much spiciness or bitterness.
Baby arugula can be harvested just 3-4 weeks after being planted. You can start picking leaves as soon as they reach 2-3" in length.
If you want to harvest usable quantities of baby greens, be sure to plant your arugula thickly!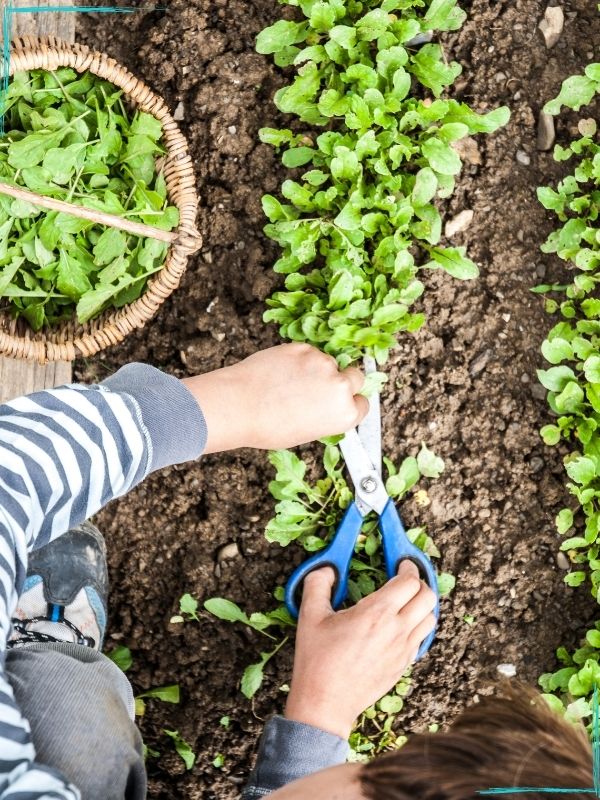 Mature Arugula: Greens with a Kick
For a much spicier bite in your salad, wait to harvest arugula leaves until they get about 6-8" long. This is usually 5 or more weeks after planting.
Larger leaves have more potent flavor, but don't let them get too big or they'll start to get tough.
Best Time of Day
Greens are always best to harvest at a cool time of day because they are quick to lose moisture and wilt after being picked. Morning is the best time to pick arugula, right after the dew has evaporated, but evening works as well.
If you can't harvest at the "right" time, just bring your greens inside as soon as possible to get them out of the sun.
How to Harvest Arugula Leaves
Arugula can be harvested as a cut-and-come-again plant, or you can wait and harvest an entire plant all at once. Here's more about each method.
How to harvest arugula without killing the plant
If you want to harvest baby arugula or keep your plants alive as long as possible, the best way to harvest is to pick individual leaves or practice "cut and come again" harvesting. The two are technically a little bit different. Let me explain:
You can harvest outer leaves first and cut or pinch them off right above the crown of the plant (as close to the ground as possible). You can take a handful or two of leaves from each plant, depending on how big the plants are, but always leave ⅓-½ of each plant intact.
Consistently harvesting from your plants actually encourages new growth, so pick leaves regularly. Anytime you do a large harvest, give your plants a few days to a week to recover.
If you have a longer growing season (for example, if you live somewhere with mild summers or mild winters), you can delay flowering by practicing cut and come again harvesting.
Instead of plucking off individual leaves, actually cut the top portion off of the plant. Leave several inches of plant behind, but go ahead and cut the main stem and the young leaves attached to it. With many plants, you don't want to cut off more than 1/3 of the plant at a time. Arugula is a vigorous grower, so you only need to leave a few inches with 3-4 leaves in order for it to grow back.
I use either my small garden snips or my larger clippers, depending on the size of the plant and what else I'm doing in the garden.
This video from the San Diego Seed Company gives a fantastic illustration of the difference between these two harvesting techniques. Bear in mind that arugula will grow year-round in San Diego's climate. If you have short springs that suddenly turn hot, you don't need to worry as much about extending your spring arugula harvest.
How to harvest whole arugula plants
As warm weather approaches, your plants will start to bolt, which means they send up a flower stalk and the leaves turn bitter. (Haha, okay, even more bitter.)
Before this happens, you may want to harvest the rest of your crop by simply picking whole plants out of your garden. Or if you need a lot of arugula for a recipe, you may need a bigger harvest than just picking a few leaves.
Arugula has a shallow root system, so it's not difficult to pull up plants for a big harvest. Just loosen the soil with your fingers or a garden tool and pull the plant out.
Another option is to cut off a whole plant about an inch above the soil and leave the roots behind. If you do this during cool weather, there's actually a chance your plants may regrow and give you some baby arugula leaves in a few weeks.
I've successfully used this method on plants and been pleasantly surprised to find new leaves sprouting, so it's worth giving a try in cooler weather. It's a more extreme, less surefire way of doing cut and come again. (But it works a surprisingly large amount of the time, as long as the weather cooperates.)
What to Do When Arugula Flowers
An important part of knowing how and when to harvest arugula is understanding what happens when the plants flower, which is also called bolting.
Like other cool weather crops, arugula starts to send up a flower stalk as soon as the weather gets in the high 70s or above 80°F. The exact temperature varies and depends on several factors, including the type of arugula you planted. If you have warm springs that tend to turn hot in a hurry, select a bolt-resistant variety like Slow Bolt.
Once plants start blooming, they focus their energy on the flowers, and the leaves become bitter and tough.
Regularly harvesting your arugula will delay bolting, but it's going to happen sooner or later. If you leave it in the ground long enough, it will eventually go to seed. Producing seed and creating the next generation is its goal in life!
That having been said, you can delay bolting by harvesting using cut and come again or by chopping the whole plant off, as described above. As long as the weather stays cool, you'll probably get an additional crop.
You can still eat arugula leaves after the plants have bolted, but be prepared for a lot of spice and bitterness! Another alternative is to harvest and eat the flowers, which are also edible and have their own unique peppery flavor.
Some people actually prefer arugula flowers to arugula greens, so give them a try.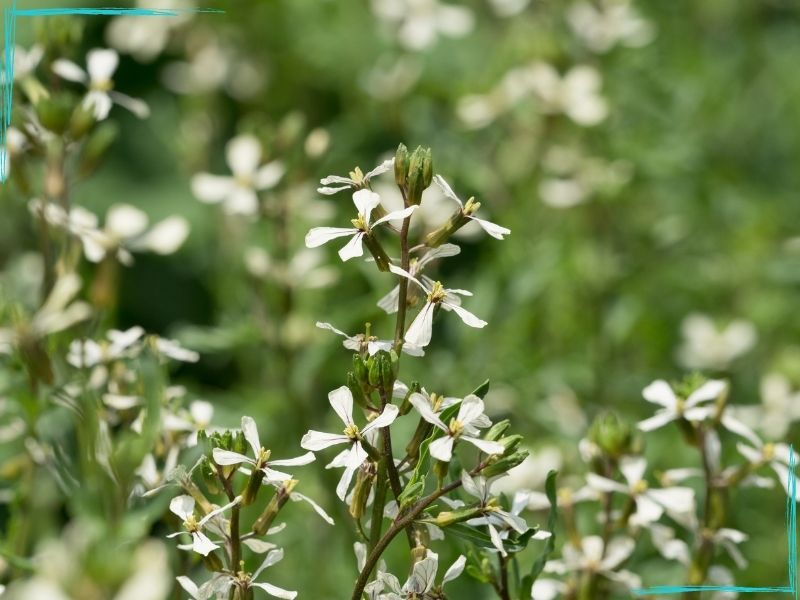 How to Store Arugula
If you can, harvest arugula right before you want to eat it for the best flavor. You can also keep it in the refrigerator short term.
To refrigerate arugula, wrap the leaves in a damp (not wet) paper towel and store them in a perforated plastic bag or one that's loosely closed. Place the greens in the crisper drawer of your refrigerator where they will keep for up to 10 days.
Although I haven't personally tried them with arugula, Debbie Meyer GreenBags are a very popular way to extend the life of produce on the counter and in the fridge.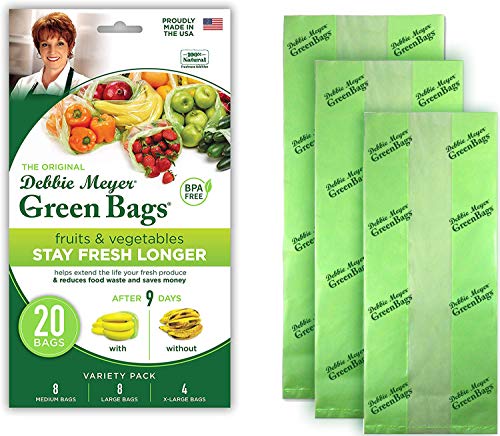 Debbie Meyer GreenBags 20-Pack (8M, 8L, 4XL) – Keeps Fruits, Vegetables,...
Debbie Meyer GreenBags extend the life of your fresh fruits, vegetables and cut flowers, reducing food waste and saving you money. Proudly made in the...
PROVEN: Independent Lab-tested, reusable bags. Proven to extend the life of fruits, vegetables and cut flowers. (Lettuce, carrots, celery, bananas,...
EFFECTIVE: Made with Debbie Meyer FoodFresh System technologies; a unique, proprietary combination of natural ingredients. BPA-free.
For longer term storage, arugula can be blanched and frozen, but it does tend to lose a lot of its flavor when treated this way.
A better way to freeze it is to make it into a pesto with olive oil and herbs like basil. You can then freeze the pesto in ice cube trays or freezer safe containers and thaw some whenever you want it.
My favorite way to make pesto ice cubes is in large silicone ice cube trays. After the cubes are fully frozen, I turn them out and place the cubs into a freezer safe container like my favorite reusable silicone bags. This frees up the ice cube trays for other uses and helps prevent freezer burn.
Enjoying Arugula
Now that you know how and when to harvest your arugula, you can enjoy it in salads or cook with it. Try it in eggs, omelets, quinoa bowls, and more. It lends a fresh and spicy flavor to any recipe you add it to.
To get the most out of your arugula, plant seeds every 2 weeks in the spring so that you can have a continuous harvest later on. And don't forget to plant seeds at the end of summer to enjoy arugula all over again in the fall!
For a complete guide on growing your own arugula, be sure to visit this post on how to plant and grow arugula from seed.
Cool Weather Crops to Grow
Spring, fall, and even winter can be a fantastic time for gardening. Discover these delicious cool weather crops for your year-round vegetable garden!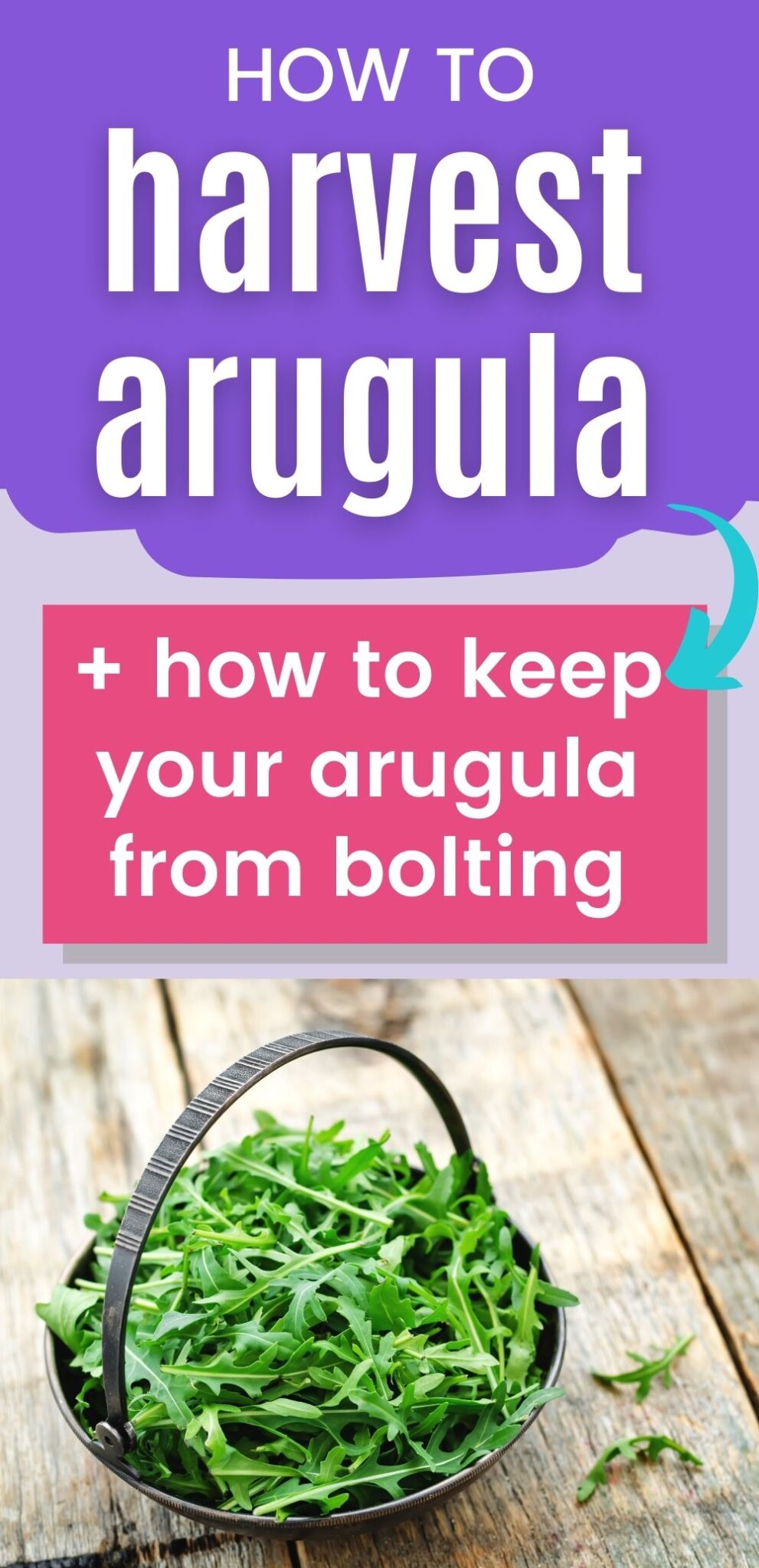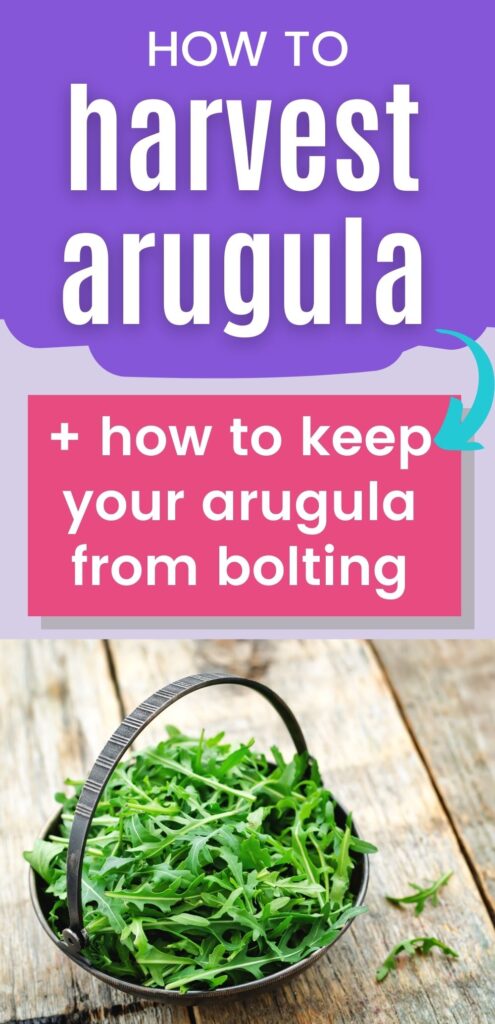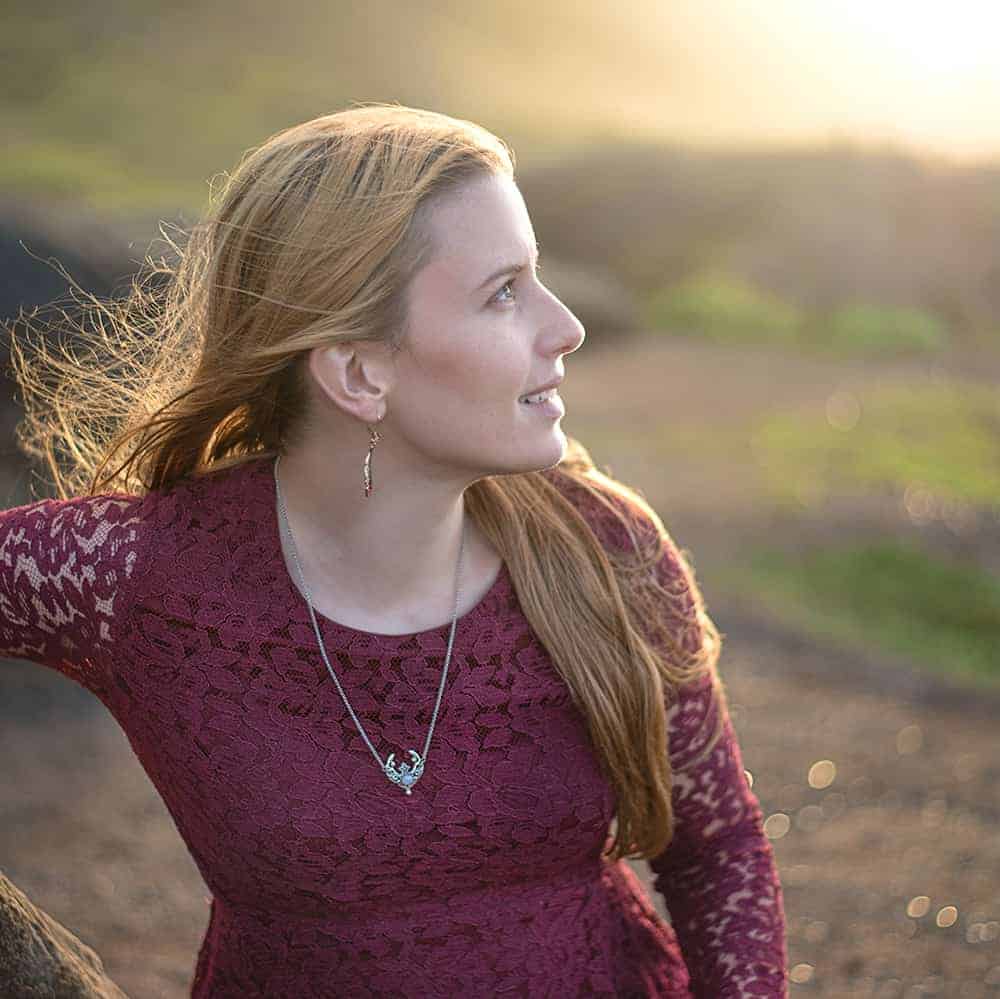 Natasha Garcia-Lopez is an avoid home-gardener and proud owner of 88 acres of land in rural West Virginia. She was a member of the Association for Living History Farms and Agricultural Museums for many years and is currently enrolled in the Oregon State University Master Gardner Short Course program so she can better assist you with your gardening questions.She holds a certificate in natural skincare from the School of Natural Skincare.