Do you ever wonder how those neighbors keep their hedges so sharp and flat? The secret is a good set of hedge trimmers. This is a tool that may seem like a surplus at first but will prove invaluable in the long run.
Sheers are just too much work to deal with and gas hedge trimmers are a noisy nuisance to operate. An electric hedge trimmer is the way to go. You simply plug it in, or insert a charged battery, and cut away. No mixing fuel, false starts, or smelly smoke.
If you want gorgeous hedges without the hassle, discover this guide to the best electric hedge trimmers.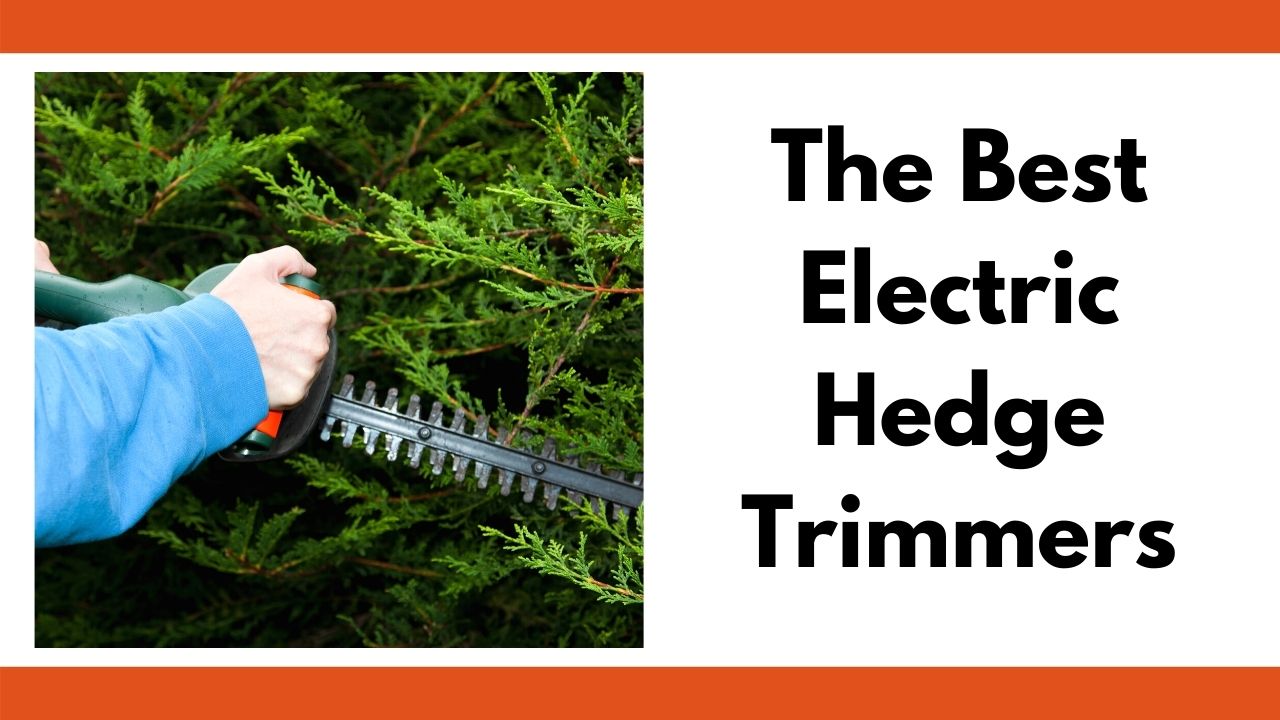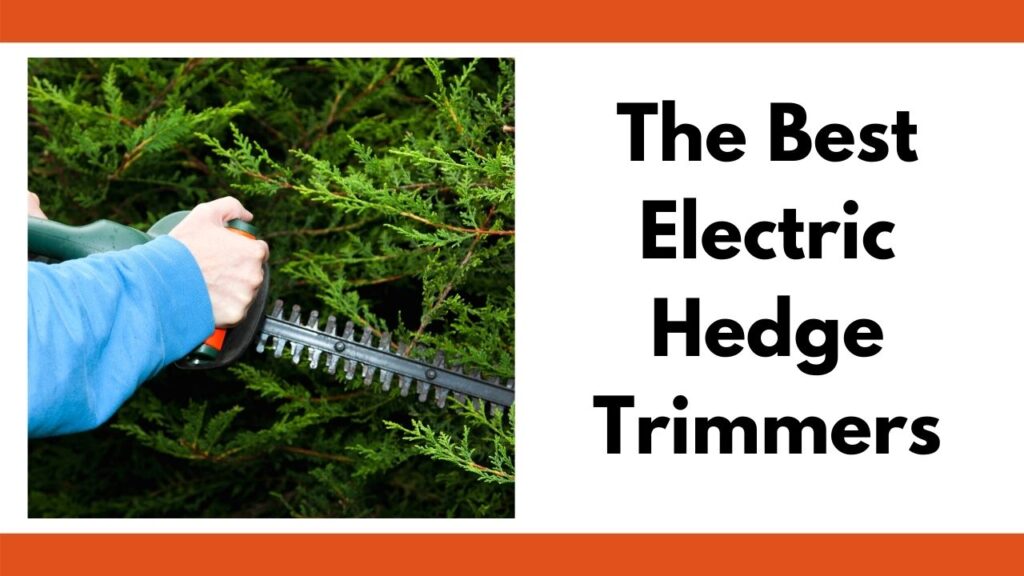 This post includes affiliate links, which means I may earn a commission on purchases made at no additional cost to you.
In a rush? Here are our top picks.
Why you need an electric hedge trimmer
With an electric hedge trimmer, there's no hassle of mixing fuel, toxic fumes, annoyed failed attempts to start the motor, or worries about spilling gas on yourself. And, of course, electric motors are far more quiet.
Simply plug your trimmer in (or insert the battery), and start trimming your hedges without joining a long list of callers vying for your handyman's post-storm attention.
Selecting power tools can be intimidating, and getting the wrong hedge trimmer for the job is frustrating. That's why we're here to help with these electric hedge trimmer reviews and a buyer's guide so you have the knowledge and confidence to select the best electric hedge trimmer for your needs.
Electric hedge trimmer reviews
A WORX battery hedge trimmer is the only one you'll ever need. It has a well thought out design which allows you to get your hedges trimmed without exhausting you or leaving you smelling like oil and gas.
The D shaped handle allows you to use the trimmer at any angle for vertical, horizontal, and anything in between. The design is also made to reduce vibration so you are not dead tired after using it.
Its lightweight construction also keeps you from giving up. It's not just you – all yard work makes pounds multiply minute by minute. You'll be thankful this hedge trimmer is so light at only 5.5 pounds.
You might think this tool is too good to be true for the bargain price offered. I would like to refer you to some customers who find that WORX tools are as durable as they claim: "I've had a numI'm 68 and don't love doing outdoor work, but this was pretty easy since it's lightweight. When I finished, I was very happy I didn't pay someone to do my hedge trimming.ber of these power share products for years including the trimmer and blower. They have all held up and got the job done." Read the full review here.
If you'd like something larger you can try the 24inch 40V version with more umph.
Another great features is that batteries are compatible with other WORX tools. This saves you space and money because you can use the same charger and set of batteries for everything. Be sure to check out the rest of WORX's tool inventory.
---
The DEWALT 20V Cordless Hedge Trimmer is a great tool to add to your shed. It is a highly trusted brand which has withstood the test of time. DEWALT's tools are solely focused on electric tools and they deliver nothing but quality with their brushless motors.
This hedge trimmer sports a 22 inch cutting bar and can cut up to 3/4 inch branches.
This hedge trimmer seems very similar to other hedge trimmers with the 3/4 inch branch cutting standard but there are customers who've been pleasantly surprised by this hedge trimmer like this customer, "Right out of the package this thing was ready to go. Add charged battery, remove blade cover, annihilate blackberry bushes. It easily cut through the very tough runners, some over 3/4″ thick. Then it was just a matter of raking up the debris and throwing it on the burn pile." Read the full review here.
DEWALT DCHT820B Hedge Trimmer
Powerful high output motor of the cordless hedge trimmer is designed for cuts up to 3/4-inch thick
The battery powered hedge trimmer has 22-inch laser cut, hooked-tooth blade design
Trimmers for plants have a compact and lightweight design
If you haven't used a Dewalt cordless tool before, you may encounter a problem with charging your battery. You'll pop it on the charger, see the light come on, come back a few hours later to use your tool, and…your battery hasn't charged?!
Dewalt battery chargers can light up when you place the battery in the cradle, but you have to press the battery firmly in place until you feel/hear a click in order for the battery to actually charge. Here's a video Natasha made demonstrating what to do if your Dewalt battery isn't charging:
---
The Greenworks Pro cordless hedge trimmer is a a heavy-duty tool to rival a gas trimmer's performance. This is a hefty electric hedge trimmer that sports an 80V battery. As most other trimmers use 20V batteries, this trimmer will last longer and deliver more power meaning thicker brush you can cut.
However, the larger battery does mean extra weight weight. This model weighs in at 11.23 pounds. To make up for that, the ergonomics of the tool are well designed.
Greenworks understands you need to cut vertically and horizontally and sometimes your hands don't bend that way. To make up for the weight, the rear handle rotates to allow easy transition from horizontal to vertical cutting.
This tool has an outstanding warranty. The tool comes with a 4 year warranty and a 2 year battery warranty.
This is also one of the longest hedge trimmers around so your hedges can be extra straight instead of wavy or with mohawks down the middle.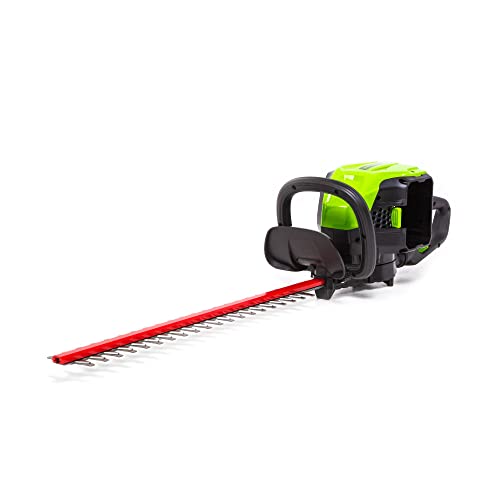 ---
The Craftsman battery hedge trimmer is a tool to be proud of having. It will certainly cut hedges but it is so much more. In fact it keeps going where other hedge trimmers stop. Craftsman is a classic brand with a solid reputation. If you're ever unsure of what to buy, you can trust Craftsman to deliver a good tool at a good price.
The Craftsman hedge trimmer cuts branches up to 1-1/2 inches thick. It does this by having a different cutting blade and stationary L-Shape tip which helps you brace a branch while cutting. Using any other hedge trimmer would lead to severe vibration of the branch and not much cutting. The Craftsman hedge trimmer braces and cuts branches with ease.
Another great feature is the built in hanger. This is compatible with Craftman's VersaTrack wall hanging system.
Be sure to check out Craftman's yard tool lineup here.
Milkwaukee M18 FUEL Battery Powered Hedge Trimmer
Milwaukee is a great brand for any sort of power tool, hedge trimmers are no exception. This electric hedge trimmer is powered by a powerful 18V battery which allows for 2 hours of run time per charge.
This hedge trimmer is definitely a workaholic, it can cut branches up to 3/4 inches thick. The comfortable holding position also allows you to effectively shear off large areas of branches at a time with its 24 inch cutting blade length.
There are plenty of happy customers but check it out for yourself, this customer made the switch from gas to electric and couldn't be happier, here is his review, "Battery powered is the way to go, and the Milwaukee is amazing! All the power and cutting capacity of my gassers without the noise or stink. Plus they're much lighter and better balanced."
---
The Toro corded hedge trimmer is a basic trimmer, but it's lightweight and easy to use without extra batteries and accessories.. The cord is obviously a nuisance but that means this trimmer is super lightweight.
This trimmer is highly reliable, straight out of the box you can put it to work. Check out this customer's review here who literally used her trimmer for 9 hours straight! "worked 9 hours straight! Cut all the shrubs and small trees here at my lake house. Trees and shrubs here are like on steroids! Thick branches, almost 3/4 inch and it still cut through. A+++++++ Would recommend to anyone in need of a trimmer."
Weight is a serious consideration you must give to this type of tool because all of the weight is literally on your hands. At just 6.5 pounds, the Toro corded hedge trimmer is among the lightest hedge trimmers making it easy to maneuver and use.
Another plus for this trimmer is the low price point. Hedge trimmers are not an often used tool and therefore it is understandable to not want to spend too much money on it.
Sale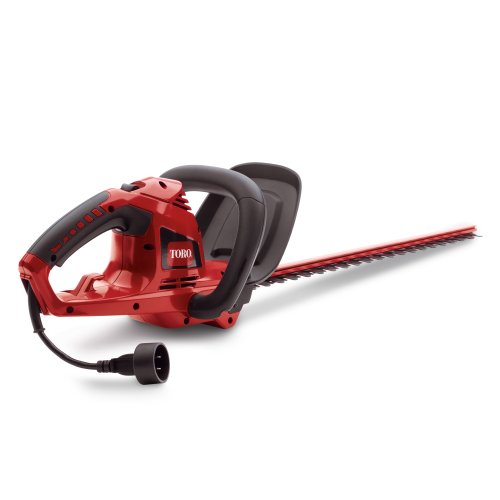 The SunJoe corded hedge trimmer is by far the simplest, and least expensive, hedge trimmer on this list.
There are some legitimate complaints about this model. For example one customer says that the blades are too dull to remove thin shrubs, "It's not lacking for power and can muscle its way through rigid, bark-covered branches. It's the softer, leafier outer branches where this fails utterly as it's too dull to get through and mostly winds up just nicking the branch as it pushes it out of the way, uncut." Check out the full review here.
This is the cheapest hedge trimmer we reviewed which makes it great for strict budgets or if you are on the fence of even getting a hedge trimmer. The lightweight is also a plus. At just 5 pounds, it is hard to argue that it is not easy to use.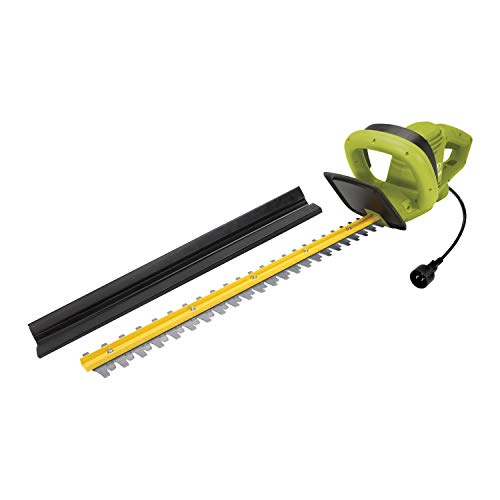 Hedge Trimmer Buyer's Guide
Are you confused about all the features hedge trimmers boast of? And what's the big deal about the cutting length, anyway?
This guide demystifies hedge trimmer styles and features and lets you know about important safety considerations you need to make while using any hedge trimmer.
Corded vs Cordless hedge trimmers
Cordless (battery) electric hedge trimmers
Battery operated tools are obviously way more portable than a corded tool.
The drawbacks are also quite well known: the battery life. But that may have been a thing of the past. Today's batteries are reaching working times of over 2 hours, yes, even on a chainsaw. That is comparable to a gas trimmer which will run for just about the same time on a full tank of gas.
The other considerations for battery operated hedge trimmers is the weight. Some hedge trimmers weigh upwards of 10 pounds. The corded trimmers can weigh as little as 5 pounds. Make sure you are well rested and capable of handling the weight of the trimmer.
Corded electric hedge trimmers
The first thing to consider for electric hedge trimmers is accessibility. Will you be able to get the hedge trimmer to your shrub of choice? Are there outlets at least somewhat near by? Do you own a sufficiently long and powerful extension cord?
Most respectable corded electric hedge trimmers draw 3.5 amps of current, meaning a mid-grade extension cord is a good idea. Here's an example of what type of extension cord you'll need, 12/3 Heavy Duty Outdoor Extension Cord.
Maneuverability is a completely different story. Hedge trimming is inherently dangerous work. When you start cutting off material from a shrub it doesn't go very far but if you manage to cut some large section which causes the shrub to shift its weight you'll need to quickly get out of the way. A corded electric hedge trimmer may not offer that speed because of your tether, the electrical cord.
Safety Note: Please be conscientious of where you place the electrical cord. Cutting into your own extension cord makes for a bad day.
Another benefit of a corded electrical hedge trimmer is that you can work for as long as you'd like. Some customers work for 9 hours straight without a break. A battery operated hedge trimmer does not have that sort of endurance.
Trimmer Length
The size of your hedge trimmer doesn't matter. Most hedge trimmers have a length of about 22 inches. This is more than enough for trimming even the largest of hedges.
If you manage to miss a few leaves or small branches on the first pass just circle back and get those on your second attempt while being as level as possible to not mangle the shape of the shrub too bad.
Electric hedge trimmer safety considerations
Always remember that electric hedge trimmers are still power tools. We recommend wearing appropriate PPE whenever you use a hedge trimmer.
At the very least, wear eye protection and hearing protection. I use molded Dewalt face goggles while hedge trimming to make sure stray wood chips or small branches don't get in my eyes.
You may also want to wear cut resistant gloves, chaps, and/or a face shield. High quality gloves are a great idea too. You may be dealing with sharp stabbing branches. See our in-depth review of the best cut resistant gloves.
Yard Tool Reviews
Are you sick of your old, broken down lawn tools from a yard sale 10 years ago? Discover these yard tool reviews so you can save time and backaches on yard work day with a new, modern tool.
Angel is a Cuban immigrant who grew up with backyard chickens and a yard-loving abuela. He is our "gear guy" who can never have too many pairs of gloves or weed whacker attachments.