Are you tired of pruning your trees by hand? Of having to wait three weeks for a handyman to return your calls every time a branch falls down in your yard?
You need an electric chainsaw!
With an electric chainsaw, there's no hassle of mixing fuel, toxic fumes, annoyed failed attempts to start the motor, or worries about spilling gas on yourself.
Simply plug your saw in (or insert the battery), and start trimming your trees, shrubs, and deadfall from storms without joining a long list of callers vying for your handyman's post-storm attention.
Selecting power tools can be intimidating, and getting the wrong saw for the job is frustrating. That's why we're here to help with these electric chainsaw reviews and a buyer's guide so you have the knowledge and confidence to select the best electric chainsaw for your needs.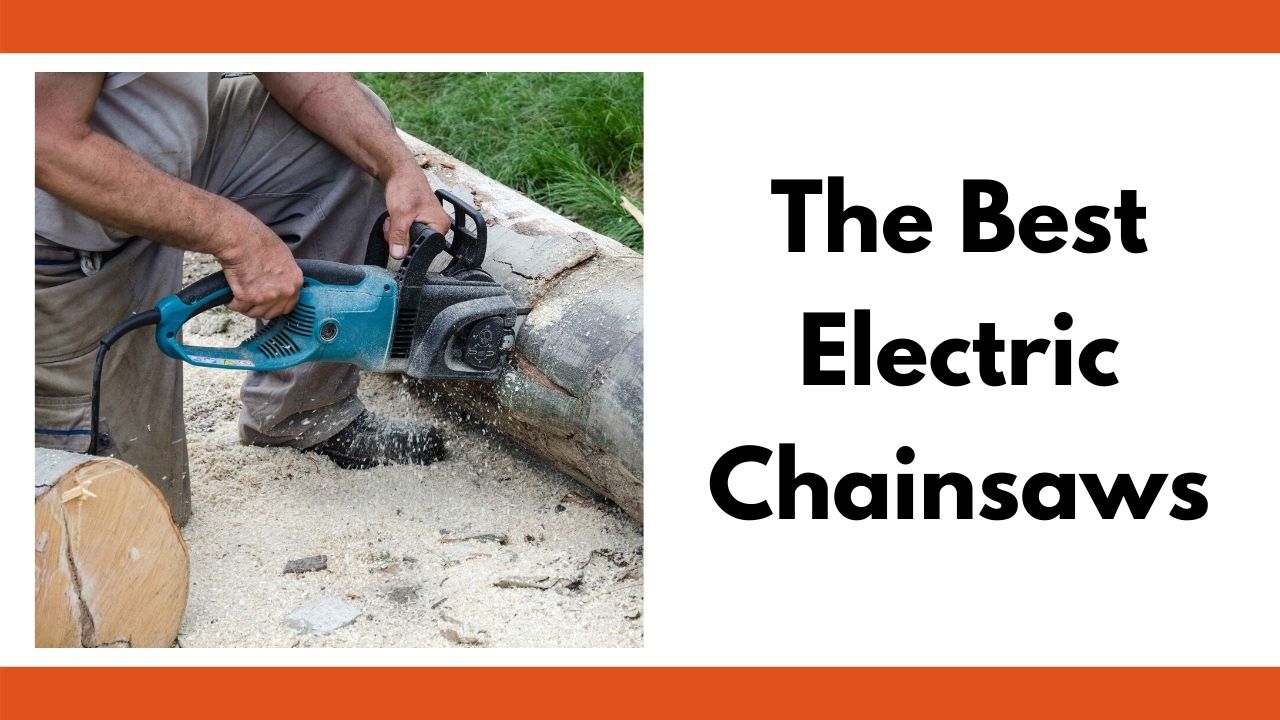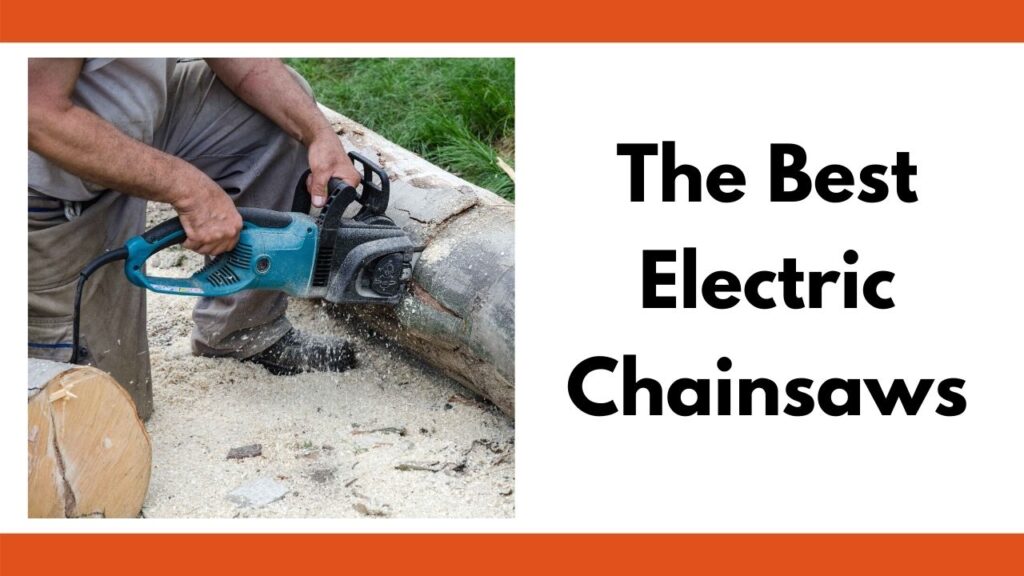 This post includes affiliate links, which means I may earn a commission on purchases made at no additional cost to you.
In a hurry? Here are our top picks:
Best Corded
WORX WG303.1 14.5 Amp 16" Electric Chainsaw
Self Sharpening
Oregon CS1500 18-inch 15 Amp Self-Sharpening Corded Electric Chainsaw, with...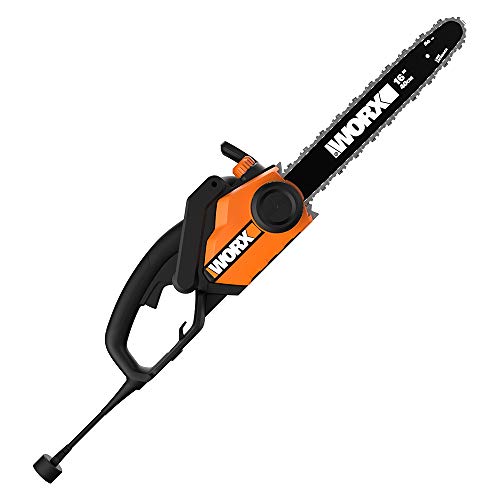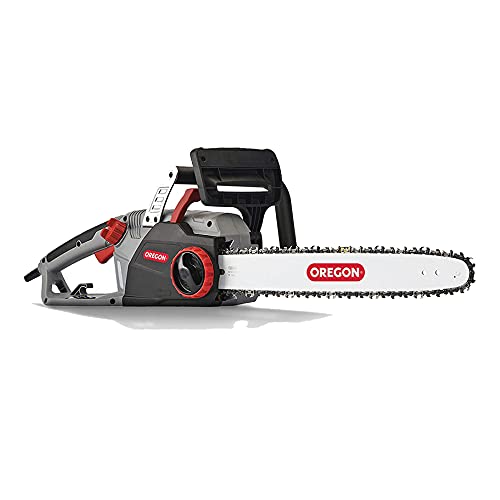 Best Corded
WORX WG303.1 14.5 Amp 16" Electric Chainsaw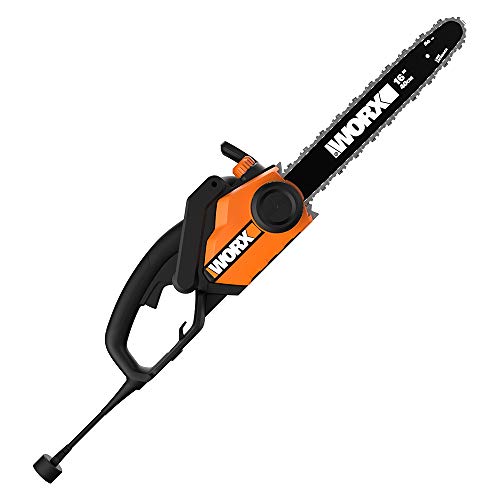 Self Sharpening
Oregon CS1500 18-inch 15 Amp Self-Sharpening Corded Electric Chainsaw, with...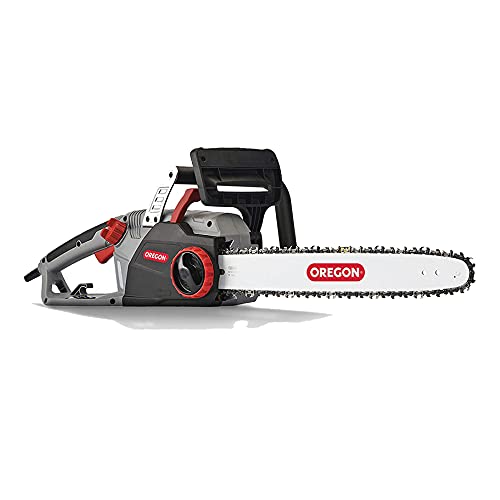 Benefits of an electric chainsaw
The greatest benefit of electric chainsaws is their lack of fumes and emissions.
You also don't have to deal with adding gasoline, spend time driving to that gas station across town that sells ethanol-free fuel, or worry about adding the correct oil for your mixed fuel.
You'll still need to add bar and chain oil to your electric chainsaw but you won't have to worry about the mixed fuel thing.
By far the best part of these chainsaws is starting them. I have personally spent as much time starting my gas chainsaw as I have using it. Electric chainsaws start on demand. Plug them in and they are ready to go. Plus they are super quiet when not being used, because there is no combustion engine running on idle.
This guide provides some topics you may not have considered before when looking at electric chainsaws, I hope it brings value to your shopping experience.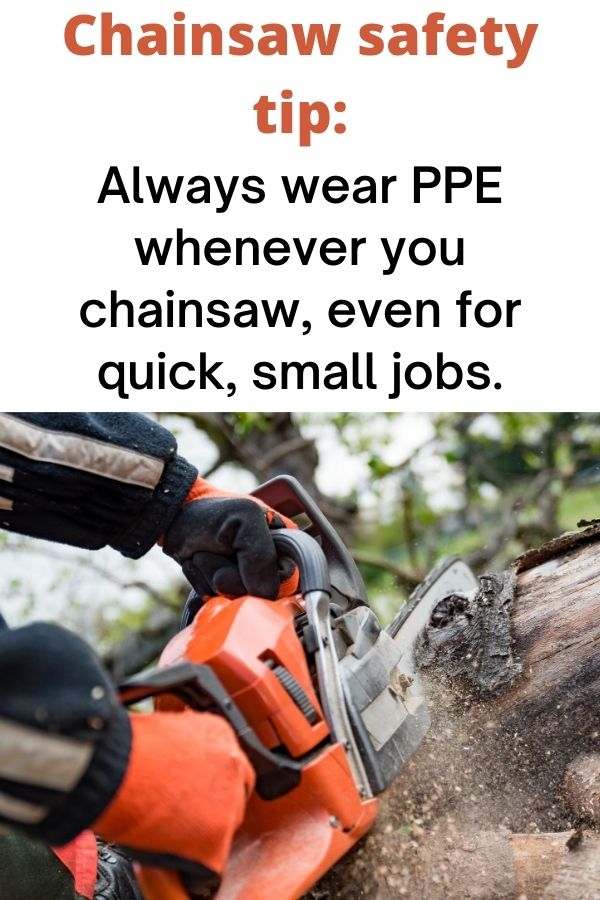 The best electric chainsaws
Here are the best electric chainsaws available on the market today.
Greenworks has a great range of cordless chainsaws to suit all of your needs. The 16 inch 40V Cordless Chainsaw is our top choice from this lineup. It is all the chainsaw you will need: anything larger than that and you should probably call a professional timbering company.
The 18 inch 80V Cordless Chainsaw is pretty awesome. It's the most powerful chainsaw Greenworks has to offer. However, this comes at a price. At 15 pounds, this machine weighs more than a comparable 48 cc gas chainsaw. However, the Greenworks 16-inch 40V Cordless Chainsaw only weighs 10.36 lbs.
The 10 inch 24V Cordless Chainsaw is great for small jobs like pruning your hedges and dwarf trees. It's price also less than half of the 16 inch Cordless Chainsaw making it a very attractive product. If this is your first chainsaw, you will not be disappointed.
All of these run super quiet and obviously have no emissions. Many customers are highly pleased with these chainsaws. The 16 inch Cordless Chainsaw has an incredible 72% 5-star ratings at the time of writing. Not to mention they all feature a tool-less chain tension system for easy adjustment on the job.
---
The Corded Oregon 18-inch Chainsaw is a power tool to be reckoned with. It is a very well balanced large chainsaw weighing 12.60 pounds, only slightly heavier than competing gas chainsaws such as the Husqvarna 16 inch 120 Mark II Gas Chainsaw.
This chainsaw is a time saver. One of my biggest fears of chainsawing is not knowing whether my chain in is fully sharpened. This chainsaw features a built in self-sharpening mechanism that allows you to sharpen your cutting elements in just 3 seconds.
Keep in mind that this feature has its drawbacks. To make this feature work, OREGON has mounted a chain which allows for it to be sharpened by simply pushing a honing stone up to it. The cutting elements are completely different from a typical saw chain. The best way to describe is it is more of a scraping action than a scooping action. This means the chain is less effective at cutting so your sawing jobs may take longer.
If you are really curious, check out the Oregon CS1500 Chain.
This is one of the less expensive 18-inch chainsaws on the market but it does not mean it is low quality. The low price is because it's a plug-in chainsaw (high powered batteries are expensive!).
Overall, the Oregon Corded 18-inch Chain Saw holds it's own for use around your yard. The only drawback is that you are restricted by the length of your extension cord.
DEWALT electric chainsaws come in various sizes. The two available now are the 12 inch and 16 inch bar length versions. These are two very capable chainsaws.
The 12 inch chainsaw claims to cut up to 90 4x4s before needing another battery. That is an impressive amount of cutting especially on such a demanding job like chain sawing. It also comes in at a light 9 pounds of weight which won't wear you out too hard.
The 16 inch version is a bit more powerful but it also requires DEWALT's special 60V FLEX VOLT batteries. This chainsaw claims up to 70 cuts on a pressure treated 6×6.
Both of these chainsaws are self lubricating but do remember to put oil in the reservoir. These are very high performing electric chainsaws. You will not be disappointed with either of these selections.
If you haven't used a Dewalt cordless tool before, you may encounter a problem with charging your battery.
Dewalt battery chargers can light up when you place the battery in the cradle, but you have to press the battery firmly in place until you feel/hear a click before the battery will actually charge. Here's a video Natasha made demonstrating what to do if your Dewalt battery isn't charging:
Batteries are compatible with all other Worx yard equipment like the Hedge Trimmer or this awesome Jaw Saw. Having compatible batteries for power tools saves you time, money, and clutter.
This is a fairly well regarded battery operated chainsaw. With 79% 5-star ratings and only 8% 1-star ratings, which makes it more favorably rated than many electric chainsaws.
This saw comes in at 11 lbs, similar to lightest chainsaw we reviewed from Greenworks.
The price point of this chainsaw is middle of the road and it's a solid buy. This is a great chainsaw selection for your toolshed.
It's hard to beat the super low price point of the Worx Corded 14-inch Electric Chainsaw. The 16-inch version is a good buy for a chainsaw of its size.
You will love the weight of a corded chainsaw. They are by far the lightest chainsaws available.
After a while of cutting wood, you will be grateful for your lightweight chainsaw. The weights on these saws are 7.94 for the 14-inch and 11 lbs for the 16-inch chainsaw. This may not seem like something to be super excited about but trust me, this is a big deal. Your neck, back, and arms will thank you if you pick a lightweight chainsaw!
These chainsaws both have an auto oiling system and a tool less tension system.
Overall, the Worx Corded 14-inch Electric Chainsaw is our favorite corded chainsaw.
As seen on our other post about the best electric pole saws, Sun Joe is not a well known brand to many but it delivers a quality product.
This chainsaw has everything you can want in an electric chainsaw, it is quiet, has a long bar (14.5 inches), and a tool-less auto tension system.
Though this chainsaw is well regarded by many, it is not our favorite for a couple of reasons. It costs a bit more than some others on this list because it is battery operated and has a powerful 600 W motor that just eats through any wood.
This is also one of the heavier battery operated chainsaws weighing in at 12.8 lbs. Most other battery operated chainsaws are around the 10 lbs region, so this one has really packed on the weight.
Electric chainsaw buyer's guide
The correct saw for you and your situation may not be the same as someone else's best pick chainsaw, so make sure to read over this guide to electric chainsaws
Corded vs Cordless chainsaws
CORDLESS (BATTERY) ELECTRIC CHAINSAWS
Battery operated tools are obviously way more portable than a corded tool.
The drawbacks are also quite well known: the battery life. But that may have been a thing of the past. Today's batteries are reaching working times of over 2 hours, yes, even on a chainsaw. That is comparable to a gas chainsaw which will run for just about the same time on a full tank of gas.
The other considerations for battery operated chainsaws is the weight. These chainsaws weigh upwards of 10 pounds. The corded chainsaws can weigh as little as 6 pounds. Not a huge difference but fatigue with a chainsaw is very dangerous. Make sure you are well rested and capable of handling the weight of the chainsaw.
CORDED ELECTRIC CHAIN SAWS
The first thing to consider for electric chain saws is accessibility. Will you be able to get the chain saw to your tree of choice?
Most respectable corded electric chainsaws draw 12 amps of current, meaning a sturdy extension cord is a good idea. Here's an example of what type of extension cord you'll need, 12/3 Heavy Duty Outdoor Extension Cord.
Maneuverability is a completely different story. Chainsawing is inherently dangerous work. When you start cutting off material from a big tree which has made its claim on this earth, you introduce a whole new set of stresses into the tree. Sometimes those stresses react in a very predictable way, sometimes they require you to quickly get out of the way. A corded electric chain saw may not offer that speed because of your tether, the electrical cord.
A corded electrical chainsaw is best for stationary material like cutting logs which have already been felled or smaller logs trees which won't go very far when they fall. I do not recommend going off into the woods to take down that big oak tree your grandparents used to complain about blocking the view.
Safety Note: Please be conscientious of where you place the electrical cord. Chainsawing your own extension cord makes for a bad day.
Another benefit of a corded electrical chainsaw is that you can work for as long as you'd like, given that you have sufficient chain lube oil. This means you can afford to cut smaller pieces and safely maneuver your saw and extension cord safely around your yard to avoid the falling limbs.
Self-sharpening chainsaws
Some electric chainsaws have a self sharpening feature, such as Oregon's CS1500 Corded Electric Chainsaw.
This requires a special type of saw chain. Conventional chainsaw cutting elements look like scoops. A self sharpening chain is more like a scraping action to cut the wood. The shape is drastically different for the self sharpening feature to work. This is less efficient for cutting but saves you the time and effort of sharpening your chainsaw.
Sale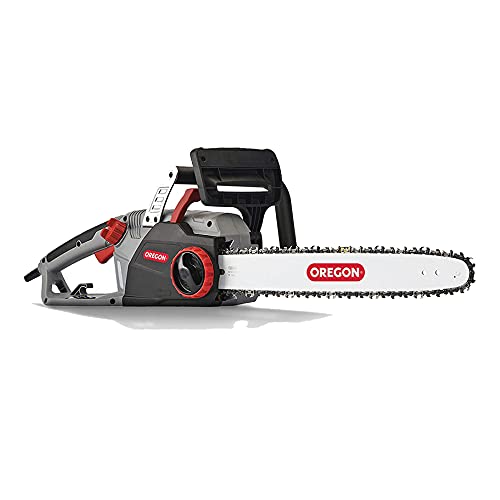 Oregon CS1500 18-inch 15 Amp Self-Sharpening Corded Electric Chainsaw, with...
Powerful performance: 15A electric chainsaw with integrated PowerSharp self-sharpening system. The perfect chainsaw for homeowners and DIY, with a...
Built-in PowerSharp self-sharpening system minimizes downtime by sharpening your chain in 3 to 5 seconds. Ergonomic design features Chain Brake for...
Tensioning without tools: Allows you to adjust your chain quickly and easily so that you can maintain the perfect tension for the ideal cut with next...
The importance of cutting bar length
The size of your chainsaw does matter. This will make or break your landscaping job. Just because the cutting bar length says 12″ doesn't mean you can cut a 12″ diameter tree. After you factor in the nose guard and the front end clearance, your cutting size may only be 8-10″.
Our recommendation is to go with a minimum of a 14″ cutting bar length for trees. Most trees which amateurs are willing to tackle are manageable with this size chainsaw, over that size and you should probably call a professional.
On the flip side, it's important not to get the biggest chainsaw available if you plan to do little jobs. Larger chainsaws are typically heavier and more difficult to maneuver. If you plan to cut brush and small limbs with your chainsaw, a smaller chainsaw may be the best choice for you.
Do Electric Chainsaws Need Oil?
Yes, all electric chainsaws need oil. They require oil to lubricate the fast moving chain on the bar, hence the name of the oil, "bar and chain" oil. The oil reservoir should be very obvious to find, simply unscrew the lid and fill with bar and chain oil. Check the level periodically and refill as necessary.
The auto lubrication does have a manual aspect to it: you need to fill the reservoir. It's importnat to do this every time you use your chainsaw. Do not be like my mother-in-law who always forgets to oil her tools (or change the oil in her lawn mower or car…) and has killed several pieces of lawn equipment. A bottle of chainsaw oil is way cheaper and more convenient than buying a new chainsaw each year.
Here are some bar chain oils we recommend: Husqvarna Bar Chain Oil 1 Quart or Mag 1 Bar Chain Oil 1 Gallon. And remember the funnel.
Chainsaw tensioning systems
The tension system of a chainsaw is also very important. However, there are few different schools of thought. There are auto tension systems, tool-less tension systems, and fully manual tension systems.
The manual systems are a bit of a pain but really give you an appreciation for how the chainsaw is constructed. This is kind of down the path of 'Zen and the Art of Motorcycle Maintenance.' Getting to know your equipment is always a good thing, unless it is just too much to handle. This type of tension system can easily add an extra hour to your chainsaw job.
Tool-less tension systems are very handy. This comes into play when you are in the middle of cutting and you realize there is too much slack in the chain causing your cuts to be slow and sloppy. A tight chain is paramount for efficient cuts and also for cutting using the tip of the chainsaw, an advanced chainsaw skill.
Auto tension systems just take the fun out of it but are super handy and you never have to deal with tension ever again. You'll always have the right tension no matter what.
Electric safety considerations
Always remember that electric chainsaws are still chainsaws. We recommend wearing appropriate PPE whenever you use a chainsaw.
At the very least, wear eye protection and hearing protection. I use molded Dewalt face goggles while chainsawing to make sure stray wood chips don't get in my eyes.
You may also want to wear cut resistant gloves, chaps, and/or a face shield. For lots of tree work, a forestry helmet with built-in earmuffs and face shield is convenient. It's way easier to get an all in one solution than try to wrestle separate goggles, shield, and helmet in place. A pair of high quality gloves is way cheaper and more convenient than a trip to the ER. See our in-depth review of the best cut resistant gloves.
Final Thoughts
No matter which chainsaw you pick, remember these tools are extremely dangerous. Please use caution when using any power equipment.
I hope you now feel confident in choosing your next electric chainsaw.
Garden Gear Reviews
Are you looking for the best lawn and garden gear? Look no further!
If you're working in the garden or doing yard work, you need cut resistant gloves to protect your hands. Discover the best cut resistant gloves in this post including the gloves we personally use.
A garden hose reel can be a complete game changer. Say goodbye to annoying kinks and dead patches of lawn when you use a sturdy garden hose reel or retractable hose!
Expandable hoses are lightweight and kink-free. Unfortunately, many of them are also prone to leaks. Discover the best expandable hoses and how to store your expandable hose for longevity.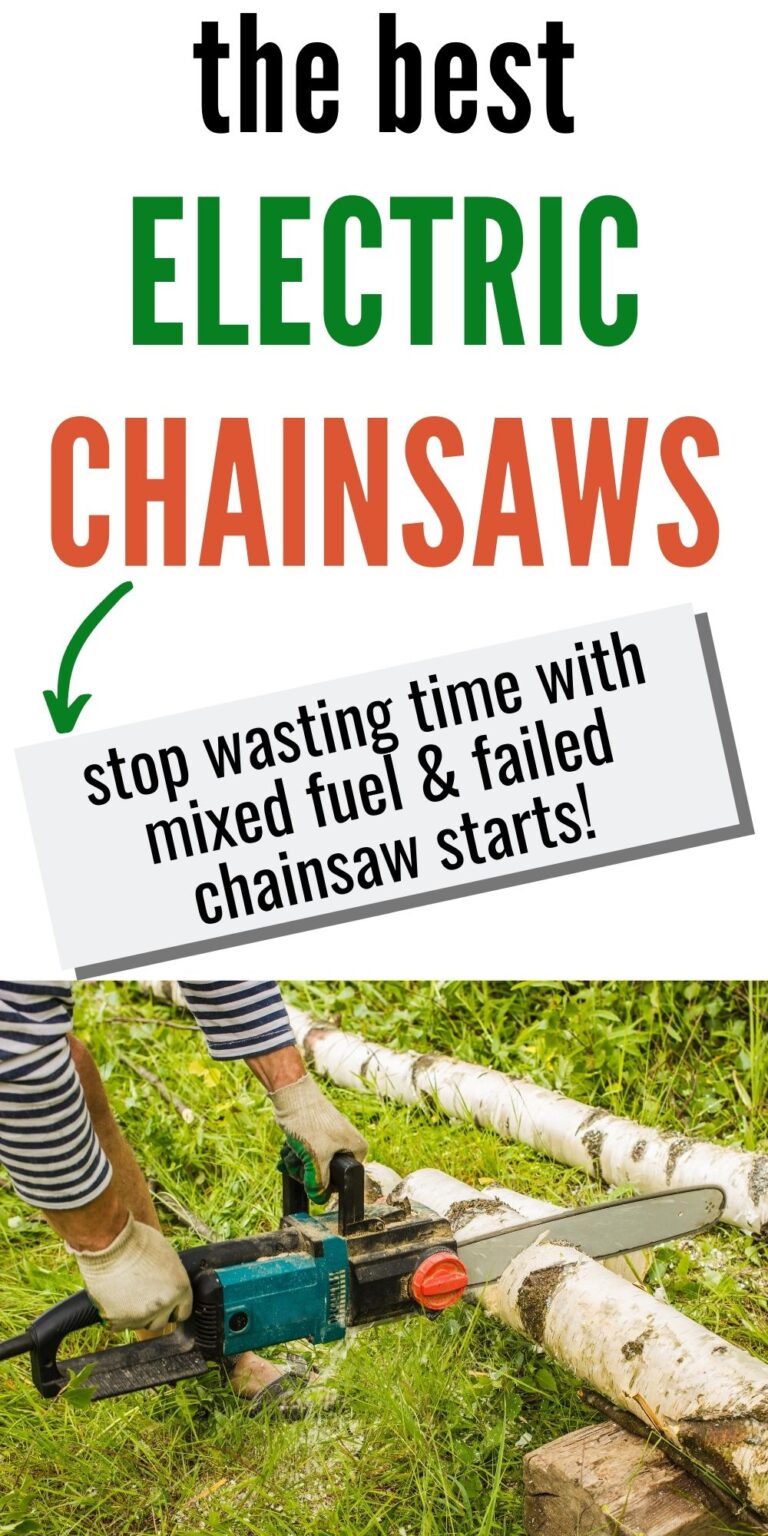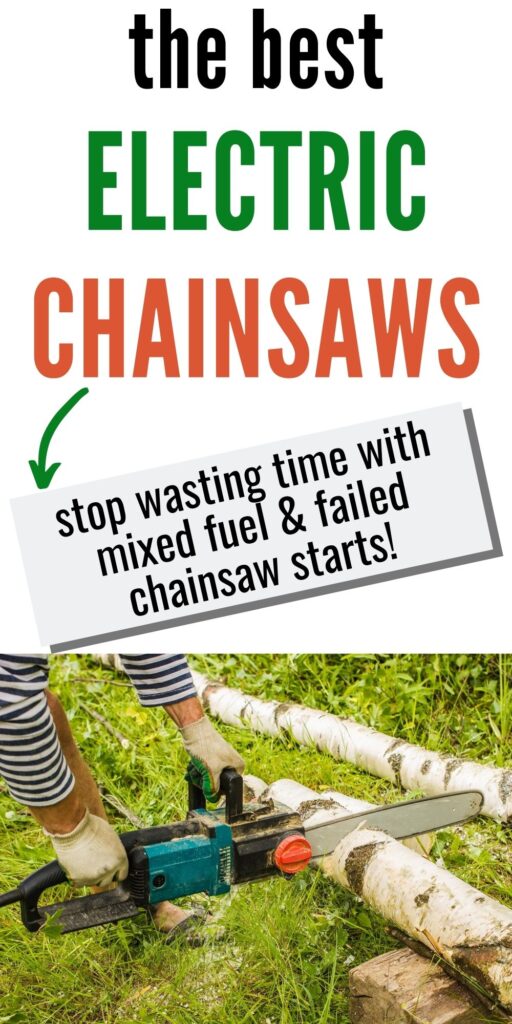 Angel is a Cuban immigrant who grew up with backyard chickens and a yard-loving abuela. He is our "gear guy" who can never have too many pairs of gloves or weed whacker attachments.