A gardening apron, especially one with pockets, is one of those must-have gardening items that makes your life easier and gardening more enjoyable.
No more aching back from bending and stooping to pick up garden implements. No more bruised arm from carrying a stuffed harvest basket. No more staining your favorite shirts with mud and dirt.
Yes, a good garden apron with pockets really can do all of that for you!
Keep reading to discover what to look for when shopping for a garden apron and the 7 best gardening aprons with pockets available online (including some lovely handmade options).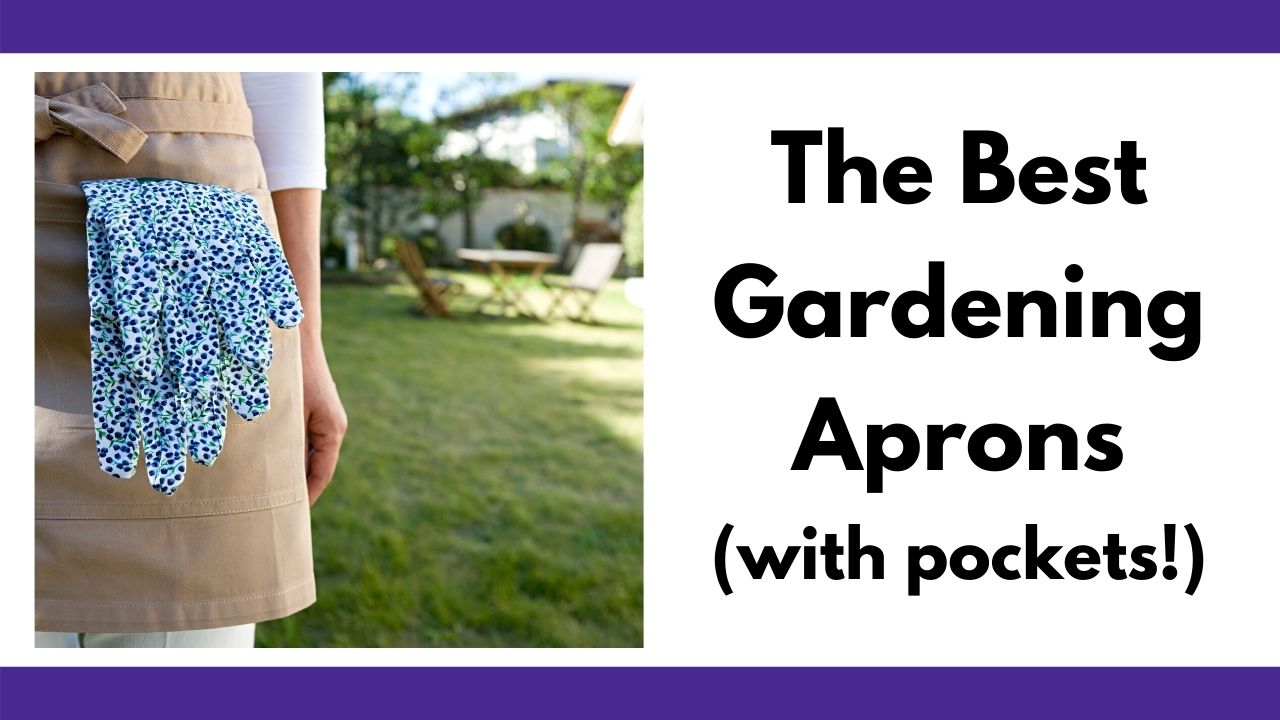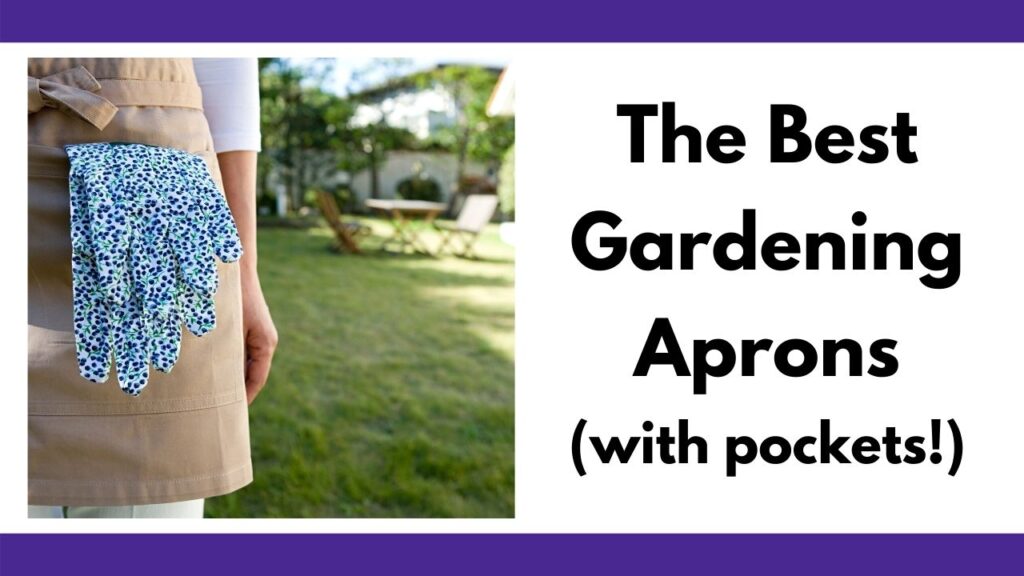 This post includes affiliate links. If you make a purchase using one of these links, Together Time Family will receive a commission at no additional cost to you.
Why do you need a gardening apron?
Having a gardening apron is one of the most useful ways to protect your clothing from dirt, fertilizers, and plant stains. It's also a way to safely carry tools such as pruning shears, hand forks, spades, seeds, cuttings and harvest fruits, vegetables and flowers.
If you have started your backyard garden and want to comfortably work while staying clean and organized, a gardening apron is pretty essential.
Types of garden aprons
There are two main styles of gardening apron. Both have their advantages and disadvantages, so make sure to pick whichever best suits your needs.
Full garden aprons (bib aprons)
The full or bib style apron provides full front cover protection from spills, dirt and mud. This style of apron is a great clothes protector and acts as a good barrier against the elements when gardening in both the warm and cold seasons.
On the flip side, these aprons can be hotter to wear since they cover more of your body. The neck straps may or may not be adjustable and might be uncomfortable to wear around your neck.
Half garden aprons
The half apron, otherwise known as a belt or waist apron is a neat alternative to the full apron.
The waist garden apron usually has a lot of deep pockets of varying sizes to easily retrieve all your gardening tools and other essentials and is more suitable for gardening in warmer weather as a way to stay cooler.
Half gardening aprons don't provide as much protection for your clothing, though. This can leave you more susceptible to mud, dirt, and even accidentally hurting yourself with sharp tools
What to look for in a gardening apron
Besides wanting to look great while gardening there are certain things that should be considered when choosing the ideal gardening apron. You need to make sure that you choose a fully functional gardening apron and here are some tips that will help you to buy the right one.
Durability
The quality and construction of gardening aprons should be strong, hardwearing and well-made. Make sure to check for heavy duty stitching along pockets, shoulder, neck and waist straps or ties.
Material
Look for details such as the type of material used to make your apron. Ensure the material is strong and long lasting such as thick cotton, waxed canvas, denim, and even leather, to cope with dirt, sharp tools and the ability to carry the weight of tools and plants.
Pockets
Having enough pockets on your apron to stay organized and have everything to hand is a must. Choose a gardening apron with deep pockets to hold your phone, tools, gloves, seeds and harvested fruits and vegetables without them falling out while working.
Adjustability
Check that belts, straps or ties are easily and quickly adjustable for a more comfortable fit. This is particularly important for women and smaller men. Many "one size" aprons do not comfortably fit smaller people without adjustment.
Style
There are a range of gardening apron designs, but they mostly fall into one of the two categories discussed above (full apron and half apron).
Related: The best cut resistant gloves for gardening
Best gardening aprons with pockets
Now that you know what to look for in an apron, here are some of the best gardening aprons with pockets!
If you want durability from a brand you can trust, the Dickies Workshop Apron is for you. It's a full a full apron made from a thick heavy duty canvas and a whole lot of pockets.
When you pick this apron, every tool will have its own place – no more overstuffed pockets and items falling on the ground.
Pros
Well-known workwear Dickies brand
Good storage capacity
Durable material
Adjustable back and waist strap
Cons
Neck strap not adjustable
Not waterproof
Available in limited colors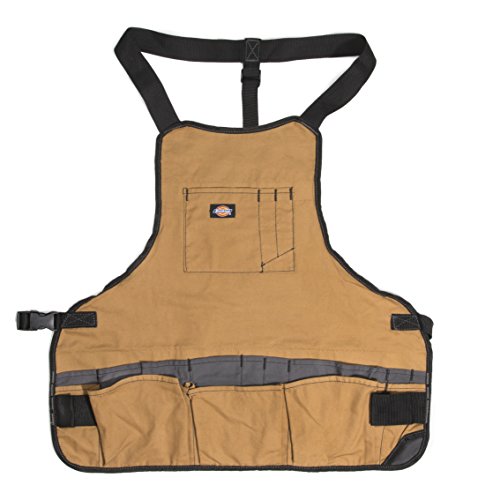 Dickies 16-Pocket Workshop Bib Apron, Durable Canvas Construction,...
DURABLE CANVAS - Constructed of heavy-duty canvas with webbing-reinforced pockets
16 POCKETS - 16 total pockets including 3 chest pockets, 3 large pouch pockets, and 10 slip pockets
ADDITIONAL STORAGE - Includes a durable webbing tool loop on each side for easy left or right-handed use
The Roo Garden Apron is popular and versatile It functions as both protection and holder while gardening and has a unique quick release pouch when unloading harvest or cuttings and weeds.
You can even use the Roo to carry sticks when it's time to do a fall pickup in your yard. No more lugging around an unwieldily wheelbarrow and getting blisters on your hands from wrangling it all around your yard on a flat tire. Awesome!
It is made from industrial strength cotton, has a waterproof pouch area, and is machine washable.
I personally own a Roo gardening apron. My biggest complaint is that the straps are a lightweight cotton webbing. They can get folded over when you're pulling them through the buckles, which is frustrating. Even so, this is my favorite garden apron.
Pros
Adjustable straps
Waterproof pouch area
Large pouch opening for harvesting
Industrial Strength Cotton
Machine washable
Available in trendy colors
Cons
Straps are a thin cotton webbing
Overweight harvest can fall out of pouch area if not adjusted properly
The "Joey" is a smaller sister to the full sized Roo Garden apron. It's my personal favorite because it's easy to use as a tool apron or harvesting apron. Carrying a harvest basket on your arm gets painful and lugging around a bin is annoying. Go hands-free and save your arm when you use The Joey gardening apron!
Pros
Easy access pouch
Pockets for gardening tools and accessories
Can keep you cooler in summer months since it's not a full apron
Cons
Waist apron so does not protect clothes on upper body area from dirt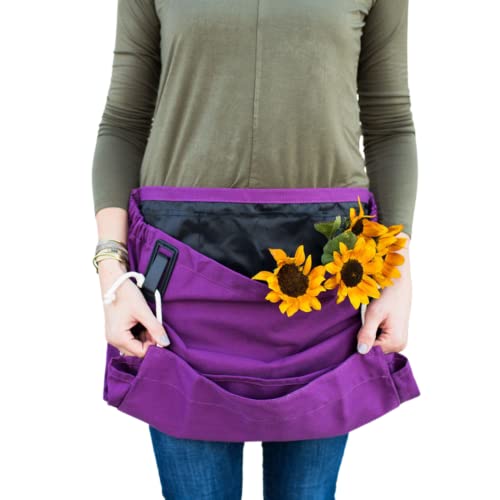 The Roo Joey Apron Gardening Apron with Pockets and Harvesting, Picking...
HANDS-FREE GARDENING- No one likes juggling tools or running back and forth from the shed or the workbench. The Joey garden apron allows you to focus...
INNOVATIVE EMPTYING POUCH- Lined with water-resistant ripstop nylon, this large pocket measures 21" wide and 13.5" deep and is secured by an...
MULTIPLE POCKETS, UNIQUE DESIGN- This apron offers three small pockets in addition to the large harvesting pouch. The large pocket measures 21" wide...
Say goodbye to an aching neck with the No Cry Professional Work Apron because it has wide, padded shoulder/neck straps that distribute the apron's weight and prevent the straps from digging into your skin.
It is a full apron made of sturdy canvas. It features 16 pockets so every tool and garden implement is always within reach. It's also fully adjustable so it can fit smaller and larger bodied people with ease.
You're sure to get plenty of use out of the No Cry work apron because it's also perfect for odd jobs around the house. Eliminate multiple trips up and down ladders for home repair projects or hanging Christmas lights when you keep all your tools at hand in this apron's multiple pockets.
All these awesome benefits combine with a fantastic price point to make this Angel's favorite gardening apron (and the one he personally uses for odd jobs around the house).
Pros
Lots of pockets for carrying essential gardening items
Strong yet lightweight material
Cut, tear and abrasion resistant
Cons
Top pocket not closeable so item such as cell phones can fall out when bending. To avoid this problem, squat down instead of bending at the waist (it's better for your back, anyway!)
Only available in black with red edging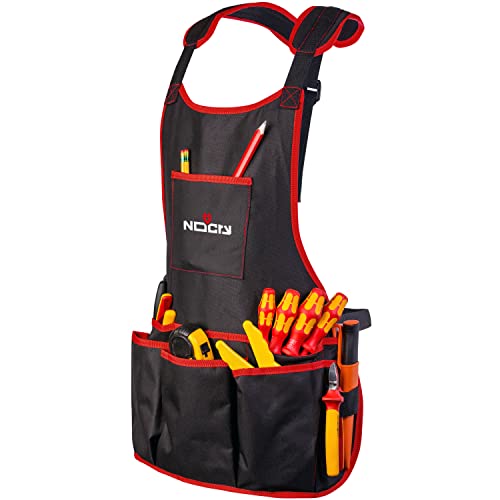 NoCry Professional Canvas Work Apron - with 16 Tool Pockets, Fully...
Made from strong and waterproof 600D Oxford Canvas. Straps are double sewn to the apron for extra strength and durability.
With 16 tool pockets, you can quickly and safely organize your hammers, screws, pencils, knives, pliers, screwdrivers or any other tools in your...
Protects clothing against spills and yourself from flying debris. Ergonomically designed to equally distribute weight across your shoulders.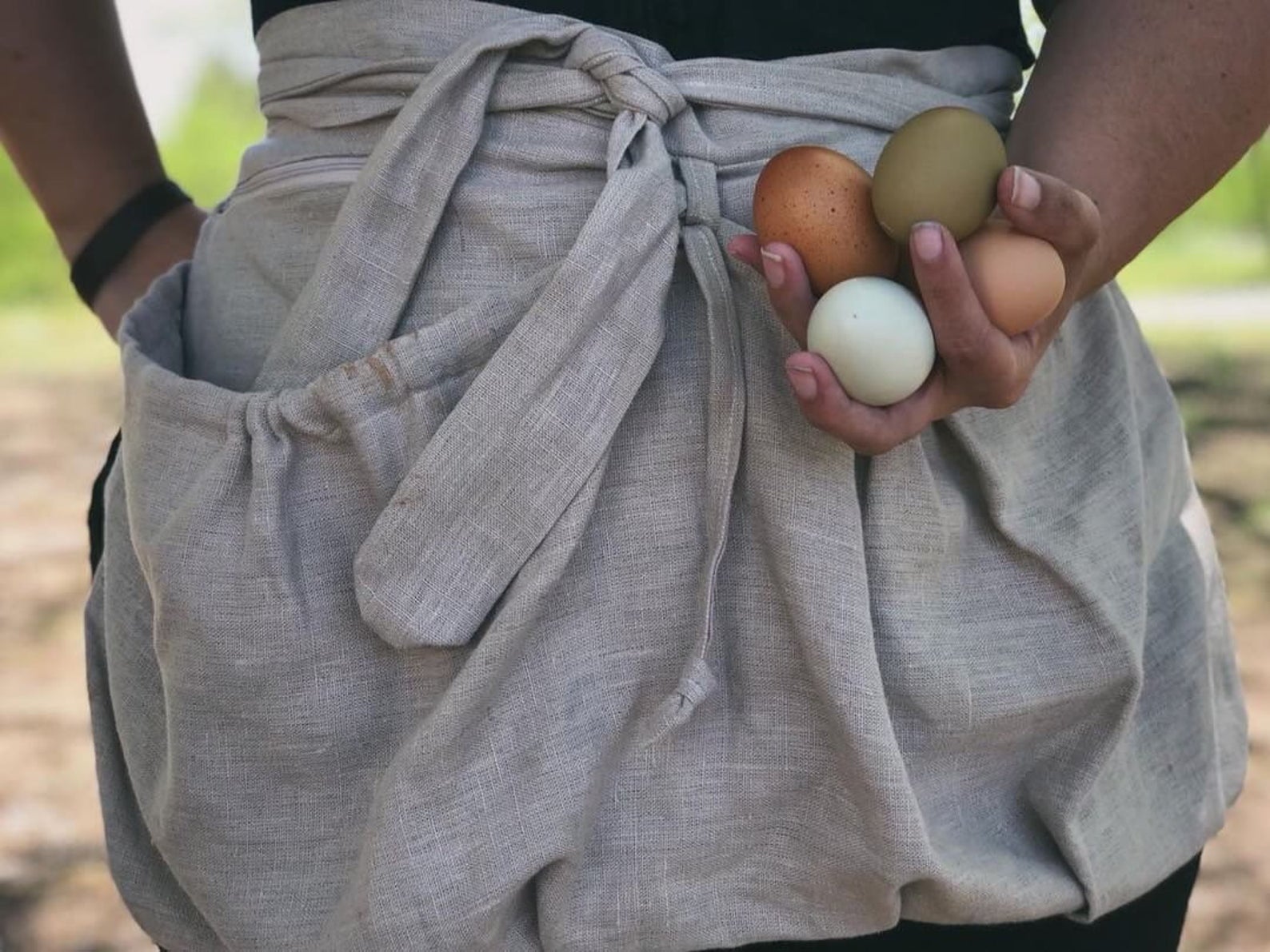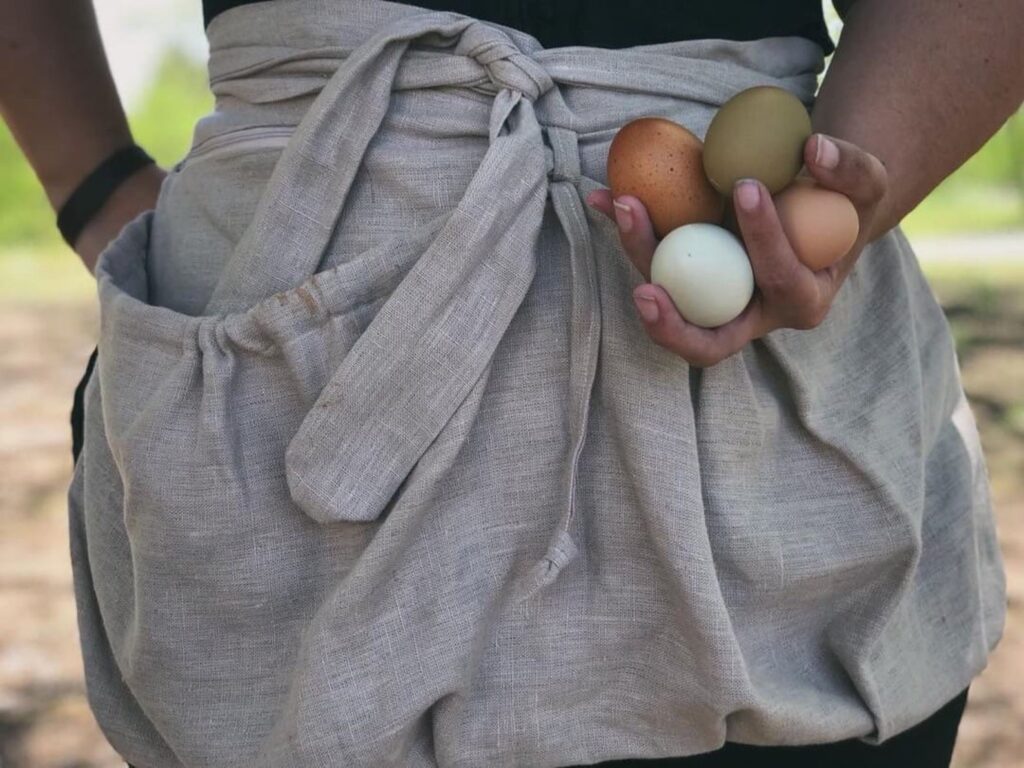 If you're eco-conscious and prefer to support small businesses, this linen harvesting apron is the one for you. It's a stylish and feminine gathering apron made, and lined with upholstery grade 100% natural linen. The large pockets are perfect for harvesting vegetables and carrying essential garden tools.
This apron is also customizable to suit your size and desires. You can order it with one or two large basket style pockets. You also have the option to add a pocket zipper to make sure nothing falls out.
Pros
Custom sizing
Choice of colors
Sustainable harvesting apron
Child sizes available
Cons
Not stain or waterproof
Not available as a bib apron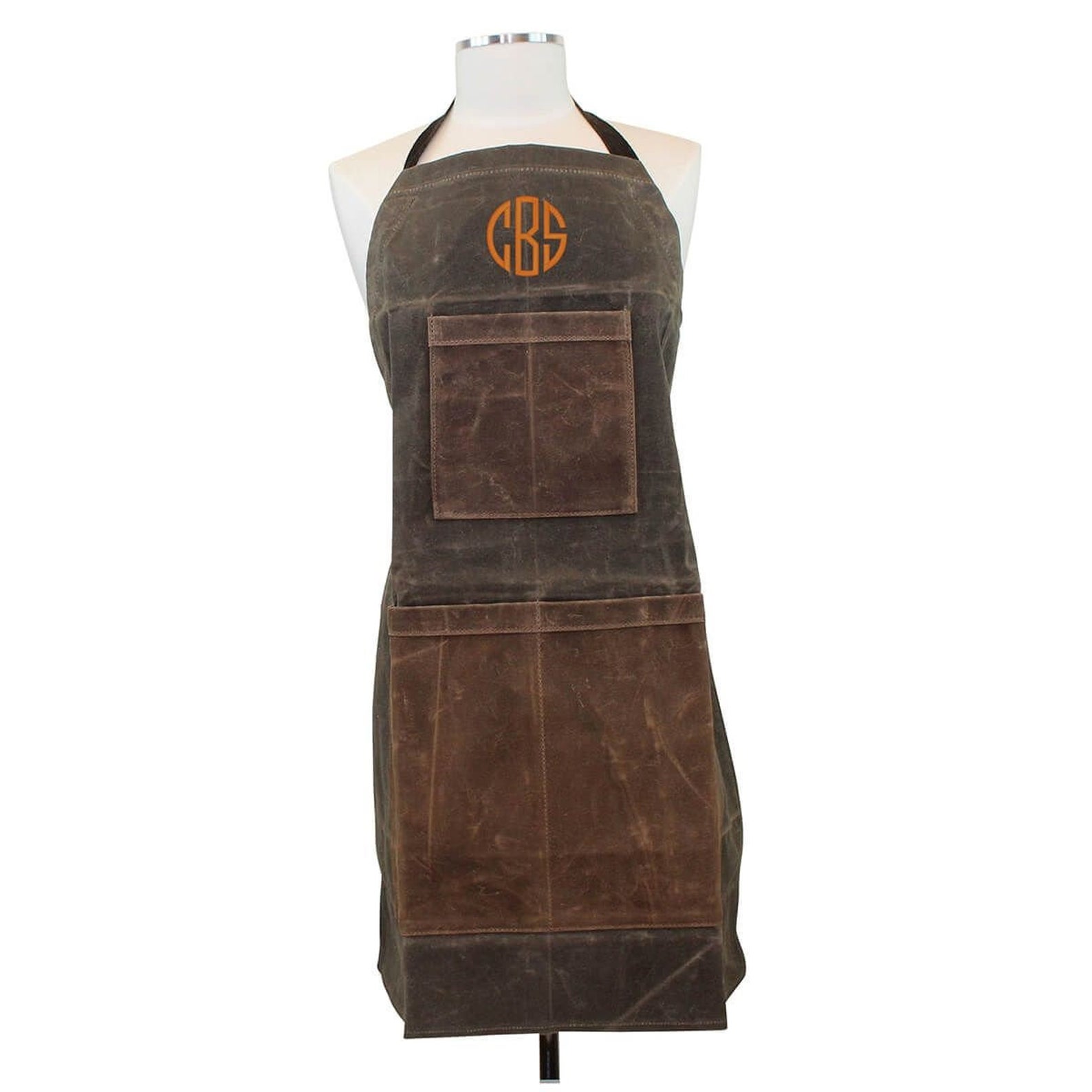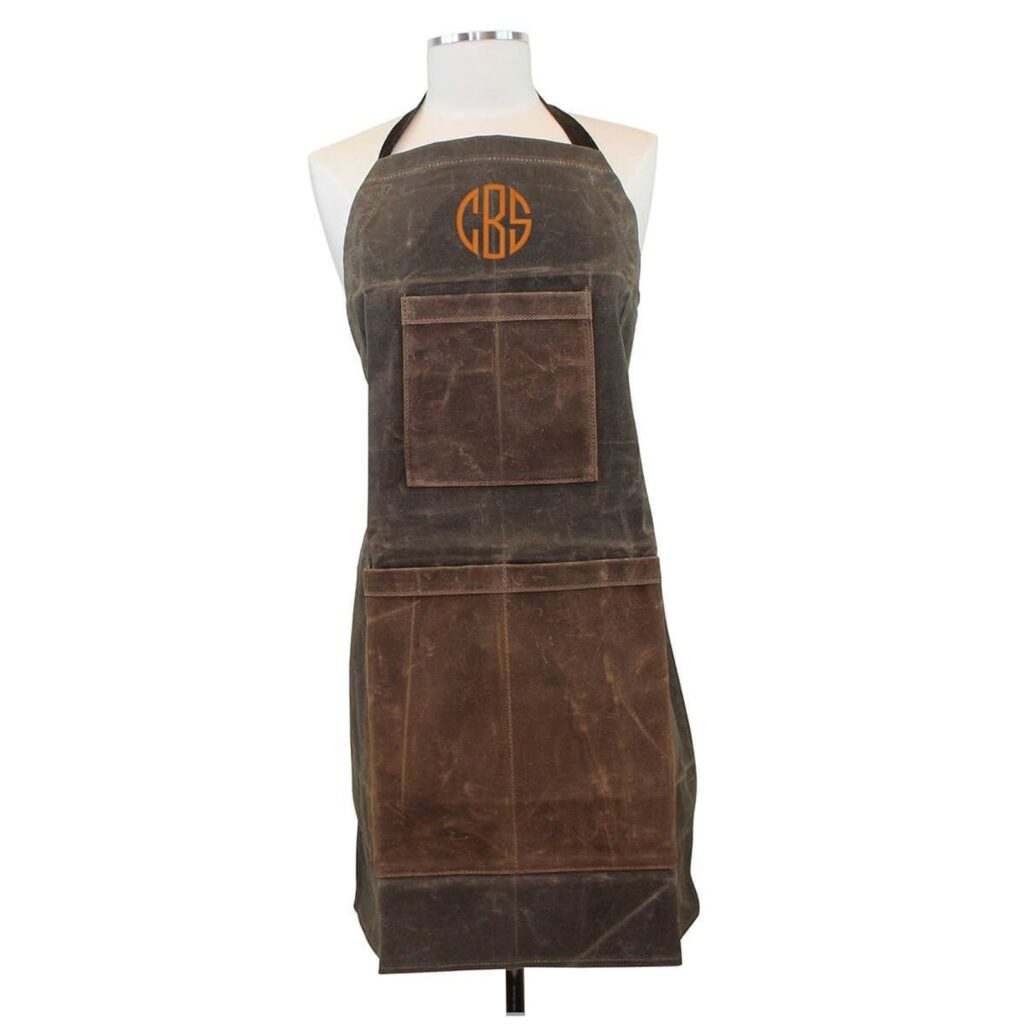 This heavy duty canvas gardening apron makes the perfect gift for the gardening enthusiast in your life. It's an attractive full length heavy duty apron that can be used for gardening, grilling, home improvement, and more. It is also customizable with a monogram in your choice of styles and colors!
Pros
Waterproof
Can be personalized with custom logo, initials
Great as a personalized gift
Good body coverage
Available in a wide-range of colors
Unisex design
Cons
Not very adjustable
Not suitable for harvesting
Not machine washable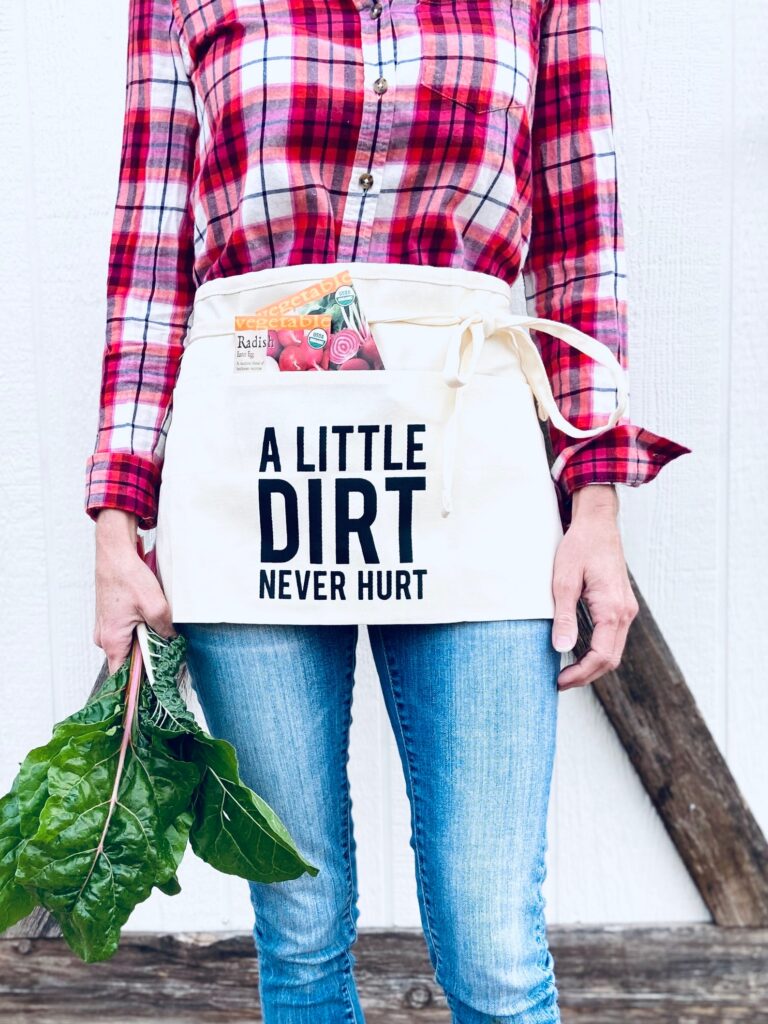 Sometimes you want a funny gardening apron for yourself or as a gift for the gardener in your life. This cute "a little dirt never hurt" apron fits the bill!
This apron is also a great choice if you have a farm stand or booth at a farmer's market. A "show apron" is a vital piece of gear for sellers. It helps you keep essentials, like business cards, cash for change, and your phone with your Square card reader for making sales easily within reach.
Pros
Stylish design
Great for farmer's markets and vendor booths
Large pockets
Con
Not fully protective for clothing
Hand wash
Do you have a garden apron yet?
For the avid gardener a finding a good hard wearing gardening apron is an essential purchase so making the right decision when choosing is key.
Do you have a favorite gardening apron? Leave a comment and let us know about it!
Easy Gardening Tips
Are you a beginner gardener? Or just getting serious about gardening after a few years of experimenting? These resources can help you take your gardening, and yields, to the next level!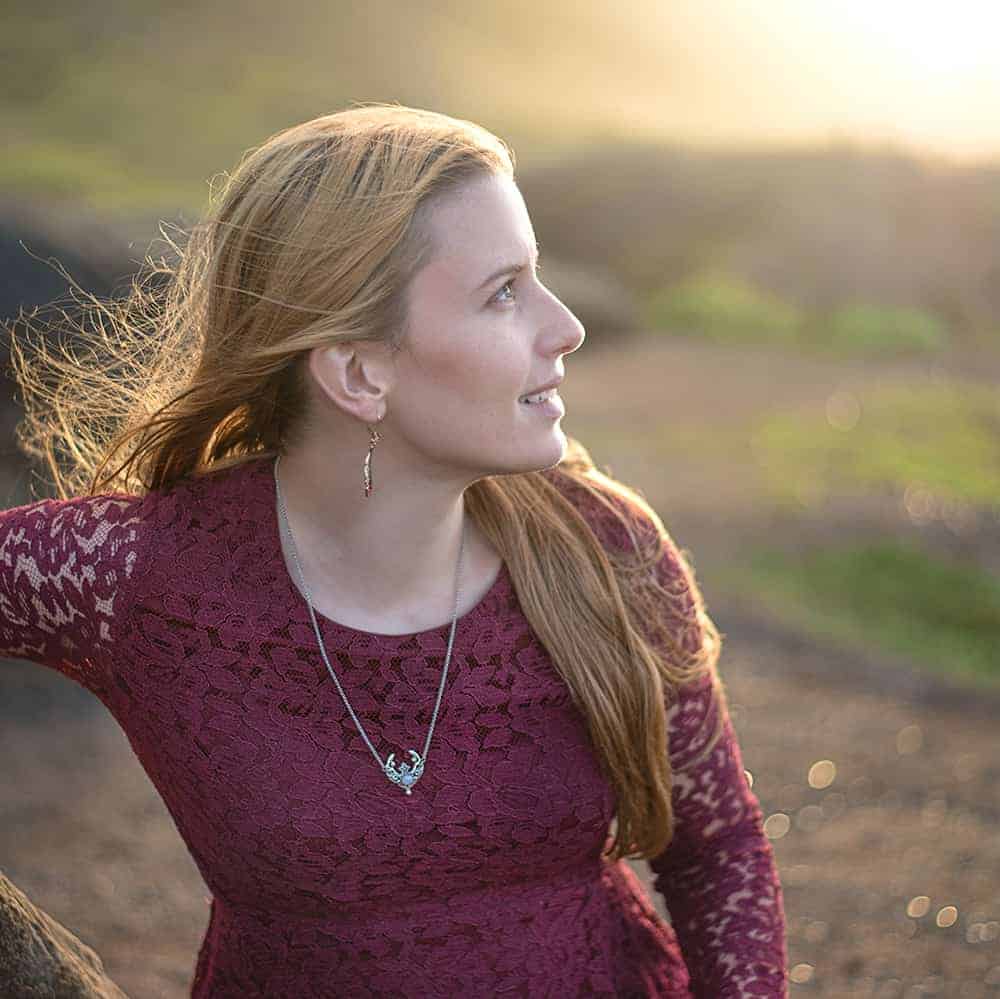 Natasha Garcia-Lopez is an avoid home-gardener and proud owner of 88 acres of land in rural West Virginia. She was a member of the Association for Living History Farms and Agricultural Museums for many years and is currently enrolled in the Oregon State University Master Gardner Short Course program so she can better assist you with your gardening questions.She holds a certificate in natural skincare from the School of Natural Skincare.