Having the right gardening tool for the job makes the difference between a quick'n easy task and spending your entire Sunday afternoon on something you thought would only take a few minutes. Garden trowels are an essential gardening tool, no matter how small or large your garden is. But how do you pick the best garden trowel for the job?
Garden trowels come in all sorts of shapes and sizes. There are some made strictly for certain jobs, like transplanting, and others which are multi-purpose. To make matters more confusing, they're available in a range of materials (and each one claims it's the best).
Luckily for you, this guide breaks down the various types of garden trowels and garden trowel materials so you can make an informed, confident decision and select the best garden trowel for your needs.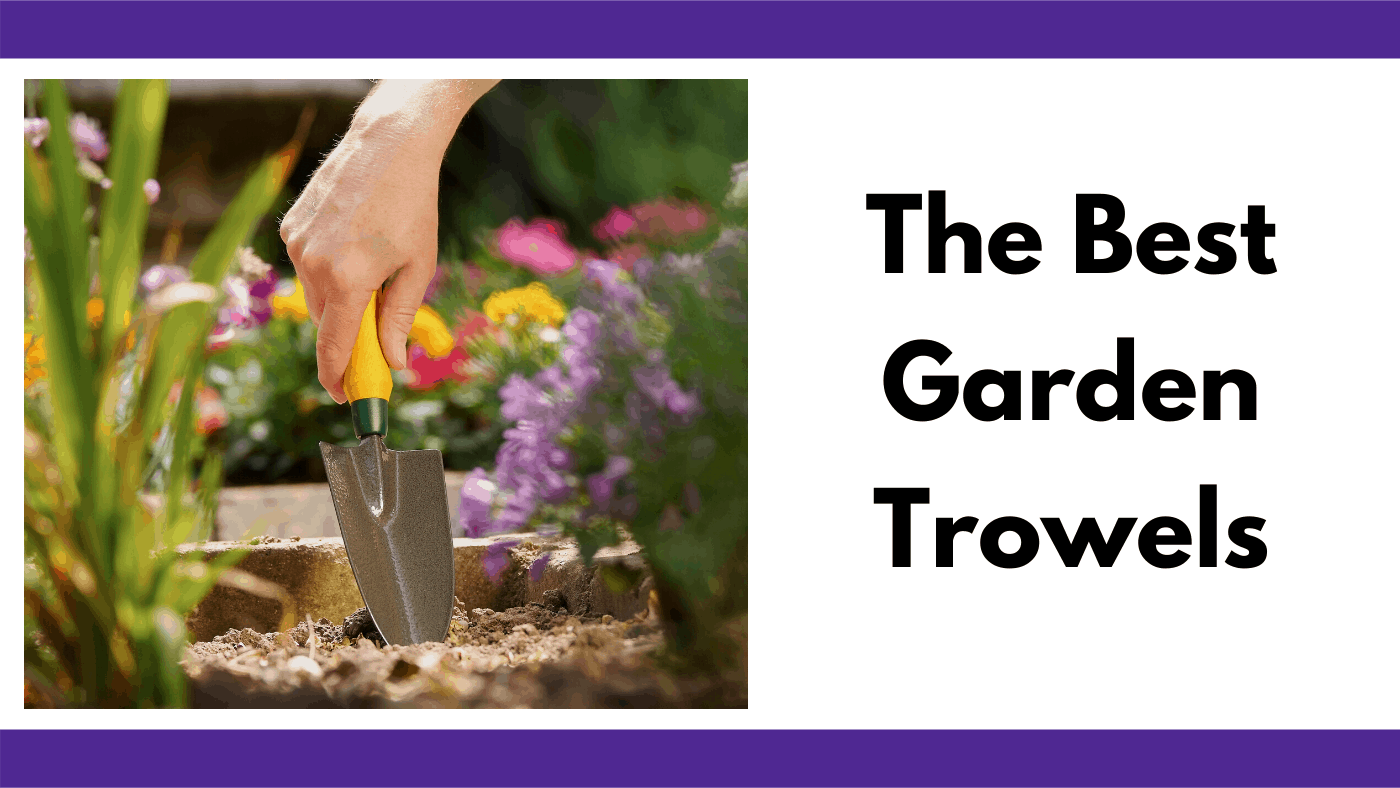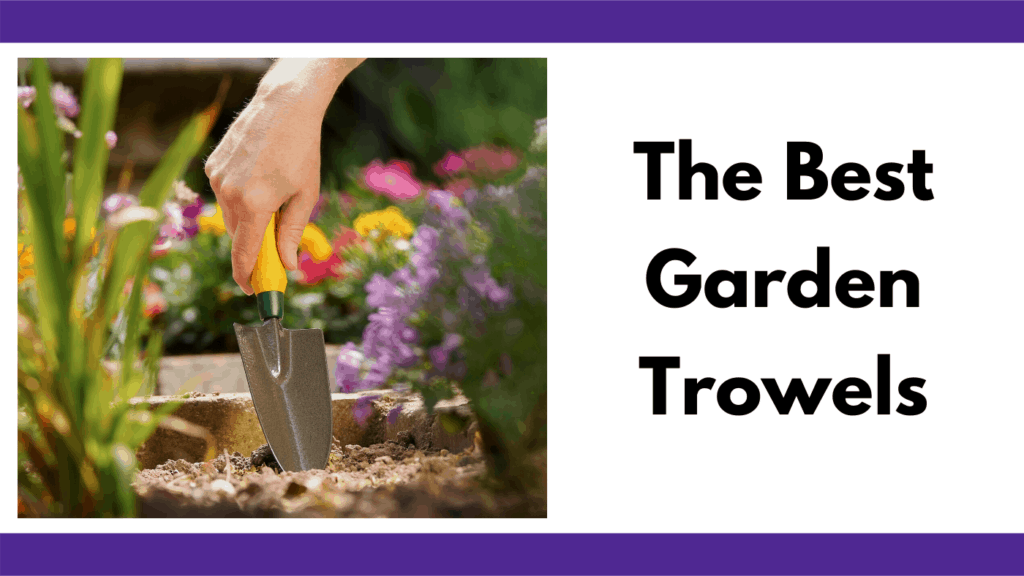 This post includes affiliate links, which means I may earn a commission on purchases made at no additional cost to you.
In a rush? Here are our top picks!
Best Budget
Fiskars Ergo Gardening Hand Trowel - Ergonomic Handle Design with Hang Hole...
Heavy Duty
DeWit Forged Hand Trowel
Huge Selection
Garden Serrated Planting Trowel, Multifunctional Shovel with ash Wood and...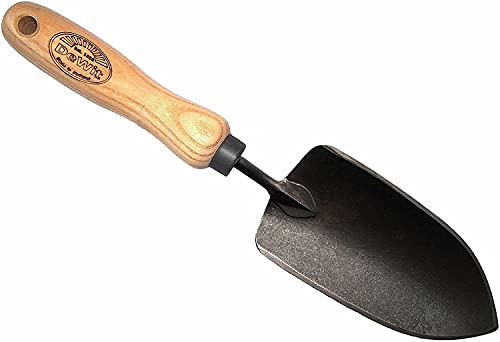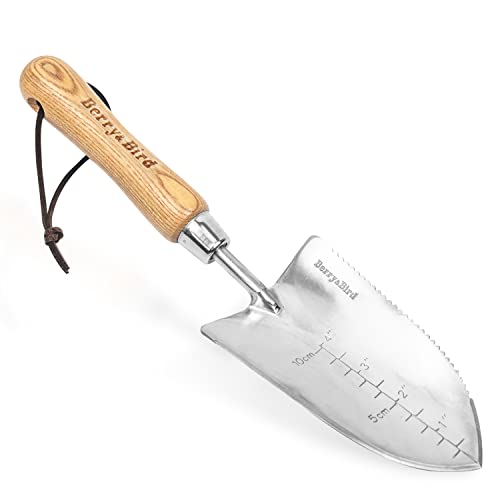 Best Budget
Fiskars Ergo Gardening Hand Trowel - Ergonomic Handle Design with Hang Hole...

Heavy Duty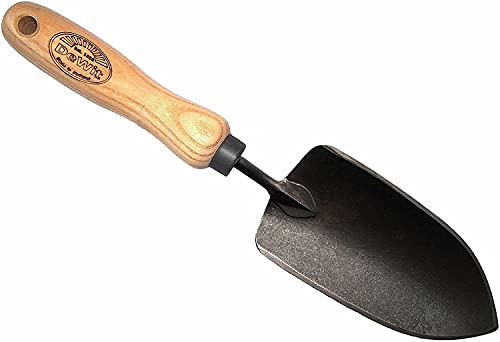 Huge Selection
Garden Serrated Planting Trowel, Multifunctional Shovel with ash Wood and...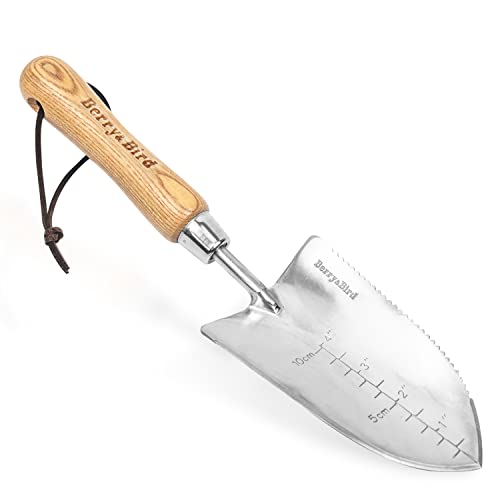 ---
If you've ever tried browsing for garden supplies, you may have been struck by analysis paralysis. What features do I need? Is this one worth the extra $27? But my neighbor swears by this other brand! The girl on the box makes using this one look so easy.
Studies show that having more options to pick from isn't always better. In fact, increased choices decrease our happiness as buyers. (source)
Picking the best tools can be exhausting, so we're here to help. Here are the best garden trowels on the market today.
What to Look for in a Garden Trowel
If you want to jump straight to the recommendations, use the table of contents to navigate to the sections. If you want to know more about the types of trowels and the differences between aluminum, stainless steel, and carbon steel, keep reading.
Garden Trowel Material
There are a few different materials which garden trowels can be made of. Each have their strengths and weaknesses. Read below to find out which suits your needs.
Stainless Steel
Stainless steel is a very popular material for garden trowels. It is long lasting and it looks very elegant. You can almost see your reflection on the steel especially when it is properly polished. These are also really resistant to rust but your should still clean and dry your tools before storing them away.
It is also very easy to sharpen. Just a few swipes on the sharpening stone and your are set. This also means it is very easy to dull. Hit one too many roots and you'll be back at the sharpening stone.
Though stainless steel is very strong, it is not the strongest material available for garden trowels. This is nothing to worry about though, it is very unlikely that you will bend or break the neck on any of the stainless steel trowels on this post.
Aluminum
Aluminum is another popular material for garden trowels. The main benefit is how lightweight it is. This is great for building really light garden tools which is good news for those with arthritic hands.
You also don't need to worry about rust with an aluminum garden trowel. That is because rust only occurs in steel typed materials, however, aluminum can still oxidize. The oxidization can turn your trowel a hazel brown and it looks really unsightly. Moral of the story, keep your tools clean and dry them before storing.
Because aluminum is lightweight, it's best for lighter tasks. It's not designed for cutting through roots or prying out rocks. It also doesn't hold an edge.
High Carbon Steel
High carbon steel garden trowels are very effective tools for gardening. They are very strong and durable as a garden tool. It is practically impossible to bend or break any of these tools.
They also hold an edge really well and can bear the beatings of cutting through roots and stumbling upon rocks as you dig. The downfall is that it also takes a long time to sharpen the blades since the material is so hard. The good news is you won't have to sharpen often though.
Carbon steel is also susceptible to rust so it is crucial that you do not leave these tools out in the rain or the elements. They will rust and be ruined. These usually have a higher dollar price point making it even more important to take care of your tools.
Trowel Blade Types
Traditional Trowel
Traditional trowels are the work horse of all trowels. They have a standard design with a long sharp edge which allows you to scoop dirt and cut through roots. You can usually get all your gardening done with this type of trowel.
Transplant Trowel
Transplanting trowels, sometimes also called planting trowels, come in two different shapes. Some are more flat and broad for holding a lot of dirt. Others are narrow and almost cylindrical for digging precise holes that are perfect for bulbs.
Below you can see a broad transplanting trowel. It has a pointed end and sharp sides for digging. This trowel is great for digging circular holes for transplanting. If you're transplanting, make sure to read this guide on how to prepare seedlings for transplanting. It explains what hardening off is and why you do actually need to do it.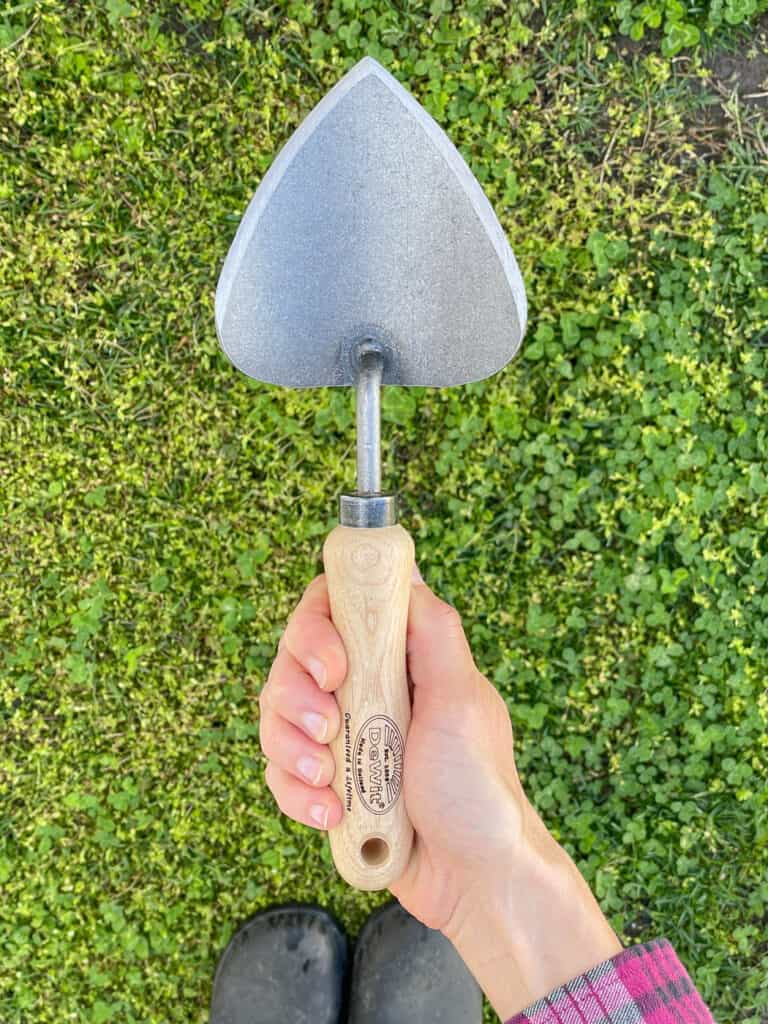 Perennial Trowel
Since perennials are self perpetuating, i.e. they will continue to produce year after year, a perennial trowel, sometime also called a narrow bulb trowel, is useful to divide the perennial bulbs into multiples. It is also useful for longer flatter cuts into the dirt.
Digging Spade
A digging spade is just that, it is especially shaped to remove large amounts of dirt, soil, and earth with minimal effort. If you're looking for a spade, please visit this post about the differences between a shovel and a spade.
Serrated Edged Trowel
Serrated Edge trowels usually have two different styles of blades – a regular trowel edge on one side and a serrated edge on the other side. One is a regular trowel blade and the other is serrated.
Aluminum Garden Trowels
The Fiskars Ergo Garden Hand Trowel is a solid choice if you want a basic trowel for occasional jobs. It is super comfortable to use due to the ergonomically designed handle. This is a very popular trowel but there is nothing too fancy about it which is just fine. It will get the job done.
One thing to keep in mind is that the spade material is aluminum, so the tool is really lightweight. Because it is aluminum, it can oxidize if stored improperly, just keep it away from moisture.
This garden trowel is not for heavy duty garden work. It will be fine for a limited amount of work but should not be your trowel if you are using this tool excessively.
Sale

The Radius Garden Ergonomic Hand Trowel is a uniquely designed hand trowel. This trowel is designed for those of us with hand issues such as arthritis, carpal tunnel syndrome, or just achy hands. Plus, the arched handle allows you to have better leverage when digging and removing plants.
The blade material is aluminum which allows the tool to be very lightweight. Aluminum does not rust like steel does but it can still get unsightly oxidization spots. Remember to clean off your garden trowel when storing to avoid oxidization.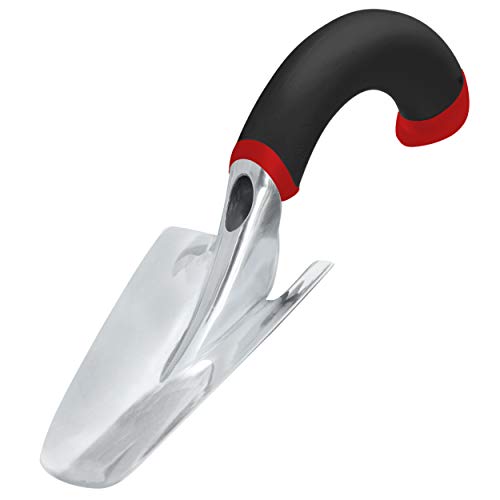 Radius Garden 10011 Ergonomic Aluminum Hand Trowel, Red
Award-winning ergonomic garden trowel with unique, patented blade for optimal performance in all soil conditions
Ultra-lightweight, die-cast aluminum blade is stronger than steel and will never rust
Ergonomic Natural Radius Grip provides extra leverage and reduces hand and wrist stress
Carbon Steel Garden Trowels
The Edward Heavy Duty Garden Trowel is a great garden trowel. It is made of carbon steel, which is virtually indestructible. This isn't just for light duty work – you can really use this trowel to cut through roots and even move rocks that are in your way.
You can easily use this trowel for digging into any style of soil, dirt, or clay. Don't worry about ever bending the handle because the carbon steel is tough.
The down side is that carbon steel does corrode if exposed to moisture. Don't worry too much about this, just clean off your tools after working with them and make sure to wipe away any water before you store your tools.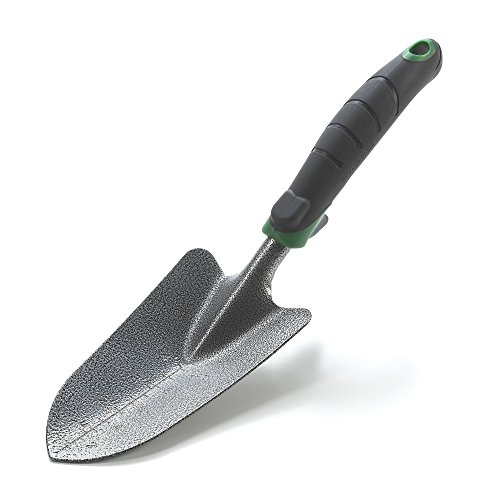 The DeWitt Tierra Garden trowel our favorite trowel. We personally use it for most of our troweling needs and have given it as a gift to other gardeners.
DeWitt tools are hand forged in the Netherlands. They come out of the box sharp for slicing through soil and roots. Carbon steel is hard, so it can take a few minutes to resharpen your trowel, but it will hold the edge for a long time.
I bent my wife's old aluminum garden trowel using it to mix cement (pro tip – don't mix cement with an aluminum trowel) and bent the heck out of the tip. She decided to upgrade to a DeWitt and now she won't buy any other brand of garden hand tool.
Here she is, triumphantly holding her DeWitt trowel: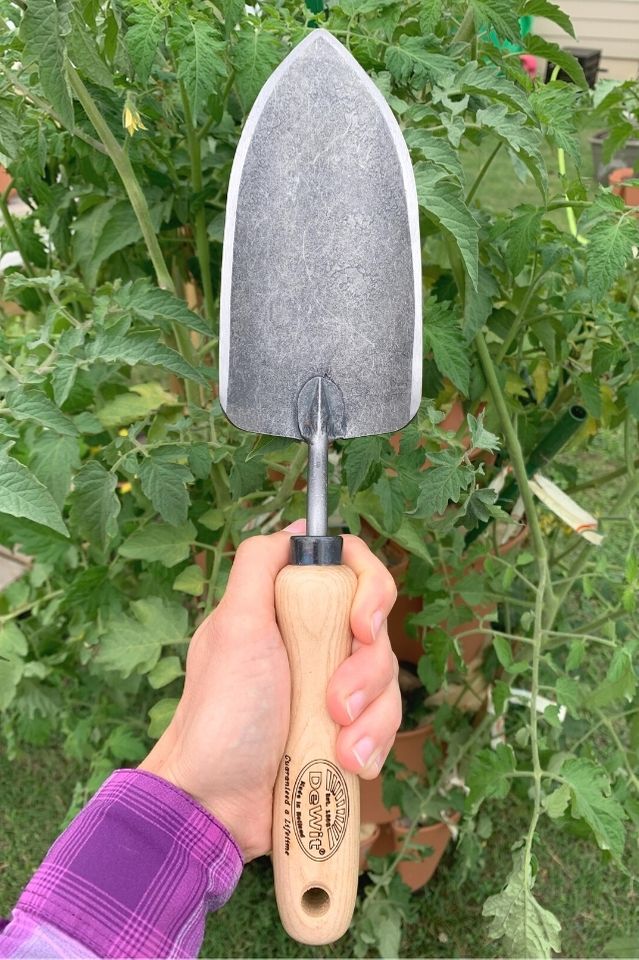 If you're tired of trowels that can't handle roots and feel like they're pushing and shoving through soil instead of slicing, this is the trowel for you. With proper care, this trowel will last a lifetime – try it and you'll wish you'd bought one years ago.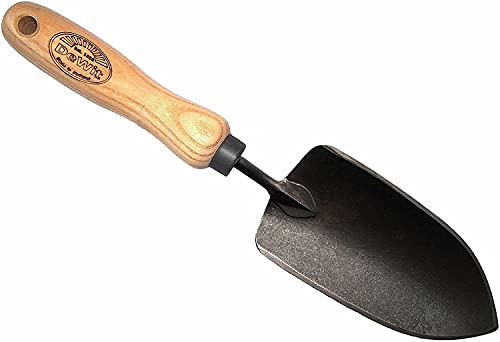 DeWit Forged Hand Trowel
QUALITY CONSTRUCTION – This DeWit Forged Hand Trowel is an elevated take on the standard garden trowel, constructed with sharpened edges and a...
LIFETIME DURABILITY – Crafted from hardened boron steel that has been heat-treated for strength, the DeWit Forged Hand Trowel is the perfect...
SUSTAINABLE – With our eco-friendly tools, know that you are caring for your plants and for the planet. Our DeWit Forged Hand Trowels are designed...
DeWit is an incredible brand for garden tools. Their "DeWit Bad Ass Trowel lives up to its name! All of their tools are made of carbon steel meaning they are super sturdy and ready for any job.
Carbon steel is a great material but keep in mind it is highly susceptible to rust and corrosion if not cleaned and stored properly. After working with your tools be sure to clean and remove any water and keep away from moisture.
These tools look great because of the forged appearance and the great wood ash handles. These make an attractive addition to your shed and can possibly even double as a center piece on your mantle if you are brave enough. Check out DeWit's page yourself.
Stainless Steel Garden Trowels
The Berry & Bird Garden Trowels are hardworking and classic looking. Berry & Bird has a huge selection of garden hand tools such as trowels, transplanters, potting trowels, serrated shovels, and weeders.
They are also very attractive garden tools. Throw away that plastic handle trowel and get into gardening with these stainless steel trowels with ash wood handles. These tools are aesthetically pleasing but also super practical. The Berry & Bird lineup has every tool you will need for your gardening jobs, check them out yourself. Below are just a few of the great tools you can find on their page.
Hand Forged Garden Trowels
The DeWitt trowels highlighted above are hand forged, but we'd like to call attention to some great looking, hardworking garden trowels in this section.
Fisher Blacksmith hand forged tools
Fisher Blacksmiting in Bozeman, Montana makes traditionally hand-crafted, hand forged garden tools. These American-made, steel garden trowels are both functional and beautiful.
Photo Credit: Fisher Blacksmithing on Etsy
This sturdy, classic garden trowel is hand crafted from high carbon steel. It's a modern-day heirloom piece that you last for years!
Photo Credit: Fisher Blacksmithing
This long garden trowel has one flat edge and one serrated edge for slicing deep into soil and through roots. The trowel is 13" long and 2" wide, which makes it perfect for edging flower beds and raised garden beds.
Photo Credit: Fisher Blacksmithing on Etsy
This attractive, hand forged steel garden trowel features an American Black Walnut handle. Walnut is a durable wood with a tight grain that lasts for a very long time. This trowel will last, too - it comes with a lifetime guarantee and was hand made using traditional blacksmithing techniques.
Photo Credit: Fisher Blacksmithing on Etsy
This recycled material garden trowel is made from steel diamond tread plate! Its wide sides are perfect for transplanting and it's at home on your potting bench or in your yard.
Garden trowels are an essential tool for any garden. Be sure to choose one which suits your needs. Remember to keep good care of your tools by cleaning and storing in a dry place after using.
If you want to have a better yard and garden with less work this year, be sure to check out our additional yard and garden tool reviews:
Garden Gear Reviews
Are you looking for the best lawn and garden gear? Look no further!
If you're working in the garden or doing yard work, you need cut resistant gloves to protect your hands. Discover the best cut resistant gloves in this post including the gloves we personally use.
A garden hose reel can be a complete game changer. Say goodbye to annoying kinks and dead patches of lawn when you use a sturdy garden hose reel or retractable hose!
Expandable hoses are lightweight and kink-free. Unfortunately, many of them are also prone to leaks. Discover the best expandable hoses and how to store your expandable hose for longevity.
Angel is a Cuban immigrant who grew up with backyard chickens and a yard-loving abuela. He is our "gear guy" who can never have too many pairs of gloves or weed whacker attachments.