Shopping for garden tools is exciting, but it can also be overwhelming. There has been an explosion of cheap, flimsy garden tools on the market that simply won't hold up to regular use.
We're here today to eliminate the overwhelm so you can find the perfect, reliable garden tool set for your needs.
A garden tools gift set can make a thoughtful present for the gardener in your life. There are even indoor garden tool sets for houseplant lovers! And, of course, there's always the "treat yourself" option to gift yourself a new set of garden tools. 😉
Child-sized garden tool sets for kids can also make fantastic gifts and are a great way to get your child participating in the family garden.
Discover the best garden tools sets in this comprehensive guide!
You'll find tips on how to pick the best garden tool set, heavy duty garden tool sets, tool sets with seats and kneelers, cute garden tool sets and more. Feel free to scroll through the content or use the table of contents to jump to the section you're most interested in.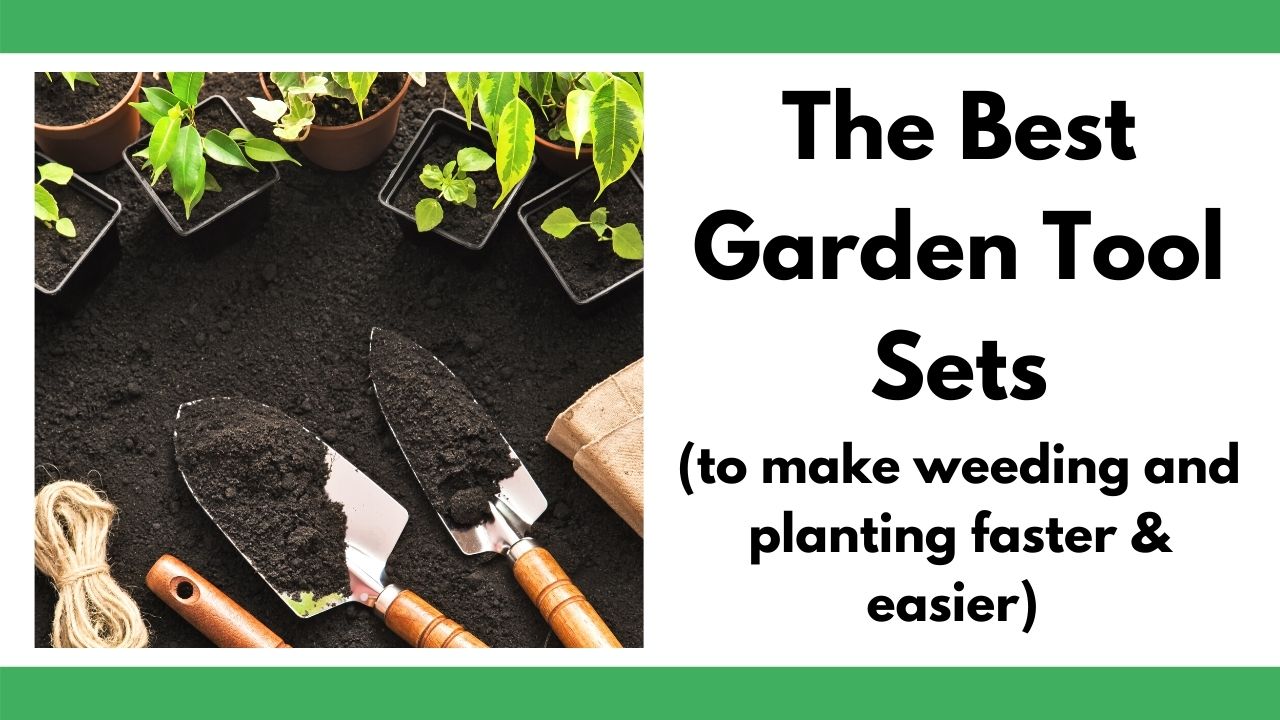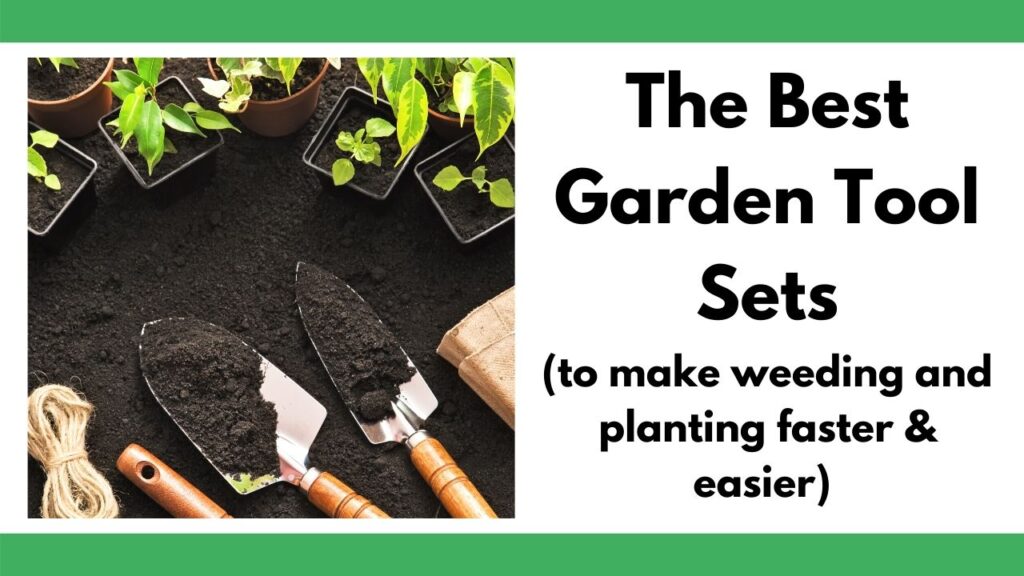 This post includes affiliate links. If you make a purchase using one of these links, Together Time Family will receive a commission at no additional cost to you.
How to pick a garden tool set
There are many factors to consider when you're shopping for a garden tool set. Here are a few things to think about:
Preferred style of gardening. Do you (or your gift recipient) prefer outdoor gardening? Houseplants? Raising succulents?
Age and mobility. Gardening at ground level can require lots of stooping, bending, and kneeling. If you're concerned about mobility or longterm comfort, make sure to pick a garden set with a seat or padded kneeler.
Frequency of gardening. Do you need heavy duty tools that will see use virtually every day? Or will something lighter duty be fine for your needs?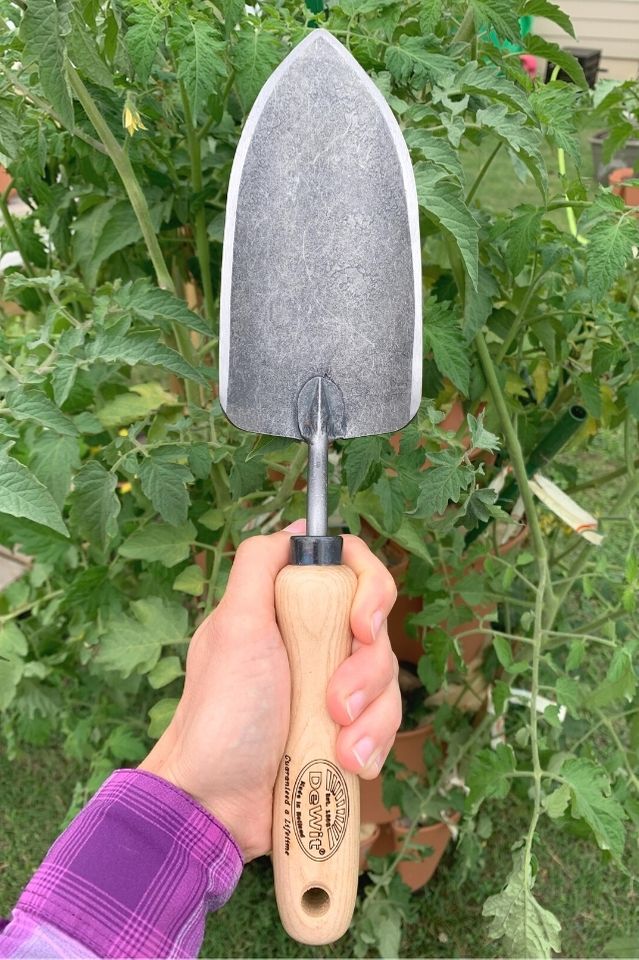 The best gardening tool sets
Heavy duty garden tool sets
Heavy duty garden tool sets
There are many heavy duty garden tool sets available. To avoid overwhelm, I'm highlighting my top three picks.
Although there are many garden tool sets that come with a carrying tote or box, these types of sets are covered elsewhere in this post. This section is for the truly heavy duty hand tools that can stand up to vigorous digging, clearing roots, planting, and weeding (even in rocky soil).
Heavy duty tool sets are the perfect gift for serious gardeners who put their tools to hard use. These garden tools are for discerning gardeners who demand tools that can cut through weeds, transplant hundreds of seedlings, and rake through tough weeds.
This Dewit 3 piece tool set with a holder is at the top of the list for a reason.
After purchasing a Dewit trowel, I will probably never purchase garden tools from another company again. The heavy duty forged metal trowel comes with sharp edges that cut through roots and stems, making end of season garden cleanup a breeze.
The countered wood handles are surprisingly comfortable to hold, especially if you're wearing a pair of garden gloves with a grippy palm. The handles are durable hardwood, not the cheap pine common on so many garden tools.
The DeWit line of tools is made in Holland, not China like so many "big box" brand tools.
Try these Dewit tools - you'll be impressed by their durability and quality as soon as you set eyes on them.
Photo Credit: gardentools on Etsy
These handcrafted wrought iron garden tools are the last set of gardening hand tools you'll ever need to buy! They make a truly distinguished gift for the serious gardener.
These stunning tolls are handmade using traditional blacksmithing techniques in Bozeman, Montana. The tools feature hand-turned wooden handles and steel rivets instead of welds for tools that will last a lifetime.
When not in use, these tools will look lovely displayed on your potting bench or toolshed wall. If the handles aren't quite your style, make sure to click through and check out the artisan's other tool styles.
These stainless steel gardening tools have a polished, modern appearance and sturdy construction that will last for years.
The handles feature an ergonomic grip with a non-slip soft grip handle specially engineered to reduce hand and wrist fatigue.
Incredibly, these heavy duty tools only cost a couple of dollars more than many mid-weight garden tool sets. Save money when you don't have to replace your tools again next season by picking this affordable, heavy duty garden tool set.
You can give heavy duty aluminum garden tool set to a serious gardener and know they can deal with whatever rocks, sticks, and roots get in their way.
Cut through roots with ease and eliminate guesswork with the transplanting trowel included in this set. The transplanting trowel has a serrated edge and convenient measurement markings to ensure you plant your seedlings at the correct depth without gunking up your tape measure with dirty.
This cast aluminum tool set features contoured handles and finger indentations for a secure grip and less strain on your hands.
These cast aluminum tools are made from a solid piece of aluminum without welds or seems. This means they are very durable and long lasting. They come with an incredible 10 year warranty.
Gardening tool sets with a seat
An aching back and knees are one of the least enjoyable parts of gardening. Luckily, you can help prevent backaches and knee pain when you select a gardening tool set with a seat or, at depending on the level of your garden beds, a garden tool set with a kneeler.
The GardenHome tool set comes with 5 popular hand tools, a stainless steel framed gardening stool, and a detachable canvas bag that keeps your tools organized and within reach.
The detachable bag is convenient – place it under the chair while you're working or remove it and use it as a separate tote.
😃 Eliminate aching backs from gardening and yard work when you sit instead of stoop and bend
😃 Detachable tote keeps tools within reach
😖 Some of the tools included are light-duty. Serious gardeners may want to use different tools with their tote.
For a truly sturdy and versatile gardening bench, it's best to go with the top-rated Tom Care multi-function seat and select a standalone set of tools.
The Tom Care is foldable and transforms into a wide padded seat or a comfortable kneeler with raised handlebars for safety and ease of use. Some older users like it so much they order a spare for indoor use, too! It's easy to put together and no assembly is required.
Although the Tom Care does not come with tools, it does have two canvas pouches to hold and organize your favorite hand tools.
😃 No more sweaty knee pads or backaches because the Tom Care functions as a seat and kneeler
😃 Canvas pouches keep tools within easy reach
😖 Tools are not included so you'll have to buy a separate set
Fiskars is a classic brand known for it's scissors, snips, and shears. It's no surprise that Fiskars produces high quality garden tools, too!
The newest Fiskars garden tool set is the Ergo 3 piece tool set. This is an updated version of their popular Softouch 3 piece garden tool set. It features comfortable, ergonomic grips that help reduce hand fatigue that comes with working in the garden.
The basic tool set contains the essentials: a trowel, hand rake, and transplanter.
For more gardening and lawn care possibilities, add on one of Fiskars other tools. I personally use the pruning shears and micro pruning snips on an almost daily basis. The micro snips are perfect for harvesting kale and smaller tomatoes.
😃 Well known brand with a reputation for quality
😃 Comfortable ergonomic grips that reduce hand pain
😖 Only three tools are included – you have to buy more tools individually if you need them
Cute garden tool sets
Cute tool sets also make great gifts for the gardener in your life. Many gardeners have mismatched tool sets accumulated over the years – a matching set of pretty tools is an appreciated gift.
A set of cute garden tools can make a mundane task more enjoyable, and it can help differentiate your tools from tools owned by other household members.
Cute garden tool sets are typically more cute than functional, but there are a few exceptions. These cute garden tool sets are highly rated and pretty, too.
This 5 piece floral print gardening tool set is made from heavy duty aluminum and features a comfortable grip for ease of use. They're a solid set of tools that will hold up to most gardening work The trimmers may not hold up to heavy duty pruning of dead branches. Check out these electric pole saws if you really need to do trimming work.
The floral decoration is surprisingly durable and doesn't flake and scratch after regular use.
😃 Cute and sturdy enough for most gardening work
😃 Comfortable handles are easy to grip and help reduce hand pain
😖 A few reviewers report receiving clippers that don't lock shut like they're supposed to
The Flora Guard 3 piece garden tool set makes a beautiful gift. The three piece set comes with the standard necessities – a hand cultivator, trowel, and pruners – that every gardener needs.
The vibrant, floral patterning helps these tools stand out so you can find them more easily in your garage or garden. They are made from cast aluminum, which makes them more durable than tool sets with separate heads and handles that can separate.
😃 Beautiful, vibrant designs
😃 Solid cast aluminum for durability
😖 No cushioned grip on the handles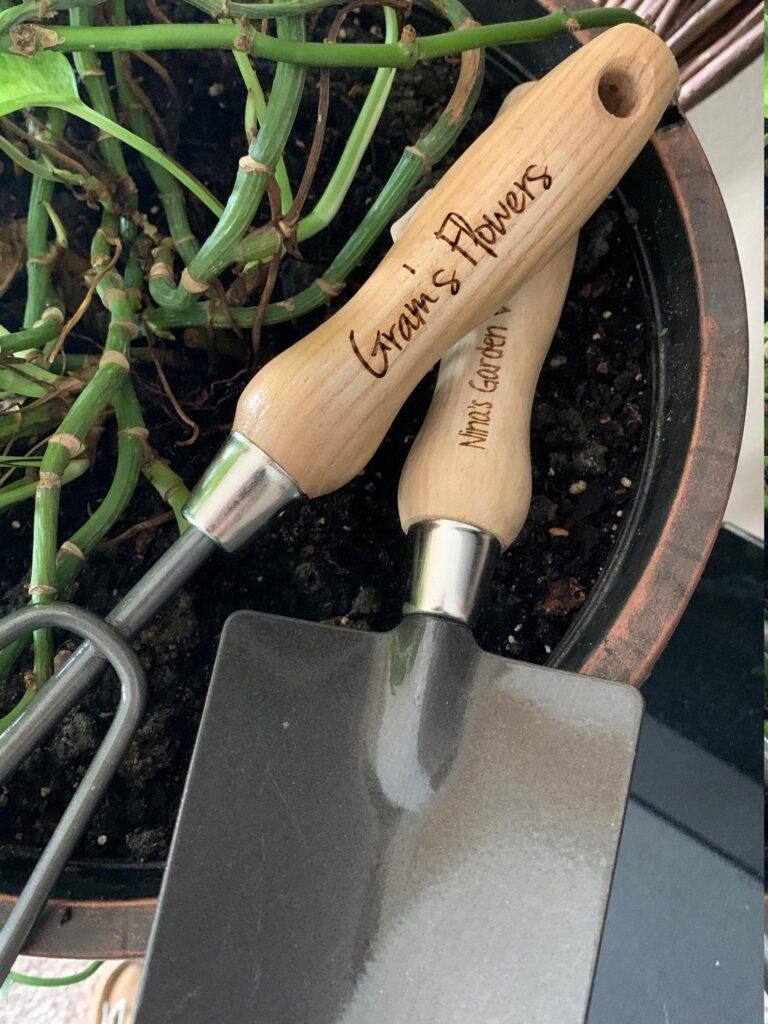 This personalized garden tool set from Etsy is a gift to remember. The set includes a heavy duty steal trowel and rake. Each one can be engraved with the message of your choice. You can get it personalized for the special gardener in your life or even with your favorite quotation.
The seller reviews for this item are filled with images posted by happy customers. Make sure to check them out for inspiration!
😃 Durable tools with a sweet, personalized message
😃 Shop has 20,000+ happy customers
😖 Two piece set without different tool options
Kid's garden tool sets
Kids love having their own gardening tools. Having a safe set of tools that's the correct size can help your child get involved with gardening. Caring for houseplants helps children learn about caring for living things and improves problem solving abilities. (source)
Finding the best garden tool sets for children can be difficult. Some are flimsy plastic toys that leave your child frustrated, but sharp metal tools can be dangerous for little ones.
These garden tool sets for children are durable, child-sized, and highly rated.
The Kinderific garden tool set is the ultimate set of garden tools for toddlers, preschoolers, and younger children.
Your child will feel special and so grown up with their own set of metal and wood tools, a watering can, gardening gloves, and a tote bag to carry it all. The tote also makes a great place to stash any outdoor treasures they find and can be used to bring in the garden harvest.
The real metal tool heads can actually dig in the dirt (or sandbox ) without bending like cheap plastic tools. They're also safe for kids to use because they lack sharp edges and points.
😃 Matching canvas tote to store the tools and contain toddler messes
😃 Perfectly sized for young children (the size is best for kids under 7 )
😖 Three reviewers (out of 300+ reviews) noted holes in the watering can upon arrival
The Green Toys garden tool set is, hands down, one of the best kid's tool sets available. Green Toys is a trustworthy, eco-friendly brand that makes its toys in the US from recycled milk bottles.
This garden set includes a watering can, hand rake, and shovel. Young children love watering plants. The small watering can is light enough that even toddler can carry it when full of water, but actually functions to water plants.
The hand tools are study and functional, but small enough that your little gardener won't easily damage something important while they're "helping." Unlike many plastic beach toy style hand shovels, this little trowel won't simply bend instead of digging.
😃 Nontoxic, recycled materials and made in the USA
😃 Sturdy, child-safe tools that won't bend and cause frustration
😖 Small tools that are best suited to young kids, not older children
The Toysmith Beetle and Bee set of kid's garden tools is a child safe set with metal tool heads and wood handles for a classic appearance. They come with either just the tools or you can get a set with the same tools in a canvas tote to keep them organized and contained.
Kids love the bright colors on the painted tool heads and fun patterns on the handles. They can be paired with tall garden tools for kids with long rakes, a hoe, and a shovel for a complete set of matching garden tools for your little garden lover! Nona, our almost 3 year old garden helper, adores her child sized hoe.
Adults with older hands also love these small garden tools because they're lightweight but functional.
😃 A variety of matching options to complete your child's garden tool collection
😃 Child-safe real metal tools help your child feel like a "big kid"
😖 Metal tool heads may rust after the paint chips
Succulent garden tool sets
Quite honestly, most succulent garden tool sets are pretty similar. They're small, lightweight, and not meant for heavy gardening work. Instead of boring you with a list of 5 different sets that are virtually indistinguishable, I selected the most highly rated mini garden tool set for succulents and houseplants.
This 13 piece miniature gardening tool set is perfect for taking care of succulents, transplanting, or for maintaining a fairy garden.
Many succulent growers try to make do with scrounged kitchen implements, like teaspoons and chopsticks. You'll be so glad you upgraded to a set of dedicated miniature garden tools, instead!
The different sized scoops and trowels make placing soil in hard to reach places easy while the brush and air blower are perfect for cleaning dust and debris off your precious plants.
I hope you've enjoyed this look at the best garden tool gift sets. Please leave a comment and let me know if you have a favorite garden tool set or brand I didn't mention!
Garden Gear Reviews
Are you looking for the best lawn and garden gear? Look no further!
If you're working in the garden or doing yard work, you need cut resistant gloves to protect your hands. Discover the best cut resistant gloves in this post including the gloves we personally use.
A garden hose reel can be a complete game changer. Say goodbye to annoying kinks and dead patches of lawn when you use a sturdy garden hose reel or retractable hose!
Expandable hoses are lightweight and kink-free. Unfortunately, many of them are also prone to leaks. Discover the best expandable hoses and how to store your expandable hose for longevity.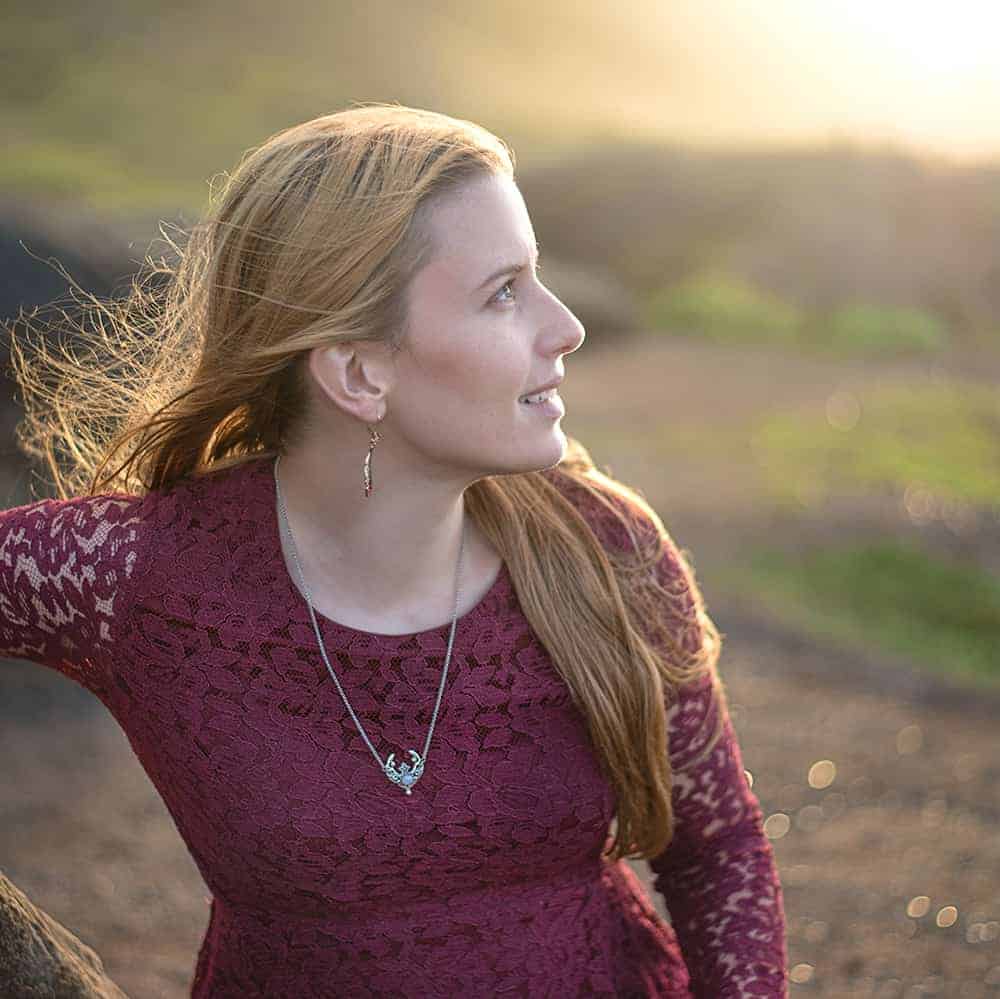 Natasha Garcia-Lopez is an avoid home-gardener and proud owner of 88 acres of land in rural West Virginia. She was a member of the Association for Living History Farms and Agricultural Museums for many years and is currently enrolled in the Oregon State University Master Gardner Short Course program so she can better assist you with your gardening questions.She holds a certificate in natural skincare from the School of Natural Skincare.