Beets are an easy crop to grow in your superfood garden as long as the weather is cool Harvesting is just as easy, and the roots can be kept for months in storage.
Along with being edible and nutritious, beets are one of the most colorful vegetables you can grow. The typical dark red varieties bleed an almost neon purple when cut, and you can explore yellow, white, or candy-striped varieties.
Beets are a nutritional powerhouse with essential vitamins and minerals like folate, manganese, potassium, iron, and vitamin C. (source) Beets also purportedly have a variety of health benefits to the point where beets are rapidly gaining "superfood" status! (source)
Here are a few tips for growing a good crop, plus how to harvest and store beets the right way.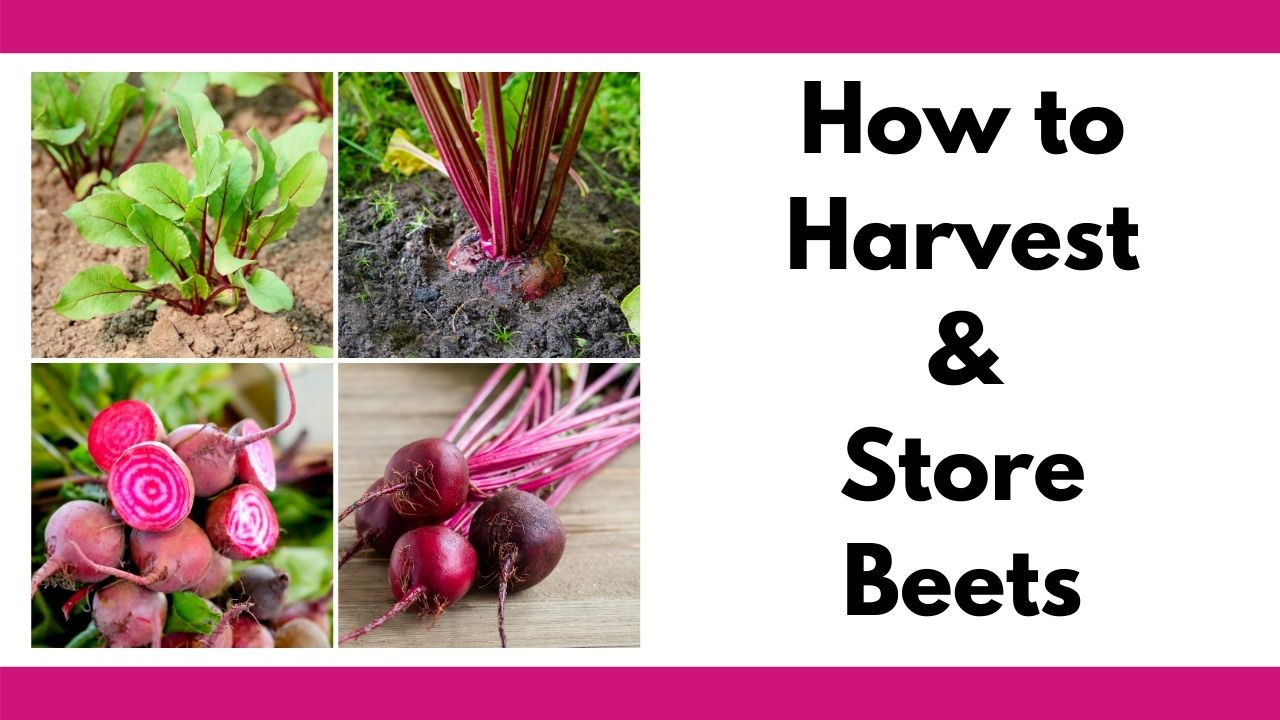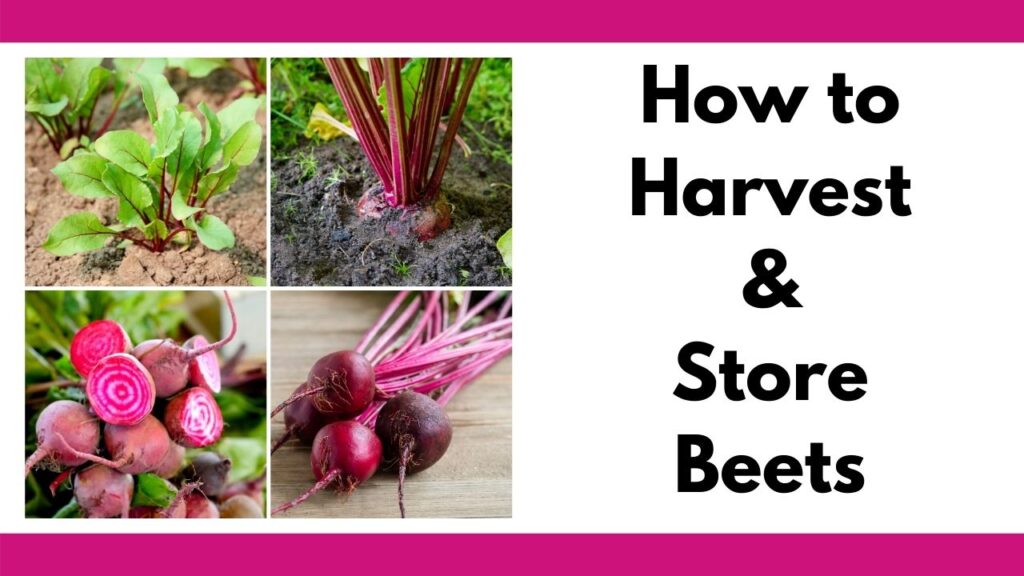 Beet Planting and Growing Tips
This post includes affiliate links. If you make a purchase using one of these links, Together Time Family will receive a commission at no additional cost to you.
Planting beets is as easy as buying a packet of seeds and sowing them out in your garden in early spring. You can also plant seeds in late summer for a fall harvest.
Here are a few beet-growing tips:
Cool weather – Beets are a cool season crop and can even survive light frosts. Sow seeds early and avoid trying to grow during the hottest months of the year.
Full sun – Beets need at least 6 hours of sunlight a day but preferably 8-10. Don't plant them in a shady spot or you'll end up with very tiny roots.
Thin them out – The beet "seeds" you see in the seed packet are actually made up of 2-4 seeds clustered together. This means that every seed you plant may sprout a few seedlings. Thin them to a spacing of 3-4" apart when the seedlings are about 4" tall. Simply snip the ones you need to thin off at the ground. I recommend small, sharp garden snips like these that I use. Snip, don't pull seedlings to thin them so you don't disrupt the nearly seedlings.
Moisture – Seeds will germinate best if the soil is kept consistently moist, and you'll get the best-tasting beets if plants get regular water. Hopefully, nature will take care of most of this for you, but water is necessary to get the best crop. Do not allow the soil to become overly dry during the growing season or roots may be small and stunted.
Related: How to plant and grow radish from seed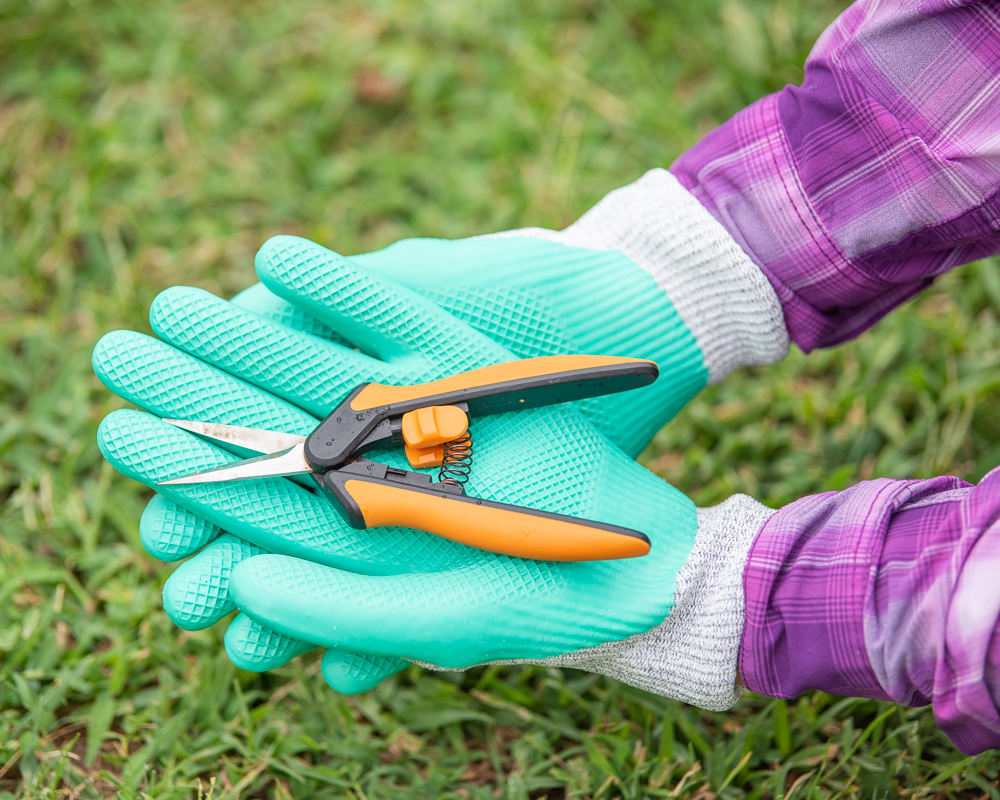 When to Harvest Beets
Most beet varieties will be ready to harvest in 55-70 days, although some may be ready as early as 45 days after planting. Start checking your beet roots about a month and a half after sowing your seeds.
Roots can be harvested anytime after they reach golf ball size. Let them reach about tennis ball size if you want larger beets, but any that grow too large will become tough and woody.
If you can't quite tell the size of your beets because they're mostly covered with soil, look for them to start popping out of the ground by an inch or too. This is a pretty good sign it's about time to harvest.
You can also harvest beet greens at any point to eat cooked or raw. They will stay tender until they get about 6" long. Just be sure you only harvest 1-2 leaves from each plant so that the roots will have enough energy to keep growing.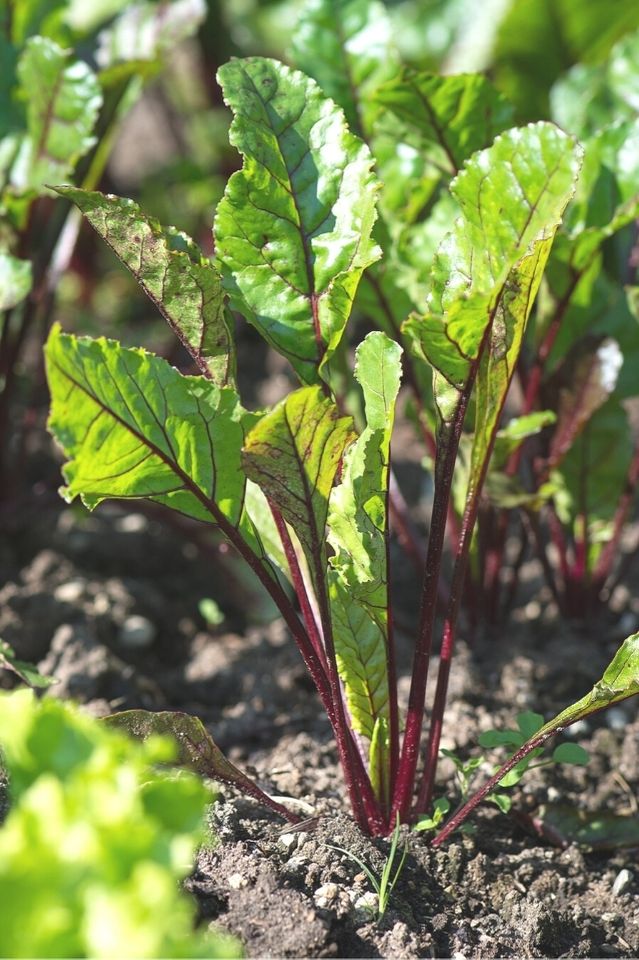 Related: How to harvest and store turnips
Harvesting beets in fall
If you have a crop of beets reaching maturity in the fall, they may start growing more slowly as the weather cools.
The good news is that a light frost won't hurt the roots at all and may actually give them a sweeter flavor. You can leave them in the ground until it starts to freeze or a severe frost is coming through.
How to Harvest Beets from Your Garden
If you can, pull your beets out of the ground on a dry day because it will be easier to get them out of the soil.
The biggest tip for how to harvest beets is to loosen the soil around them before you try pulling them out. If you have loose soil to start with, you may be able to harvest your crop simply by pulling up each root at the base of the greens.
If your soil doesn't want to let go of the beets, use a garden fork or hand tool to loosen the soil around and under the roots. Just don't accidentally stab one of your lovely beets!
Gently lift each beet root out of the soil and store in a basket or in your harvesting apron while you continue to harvest the rest. Don't have a garden apron yet? They're a serious arm-saver! Discover the best garden aprons with pockets.
How to Store Beets
Beets can be eaten or juiced fresh from the garden, but you can also store beets for future use.
It's easy to store beets whole so that you can use them and cook with them in the months to come.
To start with, you should cut the beet tops off right after harvesting. Leave an inch or two of stem on each beet, and make sure you don't cut into the beet itself. Brush off as much dirt as you can, but don't wash them or get them wet.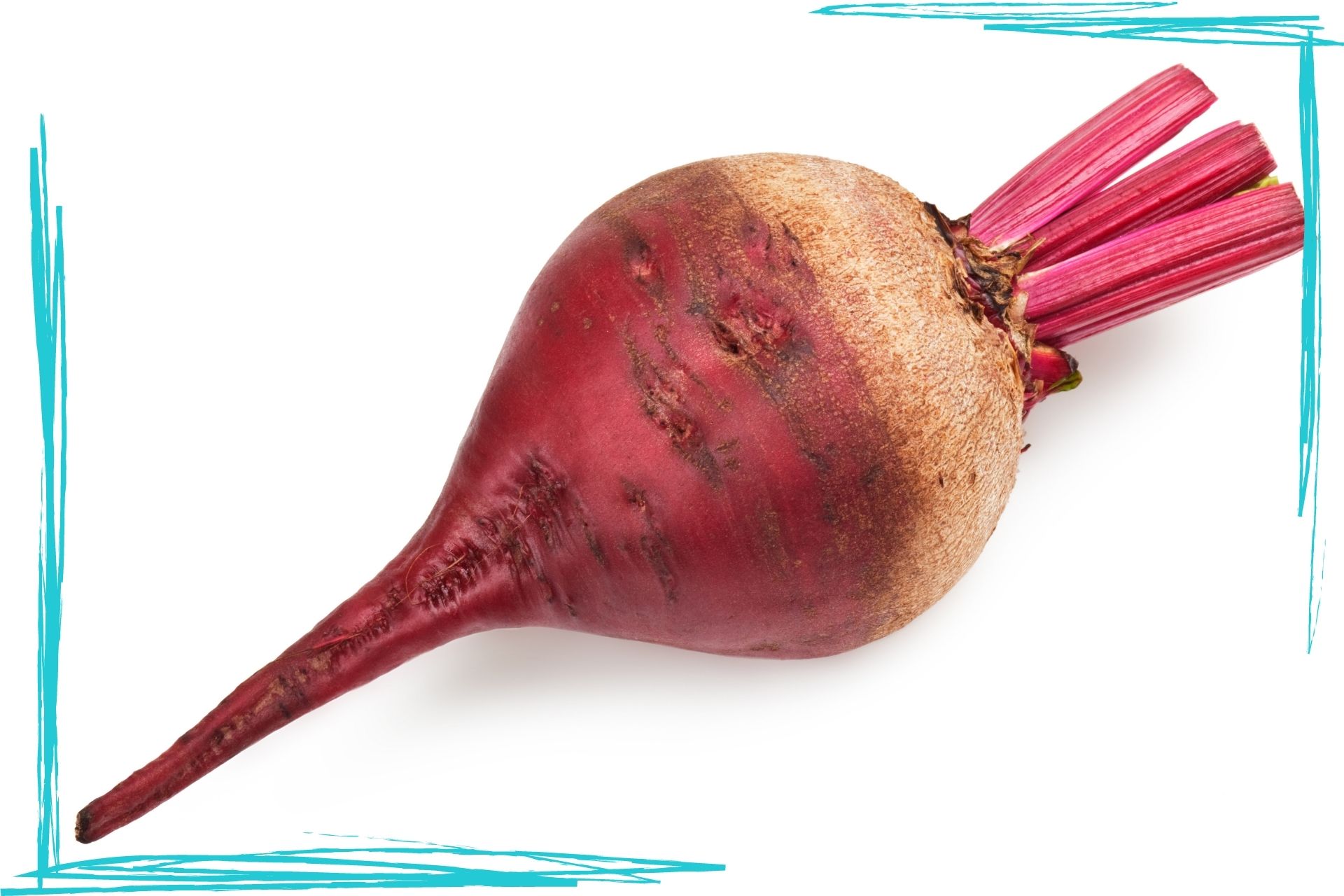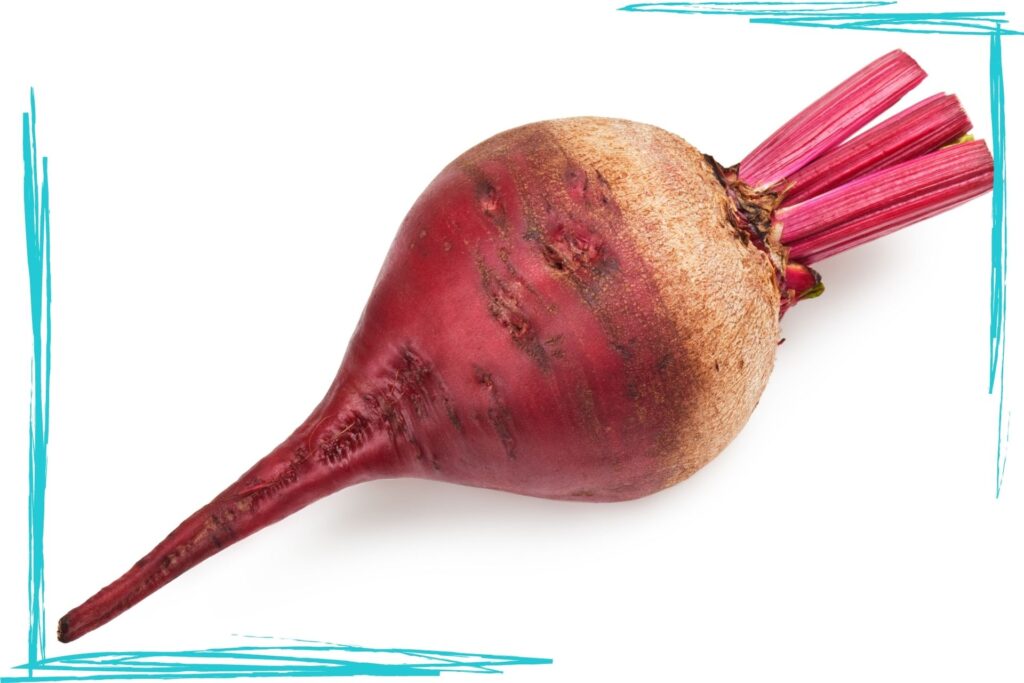 Beet greens can be stored separately from the roots. They'll last for several days in the refrigerator if stored in a plastic bag. (Or, my favorite, a reusable silicone bag.)
The roots can also be stored in your refrigerator where they may last for a few weeks, but for long-term storage you should keep them somewhere like a cool basement or root cellar.
To do this, pack your trimmed and dry beets into a storage container or bucket using sand or sawdust. Layer them so that the beets aren't touching each other, and use sand or sawdust in between layers.
Check on your beets every so often and remove any that look like they're going bad. They can store for 2-5 months this way!
More ways to preserve beets
One of the most popular ways of preserving beets in the past has been to pickle them. If you like how they taste pickled, you can do this yourself by submerging them in a liquid of vinegar, salt, sugar, and spices.
Pickled beets will last for about a month or two in the refrigerator, but if you go the whole mile and can your pickled beets, they'll last for months or years.
Fermenting is another option if you want beets with a pickle-like flavor but don't want to go through the whole canning process. It can take a little practice to get the hang of fermentation, but you basically just submerge your cut beets in a salty brine.
Fermenting your own foods is relatively simple, but it's important to follow a recipe to ensure a safe product until you've learned what you're doing. Luckily, there are several great books on vegetable fermenting.
Probably the best place to start is with the book Fermented Vegetables by Christopher and Kristen Shockey. It's a fantastic resource that will give you the confidence you need to being fermenting your own vegetables successfully.
Beet varieties to try
It's fun to experiment with new varieties of beets because there are such colorful options out there. Here are a few to consider:
Now that you know how to harvest and store beets, you can enjoy them roasted, in salads, fermented, etc. for months to come. And with so many varieties to try, it's hard not to plant them year after year!
Herb and Vegetable Harvest Tips
Not sure when your vegetables are ready to pick? Or how to harvest your herbs without killing the plant? Discover these herb and vegetable harvesting guides!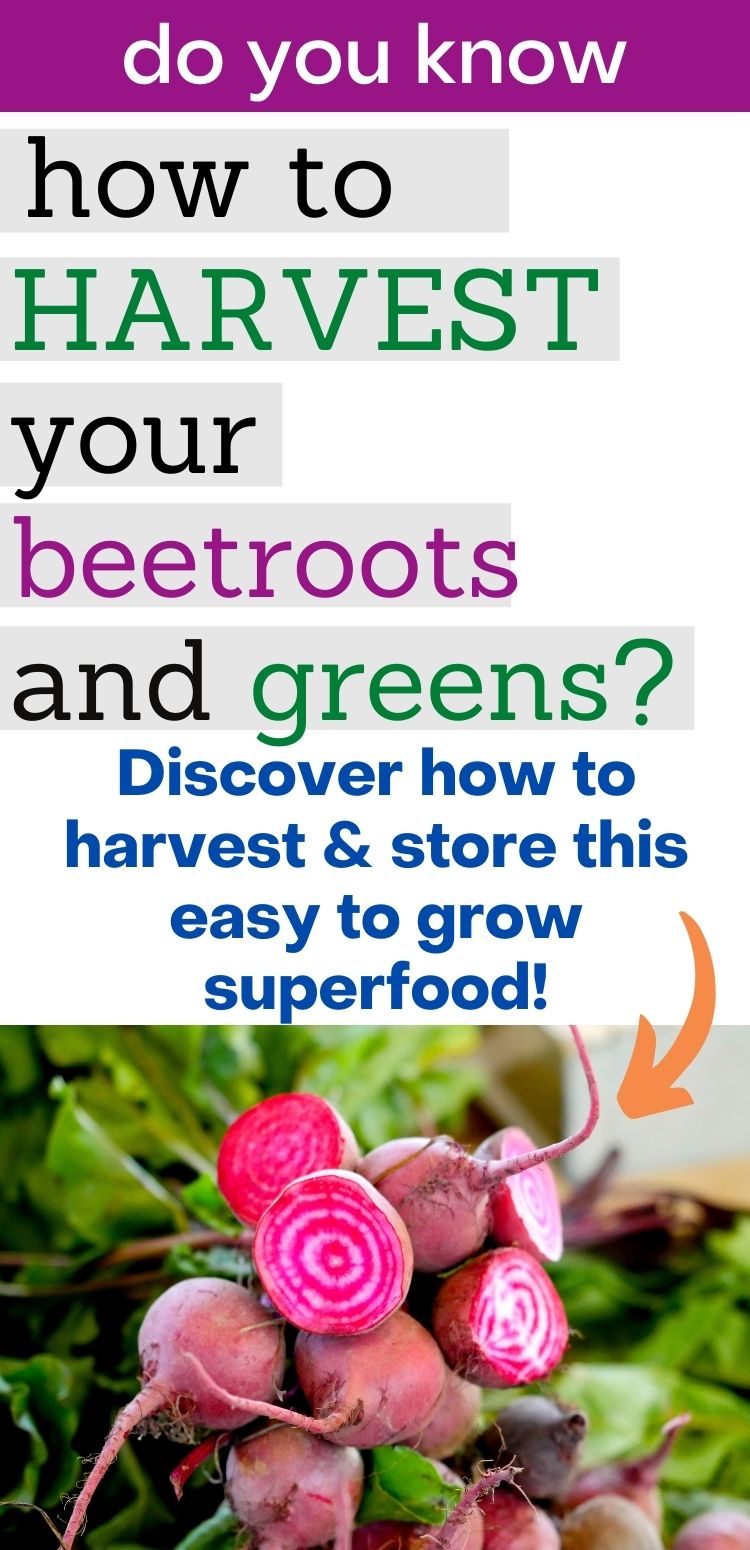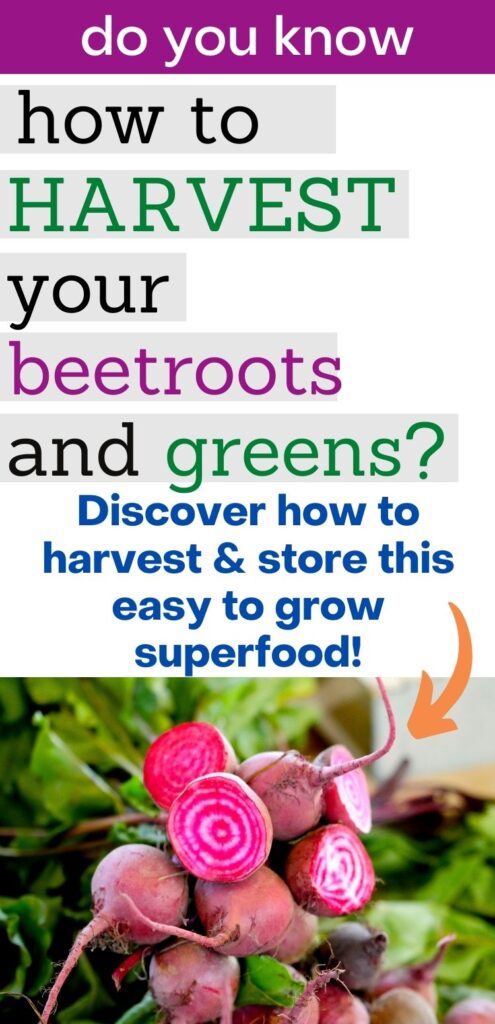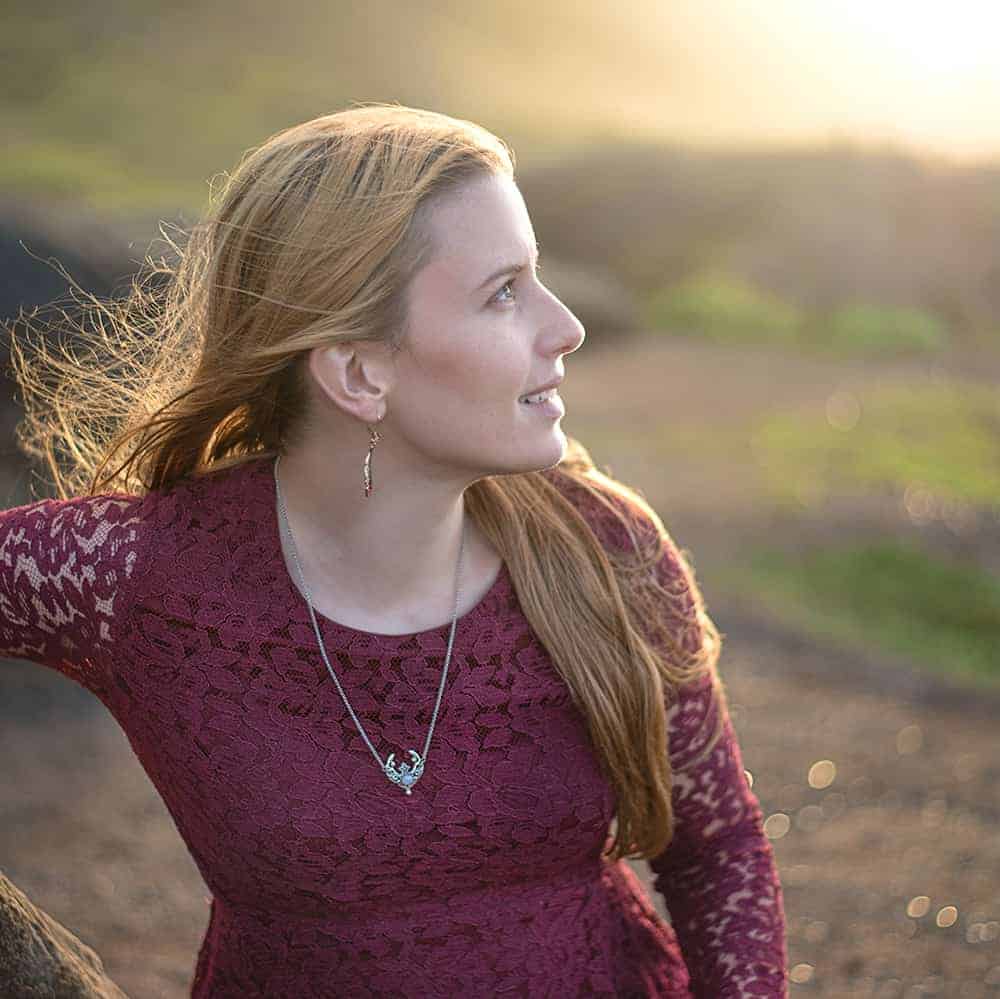 Natasha Garcia-Lopez is an avoid home-gardener and proud owner of 88 acres of land in rural West Virginia. She was a member of the Association for Living History Farms and Agricultural Museums for many years and is currently enrolled in the Oregon State University Master Gardner Short Course program so she can better assist you with your gardening questions.She holds a certificate in natural skincare from the School of Natural Skincare.