Mulch is widely used in both gardens and landscaping. It can form a weed barrier, preserve soil moisture, provide nutrients, and look nice, too!
Unfortunately, mulch needs to be applied in fairly thick layers in order to be effective. If you have a lot of lawn or garden area to cover, purchasing mulch can really add up.
In this post, we're taking a look at how to make mulch so you can save time and money. Making your own mulch also means you have complete control over what goes into your mulch and can ensure no hazardous materials end up on your garden beds. Let's take a look at how to make mulch!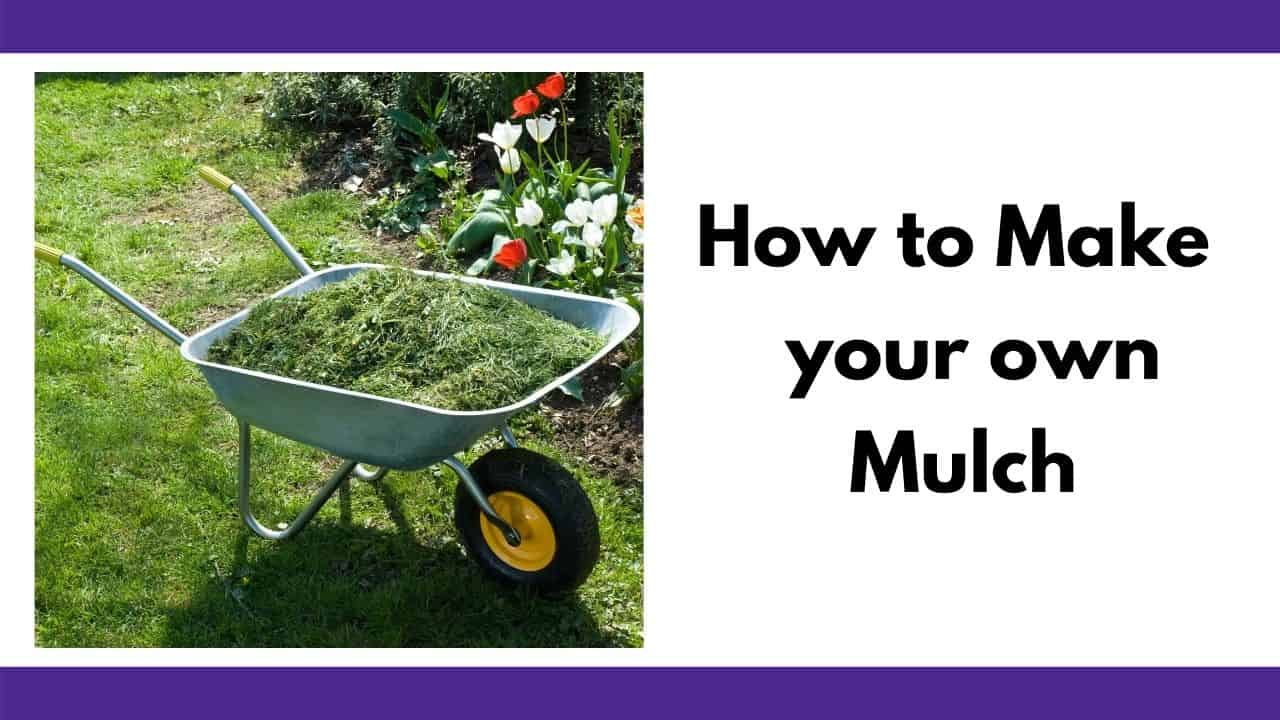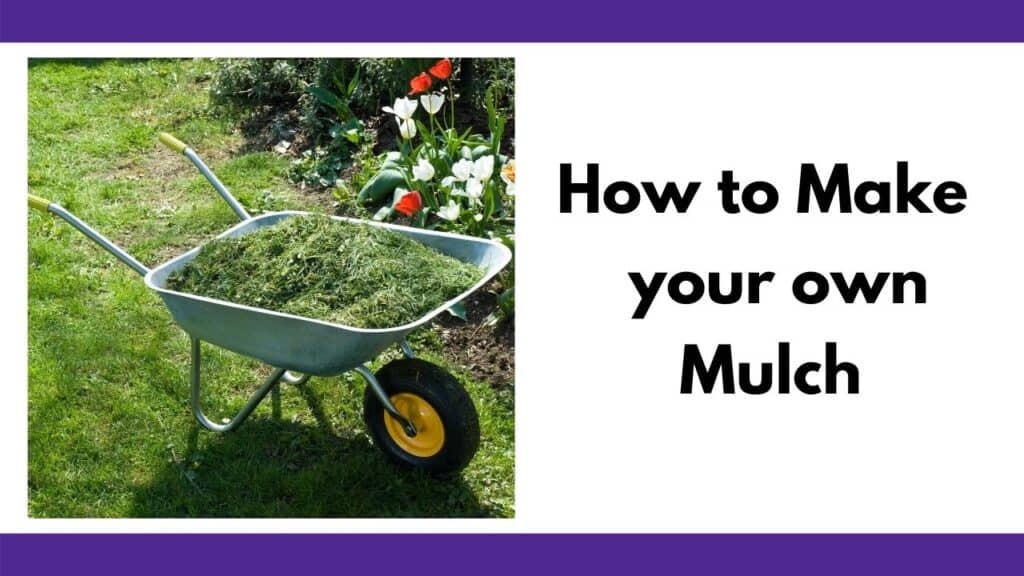 This post includes affiliate links. If you make a purchase using one of these links, Together Time Family will receive a commission at no additional cost to you.
How to Make Mulch for Your Garden and Yard
There are many different types of mulch. You can use just about any natural, organic material that is in your yard. You can even use newspapers as mulch!
Before we outline the different types of mulch, here's some general tips about the process:
It is recommended that you pull any weeds out of the garden before applying mulch.
It is also important for your plants that you do not build up the mulch too close to their bases. Mulch touching plants can transmit disease, harbor insects that may damage your plants, and encourage mildew. Taper the mulch down to no more than an inch around the base of bushes and other plants.
You can store the leftover mulch in a trash bag or bin, as long as it has ventilation. Poke holes in your bag, like you see in commercial mulch bags. Flip your bags every so often to keep moisture uniform.
Making your own mulch can be easy and very cost-effective. Keep reading to learn how to make specific types of mulch.
How to Make Compost Mulch
Probably the best type of mulch for many gardens is compost mulch. It's exactly what it sounds like—just composted food and yard waste made into a nice, nutrient-rich mulch for your garden. Compost mulch is just "regular" compost, but applied in a very thick layer. 
No-dig gardening expert Charles Dowding uses massive quantities of compost to act as both planting medium and mulch for his garden beds. He recommends applying compost in the fall or winter, then planting directly into it in the spring.
Dowding recommends compost as the mulch of choice for gardens with wet weather. Mulching with compost instead of straw or leaves can help prevent slugs and snails from munching your young plants. Areas with more dry climates may benefit more from lighter mulches with straw or leaves (source).
For a look at Dowding's compost process (and incredible results), check out Organic Gardening the Natural No-Dig Way.
Sale
There are many resources available on composting. For a brief guide to compost, stop by this post on how to tell when compost is ready.
Some sources make compost seem overly difficult and intimidating. One of my favorite gardening books, Mini Farming, gives a practical, thorough, and non-intimidating look at how to compost successfully. The author, Brett Markham, shows you how to make a compost bin and take care of it for rich, successful compost.
Sale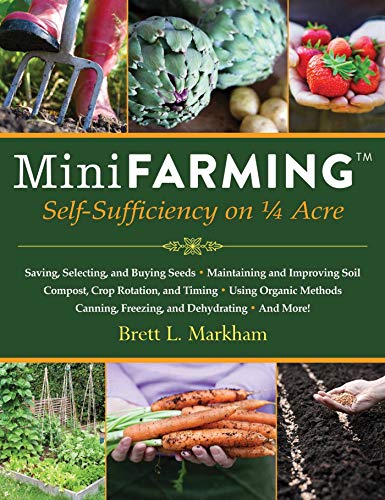 How to Make Mulch from Leaves
Most people have no problem finding old, dead leaves that need to be reused and put to good use. If you don't have adequate leaves in your yard, people will almost always give you their leaves if you ask and are willing to haul them away.
Non-shredded leaves have a tendency to blow around and don't make good mulch. Shredded leaves are an entirely different story! Shredded leaves make excellent mulch that's virtually free and easy to spread.
According to gardening expert Will Bonsall, shredded leaf mulch can be applied quickly simply by tossing it. What a delightful timesaver! He describes his process as "creating a blizzard of leaf confetti over the beds" as he throws shredded leaves from a bin. The light, shredded leaves settle down around young plants instead of suffocating them and shredded leaves don't blow away as badly in the wind. 
This method is very appealing when compared to the "usual" back-breaking method of hand placing mulch carefully around garden plants: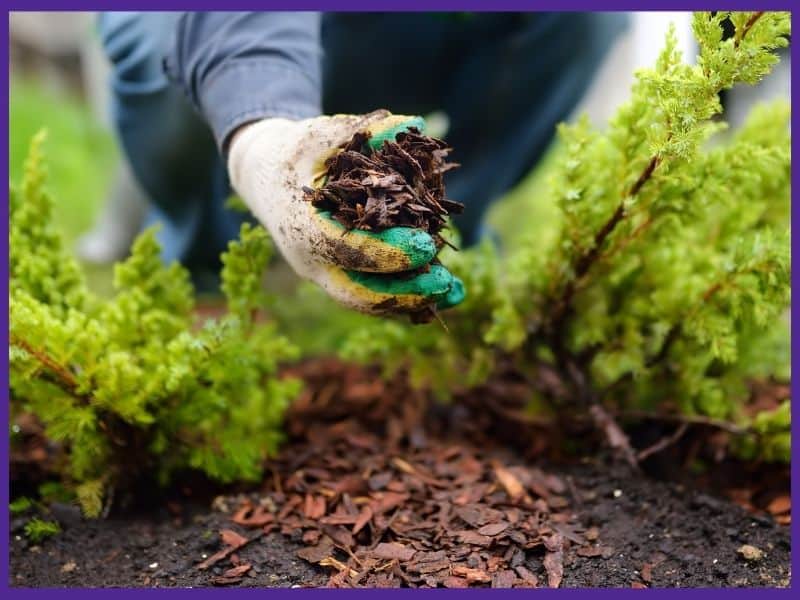 Bonsall's book Will Bonsall's Essential Guide to Radical, Self-Reliant Gardening contains in-depth explanations about to make massive quantities of compost in the most economical and eco-efficient way possible. If you're interested in self-reliant gardening, this book is a must-read.
Sale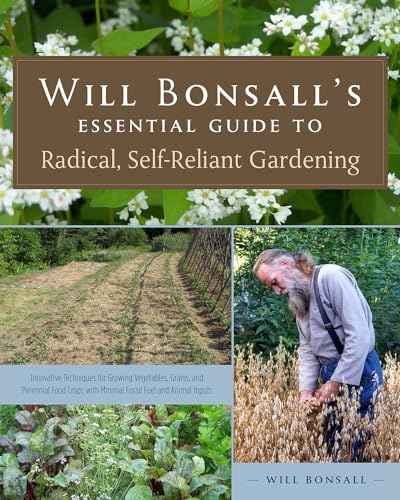 If you have lots of leaves with few branches and sticks, and electric leaf mulcher is the most affordable way to shred your own leaves. You can discover the best electric leaf mulchers in this guide. 
You can shred leaves without a mulcher, though the process is more labor intensive and not as thorough.
Here is how you can make mulch from leaves without a mulcher:
Gather your leaves into a pile. Fruit tree leaves, cherry, birch, and maple are all great leaves to make a mulch with. Some people recommend limiting the number of oak leaves you mulch because oak leaves are naturally fairly acidic. If you're growing acid-loving crops like blueberries you might want to intentionally seek out lots of oak leaves. Oak tree leaves can be used but only in small amounts mixed with other types of leaves due to their high acid levels. Completely avoid eucalyptus and walnut trees because they have toxins that can stop the germination process in seeds (source).
Make a 2 inch layer with the leaves by spreading them out on a smooth even surface. Use your rake to spread the leaves out so that you will be ready for the next step.
Go over the leaves with a lawn mower. This will shred the leaves into the dime sized pieces that they need to be. You may need to go over them several times to achieve the desired size. This works best if you have a mulching blade installed on your lawn mower.
After you have finished shredding the leaves, they are ready to go in your garden.
How to Make Mulch from Yard Waste
Keeping our yards looking well-kept and clean can sometimes mean that we have a lot of extra trimmings and leftovers piled up. Instead of burning them or trashing them, you could try making a mulch with all of your yard waste.
Just like with leaves, you can frequently score free grass clippings for neighbors if you ask. Also ask them if they spray their lawn before collecting leaves to ensure you don't accidentally introduce unwanted chemicals into your garden. Some plants, like tomatoes, are very susceptible to pesticide residues.
Yard waste is considered to be any organic material that comes from maintaining gardens, yards, and landscaped areas. It is noted that yard waste takes up a good amount of landfills each year, which is really not necessary since there is so much that can be done with these trimmings.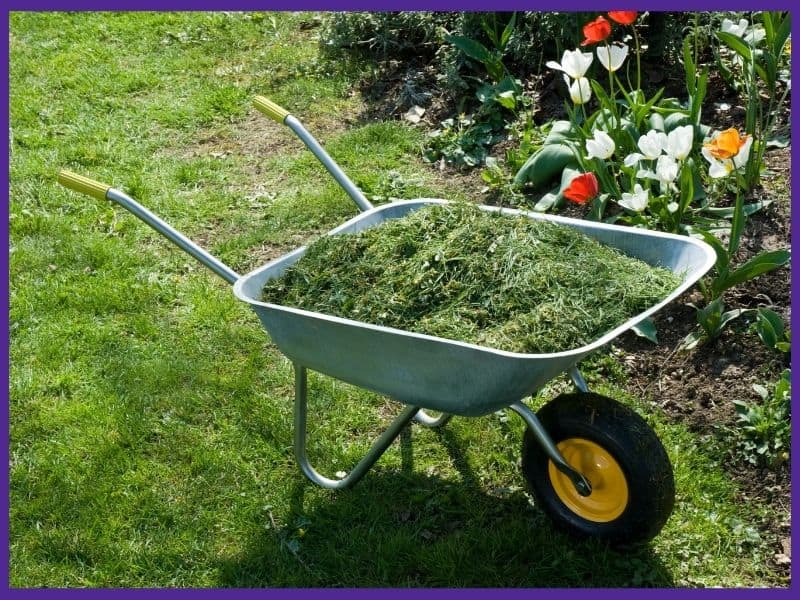 Here is how to make mulch from yard waste:
When using grass clippings: It is common for people to pick up the trimmed grass after it has been cut to make sure that their yard looks perfect. It is then bagged up and put into the trash can and sent to the landfill. When using it to make mulch, you can simply leave in on your grass because it gives great nutrients back to the soil. If you want, though, you can mix it with your mulch that you made using leaves.
When using brush or trimmed branches: Some very small twigs may be able to get shredded up with just a lawn mower. For bigger branches or limbs, you will need to run them through a woodchipper so that they will be shredded into tiny pieces and easily decompose.
When using weeds, dead flowers, and/or plants: These types of materials can usually be shredded easily with just a lawn mower. They will also need to be dime-sized in order to decompose easily.
All of these types of mulch are very simple and free to make! What is better than that?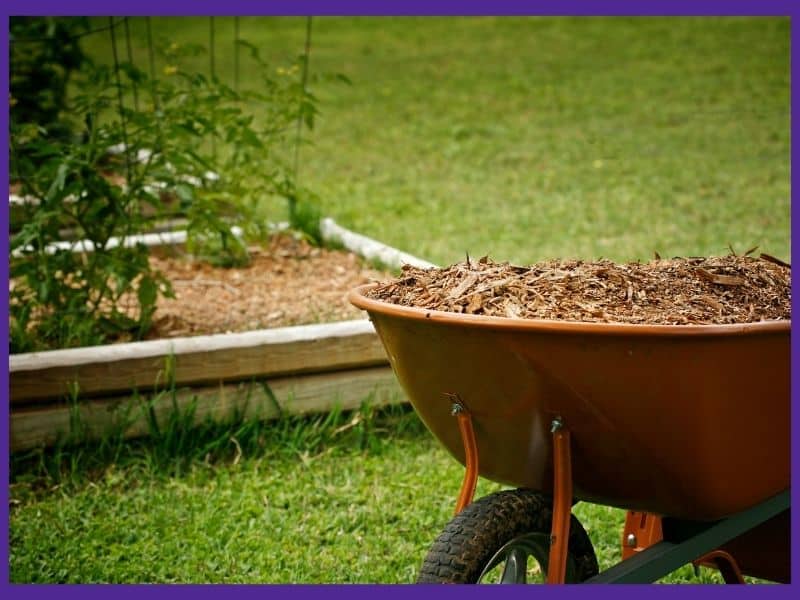 How to Make Mulch Without a Chipper
There's not getting around it – making wood mulch is easiest if you own, rent, or borrow a wood chipper.
With that being said, it is possible to make a rough mulch without a chipper.
Here are some ways to turn wood into mulch without a chipper:
Chop the wood. This seems like a horrifying task considering the size that you need your wood chips to be, but sometimes it might just be your only option. Instead of trying to chop whole trees into tiny mulch pieces, chop up smaller branches. 
Use a chainsaw. If you have a chainsaw, it can be much easier to make mulch than with a hand axe alone. You don't need to drop a lot of cash on a huge, gas chainsaw if you're primarily cutting smaller branches. Discover the best electric chainsaws here. A video from Homesteading Off Grid is linked below. He makes a fair amount of wood chips pretty quickly by using a chainsaw.
The Benefits of Using Mulch
Not only does mulch make gardens look perfectly tidy and organized, but mulch also has many more benefits. Making the decision to spread mulch in your garden could save and protect it.
Here are the benefits of using mulch in your garden:
Mulch helps to keep the soil moist. This can reduce the amount of water you need to apply, especially if you run a soaker hose under your mulch.
When organic mulch begins to decompose, it delivers essential nutrients to the soil that helps the plant to grow strong and healthy.
Mulch protects plants from cold temperatures.
Mulch inhibits weeds.
Some types of mulch, such as cedar or cypress, repel insects and pests. 
Inorganic Mulch: Pros and Cons
Since we have discussed organic mulch throughout this article, it is now time to take a look at inorganic mulch. Inorganic mulch is a material that cannot decompose, such as rocks, plastic sheets, and rubber mats and chips.
Using inorganic mulch has some advantages and disadvantages, but it will ultimately all come down to preference on whether you decide to use it or not.
Pros of Inorganic Mulch
While some people really try to be resourceful and reuse and recycle everything that they can, some people prefer to go with options that last longer and do not require too much effort. That is why inorganic mulch is a quite popular option for mulch.
The pros of inorganic mulch are:
Inorganic mulch does not need to be replaced as often as organic mulch since it does not decompose.
Rocks, stones, and pebbles can make a garden area look very appealing.
Plastic sheets can totally stop weeds from growing in your garden.
Landscape fabric can also stop weeds from growing while allowing oxygen to get to the soil.
Rubber mulch is 100% recycled material. It also stops weeds from growing and helps keep the soil moist.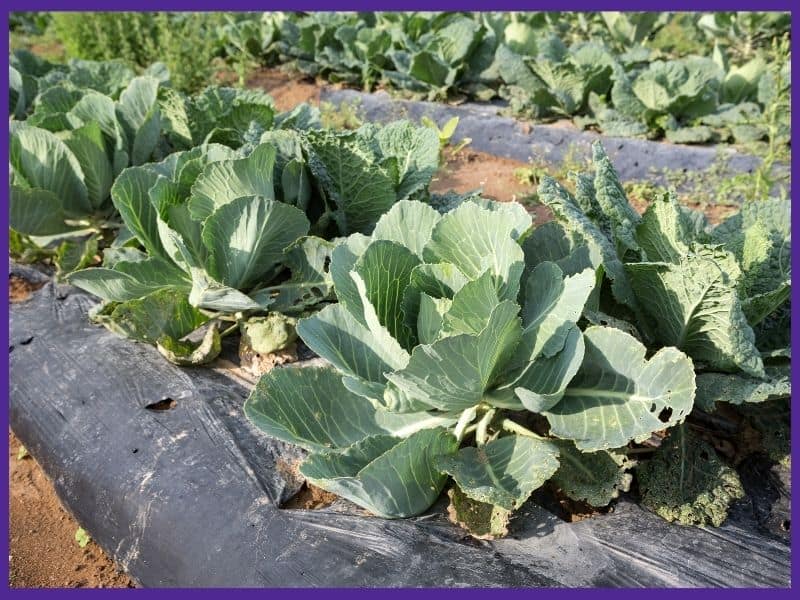 Cons of Inorganic Mulch
While those are some pretty good pros for inorganic mulch, there are also some cons that should be considered if you are trying to decide which mulch to choose from.
The cons of inorganic mulch are:
Inorganic mulch typically costs more money than organic mulch.
Inorganic mulches are typically non-renewable and you have to purchase them instead of sourcing them for free.
Plastic sheets can prevent oxygen from getting into the soil.
Landscape fabric tends to wear out fairly quickly, which will mean that you have to buy replacements more often.
Rubber mulch basically never decomposes, which means it will stay in the soil for a very, very long time.
When to Change Your Mulch
After doing all of that hard work preparing and placing your mulch into the garden, you may start to wonder when this will all have to be done again.
Inorganic mulches, depending on exactly which type, can last from a few years to forever. Typically, people only change their inorganic mulch for aesthetic reasons, if they want to switch to an organic mulch, or if it poses a safety issue (like a dog eating the rubber chips).
Organic mulches, however, are a different story since they decompose within a few years. In most cases, you will not have to actually take all of the old mulch out of your garden to add new mulch. The old mulch that is in your garden will still be sending nutrients to the soil.
With a mulch made of leaves, you will typically need to replenish it every year.
If you are using wood chips, they will last about 3-4 years before needing to be replenished.
Adding more, fresh mulch on top of the old is usually fine.
Some people prefer to buy colored mulch from the store and notice quickly that the color does not last very long in the sun. It does not mean that the wood chips absolutely have to be replaced if the color has faded because they are still giving nutrients to the soil.
Either way, it is usually very noticeable when organic mulch either needs to be changed or replenished as it will quite literally degrade and decompose into soil!
Final Thoughts
In conclusion, buying mulch from the store can be a little on the expensive side and really is not necessary.
You can easily make your own with materials laying around in your yard. Here's a quick summary of all our advice:
Gather the materials you want to make your mulch out of. Use a chipper, lawn mower, axe, or natural elements to get the materials into tiny, dime-sized pieces. Make sure that if you are using more than one material in your mulch that you mix the materials together very well.
Once you have completed that, you can add the mulch to your garden. It is recommended to add at least 3 inches deep of mulch for weed control. Avoid having mulch other than compost touch your plants directly.
Store the leftover mulch in a bag with airholes or spread out on a tarp to avoid fermentation of the organic materials.
No matter whether you buy it or make it, just choose the type that will be best for the needs of your yard and garden first and foremost!
Do you know how to tell when your compost is ready to use? And how long does compost take, anyway?
You know your compost needs to be turned, but you're tired of breaking your back. Discover the best compost aerators to make aerating your compost easy.
Discover how to attract more earthworms to your garden for healthy soil and bountiful yields.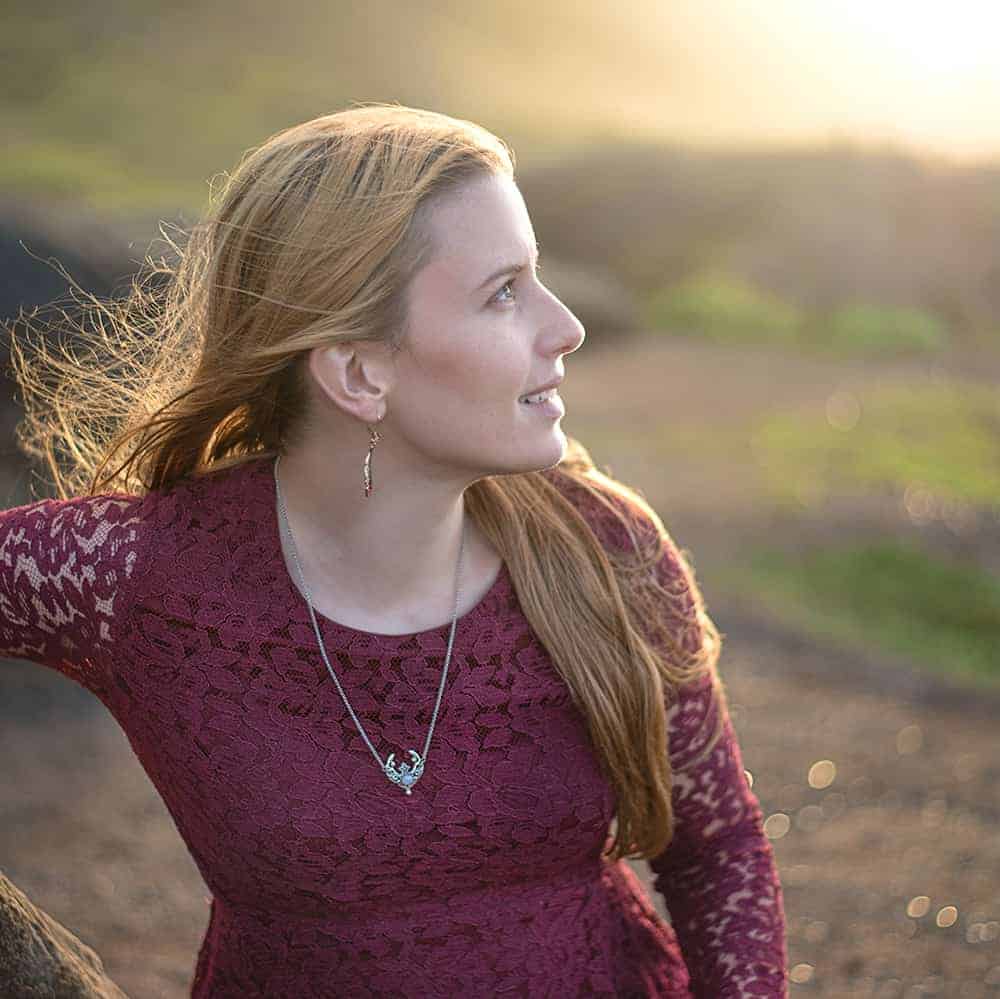 Natasha Garcia-Lopez is an avoid home-gardener and proud owner of 88 acres of land in rural West Virginia. She was a member of the Association for Living History Farms and Agricultural Museums for many years and is currently enrolled in the Oregon State University Master Gardner Short Course program so she can better assist you with your gardening questions.She holds a certificate in natural skincare from the School of Natural Skincare.