Peppers are a popular choice for a home garden but can be a little more temperamental than vegetables like tomatoes. They love the heat of summer but will need some attention from you throughout the season.
To get your plants started off right, you'll need to take a few important steps like planting them at the right spacing and in the right spot.
With that in mind, here's a quick growing guide, plus how far apart to plant peppers and some other important pepper FAQs.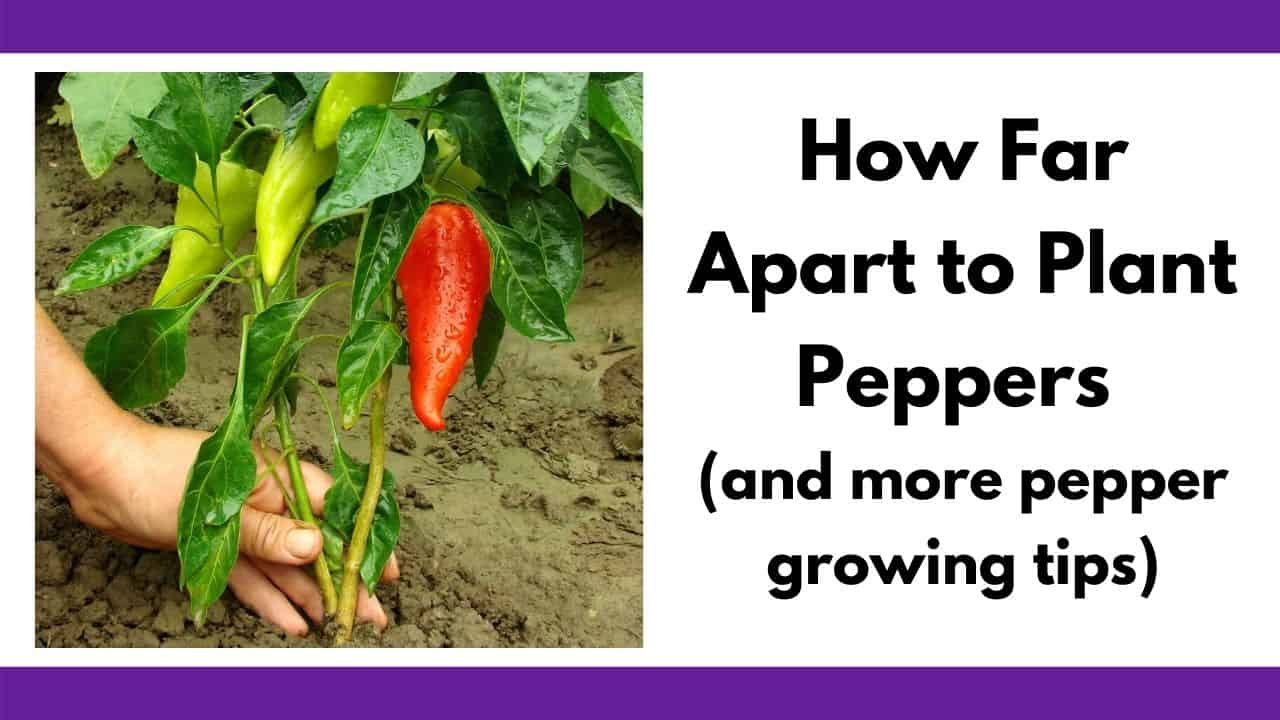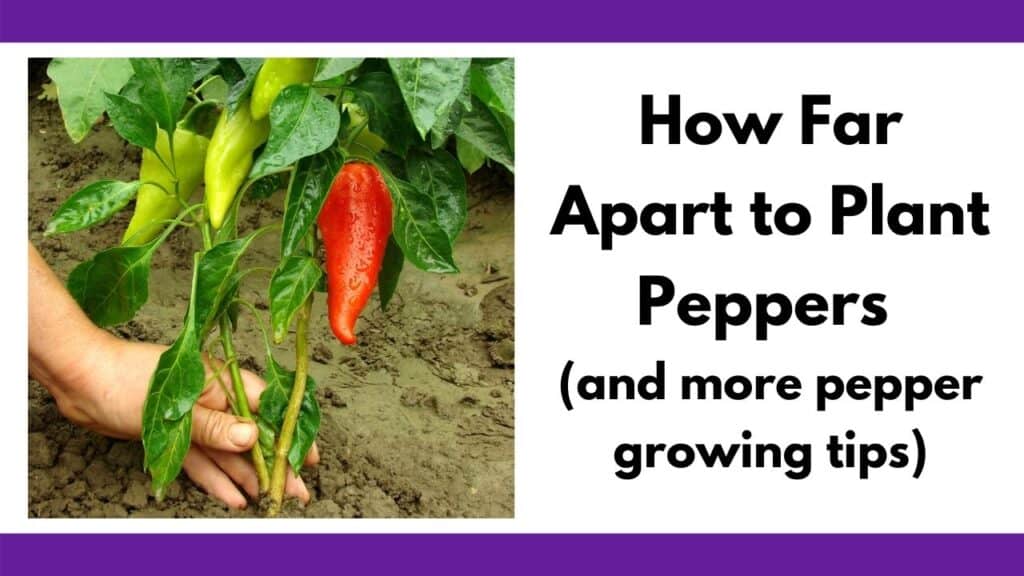 Quick Pepper Growing Guide
This post includes affiliate links. If you make a purchase using one of these links, Together Time Family will receive a commission at no additional cost to you.
If there's one thing you should know about peppers before planting them, it's that they don't like cold weather – at all. Have patience and wait until the soil has warmed to at least 65°F to plant them.
Here are a few other pepper growing guidelines to follow:
Peppers can be started from seed indoors about 8-10 weeks before your last average spring frost date. Germinate the seeds somewhere that's 75°F or above for the best results.
Pepper seedlings should be kept at 75º-85º F during the day and 65ºF at night. (source) Keeping your whole house this warm is expensive and unappealing, so it's best to get a seedling heat mat. They're an affordable way to keep your warm weather loving peppers, squashes, and tomatoes happy inside.
Sale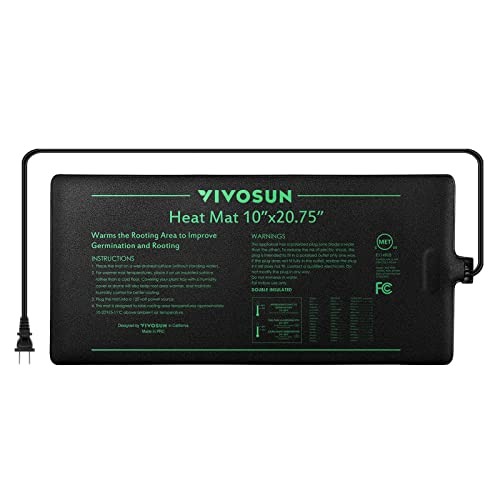 VIVOSUN Durable Waterproof Seedling Heat Mat Warm Hydroponic Heating Pad...
Reliable Results: The VIVOSUN professional heat mat maintains sweet-spot temperatures around 68-86℉(20-30℃), which is perfect for start seeding...
Stable & Uniform Heat: The advanced far-infrared heating technology of this heat pad provides your plant with a warm environment to create optimal...
Built to Last: Designed with soft, flexible, and ultra-lasting material, this warming mat goes beyond stringent MET standards; The IP67 rating...
Pepper plants are very likely to suffer from transplant shock if you take them straight from your cozy home into the garden. Harden them off for a two week period before transplanting to your garden. Discover how to harden off seedlings and prepare seedlings for transplanting.
Choose a spot that gets full sun (a must) and has good drainage to plant your peppers. Don't plant them where other nightshade crops were growing recently, including tomatoes, eggplant, and potatoes.
Mix compost or well-rotted manure into your soil before planting. You can also add in a high phosphorus fertilizer (which promotes fruit growth), but avoid adding a lot of nitrogen because it will promote leaf growth rather than fruiting. Making your own compost may seem intimidating, but it doesn't have to be. David the Good's guide Compost Everything will set your mind at ease! You can usually get a free download of the PDF if you poke around on his website.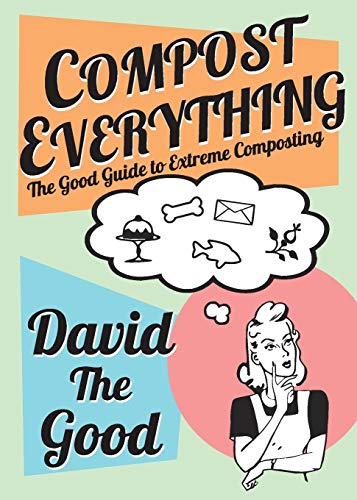 Peppers benefit from a cage or staking. Pepper plants can grow quite large. Although the stems can become surprisingly thick and sturdy, they benefit from a cage or stake for support. I find stakes better and easier for peppers. Make sure to drive the stake into the soil near each plant while it is young. If you wait until it "needs" the stake, you risk damaging its roots.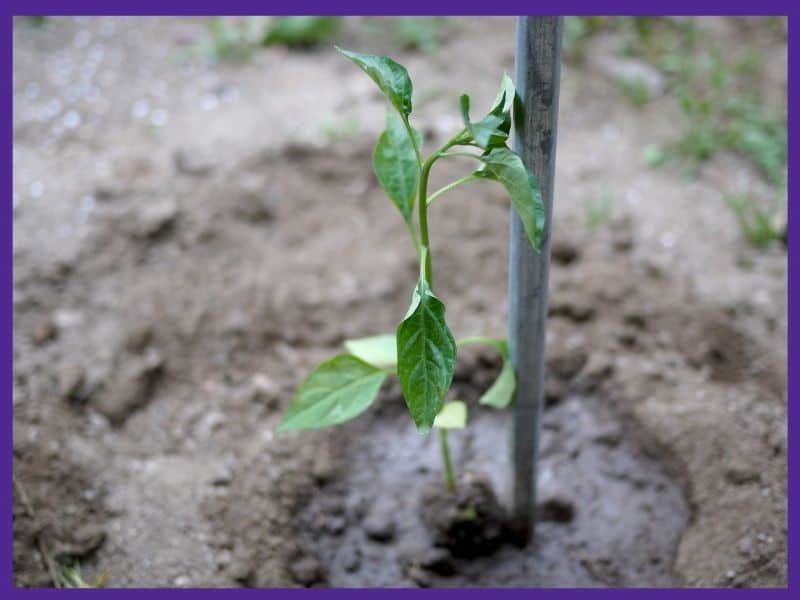 I prefer coated fiberglass stakes to cheap, flimsy bamboo ones. I've had bamboo snap in storms (and under the weight of plants!) and even harbor insects and mildew. Coated fiberglass stakes are also easier to tie twine or plant ties to and are reusable.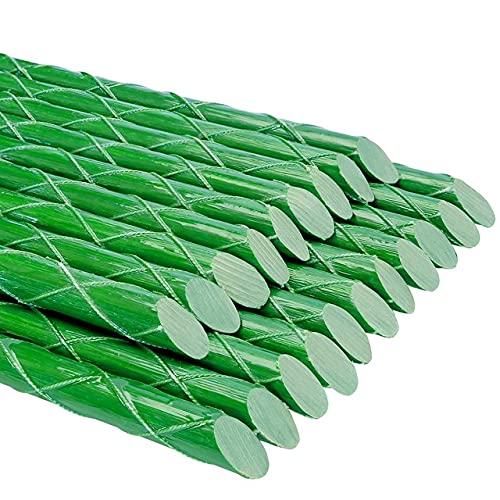 Sweet and hot peppers have almost identical guidelines for planting, although hot peppers are likely to ripen first.
How Far Apart to Plant Peppers
Once you have your spot picked out and your soil prepared, it's planting time!
If you're wondering how far apart to plant peppers, the basic guideline is to space them 18-24" apart. They grow larger than many people expect, and you want to make sure there's adequate space in between each one for good air circulation.
However, the exact spacing will depend on the specific type and variety you're growing.
Hot peppers are typically more compact than sweet peppers and can be planted 12-18" apart. Some sweet pepper varieties are also more compact and can be spaced more closely together.
The best thing to do is to check the label on your pepper plants (or seed packet) to determine the specific spacing for your variety. If you're still unsure, err on the safe side and plant your peppers about two feet apart.
If you want to do rows of peppers, leave two to three feet between each row so you can pass easily between them.
In Square Foot Gardening, peppers are planted with one plant per 12″ square. In the photo below, you can see a couple of young pepper plants and a tomato in a raised bed with square foot spacing. Intensive gardening methods like Square Foot are a fantastic way to grow more food in less space, but your plants will need more attention and it's best to pick smaller varieties.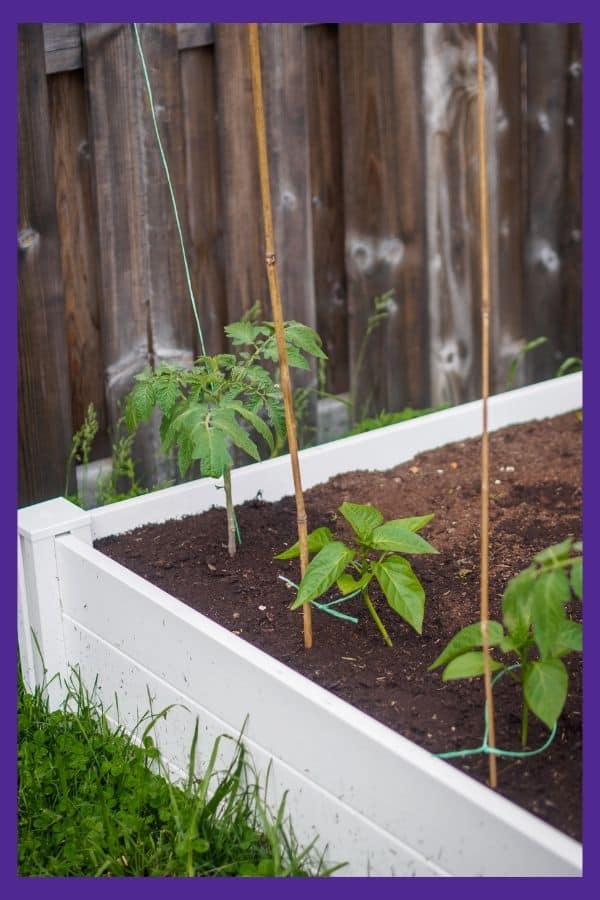 Can Hot Peppers Be Planted with Sweet Peppers?
This is an old question and one that has many people confused. New gardeners are often advised not to plant hot and sweet peppers next to each other, or the sweet ones may end up being spicy.
The good news is that planting hot and sweet peppers together is absolutely fine. You won't end up with any sweet-turned-hot peppers.
The reason for this is that hot and sweet peppers can't cross in a single season. They will each grow true to seed and have the flavor they are supposed to.
However, you can run into a problem if you plant sweet and hot peppers together and want to collect the seeds. In this case, there is a chance (though still a small one) that the peppers will cross, and the seeds you collect will become a new hybrid pepper.
If you're interested in isolating peppers for seed saving, this guide from Southern Exposure (one of my favorite seed suppliers) is a fantastic resource.
What's the Difference Between Green and Colored Bell Peppers?
If you've never grown bell peppers before, you may be surprised to learn that all colored bell peppers start out green. As the peppers mature, they change color to orange, red, yellow, etc.
This ripening process is what gives colored peppers more sweetness and a higher vitamin C content. Green peppers retain a slightly bitter flavor, since they are technically underripe.
Early in the season, you can harvest green peppers from your plants and leave the rest there to fully mature and color later in the season.
Ripening can take a maddeningly long time. Your peppers will be green forever. Or at least that's what it feels like!
The good news is that picking green peppers will encourage your plant to flower and set more fruit. Go ahead and pick a few green ones to enjoy, as long as your growing season is long enough to give new peppers a chance to ripen. These are a handful of miniature peppers I grew in my Greenstalk Grower during last summer's season.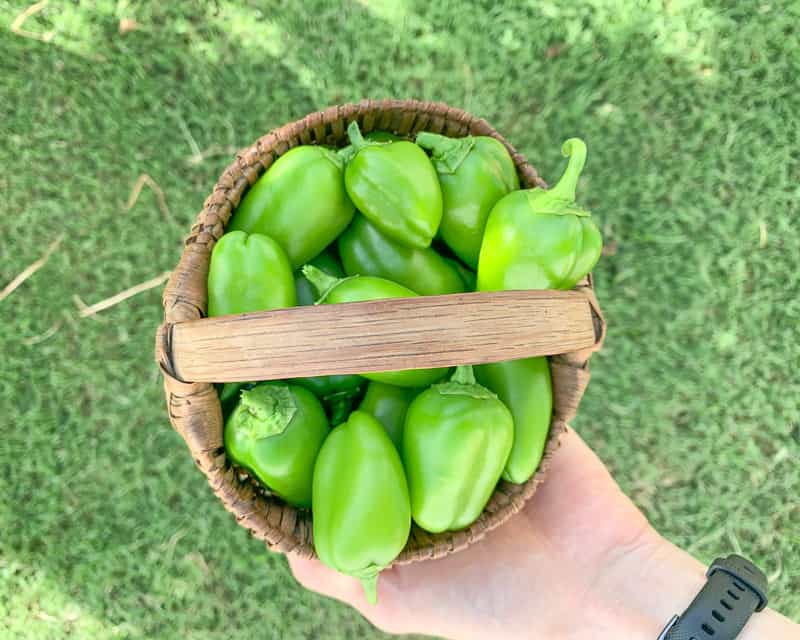 Can Peppers Be Grown in Containers?
Peppers can definitely be grown in containers, and many gardeners have success using this method.
The soil in containers heats up faster than garden soil, which is one of the reasons this is a good option for growing peppers. You can also better control things like weeding, watering, and fertilizing.
For the best results, plant one pepper per pot and use medium to large pots that have drainage holes in the bottom. Use a light potting mix that will drain well, and mix in some compost before filling your containers.
I personally enjoy growing in fabric grow bags. They are lighter and less expensive than rigid pots. I recommend using at least a 5 gallon grow bag for pepper plants, unless you're growing an extremely small variety.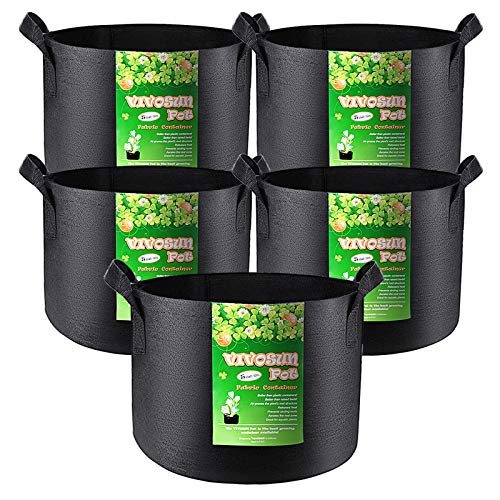 VIVOSUN 5-Pack 5 Gallon Grow Bags Heavy Duty 300G Thickened Nonwoven Plant...
Sturdy Fabric Material: Made of 300g of thickened nonwoven fabric, these pots are moderately permeable, and BPA-free
Great Drainage: Nonwoven fabric means the pots do not retain excess water, allowing your roots to breathe for healthier, more vigorous growth
Durable, Reinforced Handles: While the competition uses flimsy handles that are merely strips of the same fabric the pot is made from, we use serger...
Keep in mind that peppers planted in containers will need watered more often, since the soil will dry out more quickly.
Care Tips for Growing Peppers
Once your peppers are planted and spaced properly, there are a few care tasks you'll need to do throughout the season.
Regular water is important for peppers. They need about 1-2" of water per week, so you'll need to supplement when rainfall isn't enough. We water with a watering wand because its gentle on roots, soil, and seedlings. Discover the best watering wands in this guide.
Because of their high water needs, peppers are a great candidate for irrigating with a soaker hose. We demystify soaker hoses and reveal the best soaker hoses in this guide.
Watering plants near the base, not from directly overhead, helps keep your plants healthy and happy.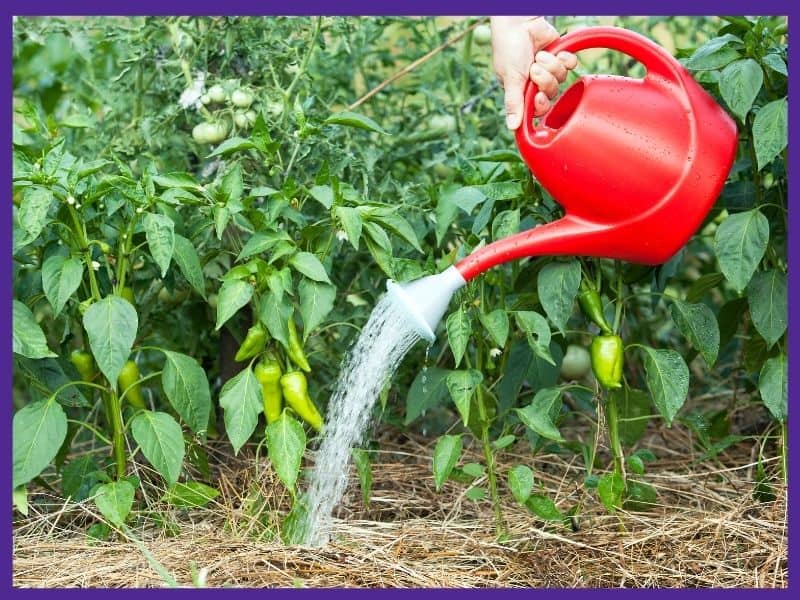 Use a lightweight mulch like shredded leaves, pine needles, or straw to help keep the soil evenly moist and to cut down on weeds.
Fertilize with an organic vegetable fertilizer or a dressing of compost when you see tiny fruits start to form.
Harvesting and Enjoying Your Peppers
You can harvest peppers green when they reach a good size, or wait for them to fully mature. Waiting for peppers to color takes a lot of patience, but it's well worth it when you taste a fresh pepper straight from your garden!
Hot peppers typically increase in heat the longer they stay on the plant. Pick them early if you prefer them milder, or leave them on a while for a stronger kick.
The best way to harvest peppers is to snip them cleanly off the plant with a few inches of stem attached, as shown in the photo below. You can pick them just a bit before they fully color to extend their storage life on your counter. Refrigerate them once fully ripe.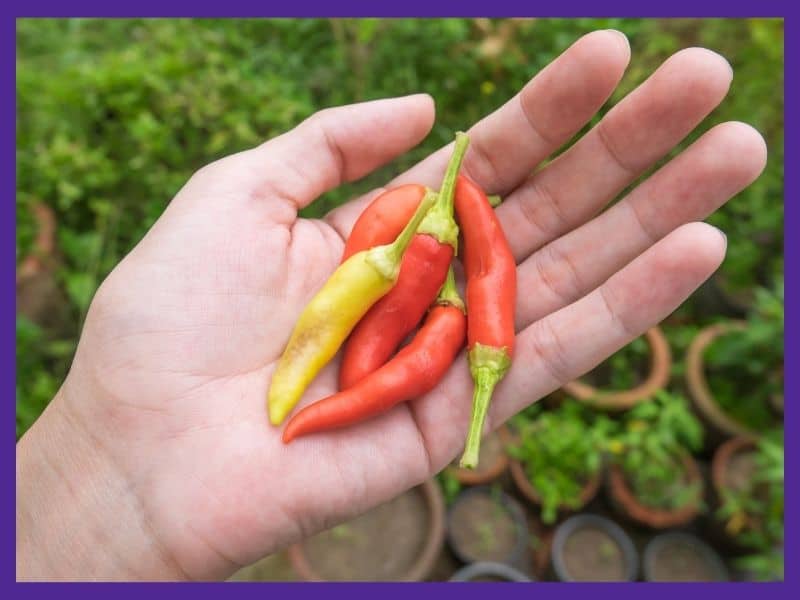 Now that you know how far apart to space peppers and other growing and care tips, you're all set to have a fantastic pepper harvest this year! And once you taste the flavor of homegrown peppers, it's going to be hard to stop growing them.
Popular summer vegetables and herbs
Discover how to grow popular vegetables and herbs in your backyard garden or container garden with these in-depth vegetable growing guides.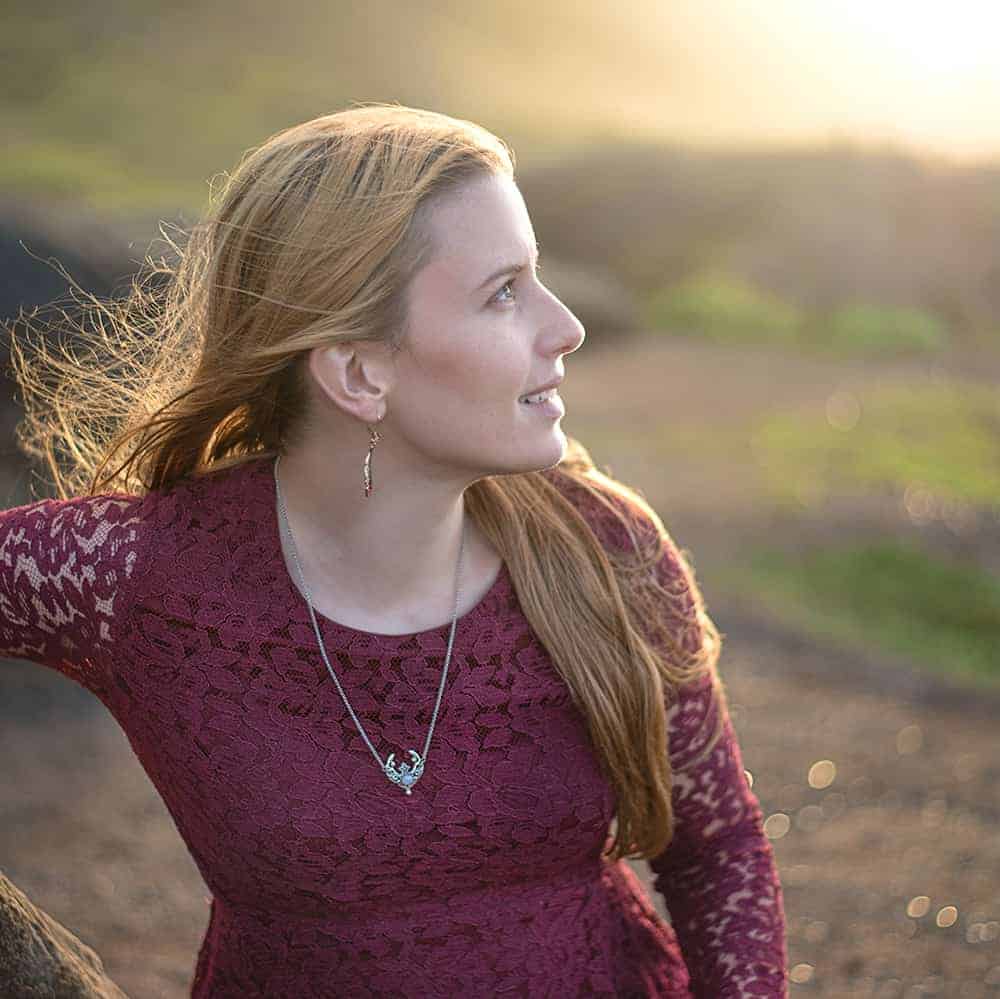 Natasha Garcia-Lopez is an avoid home-gardener and proud owner of 88 acres of land in rural West Virginia. She was a member of the Association for Living History Farms and Agricultural Museums for many years and is currently enrolled in the Oregon State University Master Gardner Short Course program so she can better assist you with your gardening questions.She holds a certificate in natural skincare from the School of Natural Skincare.