You're excited to be growing spinach. The weather isn't too hot yet and things are looking good…except suddenly your spinach is covered in white spots! Your precious young spinach is covered in white fuzz. What's wrong with your spinach!? And is it safe to eat?
This post is here to help you understand the white bumps on your spinach and what they mean for your plant.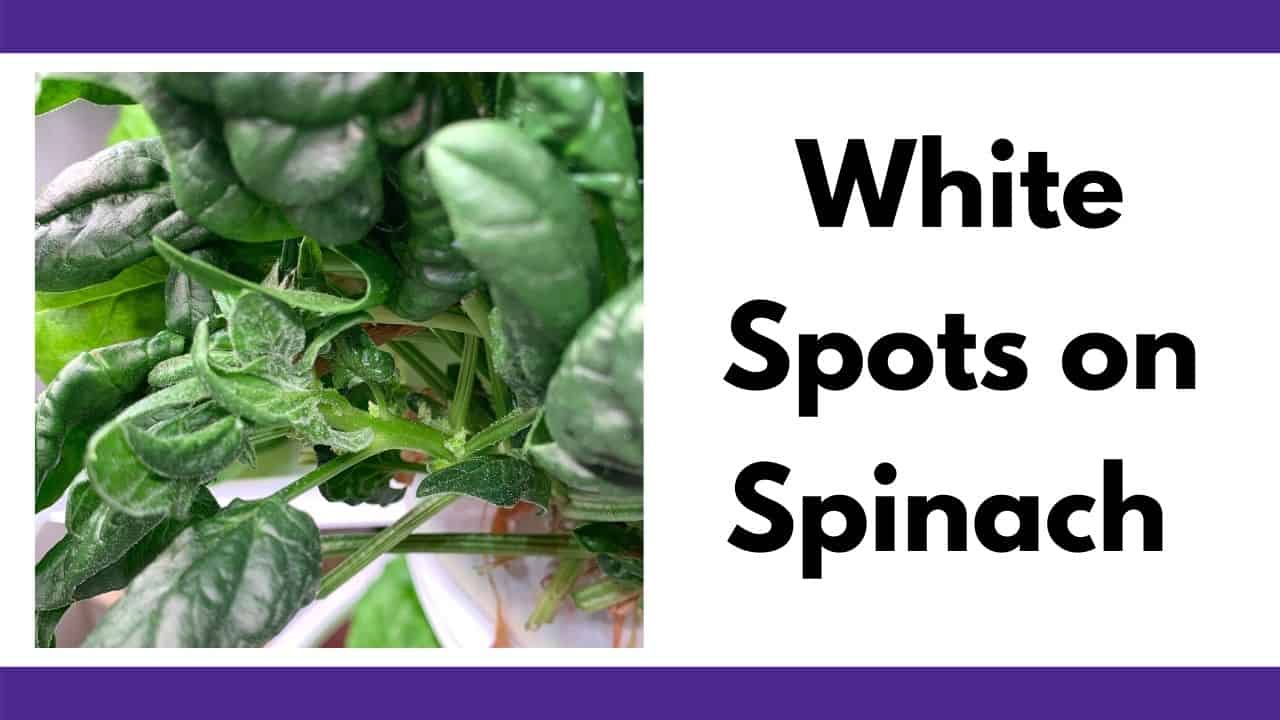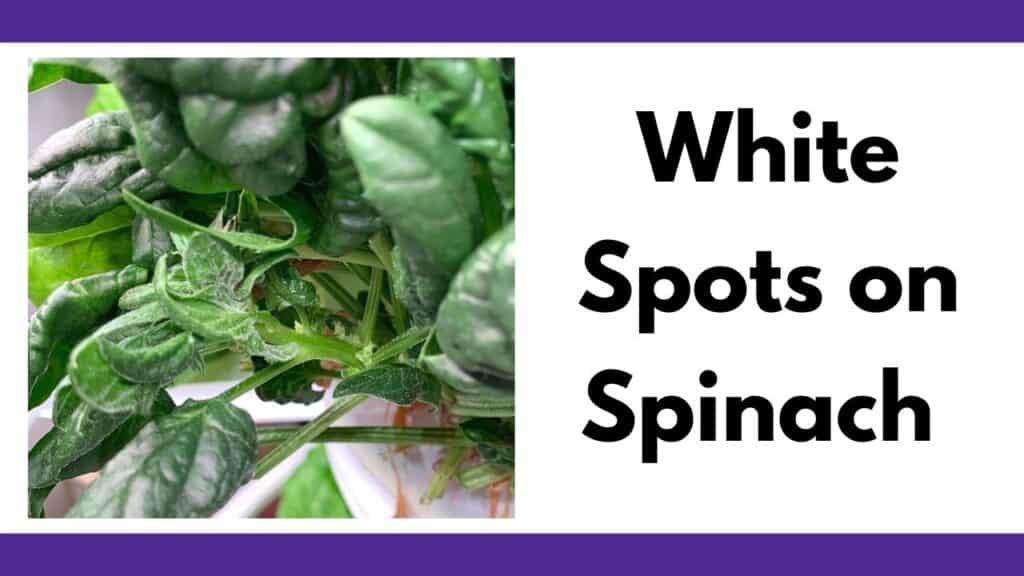 White fuzz on spinach
This post includes affiliate links. If you make a purchase using one of these links, Together Time Family will receive a commission at no additional cost to you.
White spots on spinach could be a sign of a disease, or they could be completely harmless and normal. Luckily, it's easy to tell the difference by comparing your plants to photos (like the ones in this post) and doing a quick test:
Do the white spots on your spinach rub off?
The first step to determining the cause of white spots on your spinach is seeing whether they rub off.
If the white spots are more like granules that rub off and remind you of tiny eggs, you probably have nothing to worry about. 
You can faintly see the little white dots on my finger in the image below: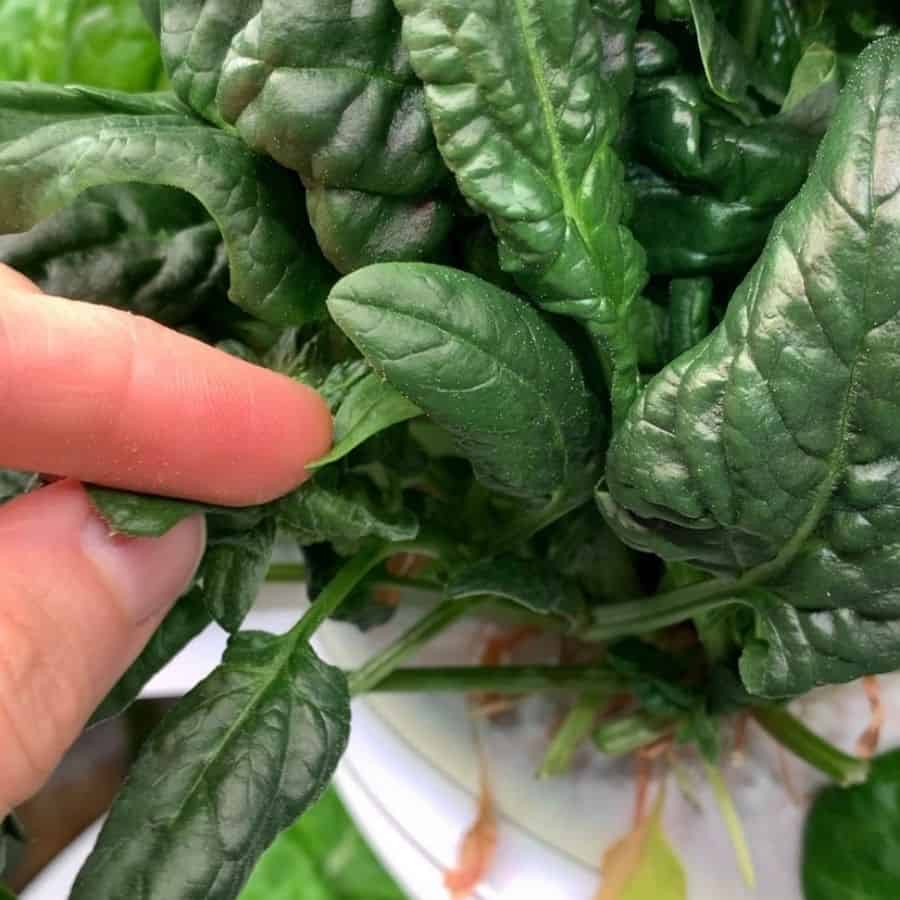 These strange white dots are called trichomes. They are very common on spinach plants, especially younger leaves. Many people mistake trichomes for some sort of garden pest, mildew, or other disease.
The spinach shown in this post was grown in a Lettuce Grow Farmstand. I frequently see posts in their group from people concerned about the white spots covering their spinach leaves. They are almost always (like 99% of the time almost always) trichomes. We'll take a closer look at trichomes further down in the post. For now, rest assured that if this is your problem, these dots are 1) normal 2) completely safe to eat.
If your spinach has spots that look like blisters or lesions, they may be caused by white rust. These areas will look chalky or cheesy, very different from the trichomes in the photo above. White rust is a widespread spinach disease. This page from the Cornell blog has photos of white rust on spinach. Luckily, I don't have any personal photos to share at this time.
If the fuzz on your spinach is a purplish-grey and fuzzy underneath with yellow spots on top, you probably have downy mildew. It looks kind of like bread mold. High Mowing Organic Seeds has several photos of infected spinach plants and information about downy mildew resistant spinach varieties to try.
Downy mildew spreads easily in wet or humid weather. Planting downy mildew resistant cultivars and avoiding overhead watering are the best ways to prevent an outbreak in the future. Remove affected plants promptly to help prevent spread.
If, upon close inspection, you discover the "spots" are actually small insects, you probably have an aphid infestation. Aphids are small, soft bodied insects that tend to cluster on the under sides of leaves. They literally suck the vitality out of your plants. If you see one of the wicked looking black and orange insects, too, that's great news – this insect is ladybug nymph and aphids are its favorite food.
Luckily, aphids are easy to treat with a mixture of soapy water and neem oil. You can also order live ladybugs to release in your garden.
Simply mix neem oil, soap, and water in a sprayer. If you have pure neem oil, a typical raio is:
1 ounce of neem oil
1/3 ounce of soap (2 teaspoons)
1 gallon of water
A mild, natural soap like plain castille soap is best. Apply liberally to the tops, bottoms, and stems of affected and nearby plants. Aphids can start a whole new colony from one single female, so make sure to spray thoroughly and check you plants again in a week. This is the sprayer we use.
Spinach trichomes
Trichomes are specialized epidermal cells. They are hair-like growths found on many different plants, including spinach.
You're probably already familiar with trichomes, even if you didn't know the name. For example, bean and okra pods have fuzzy trichomes, and the hairs on borage stems are trichomes.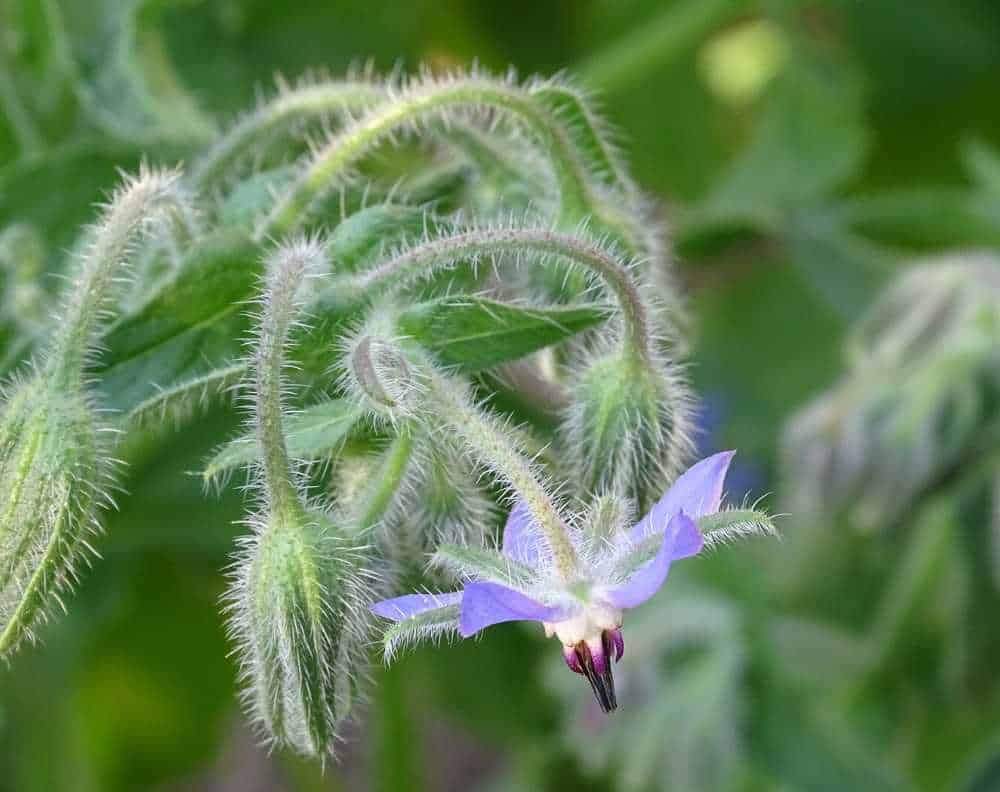 Trichomes perform many different functions on plants. Trichomes can be single-celled or more complex, and some are glandular, which means they secret compounds like essential oils. Approximately 30% of vascular plants have glandular trichomes! (source) Glandular trichomes are found on many common garden plants like thyme, rosemary, and even tomatoes.
Spinach trichomes don't look like trichomes you've probably seen before (even if you didn't know their name), so they can be alarming to spot on your spinach.
Luckily, spinach trichomes are completely normal. It's also normal to see the most white fuzz on young spinach leaves and to have the dots mostly (or completely) disappear on older leaves.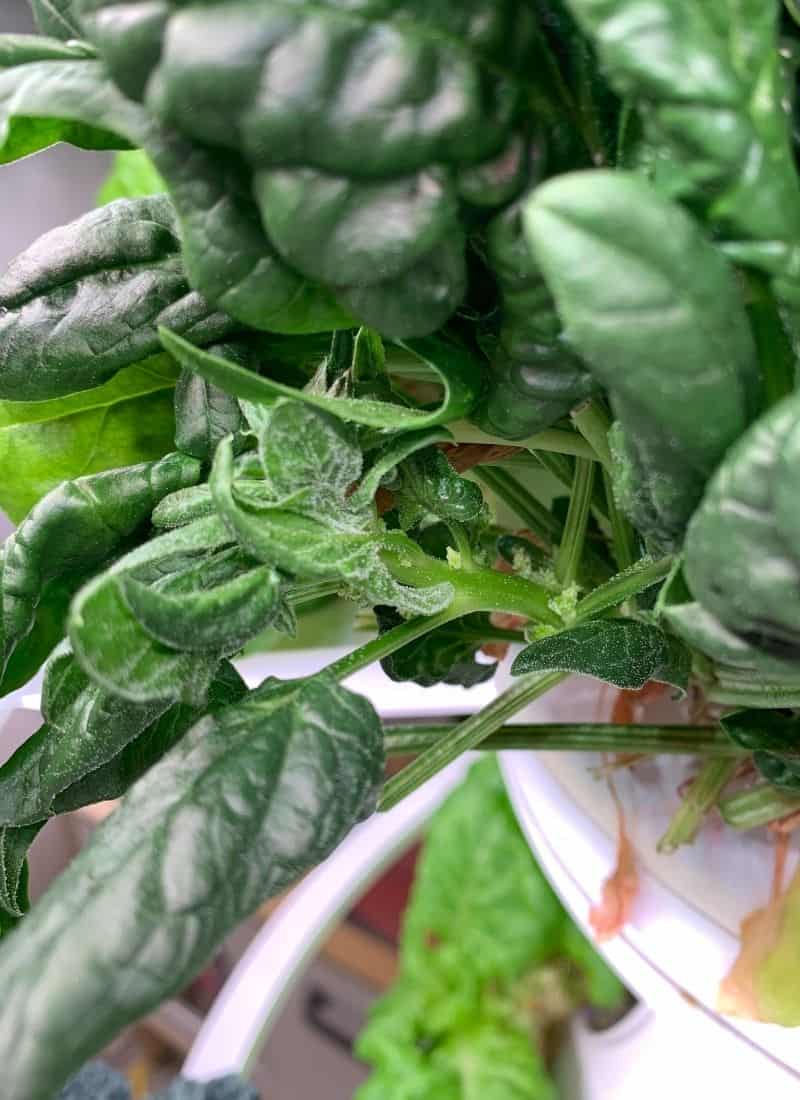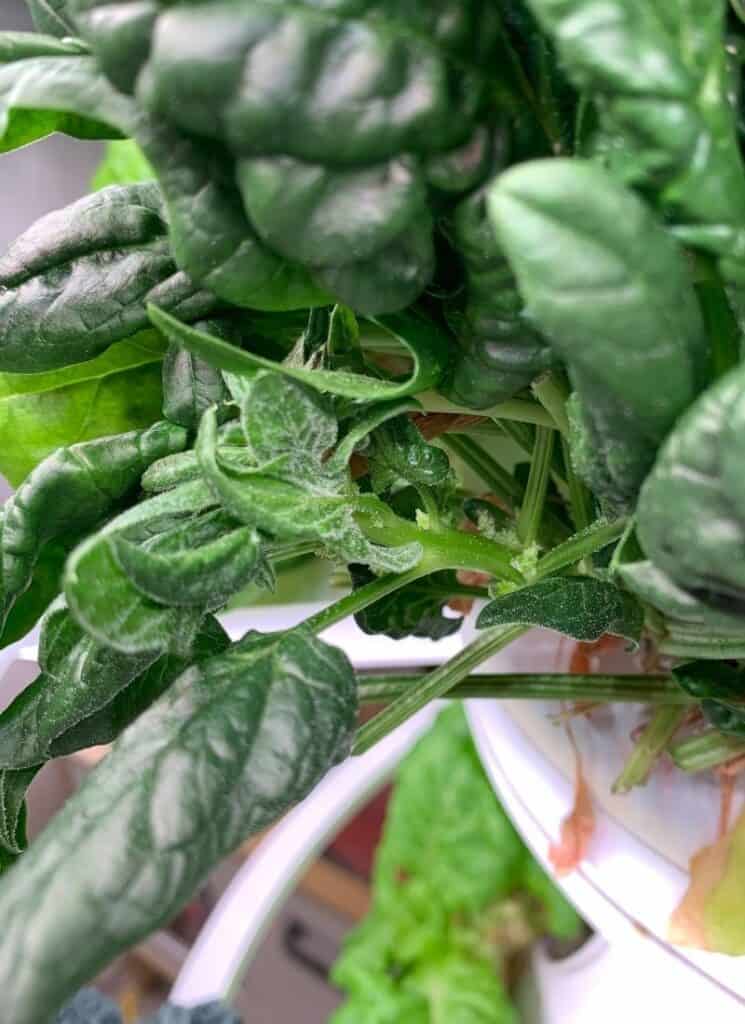 I hope you've enjoyed this look at what's causing the white dots on your spinach and found it helpful!
Growing your own herbs and veggies is so satisfying, isn't it?
Gardens help improve food security, access to nutritious, high-quality food, and create a healthier, greener world.
Help us keep this valuable gardening information free and ad free by making a small donation today. Your donation keeps Together Time Family up & running so more people can benefit from their own healthy, organic garden. Click below to donate today:
Be sure to visit these additional growing guides here on Together Time Family so you can have a fun and successful garden with your family:
Popular summer vegetables and herbs
Discover how to grow popular vegetables and herbs in your backyard garden or container garden with these in-depth vegetable growing guides.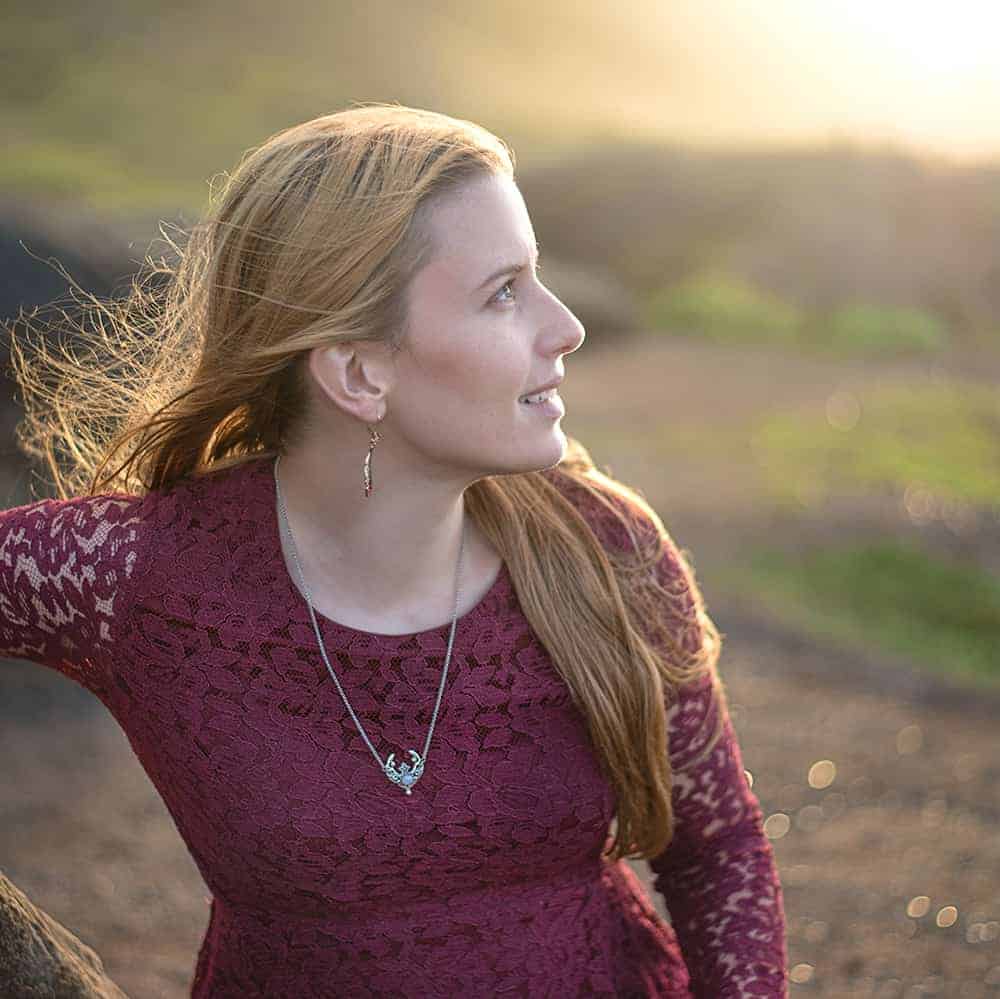 Natasha Garcia-Lopez is an avoid home-gardener and proud owner of 88 acres of land in rural West Virginia. She was a member of the Association for Living History Farms and Agricultural Museums for many years and is currently enrolled in the Oregon State University Master Gardner Short Course program so she can better assist you with your gardening questions.She holds a certificate in natural skincare from the School of Natural Skincare.