As a gardener, you want to maximize your yields while minimizing the amount of time you spend weeding, watering, and dealing with pests. Discover how practicing companion planting can save you time and money while helping you produce a bountiful, healthy zucchini crop with this guide to zucchini companion plants!
Maximizing garden space and improving harvests are recurrent challenges for the home gardener. You only have so much sunny space in your yard and so many hours in the day!
Small yards and limited space make companion planting an essential tool in the gardener's pocket.
Companion planting isn't just a space saver, though. Companion planting provides a multitude of benefits to the garden. Zucchini, in particular, is an ideal choice for companion planting because it grows well with a wide variety of other vegetables.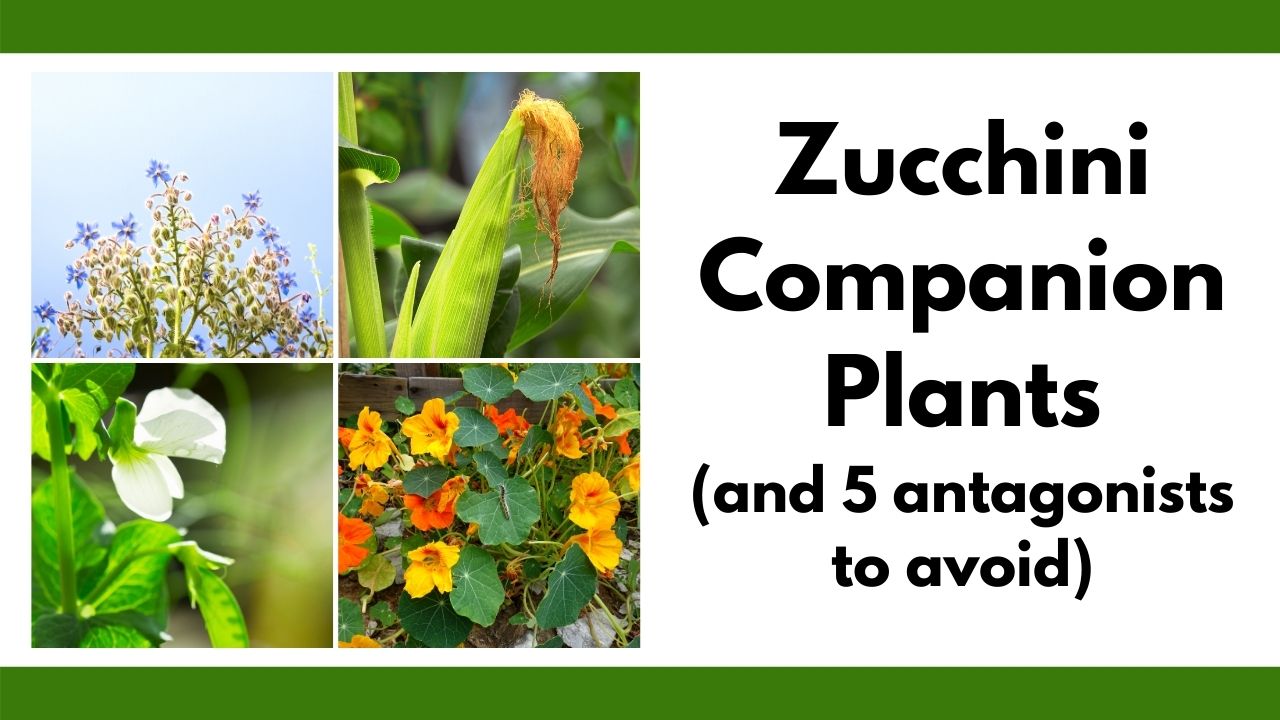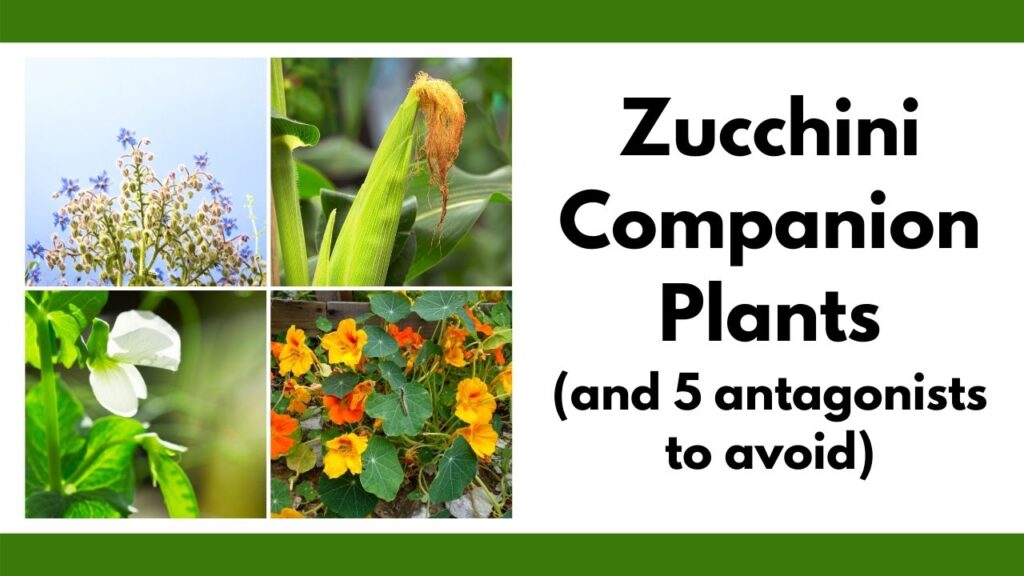 What Is Companion Planting?
This post includes affiliate links. If you make a purchase using one of these links, Together Time Family will receive a commission at no additional cost to you.
Companion planting is a method in which vegetables are grown in combination with one another. Companion planting can be done for many different reasons including saving space, maximizing yields, and controlling pests.
Companion planting is an ancient practice that's been practiced around the world in a variety of settings. The Greeks and Romans understood that certain plants benefit or harm other plants, Chinese farmers started using a type of fern called mosquito ferns as companion plants for rice at least 1000 years ago, and indigenous peoples in the Americas for at least 1000 years (source).
In nature, plants grow in conjunction with each other, providing valuable assets to the other's survival. For example, blueberries and azaleas that love acidic soil frequently grow near pine or oak trees that acidify the soil.
Companion planting grows two or more types of plants in close proximity for various benefits. Some of these benefits include physical support for vining plants, pest control, and water conservation. Companion planting is a way to mimic naturally occurring biodiversity and reap the rewards of planting mutually beneficial plants together.
Perhaps the most famous companion plant grouping is what the Native Americans called "the three sisters." This exact term was coined by the Iroquois people, but the system was used by many tribes in the Americas (source)
In a three sisters planting, corn, pole beans, and squash are planted closely together. The corn provides support for the vining beans, the squash shades the ground around all the plants, which conserves water and reduces weed growth, and the beans contribute essential nitrogen to the soil. The three sisters method works with zucchini, squash, pumpkins, and other members of the Cucurbita genus.
The Advantages of Companion Planting
Companion planting helps increase yields and improve productivity. Companion planting is particularly helpful if you have limited space or time and want to make the most of your garden. It's also a common feature in permaculture designs and in organic gardening.
Here are a few benefits of practicing companion planting:
Saves space – In traditional monoculture gardening methods, plants are planted in individual rows with lots of space between them. This creates a lot of unused space in the garden, which usually becomes a hotbed of weeds.
Gardeners with limited space will find companion planting vital to growing abundant harvests.
Companion planting isn't just planting vegetable combinations; it is also inserting fast-growing crops between slower-growing ones to maximize production. For example, quick growing radishes placed between squash plants makes use of space that otherwise would be wasted. (This practice is typically referred to as intercropping.)
Reduces weeds – Plants like zucchini, with broad leaves, shade the soil and block weeds from growing. Less weeding is always a great benefit!
Reduces pests – Some plants naturally repel pests. Planting these near vegetables that suffer from particular infestations creates a natural pest remedy.
Also, pests prefer monoculture gardens because they provide a solid smorgasbord of their favorite crop. Interplanting vegetables makes it more difficult for pest insects to find what they want and reduces the potential for infestations.
Related read: spider repellant plants
Attracts Pollinators & Beneficial Insects – Pollinators like variety and are more likely to visit a garden with abundant and varied food and habitat resources.
Limits Diseases – Bacteria and microbes are spread easier in large groupings of the same crop. Planting different species together decreases the ability of these diseases to spread. Some plants are even adept are repelling certain diseases.
Saves Water – Growing plants more closely together instead of in rows leaves less exposed ground for water to evaporate. This means less time spent watering for you, a lower water bill, and a healthier planet.
Related read: growing herbs together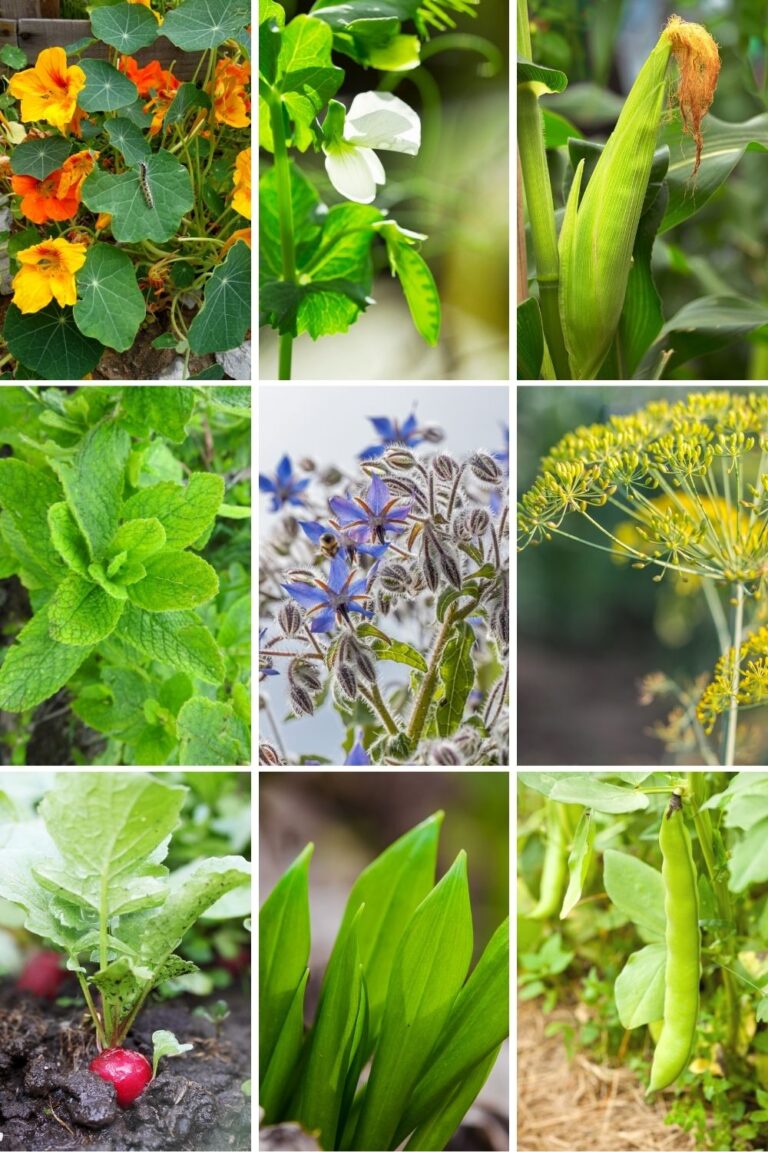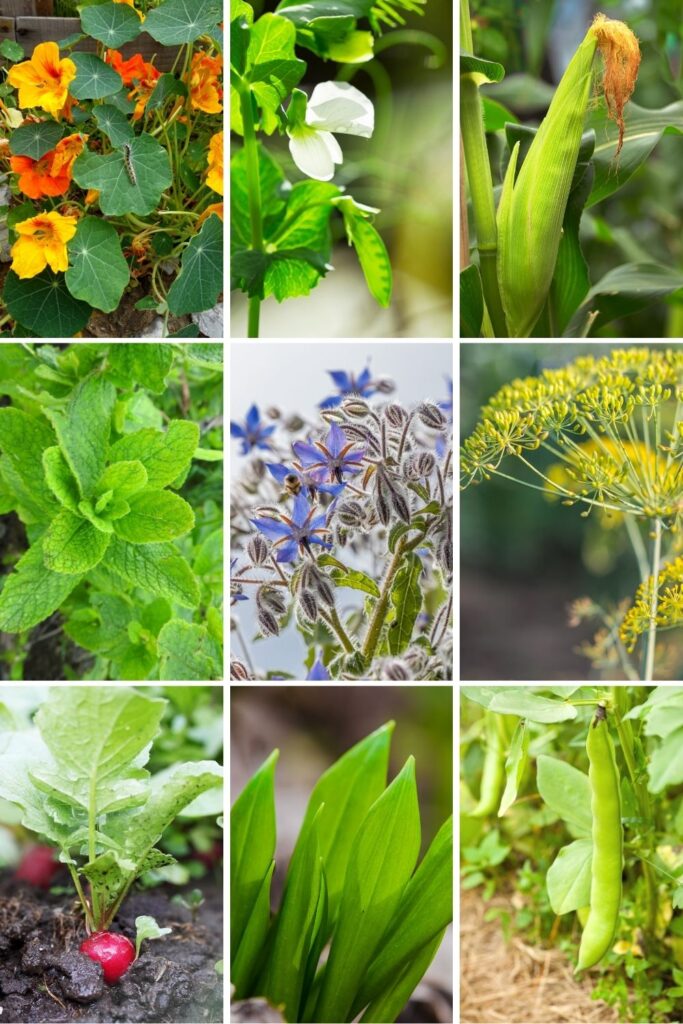 10 Best Companion Plants for Zucchini
Now that you know what companion planting is and how it can help you, let's take a look at the best companion plants for zucchini:
Beans
Beans add nitrogen to the soil, which is a significant asset, especially for zucchini plants. Zucchini is a heavy feeder, often needing additional fertilizer during the growing season. Planting pole or bush beans with the zucchini provides valuable nutrients to the soil. The beans benefit, too, from having their roots shaded and fewer weeds growing.
Peas
Much like beans, peas emit nitrogen back into the soil, assisting in the zucchini plant's growth. In return, the squash plants prevent weeds from thriving.
Radishes
Due to their small size, radishes are easily planted among zucchini plants. Radishes can repel pests like cucumber beetles, squash bugs, and aphids, which tend to plague zucchini plants.
Radishes grown under large, mature zucchini plants may be all leaf and no root, so harvest radishes you want to eat for the roots before your zucchini get too big.
Leave some radishes in the ground to continue their pest repellant work. For more information about radishes, see this guide on how to plant and grow radish from seed.
Radish varieties to try
Radish seeds are quick to germinate and tend to have a very high germination rate. There's no need to over-plant radish and spend lots of time thinning! Pick high quality, fresh radish seed and watch virtually every seed sprout within just a couple of days.
Garlic
Aphids don't like garlic, so planting garlic near zucchini keeps these pests off the squash plants. Aphids cause extensive damage if left unchecked, so garlic is a huge benefit to the zucchini.
Corn
Corn is a traditional companion plant for zucchini. When zucchini plants shade the corn's roots, they improve moisture retention and reduce weed growth. The insidious squash vine borer gets disoriented when it encounters squash and corn planted together, making this combination a natural pest repellent.
Borage
An annual herb, borage is a favorite with bees. More bees mean better pollination for your zucchini plants and better fruit yields. Zucchini requires ample pollination in order to form a large, healthy fruit so pollinator activity is importnat if you don't want to spend your free time outside with a paint brush pollinating plants!
Borage is also an excellent mulch for zucchini plants because it emits calcium back into the soil, a primary cause of blossom-end rot in squash fruits. You can learn more about borage in this post on herbs to plant together.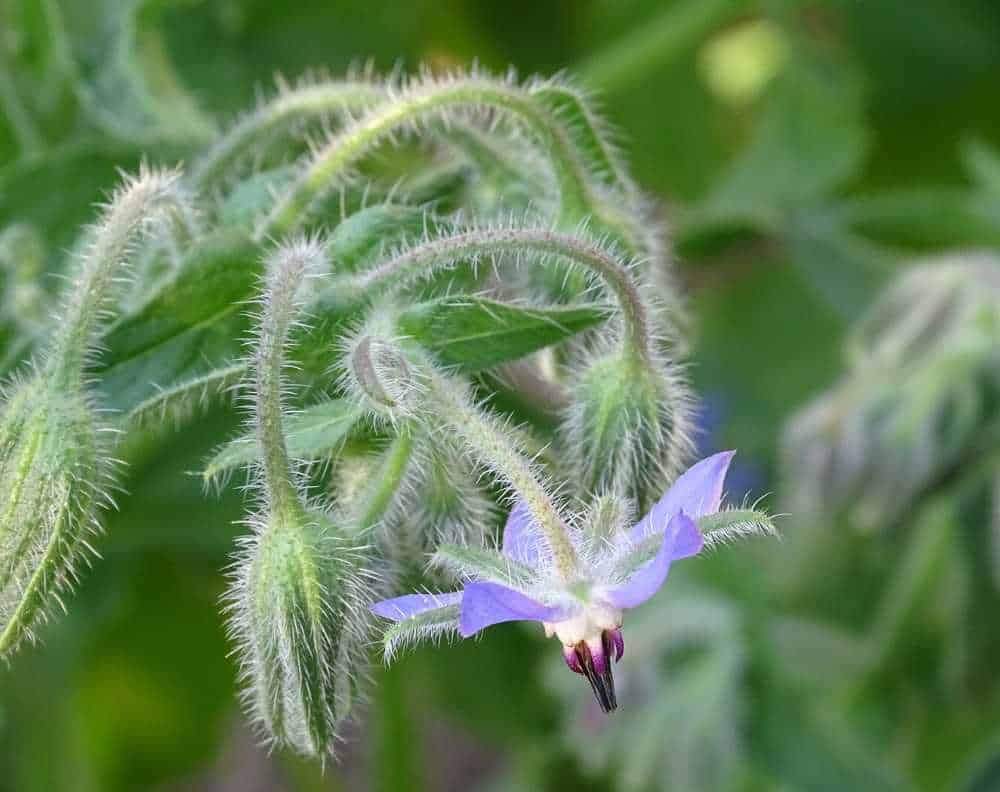 Nasturtiums
Use nasturtiums as a trap crop because they attracts aphids, which means the pests won't be visiting the squash plants. Bonus: nasturtiums are edible for humans, too!
Nasturtiums attract beneficial insects, including bees, which increases flower pollination and zucchini yields. Nasturtiums are also beautiful, adding brilliant pops of color to the garden.
Mint
A container of mint placed near your zucchini plants will assist in keeping the aphids away. Mint attracts aphids, a common pest of zucchini plants. Do not plant mint directly in the garden, though. It will happily self-seed and take over your entire garden before you can stop it. Learn what to do with all your mint in this guide on harvesting mint.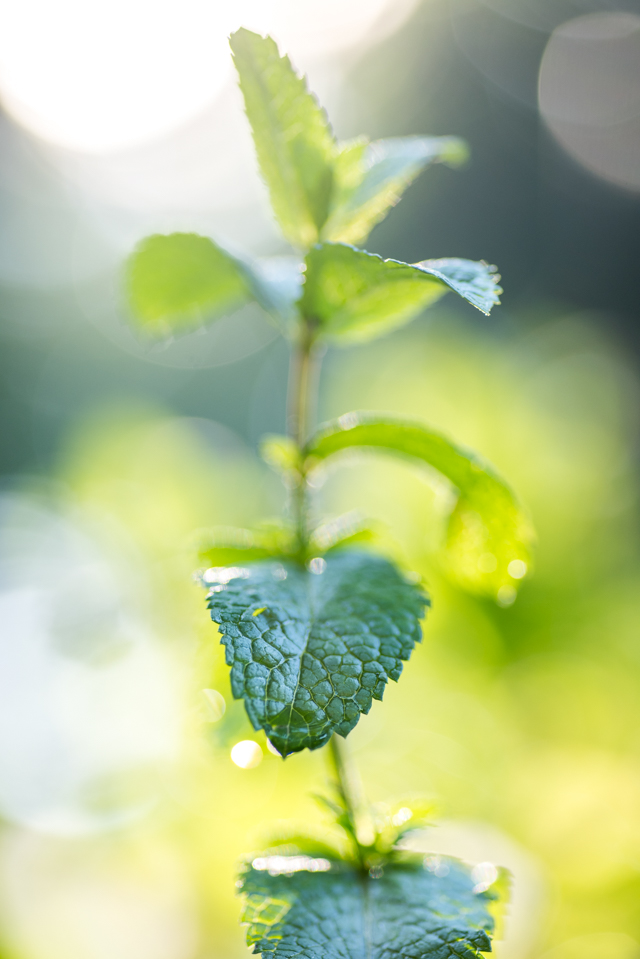 Dill
Dill is a natural repellent for squash bugs, aphids, and whiteflies. Dill works wonderfully planting in combination with squash, including zucchini.
Marigolds
Not just a pretty flower, marigolds also attract hoverflies. Adult hoverflies are pollinators, and hoverfly larvae eat aphids, which equals multiple benefits for the squash plants. Marigolds repel squash bugs, as well.
Vegetables Never To Plant With Zucchini
Now that you know what to plant with your zucchini, here are five plants to avoid planting with your zucchini.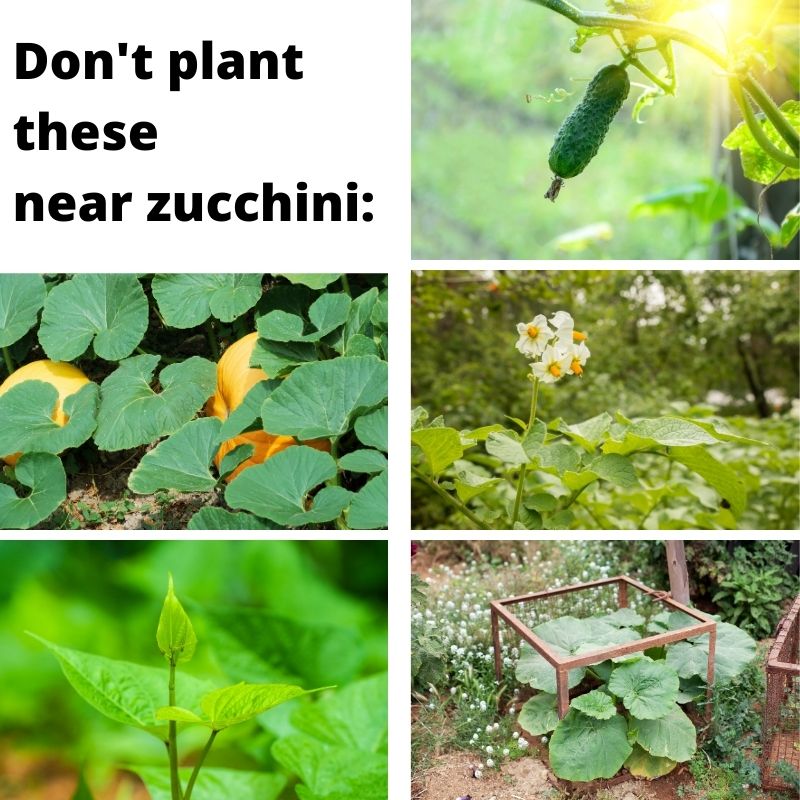 Antagonists for zucchini:
Sweet Potatoes
A combination to avoid, sweet potatoes and squash are both heavy feeders that demand lots of space. They will compete for resources, to the detriment of both.
Potatoes
Zucchini and potatoes share the same pests. If they are planted near each other, infestations will spread easily from one crop to the other. Both potatoes and zucchini are heavy feeders as well and will compete for nutrients.
Pumpkins & gourds
Zucchini and pumpkins/gourds are in the same family. They will compete for resources, share pests, and potentially cross-pollinate, and both produce inferior fruit. Keep these two apart!
Cucumbers
Cucumbers are another vegetable that shares pests with zucchini, cucumbers will spread infestations to squash, or the other way around if planted near each other.
Squash
Like pumpkins, all varieties of squash should be avoided near your zucchini. Again, the plants will compete for resources, attract the same pests, and cross pollinate. This may cause inferior produce and makes it impossible to save seeds for your garden next year.
Herb and Vegetable Harvest Tips
Not sure when your vegetables are ready to pick? Or how to harvest your herbs without killing the plant? Discover these herb and vegetable harvesting guides!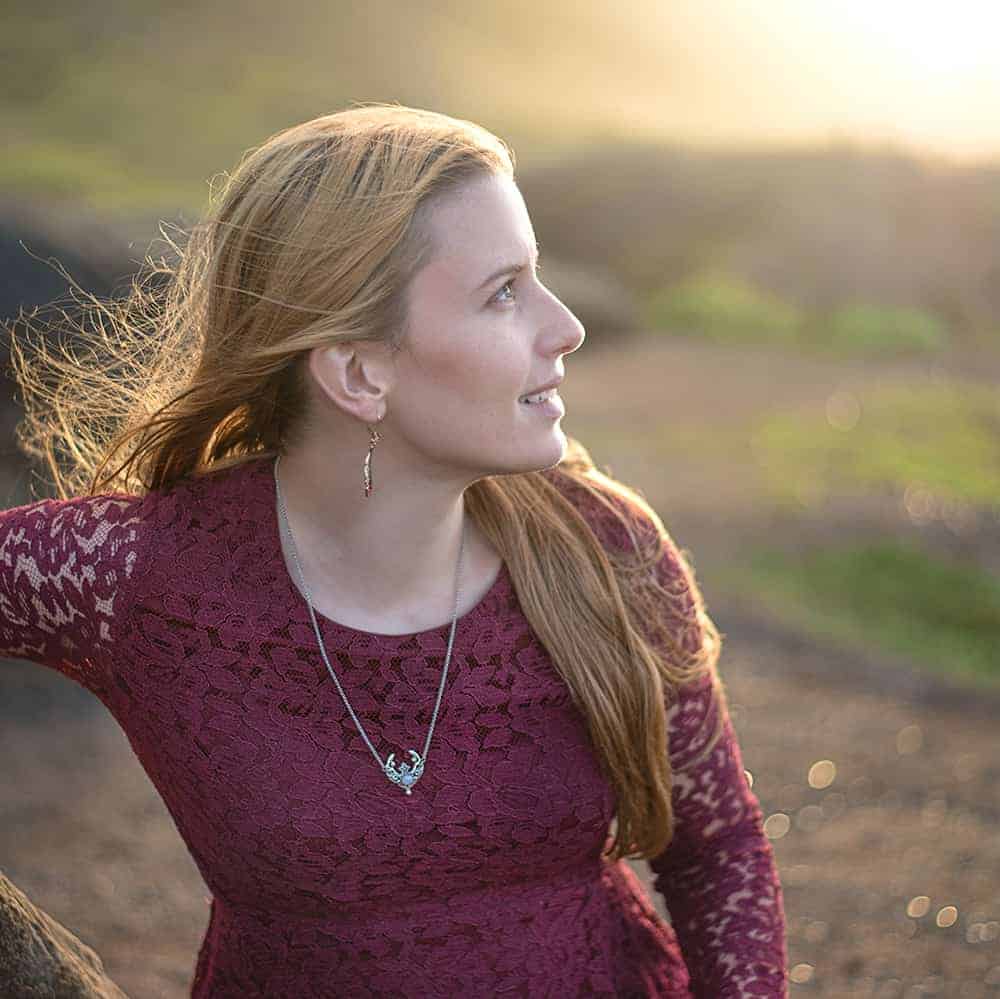 Natasha Garcia-Lopez is an avoid home-gardener and proud owner of 88 acres of land in rural West Virginia. She was a member of the Association for Living History Farms and Agricultural Museums for many years and is currently enrolled in the Oregon State University Master Gardner Short Course program so she can better assist you with your gardening questions.She holds a certificate in natural skincare from the School of Natural Skincare.