Kidney beans are a very popular cooking bean often added to chili and other soup recipes. They also happen to be very nutritious and contain lots of fiber as well as protein, folate, iron, and potassium.
In the garden, kidney beans are easy to grow and will reward you with a large harvest. They are considered a dry bean, which means they will last in storage for months after you pick them. It will be so delicious to celebrate your summer garden when you're able to cook up homemade chili with your very own kidney beans and tomatoes!
Here's everything you need to know about how to plant and grow kidney beans at home for all your cooking needs, including when to harvest and how to store them properly.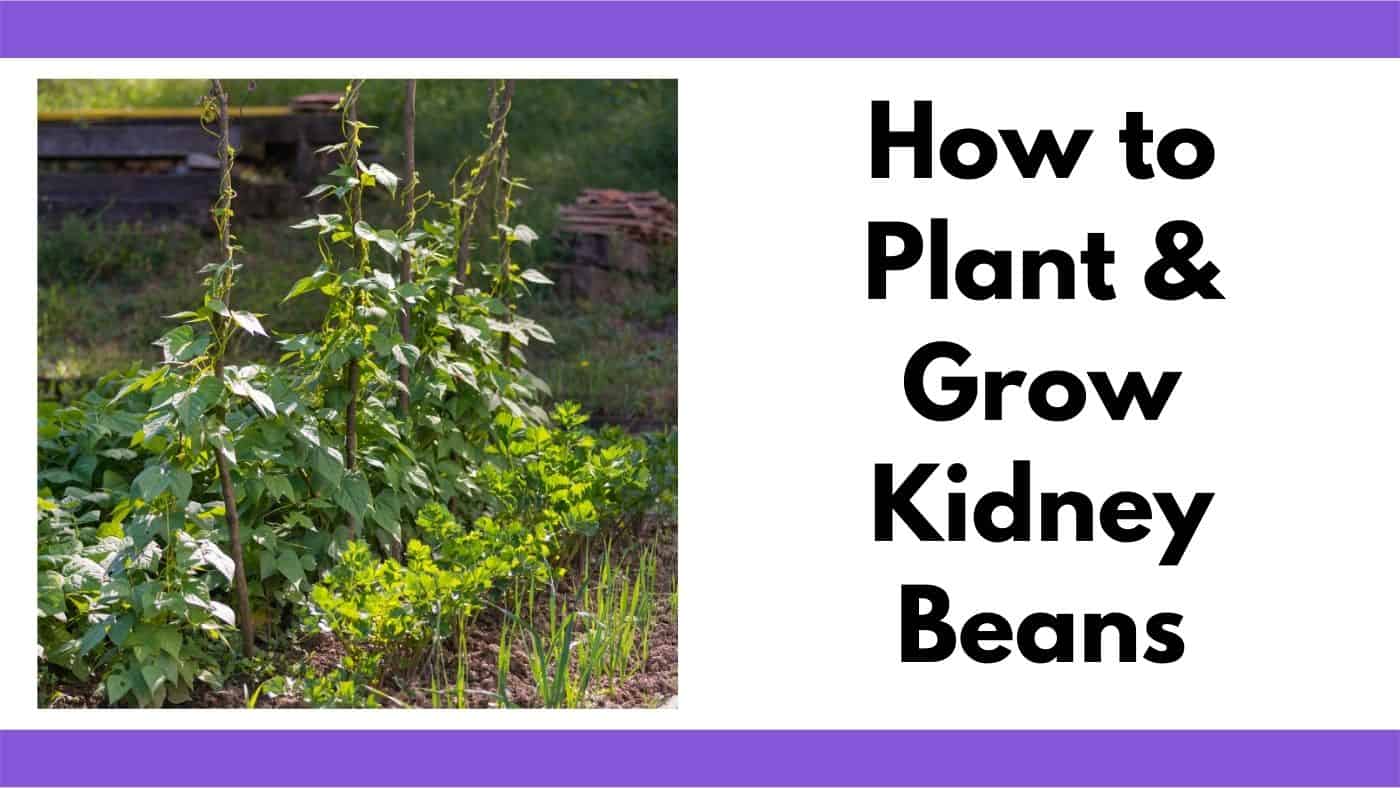 This post includes affiliate links. If you make a purchase using one of these links, Together Time Family will receive a commission at no additional cost to you.
Kidney Bean Growing Information
Kidney beans (Phaseolus vulgaris) grow like all other types of beans. They need warm weather, lots of sunshine, and a fairly long growing season to mature and produce a good crop.
The main difference between kidney beans and other beans is harvest time. They are typically harvested as a dry bean, which means you have to wait for the beans to fully mature and then fully dry before picking them.
This is in contrast to harvesting them when the beans are still tiny and the pods tender (like with green beans) or when the beans are full-size but not dry or hard yet (such as with lima beans). The beans shown below are not ready to pick and are the aptly named "purple kidney bean" variety.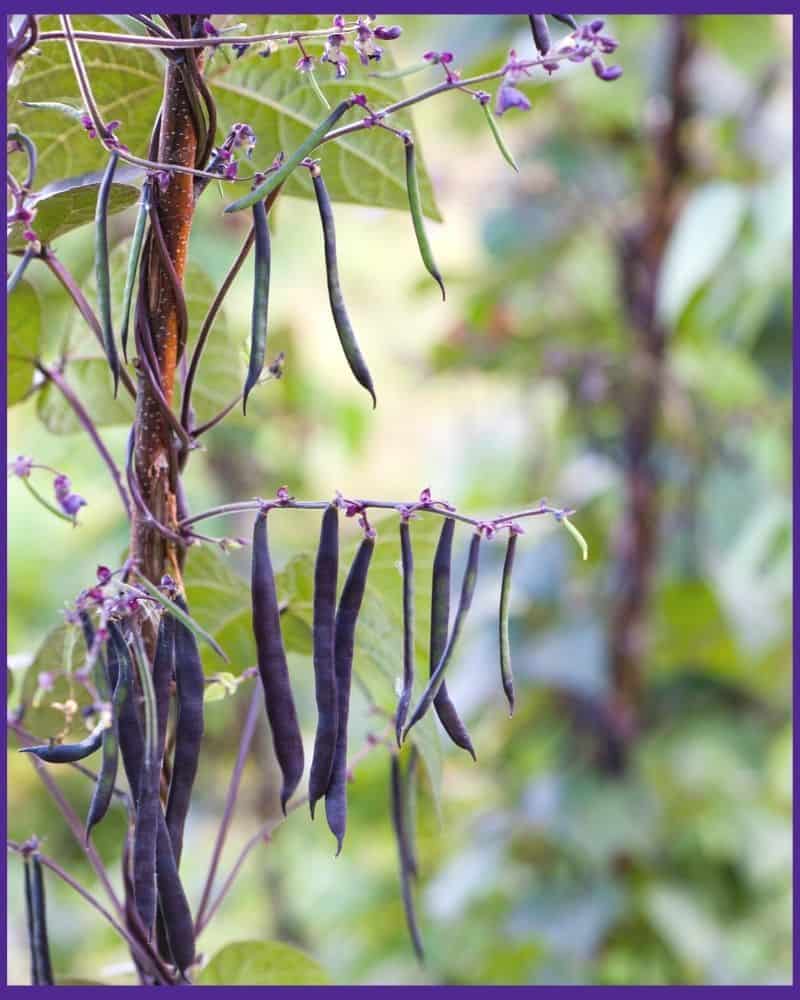 When it comes to growth habit, many varieties of kidney beans are bush beans. This means they grow an average of 2' in height and often don't need any support — very different from the more familiar pole beans that can grow 8-12' long. Some kidney bean varieties are a vining type, so make sure to select whichever variety you prefer.
Because they hail from warm regions in Central America, kidney beans are very sensitive to frost and cold weather, so you'll need to make sure the soil is warm before planting.
Kidney Bean Cultivars
The classic deep red kidney bean remains the most popular and is the type you'll find when shopping at the store. However, since you're now learning how to plant and grow kidney beans yourself, you have a little more choice when it comes to variety.
Whether you want to stick with red or opt for a lighter colored option, here are some of the best kidney bean cultivars to plant:
'Dark Red Kidney'– Classic dark red kidney bean that thrives in hot weather. The linked Etsy seller, Southern Seed Exchange, is one of my favorite seed sellers. They always ship quickly and have high-quality seeds.
'Montcalm'– Raspberry colored cultivar that is good for damper regions.
'Cabernet'– Deep red kidney that is great for canning.
'Light Red Kidney'– Heirloom light red bean with a mild flavor for salads and soups.
'Pink Panther'– Light red bean with high yields. Great for canning.
'Cannellini'– White kidney bean. High-yielding and disease-resistant. Traditional in pasta dishes and soups, such as minestrone soup. Cannellini beans are known for being mild, soft, and creamy when cooked. (They happen to be my absolute favorite type of kidney bean.)
How to Plant and Grow Kidney Beans
When and Where to Plant Kidney Beans
Beans should be planted only after the soil has warmed in the spring, since cold soil can rot the seeds. For most gardeners, this is at least 2 weeks after their last spring frost date or whenever the soil temperature gets around 65°F.
If your winters tend to be long and cold, applying black plastic or black landscape fabric to your planting area can help the soil to warm more quickly so that you can plant a week or two sooner. For more ideas like this, make sure to check out Niki Jabbour's Growing Under Cover. She grows produce year-round in Canada. If she can do it, so can you!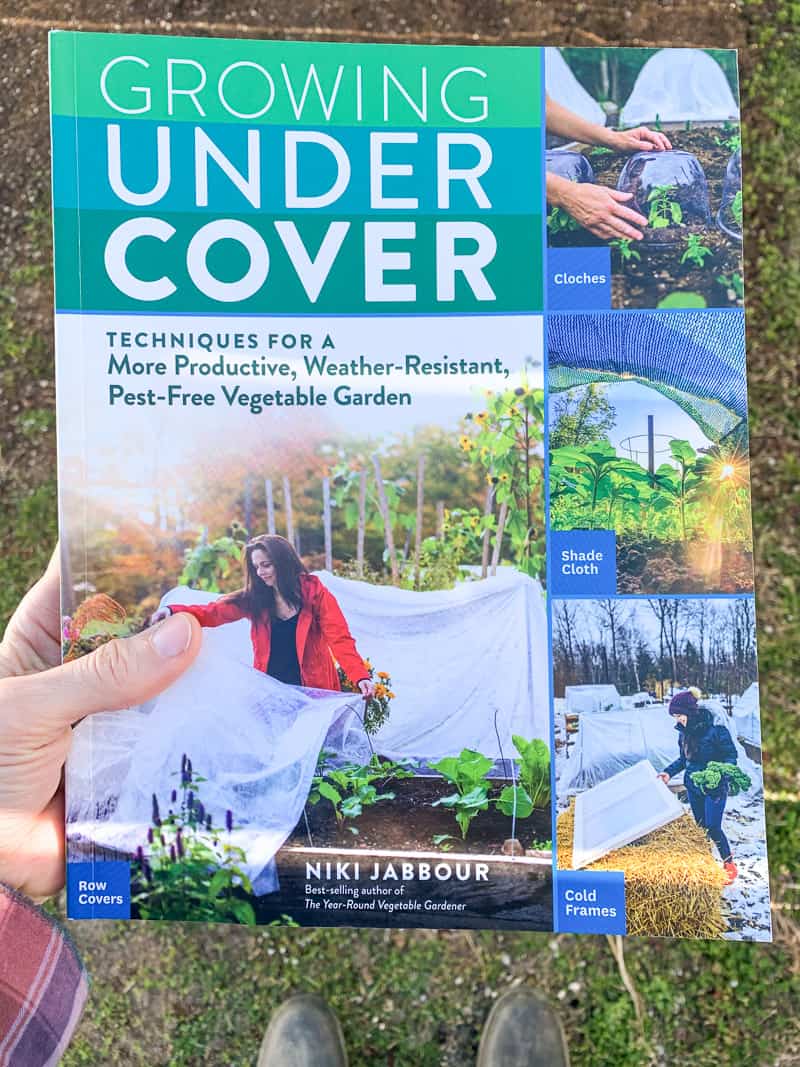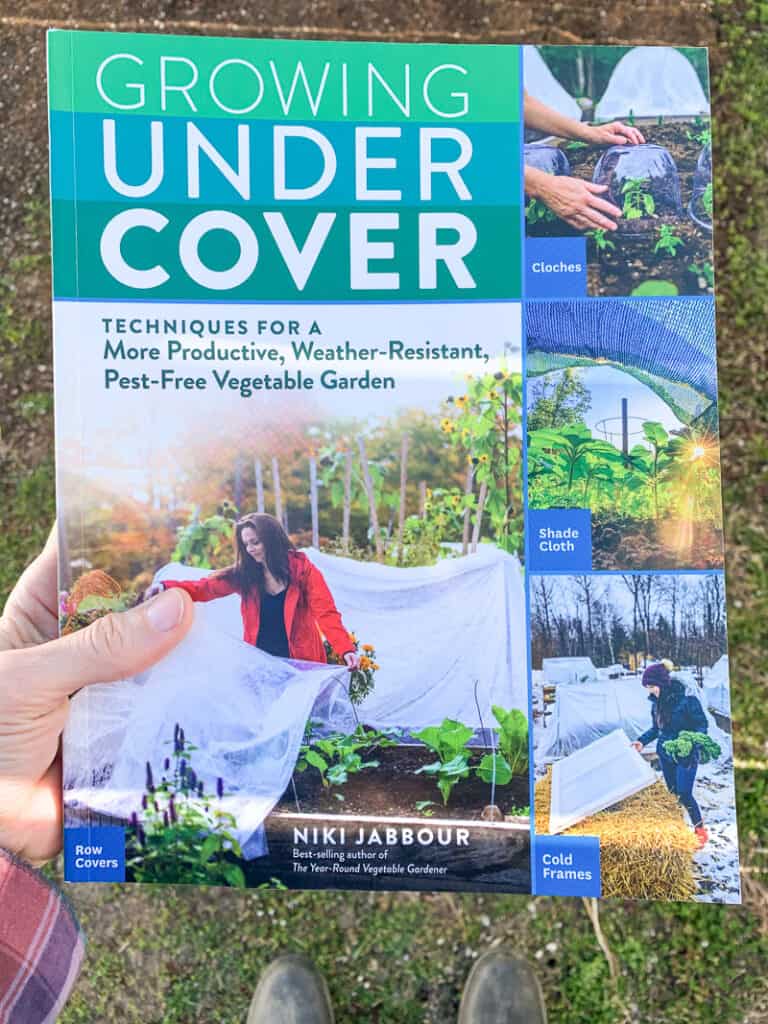 Sale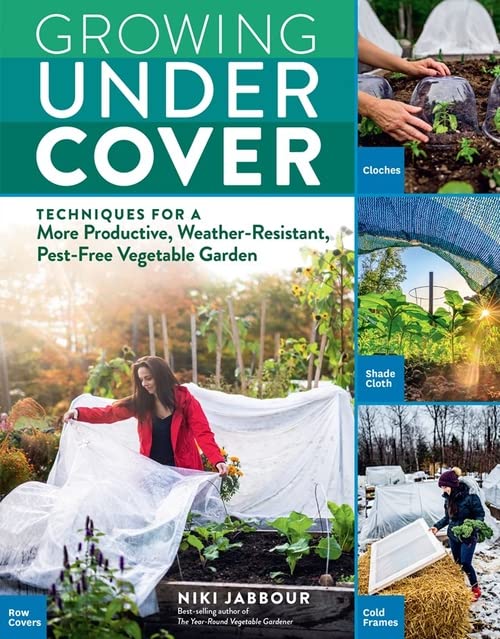 Kidney beans need a spot in full sun to grow well, which means they should get at least 6-8 hours of sunlight a day. They do best in soil that drains freely and will benefit from compost added to the soil before planting. However, avoid using any high nitrogen fertilizers because this will promote bushy growth but few beans.
Beans are good companion plants for squash, cucumbers, and corn but shouldn't be planted near onions. While some people do successfully grow beans and onions together, popular wisdoms says the two types of vegetables do not grow well together. Interestingly, onions actually produce a chemical that stunts the growth of beans by killing the nitrogen fixing bacteria legumes partner with. This article has some great information about growing beans and onions together if you want to know more.
Planting Kidney Bean Seeds
Once your garden site is picked out and prepared, plant your seeds directly in the ground for the best results.
Soak your beans overnight, until the skins become more smooth and hydrated instead of shriveled. For best results, powder your damp bean seeds with a legume inoculant prior to planting. This is particularly important if you're companion planting beans. The inoculant provides beneficial, nitrogen-fixing bacteria that will form root nodules and "fix" atmospheric nitrogen into a bioavailable form the plant can use. I use and trust True Leaf Market for many of my seeds and inoculants.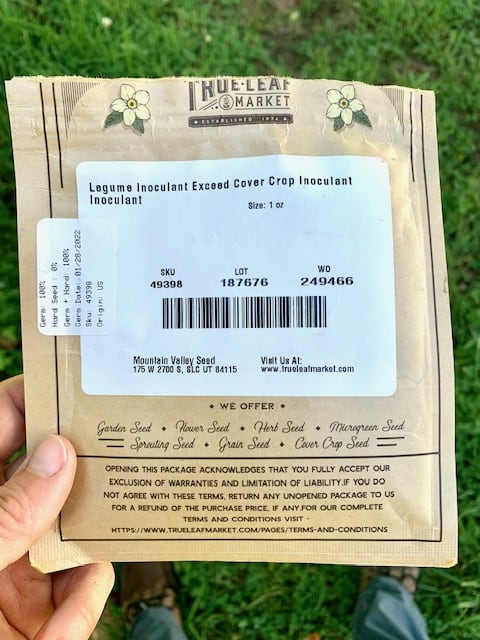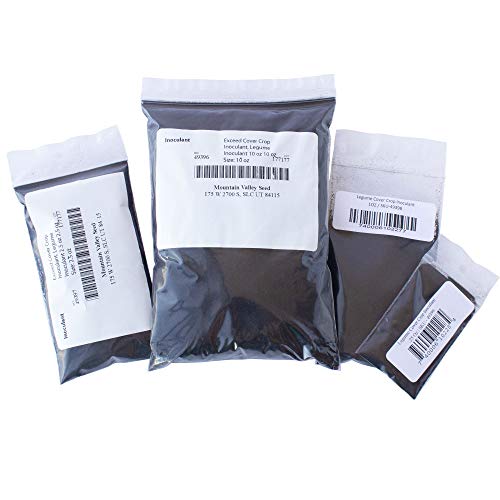 Legume Powder Inoculant - Cover Crop Seed Inoculant for Legume Seeds - .25...
POWDER INOCULANT FOR LEGUME COVER CROPS - Mountain Valley Company powder inoculant for legume and cover crop seeds to boost future harvests, yields,...
LEGUME INOCULANT FOR PEA, BEAN, FAVA, LENTIL - Mountain Valley Seed Company powder inoculant is a specialized blend of rhizobia bacteria for cover...
BENEFITS OF LEGUME COVER CROP SEEDS - Cover crop seeds are grown year-round to repair soils for future sowing. Legume cover crops seeds convert...
Conventional wisdom says legumes do not release nitrogen until the plant is killed and returned to the soil, but (according to the regenerative soil course I'm taking) evidence points to nitrogen fixing plants releasing at least some nitrogen back into the soil while they are still alive. Curious to learn more about bringing nitrogen fixers into your garden? Check out this short clip about nitrogen fixing plants:
Bean seeds are large and should be planted 1-2" deep. Because kidney beans are a bush variety, they should be spaced at least 6-8" apart. (Pole beans can generally be spaced about 4" apart). If you are planting more than one row of beans, leave at least 2-3' between them. You can plant your seeds more closely together and thin them later, as needed, if your seeds is older and you expect a lower germination rate.
Be sure to water your planting area well after the seeds are in and mark where you put them. As long as the soil is warm enough, germination should happen within 7-10 days.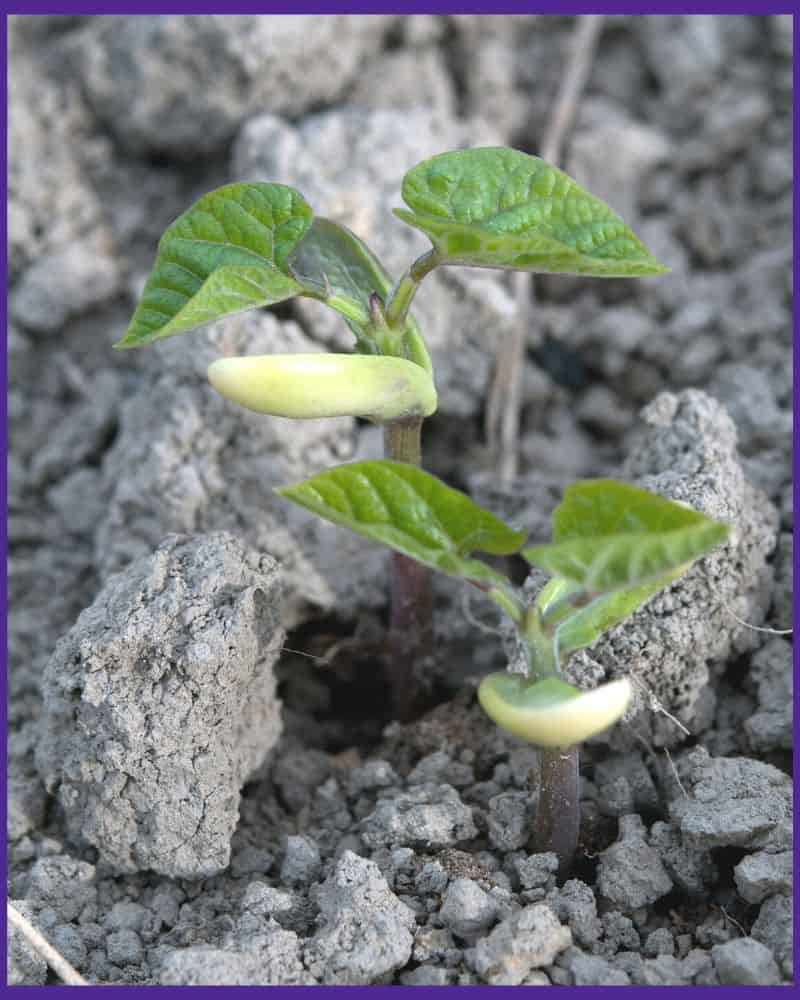 Can You Start Bean Seeds Indoors?
Beans don't appreciate being transplanted, and the seeds are easy to start in the garden, so most gardeners opt for direct sowing. However, if you have a short growing season or find that critters are digging up and eating your bean seeds (which can happen) you may need a different approach.
If you think you need to start your seeds indoors, get them going only 2-3 weeks before you plan to transplant them. Use biodegradable pots to minimize root disturbance when they go in the ground.
Plant your seeds much like you would in the garden: 1-2" deep and only one seed per pot. Water them well and watch for germination in 5-10 days.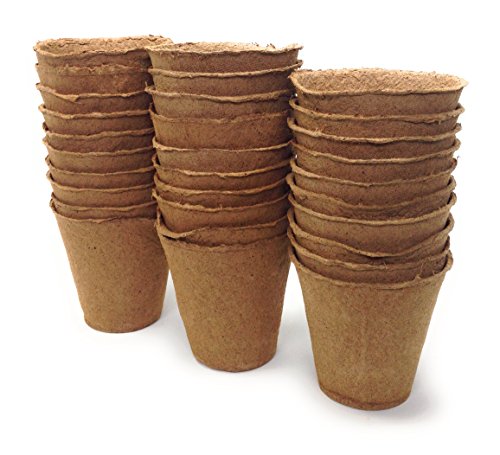 Br BRILLANTE Plant Starter Peat Pots - 30 Pack of 4 Inch Pots for Your...
100% Natural & Biodegradable: After you've started your seedling in the pot simply plant it in the soil...pot and all! Your plant's roots will grow...
Start Growing with Confidence: Since there's no need to transfer seedlings you can eliminate the disappointment of transplant-shock-withered plants.
Perfect Size: Give your plants room to grow in these 4 inch tall and 4 wide pots.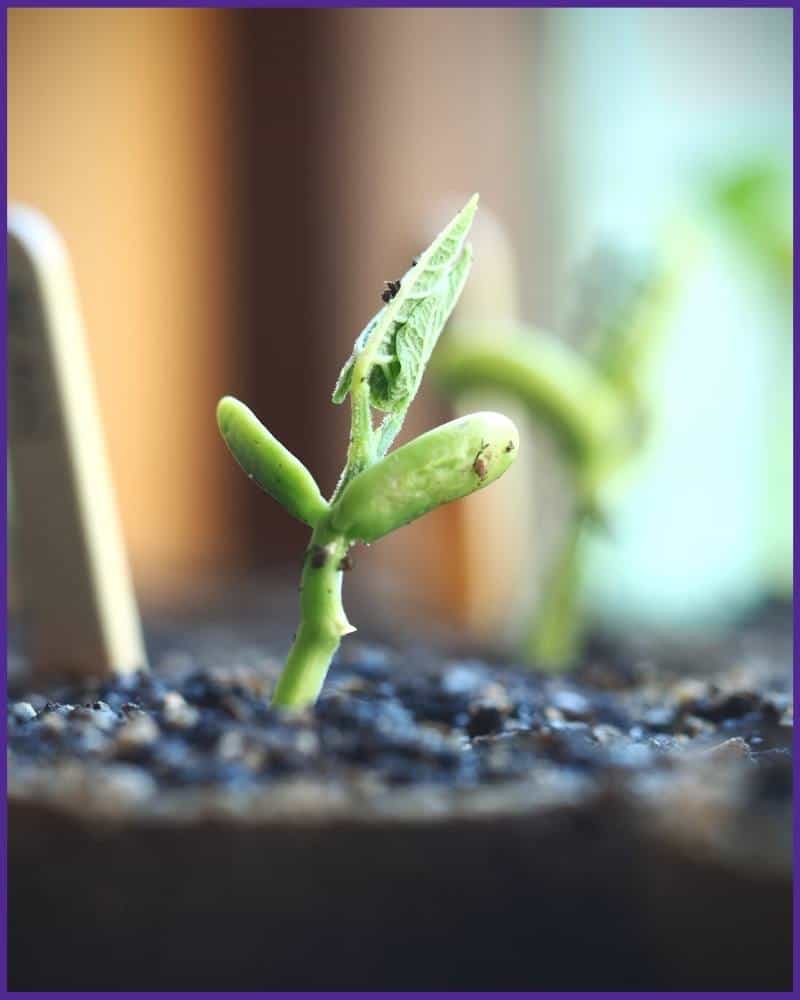 Once your seedlings are a few inches high, you can start taking them outside on days when the temperature is at least 65°F. Continue to gradually get them accustomed to outdoor weather, but always bring them in if cold temperatures are forecasted. For more information, see this guide on how to prepare seedlings for transplanting.
When the weather is warm and settled, plant the beans and their pots in your garden, spacing them 6-8" apart. Carefully rip the pots when you transplant. Peat pots can easily take a year or more to break down, which means they will stunt your plant's roots if you leave the pot intact.
Caring for Kidney Beans
The next step of learning how to plant and grow kidney beans is caring for your plants throughout the growing season.
Beans are a fairly low maintenance vegetable, but they will need supplemental watering during dry spells, particularly when flowers and pods are forming. In general, aim to get them at least 1" of water a week, and be sure you water deeply so that it gets down to the roots.
Mulch is optional for beans. It can be helpful if you find that your soil dries out quickly or if you have weeds taking over, but it isn't strictly necessary. If you do want to mulch, choose a natural option like straw, shredded leaves, or pine needles.
Bush-type kidney beans do not need the support of a teepee or trellis, since they have a bushy habit of growth. However, if you put in poles at the end of each row and wrap wires or string around them and your plants, you'll help the beans to stay upright and make harvesting easier later on.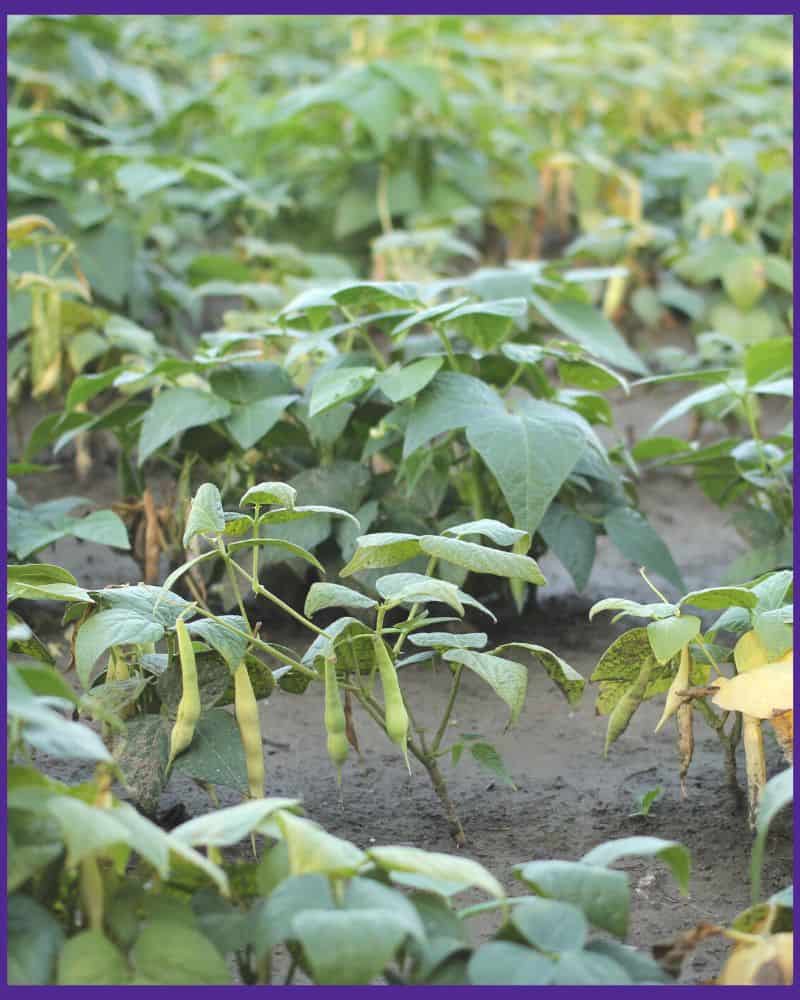 Common Kidney Bean Pests and Problems
Bean plants can attract a number of pests that feed on the leaves, including Mexican bean beetles, Japanese beetles, aphids, and cucumber beetles. The beetle shown below is a cucumber beetle.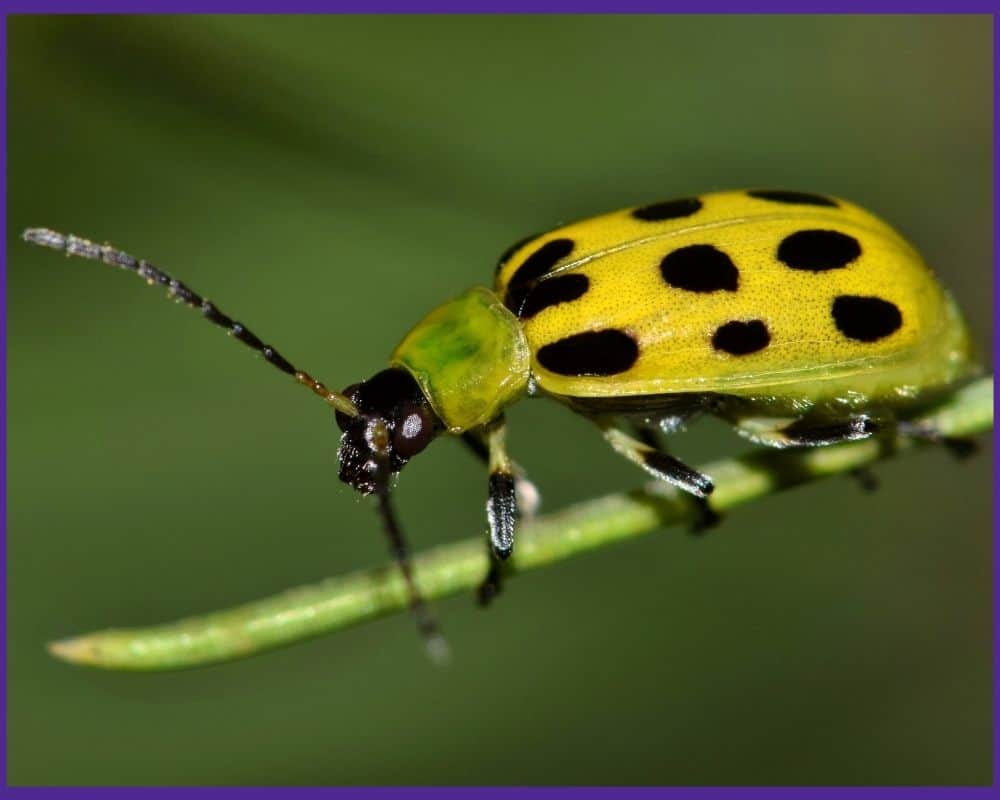 For the most part, these pests can be controlled by handpicking the offenders and dropping them in soapy water or spraying off aphids with a hose. However, if you find that immature beans are being eaten along with the leaves, you may want to try an organic spray. Neem oil typically does not work well against beetles, but can work against aphids. Spinosad is more likely to be successful on beetles, but even naturally-based insecticides have their risks and drawbacks. I personally nave't had much luck with spinosad killing larger beetles and prefer to hand pick or ignore them.
Larger pests, especially deer, also like to munch on bean plants and pods, so be sure to protect your veggies with fencing as needed. If you don't a have a fence, or have trouble in spite of a fence, throw pieces of lightweight netting over your bean plants. Deer are typically afraid to stick their heads underneath something. I've had a lot of luck protecting my bean plants (and other veggies) with this netting:
Sale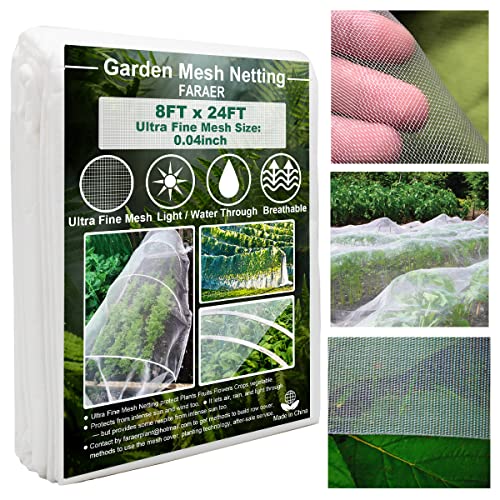 Ultra Fine Garden Mesh Netting, FARAER Plant Covers 8'x24' Garden Netting...
【Ultra-Fine Mesh Netting】Ultra Fine Garden Netting has a 0.8mm x 1mm ultra fine mesh, effective protect vegetable plants fruits flowers crops and...
【Air, Water & Light Through】Unique oblong hole construction creates a very fine protections for great results, and others while allowing air and...
【All-Purpose Garden Netting】Garden netting covers are widely used in pastures, orchards and gardens, protect your veggie investment with this...
If you experience deer pressure, I highly recommend the book Deerproofing your Yard and Garden. It offers practical information about gardening in areas with deer and has valuable insights into why deer behave the way they do.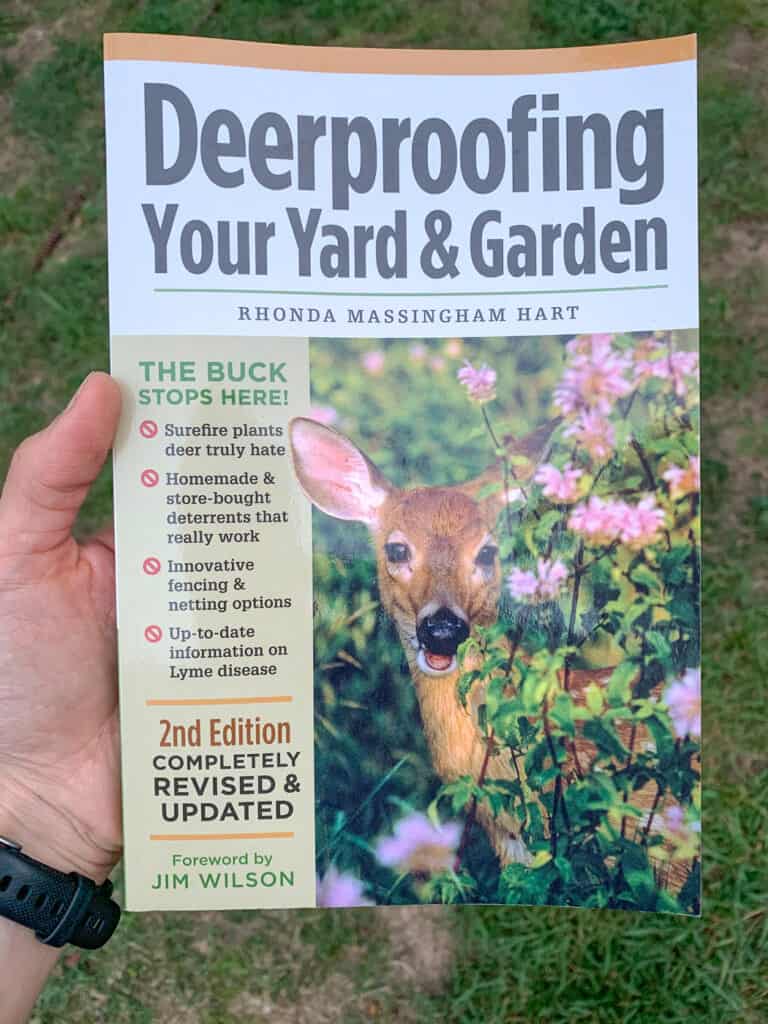 Sale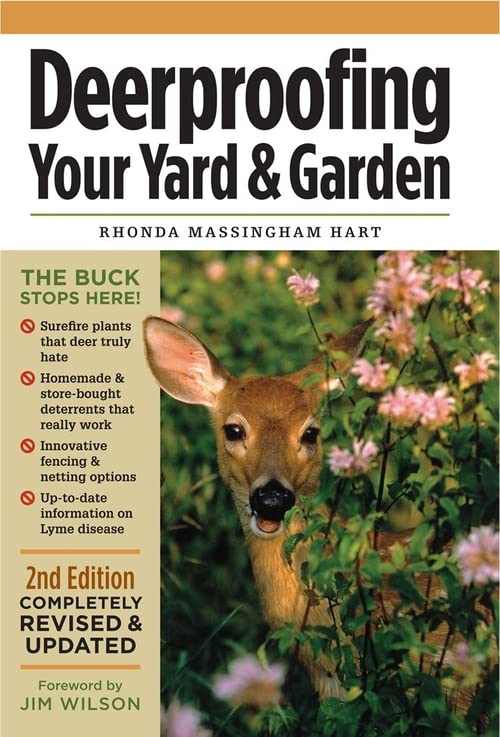 Deerproofing Your Yard & Garden
Rhonda Massingham Hart (Author)
English (Publication Language)
208 Pages - 04/15/2005 (Publication Date) - Storey Publishing, LLC (Publisher)
Other than pests, cold and/or damp weather are the most common enemies of bean plants. Beans may suffer from fungal pathogens and rot or develop powdery mildew if they get planted too early or if they sit in waterlogged soil.
Be sure to plant only in warm weather, space plants properly, and give them well-drained soil to ensure they thrive.
How to Harvest Kidney Beans
Now that you've gone through the hard work of discovering how to plant and grow kidney beans, when can you expect a harvest?
Because they must dry on the vine, kidney beans will be ready later than green beans and shelling beans, like limas. Most varieties take 95-110 days to fully mature, which translates to at least 3 months after you plant them.
You'll know your beans are ready when they have filled out the pods to a nice plump size and the pods have dried and turned brown. If a lot of wet weather is coming your way, you can also harvest the beans when the pods are yellow and finish drying them indoors.
To harvest, you can either snip off individual pods or cut off the whole plant at its base. Bush beans tend to ripen at almost the same time, so harvesting an entire plant when most of the pods are ready will save you time. Make sure you compost your plants or do a simple "chop and drop" so you can return their nutrients to the soil.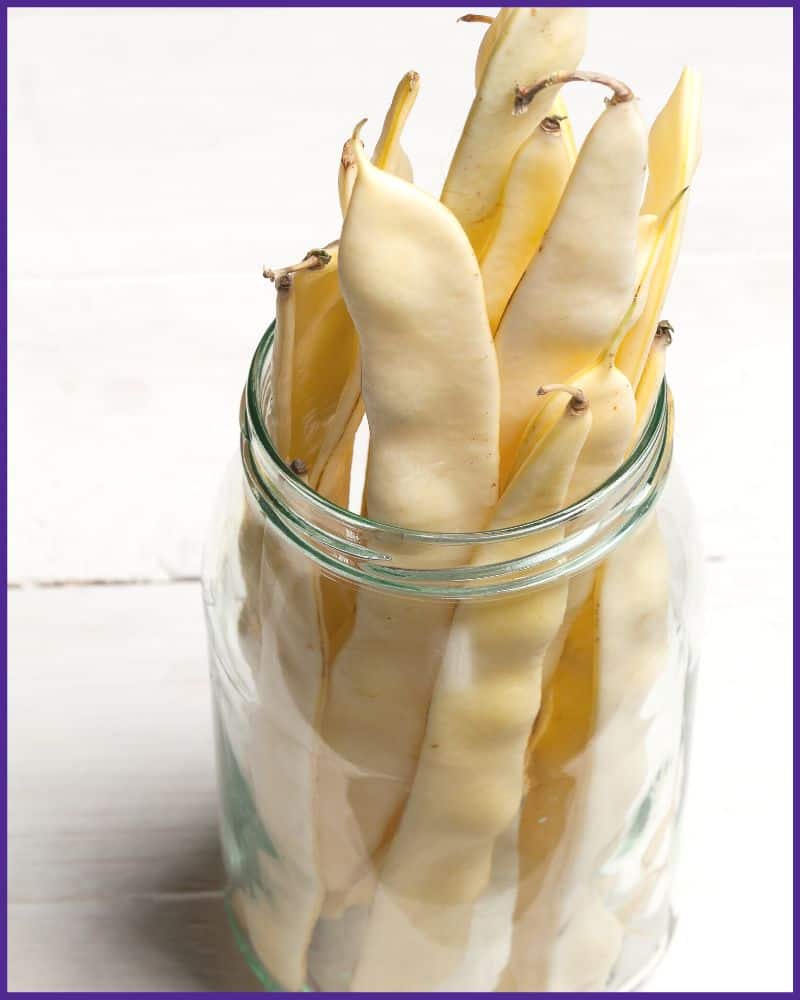 Storing Your Kidney Beans
If the bean pods are fully dry when you harvest, go ahead and shell them once you get inside. Otherwise, lay the pods out to finish drying or hang whole plants upside down.
Once the beans are all dried and shelled, place them in airtight containers and store them somewhere cool, dark, and dry. They can last for 1-2 years and even longer but will taste the best if you eat them within a year.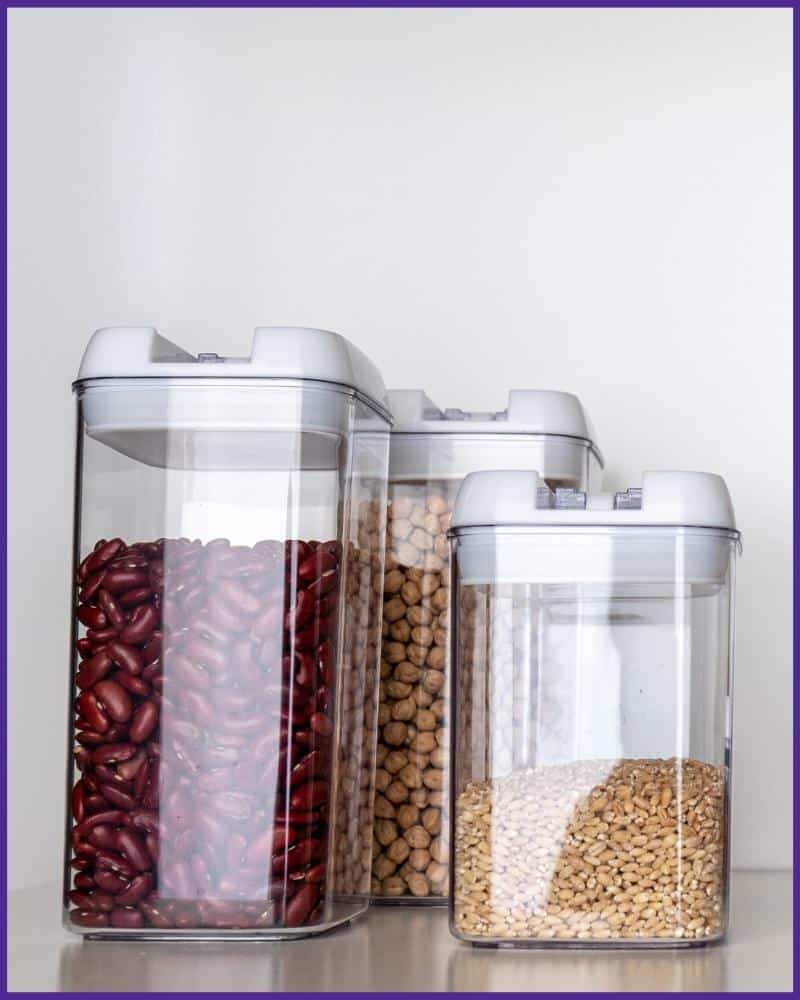 To keep bugs out of your beans, package them in mylar bags and use oxygen absorbers. I place my food storage beans in mylar inside of a plastic tote or bucket for added rodent and bug protection.
Sale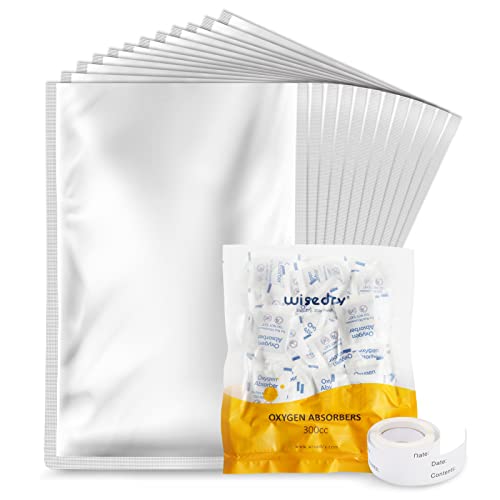 wisedry [100 Packs] 1-Gallon Mylar Bags (4 Mil, 15''x10'') with 300cc...
✅ [ Food Grade ] - Packet material is food safe and strictly tested for food purpose, safe to be used with foods.
✅ [ Light Proof ] - 4 Mil thick each side mylar with excellent light and oxidation protection, commonly used for long-term emergency food storage...
✅ [ Oxygen Absorbers & Mylar Bags ] - The packaging included 100 packs (Upgraded 10 individual packs of 10 packets) 300cc oxygen absorbers packets...
When you go to eat your kidney beans, remember that they must be cooked for at least 30 minutes to get rid of a protein known as lectin that causes severe indigestion. Always soak legumes prior to cooking them to release so-called anti-nutrients. This article about phytic acid from the Weston A Price Foundation is an excellent resource. I follow the legume preparation methods given in the Nourishing Traditions cookbook.
Sale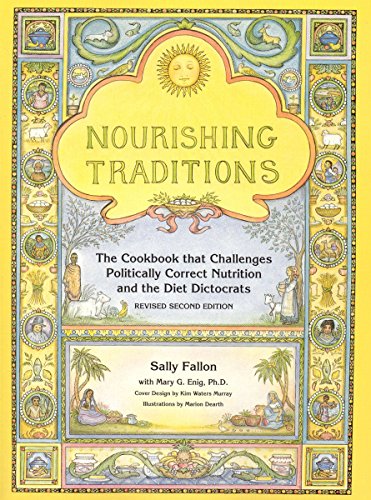 If you still have some kidney beans left when spring comes around again, feel free to plant them in your garden for next year's crop!
Make sure to check out these additional posts with growing guides for popular vegetables while you're here on Together Time Family:
Popular summer vegetables and herbs
Discover how to grow popular vegetables and herbs in your backyard garden or container garden with these in-depth vegetable growing guides.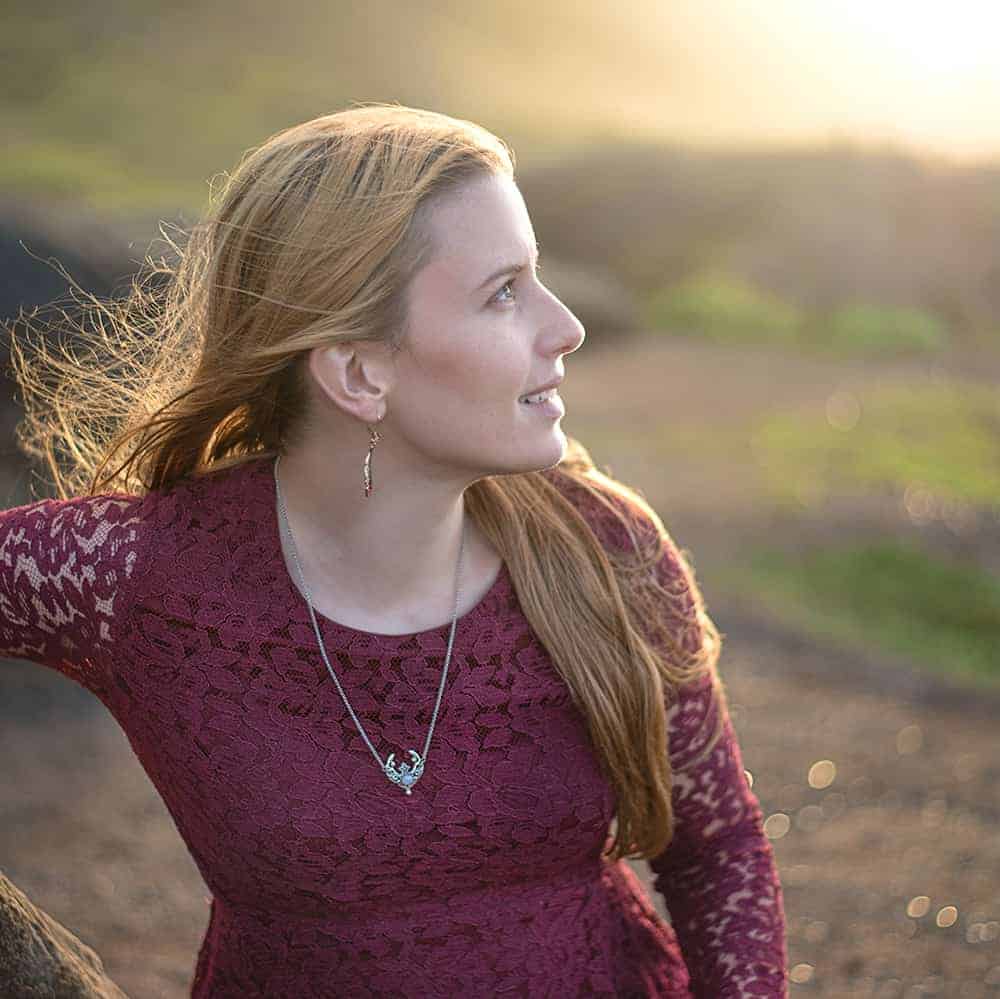 Natasha Garcia-Lopez is an avoid home-gardener and proud owner of 88 acres of land in rural West Virginia. She was a member of the Association for Living History Farms and Agricultural Museums for many years and is currently enrolled in the Oregon State University Master Gardner Short Course program so she can better assist you with your gardening questions.She holds a certificate in natural skincare from the School of Natural Skincare.